Return to the Home Decorating & Design Forum
|
Post a Follow-Up
---
| | | |
| --- | --- | --- |
| Paint color for kitchen cabs and island? | | |
Posted by
wifisker
(
My Page
) on
Tue, Aug 7, 12 at 10:20
You might recall this earlier thread about DH and I buying a new house and wondering if it makes sense to paint the kitchen cabinets. http://ths.gardenweb.com/forums/load/decor/msg0711480217288.html?64

The votes were unanimous and, after talking it over, we decided to hire a professional painting contractor to take on that project since (1) we're going to be far too busy with moving and other projects between this house and our rental property; and (2) we have a painting contractor in the family and he has the equipment to spray them. He's also going to paint a bathroom vanity I posted about in a separate thread. I'll be doing lots of other painting throughout the house.

Now I need help choosing paint colors! Pretty please. :) We want a soft white or antique white for the main cabinets but nothing too yellow. The island will be painted a different color and I think the advice from the previous thread was to avoid grey and possibly also blue because of the granite color. So perhaps something in the soft green family? What would you do?

Here's a closer photo of the granite, though it's not great lighting. This is of the desk area in the kitchen but it's the same as the rest.

Other questions:

- I'm thinking simple ORB knobs for cabs and cup pulls for the drawers. Does that sound like the way to go?

- The perimeter of the island needs work so should we go with more beadboard, or board and batten, or...?

- Should I talk DH into removing the existing counter supports under the island granite and replacing them with furniture legs?

Thank you all again for all the help! I'd be so overwhelmed and anxious without all of you available to lend your design expertise.
---
Follow-Up Postings:
| | | |
| --- | --- | --- |
| RE: Paint color for kitchen cabs and island? | | |
I forgot to mention that I think our painter is going to use Benjamin Moore paints if that helps with the color recommendations.

Also, I might as well post another pic of the whole kitchen so you don't have to bounce back to the other thread if you don't want to.
---
| | | |
| --- | --- | --- |
| RE: Paint color for kitchen cabs and island? | | |
Dove White is a very warm white that a lot of GWers use. Have you been over to the kitchen forum? Lots of paint color help for cabinets there. Mine were Cloud White (not White Cloud). I did them with BM Satin Impervo and the finish was gorgeous. No one knew they were painted by us. The finish was great. Doing a white with an oil based paint, keep in mind they will mellow out and get a little yellower. That is why we did the Cloud White because we were anticipating it getting a little creamier.

I could see doing the island in a dark espresso. That would look really nice.

However, I don't think orb on the dark cabinet would make me happy if it were my kitchen. I would want the finish on all the hardware to be the same, unless you did something in addition (we used satin nickel and crystal in the last kitchen). This way the satin nickle worked with the dark island and also on the the white.

Here is a picture of my kitchen in the last house. This was a DIY project. I'll post a link for you to look at that has before and after photos, so you can see the change. It was remarkable what paint can do.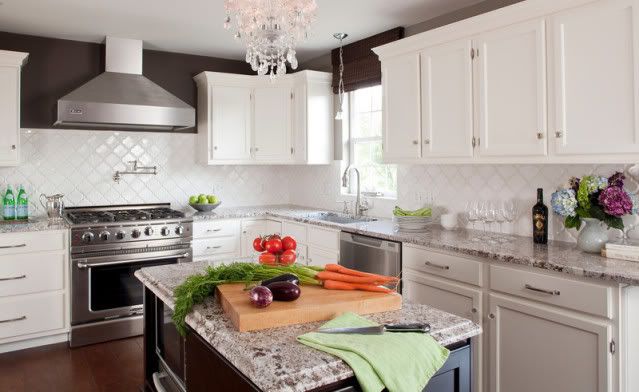 Here is a link that might be useful: My kitchen on Cote de Texas
---
| | | |
| --- | --- | --- |
| RE: Paint color for kitchen cabs and island? | | |
Mascarpone is a nice creamy color from BM's Affinity line/Aura paint. We used it throughout much of our downstairs, and it looks like cream/mascarpone down there. It appears a bit brighter or whiter (on the fandeck, sample board....) upstairs, where there is more light in our house, yet is still a much, much softer white than the Super White we have on our kitchen/LR/DR walls.

I know people on GW have used it for their cabinets, or trim color, and consider it to be a perfect, soft, creamy white.

Other soft whites I liked (of the dozen or so I sampled!) were Moonlight White and Steam, maybe Vapor as well (either Vapor or Steam had some pink-y undertones in our FR). Linen White looked too yellow here, though I know it looked less so in my friend's home, as well as in some GW'ers kitchens.

I think my friend used Navajo White on her new kitchen cabs and they have a nice antique-y white look (though I could tell that it would have been too dark in our downstairs, so never tried it on our walls).
---
| | | |
| --- | --- | --- |
| RE: Paint color for kitchen cabs and island? | | |
I agree with cat_mom, you should look at mascarpone. In my mind I was think it would be too creamy for you but when I went back and looked at your granite, it might work nicely. Since the counters are already more towards the yellow, the mascarpone would not look too yellow at all. Linen White is a really pretty color too.
---
| | | |
| --- | --- | --- |
| RE: Paint color for kitchen cabs and island? | | |
My granite is very similar to your's, and I used SW Dover White, which a lot here have also used. Ignore the color you see on monitors though, they're nowhere near the color IRL.

Dover white is creamy, and I also used it on all the beadboard and trim.

I have to say though, I love your cabinets as is. I could definitely have fun decorating your kitchen!
---
| | | |
| --- | --- | --- |
| RE: Paint color for kitchen cabs and island? | | |
Take a look at BM Canvas Aura is a nice creamy white, will pick up the brown/copper/gold of your countertops nicely.
---
| | | |
| --- | --- | --- |
| RE: Paint color for kitchen cabs and island? | | |
Another vote for BM Dove White...or Cloud White (967)

Yes -- to matching the beadboard from the cabinets -- onto the island

No -- don't remove the granite supports for furniture legs -- makes it harder to use stools around the island ...

And here's some possible tones for the island:

Benjamin Moore:

Acanthus Green 472
Hancock Green HC-117
Nantucket Gray HC-111
Sherwood Green HC-118
Providence Olive HC-98

And for a rich chocolate tone (perhaps in Satin or even high gloss)

Wenge AF-180
Middlebury Brown HC-68
Mink 2112-10
Night Horizon 2134-10

And just for another possible tone -- deep navy blue --

Polo Blue 2062-10
---
| | | |
| --- | --- | --- |
| RE: Paint color for kitchen cabs and island? | | |
Just a note about Benjamin Moore products. Our kitchen cabinetry has been painted three times -- the first two times with BM Satin Impervo (an oil paint), and the third time with the Satin Impervo waterborne. Preparation was equally rigorous for each round (we did it ourselves). I can't tell you how disappointed I am by the performance of the waterborne paint. It was much harder to achieve a smooth finish, which may not be an issue for a pro. However, its durability is nothing like the oil. It doesn't wipe off easily, and stains and scuffs (we also used it on stair risers) often require soft scrub with bleach to remove. I would never use or recommend this product. In contrast, I loved the performance of the oil-based Impervo. I'd recommend talking to the local BM store about your best options and making sure your painter uses the right BM product for your situation. I know there are other BM options as well, including a new product that wash 't available last summer when we painted. Your kitchen is beautiful and will be amazing with the painted cabinets!
---
| | | |
| --- | --- | --- |
| RE: Paint color for kitchen cabs and island? | | |
I don't have any paint color recommendations, but wanted to say that I can't wait to see your finished kitchen! Please post pictures! It's going to be so pretty!
---
| | | |
| --- | --- | --- |
| RE: Paint color for kitchen cabs and island? | | |
I have BM Dove White on my Dura Supreme cabinets. In my kitchen with lots of natural light, this white looks very stark. Mine was water based so it is stilll very white even after almost four years.
---
| | | |
| --- | --- | --- |
| RE: Paint color for kitchen cabs and island? | | |
I've been looking at pictures of kitchens with Cloud White and Dove White (or is it White Dove?) and they all look pretty, but very much a *white* white. I don't really see them as being a slight off-white or antique white even though it looks like that on Benjamin Moore's website. Maybe that's just the lighting? I should pick up a sample the next time I'm near one of their stores.

teacats - I think I like the Nantucket Gray the best so far. It's such a soft, warm color for the island as opposed to some of the minty greens.

Lazydaisynot - Thank you for that warning! I'll talk with our painter before he buys anything.
---
| | | |
| --- | --- | --- |
| RE: Paint color for kitchen cabs and island? | | |
My cabinets are factory painted but they are very close to BM Natural Wicker, which is more creamy than some of the whites mentioned above. Not sure if you want someone that off-white but it's an option, maybe. I have all my trim in my kitchen painted Natural Wicker to match the cabinets.

Or maybe Linen White?

I do like Mascarpone, too, which is a "whiter" off-white.
---
| | | |
| --- | --- | --- |
| RE: Paint color for kitchen cabs and island? | | |
| | | |
| --- | --- | --- |
| RE: Paint color for kitchen cabs and island? | | |
I just (yesterday) finished painting the wainscoting in my dining room with Linen White and have to say it's a very nice creamy white that looks good during the day and at night. The room has one large window facing west. It certainly doesn't look beige as on the BM web site. Another thread below.
Here is a link that might be useful: white for kitchen
---
| | | |
| --- | --- | --- |
| RE: Paint color for kitchen cabs and island? | | |
You might also look at Butter Pecan and Ivory Tusk, if you want something less white, creamy, but not too yellow.

Linen White looks quite yellow in our southern light, but might not in yours.

If you want something much less yellow, look at Floral White, which is very neutral and elegant, in my view.
---
| | | |
| --- | --- | --- |
| RE: Paint color for kitchen cabs and island? | | |
I just painted my study Nantucket Grey...it is really pretty! I think it would look great as the island with creamy cabinets - but I'm partial to green and green cabinets in general...
---
| | | |
| --- | --- | --- |
| RE: Paint color for kitchen cabs and island? | | |
bronwynsmom - Thanks for the color recommendations! I'll check them out.

cottonpenny - That color is beautiful. I may have to find a use for that somewhere in our home but DH now tells me he doesn't want a green shade on the kitchen island so I'm leaning toward one of the "dark chocolate" shades - or maybe Night Horizon like teacats listed.

Ugh. I'll be so glad when the decisions are over and the cabinets are done! :)
---
| | | |
| --- | --- | --- |
| RE: Paint color for kitchen cabs and island? | | |
When you mentioned dark brown in a white kitchen, it reminded me of a kitchen I had seen on houzz.com. The counter tops are a face grain mahogany with a marine finish. I think you should pick out a brown from your floor so the island won't clash with it. If you can find out the name of your granite, you can google and see what colors others have used with it in their kitchens.
Here is a link that might be useful: off white and brown in a kitchen
---
| | | |
| --- | --- | --- |
| RE: Paint color for kitchen cabs and island? | | |
And please remember that photos of white kitchens are just a starting point. The light is really determining how they look. Photos of my old kitchen make them look bright white, but that is because they were photographed professionally in that picture. And they wanted it very bright.

The same white will look different in each of our homes. I think you should go get the paint chips, bring to your house and look at with the counters there. If you are not in yet, then do not rush the color decision. It doesn't take the painter that long to have the paint mixed up! You need to see the color in your space in various lights with your granite. You cannot make this decision before you move in, or on a quick visit to the house at 5 pm. Ok? Take all the creamy white suggestions, go get the paint chips and then, when you are in there you will be able to eliminate probably all but 2 or 3.
---
| | | |
| --- | --- | --- |
| RE: Paint color for kitchen cabs and island? | | |
beekeeperswife - That's good advice, so that's what I'll do. I'm just SO antsy to get started on things and I need to slow down a bit. This process has helped me narrow down the top choices so I'll pick up the chips and then wait to decide on the actual paint colors until after I'm in the home again to see them in the room's lighting.

chickadee2 - Also good advice on trying to pick up a color from the flooring if we go with dark brown on the island. It's another reason why I should wait until I'm back in the house to commit to any particular color I guess.
---
| | | |
| --- | --- | --- |
| RE: Paint color for kitchen cabs and island? | | |
Since you'll be needing to select paint for all the rooms of your new house, if you haven't gotten them already, it would be worth your while to buy the fan decks of color samples for the paint line you think you'll be using. I think the majority of paint referenced here is either BM or SW. When someone suggests a color, it's nice to have the fan decks in front of you. You can't go by the color you see on your monitor. They'll also save you trips back and forth to the paint store.
---
Post a Follow-Up
Please Note: Only registered members are able to post messages to this forum.
If you are a member, please log in.
If you aren't yet a member, join now!
---
Return to the Home Decorating & Design Forum
Information about Posting
You must be logged in to post a message. Once you are logged in, a posting window will appear at the bottom of the messages. If you are not a member, please register for an account.
Please review our Rules of Play before posting.
Posting is a two-step process. Once you have composed your message, you will be taken to the preview page. You will then have a chance to review your post, make changes and upload photos.
After posting your message, you may need to refresh the forum page in order to see it.
Before posting copyrighted material, please read about Copyright and Fair Use.
We have a strict no-advertising policy!
If you would like to practice posting or uploading photos, please visit our Test forum.
If you need assistance, please Contact Us and we will be happy to help.

Learn more about in-text links on this page here