Return to the Home Decorating Forum
|
Post a Follow-Up
---
| | | |
| --- | --- | --- |
| My front porch needs....something. | | |
Posted by
georgiajenny
(
My Page
) on
Wed, Jun 24, 09 at 15:50
Hi everyone! First post here! I'm having a really hard time making decisions about how to decorate my house. We've been living here long enough that things need to start happening!

We moved in about a year ago, but I still don't quite know what to do with the front porch area. Earlier this spring I replanted right in front of the porch with some larger (not a LOT larger, but they should grow and fill out to be about 3-4 ft tall) bushes. I will try to post some more recent pictures later this evening. I want to make it look more homey and welcoming, but not overly cluttered. What would you add? Planters near the door? Larger bushes? Rocking chairs?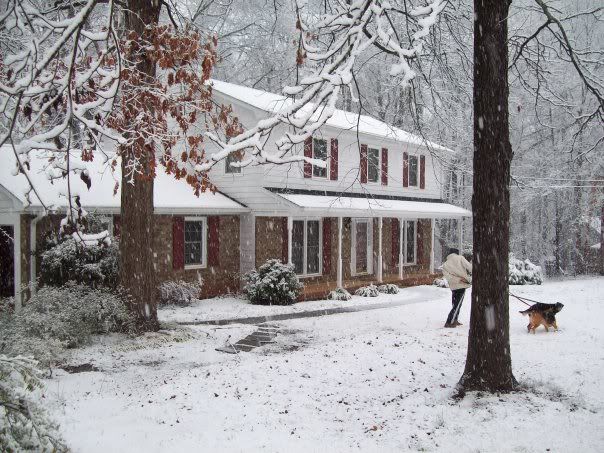 Thanks so much everyone!
---
Follow-Up Postings:
| | | |
| --- | --- | --- |
| RE: My front porch needs....something. | | |
I think some pretty urns with plants on each side of the door would look great. Not sure I would do rockers or furniture. Your porch doesn't look very deep and it might end up looking cluttered. It looks very neat right now and I think planters would be a good touch.
---
| | | |
| --- | --- | --- |
| RE: My front porch needs....something. | | |
Welcome to the forum, Georgiajenny! I think your house already has a lot of character, and doesn't need much to dress it up. I do like the idea of an urn on each side of your door, and I too would hesitate to put rockers or benches on the porch, as there doesn't seem to be quite enough visual depth to handle them. I would definitely do the urns though, and a pretty doormat if you don't already have one.
---
| | | |
| --- | --- | --- |
| RE: My front porch needs....something. | | |
I would not mind seeing a white railing along the front edge of the porch. If you place chairs out there would you use them? I think framing the front door with planters would be nice.
---
| | | |
| --- | --- | --- |
| RE: My front porch needs....something. | | |
I would plant some colorful annuals in the front bed, and add two accent plants on each side of the walkway nearest the door. I can't tell what is in the hanging baskets but would add either ferns or colorful annuals. You could also add railing or beef up your current posts. I like the idea of flowerering pots on either side of your front door as well. I'm not sure I would add furniture to the porch, white wicker might work, I wouldn't try to add alot to it though...
---
| | | |
| --- | --- | --- |
| RE: My front porch needs....something. | | |
If you added a white railing as Threedgrad suggests, you could hang window/railing boxes from them and fill them with flowers! :-)
---
| | | |
| --- | --- | --- |
| RE: My front porch needs....something. | | |
There's a house near me with a white wicker chair on the porch holding a largish planter filled with beautiful plants that drape prettily across the arms and down the front. It's absolutely charming. Something like that might look nice on one end of the porch, out of the way but still providing a substantial decorative element.

I'd fill in between the little shrubs with some bright or white flowers to perk up the planting bed and give it some more visual bulk. The Wave-type spreading petunias are not too expensive and are pretty much bulletproof. They don't need to be deadheaded like most petunias, they grow like weeds with benign neglect. We had them in the last house when we put it up for sale and needed major curb appeal improvements and even I, the notorious black-thumbed wonder (I go beyond the brown thumb LOL), managed to keep them not only surviving but growing and spreading. They got huge, like 3' across huge, and completely covered the whole planting bed. The label on them says to give them a liquid fertilizer every 2 weeks, but I just chucked down some long-lasting pellet fertilizer when we planted them in May and then once in mid-August. I think it was Osmocote? They were still going strong right up to a hard frost at the end of October. We had white, lavender, and deep purple, and one that had been labeled lavender but turned out fuschia! LOL
---
| | | |
| --- | --- | --- |
| RE: My front porch needs....something. | | |
I'd say leave the porch alone and since you have the typical tin box house that we had in the midwest, I would concentrate on your landscaping. Maybe extend the plantings in the front into a curved area to take away the boxiness of the home. Right now everything is lined up like soldiers. Create some curves and maybe add a Japanese maple and most of all, mulch. Mulch makes everything look so much better. Add some hostas in between the little bushes.
---
| | | |
| --- | --- | --- |
| RE: My front porch needs....something. | | |
First I would add some moldings -- painted white -- to "fill in" the small horizontal open area under the front door (and sidelights) Your whole front door area appears (and it could be the mere photo or my melted brain!) to be "floating" just above the porch floor ....

Next -- add MUCH larger leafy ferns to hang under each of the open front areas.

Add two white planters on each side of the door -- fill with a tall thin bush and white flowers.

Add a couple of adirondack chairs with a small table -- painted in the same cinammon brown as the shutters. I've included a link to some wood furniture on overstock -- JUST examples to check out some possible styles and measurements. Would love to see a couple of chairs or a bench on the right-hand side. Maybe a bench with a small matching table to hold a drink or coffee at one end?

Yes! Expand the garden on the other side of the walkway. Include lots of white annual flowers. As johnmari says -- add LOTS of white flowers throughout the gardens to bring that color around the whole area. Check with your local garden center for ideas.
Here is a link that might be useful: overstock -- examples JUST for measurement comparisons
---
| | | |
| --- | --- | --- |
| RE: My front porch needs....something. | | |
Since you've planted what eventually will be 3'-4' plants in front of the porch you're not really going to see any rockers, bench, or much of anything you put on the porch. With exception that is of like large 3' flower pots on each side of your door. Add some colorful flowers and that would say "welcome".
If your heart is in furniture I would go with either a thin antique church pew (ornate) or only one rocker set somewhat sideways (facing the door)
But rather than trying to put furniture or pots on the porch floor you might think of putting several inviting things on the wall instead.
(sorry I tried to make this smaller) :(

---
| | | |
| --- | --- | --- |
| RE: My front porch needs....something. | | |
Welcome, Jenny!

Your front porch needs... a railing! It will make your whole house look more finished and welcoming.
---
| | | |
| --- | --- | --- |
| RE: My front porch needs....something. | | |
That railing rocks! It would make your house look so welcoming! Great job mcclarke and great idea threedgrad!
---
| | | |
| --- | --- | --- |
| RE: My front porch needs....something. | | |
I like the idea of urns too. I have them on my porch, too. You have just the space between the front door and the windows, and I also have double windows. Please don't put railing across the front. It will definitely close in the porch and it will be smaller than it is now.
---
| | | |
| --- | --- | --- |
| RE: My front porch needs....something. | | |
I'm another one who doesn't like railings unless they're needed for safety. A lot of houses around here (even some very old Colonials/farmhouses with higher porches that got grandfathered in) have no railings. How wide (front to back) is your porch? If it's less than 6ft I wouldn't put a railing on b/c then you couldn't use furniture at all (IMO, it would be too tight to get past).

What do you think of hanging planters (wrought iron?) to put on the walls there on either side of the door (maybe b/t the windows too), with lots of foliage cascading down? They wouldn't really take up floor space. Definitely something more colorful and fuller/hanging down in the hanging baskets, plus add a couple more baskets. Some color in the ground too - I don't know how much sun you get so can't recommend specific plants.

Would you sit out there? Window is too low to put a table under, maybe Adirondack chairs with big arms you can use to set a drink on, but I'd try white?
---
| | | |
| --- | --- | --- |
| RE: My front porch needs....something. | | |
I think your house has a good foundation of charm and character. The only thing you need to do is bring it out. The scale seems off, your landscaping plants and hanging plants are a little small for the area. I would buy bigger hanging baskets and more of them. The other plants will eventually grow up, but you need to move them around. Warming things up means landscaping, planting in a straight line is not landcaping. Curve your gardens a bit, replant those bushes, add some more. Bring the garden past the right side of the house in a curve, then plant some sort of landscaping tree. (I was going to say a weeping cherry or something, but I dont know what zone you are in). I also think your columns are too small for the house. I would wrap bigger ones around that to give it a more solid look. I think you need some landscaping down the walk way,(both sides)at least 3 feet on the road side.Flowers and bushes, it looks a little stark and that will definitely warm it up. The urns are a good idea. I noticed there seems to be two walk ways? One goes to the driveway, the other looks like it has some steps but hard to see where that goes? I disagree about the railing, I think it would look silly since the front porch is ground level. I think the only place you can get away with that is on the right side of the porch where it seems to be off the ground a few feet.

This is a pretty typical style colonial, i bet you can find tons of pictures on the internet to give you some ideas.
---
| | | |
| --- | --- | --- |
| RE: My front porch needs....something. | | |
Thanks SO much for the help everyone! It really helps to get some outside opinions. I need to upload a more recent picture so you all can see what I've done as far as plants in the front. I'll try to do that tonight. The plants I put in are Spirea shrubs. Currently they are trying desperately to survive and aren't growing much. I'm hoping they will spread to form a nice 3 foot green backing so I can put some more interesting things in the front of those beds. Oh and re: the 'other walkway'... Ha ha ha. That is now gone. I'm not sure what that was or where it was supposed to go. It was pointless.

I also agree with those that say a railing and furniture might be a bit much. The porch isn't that deep (maybe 3-4 ft?) and we probably wouldn't sit out there all that much (we have a screened porch in the back). I really like the idea of planters. I think that would help a lot. It appears that this has been done before (I can see rings on the porch where planters used to be) with two medium sized ones near the door and two larger planters on the edge of the porch. What do we think about that? Too many planters? :P

I love the idea of the Japanese maple. Where would I put that? Additionally, I have to be honest that I'm sort of scared of planting things as a) I'm about to kill what I just planted (I'm trying really really hard....I also have a black thumb) and b) I am lacking a plan and I'm worried I'll kill things by moving them around too much. I guess the plan will become apparent as I hang around this site. :P Oh, I'm in zone 7 and our yard is mostly Georgia clay. Can I still plant flowers this late in the summer?

Thanks again for the insight!
Here is a link that might be useful: Spirea
---
| | | |
| --- | --- | --- |
| RE: My front porch needs....something. | | |
And if you go with the urns on either side of the door, don't wimp out, get the huge ones that have some presence.

A seating arrangement on a porch is so welcoming. With an area rug under them.

Also, a large, flowing landscape design as nanabelle suggested.
---
| | | |
| --- | --- | --- |
| RE: My front porch needs....something. | | |
This was my initial reaction, but I see you don't want to do a porch. Freshened the gutters, added a porch header, more substantial square posts, and the railings.

The other option I was thinking was to beef up those posts, trimming them out nicely, but keeping it open.
---
| | | |
| --- | --- | --- |
| RERE: My front porch needs....something. | | |
Here's the open porch. Noted the Japanese Maple above and threw in an understory tree with the Dogwood.

You'll want to talk to KitchenKelly about that lawn ;;)
---
| | | |
| --- | --- | --- |
| RE: My front porch needs....something. | | |
The white second story draws attention to itself, so you want to bring the attention down. The photoshopped pic without the railings and the dogwood in the foreground does an excellent job with the thicker columns (no railing) and porch header. The porch doesn't need furniture, it needs the landscaping and huge hanging ferns.

How about a new light near the front door?
---
| | | |
| --- | --- | --- |
| RE: My front porch needs....something. | | |
Here's a lamp post. I thought it would look nice with a secondary post, in addition to the more elaborate welcome post.

Who's Thaat boooy?
---
| | | |
| --- | --- | --- |
| RE: My front porch needs....something. | | |
LOL, Squirrel! I really like this last mock-up. I think that the railing is a bit much now that I see it on the house, but I love the beefed-up columns, plants, and the lightposts are the crowning touch. Good job!
---
| | | |
| --- | --- | --- |
| RE: My front porch needs....something. | | |
Your house and yard are so pretty! My immediate thought was that the posts are much too slim. Ordering post covers, or enhancing what you have would be a pretty easy and impressive fix.
We have a tiny porch, but I love having 2 chairs there. Even if we never used them, they're great for friends dropping something off, and add a bit of charm.. How about small benches with backs on either side of your door. Perhaps only one would look fine, too.
As we've discussed here with other homes, having a walkway allowing guests to arrive at your door from their street-parked cars is an aesthetic as well as practical benefit...if that situation applies to your home.
Now please don't flame me , but since Squirrel is here and we're just playing around, I confess I have been remembering 2 houses where painting the brick made a big difference. One was the two(Dutch Colonial,kinda??)story mid century of a year or so ago, and the most recent, scb71's large, dark brick( though her's is much different in style).
I'm assuming the brick is only in the front. I'm NOT assuming you have any desire to paint it, Jenny, and, again it is lovely as is. Please don't be appalled. I confess to being a huge painted brick fan, and just wondering if bigger posts and all in gray or cream,etc. wouldn't make it a stand out. I'm NOT suggesting it needs painting. I'd just love to see how it would look.
p.s great work, per usual sq., but think there are two dogs!:>) That pic of them walking in the snow makes me sigh, btw. Such a pretty scene!
---
| | | |
| --- | --- | --- |
| RE: My front porch needs....something. | | |
I like the rails. Forgot to tone them down.
---
| | | |
| --- | --- | --- |
| RE: My front porch needs....something. | | |
I love the rails, too, though it may look different IRL. They really ground the place, to my eye.
---
| | | |
| --- | --- | --- |
| ERRE: My front porch needs....something. | | |
Wow, that is a narrow porch. I didn't see the snowy picture when I first dropped by. Paint the brick?! Yikes. Those get so funky when trying to paint them.

That is actually Brutuses, just stopping by to play with their dogs : )
---
| | | |
| --- | --- | --- |
| RE: My front porch needs....something. | | |
| | | |
| --- | --- | --- |
| RE: My front porch needs....somethings. | | |
But..... even with a very narrow porch, would the rails be useful as an architectural asset....form over function...or just look silly IRL? I can't picture it
pets to Brutuses:>)
---
| | | |
| --- | --- | --- |
| RE: My front porch needs....something. | | |
I'm not sure, though I vaguely remember seeing them. Would have to research or sketch them onto the snow scene. Maybe 3D or kwglisa are around?

ok, here's the cream : ) It's a fresh coat of white paint, cause the other looks blue. And I could've sworn those shutters were a wine color but now am not sure if they're actually black.

Forgot to bring the porch furniture out of Winter storage!
---
| | | |
| --- | --- | --- |
| RERE: My front porch needs....something. | | |
Long as we're painting the siding, here's a nice creamy beige, tone on tone.
---
| | | |
| --- | --- | --- |
| ERRE: My front porch needs....something. | | |
Porch might not have as much light as I showed with the cream and white. Toned down a bit:
---
| | | |
| --- | --- | --- |
| RE: My front porch needs....something. | | |
Nice job there, squirrelheaven. How nice to see Brutuses! I might come out with my own grass fertilizer (no chemicals, touch of bone meal.)

Anyhoo, I am not talking to you anymore today. You have had me thinking about pottery lately so I bought a pricey little piece today while I was at the U of MN Arboretum. (It is lovely.)
---
| | | |
| --- | --- | --- |
| RE: My front porch needs....something. | | |
lllol, Kelly. Well, let's see a pic!
---
| | | |
| --- | --- | --- |
| RE: My front porch needs....something. | | |
Oh wow. You guys are AMAZING. I want to send all of you a fruit basket for being so helpful! I didn't think I'd like the idea of painting the brick, but it really looks nice! Gives the house a whole different look. H would probably shoot me for even suggesting it, but it's something to think about.

You guys are the photoshop masters. Really. This helps enormously because I'm a very visual person and without a picture in my head, I don't know where I'm going. Re: the doggies, we do have two, Dakota (beagle mix) and Lily (lab mix). Brutus is welcome to come over and play any time he wants! :)

I was thinking about light posts and the logistics of wiring them. Is it pretty difficult to wire something under the sidewalk? I'm toying with the idea of solar LED lightposts, but I'm not sure how practical/bright they might be.

Thanks again to all of you! I'll post after pictures once I get some work done! :)
---
| | | |
| --- | --- | --- |
| RE: My front porch needs....something. | | |
I really like the painted brick and the lamp post with the flowerbed!

Now squirrel, could you PS mine (I'd love to see my boxwood "grow")?
---
| | | |
| --- | --- | --- |
| RERE: My front porch needs....something. | | |
You're welcome! I was just going to ask if anyone thought you were gonna come back, lol. Or, if we scared you off.

The electricians have gone under the sidewalks here to rewire the lamp posts. They had to dig gullies and disrupt but didn't bust up the concrete.

The solar lights aren't so great. Your front yard also looks to be pretty shady for them.

Your home looks great in many a look (though the rails might not work on your shallow porch, as you mentioned). It does look great painted. Hope dh doesn't have a heart attack. He may ban you from GW, lol. You wouldn't be the first.

Just be sure the prep is done right.
---
| | | |
| --- | --- | --- |
| RE: My front porch needs....something. | | |
Wow great work as usual Squirrel! Love the painted brick, don't love the rail. If you're going to keep it simple I like the 2 urns and the light post along with some interesting landscaping like Squirrel did ;-) I'd definitely stick with one large planter on each side of the door. Don't clutter it with several planters.

And I forgot to say welcome to the forum before!
---
| | | |
| --- | --- | --- |
| RE: My front porch needs....something. | | |
Instead of painting the brick, paint the wood siding some other color than white! The white trim as an accent works, but everything gets lost and looks wrong by having the siding be white also. A nice tan that would coordinate with the bricks and let the red of the shutters stand out would work well.

And, you really need a whole concept landscape makeover. Spirea are pretty--for about 15 minutes in spring when they're in bloom. The rest of the time they're not that attractive plain green blobs that turn into brown sticks in the winter. You need variety of evergreens as a backdrop to other plants, and you MUST have a couple of crepe myrtles if you live in the South. The peeling bark adds winter interest and they bloom during the hottest parts of summer. Japanese maples are also very pretty during spring and summer and add architectural interest during winter, but they have to be located in partial shade or morning sun only in the South to avoid sun burned leaves. Daylilies are dependable workhorses for midsummer months, and a vitacella clematis on a lamp post will bloom off and on all summer. If you had the width for the porch, I'd say add a porch swing to the end on the right and put up a lattice behind it on which to grow a nice antique rose that will remain easy care and not need spraying. In fact, there are a lot of antique roses that you can grow that will be easy care and add color from April thru November in your climate.
---
| | | |
| --- | --- | --- |
| RE: My front porch needs....something. | | |
Wow, Squirrel! Fantastic work, you have a great eye!

I'm with Mimi .. I love the painted brick, the beefed up columns, but not the rail. I think with the porch being narrow the rail might give it a closed in feel.
---
| | | |
| --- | --- | --- |
| RE: My front porch needs....something. | | |
We're just dreamin' of a big porch with that. Hadn't noticed the snowy picture and narrow porch. Otherwise, it would look great, lol!

(Thanks : ))
---
| | | |
| --- | --- | --- |
| RE: My front porch needs....something. | | |
I actually think the railing will create an illusion of depth, so the porch will look as if it is deeper than it is. There will still be room for say a wicker chair or two and some flower pots.
---
| | | |
| --- | --- | --- |
| RE: My front porch needs....something. | | |
There you go. I'm sure I've seen narrow porches like that, with the railings. Thanks for your input.
---
| | | |
| --- | --- | --- |
| RE: My front porch needs....something. | | |
I think beefing up the columns is a great idea. I would not, however, put a railing on that porch. It is really narrow anyway, and a railing is just going to make it unusable. I would put two large urns on either side of the door, and look for a bench for one side of the porch and possibly two small outdoor chairs and a side table for the other. Plop some bright pillows on the bench and chairs for some color, and add larger ferns to the front of the porch.

Also, I would get rid of that spirea, quick. You don't want to plant anything in front of the porch that will get taller than the porch, otherwise you will be sitting behind a hedge. You need something very low that will not interfere visually with the porch.
---
| | | |
| --- | --- | --- |
| RE: My front porch needs....something. | | |
I < LOVE > the rails. Nice work, Squirrelheaven.

The rails make the house look larger, friendlier, more grounded, more traditionally substantial.

The rails also make the porch look wider. Narrow porches are a pain, because you can't really use them for anything... but the railings disguise the narrowness of the porch.

If I owned your house, I would add railings in a heartbeat.
---
| | | |
| --- | --- | --- |
| RE: My front porch needs....something. | | |
mclarke & 3D, you are so right. Here's the side view. It doesn't scream 'narrow' anymore. Just sits quiet and looks complete and balanced.
---
| | | |
| --- | --- | --- |
| RRE: My front porch needs....something. | | |
Really should show the wider posts, too. Much better.
---
| | | |
| --- | --- | --- |
| RE: My front porch needs....something. | | |
Well, if we can judge by the mock-up, and I believe we can, adding those rails and beefing up the posts would be done ASAP, if it were mine. The rails make a HUGE difference. HUGE! Wow.
Now it's easy to see you will need to replace the spirea(and above posters correct...lovely for short time, and too big) with something low like boxwood. A two layer approach is done often by the pros. Perhaps a small, lime green medium-leafed shrub( name escapes me), with an even smaller, dark green, little- leaf boxwood placed in front of it. That tree might be nice surrounded by azaleas if its roots allow.
But first....!IMO.... get those rails on, girl!
great job SH!
---
| | | |
| --- | --- | --- |
| RE: My front porch needs....something. | | |
I sure made those rails low. Here's another shot:
---
| | | |
| --- | --- | --- |
| RE: My front porch needs....something. | | |
I am chuckling a little; poor georgiajenny's first post only asked for some help with a few bushes and maybe adding a rocking chair or a planter or two! We've added molding, new posts and rails, painted brick or siding, ripped up the sidewalk for electrical to new lamp posts, taken out her shrubs, added others and on and on!
"Thanks again to all of you! I'll post after pictures once I get some work done! :)"...Our poor newcomer says. I sure hope you do, but, LOL, I think you might run far far away instead ! :>):>):>)
---
| | | |
| --- | --- | --- |
| RE: My front porch needs....something. | | |
What is a better welcome than that? A total revamp of her house! I have to add my .02. Love the rails! I am biased because I have a front porch with rails and I love it! Nothing better than sitting out front on a summer's day! Even a narrow porch! BTW, do we know the depth of her porch. That might help! Good work squirrel! Re about the painted brick. Did anyone catch scb71's thread about her painted brick? Wowzers!
Here is a link that might be useful: painted brick thread
---
| | | |
| --- | --- | --- |
| RE: My front porch needs....something. | | |
Thanks kmcg : ) She said the porch was 3-4 feet. Will have to take a look at the other thread. Thanks for linking.
---
| | | |
| --- | --- | --- |
| RE: My front porch needs....something. | | |
Yep, it is a great welcome. Actually I think anyone who gets all that wonderful PS work is a very lucky duck. SH in action again!
---
| | | |
| --- | --- | --- |
| RE: My front porch needs....something. | | |
Hi Jenny, I'm from Georgia too (Villa Rica)...west of Atlanta. Your house is lovely, congratulations on being a one year homeowner! What town/city are you in?

The mock up pictures are great, esp. shows what landscaping can do for a home. I love the lamp posts and plan on doing this when we move to our retirement home.

The only thing I see wrong with your porch is the posts are really too small. I would budget money in the future to get those replaced. Our builder tried to do this same thing to us and we just happened to be at the house and said he could use the smaller ones on the back porch. We wanted bigger posts for the front porch....a huge difference!

I don't know anything about spirea bushes. All I have to say about bushes/hedges, you don't want anything you have to trim all the time (speaking from experience here....and you can tell from the overgrown hedges in my picture below, LOL.) I would wait until next spring and plant azaleas between the bushes. The azaleas will grow and mix into the bushes. You can mix pinks and whites but I planted some of the red azaleas and they aren't near as pretty as the pinks. Also, when you buy azaleas, get the ones with the longer slimmer leaves. They always have a lot more blooms.

As for the railing, I like it both ways, but I prefer railings because it's where I put my tea glass and my coffee cup when I'm swinging, LOL.

About five years ago, I felt the same way you do...something was missing, so I got landscaping bricks at Home Depot, curved them and made a perennial bed on the right side of my steps. Next spring you could plant a perennial garden and they come back every year. I just love it! Put down landscaping fabric before you plant the flowers and you'll have less weeding.

About those hostas in the sun, they would bake here in Georgia with our heat and humidity, LOL. We do have a lot of hostas at the side of the house and one huge one to the left of the steps. I do love the hanging baskets and the idea of one added lamp post, the one closer to your steps, is a fantastic idea! After 14 years here, things are still missing from my front porch, LOL! I need planters also on both sides of my front door. I'm finally getting three rocking chairs for the front porch this week.

Good luck!

Dee
Here is a link that might be useful: My Home
---
Post a Follow-Up
Please Note: Only registered members are able to post messages to this forum.
If you are a member, please log in.
If you aren't yet a member, join now!
---
Return to the Home Decorating Forum
Information about Posting
You must be logged in to post a message. Once you are logged in, a posting window will appear at the bottom of the messages. If you are not a member, please register for an account.
Please review our Rules of Play before posting.
Posting is a two-step process. Once you have composed your message, you will be taken to the preview page. You will then have a chance to review your post, make changes and upload photos.
After posting your message, you may need to refresh the forum page in order to see it.
Before posting copyrighted material, please read about Copyright and Fair Use.
We have a strict no-advertising policy!
If you would like to practice posting or uploading photos, please visit our Test forum.
If you need assistance, please Contact Us and we will be happy to help.

Learn more about in-text links on this page here