Return to the Home Decorating & Design Forum
|
Post a Follow-Up
---
| | | |
| --- | --- | --- |
| Help! Clueless Young Male! | | |
Posted by
wstjean42
(
My Page
) on
Thu, Jun 14, 12 at 7:30
Hi,
I am a 23 yo male who is clueless when it comes to decorating. I have a new apartment in Boston that needs painting. The problem: VERY Little Natural light in the Living room (One Small window). Need help picking a color that will brighten it, and isnt completely girly. And it has dark wood trim that I cant paint! Need Help! I like Blues, but not sure that will work, open to anything.

Any lightning tips would help as well!

Any Recomendations?

Thanks, Will
---
Follow-Up Postings:
| | | |
| --- | --- | --- |
| RE: Help! Clueless Young Male! | | |
Welcome to Boston, my home town. First off, blue is a cool color and it sounds like you want to warm up the room. It's important to take in to consideration the furnishings you'll have in the room. I'm not saying you can't use blue, you can if you have a sufficient amount of lighting. What do you have so far to put in the room? A huge favorite blue is Benjamin Moore Whythe blue and it would compliment the dark woodwork. Go to the BM site and check it out. Others will chime in shortly.
---
| | | |
| --- | --- | --- |
| RE: Help! Clueless Young Male! | | |
Thanks YaYaGirl! Love Boston! I do want to warm up the room..as for Furniture
I have one Sofa and Ottoman that is a very Neutral Beige (No pattern) that is in great condition. The rest I will be purchasing. Considering a Leather recliner.

Whythe is interesting, will grab a sample. Also been considering BM Goldtone and Hawthorne Yellow. I dont know though.... as I said LOST!!

Will
---
| | | |
| --- | --- | --- |
| RE: Help! Clueless Young Male! | | |
If your room is dark, select a blue you like, then go up at least two shades on the card for your paint. The neutral sofa and a brown leather recliner against a blue background would be the foundation of a great room.

I am impressed with your interest in this, btw. As a person who strongly believes that our environment influences nearly everything in our lives, I applaud you for taking your own surroundings seriously enough to want them to be pleasant and comfortable!
---
| | | |
| --- | --- | --- |
| RE: Help! Clueless Young Male! | | |
If you like blue, I like the idea of Wythe Blue too, as it is a warm, easy to live with hue. Should be easy for you to find pillows & accessories to team with it, as that is the sort of blue that is a "fashion" color these days.

Having said that, Wythe Blue would work well with so many colors, imo, that it could almost be treated as a neutral.

Red, rose, orange or yellow could add an accent color for you if you don't want the room to feel tranquil and quiet. Beige, whites and a little black or espresso brown in the room, would keep things soothing (& very masculine.) I even saw someone here team WB with kiwi green...& it made for an interesting, beautiful effect!

Yayagal gave you a good starting point with that one, imo! Please post pics of your project if you get a chance! Good luck with your exciting new life (& paint color!)
---
| | | |
| --- | --- | --- |
| RE: Help! Clueless Young Male! | | |
Thanks Guys! Yes Im trying hard to turn this into a Joyful Space. And I agree our enviornment has a big impact on how we feel. Took the apartment because it was the right neighborhood, at a steal. Not crazy about the lighting situation.

Considering the Wythe. It is lighter than i would naturally go for, but will def be sampling it. Any "green" Recomendations?
---
| | | |
| --- | --- | --- |
| RE: Help! Clueless Young Male! | | |
Wyethe will look darker on your walls than the card. Get a sample from BM and try it to see how your light level affects colors.

SG., I saw a pairing of Wyethe with green also--- it was fabulously fresh and clean looking!
---
| | | |
| --- | --- | --- |
| RE: Help! Clueless Young Male! | | |
In looking at blues, really look toward colors that appear more gray than blue on the "chip." Otherwise you could end up with a "baby boy nursery" look. You might check out Quiet Moments, Beacon Gray, Gray Wisp, Wales Gray, Gentle Gray, or Nimbus Gray.

If you're thinking green, check out Soft Fern, Mesquite, Tree Moss, Grecian Green, Nantucket Breeze, or Paris Rain. I tend to prefer grayer greens but I don't think you want to go too gray in a dark room, unless you're going for a really moody look.

How about a yellow/gold? If you're lacking in natural light, you could bring in some sunshine that way! Check out Barley, Yellow Lab, or Rich Cream. These are all Ben Moore, but I also like Sherwin Williams' Ivoire or Blonde.

Not seeing your room or furnishings, these are just general suggestions based on some tried and true, easy to work with colors. Don't forget to sample a few on large poster boards before making a final decision. Ideally, you want to look at the larger samples in different lighting conditions: a sunny day, a cloudy day, at night.

I would go light on the wall color and bring in some brighter colors with accents/artwork.
---
| | | |
| --- | --- | --- |
| RE: Help! Clueless Young Male! | | |
Will, what works best for me, and I think for people new to decorating, is to select an inspiration piece...it can be a piece of art, or a fabric, or a picture from a magazine, even a shirt or a view out a window. It just needs to be something you love. If you love it and build your colors around it, you will love the room.

I'm picturing your space as one of the brownstones like along comm ave with lots of dark trim. (I lived on Comm Ave for a couple of years way back when.) I've seen those done well with pale colors or with stronger more contemporary colors...and they could both have been "green" or "blue" or "beige". So without an anchor and a direction, you may find some of your choices not working with subsequent decisions. You could go with something neutral on the walls so your subsequent choices will work, but then you risk (as I have seen many novices do) coming up with a space that is all neutral, still waiting for that color to go with it.

Brownstone with saturated color:

Medium color tone:

Light colors:

---
| | | |
| --- | --- | --- |
| RE: Help! Clueless Young Male! | | |
Hello, Clueless!

I lived in Boston for 7 years, and the light there is very specific. Can you tell me what part of town you're in? If you are close to the harbor, or near water on the North or South shore, your light will be very different from the South End or Arlington or a western suburb.

If you like blue and want warmth, I would recommend that you choose one with a fair amount of green in it, and keep it really light and luminous (a word you hear from me a lot!) Wythe Blue is an historic color that is lovely to look at, but that I fear will darken and be cold in your low light situation.

Look at the thread entitled "can anyone guess this color" and look at that porch ceiling, and the responses to that question.

There are a lot of lovely green-blues in the traditional Cape Cod shutter colors that are worth a look - all of them the colors of the New England coastal sea and sky. Any of those colors discussed will be nice with natural or stained woodwork.

And if your natural light is low, make sure you have lots of lighting, and keep your lampshades pale and ivory-toned but not yellowish, to make the most of every light source.
---
| | | |
| --- | --- | --- |
| RE: Help! Clueless Young Male! | | |
I think grey owl is light and neutral. Hope to see some pics!
---
| | | |
| --- | --- | --- |
| RE: Help! Clueless Young Male! | | |
Wow! Thanks everybody... Overwhelmed with the Support.
Yes, def want to avoid the Baby Boy Nursery look! HaHa

Im in Charlestown, close to the Navy Yard. Like the "Cape Cod" Shutter idea...
Any Specific examples?
Also considering green... BM Nantucket Gray.

Will
---
| | | |
| --- | --- | --- |
| RE: Help! Clueless Young Male! | | |
Definitely like to see some pics. The tone of the woodwork will make a huge difference in determining a paint color.

Hawthorne Yellow would be VERY yellow. It's a gorgeous color, we have it in our bathroom with dark trim and I love it there, but I wouldn't want it all over my living room. That said, a soft/buttery yellow looks very nice with dark trim. The Goldtone you mentioned looks nice. Also consider SW Royceoft Vellum. We used that in our dreary, no direct sunlight living room and it made a huge difference.

If you want blue, I agree with trying to pick one with grey or green in it.

I'm looking at the BM Affinity palette and here are some colors that are light, neutral, and masculine: storm, eternity (we have this in our guest bedroom and it looks great with dark trim and grey), metropolitan, urban nature, spa, elemental, meditation (my husband picked this for his one window basement office and it is very nice and masculine and goes well with the dark trim), and rattan. Rattan is a not a blue or green or grey but a classic gold/yellow that looks great in old homes. It was in the dining room of our 1920 craftsman foursquare home.

Go on houzz.com and search in the photos for "dark woodwork". See what speaks to you.

Have fun and good luck!
---
| | | |
| --- | --- | --- |
| RE: Help! Clueless Young Male! | | |
My experience with Wythe Blue is that it's green, or dark aqua, not blue. It is, however, a lovely, complex color. Here it is in my bathroom, which has pretty good (western) light.

---
| | | |
| --- | --- | --- |
| RE: Help! Clueless Young Male! | | |
Hello,

Here is Wythe Blue in my basement.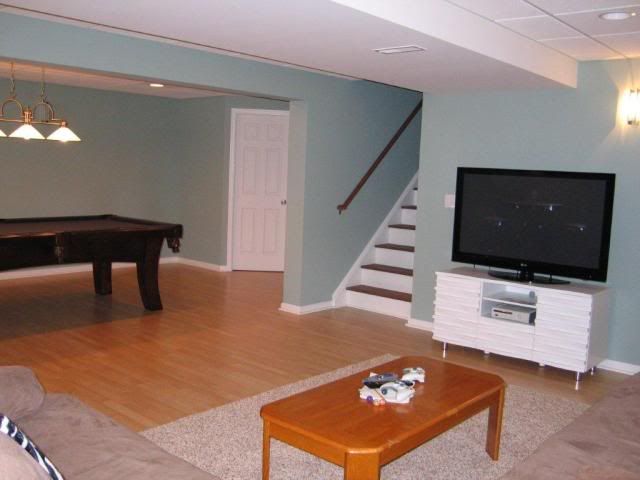 ---
| | | |
| --- | --- | --- |
| RE: Help! Clueless Young Male! | | |
Charlestown!!!

We lived in Charlestown about thirty years ago, before it became a "desirable" location. LOVE CHARLESTOWN!

Is it possible to post a photo of your interior? That will give us a better idea of the space...
---
| | | |
| --- | --- | --- |
| RE: Help! Clueless Young Male! | | |
BM Beach glass is another blue/gray green. I painted my teen son's room this color and it looks great regardless the time of day. it looks great with dark browns, and is masculine not baby blue.

Check out this GW web thread with loads of pictures with tons of pics in similar colors.
Here is a link that might be useful: thread
---
| | | |
| --- | --- | --- |
| RE: Help! Clueless Young Male! | | |
Just remember that if you use a very light color, it can look terribly "blah" and even dirty in a room with little light, so you'll need to really beef up the lighting in the room.

Good luck.
---
| | | |
| --- | --- | --- |
| RE: Help! Clueless Young Male! | | |
Try Benjamin Moore Southfield Green or Harrisburg Green...very blue-green colors with a lot of depth. We painted our low-light office Southfield
(east-facing windows that are shaded by trees) and absolutely love it. Looks wonderful at night with lighting.
---
| | | |
| --- | --- | --- |
| RE: Help! Clueless Young Male! | | |
My favorite soft green is BM Camouflage. It's a grey green which looks great with many colors. It is not pastel like or feminine at all.
---
| | | |
| --- | --- | --- |
| RE: Help! Clueless Young Male! | | |
Birdlover is right -- If your color is too light, it will go VERY blah and nothing in a low-light room. Counter-intuitively, the solution is actually a darker, deeper color.

Look at the first three pictures in this post. See how the last two wash out, but how the rich color just glows? (Granted, that room isn't exactly low-light.) But we have several low-light rooms in our house, and the darker the paint, the more color you see.

If you're not afraid of a deep color, I'd highly recommend it, adding more electric lights if the room remains dark. There's just nothing like a rich deep color for a warm, masculine room. What about BM's Rendezvous Bay? Or Dartsmouth Green? A warm Camel or Cognac shade might also be something to look at, but do consider your furniture colors carefully if you go that route.
---
| | | |
| --- | --- | --- |
| RE: Help! Clueless Young Male! | | |
If you select a darker color, then you will want to use primer, and have the primer tinted at the paint store to be darker. This will make the paint look better, and eliminate multiple coats. (you will still probably need 2 coats)
---
| | | |
| --- | --- | --- |
| RE: Help! Clueless Young Male! | | |
My favorite blue/green/gray paint is Benjamin Moore's "Scenic Drive." Sorry I don't have a photo of it but it is spectacular in a friend's house.
---
| | | |
| --- | --- | --- |
| RE: Help! Clueless Young Male! | | |
how about BM wind chime (light green)? AF-465
---
| | | |
| --- | --- | --- |
| RE: Help! Clueless Young Male! | | |
A vote for painting with warmer tones -- and add LOTS of lighting options! (table lamps, standing lamp etc.) Also items with texture (think of dark woven baskets; sisal rugs or oriental rugs) will add visual warmth.

Let's see:

a)Linen White 912 Benjamin Moore

b)Grant Beige HC-89 BM

c)Honied White SW7106 Sherwin Williams

d)Raccoon Hollow 978 BM

e)Creekside Green 2141-40 BM

f)Golden Honey 267 BM

g)Powell Buff HC-35 BM

h)And for something a bit more bold: Moroccan Red 1309 BM
---
| | | |
| --- | --- | --- |
| RE: Help! Clueless Young Male! | | |
I love blue, too - we painted our bedroom BM Wedgewood Grey, which is really more blue than grey:
or how about a red as an accent color is you want to warm up the space - here is BM Mexicana in our living room fireplace wall and BM Mascarpone on the other walls (we are still unpacking and setting up, excuse the mess, lack of window treatments on the ugly windows, and random stuff!

and in our office:

---
| | | |
| --- | --- | --- |
| RE: Help! Clueless Young Male! | | |
I think I would look at some beige yellows such as Porter Paint Sea Sand, it would really look great with your wood trim and your sofa (but dependent on what beige your sofa is, such a range of beiges!). Check it out. It may be an older color but they can still mix it. If you have a Sherwin Williams store check out Plantation Beige. It's a Duron Paint color but SW and Duron merged. You may still have Duron Paints in your area but if not you can get it at SW. It is also an older color or may be called something else now, both nice soft yellow beiges. Congrats on your new place!
---
Post a Follow-Up
Please Note: Only registered members are able to post messages to this forum.
If you are a member, please log in.
If you aren't yet a member, join now!
---
Return to the Home Decorating & Design Forum
Information about Posting
You must be logged in to post a message. Once you are logged in, a posting window will appear at the bottom of the messages. If you are not a member, please register for an account.
Please review our Rules of Play before posting.
Posting is a two-step process. Once you have composed your message, you will be taken to the preview page. You will then have a chance to review your post, make changes and upload photos.
After posting your message, you may need to refresh the forum page in order to see it.
Before posting copyrighted material, please read about Copyright and Fair Use.
We have a strict no-advertising policy!
If you would like to practice posting or uploading photos, please visit our Test forum.
If you need assistance, please Contact Us and we will be happy to help.

Learn more about in-text links on this page here