Return to the Home Decorating Forum
|
Post a Follow-Up
---
| | | |
| --- | --- | --- |
| For those of you with kids and slipcovered sofas | | |
Posted by
megpie77
(
My Page
) on
Sat, Feb 27, 10 at 11:14
For as long as I can remember I've wanted slipcovered sofas. I told my hubby the other day I'll probably have to wait till kids are grown and out of the house for this. I have a sofa now that is cotton white and taupe striped and boy did it get soiled over the past 6 years! Am I crazy to purchase a cotton slipcovered sectional? The sales man told me it should hold up fine...he could have suggested more expensive sectionals in microfiber. He told me to just throw it in the wash when needed and to take it to cleaners when there is a serious stain. He did tell me not to get the natural color but rather the khaki. I don't mind the maintenance but is it really possible to keep it looking fresh? I will say I don't let the kids eat or drink in the family room except the occasioal greasy popcorn. I think I am more worried about the fabric getting soiled from everyday wear (and the occasional greasy popcorn). The sectional is not very expensive in my opinion (1700.00). I don't think I'd want to splurge on a pottery barn or ballard designs sectional for our frequently used family room. Or would a more expensive sectional hold up better? With the name brand sectionals I can by extra slipcovers down the road, unlike the less expensive one which does not offer this option.
Thank you!
---
Follow-Up Postings:
| | | |
| --- | --- | --- |
| RE: For those of you with kids and slipcovered sofas | | |
When my kids were little, they were the reason I got slipcovers! I had two made, and alternated. Yes, the cleaning cost wasn't minimal (I didn't get washable material, silly me), but both held up well.

I bought my sofa at a furniture store outlet, it's still holding up well, and had the slipcovers made by a local woman. I bought the fabric at an LA-based fabric discounter, but Ebay usually has great deals.
---
| | | |
| --- | --- | --- |
| RE: For those of you with kids and slipcovered sofas | | |
Megpie, I too have always yearned for that slipcovered sofa look. I never have quite had the courage to actually go for it, knowing that I'm a picky neatnik who would have a very tough time either tolerating stains and grime between washings or washing constantly to avoid having stains and grime bother me between cleanings :).

However. If you want to try one out my advice is to go waaaaaayyyy lower on the price scale-I've linked to a JCPenney slipcover couch that is on sale right now for $500(!). If $1700 seems reasonable, then for a third of that cost you can get a couch that has the look you want and give it a try without investing too much. I doubt a slipcover couch is something you are viewing as investment furniture that you anticipate recovering, using forever then passing along as an antique, right? I have had very good experiences with JCP furniture, including couches. It isn't high end but for something to use with kids for awhile, knowing you will move on at some point to another piece, might be a great compromise.

Good luck and hope you get your dream room!

Ann
Here is a link that might be useful: JC Penney slipcovered sofa
---
| | | |
| --- | --- | --- |
| RE: For those of you with kids and slipcovered sofas | | |
The key to me in my experience with slipcovers is in having two sets of slipcovers from the start, so that two years from now if you need new ones, you don't have to worry about whether they are still available. So, I would suggest you buy a sofa that you could also buy an spare set of slipcovers for.

This gave me a lot of peace of mind--I could use the alternate set when the first one needed laundering, or I could reserve the alternate set for after the first one got stained or soiled to the point that laundering wouldn't resolve it. I never had to fear that someone's spill was going to ruin my sofa.

I had slipcovers made for a pair of chairs that are in my living room, too, and even though they are dark brown and get much less use/abuse than our family room sofa did, I wish I'd had extras made while the woman had the pattern drawn up. Now we've moved, she's moved, and it'll be back to the drawing board (and more expensive)to get another set made :(
---
| | | |
| --- | --- | --- |
| RE: For those of you with kids and slipcovered sofas | | |
I don't know if Lee makes a sectional, but I have a Lee Coveralls (slipcovered) loveseat that I my dogs used to sleep on. After a few years, the slipcover was nasty -- stained from bulldog drool -- so I went to the store and ordered a new one. I used to wash the old one all the time, which was very easy. I haven't washed the newer one because the dogs aren't allowed there any more! We also have the Bayside slipcovered sofa from Crate & Barrel at our summer place and I looove that sofa. It is so comfortable, and even though it is white and blue, very light print, it doesn't seem to get that dirty. I realize I'm not talking about sectionals, but that's my experience with slipcovers (and 3 kids and 2 dogs!).
---
| | | |
| --- | --- | --- |
| RE: For those of you with kids and slipcovered sofas | | |
I have the jcpenney slipcovered sectional. I just ordered a second slip cover so I can alternate them for cleanings. I have 3 kids and a dog. My little guy (8 months) had reflux, and I can't tell you how many times he spit up on it. So far they have washed fine. But I only washed the cushion covers. I don't think the whole slipcover would fit in a washing machine, it would probably have to be professionally done. But only the cushions have been affected so far. My sister has the Ikea slipcovered sofa, and hers has held up well to washings as well.
---
| | | |
| --- | --- | --- |
| RE: For those of you with kids and slipcovered sofas | | |
Thank you for all of your responses.
It sounds like everyone has had possitive experiences.

runninginplace-Of course my sofa furniture is not an investment, wish it was. But I would like to have my next sofa/sectional for around 20yrs like my mom has. Thanks for the link! That looks like the same sofa as Macy's.

polly929-is the seat comfortable? I want it to feel like something you could lounge into.

Thanks again everybody. I will check out the links and brands you have all mentioned.
---
| | | |
| --- | --- | --- |
| RE: For those of you with kids and slipcovered sofas | | |
I have this slipcovered covered sofa from JCP. I love it, it comes in 8 different fabric selections. I have the Tan print. It actually came delivered with the Denim slipcover. So I got 2 slipcovers for the 1 price tag. It's really comfortable!

http://www2.jcpenney.com/jcp/X6.aspx?DeptID=57087&CatID=57845&GrpTyp=STY&ItemID=16f08db&attrtype=&attrvalue=&CMID=57087%7c57090%7c57306&Fltr=&Srt=&QL=F&IND=4&cmVirtualCat=&CmCatId=57087:57090:57306:57845
---
| | | |
| --- | --- | --- |
| RE: For those of you with kids and slipcovered sofas | | |
I have two tween boys, two black cats, a black German Shepherd AND a black bunny. I've had the same Rowe sofa since the boys were born and it wore like iron, it was a medium green chenille. I just gave into my own slipcover lust; I wanted to go neutral in the living room with a Phoebe Howard kind of groove: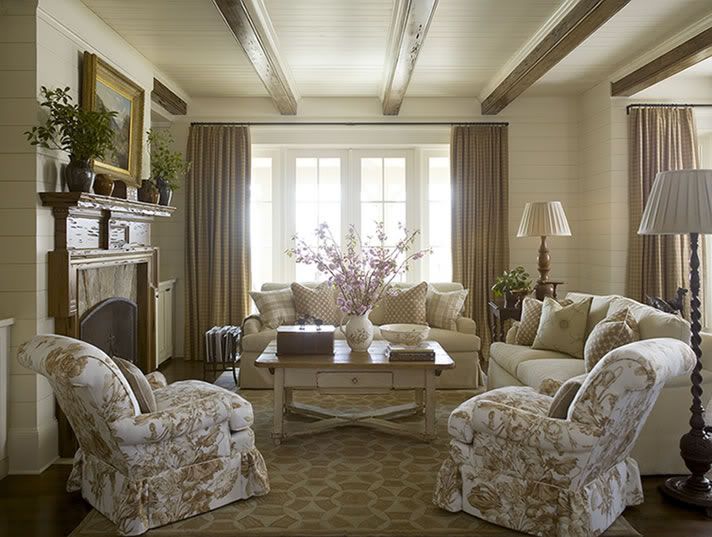 Just in case I was opening myself to a world of hurt I kept things as inexpensive as possible just in case trying to live with lighter colored upholstered furniture turned out to be a lost cause. It seemed that for most of the ones I shopped the slipcovers were really expensive and dry clean only. After patiently trolling for months I just found an Ikea Ektorp corner sofa, arm chair and ottoman on CL for $200, the covers were trashed. I changed them out to the Idemo Beige color and so far so good - they are machine washable and I figure I'll be washing mainly the seat cushions as needed. I'm thrilled with how they look, the seat cushions are kind of on the firm side but I find that refreshing after sinking into my old couch for so many years. I still have lots to do to get to the look I want, here's a quick pic as I was playing around with window treatment possibilities, the white sheers are goners.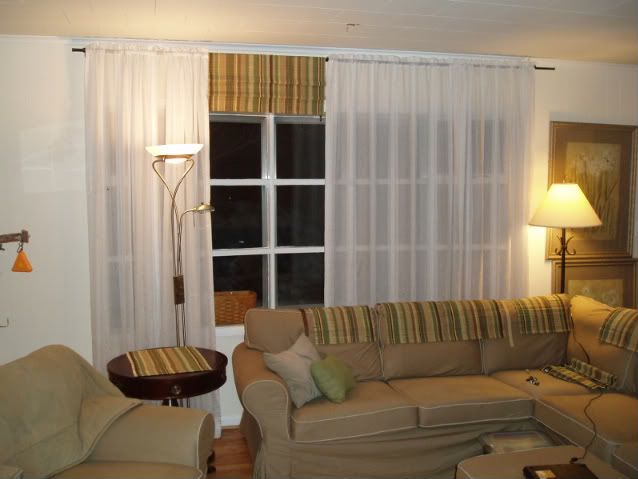 ---
| | | |
| --- | --- | --- |
| RE: For those of you with kids and slipcovered sofas | | |
Tournant: So those slipcovers are Ikea too> Or just the sectional? They look GREAT.

Also, I perused the JCPenney site and those sofas are ridiculously CHEAP! You can't lose....seriously! Go out now and buy one! If you love slipcovered furniture, this is the price to try it at. If I actually had a home (still being built), I would run out and buy one now. For $500, even if you made a mistake, you haven't paid such a fortune that you'll regret it every day. Buy something neutral and you can probably use it somewhere else if not where you originally thought.

The slipcovers are $299 too. Truly a steal.
---
| | | |
| --- | --- | --- |
| RE: For those of you with kids and slipcovered sofas | | |
Well, no kids but a chocolate lab with white slipcovered sofas. Sounds silly but it's worked out so well. We also went the inexpensive route not knowing how white sofas would survive a brown dog that loves to get on/rub against furniture. Went with Ikea Ektorp sofas too.
(there are links to pics if you see the post 'Beachy Family room) Basic style sofas and surprisingly, they've held up well.
They've been great!! Off they come, in the wash, a little bleach and clean again:)
The covers themsselves can be purchased at Ikea and are inexpensive.
---
| | | |
| --- | --- | --- |
| RE: For those of you with kids and slipcovered sofas | | |
Hi,
I purchased a white slip-covered sectional 11 years ago, it was "high-end", and it's still going strong. The fabric is machine wash-able. Kids, cats, a dog who rubs against it - still comes out beautifully. I can't tell you the number of times I've said to myself "Thank G** I have machine washable slipcovers!!!"
I do usually take it to the Laundromat to utilize the over-sized washer/dryer otherwise it takes all day at home, except on occasions such as last night when a friend spilled red wine on the cushion - into the washer it went immediately and it came out fine. I wash not only the cushions, but the entire slip cover regularly - probably every 2-3 months for all these years (my lab thinks it's his towel!) The white does show everything, but it also cleans beautifully.
I know you're not interested in a higher-priced item, but here's a link to what I purchased:
http://www.quatrine.com/construction/sectionals.htm
Priscilla
---
| | | |
| --- | --- | --- |
| RE: For those of you with kids and slipcovered sofas | | |
We have 2 couches, 2 big chairs, and 2 ottomans, all slip covered, that we bought at Crate and Barrel; one is a sleeper sofa. The sleeper and one chair and ottoman are almost 16 years old; they still have the same covers and have held up great through 2 kids and multiple kid parties. The other couch/chair/ottoman are on their second set of slip covers -- due to me wanting a fresh look, not because they wore out.

I have washed our slipcovers many times -- especially the ones that are now boxed up and put away, because those are a creamy white. Because they're washable I think slipcovers make so much more sense when you have kids.

We have a puppy too. Because of him, one of the slipcovers got popped in the wash today.

We've always had good service from Crate and Barrel, and have confidence that we can go back and get slip covers years after purchasing the furniture.

We also have a camel back sofa from C&B that I wish had slipcovers; it has faded a bit and I'd love to change the look easily (without having it recovered.)
---
| | | |
| --- | --- | --- |
| RE: For those of you with kids and slipcovered sofas | | |
A HA!!! One of the boys let the dog in today without me catching her to towel off - our yard is a mud pit with all the NE snow melt. Up she jumped onto the armchair - I shrieked - she fled - and the seat cushion got popped into the wash. Perfect!
---
| | | |
| --- | --- | --- |
| RE: For those of you with kids and slipcovered sofas | | |
Thanks once more!

Priscilla-I was asking the salesman about red wine! I am so glad to hear that it does come out. I was actually wondering if white/off white would be best as other colors might fade after multiple washings. Thanks for the link although I don't think there is a store around me. I don't mind buying a higher end sectional just wasn't sure if it was necessary, but perhaps if I want it to last 20 years or so it might be worth it. Macy's does not offer the option of buying extra slips which doesn't sound good to me.

Chicagoans-I totally forgot about Crate and Barrel. I will check them out.

Tournant-Glad to hear they washed up! I think you've got me convinced.
---
| | | |
| --- | --- | --- |
| RE: For those of you with kids and slipcovered sofas | | |
The JCPenney slipcovered is VERY comfy. My kids love it, we all (including DH) fight for the corner spot. My sister has the Ektorp, and it is not nearly as comfy as mine. Although the Ektorp in Ikea is really comfortable. I have the off white color. Don't have any pics right now, will take some and post when I have a free minute.
---
| | | |
| --- | --- | --- |
| RE: For those of you with kids and slipcovered sofas | | |
Meg: Did you buy the slipcovered sofa? I am seriously thinking of doing the same....have no more budget for a sofa and need something that will look good, be practical and not cost a fortune!
---
| | | |
| --- | --- | --- |
| RE: For those of you with kids and slipcovered sofas | | |
firsthouse mp- Meg ordered the sofa, I have one too- here's a link to another thread between the two of us
Here is a link that might be useful: JC penney sofa thread
---
| | | |
| --- | --- | --- |
| RE: For those of you with kids and slipcovered sofas | | |
Firsthouse mp-Yes! It arrives this Thursday (25th). Right now (where I live) Penneys is having 15% off the "sale" price of around 2029.00. This brought it down to around 1700.00 Then I asked if I could get an additional 10% off if I opened a penneys card and the saleswoman helped me to do so. I was a little frustrated by the penneys in my town. I went in twice and the salesman wasn't getting the hint I was ready to buy NOW and wasn't trying to give me the absolute lowest price. One day my hubby happened to be home from work and I told him I was going to the mall 30min away. I just had a feeling I could find someone willing to work with me and I did. The couch before tax came to around 1540.00.
Horray!

Now if I could just pick a paint color to go with khaki...any suggestions? I've been painting swatches all week and my MIL said I need therapy! I think she was sort of kidding..
---
| | | |
| --- | --- | --- |
| RE: For those of you with kids and slipcovered sofas | | |
Meg: After looking at Polly's thread it looks like you have a rug with a touch of gray/blue. I think the blues and browns (khaki) go really well together. If your gray has too much blue, try for more of a gray with only a touch of blue (Edgecomb Gray or Winterwood). I am a huge fan of Manchester Tan but it might read too tan for your room--depends on the color khaki.

Did you see the zipper in the back that Polly was eluding to? My sofa would hang in the middle of the room too, so a zipper down the back wouldn't be ideal. I seriously cannot spend more than $1700, so this might be the exact sofa.

Still considering the lumpy Ikea one just to save money! How long did your sofa take to order and deliver?
---
| | | |
| --- | --- | --- |
| RE: For those of you with kids and slipcovered sofas | | |
Firsthouse mp-My living room is such that the zippper won't really be a problem.
My sectional is a little pricier because I am getting an additional armless chair to add to the sectional (one side will be a seat longer than polly's). I think her configuration is a couple hundred dollars less. And wait for Penney's sales! Right now (till Sunday they told me-today) it is 15% off and I'd ask about the additional 10% opening a Penney's card. The site is not showing the additional 15% off. Macy's has a very similar looking new sectional called "lucie". It is even less expensive, but at this time does not have extra slipcovers for purchase. I can't immagine they wouldn't down the road but I didn't want to take a chance.
Thanks for the guide with color. I love edgecomb gray. This is the color I would have done with the natural colored slipcover, but unfortunately it doesn't look great held up to khaki-or maby it does and I'm being too matchy matchy. Although I know things can blend if the right colors are incorporated. I have a color called Camoflouge up and I didn't think I'd like it being that it has a green tone but it looks great with the hardwoods and the khaki. Hhhmm.

I ordered it on Wed (was that the 16th?) and it is coming the following week on Thurs. So about one week.
Thanks again for the suggestions!
---
| | | |
| --- | --- | --- |
| RE: For those of you with kids and slipcovered sofas | | |
Firsthouse-
My sectional floats in the room. On one side I have a console table (currently it is upstairs, because my pack and play is there for DS' naps) the other side I covered the back with a pretty throw blanket. For the price, I can deal with a zipper.
I also took advantage of the sales. But when I ordered the sectional it was on backorder, and when it became available it didn't ship. Every time I called, the customer service people could not figure out why I had not received it yet. Finally I asked to speak to a regional mananger, who realized that somehow a glitch in their computer did not allow my cc information go through, and the order was on hold. In the end I ended up getting it shipped free, so the total cost for mine was around $1200!
---
Post a Follow-Up
Please Note: Only registered members are able to post messages to this forum.
If you are a member, please log in.
If you aren't yet a member, join now!
---
Return to the Home Decorating Forum
Information about Posting
You must be logged in to post a message. Once you are logged in, a posting window will appear at the bottom of the messages. If you are not a member, please register for an account.
Please review our Rules of Play before posting.
Posting is a two-step process. Once you have composed your message, you will be taken to the preview page. You will then have a chance to review your post, make changes and upload photos.
After posting your message, you may need to refresh the forum page in order to see it.
Before posting copyrighted material, please read about Copyright and Fair Use.
We have a strict no-advertising policy!
If you would like to practice posting or uploading photos, please visit our Test forum.
If you need assistance, please Contact Us and we will be happy to help.

Learn more about in-text links on this page here