Return to the Pools & Spas Forum
|
Post a Follow-Up
---
| | | |
| --- | --- | --- |
| New dig - NY - how exciting ... | | |
Posted by
nypoolnovice
(
My Page
) on
Thu, Nov 5, 09 at 17:27
We are so fortunate to have found this site ... we have been lurking around and learning from each of your photos ... someone mentioned that this was like an encyclopedia - it's that and more! We can spend hours going through the photos, each time looking at something different.

We have been working on our backyard for some time now, started with a retaining wall, then some curvy walls and stairs(which still need to be bricked) and then led to the pool and spa. My husband is a talented DIY, however everyone that sees the 'project' in the backyard keeps saying - you are doing this all by yourself ...?

The dig happened 3 weeks back, rebar almost finished, must be completed before tomorrow 10:30 when inspector shows up, then the plumbing needs to be completed because the gunite guys are spraying on Monday, so this will be a big finishing weekend. The rain has been killing our progress.

I will get all of the specs of the pool from hubby and add in my next post, it has changed so much after previewing this site - we added the tanning shelf and round spa after seeing so many amazing builds - approx. 27,000 gallons, he knows all the other stuff.

I'm going to attempt to post a few photos ....
protecting it from the rain ....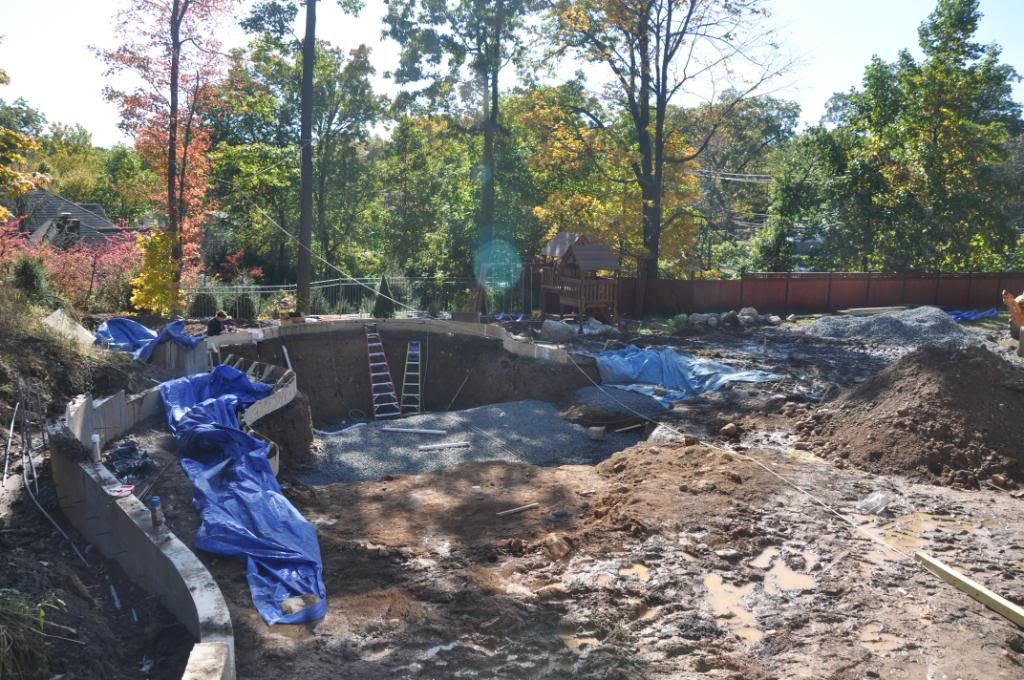 working at night to get it done ...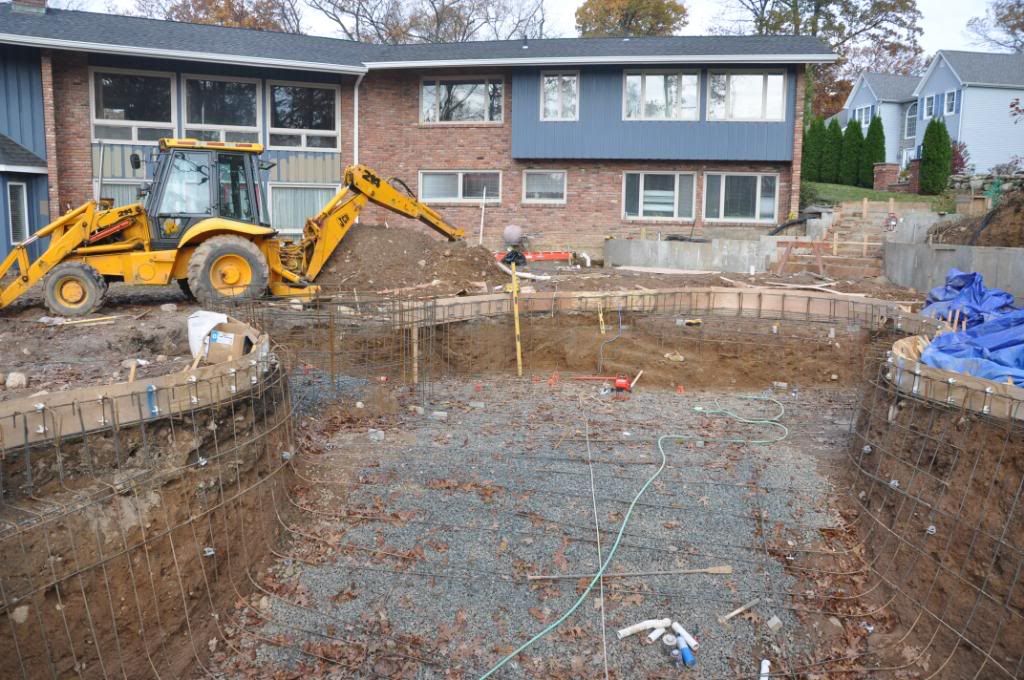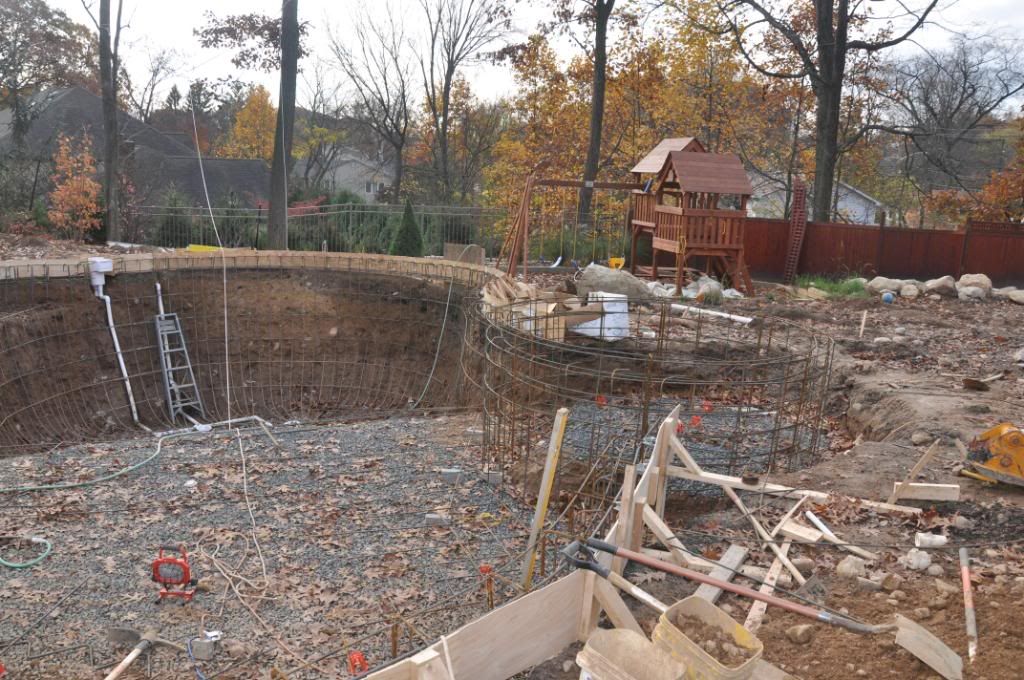 oh, and we need to move the swingset ... we are putting an open air pavillion in part of that space ... so much for master planning! Also, come spring I'll finish painting the house ... I started in the front but with the mess in the backyard, couldn't get there - started the scraping as you can see ...
Wish us luck.
---
Follow-Up Postings:
| | | |
| --- | --- | --- |
| RE: New dig - NY - how exciting ... | | |
Really great progress. Very impressive and ambitious for DIY. Best of luck and I look forward to seeing your progress.
---
| | | |
| --- | --- | --- |
| RE: New dig - NY - exciting - added specs | | |
Thanks bobinbaltimore ... we are really psyched or psycho depending on how you look at it. My hubby claims this is a really fun project, he's like the energizer bunny, I think after the gunite he can take a slight break. I should mention he is a civil engineer, so he's been over-engineering some of the rebar in my opinion :)

Here are the specs: feedback appreciated.
Freeform 21' x 47'
Total Capacity- 29,000 gal (and counting!)
Depths- 3'6" – 8'
12" deep Baja Shelf , 77 SF - 2 bubblers
Area- 780 sf + spa (50 sf)
Perimeter- 130'
Coping- Travertine
Deck- 2,600 SF Travertine Pavers - I think walnut or light
Skimmers- Two Hayward (square top)
Six Returns
Pump (pool and spa) IntelliFlo VS SVRS
Pump 2 (spa only) IntelliFlo VS SVRS
Intellitouch i9 +3 w/indoor panel
Heater – Undecided, 400,000 BTU Nat Gas
Lights- (3) Intellibrite LED
Cleaner- Undecided
Filter – Pentair Quad DE 80
IntelliChlor IC40
Swim out step in deep end with 3 jets in back
Babbling brook waterfall (coming off slope into pool)
Natural gas fire bowl (my husbands favorite part of the pool)


Spa
8' round, 16" raised with flat fieldstone
18 Waterway Polystorm Jets (2 floor, 4 calf, 12 back)
3 seating heights - 22, 20, 18
(6) Antivortex Safety Drains
Intellibrite LED
Pentair iS 10 Spa side remote

20'x22' Pavilion with kitchen and flat fieldstone fireplace

I'm hoping to visit gothic stone next week (I think that was where the jimbar got his travertine...) We are thinking of using flat fieldstone on the raised spa so that it will match the fireplace that will be in the pavilion.

Our house is a mix of used brick and wood, and the curved walls will be the same (to match some walls in the front yard), so we were nervous about the type of stone to introduce into the mix ... we think the travertine and flat fieldstone will work .... ?
---
| | | |
| --- | --- | --- |
| Yippee!! NY pool - Gunite party!! | | |
Good bye mudhole - Hello pool. This Monday was the coolest day around here - the gunite crew showed up at 7 am and 61 yards later ... we have a pool. I must admit, I was panicked that we might not be ready, as my hubby was out there til 2 am the previous nights still working on installing the plumbing ... quite stressful.

It wasn't looking good after I begged him to get the pressure test set up, as immediately he discovered an unglued joint ... he really didn't like admitting that to me and now I'm sharing it with all of you.

He was absolutely exhausted and the picture I should have taken, but didn't, was of him asleep on the floor while the gunite crew was shooting the pool ... he called it a power nap, yet it lasted a bit. No worries, the guys took 8 hours so he was up to supervise for most of it.

61 yards - they were generous and charged us for 58 yards (I think thats because they felt guilty about the 10 yards of trimmings they left around the pool) ... hey, that was something we didn't see on other posts, so for other DIYs I would recommend a tarp around the edge to collect that stuff ... now it will be hard to shovel for the trenches. Yes, we have hard dirt filled with rocks, and now gunite. Anyway, most folks seem to like to know costs - gunite was $10,730 not including KFC lunch for 8 hungry gunite guys and some tips.

Here's some photos ... let us know what you think.

spa plumbing - 18 jets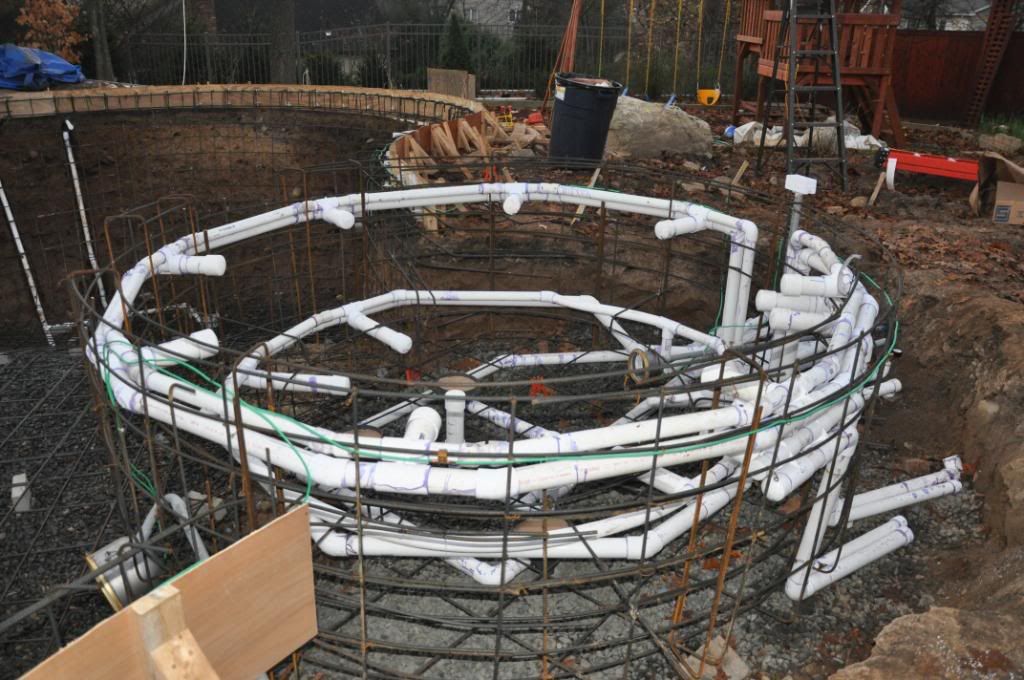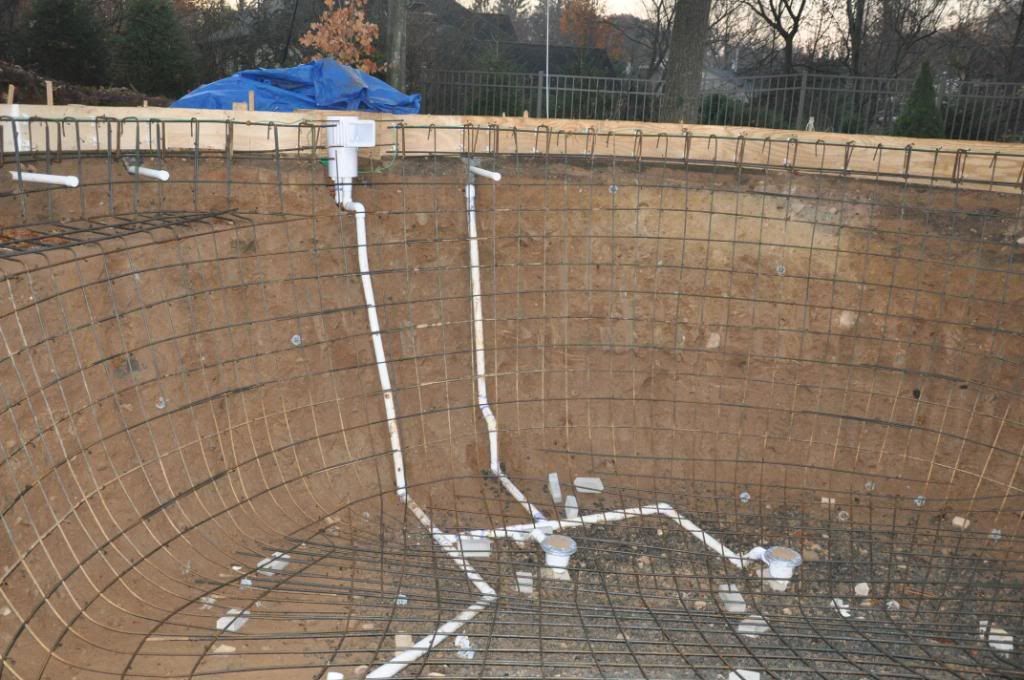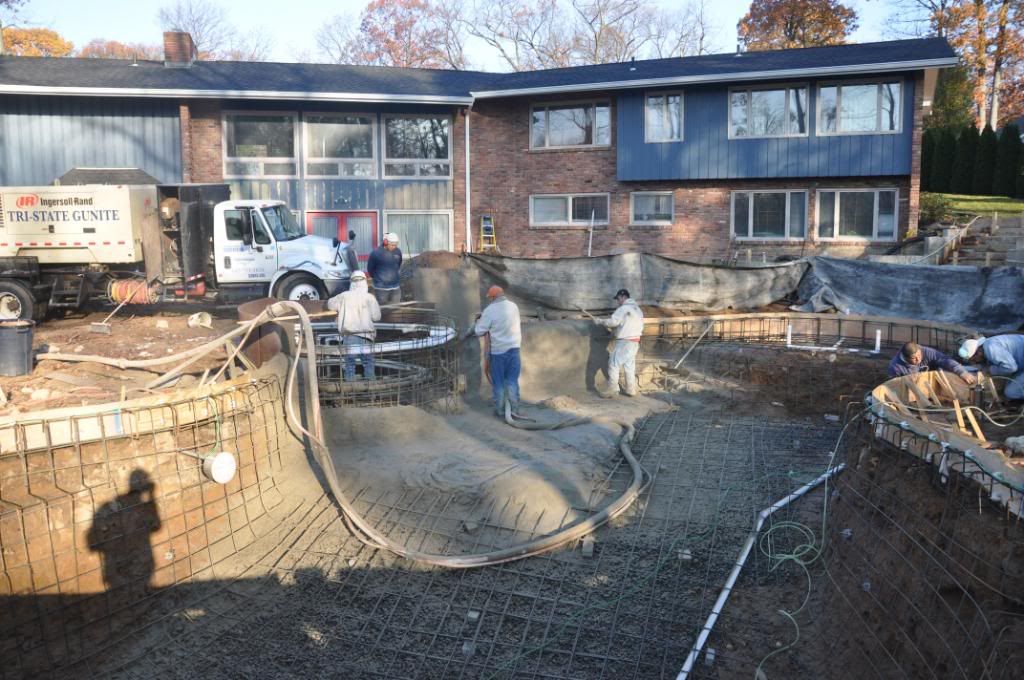 that's hubby on the left watching the crew - can't see the level he was holding all day ... just a prop really.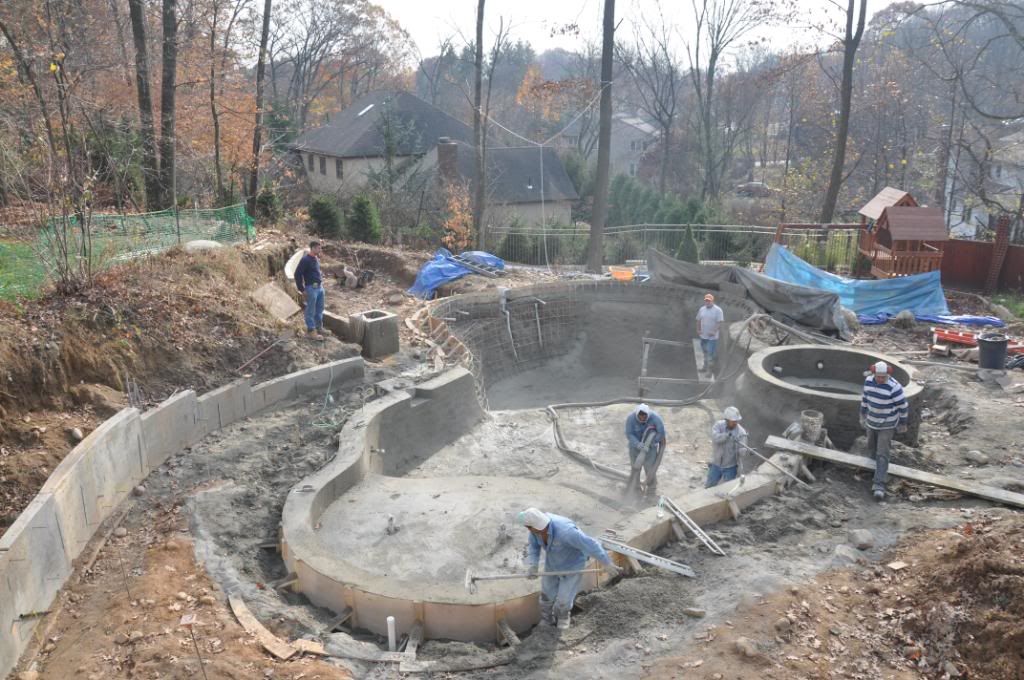 steps to shelf ... added extra step based on comments - thanks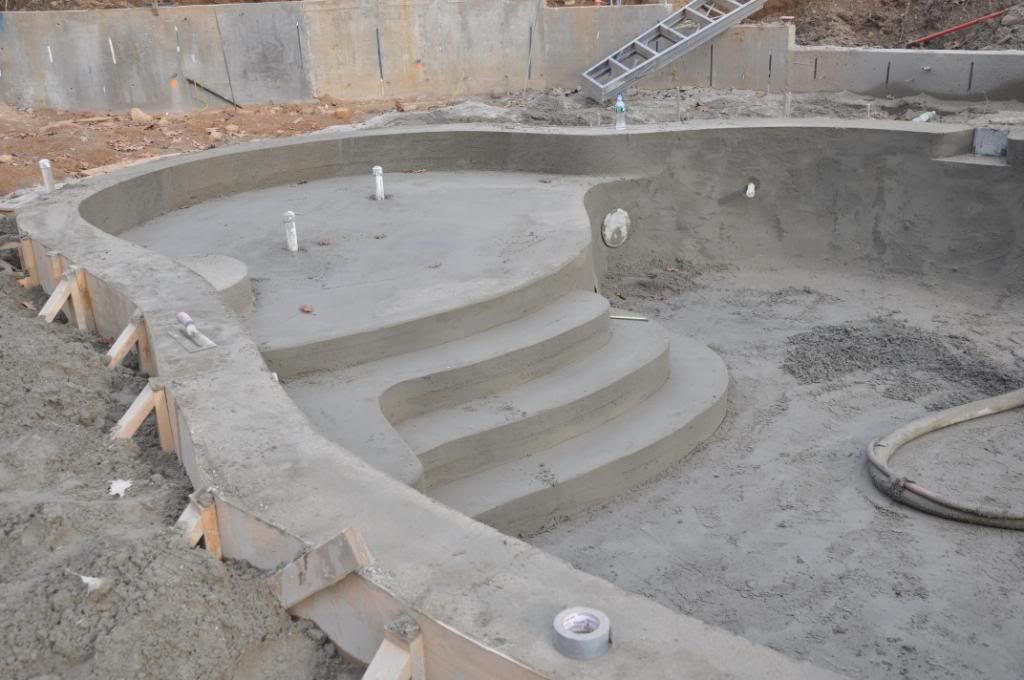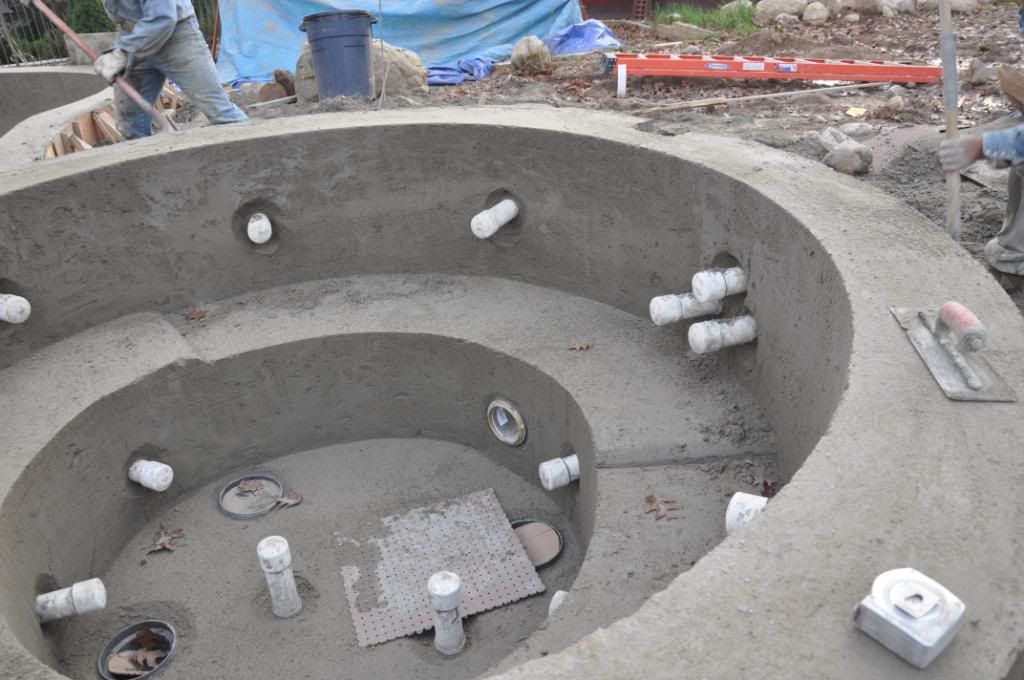 the finished product ... we love it!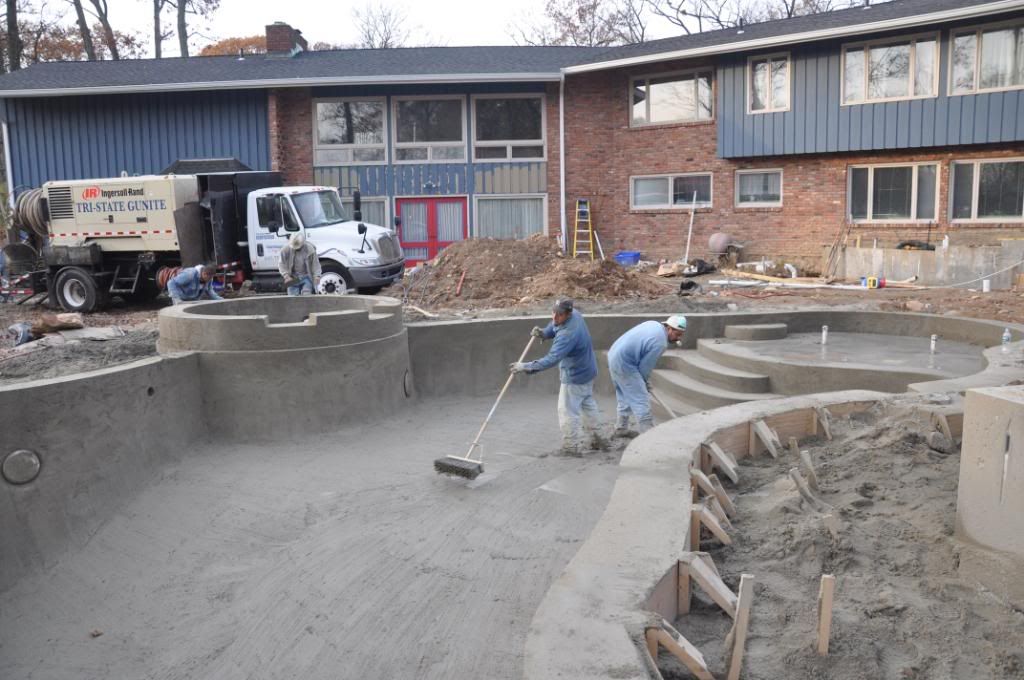 Enjoy ... now we have to shop for the tile and decking .. and oh yeah, he has to finish the plumbing.
---
| | | |
| --- | --- | --- |
| RE: New dig - NY - how exciting ... | | |
Maybe they do things different there, but I dont see a hartford loop on the air lines. Do you not do this because it is harder to winterize? Seems like you would always lose your air without it.
---
| | | |
| --- | --- | --- |
| RE: New dig - NY - how exciting ... | | |
Kelley had mentioned on another thread that the air intakes can whistle, so we're planning on a blower about 50' away on the equipment pad. I assumed that a Hartford loop wouldn't be needed with a blower. When the air lines got wet, the blower would just blow them out. I hope that's right.
---
| | | |
| --- | --- | --- |
| RE: New dig - NY - how exciting ... | | |
The blower, at that distance will need to be a 2 HP. It must be set at least 24" higher than the level of the pool and should have a lightly spring loaded check valve a foot below the actual unit. If you have the equipment pad below grade, it will have to have it's pipe extended up to the level I mentioned before.

From the look of the spa pix, you will need at least 2 blowers for the number of jets and the fact that they are at at different levels. I also see that there are two sets of loops with each set having one air and one water feed.

I love that no flex was used.

Scott
---
| | | |
| --- | --- | --- |
| RE: New dig - NY - how exciting ... | | |
Really nice job! You must have a lot of patience and tenacity to tackle all that yourself. I'd be fine with plumbing, but the rebar would probably drive me nuts. It's coming together very nicely!
---
| | | |
| --- | --- | --- |
| RE: New dig - NY - how exciting ... | | |
scott - thanks for the hints, we really couldn't have gotten this far without this forum and the knowledge that everyone is willing to lend. I know I read on another post that you spent many years in Northern Bergen, we are in Rockland County ... do you know any good plaster guys? We need to get one lined up for spring.

bobinbaltimore this project has really become a labor of love for my hubby, (my family calls it an obsession) He's done the other work you see in the photos, the curved walls, the stairs, the fencing and he claims this has been a really 'fun' project. I don't know, watching him do the plumbing and rebar in the dark with spotlights, it didn't seem like much fun, but I have to take him at his word :)

The fun for me is getting rid of the mud - I can't wait to see some of the yard start to take shape ... we still have a lot to do before then, and we will be sure to share our progress. thanks for the support it keeps us going.
---
| | | |
| --- | --- | --- |
| RE: New dig - NY - how exciting ... | | |
I'll have to check with the teams I use if they are willing to go that far. Right now, they are vacationing so I will try text and email and see what the temp is. I don't think it's a problem though.

Have you given thoughts to what finish or type of finish you want?

Scott
---
| | | |
| --- | --- | --- |
| RE: New dig - NY - how exciting ... | | |
Scott, about the blower(s).

What we have is 18 jets:
-8 upper back jets in a loop at 7" deep.
-2 pairs of lower back jets, both pairs in a "T" arrangement with each pair having a dedicated air and water feed so they can be on/off separately, 11" deep.
-4 calf jets on a loop, 28" deep.
2 floor jets in a "T", dedicated air and water.

So we have 4 levels of Jets. but the difference in head for the back/lower back jets is only 4", and the calf/floor jets is about 8" head difference.

I was hoping to use 2 blowers, one for the back/lower bac, and one for the calf/floor. Maybe I would have put an orifice in the line serving jets with lower head, to make sure a fair amount of air went deeper. I was just going to use trial and error with that.

Do you think this will work? or will i need 4 blowers for the 4 different levels?

Also, we appreciate your advice with the plaster. We haven't decided on a finish, but we don't want to go for the most expensive stuff. Something that looks blue, and a little darker than Caribbean blue. We don't need the latest greatest stuff, but we do want something that will last a while. Could you recommend something?
---
| | | |
| --- | --- | --- |
| RE: New dig - NY - how exciting ... | | |
You could start with two blowers and two 3way valves to find out how well it works and adjust as needed.
---
| | | |
| --- | --- | --- |
| RE: New dig - NY - how exciting ... | | |
How many air/water return sets are feeding your loop sets?

Scott
---
| | | |
| --- | --- | --- |
| RE: New dig - NY - how exciting ... | | |
The upper loop is 8 jets with 2 water (2") and 2 air (1 1/2").

Calf loop is 4 jets with 1 water (2") and 1 air (1 1/2")
---
| | | |
| --- | --- | --- |
| RE: New dig - NY - how exciting ... | | |
Ah, I didn't see the 3rd set.

Two set of drains and two VS-SVRS pumps.

Pool pump and 1 blower to the 8 jet set.

Booster and second blower to the other two sets. Put a valve actuator on both the air and water lines or add a 3rd blower.

I didn't see a spa side controller. An iS10 will give you great control of the pool and spa such as jet selection, lighting, both pumps, heater, etc... I don't know if it will allow speed control. That would be neat though. I will ask Pentair on Monday.

Have you decided on the heater yet? IMHO, the Ray Pak or MasterTemp 400K units are your best bet. The Pentair unit will benefit from the extended warranty, not that either is likely to need service.

If you plan on heating the pool, put it on the Pool/Spa system. If not, then put it on the booster. You can still get some heat in the pool by running the booster and setting the spa in the spa fill mode. Then all the pool pump's return goes in the spa and spills into the pool. Its not the most efficient, but it works and is an option.

Scott
---
| | | |
| --- | --- | --- |
| RE: New dig - NY - how exciting ... | | |
Scott, thank you.

Yes, we're getting the is10, top mounted on the coping. I had the mud box in there but I thought the elevation was too low so I popped it out while they were finishing the gunite. I had the guys leave a rebate and the 1" conduit is in. You can sort of see the rebate in the second to last pic.

On the heater, no decision yet, but I was leaning to the Pentair because I could be sure that it would work seamlessly with the Intellitouch. It seems to be the most expensive though.

When the spa is in fill mode, is it best to deliver the flow through the floor jets, or doesn't it matter?

We're using the VS--SVRS because in NY a vacuum release is code. Not thrilled about the price. Do you know a more economical solution to satisfy the VR requirement?
---
| | | |
| --- | --- | --- |
| RE: New dig - NY - how exciting ... | | |
The SVRS is a great pump. Take a verbal, electricity prices will not be going down. Most of the time, the pump will be running at a relatively low speed, usually consuming about 250 watts. At about 2200 RPM, it's pushing about the same as a 2 HP pump for about 1/2 the power use. It also has 8 settable speeds as opposed to 4 for the non SVRS VS model. It's also safer and less expensive than any multi speed and descrete SVRS solution. It will shut itself off if it senses it's running dry or if it senses a blockage. I don't think there is another pump out there that can do this.

Where fill mode fills from depends on which loop you plumb it to. I think it would be best to hook the pool pump to the 8 jet set as it will offer the least head loss.

When running in pool mode, some water is sent to the spa and the rest is going to the pool. The water to the pool is going to the wall returns or the bubblers is another potential valve actuator location.

Turning on the spa booster to the floor jets if they were able to receive pipe extensions, could produce another set of bubblers in the spa. Then at night with the lights on, the effect would be very pretty indeed. Two sets of bubblers, the spillway and the fire pit. I'll bet a couple of different sets of extensions could be made for fountains with different patterns. Just remember, if the spa booster pump is sending water out of the spa in this situation, something needs to replenish the water in the spa or you will empty the spa.

The Pentair heater has a smaller foot print and the top, which houses the control pad can be turned to face three of it's four sides (plumbing side is excluded) ensuring the unit can be plumbed to make the most of the available space and ensure easy access. Aesthetically, it'll match the color of the rest of the equipment too.

Changing the headers on the Ray Pak (and it's sister the Rheem) only give 2 positions and moving the headers is a pain few installers take the time to do.

Just my thoughts. Sorry for rambling.

Scott
---
Post a Follow-Up
Please Note: Only registered members are able to post messages to this forum.
If you are a member, please log in.
If you aren't yet a member, join now!
---
Return to the Pools & Spas Forum
Information about Posting
You must be logged in to post a message. Once you are logged in, a posting window will appear at the bottom of the messages. If you are not a member, please register for an account.
Please review our Rules of Play before posting.
Posting is a two-step process. Once you have composed your message, you will be taken to the preview page. You will then have a chance to review your post, make changes and upload photos.
After posting your message, you may need to refresh the forum page in order to see it.
Before posting copyrighted material, please read about Copyright and Fair Use.
We have a strict no-advertising policy!
If you would like to practice posting or uploading photos, please visit our Test forum.
If you need assistance, please Contact Us and we will be happy to help.

Learn more about in-text links on this page here