Return to the Pools & Spas Forum
|
Post a Follow-Up
---
| | | |
| --- | --- | --- |
| We've been swimming - here's some photos | | |
Posted by
nypoolnovice
(
My Page
) on
Thu, Sep 9, 10 at 21:50
Hi everyone-
Thanks to everyone on the site for their help and motivation, we finally opened our DIY pool on Father's Day - and we've been swimming ever since. Being in the water has killed our progress, so we still have a pretty big punch list of items to complete (decking, final landscaping, pool shed, pavilion with outdoor kitchen, gas fire bowl), but at this point we are pushing those to next spring. I'm extremely proud of my husband for getting all of this together (I helped with the tile, stonework and the landscaping selection, but the rest was all his).

We have been living with approx. 900 sq. ft of green outdoor carpet that has worked like a charm. I highly recommend this for those who need to do it in stages, it kept the dirt out of the pool and our feet thanked us but I'll be happy to have the travertine deck down next season.

Things that we are loving and would do again:
the sun shelf (9 inches of water, a bit deeper than most)
the Intellitouch I9 plus3 and the IS10 spa side remote - a total splurge but really worth it.
the spa - a favorite for kids and adults!

Enjoy the photos - we'll continue to post as we have more progress - the mess to the right of the pool is where the pavilion will go.

View coming to the pool: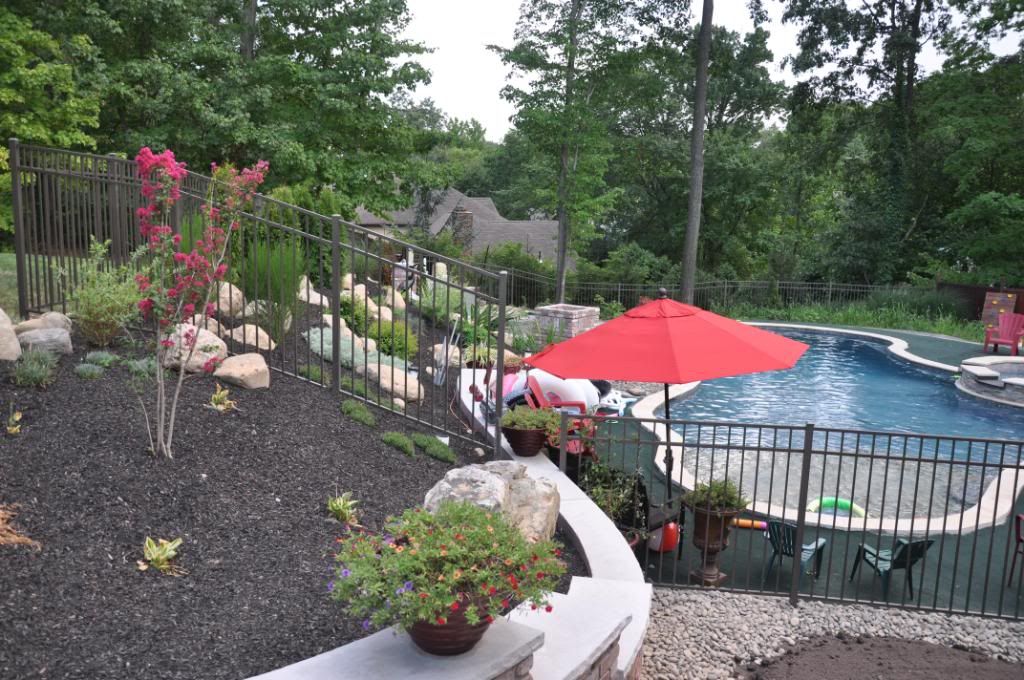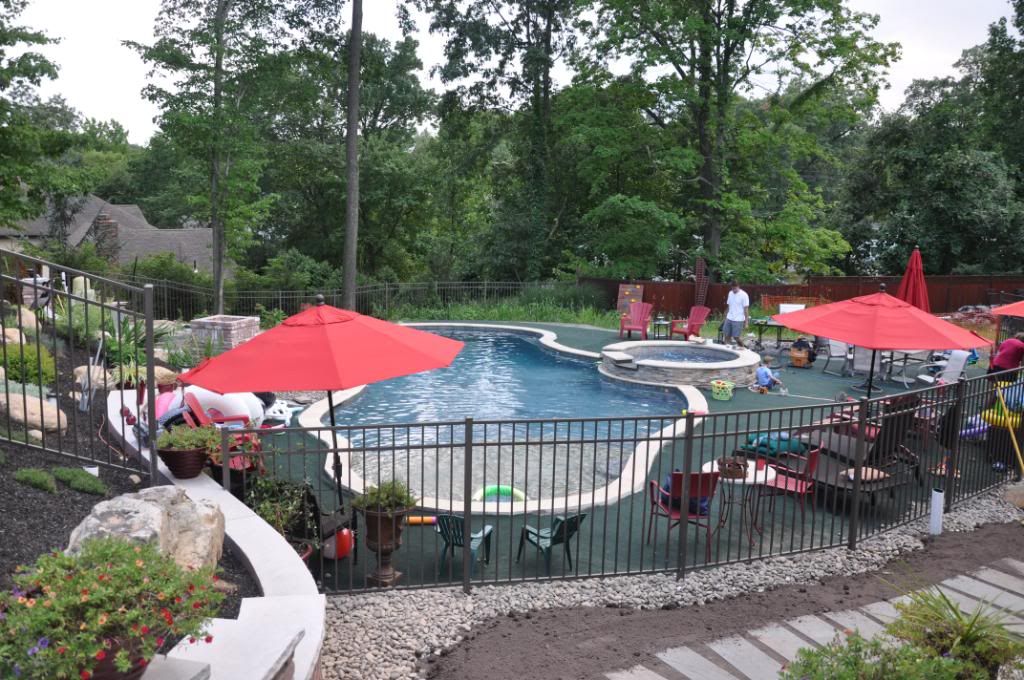 From the deep end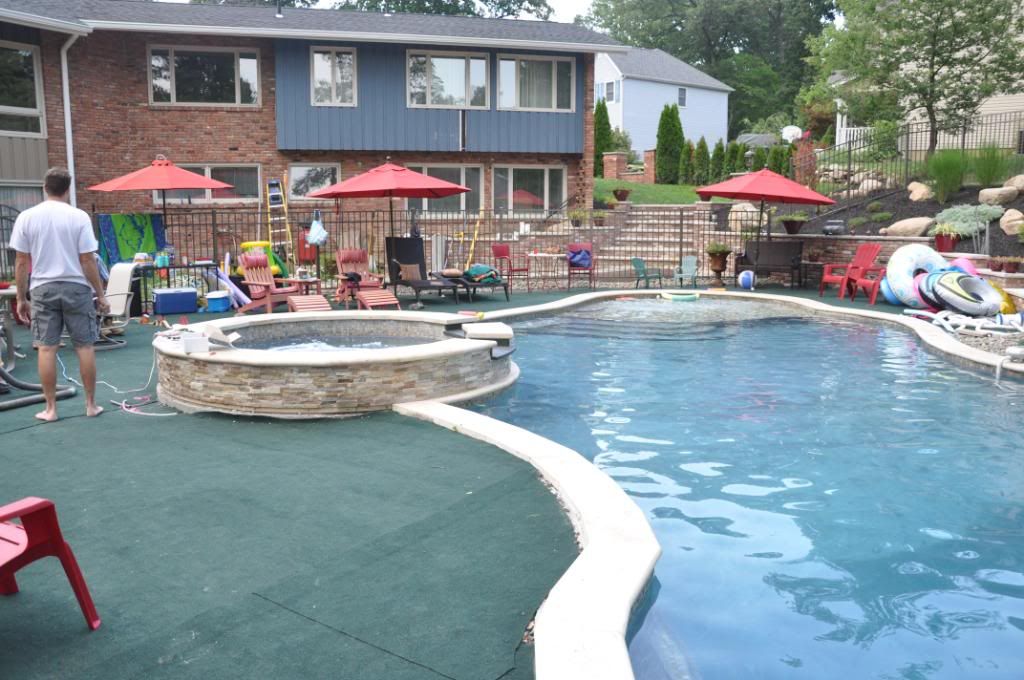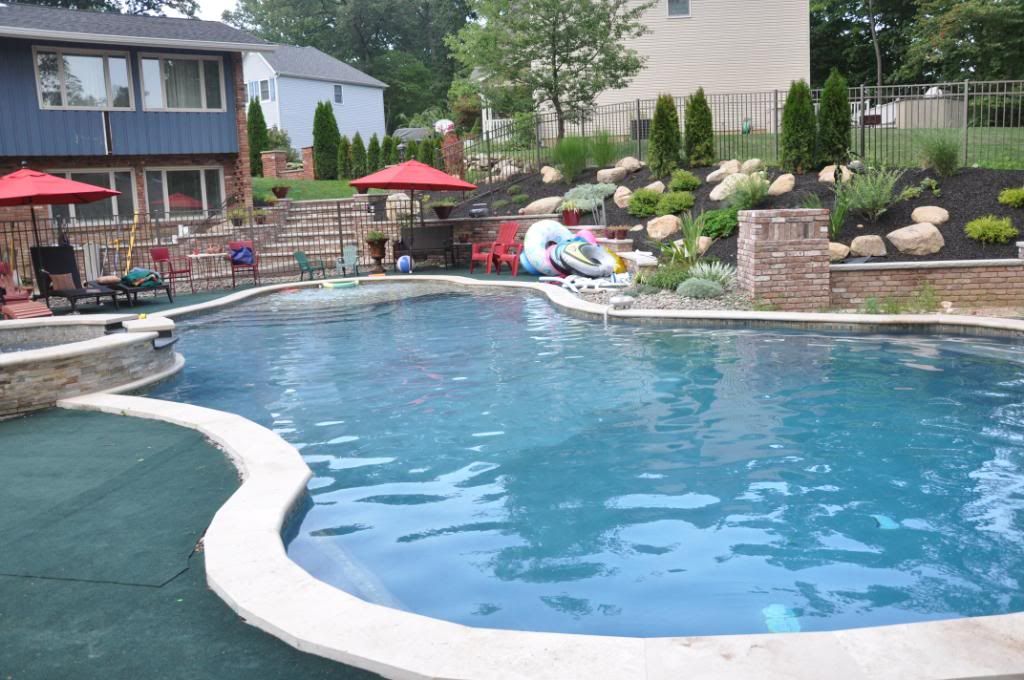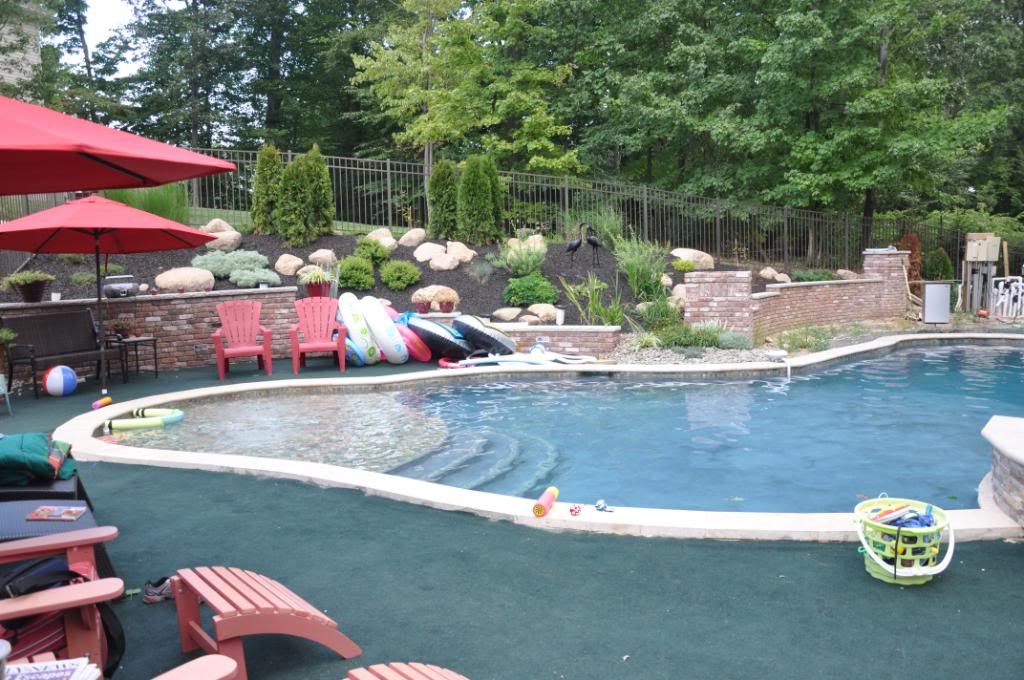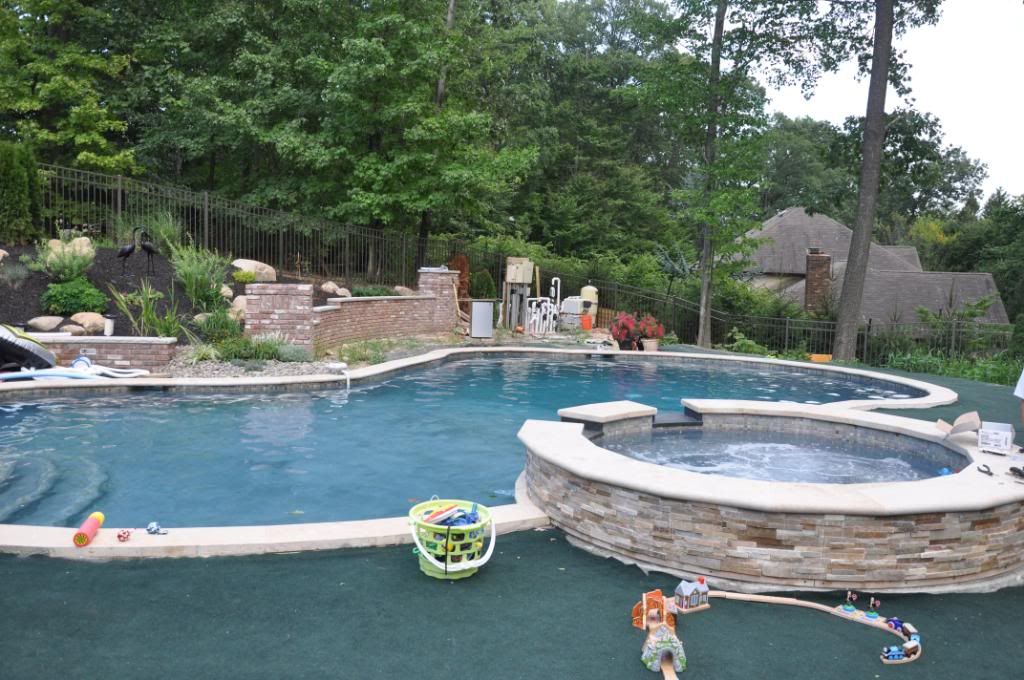 ---
Follow-Up Postings:
| | | |
| --- | --- | --- |
| RE: We've been swimming - here's some photos | | |
Wow, I can't believe this is a DIY. It looks amazing.

I do have one question, though. You seem to have a break in your fence going up the retaining wall. Is that to code? Are you not worried about kids just walking to the top of the wall and walking it into the pool area?

I ask, because we have a fence that has to go up a relatively high retaining wall and we are trying to figure out elegant solutions that are also safe.

Thanks!
---
| | | |
| --- | --- | --- |
| RE: We've been swimming - here's some photos | | |
Hi cnr1089 - thanks for the feedback, my husband is pretty talented - he cut and recut the coping to make it perfect!

Good eye on the break in the fence over the wall, it is not to code and another one of our things that need to be finished. My husband is using a piece of the fence to custom fit that opening - it won't be open for long. There is another section not closed yet either, as we still need truck access. Fortunately its temporary. Code in our area mandates a pool alarm which we have.
---
| | | |
| --- | --- | --- |
| RE: We've been swimming - here's some photos | | |
Looks great...what are the dimensions of your pool? Let's see the specs.
---
| | | |
| --- | --- | --- |
| RE: We've been swimming - here's some photos | | |
WOW, that is a great looking pool. I hope my DIY build turns out as nice. I too would like to know more about your dimensions & build info.
---
| | | |
| --- | --- | --- |
| RE: We've been swimming - here's some photos | | |
Thanks for the feedback, we are pretty happy with it. I'm posting the link of our previous thread that shows the dig and construction (if I do it right) but here are the specs as well:
Pool:
Freeform 21' x 47'
Total Capacity- 21,000 gal
Depths- 3'6" – 8'
12" deep Baja Shelf , 77 SF - 2 bubblers
Area- 780 sf + spa (50 sf)
Perimeter- 130'
Coping- Travertine
Deck- 2,600 SF Travertine Pavers
Tile: Quartzite
Skimmers- Two Hayward (square top)
Six Returns
Pump (pool/spa) IntelliFlo VF
Pump 2 (spa only) WhisperFlo 1.5 hp
Pump 3 (baja shelf bubblers) WhisperFlo 3/4 hp
2 Air blowers - spa only - silencer
Intellitouch i9 +3 w/indoor panel
Heater – Pentair 400,000 BTU Nat Gas
Lights- 3 Intellibrite LED
Cleaner- Pool cleaner vacuum
Filter – Pentair Quad DE 80
IntelliChlor IC40
Swim out step in deep end with 3 jets in back
Natural gas fire bowl

Spa
8' round, 16" raised with quartzite ledgerock
18 Waterway Polystorm Jets (2 floor, 4 calf, 12 back)
3 seating heights - 22, 20, 18
(4) Antivortex Safety Drains
Intellibrite LED
Pentair iS 10 Spa side remote

20'x22' Pavilion with kitchen and quartite ledgerock fireplace
Here is a link that might be useful: Construction photos for nypoolnovice
---
| | | |
| --- | --- | --- |
| RE: We've been swimming - here's some photos | | |
Congratulations! I just happened to come over to the pool forum from the build forum and what an impressive surprise! We are currently building a home (also in Rockland) and are tossing around the idea of a pool.It is not in the budget but I keep telling my husband we could do it ourselves. Would you mind sharing the costs and is the concrete the only part you subbed out or did you sub out other phases also? Thanks so much, and again Congratulations!
---
| | | |
| --- | --- | --- |
| RE: We've been swimming - here's some photos | | |
thanks cathyck! Good luck in your house build, I remember how many details need to be decided in a short period. Where in Rockland are you? We hired companies to spray the gunite and to plaster the pool (although we don't love the plaster job, my husband has been sanding it while using his scuba gear!) but pretty much everything else was done ourselves. Although we have saved a bit of money, its still pricey. We are happy because we have been able to upgrade all of our materials and to really customize to our specific needs. We've changed a few things on the fly. I'd say just the pool is around 50k (including the fence) - which doesn't include landscaping, decking, the curved brick walls or the staircase coming down to the pool, the bluestone stepping stones, the eventual pavilion and outdoor kitchen, furniture etc etc etc. In my head I'm hearing cha-ching, cha-ching ... I actually don't like thinking about it all together!

There seems to be an endless way to spend money in and around the pool, but we feel the investment has been worth it so far. We've been able to see many of our friends and family over the summer as it was so easy to hang at the pool. That's why we can't wait to make entertaining easier with the pavilion. Good luck if you take on the challenge.
---
| | | |
| --- | --- | --- |
| RE: We've been swimming - here's some photos | | |
We are building in New City. We have 2 friends getting bids to have pools put in and they are both over $100,000, so you have really saved quite a bit. If we decide to "take the plunge" would you mind filling me in on who you would use again and who you wouldn't recommend? I really appreciate it and I know you must really enjoy your new vacation spot!
---
| | | |
| --- | --- | --- |
| RE: We've been swimming - here's some photos | | |
I am sure they saved quite a bit, but in I must say, building a pool is much more then just the pool itself. The decking, retaining wall, fence, and other 'finish work' items not part of the pool itself cost me as much (if not a little more) then the pool itself (pool, including pumps, heaters, cleaners, finish, etc, etc).
---
| | | |
| --- | --- | --- |
| RE: We've been swimming - here's some photos | | |
cnr1089 - You are so right ... I've created a spreadsheet to keep track of costs and have listed our projected costs for the remaining items and you are correct, those items together cost more than the actual 'pool'. Our kids are little, so we are anticipating getting a lot of value out of our backyard project :)

cathyck - we got a few prices from local pool builders, they were all over 100k as well, and eventually we believe we will spend similar amounts, but we are able to put the 'savings' into higher quality finishes.
---
Post a Follow-Up
Please Note: Only registered members are able to post messages to this forum.
If you are a member, please log in.
If you aren't yet a member, join now!
---
Return to the Pools & Spas Forum
Information about Posting
You must be logged in to post a message. Once you are logged in, a posting window will appear at the bottom of the messages. If you are not a member, please register for an account.
Please review our Rules of Play before posting.
Posting is a two-step process. Once you have composed your message, you will be taken to the preview page. You will then have a chance to review your post, make changes and upload photos.
After posting your message, you may need to refresh the forum page in order to see it.
Before posting copyrighted material, please read about Copyright and Fair Use.
We have a strict no-advertising policy!
If you would like to practice posting or uploading photos, please visit our Test forum.
If you need assistance, please Contact Us and we will be happy to help.

Learn more about in-text links on this page here