Return to the Pools & Spas Forum
|
Post a Follow-Up
---
| | | |
| --- | --- | --- |
| My day, and pic's for txprin | | |
Posted by
huskyridor
(
My Page
) on
Tue, Sep 22, 09 at 2:10
I took a little wager, shame on me, about how I never take pictures of my projects and that I won't seem to change.
I'm sure I can, I just have to stop and snap.
Here's my day today on cell phone pic's

First stop, the backhalf of a pool project in Cypress
(pool/spa/beachentry/waterfall/cabana/summer-kitchen/fireplace)
to check my boys brickwork and measure for granite countertop.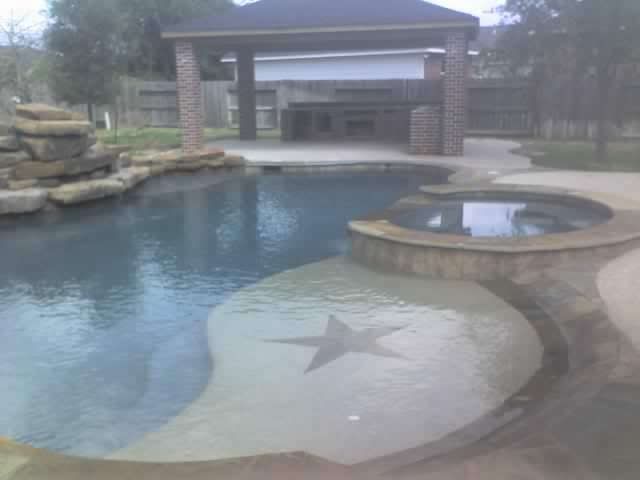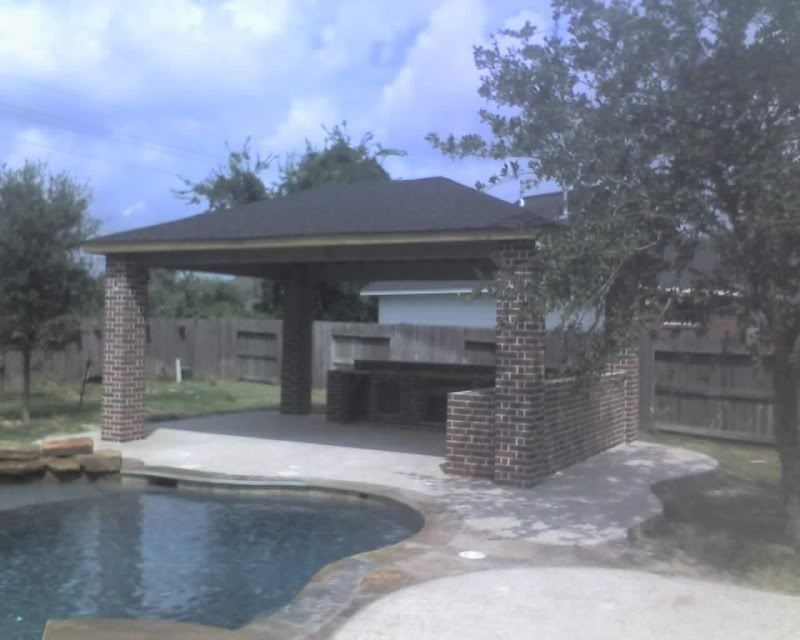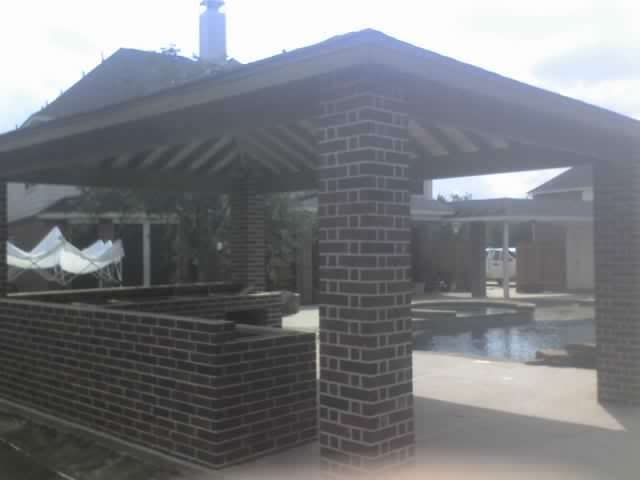 http://i7.photobucket.com/albums/y288/huskyrider/027.jpg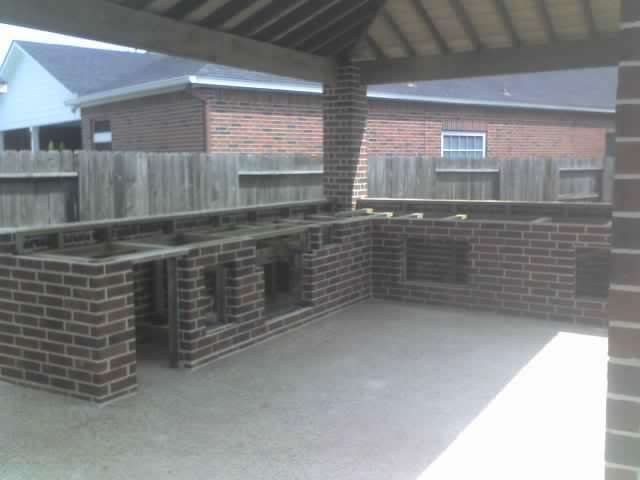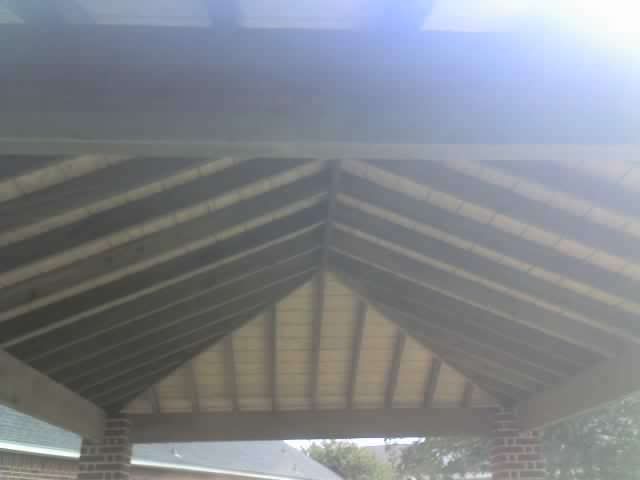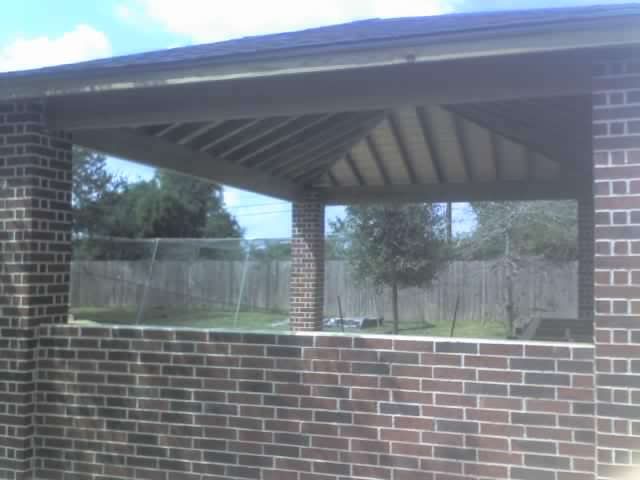 Second stop a pool start up check in Cypress
(pool/spa/weeping-wall)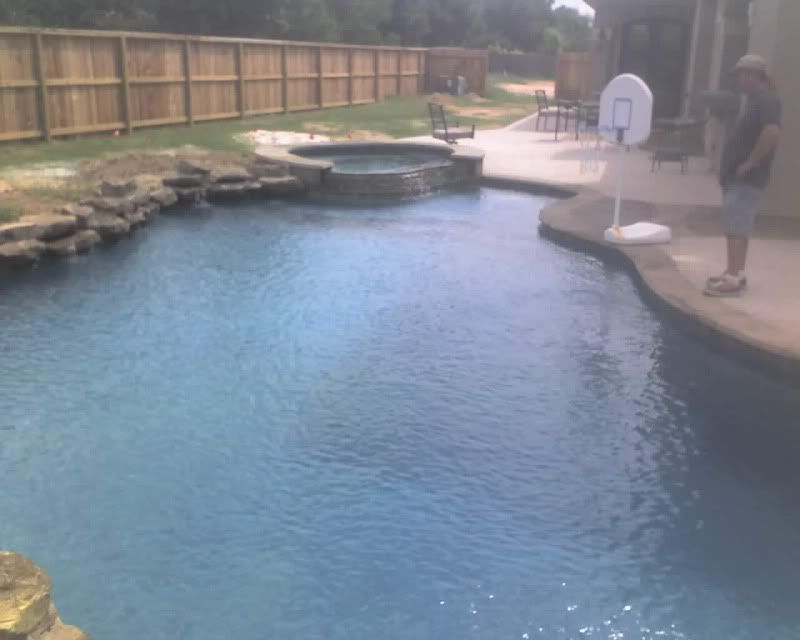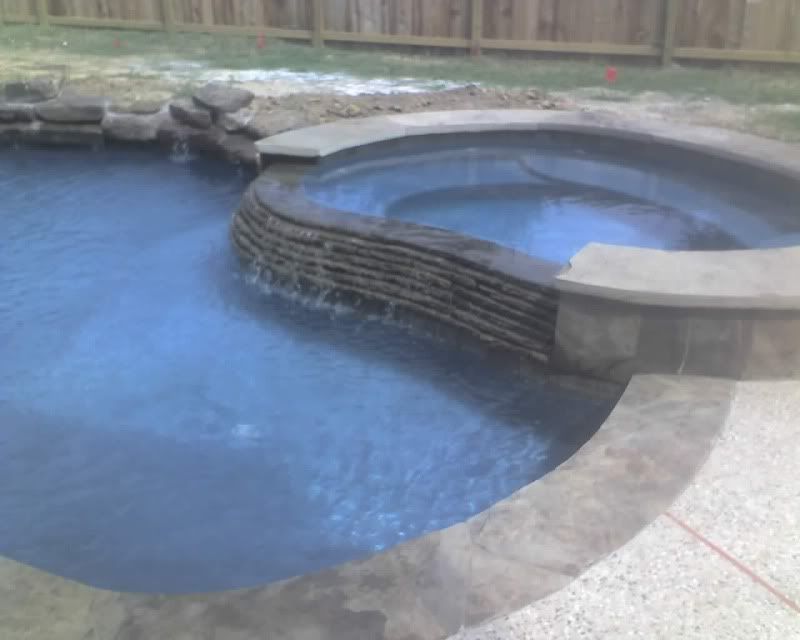 Third stop to check on the finished faux boulder colors and measure the slide's surface area for my purchase of slide surface chemicals in Magnolia
(pool/spa/beachentry/waterfall w/4 fire bowls/slide with waterfall roof for no standing)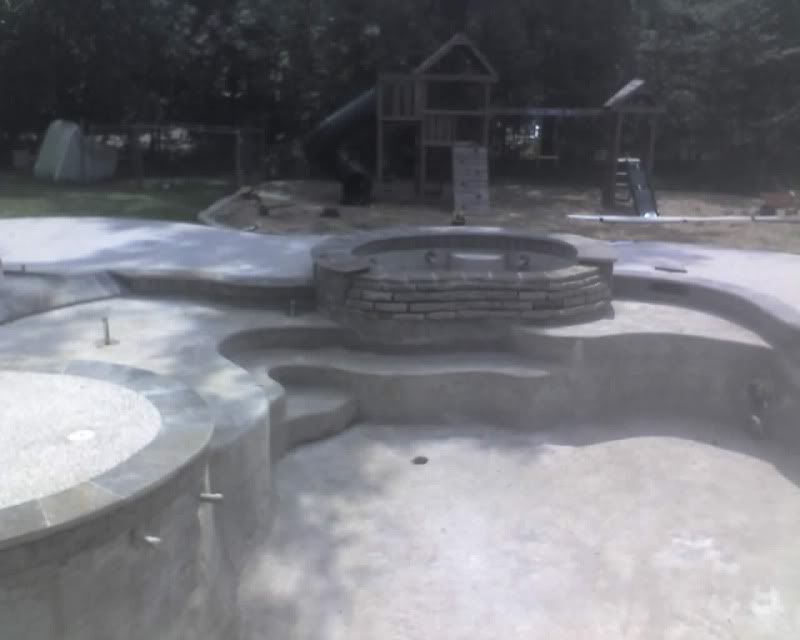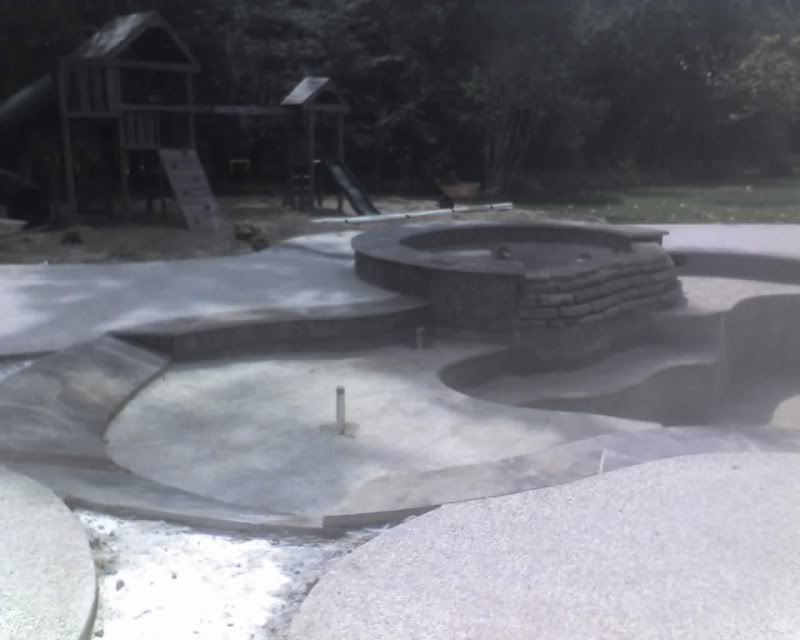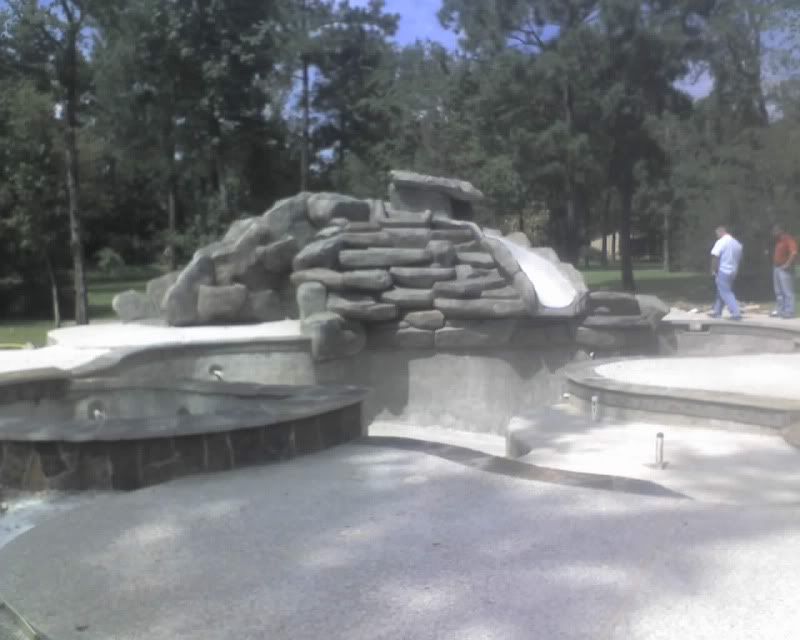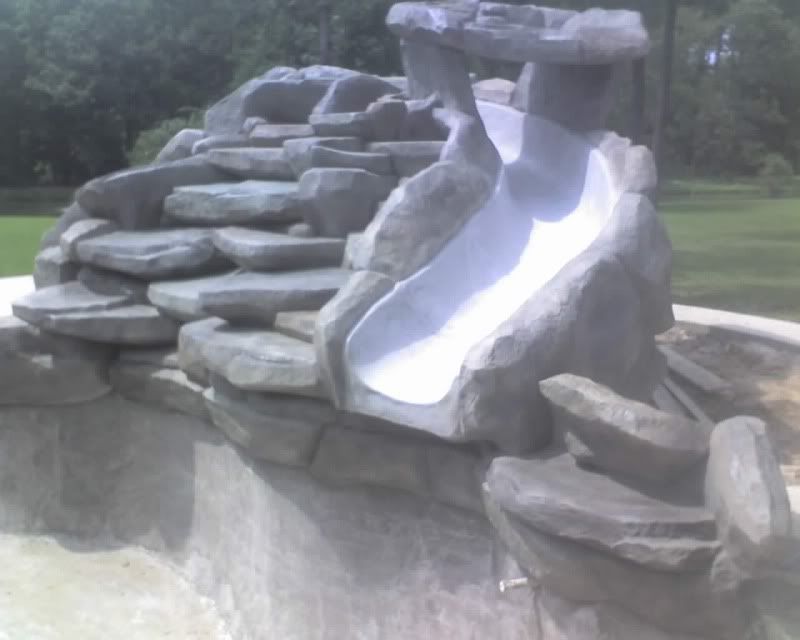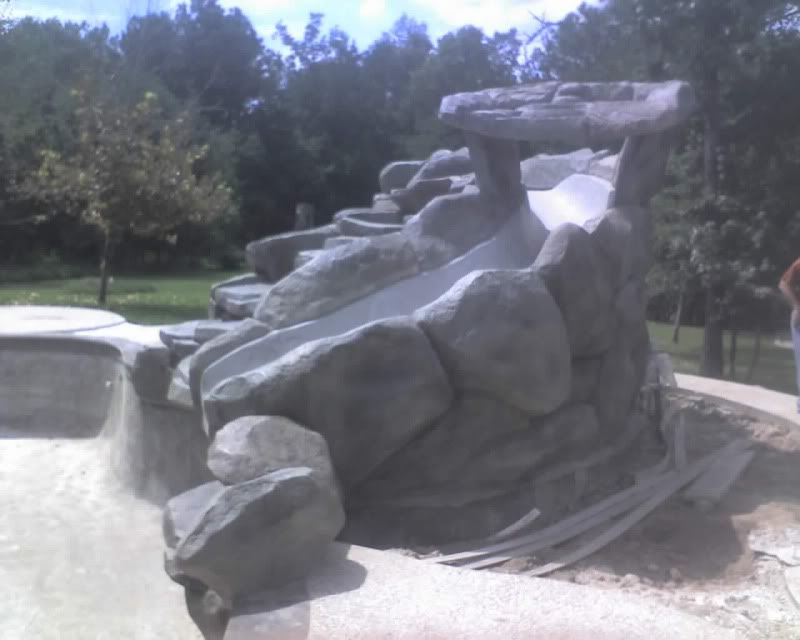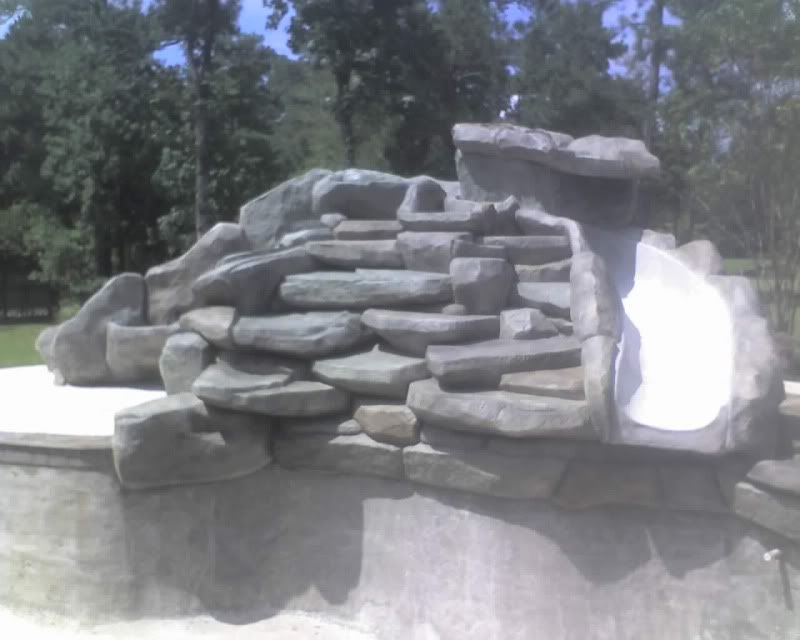 Fourth stop to measure for bricks at a project in The Woodlands
(pool/spa/raised beams with descents/cabana/summer-kitchen/fireplace)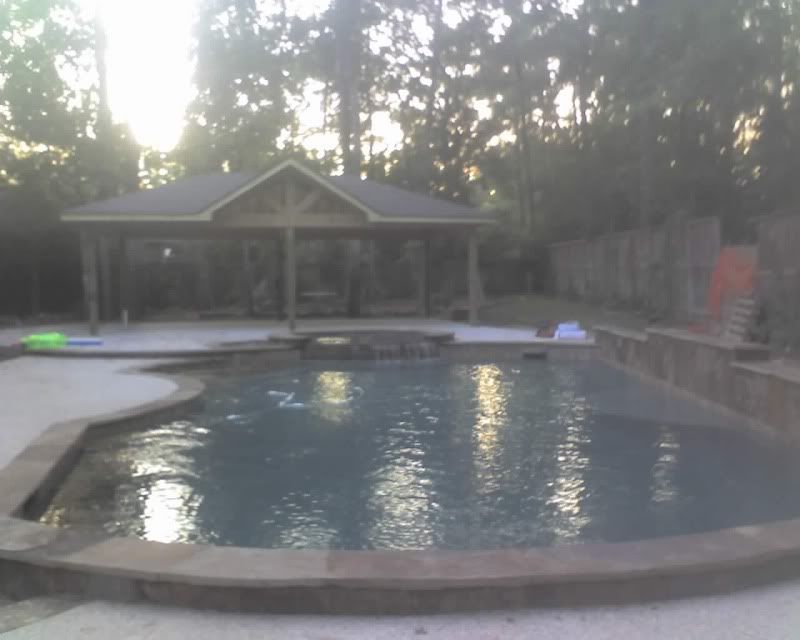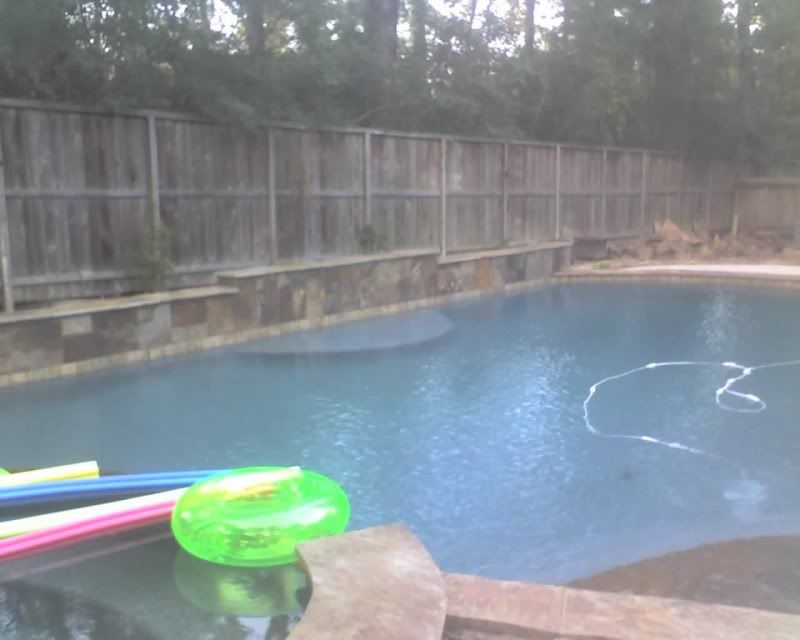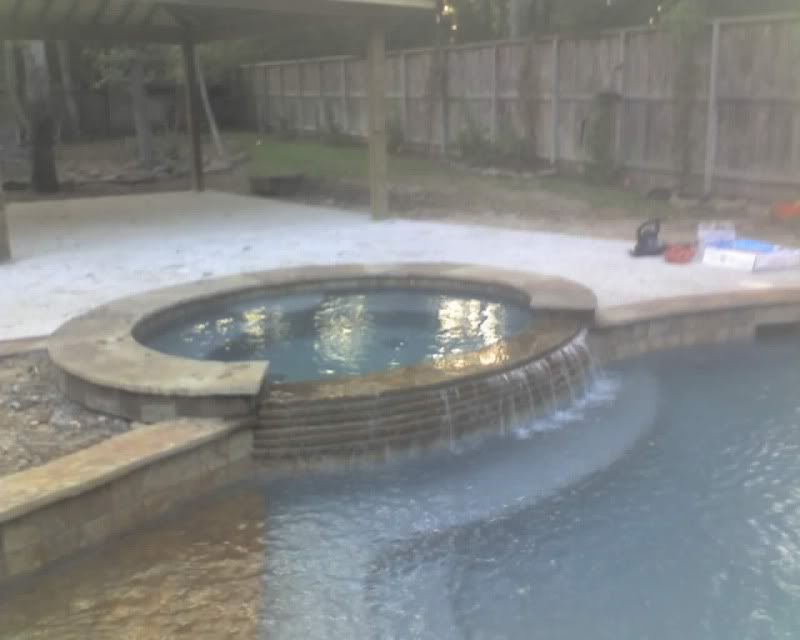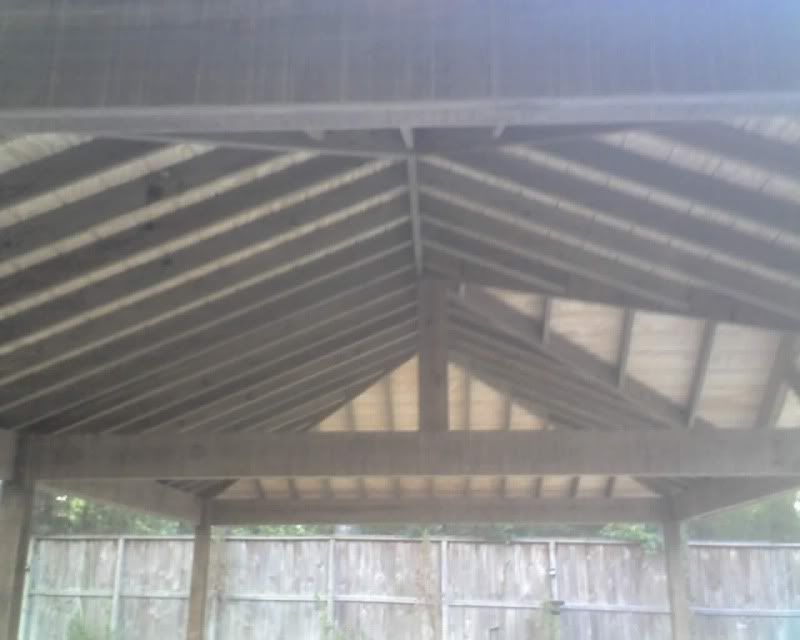 The rest of the day was spent driving to 4 brick suppliers with a couple of bricks we took off the house to try and match.
Txprin, I hadn't forgot about your thread when I promised I'd post some pic's. Sorry it took so long. I've ran these same jobs several times since your thread and never took the phone off my hip and got some shots for you.
Maybe my buddy is right, LOL!!!
See ya,
Kelly
---
Follow-Up Postings:
| | | |
| --- | --- | --- |
| RE: My day, and pic's for txprin | | |
AWESOME! I really like the pools especially the slide with the waterfall. I hope you will take photos when complete. The outdoor kitchens and covers are wonderful! Love how you design the high ceilings! Wow! Great work!
---
| | | |
| --- | --- | --- |
| RE: My day, and pic's for txprin | | |
Memama,
Thanks for the vote of approval!!!
The truth is my designers are the best and just as equally are my men who do the work.
I've worked for years just coordinating/scheduling/measuring for the job materials, and working with the men when I can. I'm like the substitute teacher, I fill in on one of the crews when we're short a man or need more manpower for the days work.
The high cathedral ceilings are a look I've come to construct a bunch of because of the affordability.
In this business the cheaper I can construct something means the less I can sell it for.
Here are some more pic's for Txprin, these cost more because of the joisted ceiling soffit and on one the Stucco fascia.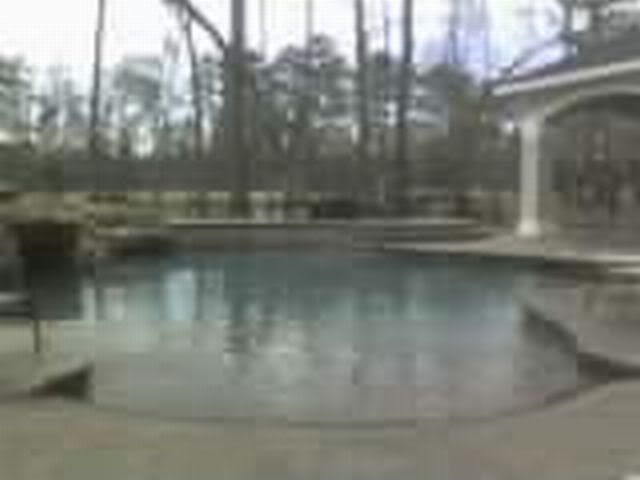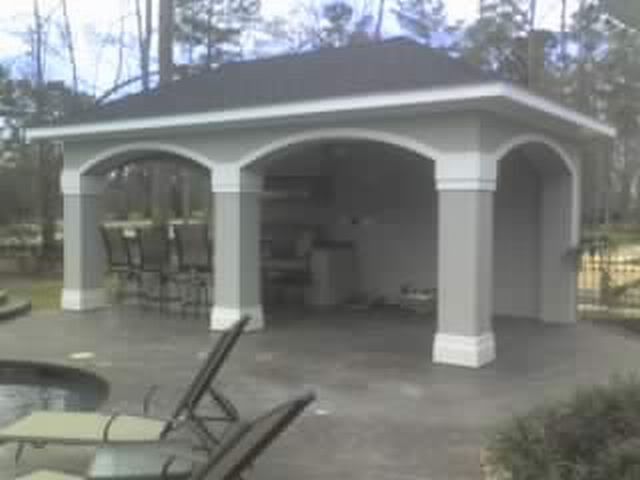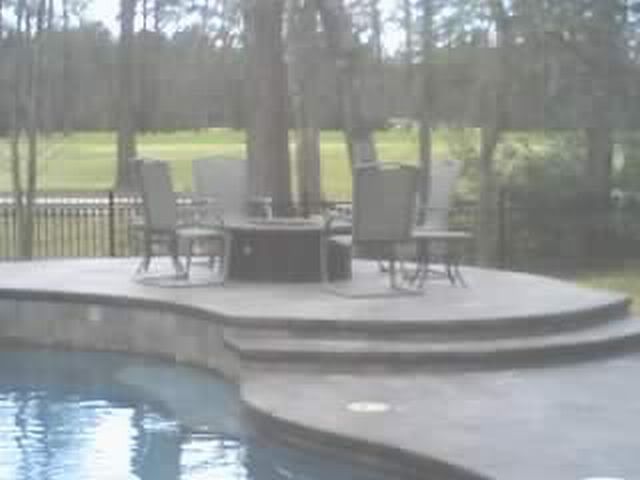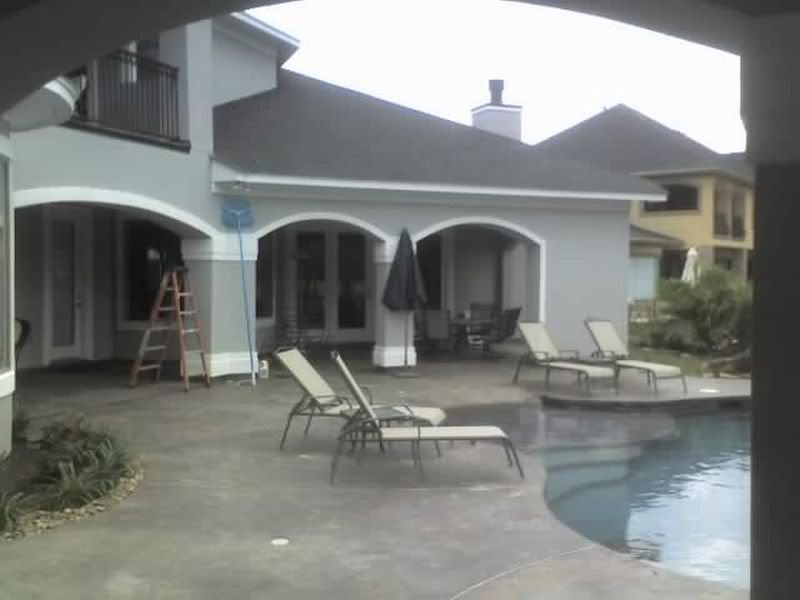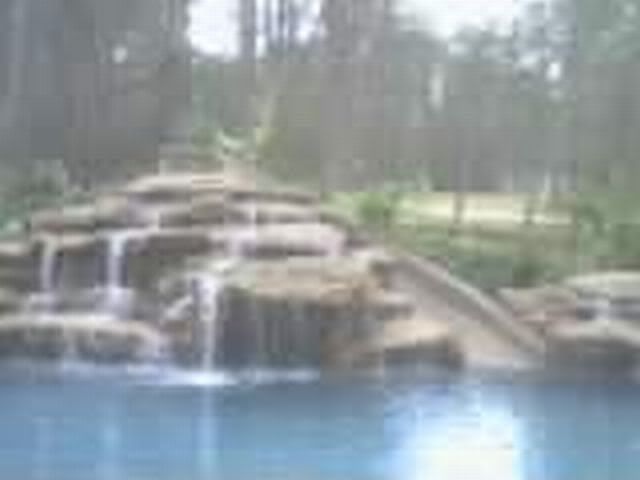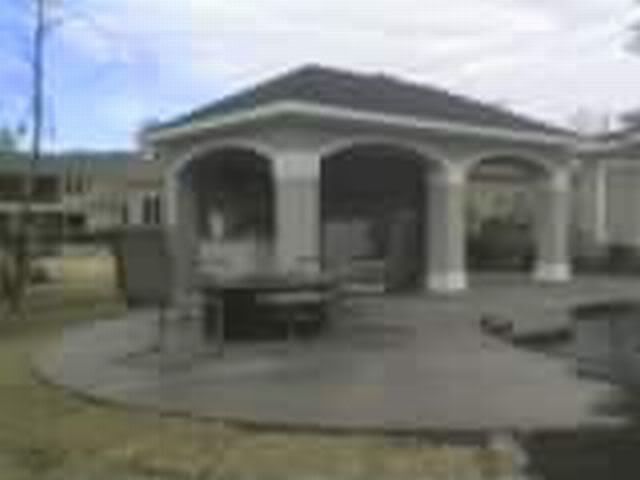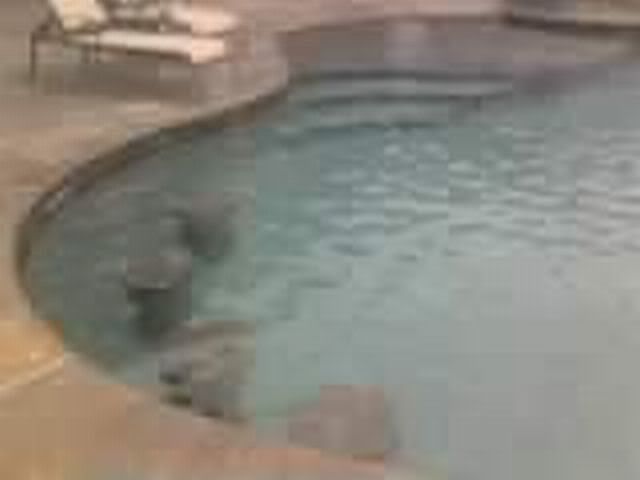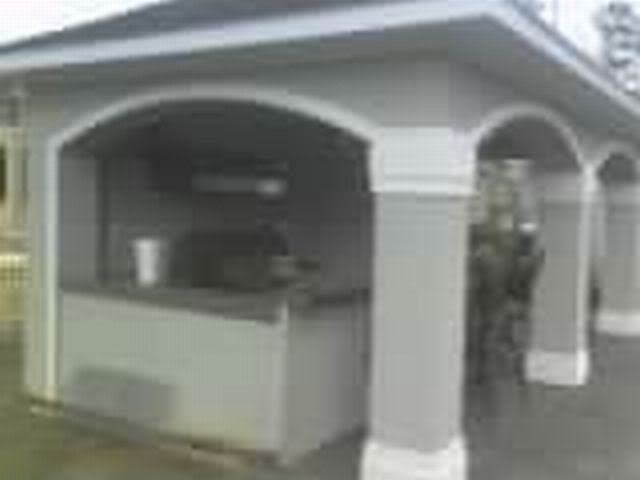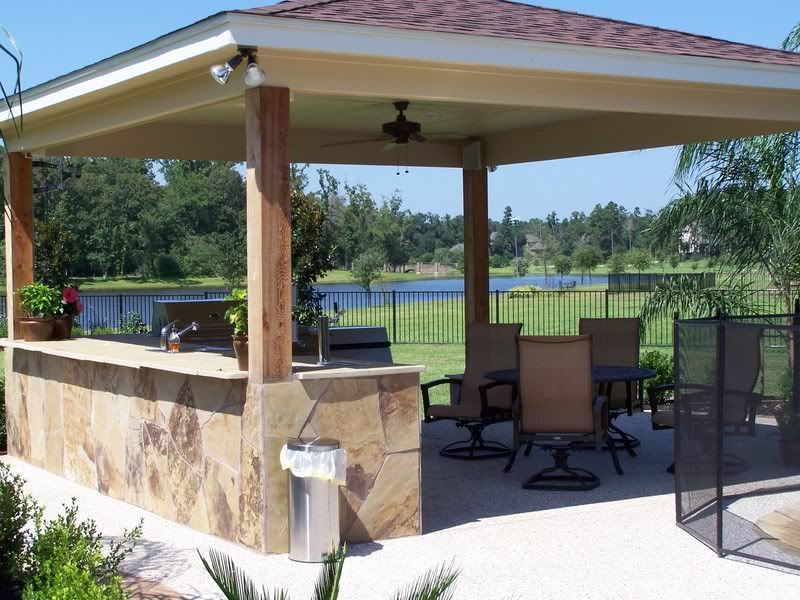 My favorite thing is the beer faucet on top and the kegerator under the cabinet on the second to last picture. ENDLESS BEER!!! You can always count me in, LOL
Needless to say, that buyer and I get along great.
See ya,
Kelly
---
| | | |
| --- | --- | --- |
| RE: My day, and pic's for txprin | | |
Thanks Kelly - these are great and give some neat ideas about what's possible. Since I seem to be hung up on finish color, could you share what the colors/ finish product are. Many thanks!
---
| | | |
| --- | --- | --- |
| RE: My day, and pic's for txprin | | |
These are really spectacular. Wow, the slides and rock work are fantastic. I would love to know what the plaster colors are on those pools. Sure wish I had that kind of space in my backyard to have the beautiful full cabana and kitchen.
---
| | | |
| --- | --- | --- |
| RE: My day, and pic's for txprin | | |
Many Thanks Kelly and keep them coming! This thread really inspires and encourages us all to jump in and take that next step to living the pool house dream. Love the arches on the stucco pool house! Do you recall the water color of the pool with the float?
---
| | | |
| --- | --- | --- |
| RE: My day, and pic's for txprin | | |
txprin, you'll love having a shade maker.
Cabana's, Palapa's, Arbor's, Pergola's etc... are always awesome placed poolside, and are worth every penny of the purchase price. I'll have to snap some shots of some palm frond Palapa's, They're BRUTALLY affordable and incredibly tropical shade makers.
The pool finishes are
# 1 blue granite pebblesheen and sandy beach pebbletec on the beach
# 2 regatta blue sunstone select designer series
# 4 blue granite pebblesheen
stucco house blue granite pebblesheen
Beer kegerator house black pool mix with white portland cement on an 8/5 it's slightly darker than a 7/4, sometimes we hit it with just a tad of black dye for a little bit darker look.

I'll see if I can make it a point of snapping some photo's of our jobs to post for you guys.
My buddy was right, I do have some really sweet inventory that I never went back and took pictures of.

See ya,
Kelly
---
| | | |
| --- | --- | --- |
| RE: My day, and pic's for txprin | | |
So, the kegerator house...the pool finish is plaster? Not sure what 8/5 and 7/4 mean. Enlighten me, por favor.
---
| | | |
| --- | --- | --- |
| RE: My day, and pic's for txprin | | |
Yes the pool finish is plaster, it's a black sand pool mix instead of a white sand.
The ratio is the bag count of pool mix to white portland cement put into the mixer.
This pool finish is a first level upgrade at a dollar per square foot. I've done a ton of them over years.
They're a very pretty blue.

See ya,
Kelly
---
| | | |
| --- | --- | --- |
| RE: My day, and pic's for txprin | | |
Thanks for the plaster info. I agree, it's a very pretty blue.

Regarding plaster vs. pebbletec...I'm told ptec is longer lasting, and that today's plaster is marble-based, so it's not very durable. So really, how long before I would likely need to replaster? Replastering seems like an involved and expensive process.
---
| | | |
| --- | --- | --- |
| RE: My day, and pic's for txprin | | |
quote" so it's not very durable. So really, how long before I would likely need to replaster? "quote

The plasters have always been marble based.
The problem with todays marcite pool finishes was the removal of asbestos from the bagged product to protect the applicators from mesothelioma, asbestos lung disease, and other asbestos related diseases.
I remember white marcite pool finishes looking great for 10, good for 15, and still OK at 20 years of service.
If you got 10 now you'd be lucky. I replaster a lot of pools now with less than 7 years of service.

See ya,
Kelly
---
| | | |
| --- | --- | --- |
| RE: My day, and pic's for txprin | | |
Here are some pic's from a weekend of running a new job and sales calls.

Last Monday's dig is Saturday's CMU blocks for slide steps and boulder delivery on another project with me humping multiple trailer loads of product. Thankfully I just have to use the loaders to load and offload. One man would be hard pressed to handle this size stuff alone without machines to do the real work, LOL!!!
(pool/spa/shelf fountains/waterfall/cave/gunite slide/cabana/summer-kithchen/fireplace)

This, my internet friends, will be an AWESOME unit, the boulders on my last 2 18 wheelers have been incredibly colorful and have great curb appeal. I'll make a sincere attempt to follow this job with pic's as it progresses.

See ya,
Kelly
---
| | | |
| --- | --- | --- |
| RE: My day, and pic's for txprin | | |
WOW!! Cannot wait to see this one!
---
| | | |
| --- | --- | --- |
| RE: My day, and pic's for txprin | | |
those are some beautiful rocks! Aint no man made stuff look like that!
---
| | | |
| --- | --- | --- |
| RE: My day, and pic's for txprin | | |
I hope I'm not boring you guys in my effort to win, LOL!!!
Here's my today.
1st stop, Last weeks new project to see how the CMU block steps turned out and to line out the boys on my platforms on the waterfall/cave/slide.

2nd stop,
Check out a yesterday startup, today clean up on a project where my son started framing the cabana yesterday. He's on the scaffold in a couple of the pic's.
(pool/spa/waterfall/koi-pond w/waterfall and weepers/firepit/cabana/summer-kitchen)

See ya,
Kelly
---
| | | |
| --- | --- | --- |
| RE: My day, and pic's for txprin | | |
I love the pictures of the slide/steps/cave... was everything except the steps formed and shot with gunite? What does the slide get finished with? Is that going to be a waterfall over top of the cave?

What is the price tag for a waterfall/slide/cave like that?
---
| | | |
| --- | --- | --- |
| RE: My day, and pic's for txprin | | |
quote" was everything except the steps formed and shot with gunite?"quote
Yes, actually 2 of the steps are gunite. I do the rise/tread arithmetic and shoot 2 platforms for the steps. The end of the platform's runout becomes a step itself. you can probably see the platforms in the weekend pic's.

quote"What does the slide get finished with?"quote
I coat the slide with a smooth cement finish coat, apply a catalyzed copolymer primer surface, apply a coat of catalyzed MMA, sprinkle colored plastic flake over it, and cover the flake with 2 coats of MMA.
This stuff when wet is as slick as snot on ice, and incredibly UV and chemically resistant. You can pour straight muriatic acid down the slide and it won't etch the finish. It's weakness is solvents. Thankfully, acetone and varsol aren't pool related chemicals, LOL!!!

quote"What is the price tag for a waterfall/slide/cave like that?"quote
Last year, low 70's and this year mid 60's

Here's are some pic's of my waterfall/slide at home. The slide is coated with multi colored brown flakes. These pic's are almost 7 years old, I'll see if I can shoot you a new pic the next time I get home from work before dark. This finish is just as slick and looks just as good today as it did the day I applied it.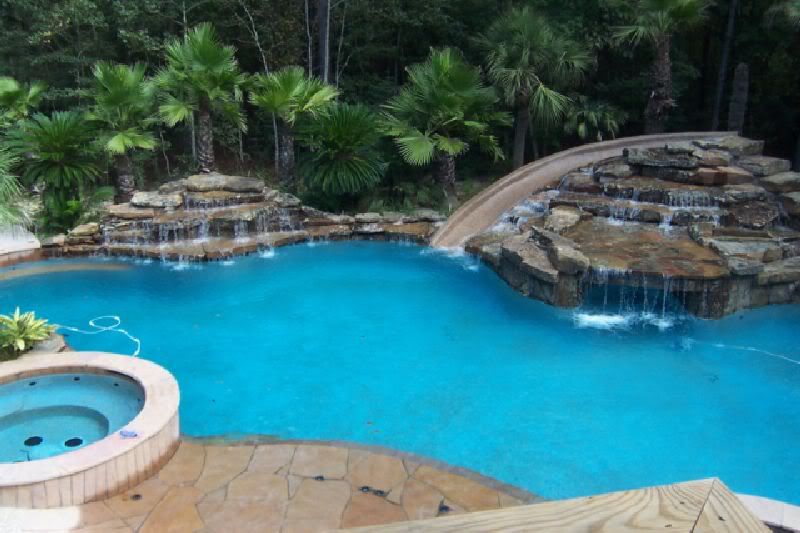 Here's some pic's of my pavilion/fireplace/summer-kitchen my son and I built then too. You'll love this hip, double common, and mini-beam roofing support with 116 double V-groove decking. As cabana's get big they turn into pavilions and a typical hip/common/jack roofing support begins to look very skeletal (like a rib-cage) When I get up to 800 sq/ft or larger I like to do this look. It's a very clean look because of the lack of rafter clutter.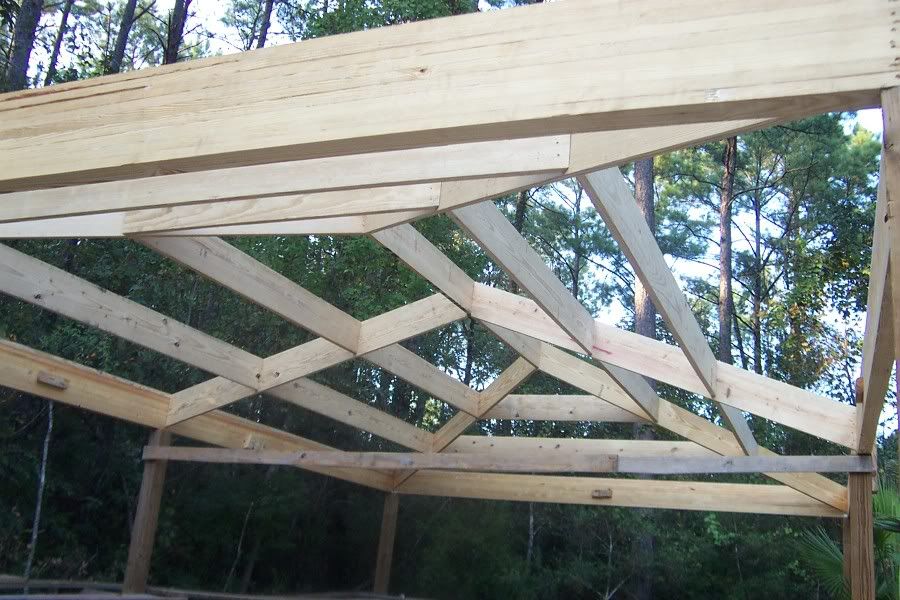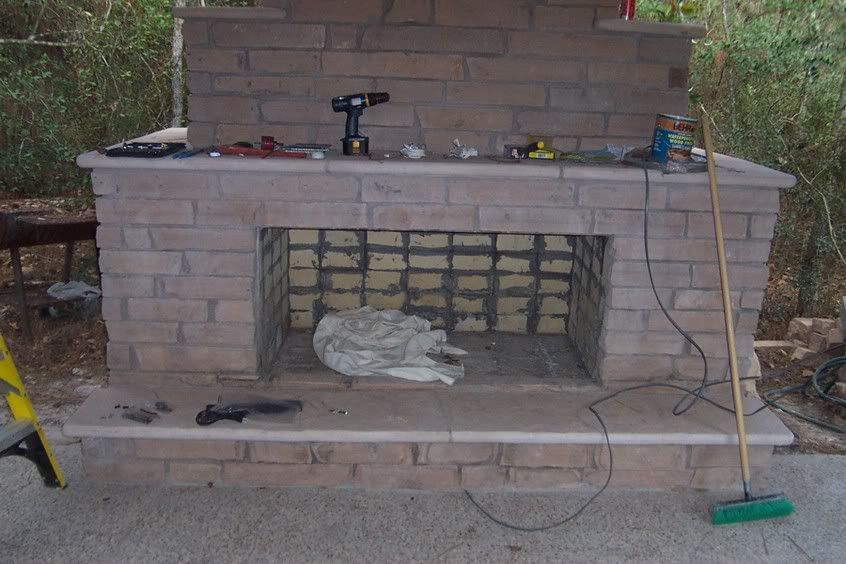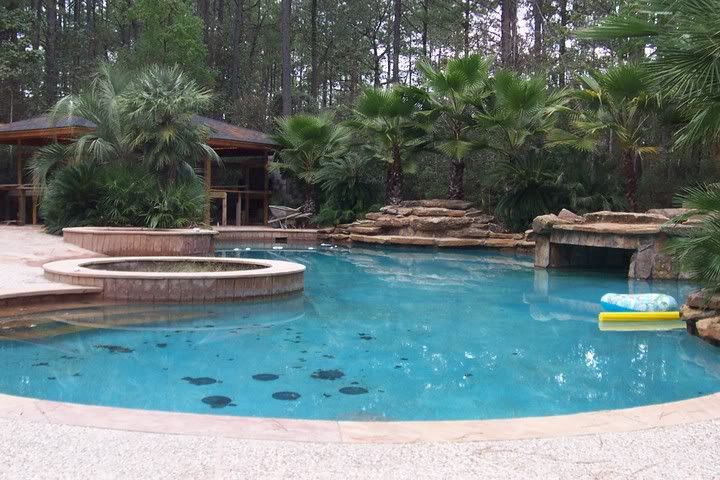 See ya,
Kelly
---
| | | |
| --- | --- | --- |
| RE: My day, and pic's for txprin | | |
I do see the platforms now that you pointed them out. Is it all solid underneath the platforms and gunite portions or is it formed with dirt then rebar'ed and shot?

Is the low 70'2/mid 60's for the waterfall/slide as well as the entire pool or just the waterfall/slide?

I am looking to have a pool put in in the spring... the waterfall/slide you build is exactly what we have been looking for... but now we are trying to determine if budget allows it to be built with the pool or if it will have to wait until down the road.
---
| | | |
| --- | --- | --- |
| RE: My day, and pic's for txprin | | |
Mid 60's is the price of the pool/spa/waterfall/cave/and slide. The price of the slide/cave/waterfall is 10plus on new construction and a minimum of 15 to add to an existing pool.
The slide/cave/waterfall is a monolithic pneaumatically applied concrete (gunite) structure shot at the same time as the pool. I tie steel on the 4 and build up the cavern inside with CMU blocks leaving an 8" wall with a footer beam beneath, this saves on my yardage.
Before picking a builder your best served seeing some of their work and watching them shoot another customers prior to entering into an agreement with them. There are many more incorrect ways to construct one of these than correct ways. I've ran a bunch of calls behind other builders a couple of years later where the demo and replacement was double the initial cost.
A lot of guys will bend steel, tie metal lath to it, and shoot over the mesh. This is good for faux boulders but doesn't cut the mustard when your placing 10 tons of moss rock boulders on top of it.
I'm at the shop right now and can't download my camera to this computer. Today I ran a service call on a project I built 4 year ago (pool/spa/slide/waterfallshade-arbor/summer-kitchen) and shot some pic's. When I get home this evening I'll have my daughter get them into my computer at home and post them for you to look at.
Slide's are COOL!!!, and not just for children. I love going down mine and will do it at least once everytime I swim. My big joke with my buddy's is that if I placed a nickel slot at the top I could have paid off my pool with the toll slide, LOL!!!

See ya,
Kelly

---
| | | |
| --- | --- | --- |
| RE: My day, and pic's for txprin | | |
Kelly,

Thanks for the details! All of the PB I have talked to plop a plastic slide into some rocks... I have not come across any that do what you do. I am anxious to see the finished photos of that slide/cave/pool above.
---
| | | |
| --- | --- | --- |
| RE: My day, and pic's for txprin | | |
Here's the pic's from the other day.

Here are some more pic's from the projects I took pic's of at the beginning of this thread.

See ya,
Kelly
---
| | | |
| --- | --- | --- |
| RE: My day, and pic's for txprin | | |
Here's some pic's I took about an hour ago.
My boys wrapped up the square and rectangular cut flagstone for the existing patio deck yesterday and are now wrapping up the brick columns. We found out the week before last that the buyers brick had been discontinued, but we found a close match.
Hopefully my son or I can frame the summer kitchen this week and get moving on the bricks for it too.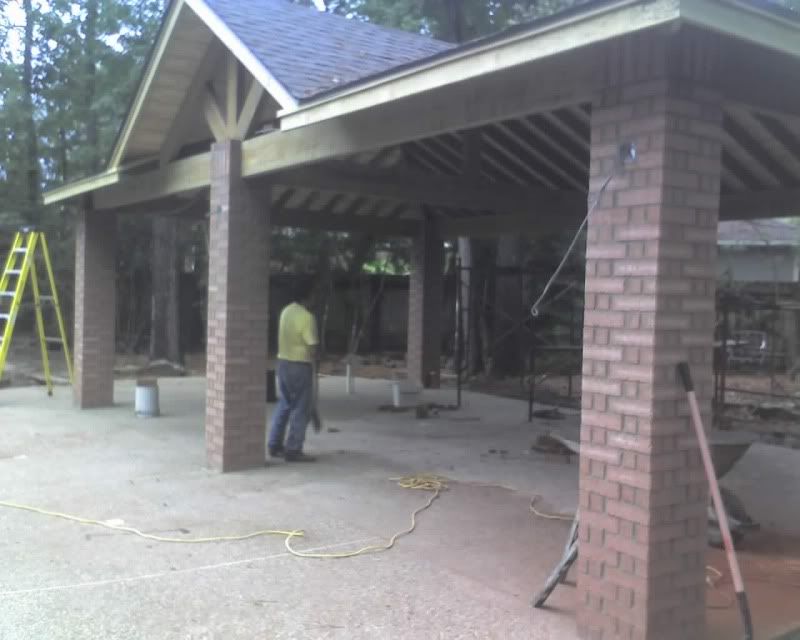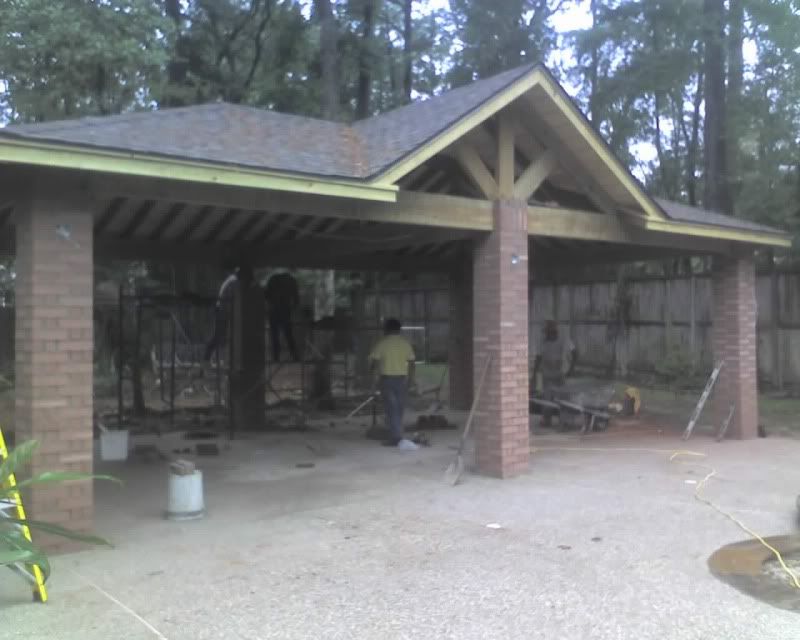 This project is going to be very sweet indeed!!!
His Cabana is 18 X 30 post to post and 20 x 32 under roof.
I'd never done a centered gabled end like he showed me a picture of on one of my hipped Cabana's before so I comp'd it to get a feel of the additional materials and labor, he was grateful because it's already a pricey project and I'm grateful that I now have another look to show potential buyers and I don't have to take a stab in the dark about how to quote it.
See ya,
Kelly
---
| | | |
| --- | --- | --- |
| RE: My day, and pic's for txprin | | |
Well today's another dog-gone rain day again!!! We've only had a 4 or 5 no-rain days in the past couple of weeks and the little stuff on these projects has been hard to accomplish.
Here's some granite summer-kitchen countertop shots and some nearly completed landscaping and summer-kitchen frame-out pic's. My boys finished the fireplace at the red brick cabana but I haven't made it to the job since they started last week, I'll try to get some pic's of it this afternoon.

See ya,
Kelly
---
| | | |
| --- | --- | --- |
| RE: My day, and pic's for txprin | | |
| | | |
| --- | --- | --- |
| RE: My day, and pic's for txprin | | |
Kelly, nice pics.. How much do cabana's run, similar to the one above? with and without a fireplace.
---
| | | |
| --- | --- | --- |
| RE: My day, and pic's for txprin | | |
A good rule of thumb is starting at 35 per sq/ft for cabana with shingles to match the home and concrete decking
Add 5 per square for basic electrical. Brick columns 800 each.
On smaller Cabana's the price per square goes up quickly.
My fireplaces start off at 6500.

See ya,
Kelly
---
| | | |
| --- | --- | --- |
| RE: My day, and pic's for txprin | | |
Nicho, here you go for some outdoor shade structures.
IMO, your 9' x 10' structure will be to small to have a bathroom and enough left over space.

See ya,
Kelly
---
Post a Follow-Up
Please Note: Only registered members are able to post messages to this forum.
If you are a member, please log in.
If you aren't yet a member, join now!
---
Return to the Pools & Spas Forum
Information about Posting
You must be logged in to post a message. Once you are logged in, a posting window will appear at the bottom of the messages. If you are not a member, please register for an account.
Please review our Rules of Play before posting.
Posting is a two-step process. Once you have composed your message, you will be taken to the preview page. You will then have a chance to review your post, make changes and upload photos.
After posting your message, you may need to refresh the forum page in order to see it.
Before posting copyrighted material, please read about Copyright and Fair Use.
We have a strict no-advertising policy!
If you would like to practice posting or uploading photos, please visit our Test forum.
If you need assistance, please Contact Us and we will be happy to help.

Learn more about in-text links on this page here