Return to the Paper Arts Forum
|
Post a Follow-Up
---
| | | |
| --- | --- | --- |
| Scarecrow Card for Autumn | | |
Posted by
Red_Confetti
(
My Page
) on
Mon, Oct 24, 05 at 17:58
I copied the images from the DLTK site below, then manipulated them as necessary.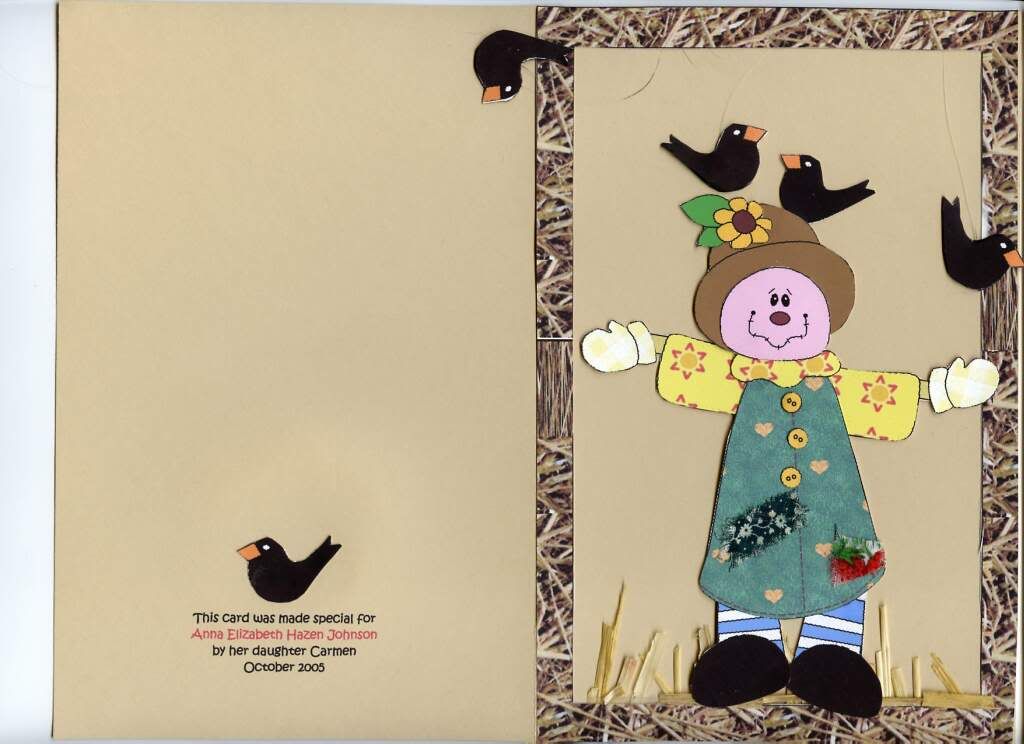 Card Back and Front
Card Verse
When I cut out the scarecrow's arms, I left them as one piece, then used an 'eyelet' to attach them behind the front so the arms can wigwag. (The eyelet is hidden behind the top button.)
I added small scraps of frayed material instead of using the printed patches.
I made lots of extra crows, sandwiched a piece of invisible sewing thread between each pair, using both double-sticky tape to hold the thread, and glue for the remainder of the birds.
I outlined the frame on the backside with double-sticky tape, then put some straw scraps (from and old wreath) at the bottom, and the crows' threads at the top. The crows move when the card is held upright, so it looks like they are flying.
I used little pieces of foam behind the scarecrow so it would stand out a bit from the card, making it easier for the arms to wave. (I used little bits of foam packing pellets that look like figure 8's.)
Hope you are inspired by this card. Be sure to check the DLTK site if you aren't familiar with it... lots of goodies there!
Here is a link that might be useful: DLTK's Scarecrow Paper Craft
---
Follow-Up Postings:
| | | |
| --- | --- | --- |
| RE: Scarecrow Card for Autumn | | |
This is so cute. Thanks for sharing.
---
| | | |
| --- | --- | --- |
| RE: Scarecrow Card for Autumn | | |
| | | |
| --- | --- | --- |
| RE: Scarecrow Card for Autumn | | |
Just wanted to tell you that I made a few cards like this and they turned out so cute. I varied it a little, but I used the scarecrow and the inside like you did.
Thanks for sharing.
---
| | | |
| --- | --- | --- |
| RE: Scarecrow Card for Autumn | | |
Thanks, Wanda! I always wonder when I post these simplistic cards if anyone is really interested. I love being able to make cards without going to the craft store and buying a lot of materials, just to make one or two cards. [I know... I'm an old tightwad. But I'd rather be called 'thrifty'! - LOL!! I enjoy the challenge of being able to make cards with just the do-dads I have around the house, and computer graphics, of course.]

Isn't Danielle's a wonderful site... so many possibilities with the graphics and ideas there.
---
| | | |
| --- | --- | --- |
| RE: Scarecrow Card for Autumn | | |
I like being thrifty, also. I hope you post some more of your cards. I need christmas ideas. I am just learning to make cards. I don't have many stamps. I need to make a few for a card exchange.
Please show more.
---
| | | |
| --- | --- | --- |
| RE: Scarecrow Card for Autumn | | |
I see you like photography, Wanda. Here's a very simplistic idea for your Christmas card that doesn't require a lot of 'scrapbook store' goodies.

Take a picture you like, maybe a snowy field with a single barn or house, or perhaps an evergreen tree covered in snow... Or maybe the wreath on your front door...

Use that as the decoration on the front of your card. Print the photos on either photo paper or a similar quality paper (not the regular cardstock). Cut them out. [You might find it cheaper to have the photo printing done at a quickie print shop.]

Decide on your background cardstock color, texture, and the inside verse; print the verse, and, if you use one, your colophon on the back.

Decorative suggestions:
*If you've chosen a snowy scene, you could highlight the snow by applying a 'bit' of crystal glitter to accent it.

*Or if your wreath has red berries, you could use some red dimensional paint on some of them.

*Or maybe cut the edges of the photo with decorative scissors; or perhaps mount it on a contrasting color paper.

Glue the photo to the front of the card, using double-sticky tape, just a row at the top. You're done!

Hope these suggestions get your mind working... I'm sure you'll come up with the perfect photo that expresses your Christmas wishes.

And be sure to check the card-crafting books at your local public library. And do it soon, before they are all checked out by other patrons!

You may find just the idea that doesn't even involve photos!
---
| | | |
| --- | --- | --- |
| RE: Scarecrow Card for Autumn | | |
Post a Follow-Up
Please Note: Only registered members are able to post messages to this forum.
If you are a member, please log in.
If you aren't yet a member, join now!
---
Return to the Paper Arts Forum
Information about Posting
You must be logged in to post a message. Once you are logged in, a posting window will appear at the bottom of the messages. If you are not a member, please register for an account.
Please review our Rules of Play before posting.
Posting is a two-step process. Once you have composed your message, you will be taken to the preview page. You will then have a chance to review your post, make changes and upload photos.
After posting your message, you may need to refresh the forum page in order to see it.
Before posting copyrighted material, please read about Copyright and Fair Use.
We have a strict no-advertising policy!
If you would like to practice posting or uploading photos, please visit our Test forum.
If you need assistance, please Contact Us and we will be happy to help.

Learn more about in-text links on this page here