Return to the Paper Arts Forum
|
Post a Follow-Up
---
| | | |
| --- | --- | --- |
| Skeleton Hallowe'en Card | | |
Posted by
Red_Confetti
(
My Page
) on
Sat, Oct 22, 05 at 14:04
Now this card isn't a quality-crafted card, but it is for my Mom who has Alzheimer's Disease. She isn't critical of the things I make for her!

The skeleton is from the Ben & Jerry's site in the link below. I put it together with dental floss, loosely, so the bones could rattle.

I got carried away with making the images smaller for this site, so I bet you can't read the front verse - it says "Shake, Rattle and Roll this Hallowe'en" - didn't want anything scary for Mom.

I didn't have any of that fake spiderweb stuff, so I used some polyester quilt batting, stretched out for the webs.

I used a pair of deckle-edge scissors to cut out the pieces.

(Unfortunately I used a glue that made 'bubbles.' Even though I pressed the card overnight between paper towels and a stack of heavy books, the bubbles are still there. Mom won't care!)

I used one of those 'eyelet' things in the top of the skull, then ran a fairly long loop of clear fishline through it, and then through a couple of slots at the top of the card. This is so the skeleton can be hung in my Mom's room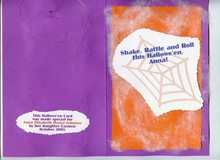 Front and Back of Card Above
Inside of Card Above
Here is a link that might be useful: Hallowe'en Crafts at Ben and Jerry's Site
---
Follow-Up Postings:
| | | |
| --- | --- | --- |
| RE: Skeleton Hallowe'en Card | | |
That is sooo cute. I think I will make one for my grandson.
---
| | | |
| --- | --- | --- |
| RE: Skeleton Hallowe'en Card | | |
I'm goig to have my kids cut it out and color for our Halloween tree.
---
| | | |
| --- | --- | --- |
| RE: Skeleton Hallowe'en Card | | |
Pretty cute Ms. Red....you are way too talented!!
Hope you are having a good day!
---
Post a Follow-Up
Please Note: Only registered members are able to post messages to this forum.
If you are a member, please log in.
If you aren't yet a member, join now!
---
Return to the Paper Arts Forum
Information about Posting
You must be logged in to post a message. Once you are logged in, a posting window will appear at the bottom of the messages. If you are not a member, please register for an account.
Please review our Rules of Play before posting.
Posting is a two-step process. Once you have composed your message, you will be taken to the preview page. You will then have a chance to review your post, make changes and upload photos.
After posting your message, you may need to refresh the forum page in order to see it.
Before posting copyrighted material, please read about Copyright and Fair Use.
We have a strict no-advertising policy!
If you would like to practice posting or uploading photos, please visit our Test forum.
If you need assistance, please Contact Us and we will be happy to help.

Learn more about in-text links on this page here