Return to the Kitchens Forum
|
Post a Follow-Up
---
| | | |
| --- | --- | --- |
| Please review kit design, cabinet layout | | |
Posted by
JessHS
(
My Page
) on
Tue, Oct 29, 13 at 11:40
Well, hopefully I will provide the necessary info to get good answers. If not, let me know what I need to provide- I have read the post about what info is needed, but this is my first try at this type of post so I might miss something :)

I have a galley kitchen in a "rustic" ranch house built in 1976. As you will see in the pictures, I believe the kitchen to be original. Kitchen is in the SW corner of the house, the windows are all with backyard views. Directly E of the kitchen, through a cutout is the family room with a window on the front yard/street. There is also a little mudroom/utilities and side door to the S of the family room, behind where the washer/dryer closet is in the kitchen. N of both the kitchen and family room is the living/dining area. The dining is right off of the kitchen and has 2 sets of french doors to the back deck. The living portion is sunken and has a stone fireplace the entire height of the wall on the front of the house. The ceiling is cathedral with 4 rustic wood beams (cedar?) from side to side. Bedrooms and bathrooms are to the N side of the lr/dr.
We need to update the kitchen, but can't afford a complete renovation- so no tearing down walls or extensive electrical/plumbing. Trying to stick to around 15K or less. Generally, the set up of the appliances is pretty good in the current kitchen. I am going to change the location of the dishwasher to the right of the sink rather than on the left side where it is now. That will I hope give me room for tableware in drawers/cabinets to next to and above the dw, next to the dining room. It will also open up the counter across from the fridge for prep.
Options in town are basically HD or Lowes. I have been to both, and am strongly leaning towards Lowe's. I like the Diamond Reflections cabinets, style Gresham, painted in "Cloud". Here is my mood board so far:

Basically, I would like to know if the quick cabinet layout that the guy at Lowe's whipped up for me is missing something that I'll wish I had gone for. It is mostly drawers, but not completely. Will I want a regular cabinet for all my trays, platters and cookie sheets? Or is something else better? I'm not even really sure what I need to be asking, so I welcome all help. I just want some input before running down to Lowe's and ordering so that I'm not unhappy later. I've hopefully attached the Lowes cabinet plan, then the more detailed measurements of the kitchen from a different source- ignore the cabinet info.
---
Follow-Up Postings:
| | | |
| --- | --- | --- |
| RE: Please review kit design, cabinet layout | | |
Why didn't my pictures load?

I followed the directions below for inserting pictures from the web- photo bucket account?
Here is a link that might be useful: FAQ pictures
---
| | | |
| --- | --- | --- |
| RE: Please review kit design, cabinet layout | | |
| | | |
| --- | --- | --- |
| RE: Please review kit design, cabinet layout | | |
Two comments:

If at all possible (I realize it may not be), move the dishwasher and stove so they are not across from each other. Ideally, you'd want someone to be able to open the dishwasher door completely while someone else is standing at the stove (it was a major annoyance in my first kitchen).

Re the trays, platters and cookie sheets. I can't tell where it is you plan to store those, but the best place would be a lower cabinet with dividers so they can stand vertically. You can have the dividers installed by the cabinet company, or can buy dividers (at Lowe's) after-the-fact.
---
| | | |
| --- | --- | --- |
| RE: Please review kit design, cabinet layout | | |
If I could help out?

Current kitchen:

Mood board:

Lowe's quickie cabinet plan:

Another cabinet plan: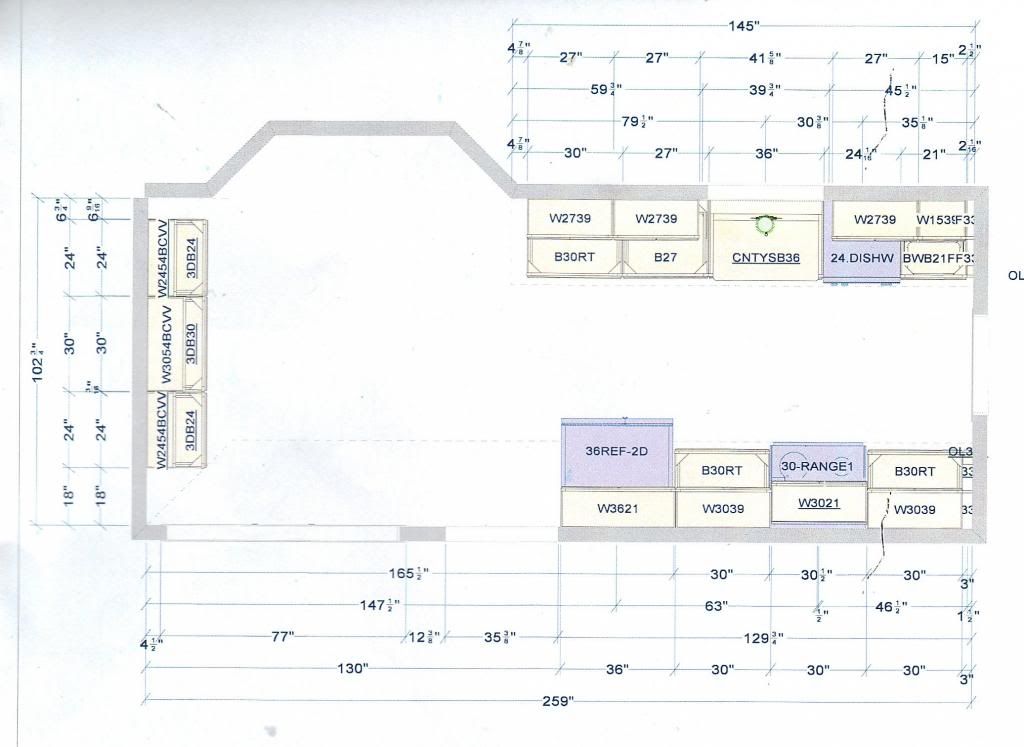 ---
| | | |
| --- | --- | --- |
| RE: Please review kit design, cabinet layout | | |
I can't tell from the cabinets plan(s) if the cabinet over the fridge is full depth. I would recommend it as a handy place to store trays and such. This is ours using Rubbermaid vertical dividers: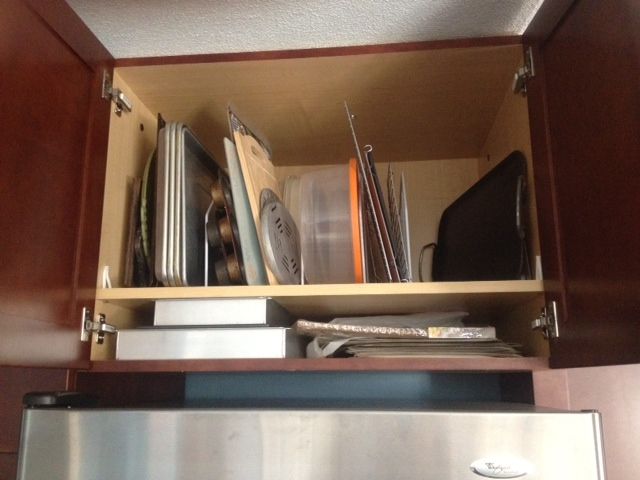 Have you considered the issue of faceframe vs frameless cabinets? You have a small space and frameless cabinets may make a valuable storage difference to you.
What are you doing about the floor? I love that floor BTW. Our 70s cabinets had a larger footprint than the new ones we installed 2 years ago. This left a 2-or so inch gap between the existing floor and the new cabinets. You may run into the same issue.
One of the things I really like about our new kitchen is the decision to put the dishes in a lower drawer vs in an upper. So much easier! Our drawer is at 90-degrees to the DW, but you get the idea: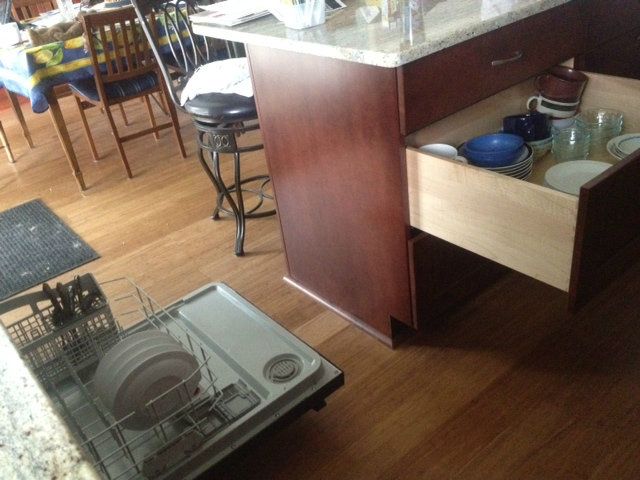 ---
| | | |
| --- | --- | --- |
| RE: Please review kit design, cabinet layout | | |
We also had (in our last kitchen) and will have (in our to-be-installed new kitchen) our daily dishes in a drawer, in our case, at slightly less of an angle when standing at the dishwasher than suzanne's because that particular drawer pulled out in the direction of the sink, which was to the left of the dishwasher. Loved the arrangement.

We also had a tray cabinet above the fridge, but I put less-often-used items up there, and more-often-used items in the divided lower cabinet. If you could build out the fridge cabinet to full depth, it would not only be more functional than a recessed cabinet, it also looks great.
---
| | | |
| --- | --- | --- |
| RE: Please review kit design, cabinet layout | | |
Folks here are big believers in drawers (and rightly so!), but sometimes there are good reasons for a standard cabinet. It all depends on what you need. I love the drawers in my new kitchen - but I had custom cabinets built, so I could specify the height of drawers to ensure that my stuff fit (canisters in one, cake pans/pie plates stored vertically in another).

I agree with the suggestions about full-depth storage over the fridge.

How wide is the aisle? I wonder if you would have room to pull the base cabinets out a little, to give you a deeper counter, maybe on both sides. You might even be able to put in 15" deep uppers on the fridge/range side.

The thing that helped me the very most in my kitchen remodel was figuring out what needed to go where, long before I ordered cabinets. Potholders, cooking utensils, dish towels, cereal, rice cooker, cast iron frying pans - you get the idea. I measured everything, and made sure that there was room in my desired locations to put the things I wanted.

Good luck with your project!
---
| | | |
| --- | --- | --- |
| RE: Please review kit design, cabinet layout | | |
Thanks so much for all the input so far!

sjhockeyfan-

I think I mocked it out and the dishwasher opening will just miss the stove. But even if it doesn't totally, I would rather have it be there than its current location right across from the fridge. That causes conflict on a near daily basis, whereas there would be less conflict between dishwasher and stove.

Thanks for your input on dividers in lower cabs, that is kind of what I was thinking also.

suzannesl-

THANK YOU for posting my pics! I will have to experiment somewhere to figure out what went wrong.

As to the cab over the fridge, it is not currently counter or fridge depth. I do not want the wood walls on the side of the fridge. I think that I would feel more closed in then with just the fridge. Plus, as uncouth as it is, I actually put stuff on my fridge on all three sides with magnets. I have hooks with potholders and recipes on side close to stove, kids art on the front and a couple of pics, and calendar and kids school notices on the side by the door. It may not look like a magazine picture, but it is very functional for me. The other reason is that we may not upgrade our fridge right away and I don't want our little fridge to look silly in a big hole. And I don't want to make it hard to pick a new fridge due to size limitations because of a wood box. So because I don't have the side pieces, I think that I am stuck with a standard depth wall cab above the fridge.

I will have to look up what it means to be frameless. I do know that there is no wood strip in the middle of the front of the cabinet.

We are keeping the wood floor.

Love the dishes in the drawer! That is totally my plan- we currently have dishes in the lower cabinets so that kids can empty the dishwasher and put them away themselves :). I was hoping they would fit in the drawers to the right of the dishwasher. Glad both you and sjhockeyfan like the arrangement. Do you guys have special dividers in the drawers?

annkh-

The current aisle width, from countertop edge to countertop edge is 53". It would be less from the fridge to the opposite countertop.

And thanks for the advice on figuring out what would go where. I definitely need to do that, and then see how deep the drawers are in the different configurations and layout what will fit where. Hopefully more will fit then does now. If you look on the far left countertop you will see my dishdrainer, behind it is my toaster oven, then there is a Pampered Chef wooden dowel rack thing with my stones and cookie sheets, cooling racks and cutting boards. They do not fit vertically in any cabinet in my kitchen as the shelf is too low. I want them off my countertop!
---
| | | |
| --- | --- | --- |
| RE: Please review kit design, cabinet layout | | |
Would love some more input.

I'm toying with the idea of one of those pantry pullouts next to the wall at the end of the run with the stove. How much filler needs to go between it and the wall? What is the minimum width that would be useful for that type of pullout?
---
Post a Follow-Up
Please Note: Only registered members are able to post messages to this forum.
If you are a member, please log in.
If you aren't yet a member, join now!
---
Return to the Kitchens Forum
Information about Posting
You must be logged in to post a message. Once you are logged in, a posting window will appear at the bottom of the messages. If you are not a member, please register for an account.
Please review our Rules of Play before posting.
Posting is a two-step process. Once you have composed your message, you will be taken to the preview page. You will then have a chance to review your post, make changes and upload photos.
After posting your message, you may need to refresh the forum page in order to see it.
Before posting copyrighted material, please read about Copyright and Fair Use.
We have a strict no-advertising policy!
If you would like to practice posting or uploading photos, please visit our Test forum.
If you need assistance, please Contact Us and we will be happy to help.

Learn more about in-text links on this page here