Return to the Kitchens Forum
|
Post a Follow-Up
---
| | | |
| --- | --- | --- |
| Kitchen layout - comments and suggestions? | | |
Posted by
krishoel001
(
My Page
) on
Sat, Apr 13, 13 at 14:55
We are very lucky to be building a new home starting this spring/summer and are enjoying the design process. I welcome comments and suggestions on our latest kitchen layout. Here are the details we know so far:

Mainly, this is a house for two people, my husband and I. We have two children who are in college nearby and will be visiting us for breaks periodically and living with us over summers for 4-5 years to come. For a short time, we might get a bounceback after college graduation! Sometimes my husband and I work together in the kitchen, but usually it's just me. I am a semi-serious cook, and we entertain large groups at holiday times and for family and friend celebrations. The kitchen will be a gathering space for friends and family during these times. We have a separate dining room that will be used far less frequently than the kitchen eating area.

The overall style of the house is contemporary/modern. Floors will be wood, likely fir or maple. Interiors of windows are fir. Cabinets will be cherry, slab panels. We have not chosen countertop materials yet, but I am thinking of soapstone or granite. Counters in the kitchen are 30" deep. Upper cabinets next to vent hood will be 14" deep, upper cabinet next to ovens will go to the countertop and be 12" deep. I have had, for 18 years, 30" deep counters and I love them. No problems with reaching things - at 6'0" I am the shortest person in my house by about 4".

Pantry measures 5'6" x 5'6". It will have counters, some open and closed storage below (drawers, mostly), and open shelving above for food storage. I hope to keep all small electrics (mixer, coffee maker, cuisinart, etc.) in pantry on counter to lessen clutter on the kitchen counters. Currently, counters are designed at 24" deep and upper shelves at 12" deep. I would appreciate your thoughts on this -- both seem too deep to me.

The ceiling over the kitchen will be vaulted, with the vault continuing into the family room. Two large beams will span this space, neither of which will be directly over the kitchen.

Appliances: We are using the Thermador promotion: 30" refrigerator column, 18" freezer column, 36" induction cooktop, ventilation insert for custom hood, star sapphire dishwasher, 30" masterpiece double ovens. In addition, we will have a 24" Sharp microwave drawer and a 15" Kitchenaid trash compactor. Fridge, freezer, dishwasher, and trash compactor will have cabinet panels.

Sinks: The island sink will be the smaller Kohler stages sink, 33 x 18 x 9.5. The corner sink will be the Julien 3999, right rear draining, single bowl, 30 x 18 x 10.

The corner windows over sink are each 30" wide, the large window over dishwasher is 60". Pocket doors are marked with measurements.

Here's what I'm thinking about changing:

Make the large window a bit smaller so we can move the cooktop and ventilation further away from fridge/freezer. Currently, there is only 12" landing space to right of cooktop. This would enable slightly wider upper cabinets as well. What do you think is minimum for landing space to the right of cooktop?

I would consider moving the ovens 6-12" closer to the corner sink, to increase pantry space slightly.
---
Follow-Up Postings:
| | | |
| --- | --- | --- |
| RE: Kitchen layout - comments and suggestions? | | |
My kitchen has 16 inches to the right of the cooktop, and I consider it almost useless. Only good for setting seasonings or chopped herbs on. I have 20 inches of usable space to the left which is my main landing/ingredient area. You can click the link under for more pics if needed.
Here is a link that might be useful: kitchen pics
---
| | | |
| --- | --- | --- |
| RE: Kitchen layout - comments and suggestions? | | |
How about moving the entry to the pantry to the other wall and put it in the middle. May have to do narrower depth on shelves inside, but you'd get 12' of storage that way and could do some shallow at the end too.
---
| | | |
| --- | --- | --- |
| RE: Kitchen layout - comments and suggestions? | | |
If you moved the dishwasher so it was between the sink and the ovens rather than the sink and the cooktop, you'd get two benefits:

(1) More flexibility in where you place the cooktop--in other words you could move it closer to the sink, giving you more room to the right of the cooktop while still having plenty to the left. With the DW where it is in your drawing, you can't get more room to the right of the cooktop unless you're willing to make things asymmetrical (i.e. put the cooktop closer to the DW than to the fridge/freezer). That would look weird, like the cooktop and DW are bunched up together. But if you move the DW to the other side of the sink, you can put the cooktop anywhere you want along that run and it will look good.

(2) More room for someone to help you in the kitchen: they could be loading or unloading dishes while you're cooking, WITHOUT being in your way (you don't want anyone but yourself between the cooktop and sink when you're cooking).
---
| | | |
| --- | --- | --- |
| RE: Kitchen layout - comments and suggestions? | | |
Many thanks for all your good suggestions. We are talking to the architect about moving the dishwasher to the left of the corner sink, as suggested by ideagirl2, perhaps by shifting the whole pantry "up" a bit - making the countertop run that includes the ovens just a bit - 8" - 12" - longer. We'll see! I agree that more room is needed to the right of the cooktop. At least 20" as kiko has mentioned. And, Iyfia, moving the pantry door is a good idea, but my husband wants a flat screen TV on that wall. I may not win that one! Keep the great ideas coming!
---
| | | |
| --- | --- | --- |
| RE: Kitchen layout - comments and suggestions? | | |
Another idea to soften the corners of the pantry is to plan on a diagonal entrance on the SW corner (in the sense of the drawing.) You lose a bit of space, but I think easier access might be worth it.

Corner pantries ebb and flow in popularity on this form. Some people loathe them, some adore them. I think it varies largely due to how much they block the space. You could have almost as much shelf space if you just bent the cabs around the L of the wall (this would be around the NE corner (drawing-wize). You'd lose the enclosure to hide stuff, but do your relly want to be planning a jumble space/ dump area in your new kitch?

By avoiding the walled-in-ness of the corner pantry you'd gain very valuable circulation space and visual breathing room in your plan. Yes freestanding, matching cabs are probably a bit more expensive than just shelves hiding in the pantry hole. You also could probably economize by making the cabs in this area different, cheaper, with less expensive counter and backplash.

And speaking as someone who is, er, at a certain age, and planning to live in my house forever. The walled-in pantry creates a mobility barrier if one needed to use a wheel chair or walker at some far, far, far away point in the distant, unimaginable future. Building accessibilty in now means less angst, untimely expense and disruption, in the whenever.
'Nuff said.

(I am someone with a corner pantry in my plan who is noodling about changing it to an ell-shaped array of cabs for exactly this reason. Wheel chairs need 4 to 5 feet circles to move around.)

HTH

L.
---
| | | |
| --- | --- | --- |
| RE: Kitchen layout - comments and suggestions? | | |
I'd ditch the walk in pantry in place of a step in pantry. (Or desperately try to locate it somewhere else, like combining the laundry/mudroom/pantry areas to a larger multipurpose area.)

You'd have just about as much space with a step in because you wouldn't be dealing with space wasting corners. And it would open up the kitchen feel and allow the island to be longer and everything else to shift. And, although windows are great, enough space in the right spots in a kitchen is more important. I'd ditch the big window. You need the counter and cabinet space more than the window where it's located. Think outside the box on getting more light into the space. Maybe substitute it with a windowed backsplash or a clerestory window above the cabinets since this is a modern build.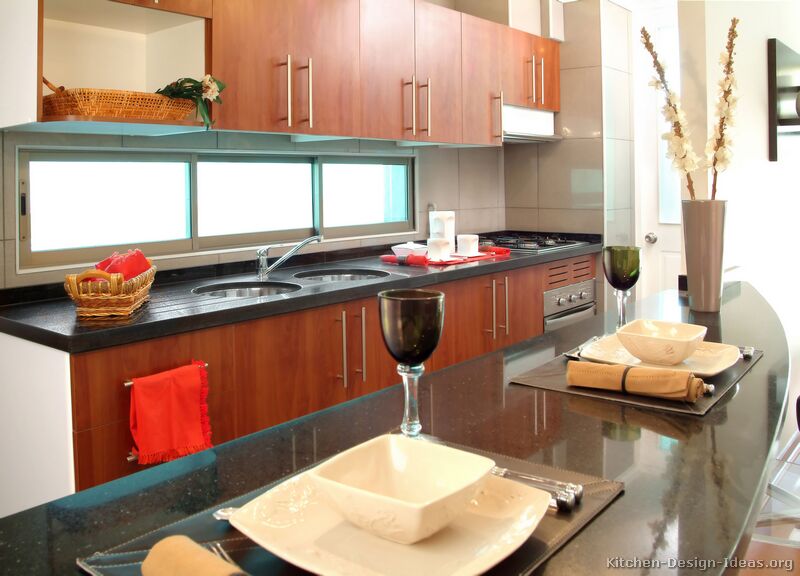 I'd also split the freezer from the fridge. It's old fashioned thinking to think they need to be located together when you are using separate units. A freezer is long term storage, like a pantry, while a fridge is accessed almost hourly in the summer for cold drinks.

Moving it gives you the landing space for the fridge and the range. Yes, a range. You'd be better off spacewise with a range if you insist on keeping that large pantry in the kitchen. If you need that second oven for entertaining, place it under the counter at the end of the island. You now have room for that since the titanic pantry gets reduced to a more proportionate size.
And make the island a single height workspace. It's FAR more useful when it's not split into two different heights. You could even put all of your baking stuff on the opposite side with the oven there and have that be your dedicated baking zone.
---
| | | |
| --- | --- | --- |
| RE: Kitchen layout - comments and suggestions? | | |
Hollysprings, you are my new hero and have generously given much food for thought. Part of the reason for titanic pantry is that we have always used that space for feeding dogs (Irish wolfhound and German shepherd) and so required LOTS of real estate for that. With the new build, I am campaigning for moving all dog-related activities to the mudroom, and therefore could very well have a step-in rather than a walk in space. I like your range idea, but I cook in front of a range at our lake place and it's WAY too hot for me to have oven going and be using the burners as well. I initially had fridge and freezer split, with freezer actually inside the giant pantry, but hub wants ice and water near the eating space. Compromise was putting Subzero freezer drawers with ice maker in the island to the left of sink, then where does the micro drawer land? Thanks for your time and effort -- I appreciate it very much!
---
| | | |
| --- | --- | --- |
| RE: Kitchen layout - comments and suggestions? | | |
Do you have good ventilation at the lake? If you have a decent range hood, you should be able to use cooktop and oven comfortably.
---
| | | |
| --- | --- | --- |
| RE: Kitchen layout - comments and suggestions? | | |
Annkh, I do have good ventilation, an enormous 42" hood, that works very well, but I also live in "hot flash land!" For several reasons I have had this issue for 10 years, and probably have another 10 to go, so a range is one thing that sets me off every time!
---
Post a Follow-Up
Please Note: Only registered members are able to post messages to this forum.
If you are a member, please log in.
If you aren't yet a member, join now!
---
Return to the Kitchens Forum
Information about Posting
You must be logged in to post a message. Once you are logged in, a posting window will appear at the bottom of the messages. If you are not a member, please register for an account.
Please review our Rules of Play before posting.
Posting is a two-step process. Once you have composed your message, you will be taken to the preview page. You will then have a chance to review your post, make changes and upload photos.
After posting your message, you may need to refresh the forum page in order to see it.
Before posting copyrighted material, please read about Copyright and Fair Use.
We have a strict no-advertising policy!
If you would like to practice posting or uploading photos, please visit our Test forum.
If you need assistance, please Contact Us and we will be happy to help.

Learn more about in-text links on this page here