Return to the Kitchens Forum
|
Post a Follow-Up
---
| | | |
| --- | --- | --- |
| Can you identify this pot? | | |
Posted by
gidgetgirly
(
My Page
) on
Fri, Mar 8, 13 at 16:35
Hi, does anyone know what brand this pot is? The pot, not the pot filler. It's so pretty! I posted in the cookware forum as well, hoping someone out there will recognize it! Thanks so much for any help!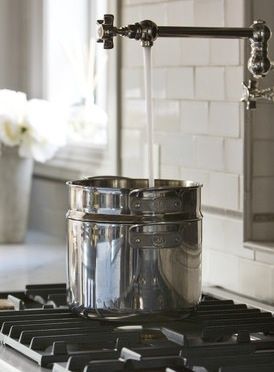 ---
Follow-Up Postings:
| | | |
| --- | --- | --- |
| RE: Can you identify this pot? | | |
Culinary Institute of America's pots. They are attractive, aren't they.
---
| | | |
| --- | --- | --- |
| RE: Can you identify this pot? | | |
Loos similar to the All-Clad pasta pentola, but I think theirs is straighter where the sides of the insert and pot come together.
---
| | | |
| --- | --- | --- |
| RE: Can you identify this pot? | | |
35ftcabo, thank you SO much!! I've been searching the Internet to no avail and it was driving me crazy! Yes, so attractive. I'm loving the pot filler and tile in the pic as well, what a great photo!
---
| | | |
| --- | --- | --- |
| RE: Can you identify this pot? | | |
Lascatx, yes the All Clad does look similar. I'm looking to purchase new cookware in the future. I'd like to find good quality, but I also want it to look good. I'm currently using Belgique, I'd like to move up in quality. Just started looking and researching, so many choices!
---
| | | |
| --- | --- | --- |
| RE: Can you identify this pot? | | |
The pot in that photo is definitely not All-Clad. The part where the handles meet the rest of the pot is all wrong.

I'm not sure I'd buy a pot solely on looks. Find a quality brand in your budget and buy that. Pretty much all stainless steel cookware looks the same anyway. Plus are you really going to use the pot as a display piece?
---
| | | |
| --- | --- | --- |
| RE: Can you identify this pot? | | |
As a counterpoint to realism's post. I totally would buy this pot on looks alone. It's for boiling water, that's not a technically challenging task where the best pot wins. Who cares if it's a display piece? YOU will be looking at it and YOU will have the pleasure of using a pretty thing twice a week. I like it too.
---
| | | |
| --- | --- | --- |
| RE: Can you identify this pot? | | |
I bought some CIA vessels (not that big) but do love them - They were on sale and just the sizes I needed.
They sure are pretty but work great as well.
They work on induction as well as other surfaces.
Have fun hunting -I bought mine at the Compleat Baldwin Brass Shop in West Reading (yes that is the correct spelling)- not sure if they have the size but all were on special. And if you spend enough (not sure how much), shipping is free.
Let us know if you splurge and where you found it!
---
| | | |
| --- | --- | --- |
| RE: Can you identify this pot? | | |
As a counterpoint to ellaf's counterpoint, buying on looks ALONE might not be the best idea. What if the pot costs more than gidgetgirly wants to spend? As you mention its only for boiling water, so is it worth spending a lot of money on something just for looks rather than performance? Conversely what if the pot is super cheap and fall apart? Is it worth wasting your money on a product that will have to be replaced in a short amount of time just because it looks pretty.

All I was saying is that buying solely on looks is probably not the smartest route. It is likely that the pot is not going to be left out on the stovetop as a display piece. Is it worth making a decision based on the look of a pot that will be used 20 minutes a week? Is it going to bring you all that much joy?
---
| | | |
| --- | --- | --- |
| RE: Can you identify this pot? | | |
Check out the Calphalon Tri-ply stockpot. It has good quality and good looks, and you can boil water for under $100. I don't think you need to spend for All-Clad for a stockpot. Their saucepans are great too.
---
| | | |
| --- | --- | --- |
| RE: Can you identify this pot? | | |
I just want to mention, setting aside what manufacturer the pot is, that I used to have one of those stock pots with pasta inserts. I ended up selling it on eBay, and was glad to be rid of it. I found the pasta insert to be cumbersome to handle, it dripped everywhere when I was trying to drain it and carry it over to my pasta serving dish, and was really a PITA to clean the starch out of all the holes (the starch really clung to those holes). Storage was difficult due to the height of the combo pot. Most of the time I ended up just using my stockpot (a Tramontina Triply, similar to the Calphalon that May_flowers mentioned), and poured the pasta water through my colander in the sink. That's why I sold the combo pot on eBay. Just thought I'd give my $.02!
---
| | | |
| --- | --- | --- |
| RE: Can you identify this pot? | | |
I have to admit, when I read this thread title, my first thought was "Did someone find some stray marijuana?"
---
| | | |
| --- | --- | --- |
| RE: Can you identify this pot? | | |
They're all cool looking pots, but I don't see the need to have a built-in colander so you can lift the pasta out of the water. You either drip your way to a sink or dish, or you gotta carry the pot over anyway. Does the colander part go as deep as the rest of the pot? If not, you're losing some pasta cooking space.
---
| | | |
| --- | --- | --- |
| RE: Can you identify this pot? | | |
But it makes a great vessel for a winter "lobster" bake.
Load up the corn, potatoes, seaweed/spinach/chard some clams, shrimp, and lobster and steam away !
---
| | | |
| --- | --- | --- |
| RE: Can you identify this pot? | | |
An 8-quart Tramontina tri-ply version of that pot ($80. incl pasta insert) is my water bath canner -- I only do small batches, 4 or 5 half-pints at a time. The pasta insert is great as a canning rack.

I've also used it to steam large items.
---
| | | |
| --- | --- | --- |
| RE: Can you identify this pot? | | |
When I used it for making stock (before I got a pressure cooker), the pasta insert was great for lifting out the solid items at the end of cooking.
---
| | | |
| --- | --- | --- |
| RE: Can you identify this pot? | | |
I looked on the CIA website and the did not show a vessel with an insert.
---
| | | |
| --- | --- | --- |
| RE: Can you identify this pot? | | |
It is a Cuisinart® Chef's Classic™ Stainless Steel 4-Piece 12-Quart Pasta and Steamer Set. 79.95 at Bed, Bath, and Beyond. I don't know about the pasta part, but it is a darned good steamer, if you like steamed veggies. Oh, and it looks good while doing it!
---
| | | |
| --- | --- | --- |
| RE: Can you identify this pot? | | |
It looks like a set of CIA pieces:

and set including 8 quart stockpot

Here is a link that might be useful: I think it's a CIA set
---
Post a Follow-Up
Please Note: Only registered members are able to post messages to this forum.
If you are a member, please log in.
If you aren't yet a member, join now!
---
Return to the Kitchens Forum
Information about Posting
You must be logged in to post a message. Once you are logged in, a posting window will appear at the bottom of the messages. If you are not a member, please register for an account.
Please review our Rules of Play before posting.
Posting is a two-step process. Once you have composed your message, you will be taken to the preview page. You will then have a chance to review your post, make changes and upload photos.
After posting your message, you may need to refresh the forum page in order to see it.
Before posting copyrighted material, please read about Copyright and Fair Use.
We have a strict no-advertising policy!
If you would like to practice posting or uploading photos, please visit our Test forum.
If you need assistance, please Contact Us and we will be happy to help.

Learn more about in-text links on this page here