Return to the Kitchens Forum
|
Post a Follow-Up
---
| | | |
| --- | --- | --- |
| Walnut cabinets are in -- need help with pull placement, please | | |
Posted by
kaysd
(
My Page
) on
Wed, Feb 27, 13 at 10:35
Our walnut cabinets are in! The White Macaubas counters should be installed within 2 weeks. Then the plumber will hook up the sinks and DW and we'll have a functional kitchen again. The cabinet guys will come back after that to install the DW and wine fridge panels and take care of a few other little details, including installing my pulls, so I need to get pulls ordered ASAP.

Pictures are below - please excuse the dust and dangling wires. I love the tall glass pantry doors. We will apply a Solyx film to the glass to obscure the contents. If I didn't need room to store cereal and soup, I would leave the glass clear and just display china and other decorative items there, lol.

I have decided to go with the Top Knobs Princetonian pulls. They are available in the following sizes: 4-9/16", 5-13/16, 7-1/8, 9-5/8, 12-1/8, 15-13/16, 19-1/16, 27-1/2, 31-1/16, and 37-7/8." I was able to order a few of the 27.5" and 5-13/16" pulls quickly from Amazon. The 27.5" size looks good on the 36" drawers, but too long on the 30" drawers. I'm going to use the 19" handles on the 30" drawers, the 9-5/8" on the 18" drawers and the 7-1/8" on the 16" drawers, which leaves about 4-5" exposed at the ends of each drawer. I will probably use a 15-13/16" pull on the 24" dishwasher panel; not sure what to do about the wine fridge. I am still undecided on the size and orientation to use on the various doors.

For the drawers, I originally planned to put them 2.5" from the top edge of each drawer (which would be centered on the upper 5" high drawers), but now I am thinking that might be too far from the edge, especially if I also use horizontal pulls on the doors, since I want to be consistent with spacing. Maybe 1" or 1.25" or 1.5" from the edge would be better.

I am having a hard time deciding whether to use horizontal or vertical pulls on the doors. The north side of the island is especially tricky, since there is a false drawer front over an 18" door, then a 36" drawer over two 18" doors. I wish I had split that top drawer into two 18" drawers so I could just center the handles on both drawers and doors. If I use horizontal handles on the doors, do you think it looks better to center them on the panel, or place them next to the edge that opens? If I use vertical pulls, they will be in the 4-8" size range, as the vertical pulls that run most of the height of the doors does not feel right to me here. I almost wonder if knobs might look better on the upper doors (keeping horizontal pulls on the lower doors to match the drawers).

There are 30" wide x 10" high lift-up panels over the fridge and freezer. I have seen long pulls used on those before, so I could use the 19" pulls to match the 30" drawers, but think something smaller might look better. I wish I could just use a hidden touch latch on those, but think I will need something to pull on to lift them.
For the pantry, I originally thought I would use the 38" handles to mimic the 44" handles on the fridge & freezer, but now that those doors are in they seem kind of β€œdelicate" with the tall, slim glass panels and stiles. I am not sure whether to stick with the long pulls or go with a short (4-8") pull or knob.

I have to get this all figured out quickly, so I would really appreciate any input.

Back wall with range & refrigeration columns (2 pairs of 14" wide upper doors):
Pantry & oven wall (waiting for steam oven install):

Sink run is hard to photograph due to sun coming in windows (2 18.5" wide upper doors):

North side of island (18" sink cabinet, then 36" top drawer over 36" double doors with pullouts):

Vertical pulls on doors:
Horizontal pulls on doors centered on panels:
Horizontal pulls on doors with pull toward edge that opens:
Minimal pull tabs on uppers:
WWYD?
---
Follow-Up Postings:
| | | |
| --- | --- | --- |
| RE: Walnut cabinets are in -- need help with pull placement, plea | | |
Wow! Looks great so far. REALLY looking forward to seeing it all complete.

I vote for horizontal pulls placed near opening edge. Seeing your photo samples makes me think that is what we'll be doing with ours. Love your Princetonian choice. Will have to seriously consider those for ours (which I was already).

Pantry cabs - how do they open? From the middle of the two sets of doors? I think I'd do longer pulls rather than shorter. After you frost the glass, they won't seem as "delicate" and I think short pulls would look out of place.

I think you need to stay (approx) the same proportion on all cab drawers/doors.
---
| | | |
| --- | --- | --- |
| RE: Walnut cabinets are in -- need help with pull placement, plea | | |
Those are gorgeous cabinets!!!

You might try putting tape of the appropriate length in the various places you're considering placing the pulls. Cut the width down to the actual width of the pulls, more or less, and try the different lengths. When you have a whole bank of tape, you'll get a better feel for how it will look as a whole rather than one drawer/door at a time. You don't need to do the whole kitchen, just a representative chunk. For instance, one side of the island, the bank of drawers next to the stove, and the pantry doors.
---
| | | |
| --- | --- | --- |
| RE: Walnut cabinets are in -- need help with pull placement, plea | | |
Your kitchen is looking fabulous. I think you should do all horizontal pulls. If you are going with oversize pulls on the doors I would definitely center them.

I used oversize pulls in my kitchen and actually used several different sizes based on the width of the drawers. I tried to keep the proportions equal so that there was approximately the same amount of space left on the each side of the pulls for all the drawers. I have a 19 inch pulls on my 36 drawers, 13 pulls inch on 24 inch drawers,10 inch pulls on 17 inch drawers and 6 inch pulls on 13 inch drawers.
I could not do horizontal pulls on my doors because I have some curved cabinet doors but I did use 10 inch pulls on all my doors. Everyone that has seen them, likes the longer pulls.
I think if you decide to do vertical on your doors use should consider using the 9-5/8 size. Since your drawer pulls will be longer I think longer pulls will look better on the doors too. Actually, either horizontal or vertical I think the longer pull would look great.
Good luck on the finishing touches.
---
| | | |
| --- | --- | --- |
| RE: Walnut cabinets are in -- need help with pull placement, plea | | |
Thanks for the great collection of images for those of us who are planning bar pulls and slab cabinets. I look forward to seeing your photos added when they are done. I've also been considering the Princetonian as well as a similar Sugatsune. Visually, I like the horizontal bars or unobtrusive tabs on the uppers, but ergonomically, I wonder if the vertical orientation might prove more comfortable? Not sure, though-- I tend to be pretty adaptable to whatever is there!
---
| | | |
| --- | --- | --- |
| RE: Walnut cabinets are in -- need help with pull placement, plea | | |
wow, it's gorgeous already! i also vote for horizontal and keeping the pull proportionate to the door. i also don't think it would be weird if you used knobs in very few places (like the island) to make it work.
---
| | | |
| --- | --- | --- |
| RE: Walnut cabinets are in -- need help with pull placement, plea | | |
ck squared, the pantry cabinets are 2 separate 38" wide cabinets, so the doors open from the middle of each pair. They probably will look less delicate once the glass is frosted or textured. I'm torn, as the height of the doors makes the 38" long pulls seem appropriate, but each walnut stile is so slender that I hate to cover so much of 4 of the stiles with metal.

Suzanne, thanks, I'll have to try the tape trick. Holding up pulls on the various cabinets 1 at a time does make it hard to visualize the total effect.

Badgergal, if I use horizontal door pulls and center them, I would probably use 9-5/8" on the 18" doors to match the 18" drawers and 5-13/16" on the 14" doors to maintain 4-5" of "open space" at the ends of each pull. If I place the pulls horizontally closer to the side that opens, I might use 5-13/16" on all the doors to be consistent.

Lori, I find it very helpful to have a bunch of Houzz images all in one post so I can see them all at once -- I just wish the pictures would post a little larger. I wondered about the ergonomics of using horizontal pulls on doors, but it felt okay in the IKEA sample kitchens, even with the pulls placed in the center of the doors rather than the edges.

Amanda, thanks for another vote for horizontal. Proportion is so tricky for the upper doors especially, since they are so tall.
---
| | | |
| --- | --- | --- |
| RE: Walnut cabinets are in -- need help with pull placement, plea | | |
How far down from the top edge of the drawers do you think the pulls should be placed?

The 24" wide under-counter wine fridge is throwing me off. It will have a walnut frame around the glass, similar to the pantry doors. The door is harder to open than a cabinet door, and I think it might be confusing for someone else to try to open it if I use a horizontal pull centered on the upper rail so that it is not clear which direction you should pull. It needs either a vertical pull on the left side or a horizontal pull placed near the left edge, which could look weird if I make different choices for the other doors. Would it look weird to use a long vertical pull (15-13/16" or 19-1/16" on a 30" high door), similar to the long pulls on the fridge/freezer and maybe pantry doors, if the rest of the cabinet doors have horizontal pulls?
---
| | | |
| --- | --- | --- |
| RE: Walnut cabinets are in -- need help with pull placement, plea | | |
I kinda see these cabinets with minimal edge pulls so there is just a bit of a metallic glint at each edge.
---
| | | |
| --- | --- | --- |
| RE: Walnut cabinets are in -- need help with pull placement, plea | | |
| | | |
| --- | --- | --- |
| RE: Walnut cabinets are in -- need help with pull placement, plea | | |
wow, how exciting! your kitchen is coming together so fast!! I vote for the all horizontal pulls near door edge too!
---
| | | |
| --- | --- | --- |
| RE: Walnut cabinets are in -- need help with pull placement, plea | | |
I like the horizontal pulls too, centered vertically on drawers, 3" from the top/bottoms to line up with your top drawer pulls.

Another option: we're going with Berenson finger pulls. They're not beefy, but GREAT minimalist pulls.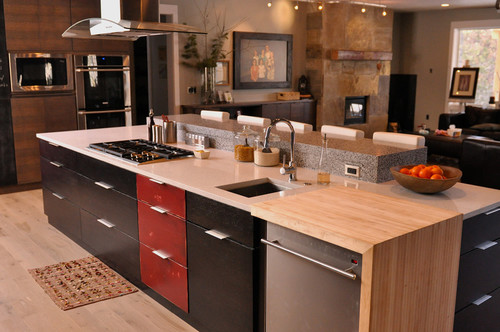 ---
| | | |
| --- | --- | --- |
| RE: Walnut cabinets are in -- need help with pull placement, plea | | |
Thank you for posting all of these pics! I am working on pull placement too! Princetonian was my 2nd choice- went with the Greenwich pulls. Will be all horizontal on the cab doors, but the center versus near opening edge placement was tough. These really help me and I think I like the centered look best.

Your kitchen is gorgeous!
---
| | | |
| --- | --- | --- |
| RE: Walnut cabinets are in -- need help with pull placement, plea | | |
I am trying to decide too. Am wondering about the finger pulls in the slab doors. My cabinet maker said they had to be routed on the drawer edge and he is pricing it at $10/drawer + hardware. Ouch. Labor would be about $400. Hardware maybe about $400. Seems really expensive!
---
| | | |
| --- | --- | --- |
| RE: Walnut cabinets are in -- need help with pull placement, plea | | |
I'm really happy with our Berenson finger pulls, look REALLY slick and modern and minimalistic. No need to rout, just need about 1/8" reveal between doors, maybe 1/4" if pulls are back to back. Installing your own won't be too hard for anyone who's semi-handy, but I had my cabinet guy install.
---
| | | |
| --- | --- | --- |
| RE: Walnut cabinets are in -- need help with pull placement, plea | | |
I really like Davids idea of Berenson finger pulls.

I'm not in the market right now for refrigerators or freezers but could you tell me about yours? The brand and size ect…I really like the look of them and might need info for the future.
Really looking forward to the finish pictures, looks fantastic already.
---
| | | |
| --- | --- | --- |
| RE: Walnut cabinets are in -- need help with pull placement, plea | | |
Gorgeous kitchen! I love the tape idea and would definitely do that. But my gut response is vertical. It would mimic your (gorgeous!) refrigerators and tie in with the pantry cabs as well. But I'm NOT an expert, so take it with a big grain of salt!

Can't wait to see the finished product!
---
| | | |
| --- | --- | --- |
| RE: Walnut cabinets are in -- need help with pull placement, plea | | |
I haven't read all the replies; however, while you seem set on large horizontal pulls --- at least based on the inspiration pics you posted --- I personally would go with very minimalist hardware, perhaps even integrated. I find the large horizontals make the cabinets look squatty and distract from the beauty of your cabinets.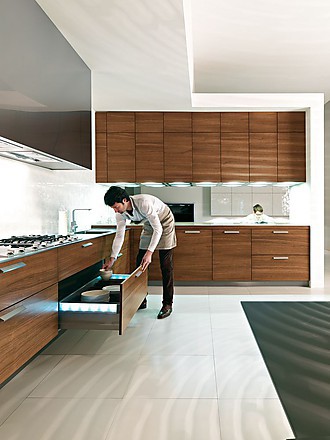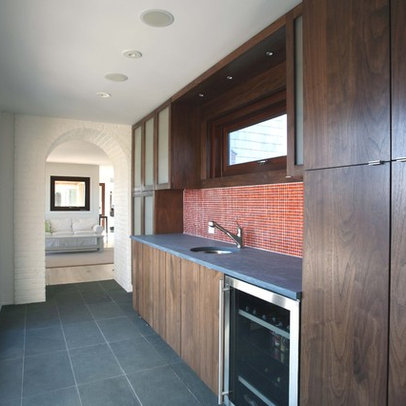 ---
Post a Follow-Up
Please Note: Only registered members are able to post messages to this forum.
If you are a member, please log in.
If you aren't yet a member, join now!
---
Return to the Kitchens Forum
---
Instructions