Return to the Home Decorating & Design Forum
|
Post a Follow-Up
---
| | | |
| --- | --- | --- |
| Your perfect dove gray? Love Glidden Seal gray but... | | |
Posted by
madteaparty33
(
My Page
) on
Thu, Dec 27, 12 at 23:26
it's a shade too dark I think. Will use this in a bedroom and 3 walls of a living room. Many thanks
---
Follow-Up Postings:
| | | |
| --- | --- | --- |
| RE: Your perfect dove gray? Love Glidden Seal gray but... | | |
If you like the color a lot, ask your paint store to mix it a shade lighter.
---
| | | |
| --- | --- | --- |
| RE: Your perfect dove gray? Love Glidden Seal gray but... | | |
I had Seal Gray mixed by BM for my livingroom. It went on so well that I had more than a gallon and a half left so I had the extra gallon lightened two shades and used it in a bathroom. Here are pics of seal gray in my livingroom and a custom lightened version in my powder room.So if you already have the seal gray you can have the store lighten it for you.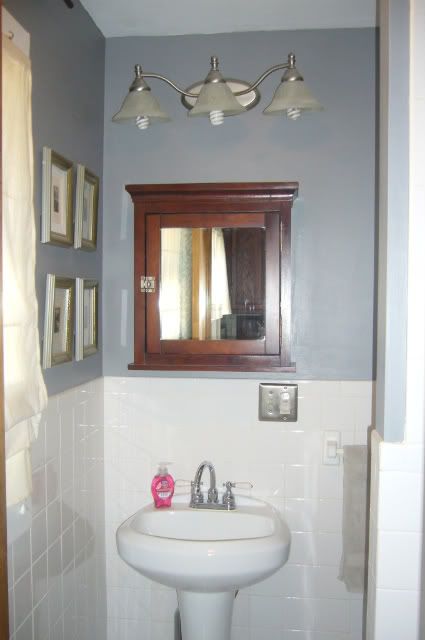 ---
Post a Follow-Up
Please Note: Only registered members are able to post messages to this forum.
If you are a member, please log in.
If you aren't yet a member, join now!
---
Return to the Home Decorating & Design Forum
---
Instructions
You must be a registered member and logged in to post messages on our forums.
Posting is a two-step process. Once you have composed your message, you will be taken to the preview page. You will then have a chance to review the contents and make changes.
After posting your message, you may need to refresh the forum page in order to see it.
It is illegal to post copyrighted material without the owner's consent.
HTML codes are allowed in the message field only.
No advertising is allowed in any of the forums.
If you would like to practice posting or uploading photos, please visit our Test forum.
If you need assistance, please Contact Us and we will be happy to help.