Return to the Home Decorating & Design Forum
|
Post a Follow-Up
---
| | | |
| --- | --- | --- |
| help play paperdolls with my master bath! | | |
Posted by
maggiepie11
(
My Page
) on
Fri, Dec 27, 13 at 23:07
i have a photoshop problem. i obsessively design and design and design in photoshop until i get the room looking how i want. this in a house that's under construction. the sheetrock just went in! the goal is to have most of the rooms designed online before we move in. it helps me pick fixtures and textiles and paint colors etc. problem is, i've been working on the master bath for months now and i keep flipflopping and i'm still just all over the place.

anyway, some of the decisions are made - we're past that point, so please don't tell me you hate the tile or the tub or white cabinetry. :) the stuff that's decided is all pretty neutral so there are still lots of different directions i could go in.

here is what's already a done deal: (pics below)
* white shaker style cabinetry (2 vanities plus 2 narrow linen cabinets flanking the tub)
* 'Vanilla' granite countertops with white undermount sinks

* white freestanding tub with chrome lion paw feet

* galvanized steel industrial/nautical double sconce over vanities

* Emser Lucerne 20x20 porcelain tile in the color "Matterhorn" which is a marbly blend of greige

* Shower is white tile with a natural gray/beige blend of sliced/smooth pebble tile on the floor and as an accent

here are some of my goals:
* must have a shower curtain - i hate glass doors, and you won't talk me out of it no matter how many times my backwoods builder calls ME a hick!
* rest of house is french/eclectic/farmhouse, and i'd like to keep with that a bit if i can
* i want to plan every detail down to the towel color, and i do NOT want towels that are white or any shade of brown/tan.
the room has 10 foot ceilings and a large east facing window if that matters to you hardcore decorators. :)
-------------------------------------------------------------
so, the main items left to choose are:
* a light fixture centered in front of the tub
* shower curtain
* window treatments behind the tub
* paint color
* towel colors
* accessories though i can draw the line there in terms of photoshopping them - just including in case the accessories inspire good ideas from any of you! :)
i thought i had the bathroom done at one point.
originally it was going to be a deep muted lilac (like gray with a kick of purple) on the walls, and a gray/white stripe shower curtain from west elm. and i just couldn't get the rest of the items to work because the shower curtain was too sporty, but anything less masculine and the walls took over and the whole room was too girly. so i gave up and found a whole new direction i loved, but still couldn't finalize for some reason. this is what it looked like (i'm assuming i'll match the shower curtain to the window treatments for the purpose of the photoshopping, but it doesn't HAVE to):
option 2 (i thought it was the winner) was greige walls(kind of ideal because that's the color throughout the house so we wouldn't have to do any additional painting), the ticking stripe ruffle shower curtain from pottery barn in black/almond that sort of reads khaki from far away as the stripes blend, and then like a mint and deep muted teal combo for towels, and i wanted a bold pop of color on the chandelier - like turquoise. and i ordered a fixture and when it arrived it was super muted and not the pop of color i expected at all. this was what i thought it would look like based on the online photo:

but it arrived a really soft seafoamy gray. pretty, but not the pop i wanted, so i'm using it in the foyer instead. ;)
then i found this fixture and thought it was cool how it's mostly rustic with a touch of glam: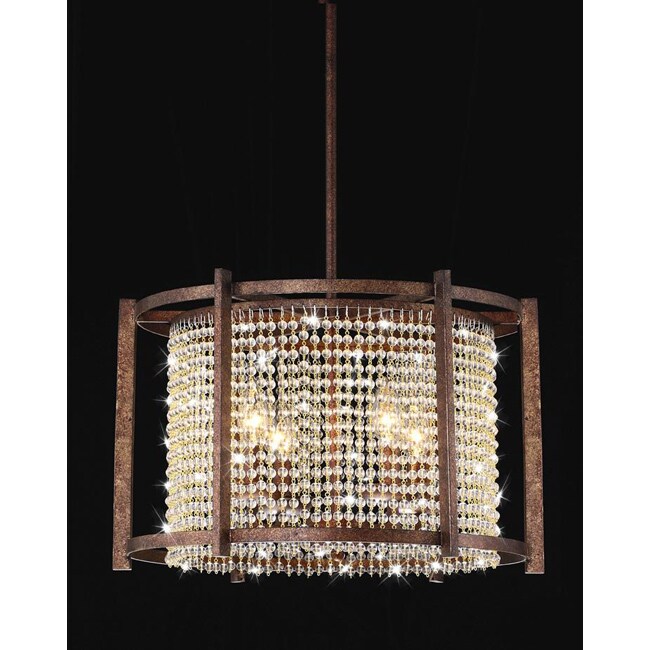 so i went with it and popped it into my neutral design (though i think i assumed i'd dab a little silver or black rub n buff on it to tone down the brown):
here's a better shot of the PB shower curtain by the way:


but THEN i found this color scheme that i love and i'm second guessing my neutral color scheme because i'm so drawn to cool colors:

then to complicate matters more, i love these window treatments from ikea and have been trying to find a place to work them into our house. :)
so can someone help me focus? i need to put together a master bath that's casual and looks lived in by a man and woman, and keeps kind of farmhouse or rustic or french or all of those. above are ideas i like, but i'll consider any other ideas except for the decisions already made and not-reversible. :)
i acknowledge i probably sound neurotic, but i'm guessing some of you can relate! haha HELP!!
---
Follow-Up Postings:
| | | |
| --- | --- | --- |
| RE: help play paperdolls with my master bath! | | |
Yup, I can relate! And I'm doing the same thing with designing every room and we don't even have drywall yet! It does help clarify selections. (Are you updating your new-build on the Building a Home forum here, I haven't seen you there).

So on one of my forays here asking for input I was told it looked like I'd taken every idea I liked and put it all in the same room, and that's why it wasn't working. I needed to edit.

Sorry to say, but I think that's why you can't get a room you like here and you keep going back to the design board. You have too many disparate elements and somethings got to go before you can add in elements like shower curtains etc and make them work.

I love the shaker vanity with the countertop, love the tub and I think the tile choice is fine.
While I love the river rock shower floors I don't think it relates to anything else here and is a bit odd man out. The industrial lighting is also an odd choice to put with the tub which is victorian, especially with those fancy feet.

Do you have a floor plan you can post to see how the design fits in the room? How large is your bathroom? Unless it's the size of a small bedroom I'm having difficulty seeing the soaking tub in front of the window right next to a walk-in shower, especially one ringed by a shower curtain.

If you really want a shower curtain, have you considered putting the shower into your tub?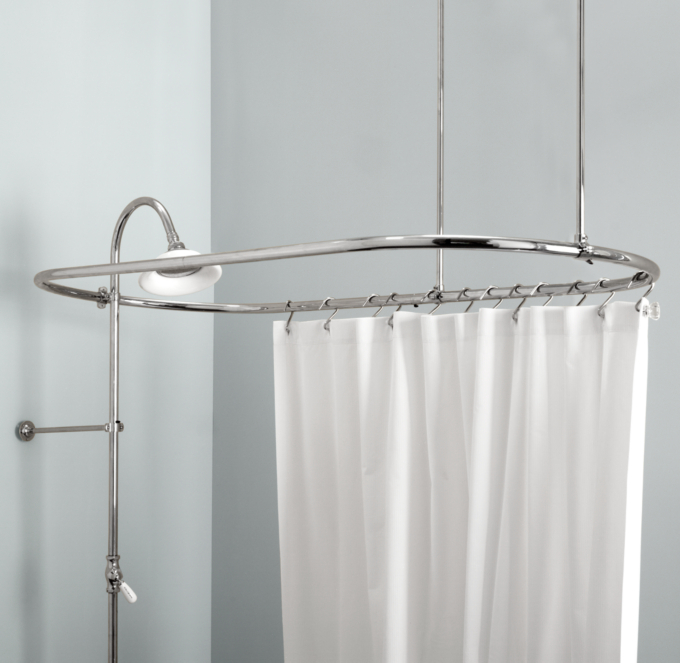 I had a 100 year old Victorian house in northern Michigan, with a small bathroom added in. I had the original claw foot tub reglazed and added a shower set up like the one above and my family of 3 used it as our only bath for 14 years. So I can attest to the fact that they work and are not just for looks.
Anyway, depending on how large your bathroom is, Im thinking that maybe you could tile the walls in the corner as planned, move your tub there on an angle and set it up with a shower ring and then choose a shower curtain. You could build a shallow window seat with storage under the window between the linen closet columns. And choose sconces that are more in keeping with the cabinets and tub.
I know this is way outside the box of what you've been considering, but if you've redesigned it a zillion times already maybe shaking up the thinking is what you need to do.
---
| | | |
| --- | --- | --- |
| RE: help play paperdolls with my master bath! | | |
I think that the choices in the rendition before you started to think about the cool color scheme- with the rustic gltiz light, are great. The ONLY thing I don't love is the mirror which is too rustic in my opinion. While I love the other items -even the IKEA curtains, I just don't think they enhance what you have going on. I think you have done a great job and sometimes you really need to quit while you're ahead. I mean that in the most complementing of ways. I also admire how you are planning every detail. I am just not so great at visualizing so I kind of get ideas but once I see it in house, it sometimes throws things off. I think your selections are gorgeous. Enjoy it.
---
| | | |
| --- | --- | --- |
| RE: help play paperdolls with my master bath! | | |
i don't want to try to cram every idea in this room... it's just that when i'm unable to pull the proverbial trigger on all my choices, it's usually for a reason, and i can't really put my finger on it this time. i was thinking maybe it's because try as i might i'm not truly a neutral color person and it's painful for me to choose neutrals over a cool periwinkle. haha however...

sheilaaus! i agree on the mirror - not sure what i was thinking when i slapped that in there, though i do want something other than white - maybe just something softer and less chunky? here, i updated the mirror just so it's not throwing us off. also, i added the matching shower curtain so that the pebble is only peeking through since in real life, the curtain will be closed most of the time. this version is appealing to me at the moment.
and mlweavingmarji - i thought i covered everything but forgot the floor plan! i can see why you were worried. :)
the bathroom is about 14x15, and the shower is not right next to the tub. i was just trying to get all the elements onto a single plane for the sake of easier photoshopping. it's not gigantic, but i think there's plenty of room for everything in the space.
here's the layout - you enter from the french doors on the right, and there's also a door to the master closet on the bottom right corner. we have has/her vanities on opposite sides of the room.

here are some pics of the progress in the bathroom as well.
this one is standing at the entrance.
as i said in the original post, the river rock tile and the galvanized vanity lights and tub are all a done deal, as is the layout. no takesies back. :)
i actually think of the tub as farmhouse, not victorian. in fact, every farmhouse style bath i look at on houzz has a clawfoot tub, and the pB shower curtain is shown in almost every photo with a clawfoot tub. is it the chrome fixtures? or the fact that it's not a hardwood floor? cuz wood floors in the bathroom are not happening! lol
i totally acknowledge that the light fixtures over the vanities are not for everyone, so that'll be a hit or miss, but we love them.
---
| | | |
| --- | --- | --- |
| RE: help play paperdolls with my master bath! | | |
Wow, Renovator8 just replied to a design question on the Building a Home forum and said very eloquently what I was trying to convey above.
This is in relation to an exterior elevation, but the concept applies. (Just wish I could actually draw or sketch!)

" Posted by Renovator8 (My Page) on
Sat, Dec 28, 13 at 9:02

A plan and the other elevations would help us understand the house. A perspective would be even better.

I think the reason you are struggling with fine tuning the facade is that it is a collection of design elements with no unifying overall concept for those elements to support. It's not something many homeowners and builders understand and I only understand it because the first question a professor would ask in design school is "what is your parti?"

Parti - from the French Prendre parti meaning " to make a decision ", often referred to as the big idea, is the chief organizing thought or decision behind an architect's design presented in the form of a diagram, sketch and/or simple statement. In general, without a parti a designer risks reaching a point in the design with no idea of how to proceed. At that point is is wise to stop and create your parti.

This is where sketching is essential; a computer may be a useful presentation and production tool but it is terrible for expressing your ideas.

The use of accurate architect..."
---
| | | |
| --- | --- | --- |
| RE: help play paperdolls with my master bath! | | |
I think what Renovator said is key. Another member here who hasn't been around in a while, dianalo, called it a Mission Statement for her whole house remodel, and it really struck a chord with me so I kept hers in a file for future reference. Mission Statement creates a purpose, an intent for what is to follow and if you make one for decorating, remodeling or building it will inform all your decisions down the line. I know it's sort of back tracking at this point, but can you create a succinct statement that describes what you have set in stone to this point and what you want to achieve with the things left to decide? Maybe that will help you clear the brain clutter with your bath choices.
---
| | | |
| --- | --- | --- |
| RE: help play paperdolls with my master bath! | | |
We cross posted, so I posted that while you were posting floor plan and pic.
Love the space, and yes, it's a room. Also, I was thinking shower corner with a full curved corner of shower curtain up against the tub. The built in shower will only require a narrow shower curtain.
I still see Shaker Farmhouse - the cabinets, Victorian farmhouse - the exaggerated shape and the polished claw feet take the tub from simple farmhouse to victorian farmhouse, Industrial the sconces, and Transitional the tile on the floor and the subway.

Anyway, I had the same reaction when someone told me I popped in too many elements. Don't be offended, I didn't mean it offensively.
So to take it out of the realm of Pottery Barn neutral and use your design seed palette -
Maybe what you choose to use re the inspiration shower curtain is the ticking stripe - ticking stripes come in a whole palette of colors. If you picked one of the blues from your design seed and did grommet panels for the window and a narrow shower curtain that would bring in your blue.

Now I'm going to add yet another design style element here - but it is showing up everywhere and with the right materials still qualifies as farmhouse - and you could DIY one to be totally custom for your colors.
An empire chandelier for in front of the tub.
I've been searching out the materials, and the closest I can come for the frame is an existing chandy at Ballard Design. But you could do it with stones or beads in the color of your choice, I'm thinking matching the ticking stripe.

This first slide is one I put together earlier in the week, as I've been researching how to DIY one of these.


probably way to "pretty" but I found the ruffle shower curtain and couldn't resist playing with it! I doubt I'd use it though!
---
| | | |
| --- | --- | --- |
| RE: help play paperdolls with my master bath! | | |
yay marji! thanks for jumping in with mockups. i didn't take it personally at all - i came here asking for help knowing not everyone will like the direction i'm going in. if i were 100% on my direction i wouldn't have asked! :) also love that you're a DIY-er. at this point i shouldn't be taking on any more projects, but I JUST.CAN'T. STOP!

so the blue mockup doesn't appeal to me at all for some reason. and while i love the eclectic pops in the "pretty pretty" one, i think it's getting too feminine. (this from the girl who painted her public area dining room buffet lilac!) i think i was just feeling like our master bath in this house would be a little less fussy -a bit more natural feeling? though admittedly i have a hard time articulating this room.

plus, as much as i lust over everything-anthropologie, i'm kind of sick of that shower curtain. haha though i could DEFINITELY be talked into a solid gray one like this:
so for anyone else who wants to jump in, if you hate the more neutral look and want to go back in the periwinkle direction, keep that gray ruffle curtain in mind! :)
however, i'm kind of liking your idea about a subtle blue ticking instead of the all neutral PB look. PB even sells a blue one! and then when i get the blue in there i'm LOVING the mint pop of color. what do you think of this? i do have to verify that i'm not height restricted on the chandelier due to tub proximity- it's 3' out from the tub so i think i'm ok but just checked with my builder to be sure)
hubby likes the blue and green additions too!
---
| | | |
| --- | --- | --- |
| RE: help play paperdolls with my master bath! | | |
I've been following along. I liked the neutral ticking stripe PB but love the blue
PB with all your other elements. Also love the Empire shape chandelier over the tub. Now, you need a different mirror. This is going to be a fabulous
(bath)room.
---
| | | |
| --- | --- | --- |
| RE: help play paperdolls with my master bath! | | |
Romy the mirrors will be built in because of the length of the vanity. So it will be plain 1x4 to match the door moulding but I can finish however I want. What did you have in mind?

Also, found a beaded chandy I could paint but I have to go up to measure because they may not have left me enough room to hang a chandy of any width. All parts of the light need to be 3' from the tub and I think they put the fixture rough in at 3' so I can hang something about 2"wide which isnt helpful. Need to check on that. We might have to change our fixtures after inspection. The light I like is 24" wide.
---
| | | |
| --- | --- | --- |
| RE: help play paperdolls with my master bath! | | |
Maybe something in silver like Marji had pictured above?
---
| | | |
| --- | --- | --- |
| RE: help play paperdolls with my master bath! | | |
Maggie, our cabinet maker is taking moulding and after we decide on mirror size he's going to frame the mirror with the moulding that he's finishing. He was going to finish it to match vanity but we decided last meeting on a silver wipe-off on top of the greyish paint finish.
I'm thinking you could easily add a simple moulding on top of your 1x4 to frame the mirror.
BTW, I love the pop of green in the bath with the blue, I was just trying to stay closer to the stated colors and the design seed when I plunked in the pink one. That green in the light and the blue in the curtains and then aqua/green/blues in towels would make for a very pretty combo.

I know it's not optimum, but since drywall is done and moving the box isn't easy, would you want to swag your light over to where it would work?
---
| | | |
| --- | --- | --- |
| RE: help play paperdolls with my master bath! | | |
yeah, that's on my list to ask our builder. i'm not sure if that will pass code to just swag it away. the chandelier i like is also on the long side.

we have 10' ceilings, but this fixture is 36" long and in an area we'll be walking under. i'm 5'10" and my husband is 6'2" so there's not a TON of clearance.

the beads come separate so i'd paint them before stringing them. :)
i found a smaller fixture, but it just doesn't have the "pow" of the big one.
---
| | | |
| --- | --- | --- |
| RE: help play paperdolls with my master bath! | | |
Can I ask about the river rock?

It seems to me to be the winner of "one of these things is not like the other".

Very random in shape, shine, color, and quite unorganized to me --it adds chaos to an otherwise calming space. I would gravitate more toward a border of the vanity top stone, or that with the floor color. Or traditional basket weave makes me swoon. JMHO of course.
---
| | | |
| --- | --- | --- |
| RE: help play paperdolls with my master bath! | | |
I love the coolness of the last mockup, if it's not too late could you swap the river rock to opaque tiles of stone tile in a soft neutral gray or white.
---
| | | |
| --- | --- | --- |
| RE: help play paperdolls with my master bath! | | |
Maggie, is that last one the Arteriors Chandelier? I'm using the Duke, It's the same one except with the candles on the inside not the outside, by Arteriors, for our entry hall chandy! Love it.
And Where did you find the one with the beads that you string yourself? Inquiring minds....
---
| | | |
| --- | --- | --- |
| RE: help play paperdolls with my master bath! | | |
haha, i get it. you guys don't like our tile. but it's done. we ordered it. and it's scheduled to be installed. the good news is we still love it!

the mfr photos are much higher contrast than in real life. they're softer pale grays, beige, and aqua with the occasional darker gray pebble.

everything listed as "a done deal" in my original post is truly a done deal. we've got a very good working arrangement with our builder. we don't flake out and change our mind and he keeps rocking and rolling to get us in.

oh i should have referenced marji! sorry about that! the arteriors duke is a STUNNER!! sadly, this is my last light fixture to buy and i've already gone WAY WAY over budget, so i'm trying to stay frugal.

i think most of them are going to come with the beads needing to be attached, but the first big pic is from world market. it's 24" wide and 36" tall and is only $269 (plus delivery surcharge).

the petite one is murray feiss charlotte 3 light chandelier, and that too comes with the strands not attached. that one is only 18.5" wide and 20" tall ($179).

not as glam as yours, but for the price, i'll gladly take the poor man's version. :)
---
| | | |
| --- | --- | --- |
| RE: help play paperdolls with my master bath! | | |
Sorry to hijack, but I am on the hunt for a Empire Chandelier for my DR. I have 9 ft ceilings. I know the width of the fixture should be approximately half of my table diameter (66" round by 31" ht). What about the height of the fixture? My DR is 14' x15'.
This post was edited by romy718 on Sun, Dec 29, 13 at 18:33
---
| | | |
| --- | --- | --- |
| RE: help play paperdolls with my master bath! | | |
Romy, I think you want your chandelier to be about 3' above your table surface which is probably about 31" and with 9' ceilings that gives you 41" to work with including the canopy and chain.

I think beyond that info its probably more subject to the shape and your personal preference but I'd probably cap it at 36" fixture height absolute max. That would only give you about 5 inches of chain.
---
| | | |
| --- | --- | --- |
| RE: help play paperdolls with my master bath! | | |
Post a Follow-Up
Please Note: Only registered members are able to post messages to this forum.
If you are a member, please log in.
If you aren't yet a member, join now!
---
Return to the Home Decorating & Design Forum
Information about Posting
You must be logged in to post a message. Once you are logged in, a posting window will appear at the bottom of the messages. If you are not a member, please register for an account.
Please review our Rules of Play before posting.
Posting is a two-step process. Once you have composed your message, you will be taken to the preview page. You will then have a chance to review your post, make changes and upload photos.
After posting your message, you may need to refresh the forum page in order to see it.
Before posting copyrighted material, please read about Copyright and Fair Use.
We have a strict no-advertising policy!
If you would like to practice posting or uploading photos, please visit our Test forum.
If you need assistance, please Contact Us and we will be happy to help.

Learn more about in-text links on this page here