Return to the Home Decorating & Design Forum
|
Post a Follow-Up
---
| | | |
| --- | --- | --- |
| Paint Suggestions for 3 Year Old Girl's Room | | |
Posted by
jlnick
(
My Page
) on
Wed, Dec 19, 12 at 22:21
My daughter's new room will have bright and lighter pink accessories, with the bedding below. Furniture will be white. I think I want to paint the walls a shade of greige. I will probably end up doing some type of wall decal for decor, so want to keep the walls rather basic but still interesting, and still contrast against the white furniture. But appropriate for a 3 year old. Any suggestions on a color? Thanks in advance.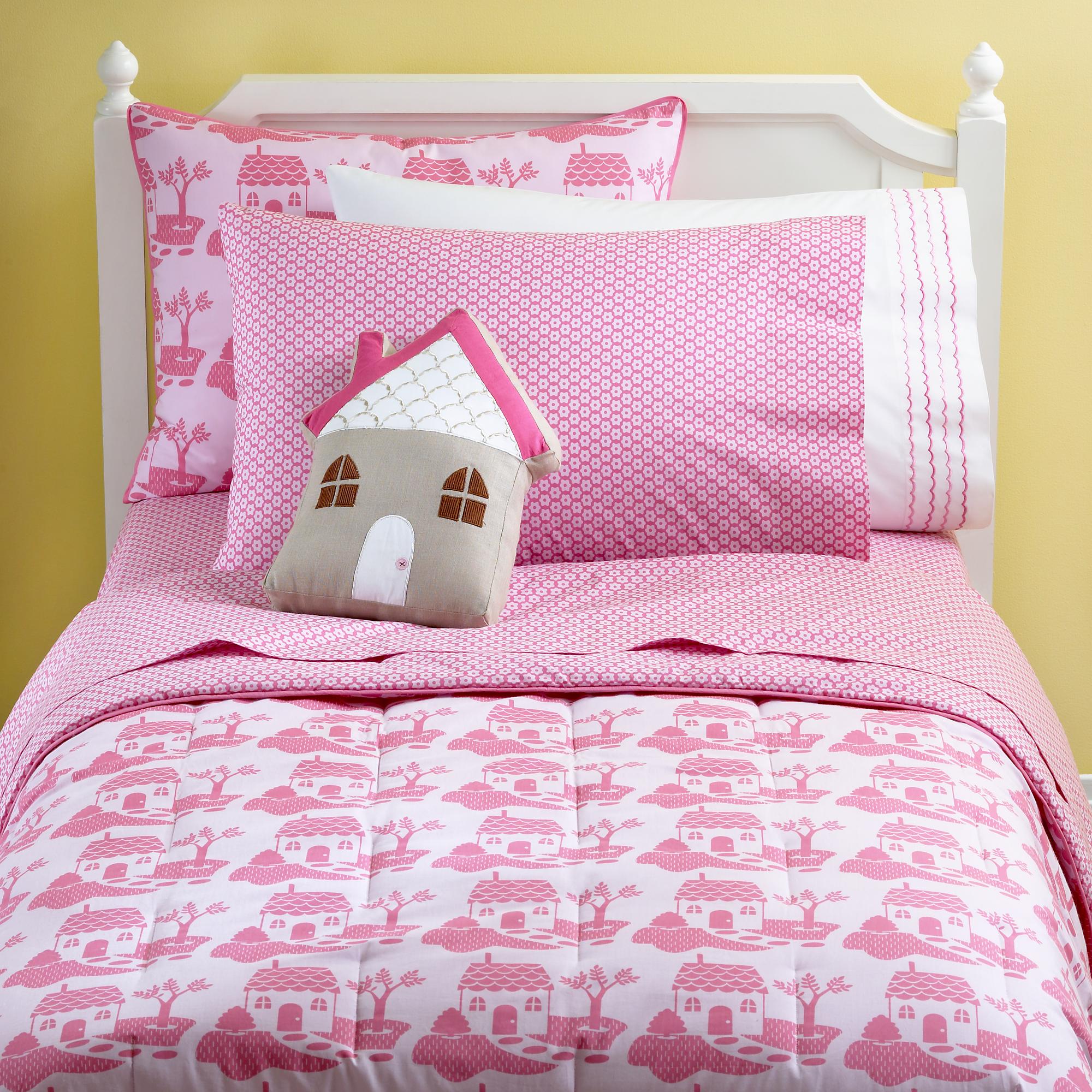 ---
Follow-Up Postings:
| | | |
| --- | --- | --- |
| RE: Paint Suggestions for 3 Year Old Girl's Room | | |
I think the greige sounds good but as to specific color the best thing to do is to grab a bunch of paint swatches and look at them in the actual room. With colors like that the daylighting and nightlighting the room gets are really going to affect the choice.

I think you will get more mileage out of your greige choice as a neutral backdrop than you would a typical "girl color" . If at 4-1/2 she suddenly hates pink, you could easily shift gears without repainting.
---
| | | |
| --- | --- | --- |
| RE: Paint Suggestions for 3 Year Old Girl's Room | | |
I have the same bedding (sheets) from Land of Nod. I paired it with BM Nimbus in my daughter's room. It's leans more gray than beige, but it goes well with the bedding.
---
Post a Follow-Up
Please Note: Only registered members are able to post messages to this forum.
If you are a member, please log in.
If you aren't yet a member, join now!
---
Return to the Home Decorating & Design Forum
Information about Posting
You must be logged in to post a message. Once you are logged in, a posting window will appear at the bottom of the messages. If you are not a member, please register for an account.
Please review our Rules of Play before posting.
Posting is a two-step process. Once you have composed your message, you will be taken to the preview page. You will then have a chance to review your post, make changes and upload photos.
After posting your message, you may need to refresh the forum page in order to see it.
Before posting copyrighted material, please read about Copyright and Fair Use.
We have a strict no-advertising policy!
If you would like to practice posting or uploading photos, please visit our Test forum.
If you need assistance, please Contact Us and we will be happy to help.

Learn more about in-text links on this page here