Return to the Home Decorating Forum
|
Post a Follow-Up
---
| | | |
| --- | --- | --- |
| 1949 dining room | | |
Posted by
jan5_2007
(
My Page
) on
Mon, Dec 17, 07 at 22:08
I'm considering going to look at this dining room furniture. The person selling it says it was made in 1949 by Drexel. I've never seen the style of the upholstered chairs. Can anyone shed any information?
Thank you.
---
Follow-Up Postings:
| | | |
| --- | --- | --- |
| RE: 1949 dining room | | |
I don't know about the chairs, but the rest is accurately dated. I have the china cabinet in my dining room, and a version of the table (mine are paired with 1840's chippendale chairs). Now the chairs I see with the table (verses the totally upholstered one in the corner) are again, totally correct for the furniture date as well.

If you want to be sure...turn the cabinet around. You'll see a stamp on the back from DH and probably on the underside of the table.

These were very mass produced and sold to the military (back then they had taste). You see them quite often, so you're not buying anything rare, but that being said, they're lovely and timeless, and very nice quality. I have applied another layer of poly to the table top I have, but other than that a regular polishing is all the need. We never use a table cloth, and they polish up beautifully.

I think they could be a little earlier in the 40's but it's hard to say. They're definately dated close to right though (they may have a receipt or something to get a specific date). I can date mine by when the housing was built up here in Alaska for the military, so I know that the cabinet (identical to yours) could date earlier.
---
| | | |
| --- | --- | --- |
| RE: 1949 dining room | | |
I agree that the china cabinet, table, and dining chairs are very likely to be ca. 1949. It is hard to be sure, because they're based on styles reproduced from almost two hundred years earlier that have been copied from at least the 1920s right up to the present, but they look like what everyone had in my childhood in the 1950s.

The curved-back chair, on the other hand, does not look to me like it is part of this set at all. It could be a reproduction from the the 1940s, a bit earlier, or (and this seems most likely to me) somewhat later. A firm called the Victorian Furniture Company was making reproductions similar to it in the late 1960s.
---
| | | |
| --- | --- | --- |
| RE: 1949 dining room | | |
Yep the wood furniture is Duncan Phyfe from the '40s. I don't know about the chair.
---
| | | |
| --- | --- | --- |
| RE: 1949 dining room | | |
Whenever it was made it looks very cool!
---
| | | |
| --- | --- | --- |
| RE: 1949 dining room | | |
Wow, what beautiful furniture! Looks to be in great condition. I would grab it quick before someone else finds it.
---
| | | |
| --- | --- | --- |
| RE: 1949 dining room | | |
I grew up with this lovely furniture, save the chairs. These could have been from a Victorian suite and the chairs were tailored to blend with the Duncan Phyfe. I personally do not see a problem with combining them. I like combinations from different periods that work together.
---
| | | |
| --- | --- | --- |
| RE: 1949 dining room | | |
I agree with the above. I have a DH sideboard which looks similar--though in general I prefer the double pedestal to the single pedestal table, though as igloo said they are very common and should be easy to swap out later if you find it's too small. Same with the chairs. I bought a similar set recently and love mine. The mahogany just glows.
---
| | | |
| --- | --- | --- |
| RE: 1949 dining room | | |
The wooden chairs with the upholstered seats are Duncan Pyfe scroll back chairs with saber legs. At least that is what I have been told. I have 4 of them and am looking for more. The china cabinet is similar to mine although mine may be narrower. And I assume mine to be from the early 40s. I think your table is DP as well. I have never seen the rounded top chairs before. nice set. Sue
---
| | | |
| --- | --- | --- |
| RE: 1949 dining room | | |
Wow! Thnaks to all for the info. I have the same china cabinet and will be soon moving to a new home. My future husband and I are both 65 years old and are trying to blend our furniture. (not an easy thing to do) He has a similar table that was his parents and I have the cabinet that my mother purchased used. The cabinet I have is a bit "shop worn" and I was seriously thinking about painting it and FH's chairs black. Now after reading this thread, I wonder if I am making a mistake and should go though all the hard work to reinstate it to it's former glory.
---
| | | |
| --- | --- | --- |
| RE: 1949 dining room | | |
Does the China cabinet have curved glass? If yes, it looks like one my aunt left to me when she passed away (she would be 97). I always thought my aunts house was the most beautiful place in the world. 1940s sounds about right. My daughter now has the china cabinet and bought a new table but won't part with the china cabinet. It's not terribly high quality but has a timeless quality that's very nice. I live in California and was shocked to see one in a hotel in Salem, MA. I also saw one (sans the curved glass) in a very trendy boutique store used to display items for sale. So it's a classic.

The curved glass is just wonderful. Good luck.
---
| | | |
| --- | --- | --- |
| RE: 1949 dining room | | |
I have that little sideboard/cart,same as the last picture! Haven't seen it anywhere else before! Mine is Drexel also. Dates are accurate. They were given to me by my mom's friend who had no children to pass things on to. Also received a full size 4 poster bed, also from Drexel. I also have a small round table with 3 leaves and a corner cabinet with the rounded glass front that shappy refers to. Of course that style was the era my parents are from. It reminds me of my aunt's home as well. Warm memories.
---
| | | |
| --- | --- | --- |
| RE: 1949 dining room | | |
I typed a long reply (you guys were saved by a glitch!) a couple of days ago, and lost it. But this set is really nice and I am looking for similar vintage for a sideboard myself.
So, what happened with it? Did you buy?

Red
---
| | | |
| --- | --- | --- |
| RE: 1949 dining room | | |
I've loved hearing your memories.
I'm still on the fence about buying. The seller can't find the 2 leaves and that might be a deal breaker for me.
---
| | | |
| --- | --- | --- |
| RE: 1949 dining room | | |
I have that china cabinet too but my table is rectangular. On mine you can look under the table and it is stamped wih the name and date. Mine is a little older, Drexel, mahogany. I have shield back chairs. This is an old picture.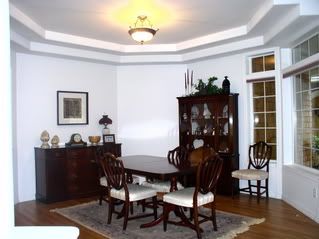 ---
| | | |
| --- | --- | --- |
| RE: 1949 dining room | | |
My parents had a Drexel dining set with the same table and chairs as in nan53's picture, but different sideboard and no matching china cabinet. I agree that they are a little older: my mother bought them from her brother-in-law-to-be in 1949 or 1950 in order to get his apartment during the postwar housing shortage. Since he had them from his first marriage, I would put their date around 1940.
---
| | | |
| --- | --- | --- |
| RE: 1949 dining room | | |
I'm still negotiating with the owner. He said he found a dealer who has 2 leaves that match. We'll see.
He said he'll sell it to me for $700.00. Is that a fair price?
---
| | | |
| --- | --- | --- |
| RE: 1949 dining room | | |
Fair, Yes! If he can find the leaves too, and the chairs are comfortable enough for guests to linger over coffee and dessert, I would certainly want the set. It's very pretty.

Red
---
Post a Follow-Up
Please Note: Only registered members are able to post messages to this forum.
If you are a member, please log in.
If you aren't yet a member, join now!
---
Return to the Home Decorating Forum
Information about Posting
You must be logged in to post a message. Once you are logged in, a posting window will appear at the bottom of the messages. If you are not a member, please register for an account.
Please review our Rules of Play before posting.
Posting is a two-step process. Once you have composed your message, you will be taken to the preview page. You will then have a chance to review your post, make changes and upload photos.
After posting your message, you may need to refresh the forum page in order to see it.
Before posting copyrighted material, please read about Copyright and Fair Use.
We have a strict no-advertising policy!
If you would like to practice posting or uploading photos, please visit our Test forum.
If you need assistance, please Contact Us and we will be happy to help.

Learn more about in-text links on this page here