Return to the Home Decorating Forum
|
Post a Follow-Up
---
| | | |
| --- | --- | --- |
| What do you put in decorative baskets and bowls? | | |
Posted by
valzone5
(
My Page
) on
Wed, Dec 10, 08 at 20:20
I can't pass up decorative baskets and bowls. I have a basement full of them. I bought *another* bowl tonight! I don't put them out, because I don't know what to put in them. What do you put in your baskets and bowls?
---
Follow-Up Postings:
| | | |
| --- | --- | --- |
| RE: What do you put in decorative baskets and bowls? | | |
I have the same disease you have. Mostly ceramic bowls. I put them out empty because it is the bowl I want to showcase. I should figure out where to sell some of mine!
---
| | | |
| --- | --- | --- |
| RE: What do you put in decorative baskets and bowls? | | |
I am bumping this up because I, too, have a bowl fetish.
---
| | | |
| --- | --- | --- |
| RE: What do you put in decorative baskets and bowls? | | |
I only have a few, that I change out with seasonal decorations. Candy always seems to go over well no matter what time of year! And it gets attention too!
---
| | | |
| --- | --- | --- |
| RE: What do you put in decorative baskets and bowls? | | |
I have a similar disease with bowls (no baskets), here is what is in some of mine:

In the kitchen I have papier-mâché fruit we bought in Cozumel. I have never seen any of this high a quality, diverse type and brilliant coloring as those that are sold there. If you know someone taking a cruise, have them get a few!

In the dining room I have glass grapes in a crystal bowl.

In the foyer, the bowls themselves are etched glass so highly decorative, but during the holidays I put in jeweled fruit. Another bowl in the foyer has jeweled fruit all year long, and it works!

(I have a fruit fetish too in case you can't tell.)

In the living room I have candies in a few, glass baubles in another. In the family room I have candies in one, faux acorns in another (at Christmas I put in small glass bulbs). In a curio cabinet, I have Swarovski crystals in a small crystal bowl.

In the bathrooms, I have scented beads I bought at Bombay years ago.


Other ideas would be fresh fruit, potpourri, folded washcloths (bathroom), floating candles, floating flowers, just about anything jeweled and decorative that makes the most of the bowl.
---
| | | |
| --- | --- | --- |
| RE: What do you put in decorative baskets and bowls? | | |
Faux artichokes!

No, really. :-) I have a bunch, some green, some green and purple. Something about artichokes lends themselves to faux (sort of like faux succulents...the only faux plants I have). I think they look kind of cool...much nicer than fake fruit.

I also have tumbled rocks I buy wholesale at gem and mineral shows. They sell them by the bagful. At the last house I had an interesting wire basket full of tumbled citrines. Another had tumbled aquamarine. I think I have rhodochrosite, too. I haven't put them out at the new house yet.

If a bowl will hold liquid, you can float flowers in it. Lots of bang for your $3.99/bunch buck.

How about Allison's fishing floats? That's just about the best bowl stuff I've seen.
---
| | | |
| --- | --- | --- |
| RE: What do you put in decorative baskets and bowls? | | |
Another one with "bowl fetish" here too! (love that term! LOL!)

Soooooo -- in the living room -- a long wood bowl with pine cones and Christmas balls in burgandy.

Another old wood bowl on the dining room table -- someone (not me!) painted the inside in gold -- so gold holiday balls -- along with some fresh rosemary branches.

Largest old old bowl on top of fridge with paper mache fruit -- bought long ago in a Dollar Store. ((really -- and the fruit is really wonderful!))

Other bowls reside on their side (LOL!) up on the shelf in the kitchen ....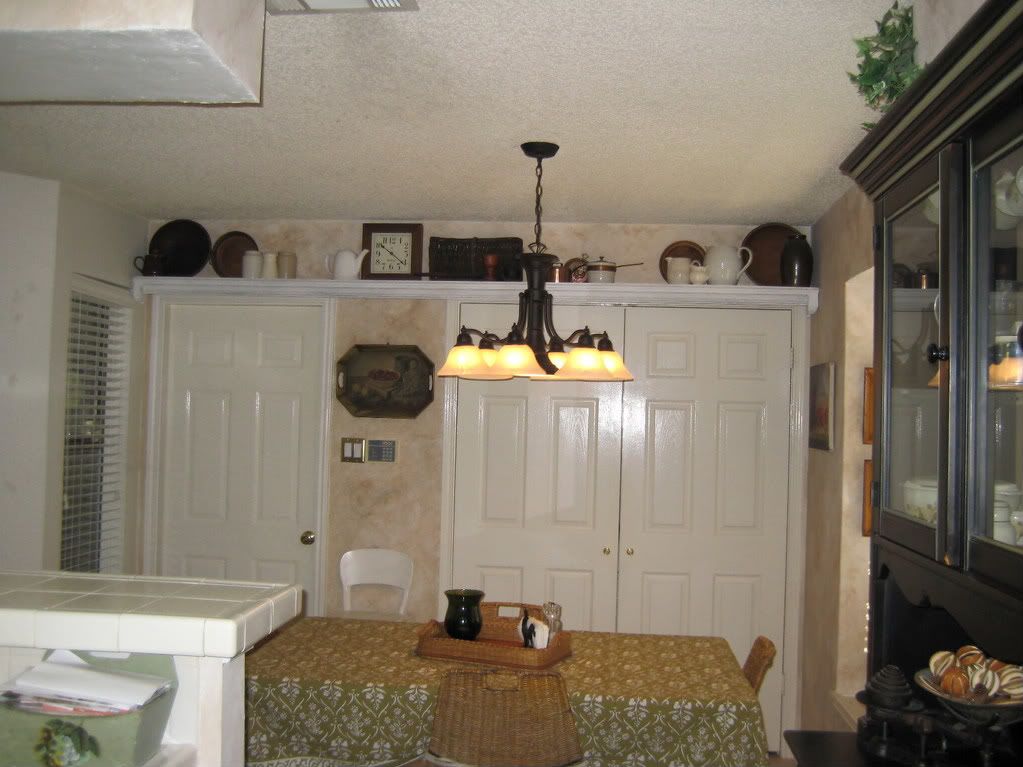 BUT don't forget the Zen philosophy that the "emptiness" in any bowl signifies "possibilities" -- and those thoughts can fill a bowl with beauty rather than emptiness ...... ((cue the spiritual music ......)
---
| | | |
| --- | --- | --- |
| RE: What do you put in decorative baskets and bowls? | | |
I'm another one with a bowl fetish. My fetish doesn't stop at bowls it includes urns, baskets, apothecary jars, and so on and so on. I can't seem to pass them up. I have faux artichokes in the urn basket type in my dining room. In my bathroom I keep pretty soaps in one of my apothecary jars. In the others I have dried flowers. In my kitchen I usually fill them with real fruits and vegetables. I have 3 lemon trees that are producing an unusual amount of fruit this year so my bowls are filled with them. During the summer I plant tomatoes so the bowls and urns are filled with tomatoes. I too like how they look when they're empty. Right now a majority of my regular bowls have Christmas ornaments in them so the ones in my closet come in handy for my lemons. I've sold, gifted and donated quite a few through the years but then I go out and buy more. It's like a disease.
---
| | | |
| --- | --- | --- |
| RE: What do you put in decorative baskets and bowls? | | |
I also have a "container" fetish! Baskets, bowls, wood totes, trays, plate holders/stacked plates, boxes, urns, you name it, if it can showcase or organize anything I've used it. Just bot another urn at the TS, plan to put a small tree or maybe a rosemary topiary in it for Christmas.
Some things I've done:
~magazine size rectangular basket holds magazines :), other baskets with current newspapers or sometimes firestarters
~wood tote with drawer pull feet in a bathroom with washcloths which are used as individual towels
~large (30"+ diameter) rustic old gold pan holds glass fishing floats and large shells
~clear glass bowls, hurricanes, apothecaries, urns, Mason jars, or silver trays hold many things - some of my art glass collection, glass chandy crystals, collection of vintage jewelry, rough or polished semi-precious stones, glass marbles, shells, buttons, old keys, fall leaves, curly willow, Christmas deco's/beads, fruit/veggies either real or faux, real plants, decorative pastas or dried popping corn, candles, candies, nuts - shelled or not, handmade soaps, bath fizzies, powdered laundry products on the laundry room counter.

I love the look of floating candles but the cats would think it was another water dish for them and probably play with the candles! ;)
---
| | | |
| --- | --- | --- |
| RE: What do you put in decorative baskets and bowls? | | |
That's so strange that there are so many bowl-lovers out there! Bowls, and pitchers, are my thing too. My DH cannot believe it when I get another from eBay. He's threatening to cut me off. But then when my son wanted an idea for a birthday present for me, DH suggested a pitcher. I put anything in that I can find. I dry roses and fill bowls, put candles in them and leave them empty. Mostly I just leave them empty and rotate which ones I have on display.
---
| | | |
| --- | --- | --- |
| RE: What do you put in decorative baskets and bowls? | | |
My DH has raised many an eyebrow when he sees another bowl enter the house.

Thanks for all of the good suggestions everyone. I even think I have some artichokes in one of my online baskets. Now if I can only remember what site it's from.
---
| | | |
| --- | --- | --- |
| RE: What do you put in decorative baskets and bowls? | | |
I too love bowls, especially those of the hand-thrown pottery variety. I pretty much leave mine empty, except for one or two that are filled with seashells and rocks collected on our travels. I guess I never thought to fill the others that I have, as I think they're works of art just as they are. :-)
---
| | | |
| --- | --- | --- |
| RE: What do you put in decorative baskets and bowls? | | |
xamsx, have any pictures of your jeweled fruit in the bowls? I have a beautiful clear etched glass bowl that was my mother's; I think it would be seen/noticed more if there were something in it. I'm not sure what jeweled fruit is.

teacats, I like your zen philosophy: according to that I have many many bowls full of possibilities, since most of mine are empty!
---
Post a Follow-Up
Please Note: Only registered members are able to post messages to this forum.
If you are a member, please log in.
If you aren't yet a member, join now!
---
Return to the Home Decorating Forum
Information about Posting
You must be logged in to post a message. Once you are logged in, a posting window will appear at the bottom of the messages. If you are not a member, please register for an account.
Please review our Rules of Play before posting.
Posting is a two-step process. Once you have composed your message, you will be taken to the preview page. You will then have a chance to review your post, make changes and upload photos.
After posting your message, you may need to refresh the forum page in order to see it.
Before posting copyrighted material, please read about Copyright and Fair Use.
We have a strict no-advertising policy!
If you would like to practice posting or uploading photos, please visit our Test forum.
If you need assistance, please Contact Us and we will be happy to help.

Learn more about in-text links on this page here