Return to the Home Decorating Forum
|
Post a Follow-Up
---
| | | |
| --- | --- | --- |
| Need suggestions for sliding glass door WT | | |
Posted by
dixieinmotorcity
(
My Page
) on
Sat, Dec 1, 07 at 20:06
I have a sliding glass door (or a "doorwall" for those of you native to the Michigan area). I was wondering what others have used as window treatments/shades for doors like this.

My door is in the kitchen and leads to a deck in the backyard, so I need something that will hold up in that environment.

If anyone has any pics, descriptions, or suggestions that would be helpful.

We are in the process of repainting. I want something other than the vertical blinds we have there now, but DH refuses to fill in the holes for the brackets until I have another idea.
---
Follow-Up Postings:
| | | |
| --- | --- | --- |
| RE: Need suggestions for sliding glass door WT | | |
My slider is in a nook area off the kitchen and goes to a deck that overlooks field and woods. It faces west, so yes, it gets intense heat and cold. I made one pleated (Parisian pleat style--less fussy imo) panel of three layers: drapery lining, interface layer of fleece, then the face fabric. It hangs on a decorative "continental" rod and draws open to the left.

The WT I had before was a tab top of two layers: a thermal back lining and the face fabric.
---
| | | |
| --- | --- | --- |
| btw | | |
By the way, if you are interested in a drapery panel and you don't sew or you don't want to have one custom made, check out sources such as JC Penney and Country Curtains. Originally, I ordered a thermal lined, pleated panel from Penney's but it was not the color I expected. However, it was well made and affordable.

For the picture window in my rental home, I ordered a wide, thermal lined tab tob from Country Curtains. It is very well made. (Hung it on a dark rod with leather finials from Target. :) Looks great.

If interested, when searching try terms such as "patio panel" or "extra wide panel."
---
| | | |
| --- | --- | --- |
| RE: Need suggestions for sliding glass door WT | | |
If you like drapes you can get a traverse rod that opens to one side. If not check the link below for a variety of the latest, that I know of anyway, for sliding doors. I've always wanted to try attaching curtains to an old vertical blind rod. We moved to a new home with only french doors so I've not had a chance to try them.
Here is a link that might be useful: JCP slider options
---
| | | |
| --- | --- | --- |
| RE: Need suggestions for sliding glass door WT | | |
| | | |
| --- | --- | --- |
| RE: Need suggestions for sliding glass door WT | | |
In my present home I have a white wooden rod (matches trim around the slider)with tab curtain panels from Country Curtains. I slide the tabs across at night. During the day, they slide neatly to one side allowing for easy entry and letting in lots of sunshine.

However, on the sliders of the new home we're building, I just today installed Pottery Barn's pewter gromment topped panels on their classic rod in pewter finish. I like these even more! The grommets allow for a very tidy fold at the side of the door, allowing lots of the window to show. And best of all, those grommets are a breeze to slide open and to close - lots easier than dragging and arranging the tab top ones.
It is a matter of preference, but I really like the look of the grilles and trim on my sliders and want to keep that open look. The curtain panels work best for me to achieve that and still have the privacy we need at night.
---
| | | |
| --- | --- | --- |
| RE: Need suggestions for sliding glass door WT | | |
Welcome to the forum dixie :-))

I like the idea of the grommet top drapery that would easily slide to the side. In the day you could push them to the side of the door that doesn't open so you could go in and out and let in light. Then close them up at night. It would also give you an opportunity for some color to tie that flower pot kitchen in with the sage living room :-)

Mom
psssst, dixieinmotorcity is my southern daughter who's moved north :-)
---
| | | |
| --- | --- | --- |
| RE: Need suggestions for sliding glass door WT | | |
mqmoi... I like the look of the Parisian Pleat but how do get that to slide. Is the curtain attached to some sort of sliders on a rod?

oceanna... I have not sewn much before, but I did just acquire a sewing machine from my grandmother over Thanksgiving. This may become my first project :) Do you have any suggestions or advice?

All... Thanks for the links and info. I think I like the idea of the grommets over tabs. It seems like it would slide much better, and we do open and close it often.

It's good to see the execution of all the different options. I couldn't imagine just a curtain rod over the door, but seeing this images it doesn't look as out of place as I imaged.
---
| | | |
| --- | --- | --- |
| Sewing | | |
Dixie, I think sewing for the house is much more fun than sewing clothes and most of it is very simple. You save tons of money and can have everything exactly as you want it.

If you've already done some sewing you can do it, but if you prefer you can look for a sewing class in your area. I'd ask for one that's either basics or sewing for the home -- tell them you don't want to learn to sew clothing right now, but home fashions instead, such as curtains, drapes, pillows, tablecloths, slipcovers and so on.

My favorite window valance patterns are by Southern Living. I haven't bought any because I can usually make up my own patterns, but reading there it looks like folks found the directions excellent and easy to follow. I'll put a link to their site at the bottom of this post. Click on "Picture Gallery" and see if there's one there you like. Maybe there's still time for you to ask for a pattern for a holiday present?

Curtains are easy as pie! There are lots of directions online:
http://www.google.com/search?hl=en&q=how+to+sew+curtains

Let me know what you think of these valances, k?
Here is a link that might be useful: Southern Living Patterns
---
| | | |
| --- | --- | --- |
| RE: Need suggestions for sliding glass door WT | | |
The traverse rod I have has a slot on the bottom. You slide little plastic "carriers" (they come with the rod set) into the slot. The pin hooks in the back of drape easily slip into a hole in the carrier.

Euro track rod This is the one I have, not "continental" as I stated earlier.

Note that if you open and close the WT a lot and you don't use a wand, over time the part of the drape you touch or pull is likely to become soiled or misshapen.
---
| | | |
| --- | --- | --- |
| RE: Need suggestions for sliding glass door WT | | |
Hi Dixie's mom (is that right?)

I have been struggling with the same thing. Wanted to be able to pull the curtains shut in the winter but pull all to the left in the daytime and warmer weather so they are not in the way of the slider. The place/gentleman I work with for my paint, tile, window treatments etc. was emphatic about the fact that I needed a support in the center of such a long rod. I finally gave in and will have panels on each side of the door that I will pull to the center in the evenings. Come spring I will lift the rod off the center support and pull all over to one side. I did not see any traverse rods I liked that I could afford so this was the best option. I am wondering if you other ladies have supports or just a heavy rod that you pull your drapes across on.......

I agree about the Southern Living patterns-great ideas there! Sliders present their own special problems.....Before this I had verticals and a valance which was OK but I got really tired of the vertical look.

good luck to you. Let us know what you decide.

JR
---
| | | |
| --- | --- | --- |
| RE: Need suggestions for sliding glass door WT | | |
What is the style of your house? I have grommet-top curtains in my dining room (Ikea) and they work great - easy to keep closed in the winter and easy to get out of the way in the summer, but they have a bit more of a contemporary look.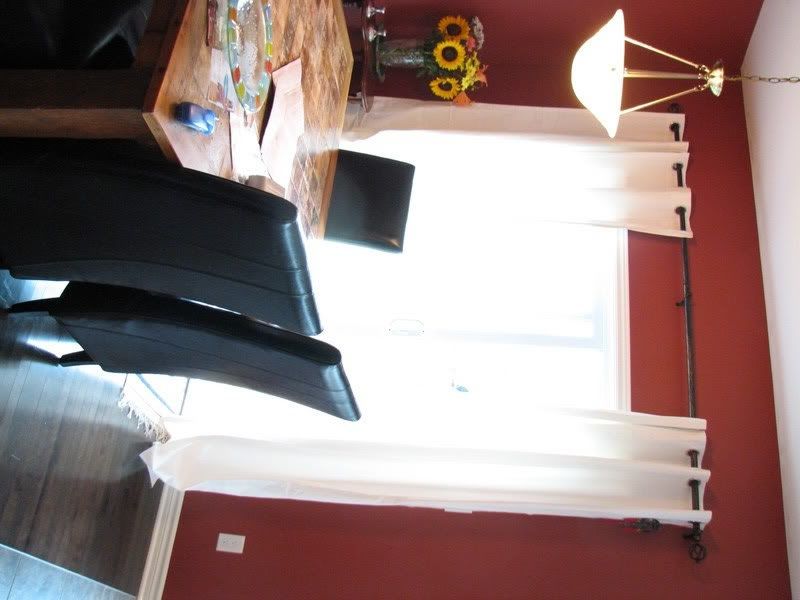 ---
| | | |
| --- | --- | --- |
| RE: Need suggestions for sliding glass door WT | | |
oceanna... thanks for the southern living info. Patterns would be very helpful. However, most of those are just valances, and I need workable panels.

I like the style of gwendolynne's grommet-top curtains. Looking at Jo-Ann's website I think they sell grommet installing kits. I'll have to check into that, so I could still do them myself. Other than the grommets, the curtains look relatively simple to make. (but I would take a pattern and/or some instruction if anybody has anything)

gwendolynne... Have you noticed soiling or stretching where you open your curtains as mqmoi pointed out? They look beautiful and white in the picture. Do you use a rod of some sort to open them?

justretired... I see your point about the center needing to be supported. I would love to see what others are doing about that too.

I want the curtains to be able to open all the way to the left. They would be more out of the way and stay cleaner, since the door opens from the right. That's where mqmoi's track rods would be helpful. I guess an alternative would be to make the rod long enough, so that the panels could split in the middle and still clear the door opening when pushed back.

Well I'm off to browse for grommet installers and rods. Thanks for the input everyone. With this much progress, DH has acknowledged that the vertical blinds will not be going back up and is in the process of patching the holes in drywall.
---
| | | |
| --- | --- | --- |
| RE: Need suggestions for sliding glass door WT | | |
Dixie,

I like Gwen's grommet-topped ones a lot too and notice how high she has them hung above the window - that looks good. I know what you're saying about wanting to pull them to the left. What if you had a simple band as a sort of "tie-back" on the left to keep them open and pulled back to the left during the day, then you could release/remove the tie-back in the evening. That might keep them from being handled so much. You're other option of a longer rod would also work if you have enough room on both ends to extend it the amount each each way.

Keep dh patching and painting :-)

Mimi...aka Mom :-)
---
| | | |
| --- | --- | --- |
| RE: Need suggestions for sliding glass door WT | | |
Dixie - nope, no rod, just push the curtain back and pull it closed. I haven't noticed soiling or marking and I haven't felt the need to clean the curtains yet. They've been up a little under a year, I think. The fabric is a very heavy canvas and they are washable. No lining or anything, but they are nice and heavy and they were cheap and will do until we decide to tackle "real" window treatments in this room (in addition to the door, there is a large, almost floor-to-ceiling bay window and another window in there).

We are an adults-only household right now, but I'm certainly not a neat freak and the curtains made it unscathed through a very busy BBQ season. The rod is mounted as wide and high as I thought was reasonable, so the curtains have a fair bit of clearance. I don't know if you can tell from the picture above, but they also stack very narrowly, so you really can get them right out of the way of your path through the door.
---
| | | |
| --- | --- | --- |
| RE: Need suggestions for sliding glass door WT | | |
dixieinmotorcity,
Here is my WT on a "french" type door...it would work the same for your slider. The curtain panels can be pulled to cover the entire door/window or pushed to either side. I purchased hardware from JC Penney and it's pretty heavy duty. It's 72" between these brackets. I have an even wider span on the opposite side of the fireplace windows and they didn't need a middle supporting bracket, either. For a slider at another house, I used sturdy brackets and a long length of plumbing pipe as my rod. I painted it to coordinate with the room. Hope this helps.
Pam
---
| | | |
| --- | --- | --- |
| Oops.... | | |
I purchased the hardware from Lowes...the curtains and the clip on rings came from Penneys. Sorry about that.
Pam
---
| | | |
| --- | --- | --- |
| RE: Need suggestions for sliding glass door WT | | |
Pam-what a pretty room. Don't you just love Christmas???

JR
---
| | | |
| --- | --- | --- |
| RE: Need suggestions for sliding glass door WT | | |
Two months later and many agonizing hours of deciding which fabric to use later, the curtains for the sliding glass door are finished. Thanks oceanna for the encouragement to sew them myself. And thanks everyone else for your ideas. This was my first sewing project and I think it turned out pretty well.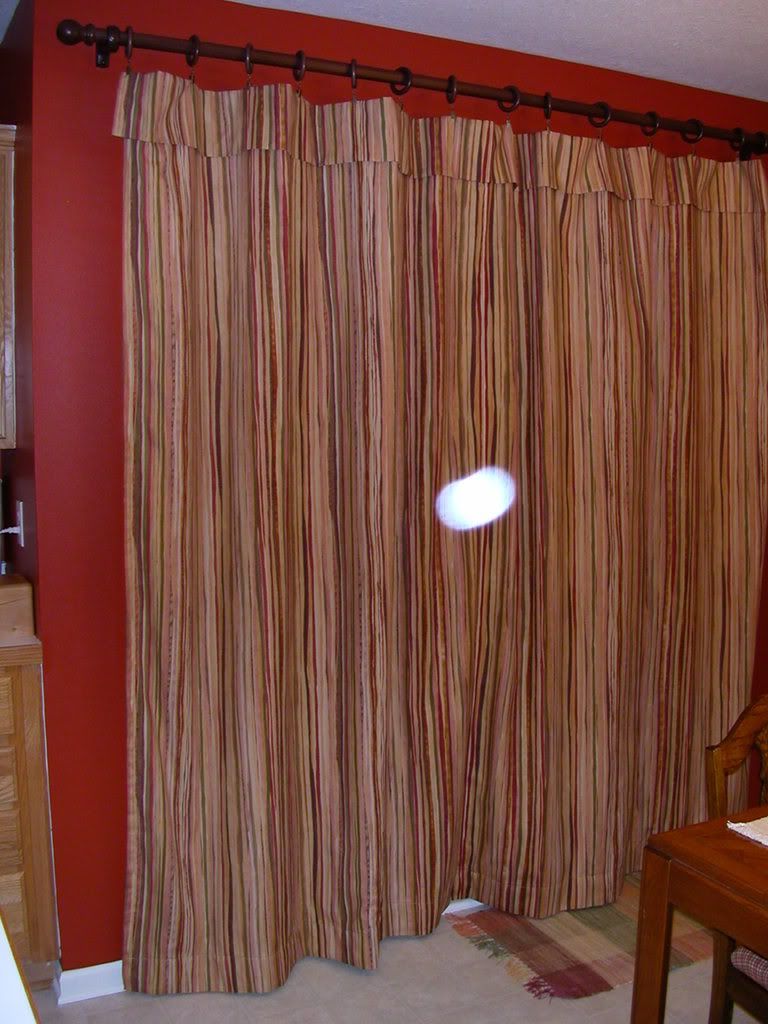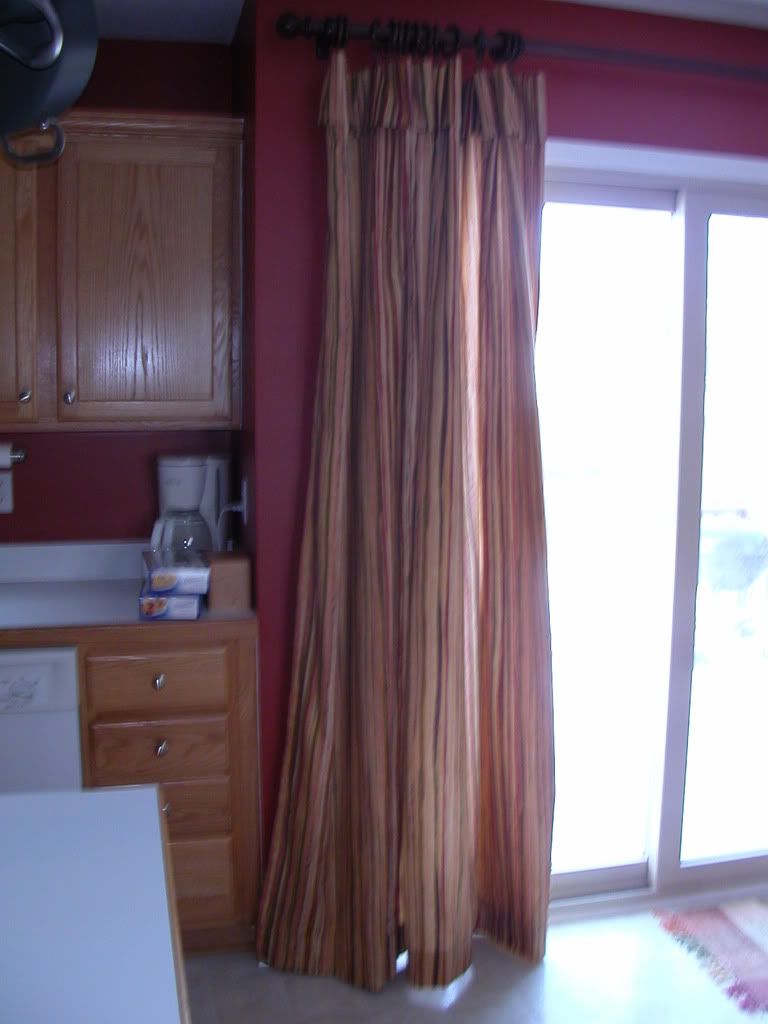 We also got our new chairs in today with more leather furniture in the next week or so. This was the agonizing part--finding fabric to coordinate with the fabric chairs and paint colors of both the kitchen and living room.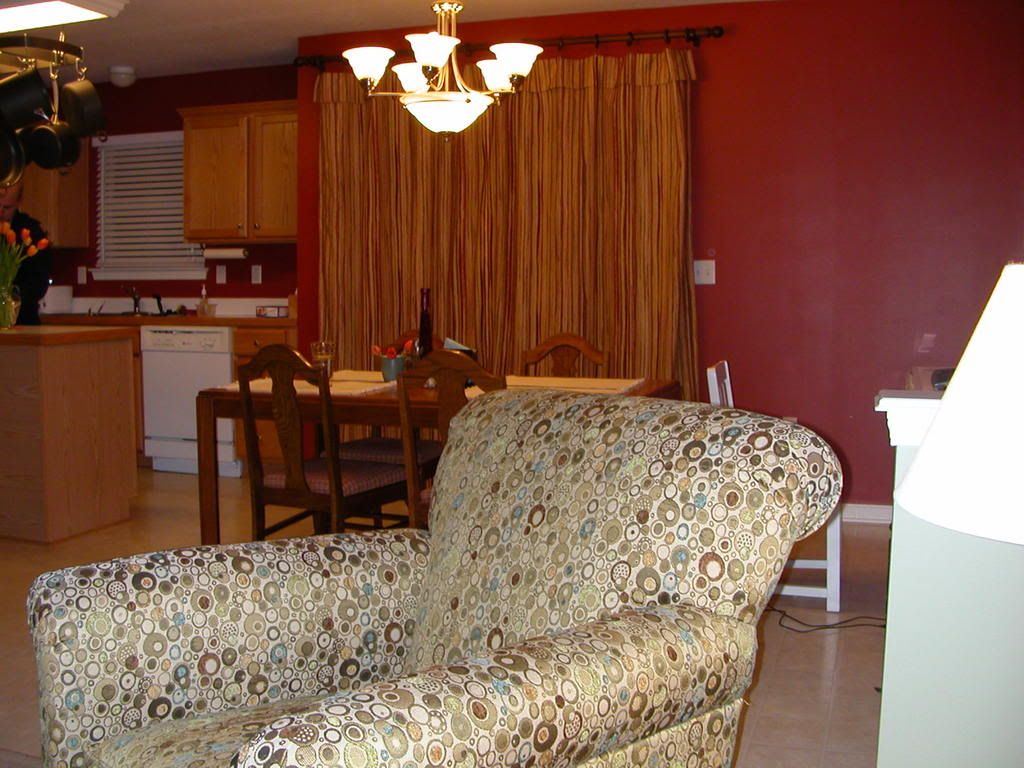 And here are the pretty flowers I got from DH yesterday.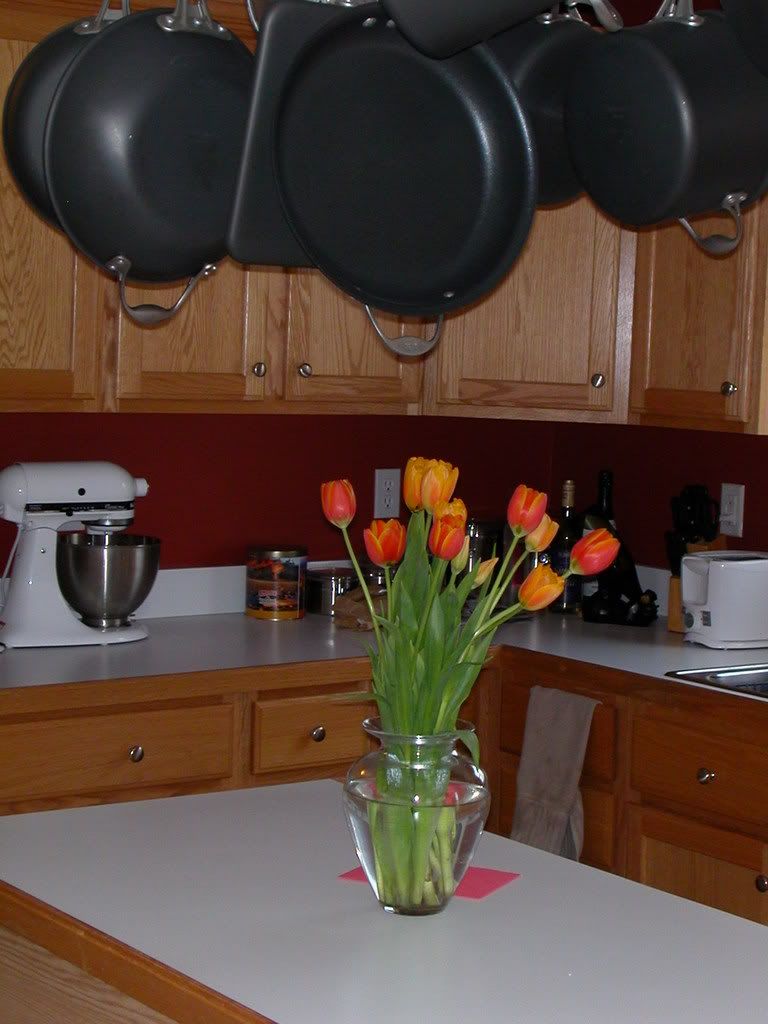 ---
| | | |
| --- | --- | --- |
| RE: Need suggestions for sliding glass door WT | | |
What a beautiful job you did! You've inspired me--I have roman shades/french door and I really like what you've done. Nice Job.
---
| | | |
| --- | --- | --- |
| RE: Need suggestions for sliding glass door WT | | |
I have a fabric covered cornice with pleated draperies underneath that fold back with a wand like in a hospital. I love how it works! Pix available if interested.
---
| | | |
| --- | --- | --- |
| RE: Need suggestions for sliding glass door WT | | |
Hey, that looks great! You should be so proud of yourself! Your home looks very warm and inviting and the curtains look so pretty.

What's your next project going to be?
---
| | | |
| --- | --- | --- |
| RE: Need suggestions for sliding glass door WT | | |
Great job Dixie! Those curtains look great and I like them lots better than the vertical blinds :-) The new chairs are so pretty. It's so hard to get the color right with the flash but I know they look great with the walls. Show us more pics when the leather furniture comes in.

And yeah, what's your next project now that you got that sewing machine figured out???

Mom :-)
---
| | | |
| --- | --- | --- |
| RE: Need suggestions for sliding glass door WT | | |
Glad to see the OP found something to settle on. It can be tricky sometimes to find the right window treatment for sliding glass doors, as there are so many things to factor in, like, expected traffic, insulation, matching internal decor etc. Would be interesting to know whether the choice of curtains in the kitchen proved satisfactory in the long run.
Here is a link that might be useful: window treatments for sliding glass doors
---
Post a Follow-Up
Please Note: Only registered members are able to post messages to this forum.
If you are a member, please log in.
If you aren't yet a member, join now!
---
Return to the Home Decorating Forum
Information about Posting
You must be logged in to post a message. Once you are logged in, a posting window will appear at the bottom of the messages. If you are not a member, please register for an account.
Please review our Rules of Play before posting.
Posting is a two-step process. Once you have composed your message, you will be taken to the preview page. You will then have a chance to review your post, make changes and upload photos.
After posting your message, you may need to refresh the forum page in order to see it.
Before posting copyrighted material, please read about Copyright and Fair Use.
We have a strict no-advertising policy!
If you would like to practice posting or uploading photos, please visit our Test forum.
If you need assistance, please Contact Us and we will be happy to help.

Learn more about in-text links on this page here