Return to the Home Decorating & Design Forum
|
Post a Follow-Up
---
| | | |
| --- | --- | --- |
| The big picture | | |
Posted by
gingerjenny
(
My Page
) on
Mon, Dec 10, 12 at 20:02
I am having a hard time visualizing what our house will look like when we build. I would like to ask some opinions on home decor and getting a cohesive look.

We are thinking of having light gray walls with dark wood floors and white trim.

Do you think my table and chairs will go well with this? This would be the table for the dining room

This will be the basic floor plan. We still have some work to do on the kitchen layout

I'm not sure how to show more than one photo per post. I'll post the layout of the house below this.

I guess my concern is does this wood go with gray walls and darker floors? I guess i'm thinking brown and grey don't go together.

Then I'm wondering if my cabinets should match the furniture or if I should go with white cabinets and maybe a black island.

I have a while before I have to decide all this but I would like to get some bar stools now for my current house that I could possibly use in my future house and I'm trying to figure out what type to get
---
Follow-Up Postings:
| | | |
| --- | --- | --- |
| china | | |
| | | |
| --- | --- | --- |
| floor plan | | |
This is the floor plan.

If I use that table and chairs in the dining room should the bar stools match? Should the breakfast area be the same type of furniture or something different?
This post was edited by gingerjenny on Mon, Dec 10, 12 at 20:06
---
| | | |
| --- | --- | --- |
| RE: The big picture | | |
this is the paint color and floor colors I thought about

Sorry for so many photos. Not sure how to get them in one post
---
| | | |
| --- | --- | --- |
| RE: The big picture | | |
I think the colors would go fine together....I like the layout of your home.
---
| | | |
| --- | --- | --- |
| RE: The big picture | | |
Sorry but I'm not seeing the red oak Mission style furnishings with the floor and wall colors at all.
---
| | | |
| --- | --- | --- |
| RE: The big picture | | |
snookums I'm not sure if I am either....What would you suggest? I don't want brown oak wood everywhere..ya know?
---
| | | |
| --- | --- | --- |
| RE: The big picture | | |
Thanks Annie on the compliment about the layout. We've been working hard on it. I don't know if its done yet but its getting closer
---
| | | |
| --- | --- | --- |
| RE: The big picture | | |
I don't think the wall color particularly matters with the furniture. Grey is fine. You may want to lighten up on the floors a bit though. Dark floors tend to great a formalized space.
---
| | | |
| --- | --- | --- |
| RE: The big picture | | |
would you go lighter than the furniture or darker for the floors?
---
| | | |
| --- | --- | --- |
| RE: The big picture | | |
Off-topic, but your floorplan is very similar to our second-choice-might-use-it-cause-it's-a single-floor floorplan. Is yours somewhere online, or did you have it drawn up? I'd love to see the elevation.
---
| | | |
| --- | --- | --- |
| RE: The big picture | | |
I would probably go darker and browner than the furniture finish for the floors, just not the near-ebonized brown you show in your inspiration picture.

I don't think the barstools have to match.

I do have ebonized floors and I really like them, but I live in an early 19th c. building with a pretty formal living space. And they get Damp mopped every day. Every single day, to keep them looking dust and smudge free. Its an apartment and there is not a ton of exposed flooring with the rugs and all, so it's okay but I would not want a whole houseful. The house I will be renovating next will Not be getting floors this dark.
---
| | | |
| --- | --- | --- |
| RE: The big picture | | |
I would consider painting poster board with the color and have a sample of the floor and keep those with you to hold up against any items and finishes you are considering. This way you can make sure things will work together.

I'm not sure m seeing that color and floor going that well with your table, but since your dining is a bit separated I think you could make it work just fine, by using another color on the walls. I do think the dark color will show lots that palimpsest mentioned, but if you're good with it then that is all that matters.

I don't think your dining furniture and breakfast ands tools need to match. Dining is separated. Key would be though to stick with simpler lines or minimize mixing up too many different styles.
---
| | | |
| --- | --- | --- |
| RE: The big picture | | |
I wasn't thinking quite that dark for the flooring. Just not light like I currently have. That was just the best photo I could find with gray walls and white trim.

I just am having a hard time figuring out what color to make everything so its cohesive.

I still am trying to figure out if I want wood cabinets or white. I originally wanted wood but the thought of several different shades of wood furniture and cabinetry is driving me nuts.

I was thinking if I made the cabinets white with a black island I could have a black breakfast table..maybe some black accent furniture throughout the house..

I may just have to hire someone to help me decorate because I'm so overwhelmed by it all.

MrsPete if you send me your email I can send you a photo of the elevation. Maybe I could see your floor plan as well to compare. We wanted a one story home also
---
| | | |
| --- | --- | --- |
| RE: The big picture | | |
I'm partial to wood color cabinets, so I'll put my bias right out there. If the only reason you are thinking white cabinets is because you are worried about too many wood shades/colors, I don't think you should. Take a look through Houzz if you haven't. Here are some homes with LOTS of wood colors that work well together. I love your furniture - oh and to post more than one pic in a post, you have to put your pics on a webhosting site like photobucket and then copy and paste the html code into the body of your post.
Here is one with wood floors, wood cabinets and a painted island:

---
| | | |
| --- | --- | --- |
| RE: The big picture | | |
olychick,
Thank you so much for posting those photos! They even have wood on the ceiling and it looks good!

I was originally going to go with cherry cabinets and stainless steel but I guess that is very 90's?? I was dead set against white cabinets but I've seen a lot lately that I am starting to reconsider.

It is so much work trying to pick out everything. I think I'll eventually enjoy it more but I'm a little overwhelmed right now. I know I want thick white trim. Picking the outside colors was easy for me. We are doing a craftsman exterior and carrying some inside.
---
| | | |
| --- | --- | --- |
| RE: The big picture | | |
There is no problem with mixing wood tones in furniture. It gets a bit trickier in the actual architectural finishes of the house, but as far as I am concerned furniture-wise, mix away.
---
| | | |
| --- | --- | --- |
| RE: The big picture | | |
this is what our bedroom furniture looks like...ignore some of the decor. I've taken it down and painted the walls light grey. We currently have cream carpet in there now.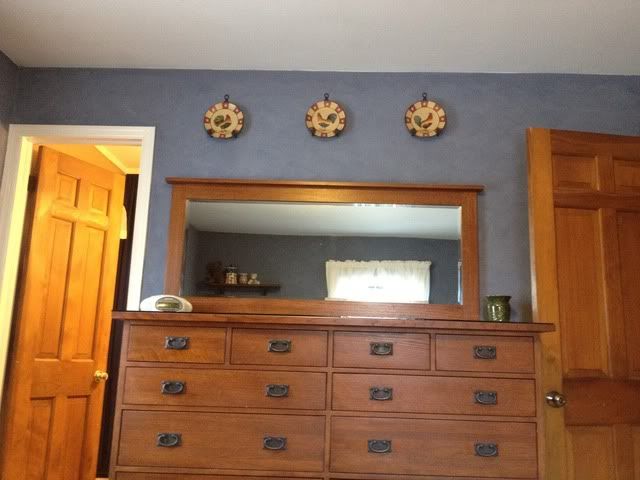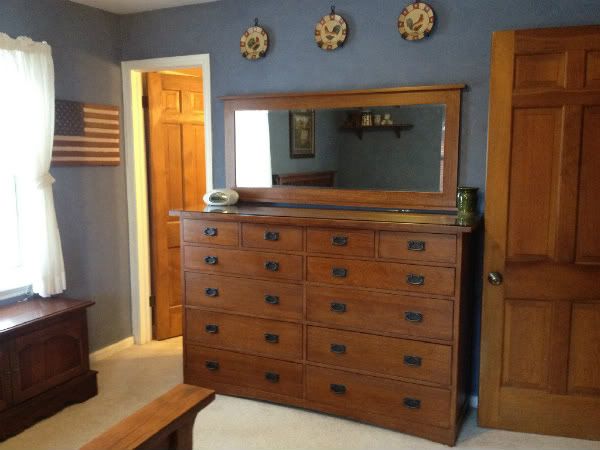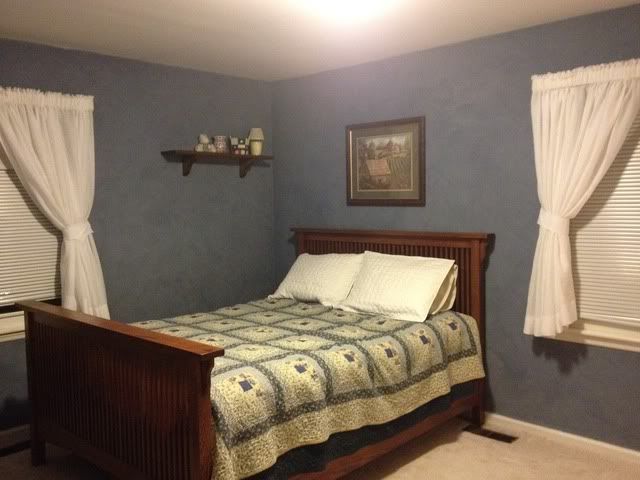 ---
| | | |
| --- | --- | --- |
| RE: The big picture | | |
To me, the warmer blue tones of gingerjenny's walls look fine with the reddish mission oak. The lighter greys don't go as well mainly because (and this is totally personal taste) it is just a color that looks better with a more transitional, contemporary, or streamlined furniture style. Mission always seems a little rustic, simplified, almost Asian sometimes. However, I think if you deepen the color and move more towards a slate grey/blue like gingerjenny's walls, you could make it work. Another thing to consider is when you are most likely to use the dining room. If it is in the evening, in dimmer light, a deeper color can be nice because it has much more impact. We were just visiting a very beautiful, historic house over the Thanksgiving holiday. The main rooms were painted warm rich colors and I can't tell you how beautiful they looked in the evening in the lamplight. I think you can have a slightly different color in the dining room, in fact it gives the room more drama, in my opinion.
---
| | | |
| --- | --- | --- |
| RE: The big picture | | |
it may be the lighting but all the furniture is the same color. the dining room and bedroom furniture are all the same shade. Can you tell i love the mission oak furniture?
---
| | | |
| --- | --- | --- |
| RE: The big picture | | |
Here's an earthier alternative to white cabinets that looks very good with your wood color. I like the lighter floors which you also show above with the china cabinet.
This post was edited by snookums2 on Mon, Dec 10, 12 at 23:25
---
| | | |
| --- | --- | --- |
| RE: The big picture | | |
Here's another view of the kitchen. The wood looks more yellow here but the chairs have a reddish cast. You can see they've used some gray on the walls and white trim.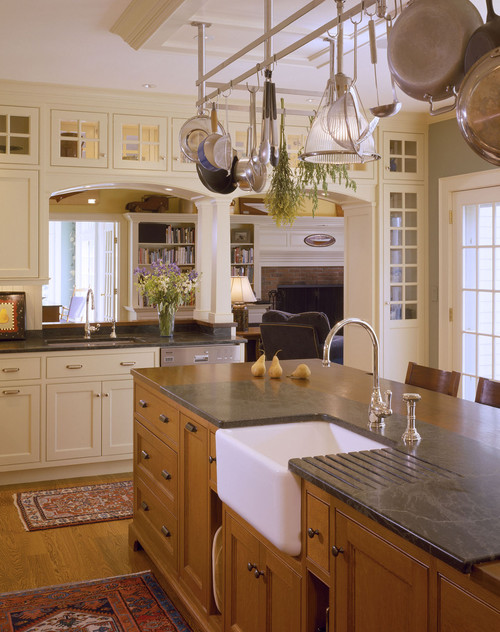 ---
| | | |
| --- | --- | --- |
| RE: The big picture | | |
snookums I love that kitchen. I like the off white. The floors almost look like they match the wood cabinet though. I like the color of the floors too.
---
| | | |
| --- | --- | --- |
| RE: The big picture | | |
Here's a new Craftsman style home with some fairly dark floors. They've used a lot of painted white wood including the kitchen but the island is similar to your wood color. They show a warm gray in the hallway.
Here is a link that might be useful: Craftsman cottage
---
| | | |
| --- | --- | --- |
| RE: The big picture | | |
Yes, in the top picture they look lighter than the cabinetry. So you get to see it both ways, lol. I prefer the coloring in the top photograph. It seems too much yellow is coming out in the second. The gray wall looks like it might have some green in it. Love that house.
---
| | | |
| --- | --- | --- |
| RE: The big picture | | |
Here is my bedroom after I painted it. It is a light grey. You can see the white trim with the furniture. i worry with wood floors it would just be too much wood? Would the furniture blend in with the floors?
---
| | | |
| --- | --- | --- |
| RE: The big picture | | |
ps that photo was taken before we put curtains back up or finished the trim but I think you get the idea
---
| | | |
| --- | --- | --- |
| RE: The big picture | | |
Snookums that second link you posted really helped a lot. I can see their bar stools almost blend in with their floor though and I think i would want to go a tad lighter with the flooring. that backsplash in that kitchen was soo pretty. that glass green!! I loved the gray walls though with white trim...oh and the built ins!! :)

Thank you for taking the time to post that link. the photos really helped me picture it in my head so much better.
---
| | | |
| --- | --- | --- |
| RE: The big picture | | |
I only have a minute ... but if you want something that is a similar depth of color to your beautiful red oak mission set, what about a walnut stain for the floor? It would be less dark than the espresso or ebony stains, a little warmer, and yet still different from the oak so it wouldn't blend in.

I'm very pro-walnut lately, though, I am starting to think I like it even better than cherry (which makes sense since it's even more out of my price range than cherry, LOL).
---
| | | |
| --- | --- | --- |
| RE: The big picture | | |
Thanks...So maybe a floor color like this? I like it

http://www.houzz.com/photos/74084/Traditional-Kitchen-traditional-kitchen-toronto
Here is a link that might be useful: floor
---
| | | |
| --- | --- | --- |
| RE: The big picture | | |
I like your furniture. Are you thinking of mission style cabinets in the kitchen too? I also like the color of the gray island in the picture that olychick posted.

Here is dark flooring with a black island, but maybe it is too similar to the floor in the first one you posted?

Or this one is nice too, not quite as dark.

---
| | | |
| --- | --- | --- |
| RE: The big picture | | |
I don't know if the cabinets will be total mission style but they will have very clean lines and probably black pulls. maybe shaker style. I know I don't want any scrolls or ornate parts on the cabinet.
---
| | | |
| --- | --- | --- |
| RE: The big picture | | |
gingerjenny - I really like the furniture. Mission goes well with almost anything from pale modern to deep jewel tones.

Think of your house finishes as one unit - make them coherent. And beware of white trim, because if it's bright white, it makes everything else look dirty. Go a pale creamy white.

Of all the finishes, wall paint is the easiest to change, so don't stress too much on it.

Don't worry about woods not being identical, just match overtones (is the wood reddish/brownish like walnut and mahogany or yellowish like birches). I have walnut, Victorian oak, Art Deco oak, vintage New Mexico pine, alder and some tropical woods all in the same room and they look fine. They are all in the reddish family. The ugly ones in the room are some end tables in a beigey laquered alder. I need to strip them and let their real selves out.
---
| | | |
| --- | --- | --- |
| RE: The big picture | | |
I am a big fan of floors that are darker than the furniture. The floor becomes the backdrop, and the furniture stands out. Take a look at Minwax English Chestnut for your floors. It is warmer than the example you showed, but a rich, deep true brown without red or gray tones.

I think your gray and and white scheme would be very good with your furniture -= but I'd choose a soft white rather than a bright one.
---
| | | |
| --- | --- | --- |
| RE: The big picture | | |
Here's my email: SideBizStartUp@aol.com -- I'd love to see your elevation.

We're looking at two plans, both of which you can google online, both of which are remarkably similar to yours: Lexington Ridge House Plan or Pecan Orchard House Plan. They're basically the same plan, but I like the double-sized windows in one and the more narrow foyer in the other. I keep flip-flopping between the two rooflines, but at this moment I like the one with dormers.

My thoughts on yours vs. mine:

- I have a slight preference for my guest bath, which is accessible from the hallway. It negates the need for an (expensive) half bath. We're almost empty nesters, so one full bath for guests should be ample for our needs.
- I like the placement of your staircase much better. My reasoning isn't particularly logical: I think it'd be great to be able to run greenery and white lights up the staircase at Christmas.
- I like my kitchen/breakfast area MUCH better because it has windows on both ends. I think having light on both ends will make a huge difference in the feel of the room(s).
- I definitely must have a big pantry, and I'm thinking that the laundry room in my plan can be transformed for that purpose. I'll move the laundry down to what is now the master bedroom closet.
- Your plan fixes the things I dislike most about mine: The overly complicated, fussy garage entrance and master bath. My plan devotes a foolish amount of space to the master bath and has that awkward L-shape; in contrast, your bath and closet are spacious and provide ample storage, but they are simple and compact in design. I MUCH prefer this portion to my plan.

Since our taste seems to be rather similar, I'd be very pleased to hear your thoughts.
---
| | | |
| --- | --- | --- |
| RE: The big picture | | |
Mixing wood colors in your furniture is perfectly okay ... preferable, IMO. If your dining furniture a close match or not QUITE the right tone with your floor, get a pretty rug for the area to break it up and add even more style and interest. Now that I think of it, you should get a rug regardless ... one that's large enough to still be underneath the chairs when they are pulled away from the table.

Decide on the floor and cabinets that you LIKE, don't make the mistake of matching permanent items like this with temporary stuff like furniture. Too much matchy-matchy is boring. If you decorate and design with things you LOVE, the space will be a reflection of your personality and will be more beautiful because of it.
---
| | | |
| --- | --- | --- |
| RE: The big picture | | |
Keep in mind that dark floors or black furniture will show everything. Every little piece of dust or lint, crumbs, drips, pet hair, dander. Everyone I've talked to, including a flooring person who installed very dark floors in her own place, said they would never do it again. My mom has a medium dark brown floor in her kitchen and as much as I like it, it is annoying because it always looks dirty. So I would think a lot about that aspect.

Wood floors pull a lot of light from a room so you'll probably want to do something to lighten things up if you go dark. Check out what type of rugs you like. It could be a lighter floor with rich rugs or vice versa with a dark floor and lighter rugs. Or maybe not very much contrast at all is your preference.

I would look through Craftsman pictures to get a feel for what you love and how you prefer to see that particular style (Houzz has lots of varied examples). In that you love the Craftsman style so much you might find that you want to stay pretty much with something that leans more traditional than the modernized versions. Or maybe you want to lighten and freshen it up.

What exactly is it that you love about that style. Look at rooms.
---
Post a Follow-Up
Please Note: Only registered members are able to post messages to this forum.
If you are a member, please log in.
If you aren't yet a member, join now!
---
Return to the Home Decorating & Design Forum
Information about Posting
You must be logged in to post a message. Once you are logged in, a posting window will appear at the bottom of the messages. If you are not a member, please register for an account.
Please review our Rules of Play before posting.
Posting is a two-step process. Once you have composed your message, you will be taken to the preview page. You will then have a chance to review your post, make changes and upload photos.
After posting your message, you may need to refresh the forum page in order to see it.
Before posting copyrighted material, please read about Copyright and Fair Use.
We have a strict no-advertising policy!
If you would like to practice posting or uploading photos, please visit our Test forum.
If you need assistance, please Contact Us and we will be happy to help.

Learn more about in-text links on this page here