Return to the Home Decorating Forum
|
Post a Follow-Up
---
| | | |
| --- | --- | --- |
| Please Share Pics of Your Wood Paneled Rooms - PICS | | |
Posted by
debelli
(
My Page
) on
Thu, Dec 3, 09 at 19:54
I posted over in the paint forum trying to get ideas of what to do with the walls in the den of this house we are hopefully buying (getting inspections done) I can't imagine how I could decorate around all this wood unless I painted it, but I'm SURE someone out there has wood similar to this they haven't painted and probably decorated it beautifully. It doesn't help me with any ideas either when the sellers have this mish-mash of furniture in there either! I just have no vision of my own to think of what would look good, so I'm begging for ideas!

Since the house has a formal living room and we REALLY like to live in the den area, I'm looking for casual, not fancy when it comes to ideas in decorating this area. Don't be afraid to throw out some ideas about flooring as we are replacing that as well.

If you have any pictures, or know of any websites, please post them. I'd hate to paint it if I can find a way to decorate with it as is. Any yes, I'm taking down that little shelf that goes ALL the way around the room!

Thanks!
---
Follow-Up Postings:
| | | |
| --- | --- | --- |
| RE: Please Share Pics of Your Wood Paneled Rooms - PICS | | |
I would try Not to paint the paneling. Are those fade marks or reflections on the paneling? I would consider leaving the shelf and ignoring it rather than ending up with holes. Just don't draw attention to it...its a period detail.

I would consider removing or painting the valances and the built-in, especially, since they are ply, and striped-looking. This would relieve the woody-ness a bit.

I think this would be a good room for wall to wall carpet or a stone-look tile, again to relieve the wood. It would fit in with the midcentury style of the house I think.
---
| | | |
| --- | --- | --- |
| RE: Please Share Pics of Your Wood Paneled Rooms - PICS | | |
Palmpsest, hmmm, now you have me wondering. One is a reflection, but can't remember about the other one over the tv - hopefully not a fade! I would not hesitate to paint the valance. They are all over the house (as you've seen a few) and the ones in the bedrooms and living and dining are all white. I believe both the valances and built in are solid wood though.

What coloring would you suggest for a carpet or tile? Leave the shelf??? NOOOOOOOO!!! It's not a shelf, it's a dust collector. I can't imagine there's not a way to remove, fill and not have it look terrible. To me, it just looks stupid.

Thanks for your reply, not only here, but elsewhere, it's always appreciated!
---
| | | |
| --- | --- | --- |
| RE: Please Share Pics of Your Wood Paneled Rooms - PICS | | |
What kind of paneling is it? It doesn't look like typical pine. Is it a veneer?

Anyway, I agree that I would definitely get rid of the shelf. It is high enough so that even filling in the holes with a wood putty that wasn't exact would not be noticed since the holes won't be a eye level.

I would also remove the wood valences and put up some kind of patterned drape that was hung high and went to the floor.

And I would seriously consider wall to wall carpeting, perhaps in a nubby berber, perhaps an oatmeal type color. You could always put more colorful rugs on top to define a seating area. I personally would not put a stone floor in, because to me they are cold. But then I live in the cold NE.

It is actually a very pretty room. It just needs the right touches.
---
| | | |
| --- | --- | --- |
| RE: Please Share Pics of Your Wood Paneled Rooms - PICS | | |
Barb, honestly, I don't know just what the paneling is made of. I wonder if anyone could give me an idea without seeing it, maybe a woodworkers forum? Will look at a nubby berber, I'm not sure what a nubby berber is, I have a country berber in my bedroom (shaggy) What about a slate type of tile, then put down an light area rug?

I'm trying to vision what could be beyond what is there. Hard to really get ideas with the stuff they have in the house, just a bunch of items, nothing matches. The house has so much potential and I'm trying to find how to tap in to it all, slowly, but surely. Even the landscaping is terrible - there is none! With the right landscaping, it will make a world of difference there alone. I used a program I found on line and uploaded my own pics of the house, uploaded shrubs and bushes - like night and day!

If it all works out and we get the house, I'll surely be all over this forum, there's a lot to do, thankfully, it's all cosmetic, for now, at least.

Thanks again!
---
| | | |
| --- | --- | --- |
| RE: Please Share Pics of Your Wood Paneled Rooms - PICS | | |
We have the same room! Our paneling was not real wood and I hated it. DH liked it because it made the room look dark, which he prefers for cozy nights movie watching/hanging out by the FP. Well, I won that battle and I painted it a light tan. Hated that too - looked like baby food smeared on the walls. Decided to remove paneling, found painted cloth wallpaper underneath. Removed that, gave in to DH and painted navy blue. Not bad, it works, for now.... :)
---
| | | |
| --- | --- | --- |
| RE: Please Share Pics of Your Wood Paneled Rooms - PICS | | |
Here is my paneling job. It might not help you a lot, but maybe it does, I hope so.
I think your room has lots of potential. Just come up with what you want it to look like in the end and then you can figure out how to achieve that look. That's how I did with my media room :)
---
| | | |
| --- | --- | --- |
| RE: Please Share Pics of Your Wood Paneled Rooms - PICS | | |
Thats real wood paneling but it is probably a very thin veneer.

I notice you step down into the room. I am thinking that the shelf is 8 feet off the ground and covers a seam in the 8 foot panels and the piece above the shelf is separate. I have seen this, and a picture rail type thing used to panel rooms taller than 8 feet.
---
| | | |
| --- | --- | --- |
| RE: Please Share Pics of Your Wood Paneled Rooms - PICS | | |
I was thinking the same thing, Palimpsest. It looks to be more than an 8' and if you look closely above the shelf, some matches, some doesn't. So I do think it looks pieced. Wood paneled rooms can be so beautiful. Getting rid of the wood valence and lack-luster drapes will be a huge help.
---
| | | |
| --- | --- | --- |
| RE: Please Share Pics of Your Wood Paneled Rooms - PICS | | |
Bumble, that's what I'd be afraid of too-painting it and hating it. Do you have any before/after pics of your room you can post?

Punamytsike, thanks for the pic - nice big room you have, very pretty walls. Im not sure what style I'm going for, something cozy, but functional as we do utilize our family room. I like shabby chic, but it doesn't go over too well for DH, a bit too frilly for him. I'd probably go for something darker when it comes to the furniture, such as couches.

Palimpsest-thanks for pointing out that possibility with it being pieced, never thought about it. I didn't measure the height of the walls, but yes, you do go down a step. If that's the case, would a piece of moulding of some kind look okay in that area, or something else possibly?

No Green-not sure if I'll remove or just paint valance, drapes will definitely come down, though not sure what I'll put up as of yet - so many things to think about!!!!

Thanks again to all.
---
| | | |
| --- | --- | --- |
| RE: Please Share Pics of Your Wood Paneled Rooms - PICS | | |
Sorry, Debelli, I don't have any pics. I really regret not taking 'before' photos of the house. We were just so excited to get started we went directly from the closing to the house with an SUV full of paint, rollers, etc.

That said, we did live with it for a couple of years before I just couldn't stand the paneling anymore (there were plenty of other house projects keeping us busy!)

The navy walls really work well against the wood trim. Some friends even thought we had replaced all the trim work. They couldn't believe it was just the painted walls that made the trim stand out.

Our room is also a step down from the kitchen with a big chunky wood mantle. If you do decide to remove the paneling, just be prepared to deal with whatever is behind it. Often, paneling was used as an 'easy' fix.

I chose light upholstery (very light taupe sailcloth) to keep it from being too gloomy, but I've yet to do anything about window treatments, hence, no 'after' photos. Our camera has been on the fritz but I'll see if I can take some not-quite-before but definitely-not-after pics.

Good luck with your new home!
---
| | | |
| --- | --- | --- |
| RE: Please Share Pics of Your Wood Paneled Rooms - PICS | | |
I happen to love painted paneling - folks spend lots of money installing it and painting it these days.

Just google painted pine paneling and click the images tab - comes up with lots of examples of paneling in colors, cream and white.

I agree - the shelf has to go! If you paint it you can likely fill in the nail holes and the areas where the paneling joins under the shelf (likely a tedious job but I think it can be done if the gap is not big) . . .

I vote for paint.
Here is a link that might be useful: Painted pine paneling
---
| | | |
| --- | --- | --- |
| RE: Please Share Pics of Your Wood Paneled Rooms - PICS | | |
I vote for paint, too. I have that same style paneling in my house, just a darker color. Ours is a veneer. Where the 8 foot seams join, they ran a 1x4 across it. Look above paintings and curtains and you can see the joint. It took me a few years to convince my dh to paint, but even he likes how it looks now. Our ceiling is still in the "natural" paneling.
---
| | | |
| --- | --- | --- |
| RE: Please Share Pics of Your Wood Paneled Rooms - PICS | | |
Lafonda,

I have loved seeing the evolution of your room. It is very unique, and really beautiful.
---
| | | |
| --- | --- | --- |
| Thank you!! | | |
Barb,

Thank you! I've really enjoyed this room.
---
| | | |
| --- | --- | --- |
| RE: Please Share Pics of Your Wood Paneled Rooms - PICS | | |
The panelling looks like birch to me. The house I grew up in had birch panelling in the family room, and it had that exact same 'glow' and grain. If you can learn to like it, it can be beautiful. The way we decorated was with natural textures and rich warm colors -- burgundy and other deep reds, deep green, gold, bronze and browns with brilliant turqoise accents. It made the room feel warm and nurturing.

If that were my house, I'd start with a stone or stone-look floor tile -- maybe a light slate or travertine? Then a big old oriental rug! (You can find them cheap on eBay or Craigslist.) Then a leather sofa and/or chairs with Kilim or tapestry pillows. I'd keep the rail and display plates and crockery accented by a few candlesticks. (Again, check eBay.) If your china is stoneware instead of Limoges, it won't look too dressy.

I agree that the 'shorty' curtains don't do anything for the room. I could see a woven grass shade, with a furniture piece below the window to make it look intentional.

One other unsolicited comment... You said the house has a formal living room but that you're casual people. There is NO LAW that says you have to decorate a 'formal living room' in a formal style! Decorate the room to fit the way you really live. If that room has the best location and space, declare it your 'family' room and make it a casual, comfortable but *beautiful* place for your family to hang out and be together.
---
| | | |
| --- | --- | --- |
| RE: Please Share Pics of Your Wood Paneled Rooms - PICS | | |
lafonda ranch: LOVELY room! :)

Yes -- do take down that shelf -- it cuts the room horizontally! Paint the panelling and the mantel.

Remove the top shelves over the built-in cabinet next to the fireplace -- and you may have room to place a TV there! Placing the TV there will allow you to use all of the wall space and floor space for your sitting area.

Paint the wood cornice boxes over the windows -- and then hang them much higher on the wall. Add bamboo blinds OVER the top window moulding (and under the new position of the cornice). These steps will create a new "taller" window -- and will make the whole room appear to be taller.

As for flooring -- depends on your budget and how you plan to use the room. Perhaps a laminate floor that look like wood? Or carpeting the whole floor?

Just some thoughts -- hope you don't mind!

Jan at Rosemary Cottage
---
| | | |
| --- | --- | --- |
| RE: Please Share Pics of Your Wood Paneled Rooms - PICS | | |
I think after seeing a number of pictures of this house, that one of the things you need to do is de-yellow it. Right now this room looks like one more brassy element in series of yellow rooms. The paneling may start to look different when everything else is not yellow too.

I'm not on the society for the preservation of 1960s paneling, but I think this room affords you the opportunity to at least try working with real wood paneling (as opposed to printed Masonite).

Virtually all the other rooms in the house will be painted, so why jump right into painting this one too...I have seen houses of unrelieved paneling (and unrelieved wallpaper for that matter) swing like a pendulum all the way to unrelieved, plain, painted walls. (sigh/yawn).

That room definitely needs some help as it is, and I really like the look of painted paneling too. But I would try to work with it in its present state, because you can't really turn back.
---
| | | |
| --- | --- | --- |
| RE: Please Share Pics of Your Wood Paneled Rooms - PICS | | |
Lafonda - your room!! It looks wonderful! I remember you asking about painting your paneling. Everything has just come together. Good job!

I would paint the paneling.

Do yall remember Bronwynsmom? Where is she? She had pics of her LR where she painted the paneling in a cream & it was gorgeous. I tried to search but no avail.

Smiles:)
---
| | | |
| --- | --- | --- |
| RE: Please Share Pics of Your Wood Paneled Rooms - PICS | | |
Thanks for all the wonderful comments. If it wasn't for this board and you guys, I'd still be fumbling around trying to figure out what to do :-)
---
| | | |
| --- | --- | --- |
| My 2 Cents | | |
I think it'd look much better without the shelf and painted for sure!
But if you LOVE the wood, keep it!
---
| | | |
| --- | --- | --- |
| RE: Please Share Pics of Your Wood Paneled Rooms - PICS | | |
Bumble, look forward to seeing the pics when you get a chance.

Athensmom, thanks for the link. I went searching for before/after pics of painted paneling - there's a slew! Lots to look at, lots to think about...

Lafonda, lovely room and thanks for posting the pic., I see the rail and it gives me an idea of what could be. I see a lot of different options when painting paneling - how did you end up doing it?

Sweeby, thanks for the heads up about it being birch, will do a search on Google to see what I can find. Thanks for all the ideas for in there. As for the formal living room, I just like a nice formal living room and one of my criterias in finding a home was it had to have one. That's the NICE looking room, the den will be the one room we can crap up and if I have people over, the lr will always look nice where as the den, I want it more of a room I don't have to worry about sprucing up if I don't want to, the lr will be just fine - all depends on who's coming over. When you first enter the house the first thing you see is the living room and I want to make a statement with that room, a WOW factor. As you can see below, the current owners, well, you can see, the picture speaks for itself!
Besides, you can see the lr from the front door glass, and with DH lounging around in mostly his undies, it surely wouldn't be a pretty sight if someone unexpectedly came to the door!! LOL!
teacats, thanks for the ideas. Not sure what I'll do about the flooring. My mind has so much to think about - love all the ideas!
palimpset-there's one more pic of the house you get to see, before you know it, you'll know this house just about as good as I will! I don't mind trying to work with the wood paneling as it is, it's just that dang shelf that bothers me!!!
scoobyruby & catkin, thanks for your input!
I saw a few sights after you all gave me some ideas on what to Google, lots of before/after painted paneling, looked under plate chair rails, not as many ideas as I'd wished to find. Found a GREAT site that sells foam tin-look ceiling tiles, interesting to think about. A virtual kitchen planner, not that I can use my pic, but was interesting to take what I thought was close to my kitchen cabinets and actually liked this dark red paint color, surprised myself! By Dupont, called Rycroft Copper Red. Found this interesting little article:
http://archive.southcoasttoday.com/daily/05-99/05-02-99/h01ho224.htm
Thought this before/after gave me a good visual:
http://www.apartmenttherapy.com/sf/inspiration/before-after-from-woodsy-to-white-california-home-design-091338
Found one with REALLY dark paneling:
http://www.carolinemccartney.com/photos/ws257/100_5475.jpg
Nice moulding on this site:
http://www.buyfypon.com/c/mouldings-crown/
And found this link below through Google, but on this website -
Thanks again all!
Here is a link that might be useful: Before and After Painted Paneling
---
| | | |
| --- | --- | --- |
| RE: Please Share Pics of Your Wood Paneled Rooms - PICS | | |
Painting the paneling wasn't hard, mostly labor. I cleaned it up good first with TSP (found at the hardware store and followed directions on container). Then painted with a primer coat. Then 2 coats of color. Our room needed 3 bucks of scaffolding so that made it a little more difficult. Again, I'm so glad I did :-)
---
| | | |
| --- | --- | --- |
| RE: Please Share Pics of Your Wood Paneled Rooms - PICS | | |
I'm not trying to push you toward painting - that's a totally personal (and irreversible) decision - but we painted a similar room and are very happy with how it turned out. Here are before and after: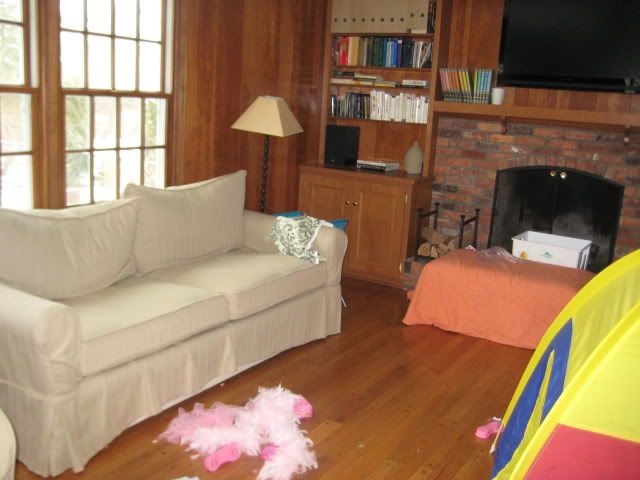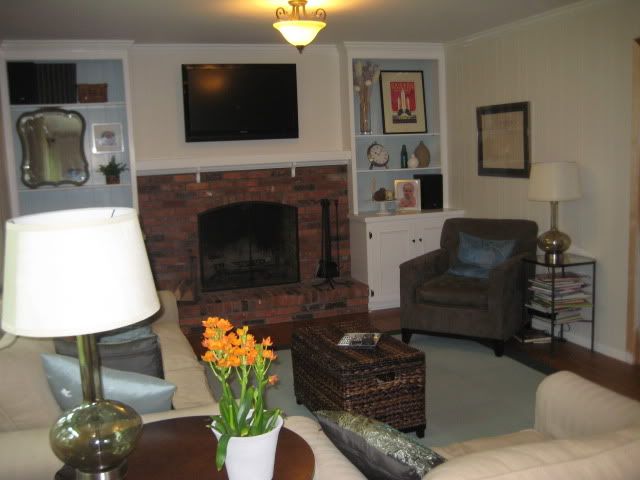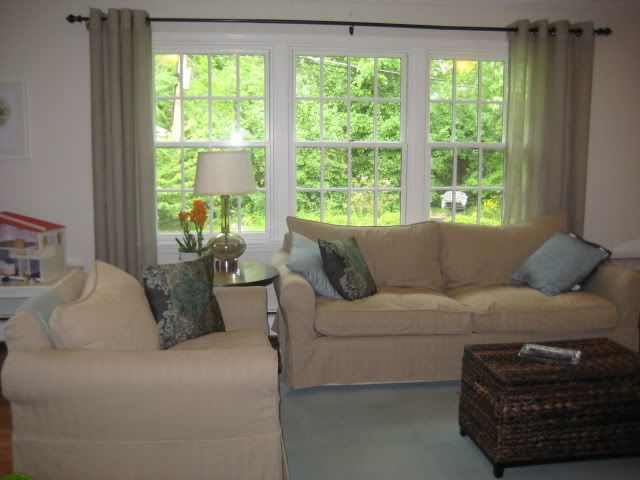 ---
| | | |
| --- | --- | --- |
| RE: Please Share Pics of Your Wood Paneled Rooms - PICS | | |
Lafonda-thanks for the info, have TSP!

MetroMom, LOL! The link in my last post is to your original post. It came out great!!!!

I'm finding a lot of posts as I continue to look, has me leaning towards painting, maybe it's just because that's what I'm seeing more of. There is one who is keeping her paneling - may have to ask her what she ended up doing, though it's a recent post, maybe nothing yet!

Thanks!
---
| | | |
| --- | --- | --- |
| RE: Please Share Pics of Your Wood Paneled Rooms - PICS | | |
Metro Mom I think the room looks great painted, but I also still think it had a more unique character in its original finish. I would have loved to see it as fully decorated as it is now with the wood paneling (and maybe something painted selectively like the bookcases).

Debelli, I think you have plenty of other rooms to paint in that house. Leave this one alone for a while.:)
---
| | | |
| --- | --- | --- |
| RE: Please Share Pics of Your Wood Paneled Rooms - PICS | | |
Our first house had mahogany paneling and built-ins in the family and breakfast area. The house was built-in 1951 and the paneling and built-ins were installed a few years later. There was also a red brick wall with a Franklin stove. When we bought the house, the realtor said "Don't worry, you can paint this room" but we thought she was crazy. I don't have many good pics on this computer, but here's two I do have. The flooring had been changed to slate tile (Indian, I believe??) which went well with the browns but provided some contrast. The kitchen had already been redone with white cabinets; that contrast next to the paneling was a little strong but it wasn't horrible.
---
| | | |
| --- | --- | --- |
| RE: Please Share Pics of Your Wood Paneled Rooms - PICS | | |
I have two different options. ( ideas) How much doyou love the wood?


Option 1, Rip out the wood and paint ! Yes, it takes time
but the results are amazing. If you don't like wood,
there is really not much youc an do to fix this room.

This is from Younghouselove blog, They did an amazing job.
Before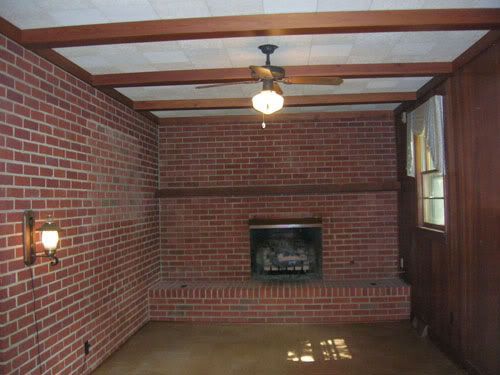 Here is what another did with wood and brick. Check
out the results. They painted with a dark brown. I guess
I would have kept the wood but stained or shined it up.
After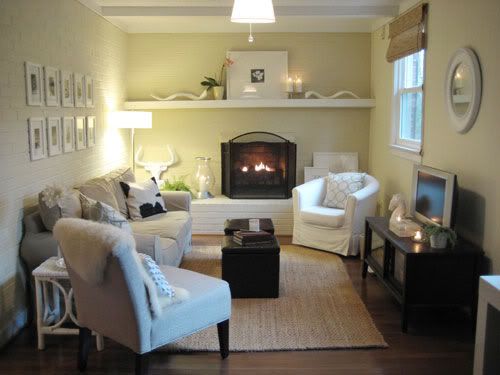 Before FlickR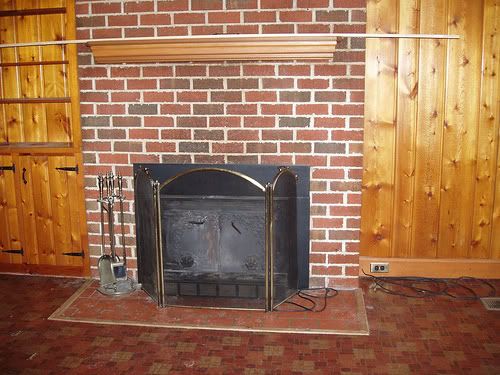 After FlickR

Now if you LOVE wood. Keep the wood. My father, sister,
BroInLaw and others are wood people. They would scream if
I were ripping out wood.
Option 2 Keep the wood as is. But, change the ceiling fan,
get rid of valances, curtains, and shelf or rod on upper wall.
Paint the ceilings a soft blue gray, paint, the fireplace
a cream, paint the built ins the same cream but go up to
the ceiling. The room has high celings but you can't see a
contrast because of the silly shelf (curtian rod thingy)
and all the wood.
Go with agray stone tile floor. But if this is a home in
New England go for carpet. Carpet warms the feet and sound
proofs if this is to be a family den/tv room.
Change the furniture...to warm soft comfortable live in
leather. Or a cushy fabric that is something to nap in.
Turn this room into the place to relax with the
natural wood, stone and soft comfortable colors.
Images ideas...
See how different the fireplace looks

Keeping the wood but changing a few other things can make
the room look amazing.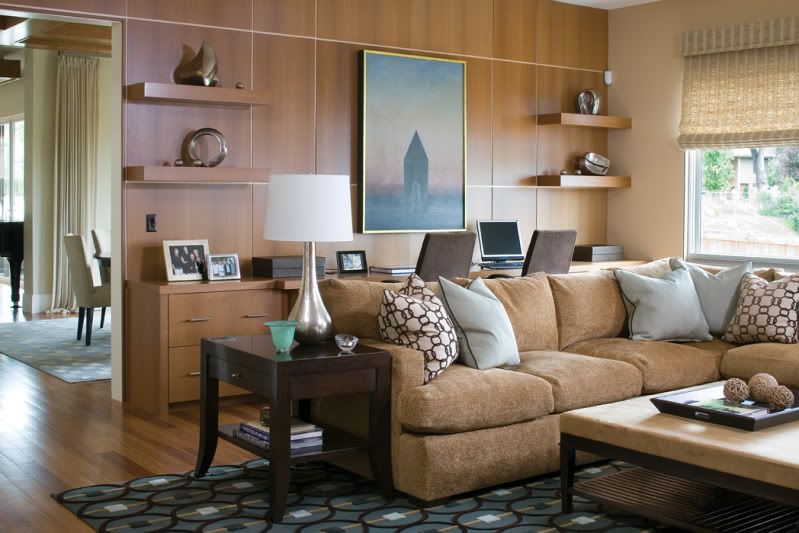 Paint for fireplace and built ins.
Swiss Coffee by Behr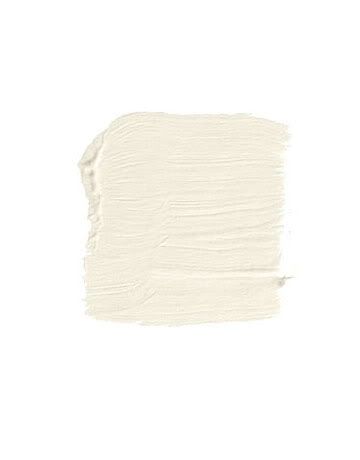 Pavillion Blue Farrow and Ball paint

---
| | | |
| --- | --- | --- |
| RE: Please Share Pics of Your Wood Paneled Rooms - PICS | | |
Palimpset, okay, I'll try not to paint the wood - trying to find something to take the place of that plate rail at the top, not finding ANYTHING at all. If I can come up with a solution I'd be more apt to keep the wood as is.

Kiko, thanks fort he visuals, it's all helpful. I liked the floor you have, would choose something like that in the kitchen in the house we are (hoping) to buy

Boxerpups-hmmm, I like the wood and would love to keep it if I can come up with some ideas, esp for removing that plate rail at the top, that's the only thing I really don't care for in this room. If I can find something to replace it without it looking like it doesn't belong, I'd probably keep the wood, it remind me of my Grandparents cottage on the lake and has a very cozy feel to it, which I do like. No problem with changing the drapes, etc. Would rather not paint the fireplace, I actually like the coloring in there. I do like that Swiss coffee color though -very nice! As for the furniture, no idea what I'll buy to put in there. We are so use to having a large modular sofa that can seat many, but with this house I'm not sure what we'll get. We both like sprawling out on the couch, and with the one we have 4 people can be sprawled out, that's how big it is. But that won't be going to this house, so I'm getting new furniture for that room, so open to suggestions. Thanks for taking the time to post all those pics. I'm searching the web as well for more inspiration - hard to find though, and haven't found anything like the wood in there.

Thanks to you all!!!!
---
| | | |
| --- | --- | --- |
| RE: Please Share Pics of Your Wood Paneled Rooms - PICS | | |
Just stumbled across this website, there's two links below, one direct and one you'll have to paste, but at least I finally found SOMETHING out there in cyberworld!

http://www.americanpac.com/valences.php
Here is a link that might be useful: Library Paneling
---
| | | |
| --- | --- | --- |
| RE: Please Share Pics of Your Wood Paneled Rooms - PICS | | |
Look at stock mouldings under "picture rail". you could probably find something under "panel moulding", or "back band"--moulding put behind other moulding to build it up--that could work.
---
| | | |
| --- | --- | --- |
| RE: Please Share Pics of Your Wood Paneled Rooms - PICS | | |
Thanks Palimpsest, you're a wealth of info, I've learned quite a bit from you already. I would never have known that the style of cabinets in the kitchen were considered French Provencial without you, and now learned about "back band" - THANKS! Okay, so, if I replaced the shelf with back band, or something similar, how is it going to look if I didn't paint the paneling? What to do with the difference of woods - try to match the paneling??? As you can see, I'm totally clueless!
---
| | | |
| --- | --- | --- |
| RE: Please Share Pics of Your Wood Paneled Rooms - PICS | | |
Actually I meant a moulding backer, instead of backband, here is a picture. Panel moulding would work well, too...I just don't know how wide it all needs to be if you also need to cover bracket holes.

Also, the paneling will probably be a different color under the brackets, since it was not exposed to light.

I think you could probably get a pretty close match with stain--the other trim is slighltly darker than the paneling so I think if you are close to it or darker you should be ok. Lighter would probably look funny though.
Here is a link that might be useful: Chair rail backer
---
| | | |
| --- | --- | --- |
| RE: Please Share Pics of Your Wood Paneled Rooms - PICS | | |
Actually, I would look for picture rail. It has a nice, small profile and it is very handy. I have it all around my old house and it makes hanging pictures so easy. You can use scrap pieces of it to get the stain to match your existing paneling.

That first picture in library paneling link is beautiful and warm. the wood there really ups the appeal of the room. If you feel that the wood closes in your room, you can add full-length drapes in a creamy color and other lighter weight furnishings to brighten up the space. Another thought is that you could leave some of the paneling stained and paint some walls. There is no rule that says that it is all or nothing.

I think sometimes when we have a unique feature in our homes, we rush to eliminate it, rather than to see that it may be what makes our homes unique, and gives it character.

Just my thoughts,
Diane
---
| | | |
| --- | --- | --- |
| RE: Please Share Pics of Your Wood Paneled Rooms - PICS | | |
Palimpsest, thanks for the clarification. I don't know how wide the rail would have to be, but I don' think it's too big. Once we get in there and close I'll be able to get all those details. Maybe a darker trim would look interesting? Would love to find some pics of that. I'll have to start searching...

Powermuffin, will also look at the PR too, lots of things to consider. I think you are so correct about a unique feature in our home and wanting to make it like everyone elses. My problem is, not knowing what to do, I'm looking for guidance and most of all, pictures, as I can't imagine things, I have to visualize them and see possibilities first hand. I'm hoping by the time we get to the point of moving stuff in, I'll have it all figured out, with the help of so many people - GROUP EFFORT!!!! : )

THANKS!!!
---
| | | |
| --- | --- | --- |
| RE: Please Share Pics of Your Wood Paneled Rooms - PICS | | |
I don't have paneling, but my house is all log! Some of the same issues apply as far as decorating goes so I've included some photos. As you can see, I like using darker furnishings with all of the wood. It is very warm and cozy at night!
---
| | | |
| --- | --- | --- |
| RE: Please Share Pics of Your Wood Paneled Rooms - PICS | | |
I think it's birch too. The problem you will have and the same that we have is that it gets a very yellow cast. Our paneling is in our study, which is very utilitarian as DH works from home and I have carved out a little space for my computer too. We haven't done anything else except put my kids' art on the walls. That's probably no help. But, there was a house DH & I lost a bid on that had all the paneling stained cherry, although I don't think it was actual cherry wood. It was likely birch too. If you have the energy to do it, maybe stain the paneling a color you like.

Kathe
Here is a link that might be useful: Paneling pictures
---
| | | |
| --- | --- | --- |
| RE: Please Share Pics of Your Wood Paneled Rooms - PICS | | |
I found a video (link below) on HGTV about Paneling.

Also, I saw some molding that I liked in a magazine, it was darker and ornate, was wondering how that may look in place of the rail that's there, being it is different and a darker color?

Furletcity-now THAT'S a lot of wood! I can see where it's nice and cozy and though it's hard to see from the pics, it seems you do have some lighter furnishings among the dark.

Kathec, the pic, is that from your house or the house you lost the bid on? It's so hard to tell what anythings going to look like with the mish-mash of stuff the CO have in that room, or any room for that matter, there's no decor at all to speak of in that house. I can sympathize on losing a bid on a house as well - had that happened recently too. Don't you just LOVE house hunting??? If this doesn't go through, I'm about ready to give up!

Will keep on top of this and let you all know what's happening. I'm damned to find a solution for that rail!

THANKS!
Here is a link that might be useful: Paneling Video
---
| | | |
| --- | --- | --- |
| RE: Please Share Pics of Your Wood Paneled Rooms - PICS | | |
That's a real nice effect, too, furle. Love your home : )
---
| | | |
| --- | --- | --- |
| RE: Please Share Pics of Your Wood Paneled Rooms - PICS | | |
debelli, the dark cherry paneling is from a house around the corner in our neighborhood. We tried to put in a bid, but found out the bank (it was a foreclosure) had already accepted a bid less than 24 hours before. We were pretty bummed, we really loved all the built in storage in that house. We fell in love with the neighborhood, so we kept looking and found our current house about a month or so later. The yellow-y looking paneling with the table and lamp is our actual office, although it's the listing picture. We haven't taken any pictures of this (I'm sitting in it) because we have it jam packed with IKEA office furniture. It's absolutely utilitarian, so definitely wouldn't inspire. DH works from home. Since the rest of the house needs work, I'm leaving this office to last. I'm guessing that we won't do much, no paint, DH doesn't want to change the paneling at all.

The houses in my neighborhood were built between the mid eighties to mid nineties and ALL of them have paneling of some type either in an office or formal living room. I believe nearly everyone's paneling is done with birch luan and molding trim.

Kathe
---
Post a Follow-Up
Please Note: Only registered members are able to post messages to this forum.
If you are a member, please log in.
If you aren't yet a member, join now!
---
Return to the Home Decorating Forum
Information about Posting
You must be logged in to post a message. Once you are logged in, a posting window will appear at the bottom of the messages. If you are not a member, please register for an account.
Please review our Rules of Play before posting.
Posting is a two-step process. Once you have composed your message, you will be taken to the preview page. You will then have a chance to review your post, make changes and upload photos.
After posting your message, you may need to refresh the forum page in order to see it.
Before posting copyrighted material, please read about Copyright and Fair Use.
We have a strict no-advertising policy!
If you would like to practice posting or uploading photos, please visit our Test forum.
If you need assistance, please Contact Us and we will be happy to help.

Learn more about in-text links on this page here