Return to the Home Decorating Forum
|
Post a Follow-Up
---
| | | |
| --- | --- | --- |
| How do you decorate around a big TV on a console? | | |
Posted by
beache
(
My Page
) on
Mon, Dec 6, 10 at 19:26
We have ordered a flat screen TV and I'm going crazy trying to decide what I should put it on. We are getting rid of our huge (106") wall unit and I really wanted to put the new TV on a very simple long console. But now that the old unit is out, I'm worried. There will be a LOT of empty space above and around the console. Maybe I just need to get used to it, but I also can't figure out what to do around it. To make matters more complicated we went as a family to pick something out and we are split down the middle: 2 want the console and the other 2 want to buy another wall unit with the side bookcases and a bridge over the TV on top. While I agree that it would fill the space better, I really wanted to go with something that was different.

Any ideas and/or pics for me? We have about 11 feet to play with.
---
Follow-Up Postings:
| | | |
| --- | --- | --- |
| RE: How do you decorate around a big TV on a console? | | |
I'll try to come back with pics . . .I attempted to decorate around a TV on a console for a few years. It was on our main wall, and the TV just looked like the Star of the Show. I hated it. I finally got some bookcases (just cheap IKEA ones . . .that's where our budget is at) and I prefer it. Now it looks cozier and is more practical, since we have many books (granted, they are children's books, but we need a place to put them!).
---
| | | |
| --- | --- | --- |
| Doors | | |
Oh, but if I could have, I would have bought something to hide the TV, too . . .some sliding doors or panels.
---
| | | |
| --- | --- | --- |
| RE: How do you decorate around a big TV on a console? | | |
We are buying a flat screen as well and I really wanted to put it on a longer dresser or buffet of some sort. I found a piece that is 6 feet long and am in the middle of painting it. I have my mind set on mounting the TV on the wall above the buffet but off center a bit. Then I intend to put a lamp on the other end. I like the idea that the buffet will give me a lot of storage and not look like the usual TV console. I am a little concerned about the glare but the lamp will really just be an accent and not truly be needed for light so I'll probably keep it on fairly low.
---
| | | |
| --- | --- | --- |
| RE: How do you decorate around a big TV on a console? | | |
Here's a link to Pottery Barn's website and their page of media wall systems - with some ideas for the whole wall. Check around on this site -- there may be ideas on their consoles too ....
Here is a link that might be useful: PB -- media wall systems ideas
---
| | | |
| --- | --- | --- |
| RE: How do you decorate around a big TV on a console? | | |
Hi,
I was glad to see this question posted since I spent the entire day today looking for a tv console for the new plasma tv that my DH wants to get. We have had our old tv in a large armoire for the past 20 years. I still like the armoire, but the tv is on its last legs. I even searched antique stores today to see if I could come up with something a little different. No such luck. I am worried that I am going to be annoyed by the extra space and the increased visibility of the tv as well. I even toyed with the idea of somehow cutting out the middle of our armoire, dropping the top piece down to fit on the base and creating some kind of top. That might be an idea if I had any equipment to do such a thing or the ability to make it happen. If anyone has pictures of their tv consoles, I would love to see them. Guess I just hate to spend money on somthing that I am not even that excited about. Good luck with your choices.
---
| | | |
| --- | --- | --- |
| RE: How do you decorate around a big TV on a console? | | |
We have a large TV sitting on a cherry console we had custom made. If we ever change over to a wall-hung TV the console could easily be used as a piece of furniture elsewhere in the house.
We were kind of limited by what could be put around the TV since there's a gas (faux wood) stove to the right of the console. I put an 8' faux bonsai ficus to the left of the unit and since my DH had collected some large B&W prints we hung those above the unit and the full length of the wall.
I'll try to get a decent pic....

Jakefield,
For a nice selection of consoles, visit storefronts that specialize in TV's & media rooms.
---
| | | |
| --- | --- | --- |
| RE: How do you decorate around a big TV on a console? | | |
jakefield, I looked for something antique for a long time as a stand, too. We were sort of picky about the height so that limited us . . .and when I found something that worked height-wise, I felt there was too much of a contrast between the old (lovely antique sideboard) and new (ugly TV).

Anyway, here is a picture I found of the compromise:

Please ignore the objects . . .improving those and redoing the back/inside of it (maybe covering it with wallpaper) are on my list of someday projects.
---
| | | |
| --- | --- | --- |
| RE: How do you decorate around a big TV on a console? | | |
I would let it sit by itself for awhile until you get some ideas. The new flat panels are much more unobtrusive than the old standard ones.

I ended up ordering a cheap TV console for mine at Walmart (which was very nice for the money), but after a few months, I've decided to mount it over the fireplace.
---
| | | |
| --- | --- | --- |
| RE: How do you decorate around a big TV on a console? | | |
Here's ours:
The wall is 12 ft. long. We repurposed my mom's old henredon buffet, and it's been great. (Yikes, time for a new plant...that one is reminding me of The Little Shop of Horrors!)
---
| | | |
| --- | --- | --- |
| RE: How do you decorate around a big TV on a console? | | |
Jakefield-I feel the same way: I don't want to waste $$ on a piece I'm not even excited about. I have searched all the local furniture stores, but I need the piece in the next two weeks. I've actually settled on a couple of consoles at one of those stores that has everything in stock so we can pick it up. At $300-400 if I hate it in a few years I won't feel like I have to live with it because I spent a ton of $$ on it, and I'll use it elsewhere.

Maybe I'm just sick of the look, but those media wall systems just look so cluttered to me right now. I am bummed that I lost all my closed storage though. I've spent the last two days getting rid of the stuff I had stored in the old unit.

We have a wood stove on one side of this spot and a wall on the other. I guess I could push the console over a bit and put a plant on the non-woodstove side. Our old wall unit had doors that closed over the TV, but in our house it NEVER was closed unless I was home alone so I'm giving up on that idea.

I'm just hoping someone can post some pics that give me some good ideas for what to put around the TV. Do pictures over the screen look odd?
---
| | | |
| --- | --- | --- |
| RE: How do you decorate around a big TV on a console? | | |
My setup isn't perfect and may not apply if your TV is huge, but maybe it will give you an idea about how to not make the TV the whole focus of the wall. A few years ago when we got this TV, I looked high and low for an interesting/original/arty/antique stand that would fit in our space (limited because of fireplace on one side and a jog in the wall on the other), but I came up with nothing. This is just a shelf unit from Pottery Barn that was inexpensive and had lots of open space to fill with non-TV items. The baskets hold DVDs and other misc. Some people are spooked by our bunny mask from Venice, but we like him! I'm constantly switching around the other stuff on the top shelf. A while back I had a small collection of old globes there.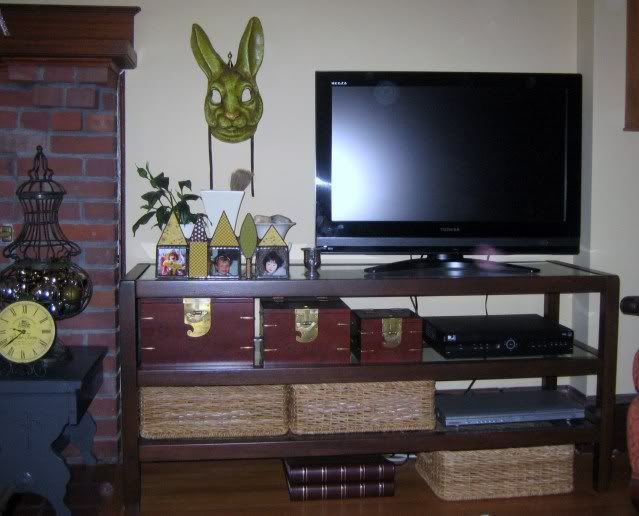 ---
| | | |
| --- | --- | --- |
| RE: How do you decorate around a big TV on a console? | | |
I was going to say-- it makes a difference, I think, which wall it is against. Ours is on the main wall, so it made it look bigger w/a full wall unit and dinky with just the stand. On a side wall I just would have used a console.

RE: clutter-- I hear you. Right now my kids are too little, but in the future I'll be putting doors on all the bottom shelves, so only the top ones will be exposed.
---
| | | |
| --- | --- | --- |
| RE: How do you decorate around a big TV on a console? | | |
Not a good pic (taken with cell phone), but it'll give you an idea of what we did. This is "office furniture" from our old house that wouldn't quite fit in the hew house's study. Glad we could re-purpose it since it was new Thomasville furniture. Our last home had a theater room with a HUGE TV (but it's in the bonus room of new house now), so the great room previously only had a plain old TV housed in an entertainment armoire. That old TV would've looked ugly and out of place on this piece of furniture, so we splurged on a new TV. So I guess we did it backwards---finding a TV for the furniture instead of the other way around.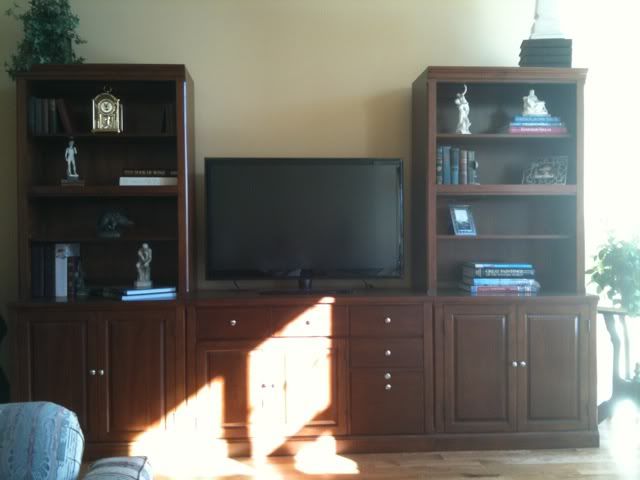 ---
| | | |
| --- | --- | --- |
| RE: How do you decorate around a big TV on a console? | | |
I didn't want a lot of clutter around mine. I didn't want to see the components in the TV stand either, so no glass doors for me. Finally found one at Home Goods (of course, I think they are going to crown me their Queen soon). But I don't have a good picture of it! It is about 6' long, my TV is only 1" thick and it sits on top of it. Very clean. We do plan on mounting it on the wall, but not too high, above the piece of furniture. This will help with filling the wall space, as you described.
---
| | | |
| --- | --- | --- |
| RE: How do you decorate around a big TV on a console? | | |
sueb20, I like how you placed your TV off center. I would never have thought of that, but it looks great, and provides a nice balance to the fireplace.
---
| | | |
| --- | --- | --- |
| RE: How do you decorate around a big TV on a console? | | |
Thank you for the pictures everyone!

jjam, I think we cross-posted so I hadn't seen your picture before my comments went up. You have about the same space we have but I have to be careful with what I put next to the wood stove.

Hmmmm, maybe I should check out Homegoods tonight.
---
| | | |
| --- | --- | --- |
| RE: How do you decorate around a big TV on a console? | | |
| | | |
| --- | --- | --- |
| RE: How do you decorate around a big TV on a console? | | |
It was great seeing pictures of what everyone has used. jjam, I think your repurposed buffet looks great. I wish I had something like that to use. If anyone has the latest Ballard Designs catalog, could you let me know whether you think either the Louis XVI sideboard (pg. 24) or the Dehavilland Console(pg 18) would work as a tv console. I'd like to find something along those lines (less expensive hopefully). Thanks for all your ideas and pictures.
---
Post a Follow-Up
Please Note: Only registered members are able to post messages to this forum.
If you are a member, please log in.
If you aren't yet a member, join now!
---
Return to the Home Decorating Forum
Information about Posting
You must be logged in to post a message. Once you are logged in, a posting window will appear at the bottom of the messages. If you are not a member, please register for an account.
Please review our Rules of Play before posting.
Posting is a two-step process. Once you have composed your message, you will be taken to the preview page. You will then have a chance to review your post, make changes and upload photos.
After posting your message, you may need to refresh the forum page in order to see it.
Before posting copyrighted material, please read about Copyright and Fair Use.
We have a strict no-advertising policy!
If you would like to practice posting or uploading photos, please visit our Test forum.
If you need assistance, please Contact Us and we will be happy to help.

Learn more about in-text links on this page here