Return to the Home Decorating & Design Forum
|
Post a Follow-Up
---
| | | |
| --- | --- | --- |
| Redoing a bookcase: Dark or Light? | | |
Posted by
magdiego
(
My Page
) on
Wed, Dec 12, 12 at 19:21
I have some older, oak bookcases in my living room I'd like to update, and I'm trying to decide between painting a lighter color, or gel staining a dark color.

If I go dark, I'm worried that the books, pictures and other tchotchke will just blend in with the woodwork (I'm having that problem with some built-ins in the family room). If I go light, I'm worried that the somewhat cheap bookcases will look even cheaper, plus the bookcases themselves will fade into the walls (a light beige-ish color).

I'd really like to keep them - they fit the space perfectly, and I'm not really in the mood to spend more money right now (just finished a kitchen remodel). Does anyone have any experience with this? Would it be weird to gel stain the exteriors, and paint the interiors? Does anyone have pictures of what that would look like?

Thanks for any help,

Mary
---
Follow-Up Postings:
| | | |
| --- | --- | --- |
| RE: Redoing a bookcase: Dark or Light? | | |
Well, I think it really depends on your room's overall decor. I have dark bookcases in a room where painted ones wouldn't look right; and I have white-painted bookcases in a room where dark wood wouldn't fit. Can you post pictures of the room?

You could do different things to jazz up the back wall of the shelves -- line with wallpaper, for example. You can find lots of examples online. I can't think of any time I've seen dark exterior with a white painted interior.
---
| | | |
| --- | --- | --- |
| RE: Redoing a bookcase: Dark or Light? Ps | | |
Check out the third pic down on this page -- I wonder if you could get this effect by staining the outside and the individual shelves dark but painting the back wall a light color?
Here is a link that might be useful: Houzz dark bookcases
---
| | | |
| --- | --- | --- |
| RE: Redoing a bookcase: Dark or Light? | | |
I had the same problem and decided to cover cardboard with fabric. Since this belonged in the family, I didn't want to repaint and it also gives options to change colors if I want. Don't look closely at my shelf arrangements!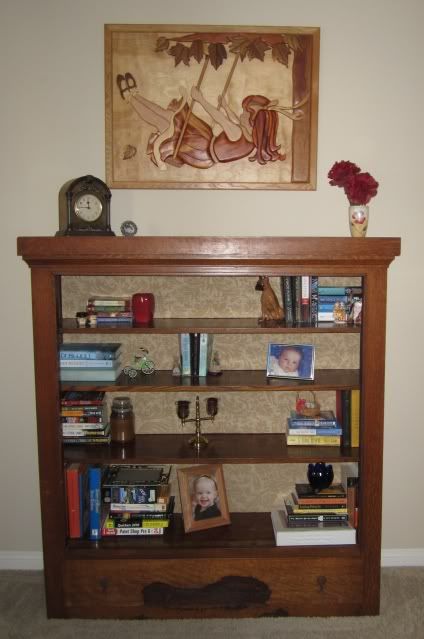 ---
| | | |
| --- | --- | --- |
| RE: Redoing a bookcase: Dark or Light? | | |
sueb20, here are some pictures of the room - they're from a few years ago because the room is pretty dismantled to get ready for painting. (We're changing the white walls to a light mocha color.) The first is from the entry (at Christmas time), the next from the dining room.

The curtains will most likely be replaced, not sure with what yet. Overall, I think we like a light feel, but with a lot of warmth. Does that make sense? We're also pretty casual people.

I'm somewhat willing to experiment with these bookcases. They were inexpensive when we got them almost 20 years ago from an oak/office furniture store (think 80's waterbed!).

Thanks again!
---
| | | |
| --- | --- | --- |
| RE: Redoing a bookcase: Dark or Light? | | |
natesgram, your makeover is beautiful! I love the fabric you chose, I wonder if I could try something like that...
---
| | | |
| --- | --- | --- |
| RE: Redoing a bookcase: Dark or Light? | | |
They look nice for cheap bookcases and seem to go with your overall furnishings. I think something like Natesgram makeover would look great. Once you have repainted and have new drapes, pick something to line the backs with that coordinates or contrasts with your new colors. Scrapbook paper is also nice to use in the back of cabinets. Someone did a china cabinet once in a black and white paisley.
---
Post a Follow-Up
Please Note: Only registered members are able to post messages to this forum.
If you are a member, please log in.
If you aren't yet a member, join now!
---
Return to the Home Decorating & Design Forum
Information about Posting
You must be logged in to post a message. Once you are logged in, a posting window will appear at the bottom of the messages. If you are not a member, please register for an account.
Please review our Rules of Play before posting.
Posting is a two-step process. Once you have composed your message, you will be taken to the preview page. You will then have a chance to review your post, make changes and upload photos.
After posting your message, you may need to refresh the forum page in order to see it.
Before posting copyrighted material, please read about Copyright and Fair Use.
We have a strict no-advertising policy!
If you would like to practice posting or uploading photos, please visit our Test forum.
If you need assistance, please Contact Us and we will be happy to help.

Learn more about in-text links on this page here