Return to the Home Decorating & Design Forum
|
Post a Follow-Up
---
| | | |
| --- | --- | --- |
| My New Mexican Christmas (Lots of Pics) | | |
Posted by
lynninnewmexico
(
My Page
) on
Fri, Dec 27, 13 at 19:20
Although I was raised on the Great Lakes of Michigan, DH & I have lived out here in

New
Mexico since we were married many years ago. But, as beautiful as they can be, I can still see the "foreignness" of our Christmases here and thought that you might enjoy seeing some of it.

New Mexico is a tri-cultural state, heavily influenced equally by Hispanic, Native American and Western/Cowboy cultures. And, the lines between them blur together frequently . . . which you get used to when you live here. We New Mexicans also love a lot of Oriental rugs and pieces you might pick up on travels to the Middle East. Seriously (LOL).

Anyhoo, here's the view out back: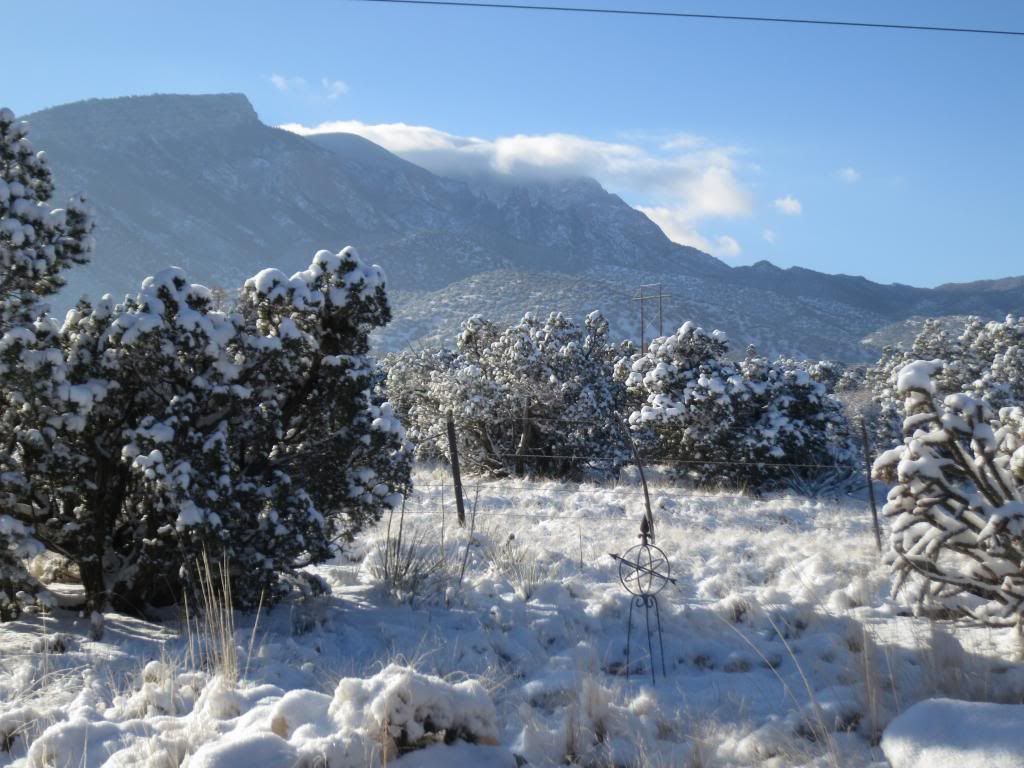 and out front, in one direction: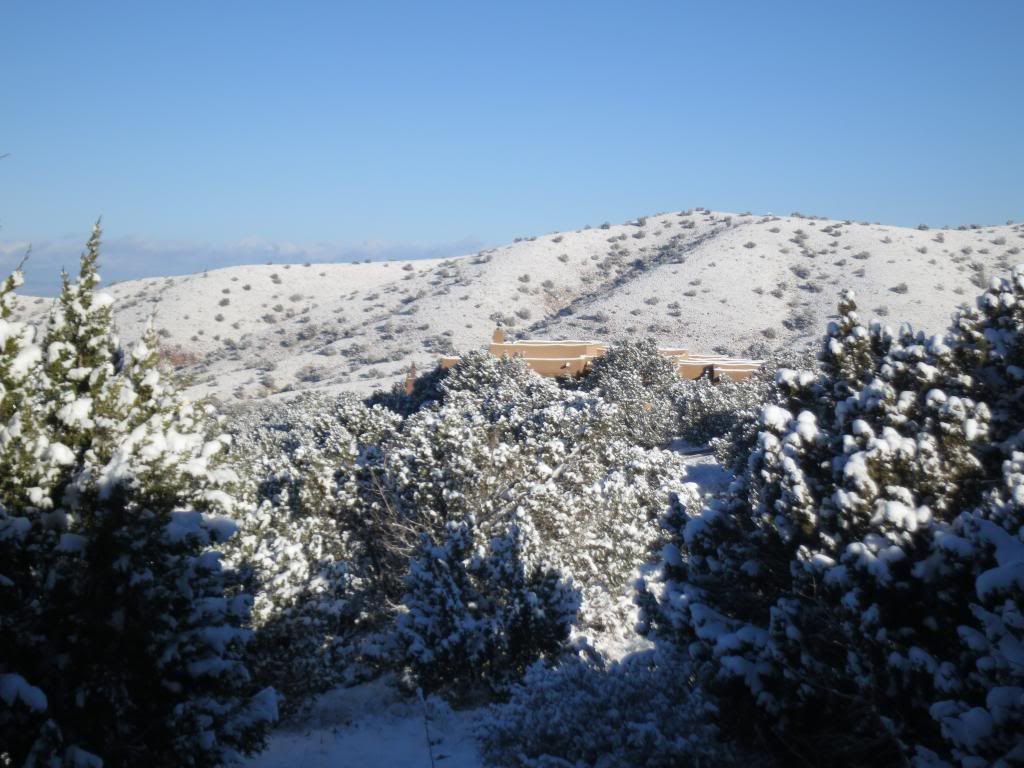 Our walled garden, which keeps out the deer
, rabbits and coyote. I have tiny white lights strung through the trees out there: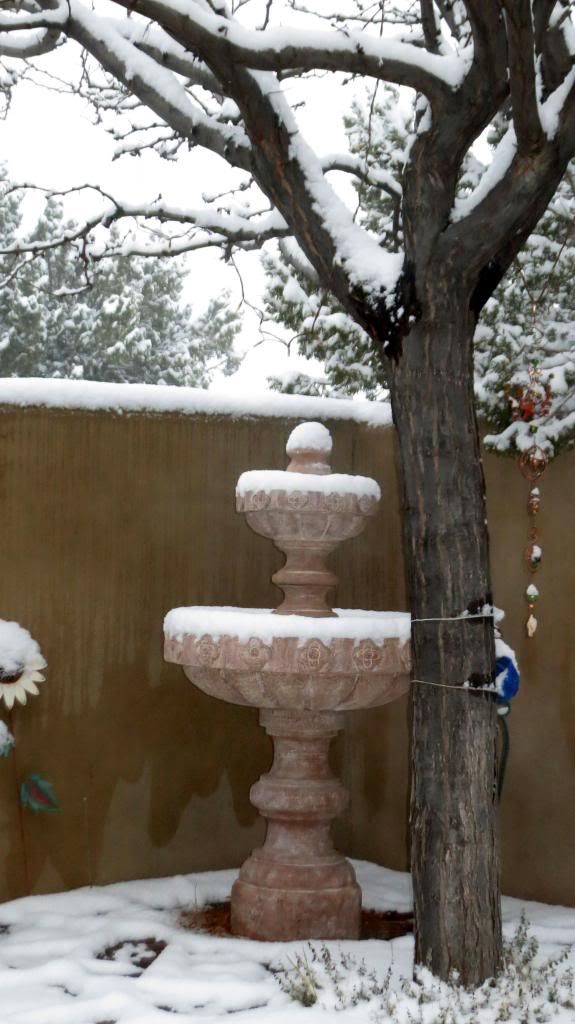 Our front door: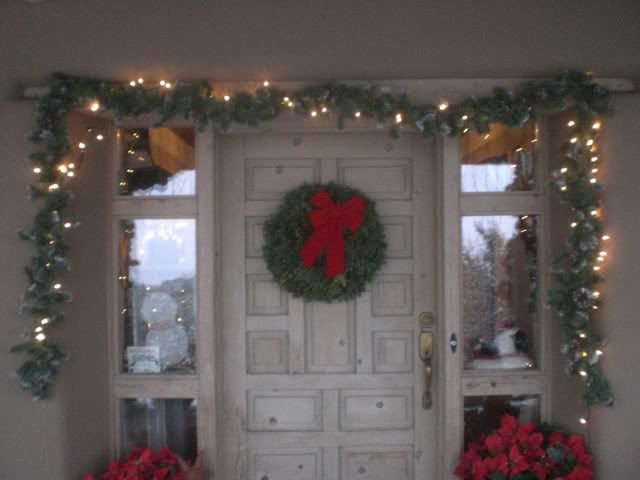 Our living room, with our main family tree:

The mantel in there once the reindeer is wired onto it so that it won't fall off onto our brick floor. I also decided to take the 2 paintings that flank the center one down, as they're more summery and looked a bit odd to me with our Christmas
decs: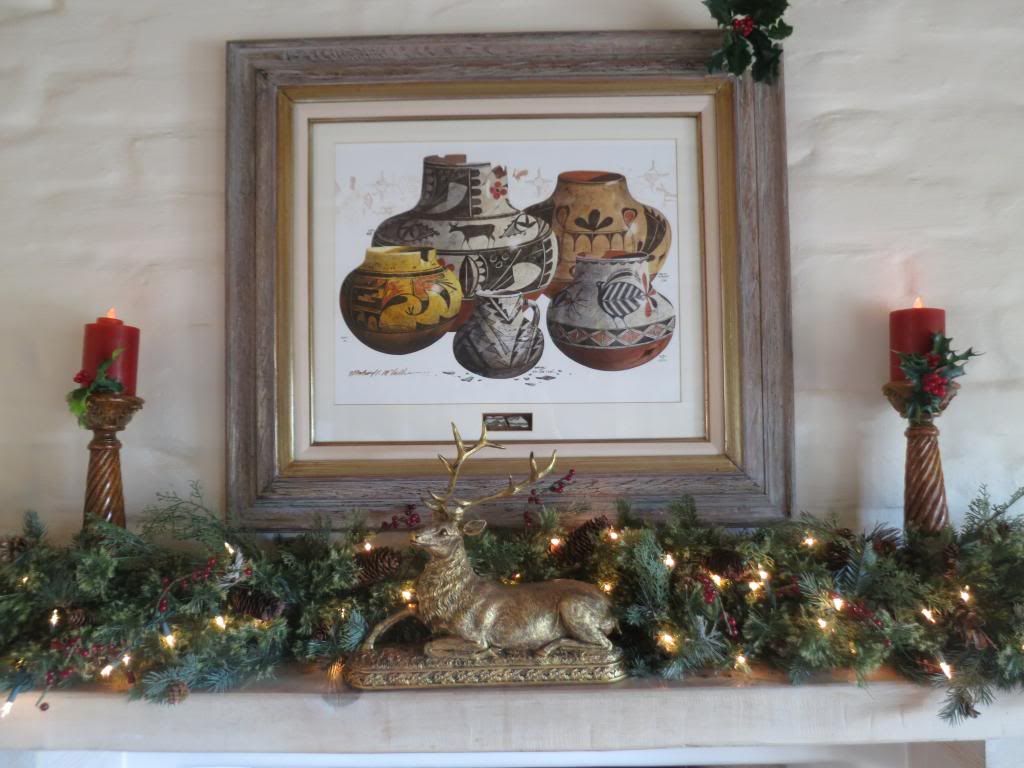 In a corner of the room, my beloved Western art chair gets a few rustic Christmas throw pillows. The sheepskin stays on it year round.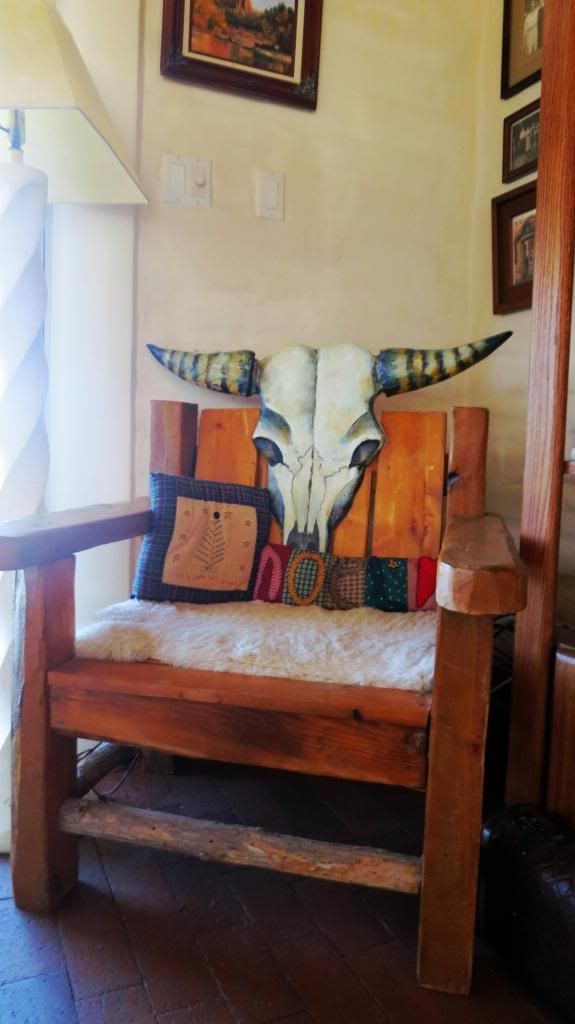 Next to it, our bookcase gets a greenery swag and a big pine cone. It's hard to decorate with this stuff!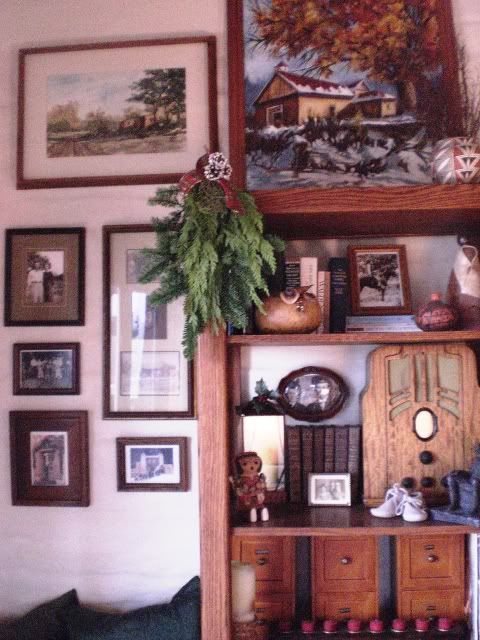 Still in the living room, but on the other side is our Syrian inlaid game table (I told you so-LOL!), closed up and decorated for the holidays
. The chairs are antiques, hand carved here in New Mexico. I think they look very good together:

We also have 3 other fireplaces, all of which are NM kivas. I like them a lot, but they're a PIA to decorate, as their mantels are curved and very narrow, while their chimneys are very tall. This is the kiva in our family room. (BTW, they don't all come painted. I just painted the design on this one about a year after we had this place built.)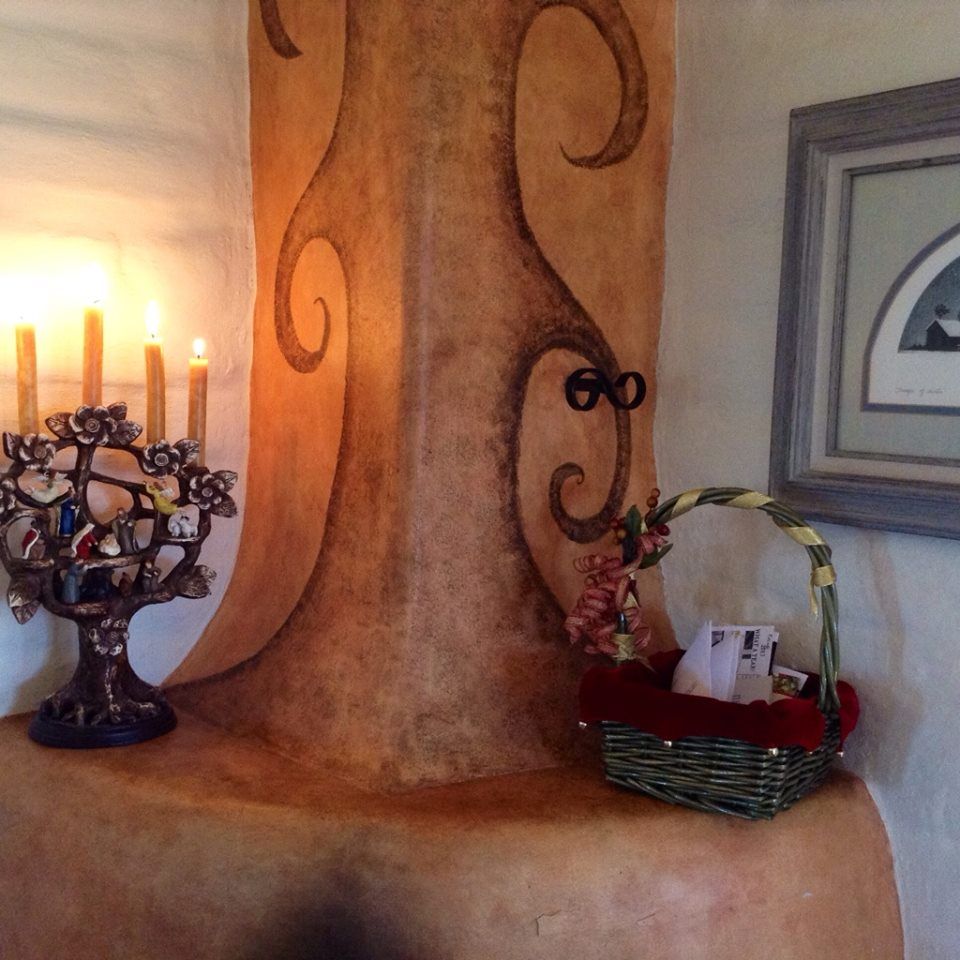 My little tree in there has a hand-carved angel on it: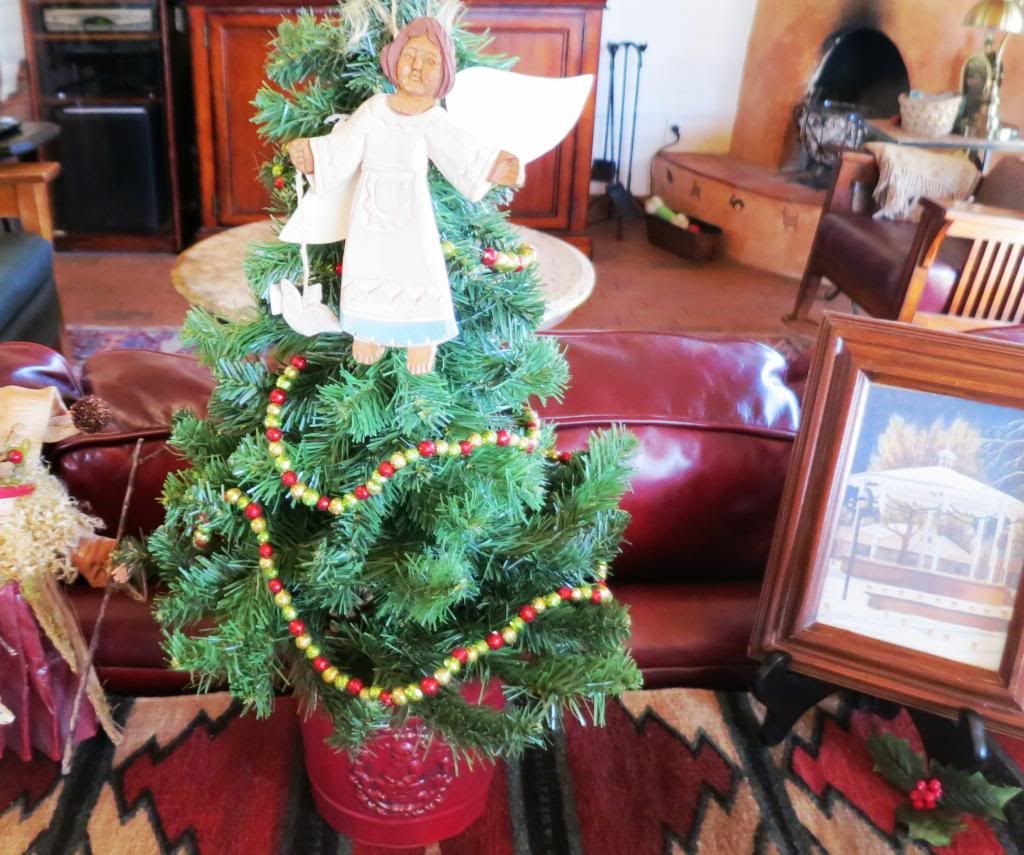 The main foyer has all NM art,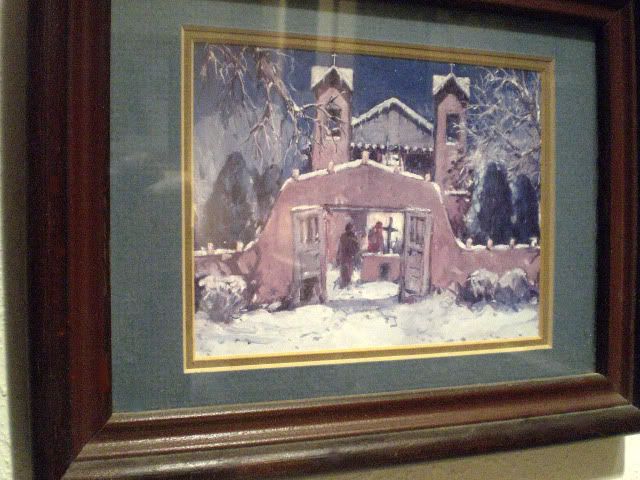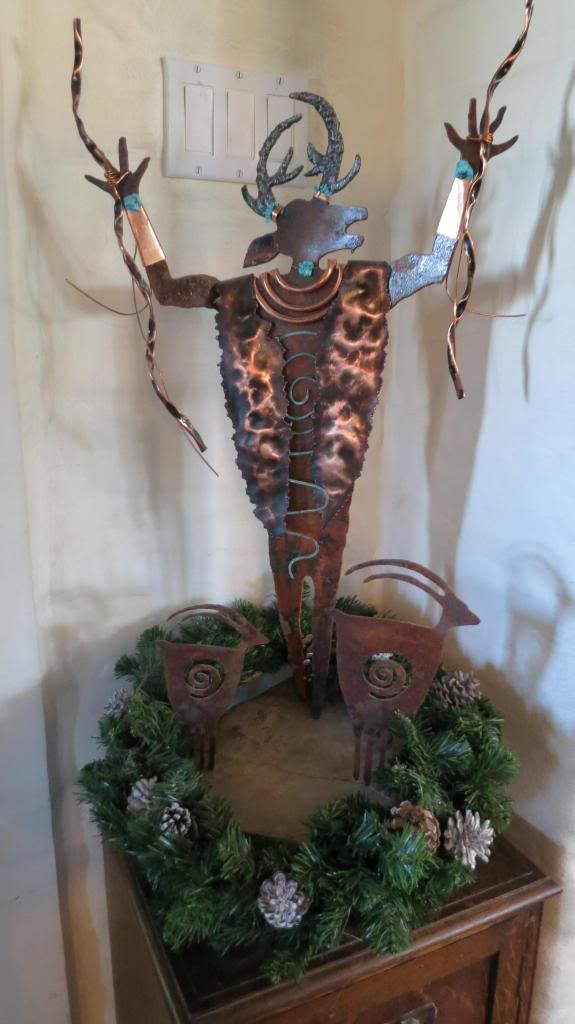 . . . but I still put up the traditional Christmas village I made in my Western hutch there. I also sewed the crewel art above it, both back before I got married and moved out here,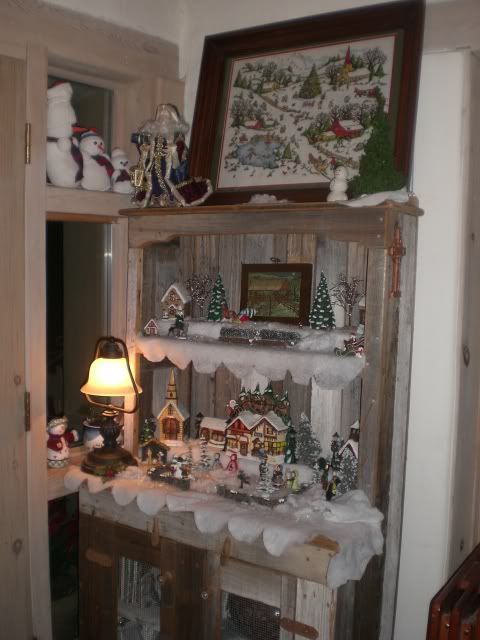 The guest room has most of my collection of horse art in it, with this being the centerpiece (by wildlife photographer Phil Sonier) that everything is decorated around:

Sooo, here is my one theme tree, a Western tree for this guest room: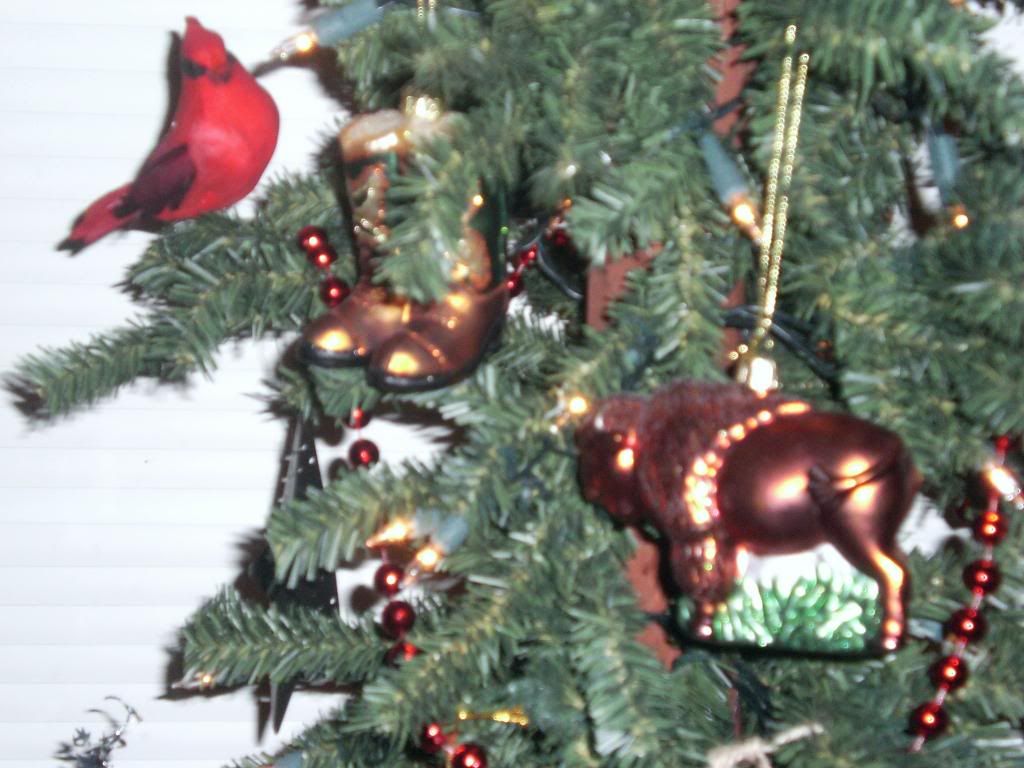 On the nightstand's lamp in there, I have a handmade shade we bought at a gallery in Taos. The old silver bolo tie is one of several I use around the house to decorate things. They stay on all year.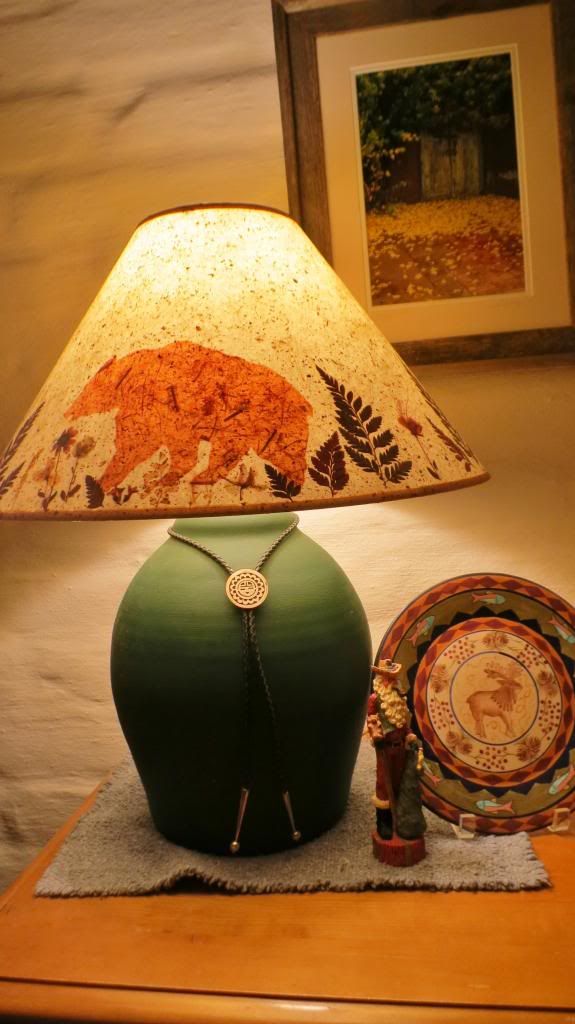 And the most comfortable reading chair in the world, also in our guest room. Love this chair! The doll, though, is there just for the holidays (LOL).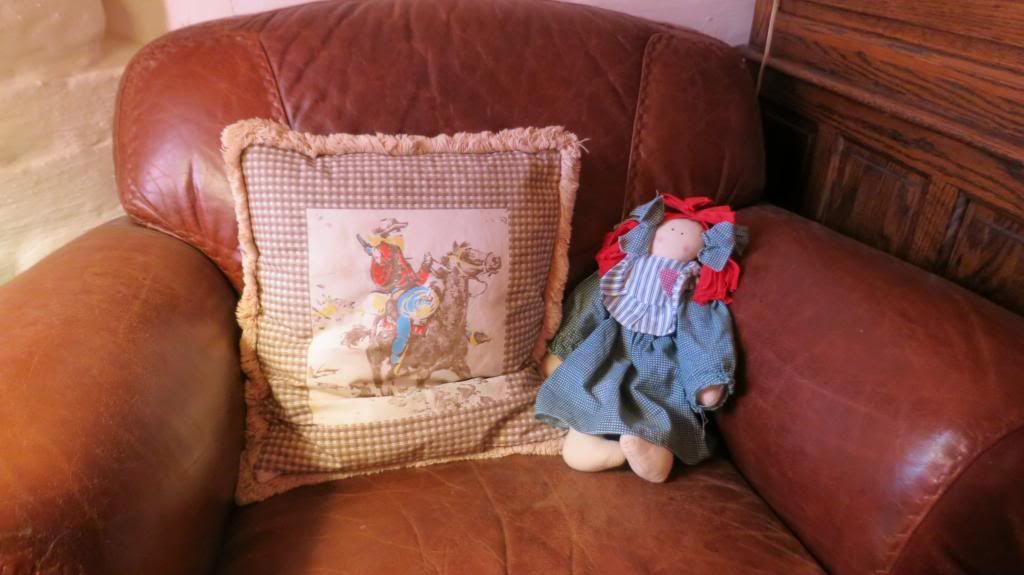 In our dining room, I decorate the wine cab (and elsewhere, too) with some of our collection of New Mexican Christmas books. These here are a few written by New Mexican author, Rudolfo Anaya, and illustrated by NM artist, Edward Gonzales. I love both of their work!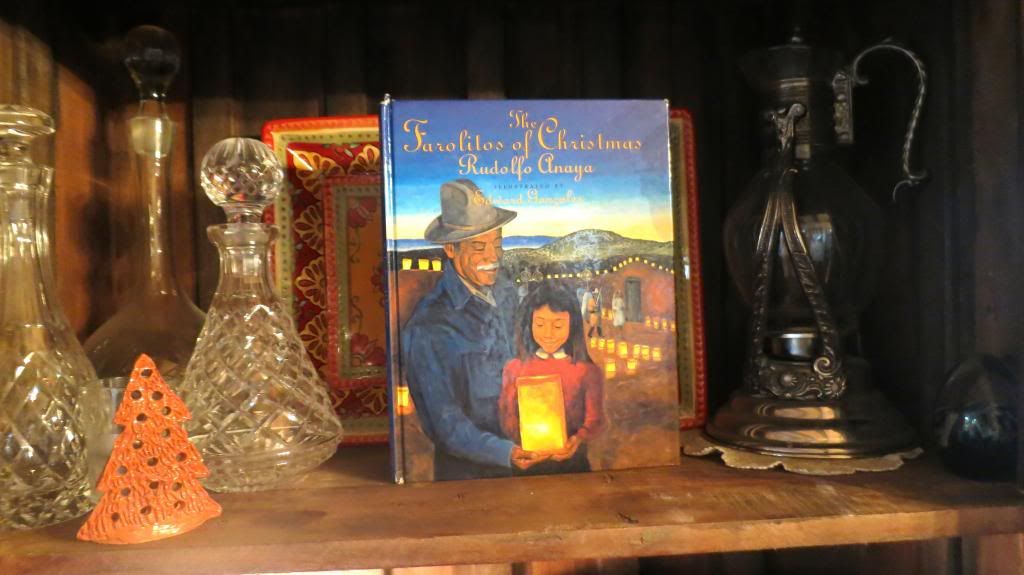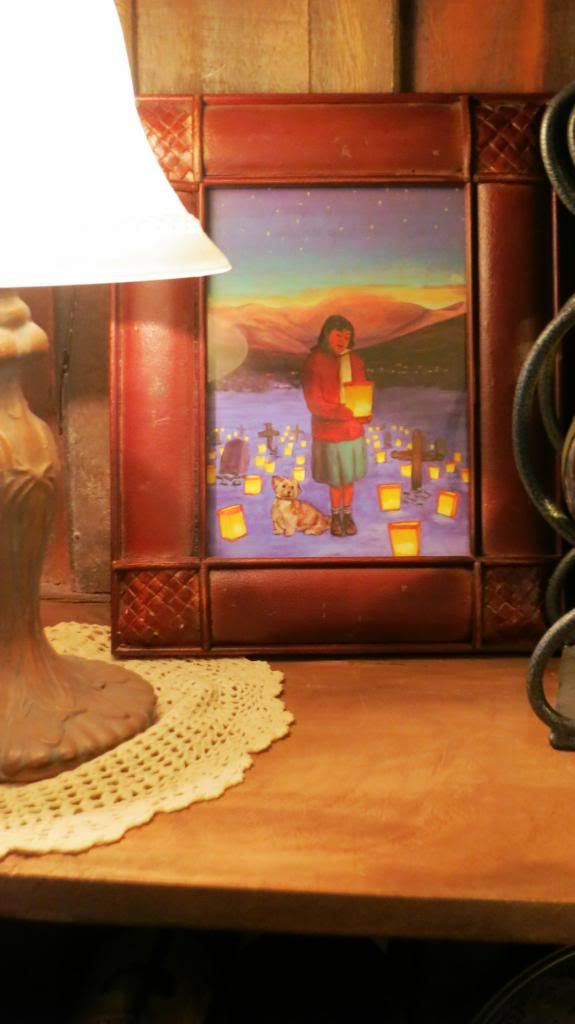 Sooo, this is where I've been cocooning these past two days. Relaxing and recuperating after our big Christmas Day
party here. Thanks for taking a peek at my home here in the mountains of New Mexico. The decorations are probably a lot different than what you're used to, but the Christmas Spirit
is still the same. Feliz Navidad!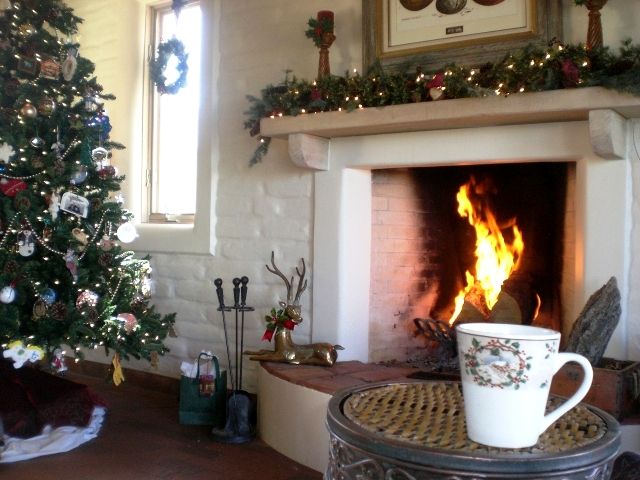 Lynn
This post was edited by lynninnewmexico on Fri, Dec 27, 13 at 20:11
---
Follow-Up Postings:
| | | |
| --- | --- | --- |
| RE: My New Mexican Christmas (Lots of Pics) | | |
Lynn, thank you for sharing! Very lovely and cozy. Love the kiva, the Sonier painting, and the--is it a shaman?--looks like he's announcing the Good News. It all makes one want to settle in and reflect and be content :)
---
| | | |
| --- | --- | --- |
| RE: My New Mexican Christmas (Lots of Pics) | | |
Yes, thank you for sharing! You have really embraced your surroundings, and it's beautiful...
---
| | | |
| --- | --- | --- |
| RE: My New Mexican Christmas (Lots of Pics) | | |
Another thank-you for sharing! All beautiful. I love the Southwestern look, and Native American art in particular. Quite a few walls of my house were once covered by Navajo rugs, but I sold them several years ago. You must be an artist yourself, judging from the kiva painting!
---
| | | |
| --- | --- | --- |
| RE: My New Mexican Christmas (Lots of Pics) | | |
So pretty!!! Thanks for sharing.
---
| | | |
| --- | --- | --- |
| RE: My New Mexican Christmas (Lots of Pics) | | |
Beautifully decorated!

I love your cocooning spot!
---
| | | |
| --- | --- | --- |
| RE: My New Mexican Christmas (Lots of Pics) | | |
You have made a lovely home and life in New Mexico, Lynne, and although it is far from your origins it looks as though you are very at home there! It is very different from what I am used to seeing at Christmas and that is why I like it---- all over the country and world, people decorate their own way but the same impulses motivate them. The desire to make our homes more welcoming in a darker season, to make them festive for gatherings of family and friends, and to remind us of our religious observances----- these are universal, and nowhere do you see a more spirited and joyous manifestation than here on GW. Thank you for sharing your New Mexican Christmas!

o<(:-)
---
| | | |
| --- | --- | --- |
| RE: My New Mexican Christmas (Lots of Pics) | | |
Lynn, as always your home is warm and welcoming and so unique. I love everything about it. Such a pleasure to be invited in. Thank you for sharing your home with us.
---
| | | |
| --- | --- | --- |
| RE: My New Mexican Christmas (Lots of Pics) | | |
I loved the tour Lynn! Your house is wonderful.

I would love to see the walled garden lit up at night. I bet it's magical.
---
| | | |
| --- | --- | --- |
| RE: My New Mexican Christmas (Lots of Pics) | | |
I love your house because it is so different from what I see here on the east coast, both northeast and southeast. Gorgeous! Those hand-carved chairs are awesome.
---
| | | |
| --- | --- | --- |
| RE: My New Mexican Christmas (Lots of Pics) | | |
I absolutely love this...if I won the lotto I think I might have to go in that direction!!! Thanks so much for sharing!!!
---
| | | |
| --- | --- | --- |
| RE: My New Mexican Christmas (Lots of Pics) | | |
Beautiful views an lovely home, Lynn! I so enjoy when you post pics.
---
| | | |
| --- | --- | --- |
| RE: My New Mexican Christmas (Lots of Pics) | | |
Thank you for sharing the pictures of your beautifully decorated home. I really enjoyed them.
---
| | | |
| --- | --- | --- |
| RE: My New Mexican Christmas (Lots of Pics) | | |
Lynn - your home is so warm and inviting and you've done a beautiful job of decorating. My Mother is from NM and when we were younger we used to drive there from PA every other summer to visit her family in Albuquerque, Clovis and Fort Sumner.

So it's a double treat for me to see your home in winter with all your holiday decorations. When I remember our visits I can only visualize NM during the dry, hot days of August.

Thank you so much for showing us your welcoming home!

Maire
---
| | | |
| --- | --- | --- |
| RE: My New Mexican Christmas (Lots of Pics) | | |
Lynn, thank you so very much for sharing your lovely home with us. I enjoyed it!
---
| | | |
| --- | --- | --- |
| RE: My New Mexican Christmas (Lots of Pics) | | |
I enjoyed your pictures so much. I would love to see more of NM. I did stick a foot in NM when I was at Four Corners, but that hardly counts!

Your decorations are lovely.
---
| | | |
| --- | --- | --- |
| RE: My New Mexican Christmas (Lots of Pics) | | |
Lynn, thank you for the 'open house' tour of your home. You have done a spectacular job decorating for the holidays around the lovely New Mexican decor in your home. Love it all.
---
| | | |
| --- | --- | --- |
| RE: My New Mexican Christmas (Lots of Pics) | | |
That was such an enjoyable journey through your home, I felt like I could see you purchasing this and that and arranging so it all became so appealing. I loved your artistic chair with the skull !!! Georgia would have loved it. Everything was wonderful. Thank you so much.
---
| | | |
| --- | --- | --- |
| RE: My New Mexican Christmas (Lots of Pics) | | |
I just love your home Lynn, beautiful all around. Thanks for sharing.
---
| | | |
| --- | --- | --- |
| RE: My New Mexican Christmas (Lots of Pics) | | |
it's all so lovely, I had seen your living room but getting the more thorough tour gives me a better idea !
---
| | | |
| --- | --- | --- |
| RE: My New Mexican Christmas (Lots of Pics) | | |
Love it Lynne! I would never be able to combine traditional w/ New Mexican flair as effortlessly as you!
---
| | | |
| --- | --- | --- |
| RE: My New Mexican Christmas (Lots of Pics) | | |
I'm so glad that you enjoyed pics of my New Mexico Christmas and thank you for all of your kind words. I'm very blessed to live in a place like this where I enjoy the traditions, people, food, art and architecture of a place so different than what I grew up with.

One of the most beautiful of our NM traditions are the farolitos (also called luminarias) that we line our walks, portals (porches) and rooftops with during this Christmas Season. Originally, they were thought to light the way for the Christ child on Christmas Eve. Over the years, though, It has become a huge and much loved part of our holidays. Whether we use the old traditional method of making our own using paper lunch sacks filled with a few inches of sand and then a white votive candle (I make my own this way) or the newer plastic, electrified ones on long cords, they can be found everywhere, including on the rooftops of our shops, hotels and restaurants. Here's 2 pics of them. The first is how Old Town Albuquerque looks every Christmas Eve. The second is of a typical home out here, though not mine.


Lynn
---
| | | |
| --- | --- | --- |
| Made by a NM artist,Mexican Christmas (Lots of Pics) | | |
Deedee:Thank you. Here's pic of my walled garden taken in the Summer at night with the tree lights on. We love it out there in the evenings when the weather is warmer. The tree in the pic is my Fraser's Photinia. Behind me and not in this pic is the Honey Locust by the fountain and a Japanese Maple, also with lights in them.

Bpathome: yes, it is a shaman, made by a NM artist. Love his work! I never noticed it until you mentioned it but, yes, he does look like he's announcing the Good News. I like that thought!
Thank you so much for your kind words Bestyears, Tryingtodecorate, Cat mom, Justgotabme, Irish2, Outsideplaying, Holly-Kay, TheFoxesPad, Mitchdesi, and Countryatheart.,
Alisande: I'll cherish that compliment!
Ice/Svava: thank you. You too, have a lovely and differently decorated home that I always enjoy seeing.
Dedtired: that's something I've never done. Someday maybe I can with a fun photo of it.
Gsciencechick: thanks! II actually bought them at a local consignment shop for $20 each about ten years ago. What a huge find for me that was!
Kswl: you sound like you're a writer . . . or should be. You have a lovely, eloquent way of expressing yourself. Thank you so much.
Autismom: out here, this look can be had for much, much less than you think. We are a state filled to the brim with artists and consignment shops. Thus, original art can be had for less than most of you would pay for a framed print elsewhere.
Yayagal: thank you! I thought the same thing the first time I saw it, too . . . a Georgia O'Keefe chair (LOL)! It was the grand prize at a big NM art show DH & I attended at least ten years and I won it! BTW, you sound like someone I'd have such fun shopping with. Wish you lived close by!
Maire: as much as I love my state, the searing heat of August is NOT the best time to enjoy New Mexico. October and the Christmas holiday time, IMO, are the most beautiful.
Well, again, thanks for taking the time to look.
Lynn
---
| | | |
| --- | --- | --- |
| RE: My New Mexican Christmas (Lots of Pics) | | |
lovely and so cozy and warm!!

my heart wasn't into decorating this year, so alot didn't get decorated- so nice to look at yours!
---
| | | |
| --- | --- | --- |
| RE: My New Mexican Christmas (Lots of Pics) | | |
So beautiful and it's clear you have decorated your home with love and care.
---
| | | |
| --- | --- | --- |
| RE: My New Mexican Christmas (Lots of Pics) | | |
How comforting to come back to Garden Web's Decor board after so much time and see the familiar name of lynninnewmexico (I see a few other familiar names in this post, too!).
Lynn, you've always had the magic touch to incorporate your styles beautifully!
Your home and gardens ..... Just as beautiful as ever!
---
Post a Follow-Up
Please Note: Only registered members are able to post messages to this forum.
If you are a member, please log in.
If you aren't yet a member, join now!
---
Return to the Home Decorating & Design Forum
Information about Posting
You must be logged in to post a message. Once you are logged in, a posting window will appear at the bottom of the messages. If you are not a member, please register for an account.
Please review our Rules of Play before posting.
Posting is a two-step process. Once you have composed your message, you will be taken to the preview page. You will then have a chance to review your post, make changes and upload photos.
After posting your message, you may need to refresh the forum page in order to see it.
Before posting copyrighted material, please read about Copyright and Fair Use.
We have a strict no-advertising policy!
If you would like to practice posting or uploading photos, please visit our Test forum.
If you need assistance, please Contact Us and we will be happy to help.

Learn more about in-text links on this page here