Return to the Home Decorating & Design Forum
|
Post a Follow-Up
---
| | | |
| --- | --- | --- |
| Front door color! | | |
Posted by
kburdick29
(
My Page
) on
Sun, Dec 2, 12 at 18:40
Hello! I just discovered this website-- awesome:) Wish I would have found this earlier in our building process!

I am trying to decide on a front door color. The house is very neutral (as you can see--but the trim around the garage will be white as well), so I know I want a darker colored door. One person recommended doing the same darker brown color of the shakes over the garage. Another said to do a darker brown, almost black, like SW Brown Fox. I also thought about trying to match the door to the darkest color rock in the front stone. Thoughts??

Thanks-- I really appreciate it!
---
Follow-Up Postings:
| | | |
| --- | --- | --- |
| RE: Front door color! | | |
I think a dark brown or grayish brown would work, but it would be more brown on an already neutral brown house.

Our home has similar colored siding and stone. The front door is a dark maroon. I like the color it adds and it ties in to the stone. I'll see if I can rustle up a pic.

ETA: here's a photo, but it was taken late in the day here and so the door looks very dark. Maybe I can find a better one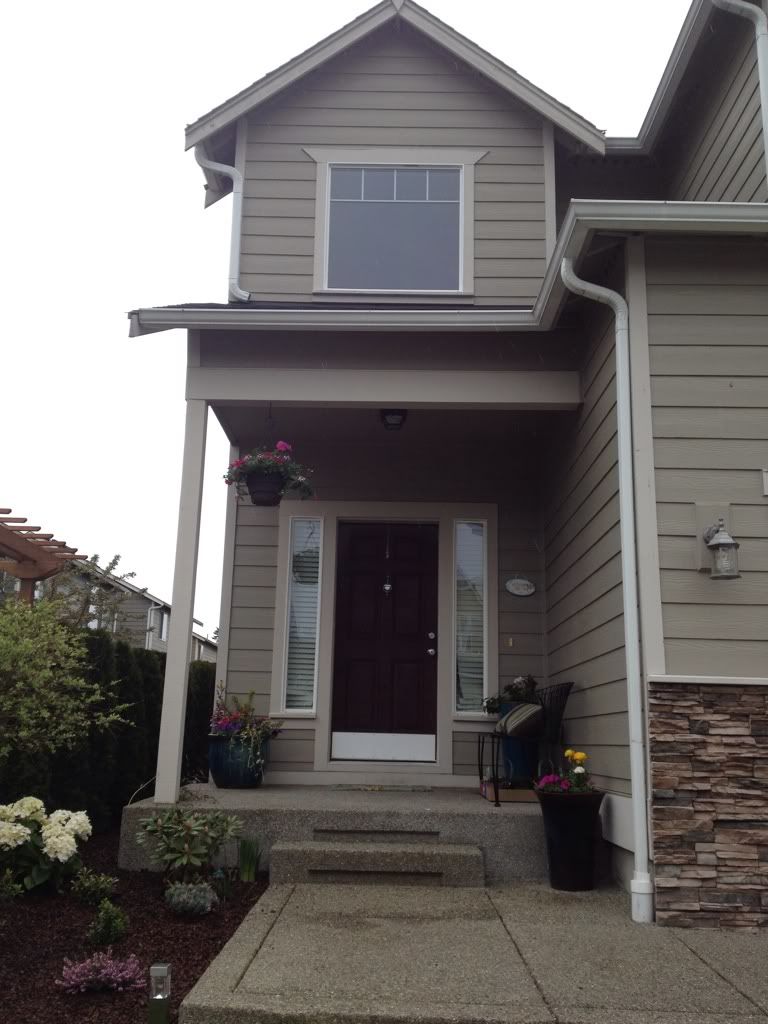 This post was edited by olivesmom on Sun, Dec 2, 12 at 19:13
---
| | | |
| --- | --- | --- |
| RE: Front door color! | | |
| | | |
| --- | --- | --- |
| RE: Front door color! | | |
THANK YOU for the reply! I kind of agree with having an actual color instead of more brown. I like the dark maroon-- any idea what the name was?
---
| | | |
| --- | --- | --- |
| RE: Front door color! | | |
| | | |
| --- | --- | --- |
| RE: Front door color! | | |
Kburdick- not sure of the color name but it is from sherwin Williams.
---
| | | |
| --- | --- | --- |
| RE: Front door color! | | |
I think an eggplant color would be pretty.
---
| | | |
| --- | --- | --- |
| RE: Front door color! | | |
Here are links to different color schemes for front doors. Also check out the deep red and maybe bright red
Here is a link that might be useful: front door colors
---
| | | |
| --- | --- | --- |
| RE: Front door color! | | |
I also have similar colors on my house and I used a very dark brown almost black color. I did have a kick plate on my door - but I removed it it made it too busy. I'm happy with my door color.
---
Post a Follow-Up
Please Note: Only registered members are able to post messages to this forum.
If you are a member, please log in.
If you aren't yet a member, join now!
---
Return to the Home Decorating & Design Forum
Information about Posting
You must be logged in to post a message. Once you are logged in, a posting window will appear at the bottom of the messages. If you are not a member, please register for an account.
Please review our Rules of Play before posting.
Posting is a two-step process. Once you have composed your message, you will be taken to the preview page. You will then have a chance to review your post, make changes and upload photos.
After posting your message, you may need to refresh the forum page in order to see it.
Before posting copyrighted material, please read about Copyright and Fair Use.
We have a strict no-advertising policy!
If you would like to practice posting or uploading photos, please visit our Test forum.
If you need assistance, please Contact Us and we will be happy to help.

Learn more about in-text links on this page here