Return to the Home Decorating & Design Forum
|
Post a Follow-Up
---
| | | |
| --- | --- | --- |
| Tole trays | | |
Posted by
sonicmom
(
My Page
) on
Wed, Dec 12, 12 at 18:27
I found a fascinating junk shop today (my favorite kind of shopping!)and bought two (more) large, hand painted black tole trays to add to my collection. I adore them, but already have some I can't display because of lack of wall space. I have a 1950s kitchen with two corner shelves for my beloved collection of vintage kitchen ceramics and trays. That's it. I need a bigger house. If we ever get around to remodeling, I'll try to plan kitchen space to hang my beautiful tole trays.
The dining room is another possibility, but I'm not sure.
Do you have hand-painted tole trays, and where do you display them? Any pictures? I would love to see them!

My other acquisition today was a vintage sewing machine table- nice dark oak, elaborate carvings and hardware, will make a beautiful side table. Much prettier than the 1940s cabinet I already have. $20.00, sold! I'd post a picture, but it's in the back of my car and I'm too tired to get it out right now.
---
Follow-Up Postings:
| | | |
| --- | --- | --- |
| RE: Tole trays | | |
Against the backsplash.

On table tops with the lamp sitting one them if necessary for it to fit.

Behind things on bookshelves.
---
| | | |
| --- | --- | --- |
| RE: Tole trays | | |
I'll try to get some of my pictures up. I need to really look at some of my old stuff and decide how much I truly love. A wall or border of tole trays would definitely add character to my kitchen.
---
| | | |
| --- | --- | --- |
| RE: Tole trays | | |
I have 2 that are in the glass-fronted cabinets in the kitchen.
---
| | | |
| --- | --- | --- |
| RE: Tole trays | | |
I knew someone who had a collection of them hanging on a wall in her living room. They didn't look out of place there at all.
---
| | | |
| --- | --- | --- |
| RE: Tole trays | | |
my3dogs is the tole tray queen; hopefully she will show you her collection. She displays and accessorizes nicely with them.
---
| | | |
| --- | --- | --- |
| RE: Tole trays | | |
Well, darn! I would love to share my tole tray pictures but Photo Bucket is acting up right now. I log in, and my album briefly flashes and the screen disappears. If I can get it figured out, I'll be back.
---
| | | |
| --- | --- | --- |
| RE: Tole trays | | |
Sonicmom, I hope you will post photos! Your kitchen sounds right up my alley and I would love to see! Sorry I don't have any suggestions to offer about your display dilemma. My house was built in 1940 and I'm right there with ya on having run out of space!
---
| | | |
| --- | --- | --- |
| RE: Tole trays | | |
I have mine on walls in my hallway and bedroom, on my dresser to coral stuff with my jewelry basket on top of it, on my coffee table to coral stuff, leaning against my backsplash, etc. I love them, and my collection is not limited to black. I have a beautiful dark sage green one, and a white one. I have plain and reticulated edges as well...but unfortunately I don't have photos. I even picked one up (more like rescued) at a garage sale. It's in horrible condition, but it is VERY heavy and large. I hope to be able to sand it down and repaint it some day. Right now it's ivory with gold (where you can see it). It has paint drips on it, etc...but I had to have it.
---
| | | |
| --- | --- | --- |
| RE: Tole trays | | |
Toleware is one collection I've escaped altho I do very much like it, especially the trays. ;D You might find a few ideas at the link below. IMO they can be hung on the walls of any room depending on one's decor. I expect tho that anyone who collects tole will find it fits their decor.

I have many silver holloware trays and have hung them on the wall, used them to hold vignettes and, of course, as trays to carry things to the dining table or for tea in the LR. Tole trays can be used similarly.

I'd love to see a pic of your sewing machine. Sounds as if you got a very good deal. I looked for one for years and finally found an antique (1904) golden oak Singer with lovely carvings and drawer pulls in fantastic condition but had to pay $180 for it. Still not a bad price for that age and condition I believe. I use it in the kitchen to hold a small flatscreen TV. The perfect juxtaposition of old and new! :D
Here is a link that might be useful: tole trays on Pinterest
---
| | | |
| --- | --- | --- |
| RE: Tole trays | | |
Mine are hung on the wall in the anteroom to our powder room, which also houses the bar (the anteroom, not the other...although now that I think of it...)

So they aren't prominently displayed, but I use them for serving drinks and hors d'oeuvres and coffee. You do have to be careful not to spill alcohol on the old lacquered ones, but I protect then with linens and/or little napkins. I use them all the time, and so far, no disasters.
---
| | | |
| --- | --- | --- |
| RE: Tole trays | | |
I have mine hung on the wall and use it ask a magnetic note/message center.
---
| | | |
| --- | --- | --- |
| RE: Tole trays | | |
I don't have any, but I know a woman who does tole work. Another friend of mine has had her paint trays and given them as wedding presents. She does a beautiful job.
---
| | | |
| --- | --- | --- |
| RE: Tole trays | | |
Thanks for the ideas and support for my magpie tendencies. I took pictures of my kitchen display shelves, but they were lost when I tried putting them on Photobucket. Just as well, because right now they might serve as a warning to people who cruise thrift stores, yard sales, and church fairs, in spite of limited space. You end up just sticking everything on a shelf. I don't have much time these days, but I hereby declare I will edit it all. Soon. And I promise pictures.

Luckygal, I wanted a treadle sewing machine for years, and a couple years ago, found one at the curb because someone was throwing it out. I got it in my car and got it home. The veneer on top was in sad shape, but the stand and the Singer machine inside were so beautiful. I did my best to refinish, and it's now on my porch.
This pretty oak one is in better shape IRL than in the pictures. There are a couple strips of veneer missing, but otherwise the finish looks like a Formby's project rather than a complete overhaul. My flash is making it look worse than it is, and my pictures highlight the missing veneer. I love the hardware on the drawers!
I always wanted one and now I have two! I definitely need a bigger house.




---
| | | |
| --- | --- | --- |
| RE: Tole trays | | |
I also love tole trays. In my last house I displayed many on the wall in the mudroom. I had beadboard paneling 2/3 up the wall, and the trays looked very pretty above that. I also displayed some mixed with other items on the top of an armoire as well as on the fireplace mantle. I used small easels when displaying on tabletops. We moved and are in the midst of remodeling the new house, so the trays are all boxed away. I think I'll use them in the mudroom again, as well as tucked into some the built in bookcases.

My3Dogs, if you're reading--I had the same problem with Photobucket. I finally decided to install the updates on my computer (Ihave a macbook pro), and that fixed it.
---
| | | |
| --- | --- | --- |
| RE: Tole trays | | |
I use Firefox, but went to IE and see that I can see my pics in IE, so to get a few here, I'll use IE for now. In Firefox, my front page of pics flashes briefly and is then gone - to a white screen with no way to change anything.

Here is a fav -
An OLD pic, but here are some -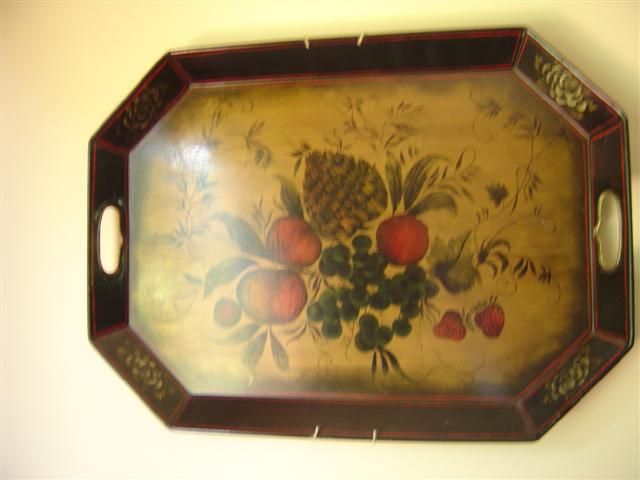 Assorted beauties, all from various eBay sellers -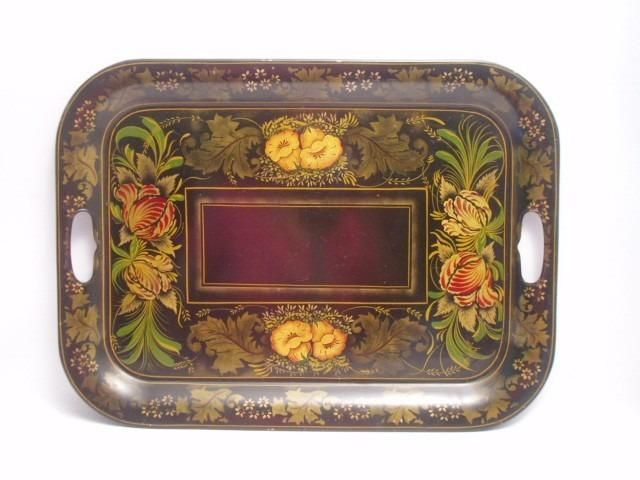 detail of the shell tray -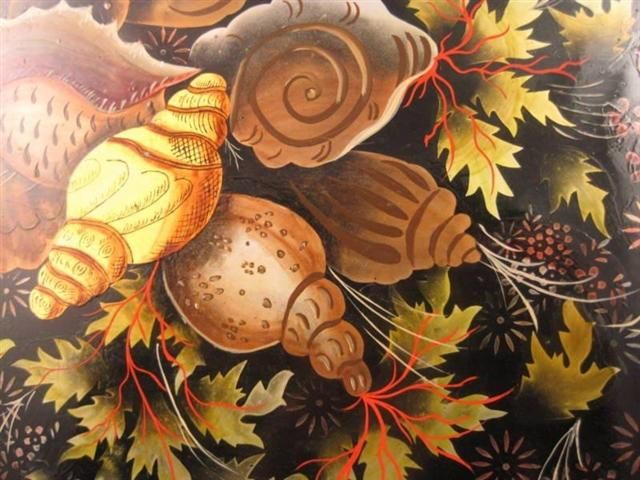 ---
| | | |
| --- | --- | --- |
| RE: Tole trays | | |
My3Dogs, your trays are so incredibly beautiful! I always love looking at pictures of your home.
---
| | | |
| --- | --- | --- |
| RE: Tole trays | | |
I love tole painting! In a series of painting technique classes that I took, Tole painting was one of my favorites.
---
| | | |
| --- | --- | --- |
| RE: Tole trays | | |
My 3 dogs, those are some of the most beautiful trays I've ever seen! Most of mine are floral, with a center rose arrangement. Some have reticulated edges, all are handpainted though probably mass-produced. Yours are really special.
---
| | | |
| --- | --- | --- |
| RE: Tole trays | | |
I'm so glad you enjoyed mine, as I do love them, and have been very fortunate to find some great ones. They aren't all shown, but I have a 'thing' for the metallic paints with fruit designs on black backgrounds. But when I saw that one with the shell painting - OMG! I live in Maine, and although they aren't the kinds of shells we see here, I had to have it.

After posting the pics last night, I headed over to eBay to see if there were any that I really liked, but there weren't. Good thing, as I have to rotate them in and out now!
---
Post a Follow-Up
Please Note: Only registered members are able to post messages to this forum.
If you are a member, please log in.
If you aren't yet a member, join now!
---
Return to the Home Decorating & Design Forum
Information about Posting
You must be logged in to post a message. Once you are logged in, a posting window will appear at the bottom of the messages. If you are not a member, please register for an account.
Please review our Rules of Play before posting.
Posting is a two-step process. Once you have composed your message, you will be taken to the preview page. You will then have a chance to review your post, make changes and upload photos.
After posting your message, you may need to refresh the forum page in order to see it.
Before posting copyrighted material, please read about Copyright and Fair Use.
We have a strict no-advertising policy!
If you would like to practice posting or uploading photos, please visit our Test forum.
If you need assistance, please Contact Us and we will be happy to help.

Learn more about in-text links on this page here