Return to the Home Decorating Forum
|
Post a Follow-Up
---
| | | |
| --- | --- | --- |
| Help me pick a kitchen good for resale | | |
Posted by
tradewind_64
(
My Page
) on
Wed, Dec 24, 08 at 16:14
I am going to be selling my house in the near future and my kitchen is gutted. There is nothing permanent in it but hardwood floors. Here's the thing: I have dramatically different taste than most people, and I DO NOT want to do the kitchen the way I would want it, as I know it wouldn't be suitable for most families.

The home itself is the ubiquitious split entry built in 1974, but it's in a much-beloved school district, and it's on one acre, which is rather rare for the area.

At any rate, these homes do not sell as quickly as a two story or a ranch (which are more rare in the area), but in this area, they still sell (no doubt due to the school district). They seem to be priced about $100k less than a house of the same footage that is NOT a split entry.

Now, since I'm going to be moving, I want to adjust what kind of kitchen I put in. I need a kitchen that will appeal to many people. So: What kind of cabinets, what finish of appliances, stove over the microwave/seperate, countertops, etc. Keep in mind that I would like to minimize costs, but only to a certain point...I mean, if everyone thinks there HAS to be granite/maple/stainless, I would put in the holy trinity (I myself would never pick any of the three, hence why I need help!!)

Just so everyone knows, it will not be helpful to me if you tell me that you would never buy a split entry (which happened on another site that I attempted this, LOL). I understand that some hate them and wish they would all burn to the ground, but the thing is, I have one, I need a kitchen, and I need to sell it. So take it from there, I know you guys can help :-)

I have looked at the MLS pics of the split entries in my area (Eden Prairie, MN), and the kitchens are all over the map. Besides, I don't know what the kitchens looked like in the ones that actually sold.

I guess I am thinking of a Pottery Barn/HGTV type kitchen...except I don't know what that is! It's a starter home, I will be pricing it to sell (if at all possible), so I need something that will look just so freaking lovely to buyers that they can't resist. Shiny black granite with halogens over it???

If you've read this far, I THANK YOU very much, and please send some help my way :-)

Joanna
---
Follow-Up Postings:
| | | |
| --- | --- | --- |
| RE: Help me pick a kitchen good for resale | | |
Do I win a prize for reading it "this far?" ;)

Will this be a DIY or contracted out? Can you post a picture of the house and den? IKEA cabinets are well made and nice looking......and inexpensive.
---
| | | |
| --- | --- | --- |
| RE: Help me pick a kitchen good for resale | | |
Well first...I would never buy a spli...oh we can't say that :OP (heh heh KIDDING!)

Ok so the basics, I'd do either wood or white painted cabs (wood will be cheaper) but don't cheap out and do thermafoil...it hurts resale. You could choose another color paint, but keep it light and high quality.

I'd do basic black granite (absolute or nordic) on either white or wood cabs, and if you can get a bargain, go ahead and do a marble on the island (if there is one). Simple shaker style doors, and keep all finishes in the chrome region (cheaper but timeless). I'd do a basic 3x6 white subway backsplash.

Show some personality with a pretty paint color. Boring won't sell.

Keep to the highest possible quality you can afford but within reason, given it's not really going to be "your" kitchen. I'd do stainless appliances in either kitchen. Stay away from white or black if you can afford it.

That sounds like a boring kitchen to me (and probably to you) but it's what 3/4 of my friends dream of. They sell well.

Now tell me...what's wrong with a split entry? :OP
---
| | | |
| --- | --- | --- |
| RE: Help me pick a kitchen good for resale | | |
Joanna - do you have a broker you know/trust, & if not, perhaps you could start interviewing some of them & ask them what's appealing to buyers in your area? That might be a good way to get 2 birds w/ one stone; find out the info you need & also get a good sense of who your most helpful agents might be.

It seems that stainless is still the most popular overall appliance finish, so I don't think you can wrong there.

Other than that, I would say a REALLY good layout, & materials with a good looking finish, no matter what the material actually is. Have you posted in the kitchen forum?

I really think that a lot of what sells has a regional aspect to it - what sells well in Podunk won't be quite the same as what sells well in Spiffolina, so keep doing your local research, & good luck :)
---
| | | |
| --- | --- | --- |
| RE: Help me pick a kitchen good for resale | | |
Oh sure, I will post pics! Let me go find my camera.

Allison, some DIY, some contract, it will depend on what we do!

Igloochic, you are an impudent minx!

Joanna
---
| | | |
| --- | --- | --- |
| RE: Help me pick a kitchen good for resale | | |
It would help if you go to some open houses, in your area, and see what the norm is for kitchens. Check to see if granite is pretty standard.

You don't want to over-improve, but, at the same time, you don't want it to look like a DIY job. Off the top of my head, I would say a medium wood for cabs, simple and neutral backsplash and a countertop that blends in with the rest. Can't get less offensive than that.
---
| | | |
| --- | --- | --- |
| RE: Help me pick a kitchen good for resale | | |
I am in the exact same situation as you. I have an apartment up here in BC Canada that was gutted, and that I need to sell. Here is what I am putting in for resale:

-white shaker style cabinets with lots of drawers
-medium level stainless steel appliances
-stainless steel wine cooler for bling factor
-Golden Beach granite counter tops
-Stainless undermount sinks and Hansgrohe faucet purchased off Ebay
-Kichler pendant lighting, new under the counter lighting
-Hardwood flooring in the kitchen matching the rest of the great room
-BenMoore straw hat paint color (a rich creamy color)

I am about 1/3 the way done installing it all myself; however, I think it will look really sharp and appeal to many people when it is done.

Goodluck!
---
| | | |
| --- | --- | --- |
| RE: Help me pick a kitchen good for resale | | |
I think igloo has described a very nice kitchen most people would be happy to have -- and one that can be personalized easily.

my 2 cents: make sure the functionality is good -- ample work space; task lighting; single bowl sink or a double sink with one bowl large enough for big pans; make sure doors don't bump into something when you open them.
---
| | | |
| --- | --- | --- |
| RE: Help me pick a kitchen good for resale | | |
I'm doing an under 20k kitchen next. We'll use existing cabinets, reconfigured. THey will be painted by the same artist who did a lot of the finishes on our house in a soft aged yellow (I have to work with a brick stove enclosure so I'm going country french). My money is going to the stove (aga) and the rest of the stainless appliances are pretty much middle of the road, aside from the fridge which isa built in by kitchen aid (I had to go with that or a subzero given the brick enclosure).

Now let me tell you a secret...don't tell anyone I told :oP

Function is less, MUCH less important in a for sale kitchen than it is in a real kitchen. Buyers look at basics and not to the actual ability to function in the space unless you do something obviously stupid.

One more tip....and I'll peeve a few people off, but when I see an IKEA kitchen, I offer much less for a house than any other type. They're cute, but they don't last. I don't care because I find gutting kitchens fun, but for resale, they will cost you more than you saved.
---
| | | |
| --- | --- | --- |
| RE: Help me pick a kitchen good for resale | | |
tradewind 64-

My taste is kinda out out there, and I would never have the holy trinity (love that) in my house either, and I don't think you need to put them in a soon-to-be-sold unit, in fact, I would advise against it, you want to set your kitchen apart, not have it blend together with all the other kitchens they have seen.

I would stay away from staggered height cabs, glazes, stainless appliances, French door fridges, "themes" (Tuscan, French Country, etc.), expensive backsplashes and extras like cutesy doors that say "Pantry" or faux finishes.

Thinks I think would work include the best cabs you can afford in a medium stain with no fancy crown molding or glazes (Shaker works with a lot of decor styles), walk in pantry, inexpensive cab hardware, faucet and lighting (no sense splurging on something so easily changed out and there are so many inexpensive and stylin' options on all of these), a great, workable layout for real cooking, lots of light/switches and good placement of same, mid-range appliances, stainless sink, laminate or BB counters (both affordable, popular and easy to care for), maybe an upgraded edge on the laminate, lots of windows, a bookcase for cookbooks and a place to eat, either a table or breakfast bar. Even tho I personally hate the MW over the range and having the range, DW, fridge and MW all match, I think in this application that's what I would do.

Good luck-

sandyponder
---
| | | |
| --- | --- | --- |
| RE: Help me pick a kitchen good for resale | | |
Oops moonkat, I didn't see your post. The only reason I am hesitant to ask a realtor is because they are going to want me to do as much as I can, whereas I think you guys can help me figure out what appeals to average buyers without trying to get a commission...I remember in my previous home, I had painted the front door a lovely plum color, and the realtor said REPAINT-IT-NOBODY-WILL-LIKE-IT, but I left it and sold the house the first day it was on the market. Ha! I'd LOVE to have that magic happen again...

parma42, I know I should go to open houses but I feel bad/guilty being a Looky-Louise and the poor realtors thinking they are actually getting a potential buyer, guess I just might have to get over that...

strud, your kitchen sounds great! Maybe too high end for my lil' house, though :-) I do like the idea of white cabs, mainly because I have wood floors, and god-help-me it seems that everyone wants granite, so that might be the right combo. But then I hear some people saying they hate white kitchens, and I never hear anybody saying they had wood kitchens, so...there is that...

awm, the kitchen we tore out, everything bumped into everything else when opened. Drove me nuts! I would also like a single big bowl sink, that's a great idea.

Igloochic, when you mentioned black granite, would you do the ultra shiny for the blinginess? Also, I hear you about the functionality being less important than the looks when it comes to resale. Which is good because the kitchen is not so big and it's hard to make it really functional without adding on.

We weren't planning on using Ikea, mostly because none of the finishes seemed right. With the hickory floors, the sample wood cab doors we brought home and compared it with the floor seemed like..."wood lite" or something....it was just a bit off. If we had concrete floors or tile I don't think I would have noticed so much. The white cabs are OK, but again I am torn about a white kitchen.

sandyponder, I definately do want to set my kitchen apart. We will have an eat in kitchen, as there is no dining room in this house. But what is "real cooking"? Is it lots of countertops? I am a one-cook household, always have been, and so my layout would be much different than someone who shares the kitchen with others...

Joanna
---
| | | |
| --- | --- | --- |
| Here are the pics | | |
Eating half of kitchen, there is no dining room. We just tore down the rotting deck, a new one is going up as soon as the weather gets warm enough. Wainscoting and trim will be removed (as well as my temporary TV that my wonderful DH hooked up for me).

The "kitchen half" of kitchen. Pieces in place are the temporary Varde units from Ikea that we put in so we could still eat here while we decided on a kitchen, it's all freestanding :-) The appliances came with the original kitchen, and we do not plan on reusing them for the new kitchen, as they are not in good cosmetic shape (although they work fine). Obviously the fluorescent lighting will need to go, but what to replace it with? Halogen? Recessed lighting?

Leave soffits for cabs? Remove soffit and have cabs go to ceiling? Remove soffit and have cabs have open dust-catcher space above them?

Empty wall seperating kitchen and living room. I felt this would be a great wall for a run of shallow cabinets for a pantry, but if I do that, there is not enough room for an island (not with the 40 rec'd inches around an island anyway). Original kitchen had nothing on this wall but wainscoting, and a peninsula.

What's your guts feelings? Remember this is not a high-end home, but I do want to sell it quickly, and I am willing to put a bit of bling into it to make it "feel" high end, if that makes sense. I don't care if it's uber functional, I just want it to be gorgeous and irresistable! Everyone has their own peculiar version of function--I know I do--so I don't really want to envision what that might be, but instead, appeal to the greatest number of potential buyers. I am completely divorced emotionally from this remodel, it is just to sell. The original kitchen was bad and it would not have sold the house in a tough market (the flooring was a nasty fake wood vinyl, oops, I mean faux boix flooring).
*whew* Thanks!
Joanna
---
| | | |
| --- | --- | --- |
| RE: Help me pick a kitchen good for resale | | |
I'll wait for your photos, and layout if you have. But just my 2 cents (from another split entry owner, no less...):

If you can, use a hood over the stove, rather than a MW -- looks more expensive. And if you locate MW lower, it has the added benefit of being safer (for short people at least). I think I'd jazz up the backsplash and the light fixtures. It's a bit of 'bling', like your plum colored front door, and helps set your house apart from the competition.
---
| | | |
| --- | --- | --- |
| RE: Help me pick a kitchen good for resale | | |
Joanne - just a note about visiting open houses - most DEFINITELY get over any guilt, lady!!!! I go to every single open house in my neighborhood, & just flat out tell them that I live nearby, & I'm just curious. Then I pepper them with questions about the latest in activity, etc.

I don't need to listen to a sales spiel, because they know I'm not buying, but they're nice to me, because I just might be a potential client some day. (& if I like them I'll take their card)

& if they're not nice, I know we won't work well together if I ever do need a broker. It's a win win situation :)

IMHO, honesty is (almost) always the best policy :)
---
| | | |
| --- | --- | --- |
| RE: Help me pick a kitchen good for resale | | |
As small as your kitchen is, I wouldn't use IKEA - I suggested it thinking you needed more cabinets and buying their boxes/using better doors from somewhere else or custom would save you some money.

I wouldn't do white cabinets. A medium wood cabinet with two different countertops - granite for the perimeter and wood for the island. I would not do black granite. It shows everything. Something with a little movement that will help hide crumbs, fingerprints, etc.

Taking out the soffit will make the kitchen seem larger and the top shelves can be used for storage of seldom used items. I dislike dust catching tops and staggered cabinets.
---
| | | |
| --- | --- | --- |
| If you can stand it, here are some pics of my competition | | |
I took a pic from every single split entry for sale in my city. Most of these are priced higher than I would price mine, but regardless, this is my competition. Eek. Mine has to stand out from everything else...
---
| | | |
| --- | --- | --- |
| RE: Help me pick a kitchen good for resale | | |
allison, what kind of wood cabs would you suggest with the hickory floors? They are medium honey stained but they have a pink undertone.

Joanna
---
| | | |
| --- | --- | --- |
| RE: Help me pick a kitchen good for resale | | |
OK here's what I'd do (and I do this a lot) :o)

Don't remove the soffits...they can cost a fortune FORTUNE when you find out what is in there. Instead, either leave as is, or disquise them (visit the kitchen forum and look at pics of soffits disquised as cabinets...its just a bit of wood and trim).

I'd rather see the money spent on getting rid of the sliding door and replacing with french doors if you can afford it. Make them a bit smaller and then add corner cabinets (hutch like) to each side of the dining area so you have more storage (which people look for).

On that shiny/not shiny granite issue. Let cost be your guide. Do eased edge (normally included) and no backsplash in the granite at all (the tile is cheaper and it's a richer look). If antiqued or honed granite is as cheap as the shiny black, get antiqued or honed, but normally the shiny stuff is cheaper and looks wonderful.

You don't seem to like white kitchens, so stick with cherry. Hickory and maple are very specific likes for many people, cherry is sort of a neutral and yet high quality.

You can get away with 36" for your island surround, but that still wouldn't allow for much of a hutch on that one wall....how about making it a feature wall with a big mirror or something?

Don't try recessed lights, they're too expensive to install including drywall work. Remove the florescents and put in a nice simple type of light...maybe even something on a bar with multiple lights you could focus in different areas of the kitchen??

Spend some money on a cheap dining table and chairs in a more traditional style, preferably round.

Do a beautiful centerpiece on the table.

Bowls of lemons and limes are pretty in the kitchen.

Your kitchen is small...so try to do a few uppers with glass to reduce the weight. I'd also agree that an inexpensive stand alone hood over the cooktop/stove is a better choice than a micro micro/hood. They look more expensive even if they're not.

You need to do some pretty scenic art around that table area to make it a focal point and a sales highlight. A rug wouldn't kill you :o)

Paint the room a beautiful earth tone, a soft green, pumpkin, yellow or gold. Trim all out with crown molding the same as the molding on the cabs (and I would do molding..it's a bling factor, just don't go nuts with it).

And now everyone can beat up my ideas :oP (But I've sold a lot of homes with formula's similar to this so take it for what it's worth).
---
| | | |
| --- | --- | --- |
| RE: Help me pick a kitchen good for resale | | |
imho, that's a lot of ordinary looking kitchens. Not BAD (well, maybe some of them....), just....ordinary. After seeing what's out there, I really think igloo & strud were going in the right direction. White cabs, stainless appliances, solid, darkish countertops (probably granite). And I would get rid of the soffit & cabs to the ceiling - looks like not many did that. If you can budget it in, glass doors on a top layer of cabs would really pop, but that might be too much.

To me, the kitchen with the white cabs & green trim is the only one that stands out from the rest - it has 2 of the holy trinity (white cabs instead of maple). Do it well & I think you could easily have your Wow kitchen!
---
| | | |
| --- | --- | --- |
| RE: Help me pick a kitchen good for resale | | |
Igloochic, ooh la la, I copied your post in Notepad and printed it out! If anyone can top that, I am a very lucky girl indeed :-)

I actually do myself like white cabs. That is what I would put in, if I were staying. Or a painted color. But I think here in MN most peeps prefer wood. Usually you only see white cabs if they PO has painted their '70's dark cabs.

And now to go read your post again. Slowly.

Joanna
---
| | | |
| --- | --- | --- |
| soffits | | |
Igloo beat me - & she knows a whole lot more about the cost of removing soffits than I, so scratch that lol!
---
| | | |
| --- | --- | --- |
| Questions for Igloochic | | |
1. DH is very glad to hear maybe soffits can stay :-)
2. Per french doors vs. sliding glass door...the area is not big enough to have a door swing open, at least not double doors. There is a chance that we could use a single door w/ fixed window panels to resemble french doors. If we had the french doors open outwards, like have the hinges pinned for safety reasons, than when it snows a lot the door could not open till the deck was cleared.
3. Black granite sounds good. I am relieved to be told what to buy because there are so many granites out there!
4.I like the cherry cabs.
5. Instead of an island, I could do a peninsula, like you see in many of the kitchens. But the island makes the kitchen look bigger. OTOH, with an island there is no seating, and no storage hutch or pantry along the living room wall. Which is better?
6. Per the bar lights...ceilings are only 8 feet, I am afraid the track type of lights (is that what you mean) would make it look even lower.
7. OK on the traditional dining set. I will hit Crate and Barrel for something nice when the time comes. Our dining table (which is in storage) is a reissue Saarinen dining table, and I think that is way too modern/retro for selling.
8. Agreed on the glass and the hood. Microwave should go where? In upper cabs? Lower cabs?
9. Yes ma'am on the rug :-) Anyone from Pottery Barn will do, right?
8. What do you mean, don't go nuts with the crown molding? Do you mean it goes around the whole room? I have never had crown molding, what would going nuts with it entail? (So I can be sure to avoid it).

Thank you! You have been an enormous help.

Joanna
---
| | | |
| --- | --- | --- |
| RE: Help me pick a kitchen good for resale | | |
Do you have a budget in mind for this reno? It's amazing how quickly costs add up in a kitchen - cabinets, appliances, plumbing, etc. - next thing you know you're pushing $30,000 even in a budget remodel. Especially, in this real estate market, I would focus on keeping your costs down to an absolute minimum.

I do think that medium tone wood cabinets would probably be your safest bet although white could work as well. I wouldn't rule out Ikea. The darker Liljestad door might be worth looking at with your floors as it will provide some contrast,is transitional in style, and doesn't scream Ikea.

Most of the kitchens you posted were fairly nondescript. While I don't think you should spend a lot on cabinets, a few little extras like glass doors, wine rack, crown molding, beadboard, etc. can really take the look up a notch.

You might check out American Woodmark (Home Depot)or Shenandoah (Lowes) cabinets. HD & Lowes are both having a 20% off sale on these cabinets with free glaze. They have a new maple Cognac finish which has a nice rich look without the expense of cherry.

Since this is for resale only, I might suggest simply picking a nice look from one of the major cabinet companies catalog (Woodmark, Thomasville, etc.) and just adapting it or outright copying it for your kitchen. This would save you a lot of time and decisions. These companies have invested quite a bit of money in figuring out what's current and attractive and pulling it together in their catalog displays. The Thomasville catalog even lists all the resources in the back of their catalog.

Also, while I like your island in concept, I think you might find that a small peninsula with stools might appeal to more buyers.
---
| | | |
| --- | --- | --- |
| RE: Help me pick a kitchen good for resale | | |
That empty wall between the kitchen and living room, is it possible to remove it or at least part of it? That would really open the area up.

Why are you removing the wainscoting and trim in the eating area. I wouldn't do black granite, too dark and everything shows.
---
| | | |
| --- | --- | --- |
| RE: Help me pick a kitchen good for resale | | |
You're certainly diligent about scoping out the competition! Virtually all are U-shaped kitchens, and no islands. So your island is probably a good thing. None of the competition shows a slide-in range. If youĺre aiming for a sleek look, a slide-in looks a lot better (but also probably adds $500 to cost). Competition shows DW, so hopefully you will have too.

It looks like you have no counter to the right of your stove. If you could squeeze in even just 15 inches of counter there, it would be useful, but more importantly, it would leave a finished edge to that side of the kitchen. I like the horizontal line of the open shelving a lot, but I imagine that will be replaced with closed cabinetry. Using light colored upper cabinets with darker wood below might retain that horizontal line and make the room look wider. Iĺd locate the MW in the island, possibly facing the dining area, if it fits. Iĺd add a wide, but shallow, wall-hung pot rack on the long wall, and maybe some shallow shelving as well if thereĺs room.


The hickory floor color looks different in kitchen vs dining area, probably due to different lighting. If you use fluorescent lighting in the kitchen, the soft white bulbs that are closer to incandescent in color. A nice pendant light over the island at level of current pot rack would look great, and be visually less intrusive. And perhaps four indirect sconces mounted on front of soffit (if thatĺs possible) in order to bounce light up to the ceiling. Prior suggestions to use a round (or oval) table and to retain the dining room wall trim also make sense to me. Iĺd add a curtain rod with side panels to the sliders.
---
| | | |
| --- | --- | --- |
| RE: Help me pick a kitchen good for resale | | |
OK..........don't take this the wrong way since I'm not trying to be rude, but why would you gut a kitchen before you know what you want to do with it and how much it's going to cost?

I think your budget will determine the type of materials you end up choosing so I'd suggest first laying out a budget and then price out cabinetry, DW, frig, sink and oven.

As another member mentioned, it may be to your advantage to get input from a Realtor regarding home/property value and what buyers are looking when it comes to kitchens in your area..........especially with the current market.
You mentioned some of the other listings are asking more than you would ask for your home, but wouldn't your home be worth more since it's sitting on an acre?
---
| | | |
| --- | --- | --- |
| RE: Help me pick a kitchen good for resale | | |
Just to clarify, as I am not sure if everyone understands,that nothing in the kitchen (except the floor) is permanent. We simply put stuff there for a temp kitchen. It was thrown together in 7 hours, and that included the trip to the Ikea store. The stove can go anywhere, the sink can go under the window as there is a water line already there...the shelves above the sink were like $60 and are very temporary. There is nothing in that kitchen that can't be out the door within a few minutes, so it truly is gutted.

happilady, I did consider that, but in the end, I just don't want to remove the wall, as that would make the living room and dining room one room, and it is my feeling that the space isn't big enough for that. I don't know how popular open floor plans are in smaller houses...and I don't want to experiment with this one :-)

mjlb, you noticed the same things I did, about the competition. I totally agree about the cooktop and oven being a much sleeker look. Yes, of course we will have a dishwasher (besides me, LOL)...I haven't been without one long and I miss it terribly. Also, what I meant by remove the trim is, we have replaced the trim elsewhere in the house, that is the old stuff, we have been using wider stuff in the rest of the house. We have also scraped all the ceilings elsewhere, the kitchen is the last piece of the puzzle.

Thanks to everyone who has helped me so far :-) Your insight is invaluable to me. If anyone else has any suggestions about what kind of a kitchen to put in place, I'd love to hear it :-)

Joanna
---
| | | |
| --- | --- | --- |
| RE: Help me pick a kitchen good for resale | | |
I did see a raised ranch with the wall happilady mentioned removed and it made a hugh difference in the home. They were able to put in a much larger island and it made it very different and appealing Raised ranch which I believe it what some people call a split entry. Come into a landing up a few steps, facing that empty wall with doorway. Or go down a few with family rm to one side and garage under the other. It was on a kit tour and I will say "everyone" was commenting how nice and different it was. They did have a support post where the wall ends. It did open the kit, din and liv rms.
---
| | | |
| --- | --- | --- |
| RE: Help me pick a kitchen good for resale | | |
Ooh, didn't know you had the option to change placement of things! In THAT case, definitely switch sink under window, and place range and decorative hood on back wall. You'll end up with more upper cabinetry, and it takes care of hiding side of range, too.

I keep thinking that maybe a 12-inch deep, full height cabinet on long wall would be a good idea. It would add a tremendous amount of easy-to-access storage, and since no drawers would be needed, it's not so expensive. Maybe leave a section of upper center without cabinetry to house artwork, or even a TV. But I wouldn't do if it prevents island or adequate walkway.
---
| | | |
| --- | --- | --- |
| forgot | | |
One other thing -- do you have a measured floor plan you could post? I'm assuming the natural division between kitchen and dining is now where the range ends, and there is only 3 or 4 feet until the dining room table?
---
| | | |
| --- | --- | --- |
| RE: Help me pick a kitchen good for resale | | |
If you rip out the soffit (depends what is in there) do so. I would move sink to window area. Put stove with hood where sink is. Move frig to where stove is. Put full height pantry cabinet where frig is now. Get rid of island and put upper and lower cabinets on blank wall. Use simply styled maple cabinets, medium stain. You can stay with standard 30" tall but a 36" tall will look nice. Get a quartz or Corian countertop if you do not want to get granite. Just some ideas for you.
I used to work as a kitchen and bath designer.
---
| | | |
| --- | --- | --- |
| RE: Help me pick a kitchen good for resale | | |
The only thing I will add to this is to consider using a black silestone, rather than granite. I've heard that a lot of the black granites are poor quality. Absolute black granite can be dyed and potentially turn gray over time. Check out the kitchen forum - there's always a lot of discussions about granite there. Another problem is that you never know when they are going to start making headlines again regarding radioactivity and granite. It may not be true, but can influence people's perception of it.
---
| | | |
| --- | --- | --- |
| RE: Help me pick a kitchen good for resale | | |
I like your hickory floors in your kitchen, the light you have from the sliding doors and the window over the counter. But it does need a lot of work and seeing those very plain kitchens in your area, I feel those Maple cabinets in that Cognac stain sound nice with stainless steel handles, a laminate looking granite with rounded edges, and new Stainless Steel appliances that are not high end ones would be nice. I would repaint the room a nice neutral color and change out that fluorescent light. If you are able to move the sink under the window I would do so. I wish I had a window in my kitchen above my sink.
---
| | | |
| --- | --- | --- |
| RE: Help me pick a kitchen good for resale | | |
Since you mentioned it is a starter home I would look at doing a few little things to make it stand out and not look like a starter home. In my area starter homes tend to be basic and not have things like crown molding or chair rails (like you currently have).

Crown and chair rail if you can DIY are nice little features that might make your house stand out vs. another starter home. Also first time homebuyers seem to really be wowed by things like granite and stainless so I'd say they are a good choice.

Although you don't seem to like white cabinets, I think in the small space it will make it appear larger and make the kitchen not feel as light if you used even a medium stained cabinet.

Do the island and maybe extend the long end out some so you can fit a single stool there. I agree it makes the kitchen look larger. You also save on cabinets. Corner cabinets for a peninsula tend to cost more.

Do a separate MW and not over the stove. It takes a little more space, but it will be cheaper. You can get a free standing mw for around $50-$100 and an over the range is generally > $300.

Does the refridgerator stay with the house in your area? If not I'd cheap out on that appliance and get a cheap stainless that you could use as an extra fridge in the garage or something in your new house since you don't like Stainless (I don't either).

Soffits - keep them, but as somebody else mentioned maybe trim them out with wood to make them look different and maybe as an extension of the cabinets. Easier if you go with a painted cabinet than stained. Some LuAnn to cover flat parts and then trim to cover seams and crown at the top and paint to match cabinets. There are some great examples of this in the Finished kitchens blog. You can do the same with stained cabinets, but will need to buy the supplies (trim and LuAnn panels), from the cabinet maker for the best match). Although keeping the soffits as is would be fine too, just not stand out the same.

You could with painted also buy unfinshed cabinets and paint yourself assuming you can do so without showing brush strokes and give a nice even finish. This would save a lot on cabinets as well.

Layout wise can you put the sink below the window and the stove with a nice hood above it where the current free standing sink is without incurring a lot of costs plumbing wise? I think it would make for a good standard layout that is very common.

For the sliders just leave them as is. Don't spend money there as long as they work properly. Since space is at a premium. FD would be a wow to a starter home buyer, but space generally is an issue too and they will open them and immediately see the issue when viewing the home so better to not highlight the space issue.

Some glass doors on cabinets would also be a nice feature, and I'd say a must if you go with a medium stain to keep things light.

Recessed lights are nice in an 8ft ceiling due to not making it feel lower, but do you have easy access to do it? Maybe a few, a pendant above the island and the sink.

You could probably save money on not doing a backsplash as well and just paint. However this kind of becomes one of those that if you can find cheap materials and DIY to add a little wow and make it stand out from others.

BTW why are you looking at only splits as your competition? I'd look at the kitchens of the others as well that fits the starter home category in your school district. Even though it is not a popular style a nice house even though split level that offers more than the others and at a lower price may sway somebody to buy one.
---
| | | |
| --- | --- | --- |
| RE: Help me pick a kitchen good for resale | | |
Gosh you guys thank you! I very much appreciate the help you are throwing my direction. I am off to the relatives today but I will answer your messages when I return this evening.

I hope every one of you has a most beautiful day and is surrounded by love regardless if this is a holiday you celebrate or not. Peace to all and again, my most sincere thanks.

Joanna
---
| | | |
| --- | --- | --- |
| RE: Help me pick a kitchen good for resale | | |
I read down as far as igloochic and want to agree with the french doors. I'm not great with cabinets or other basics, I'm better with the "appearance" of nice stuff. I would probably do whatever granite seems to be most in demand in your area, keep the cabinets reasonable in cost and bump up the ante with accessories. If people think about things long enough, they would realize that no matter how beautiful the dining set or the drapes, the elegance of the dishes and wine glasses on the table, or how gorgeous the floral arrangement in the vase, those things are not the things that make the kitchen. But many people just don't think that far ahead. That's why a lesser house with fresh paint and well arranged furniture and decor will sell faster than a better bones house that's scuffed up with dirty carpet.
Hopefully, the people here will give you a nudge to reasonable cabs and appliances, lighting and other basics. I say put in the french doors, a beautiful oriental rug under the dining table and spend a few bucks on a 4-pc place setting of china, wineglasses and a beautiful centerpiece bouquet for open house. If you could find a pretty dining set on craigslist too, that would be a coup. Make it all LOOK classy.

Red
---
| | | |
| --- | --- | --- |
| RE: Help me pick a kitchen good for resale | | |
In addition to all great advice you are getting here from GW I would talk to a variety of local brokers who know your market so you put your $ in the right areas of the kitchen. All of us live in different markets so definately check in with your local experts before making big $ decisions.
---
| | | |
| --- | --- | --- |
| RE: Help me pick a kitchen good for resale | | |
You've been given some great advice and I certainly don't have kitchen designing skills. I am looking at it from the perspective of - if this was my first home, knowing what I know now, what would I want. I understand that bling may be important for resale, but why leave your purchaser with a kitchen that functions horribly. I didn't have a ton of experience as a first time home buyer, and sure would have appreciated a kitchen that looked great and functioned the best that it could. I think you can achieve both.

If you had room for an island AND cabints along that blank wall that would be great, but since the choice is between a blank wall with an island that offers no seating OR a wall of upper and lower cabinets with a nice long expanse of countertop and peninsula, I would choose the latter, hands down. If this is a starter home, a peninsula with bar stools (if you go that route, make sure there is enough leg room under your overhang) are kid AND adult friendly. I prefer peninsula's that are one level - again, great for kids doing big projects and will also offer more space for big cooking projects. And in a small kitchen they are great for entertaining (without overhead cabinets!), serving as a hang out and buffet area. Peninsula's may be ordinary, but they are workhorses in a small kitchen. You can add bling with a couple of cool pendants over the peninsula.

A medium toned countertop seems more user friendly than black. Stainless steel appliances are neutral. I would also vote for stained cabinetry rather than white.

The sink should definately go under the window if you are able. Looking outside is nice when doing dishes.

As far as soffits go, if I was comparing 2 kitchens, one with soffits, the other that had extra tall cabinets all the way to the ceiling, I would be more attracted to the latter. Let's face it - people just have a lot of stuff. Cabinet and countertop space, imo, is REALLY important.

Well I hope with all that rambling, I said something helpful to you. :)
---
| | | |
| --- | --- | --- |
| RE: Help me pick a kitchen good for resale | | |
Check out this Pella slider, 2nd one down. I think this will add a lot to your space
Here is a link that might be useful: Pella Slider
---
| | | |
| --- | --- | --- |
| RE: Help me pick a kitchen good for resale | | |
eandhl, I am pretty stuck on not taking down the wall. It would add a large expense (it's a supporting wall), you would lose a wall that could potentially hold cabs, and I fear the "open plan" thing. I have read the threads that debate open floor plans and it seems that the majority who participate in those threads prefer seperate rooms. Now, whether that is the true majority, or if peeps who hate open plans tend to respond the most, well, I dunno :-) I actually pretended the wall was down, I was working at my island making a huge baking mess or whatever, and it bothered me that the delivery guy who was standing at the open door could see me cooking. I prefered a barrier to the mess. I would not mind an open plan if there was more room (the kitchen and living room are nearly identical in size, 12 X 19), such as in a large loft, but in this space...not crazy about the idea especially since this is for resale. If I were staying though, I might be tempted if I could get over the strangers-seeing-messes part :-)

mjlb, I like how you are thinking! That is the tendency I am leaning at this point, with shallow cabs on that wall. Big enough to hold a crockpot, but shallow enough to still find soup cans in the back. As far as the size...you are correct, the space between the natural kitchen division (which I'm using the soffits as my guide) is only about 4 feet. Maybe a bit less. The original kitchen had a peninsula with an overhang that went beyond the soffits. If someone were sitting at the dining table, and someone were sitting at the counter, nobody could get through that space. If I put in seating penisula, I have to make the overhange end where the soffits do. Which would work, I think the dishwasher and sink would fit on that wall even with an overhang.

threegrad, in addition to what you said you would do, would you also include a penisula in those plans? The kitchen is narrow enough that unfortunately it simply does not work to have even shallow cabs on the seperating wall and an island. *pout pout* If it were that would hands down be my favorite looks.

daisydare, I have Silestone in my bathroom and I love it. That stuff isn't cheap, either. At least not mine, it has little mica or mirrored peices in it, so cute. But I swear people think of granite and they think LUXURY. I myself roll my eyes about the whole granite lust thing that everyone I know has, but since this is for resale, I wanna do it right and get outa here to my new adventure.

lynn2006, I will def swap out the fluorescent light. As far as laminate, I myself truly like laminate as long as it's not a ghastly color...my plates don't chip when I drop stuff (which is more than I'd like), which is also the reason I love wood floors. And I don't cut on my countertops anyway, no matter what they are made of. But no matter how beautiful the laminate is, I fear that people will still react as "oh, laminate" and count that as a deduction, and I want to make my kitchen stand out from the competition :-) But that HD laminate is gorgeous, no?

lyfia, you have tons of great ideas. Let me address some of them. Yes, the appliance will stay with the house (I'm getting Northstar colored appliances in my new place *huge grin*).

I'm thinking the mw could go in the shallow cabs on the seperating wall. I would not put in a big one.

I am ITA that the island makes the kitchen look larger. I love islands, don't love penisulas. But in this kitchen, I am feeling that the penisula is making sense. It's just not wide enough to have shallow cabs and an island, and I feel the shallow cabs are necessary (I am learning so much about my space just be responding to all of you! It is really helping cement what will work and what won't).

See, I want to keep the soffits too, but I'm not sure why. My sister (pre remodel) had cabs that went up to ceiling height, and nothing was ever in them. Or it was stuff that she would never use. See, me, I just get rid of stuff like that. I would not love cabs to the ceiling. My other sister has a loft in an converted warehouse and her cabs, while not up to the ceiling (ha!) are very high. She says she feels the high space is useless. Now, that said, DH says there is no reason the soffit has to stay, since there is no pipes or such in there. Just for fun, I have to tell everyone that the builder of the home actually "popcorned" the edge of the soffit, to match the popcorn ceiling. Sheesh. Scraping has been a PITA but I swear it makes those eight feet ceilings seem taller.

Sliders/French doors: The french doors are a no go. In my kitchen they would have to be outswings, and in snowy climes this is a problem due to snow piles. So I am absolutely open to replacing the sliding glass door with something nicer, but it really has to be sliding. The space and climate just won't allow different.

DH says he can put in recessed lights. We have attic access, he did them in our entry. The hardest part will be deciding where the heck they should go.

The reason I only compared splits in my area is because that is really all there is. At the low end there are town homes, then starter homes are splits, then, I guess if you want, you can move up to an 80's-or-newer McMansion. We got A LOT of those, too. There are some ranches or two stories from the 70's, but they are priced higher because they are more in demand and much more rare. My entire city was most densely settled in the 70's, and split entries and split levels were built in massive quantities.

Ask any realtor, and they will tell you that some clients will say "I will look at any house in my range but a split entry". That may not be as much of a case in my city, as people with kids deeply desire the excellent school district. (The film Fargo pokes fun at peeps obsession with Eden Prairie having excellent schools. My DH jokes that excellent school districts mean that when the bored teenagers graffiti your garage, they spell things correctly). Eden Pairie has a rep for being expensive, which is why I believe that the split entries still sell well, as compared to other areas where splits are the last to go. I mean, here, that's what you get unless you want to spend a heck of a lot more, or live in a town/twin home.

Why don't peeps like split entries? I'm sure others will chime in here, as there are several gardenweb memebers who have stated their intense dislike of split entries, but off the top of my head: Small bedrooms, small foyers, not enough windows, and stairs. Peeps don't like stairs. I am in good shape and health so the stairs have never bothered me, and but it seems for many people nowdays stairs are an issue. So...my intuition tells me that my competition is the other split entries :-)

Red, yeah, I just wanna make it look nice! I am a firm believer in staging, so I am not really worrying about that part, I will hire that out to someone who does it for a living, passing along the good suggestions I have gotten here.

gwent, thanks for the suggestion (also to the others who have tried to guide me towards the realtors) but I feel I need to clarify that my goal here was really to see what all of the gardenwebers thought. Obviously I know I can hire industry experts to guide me, and that might be a good idea before breaking ground, so to speak, but this board is a wealth of information for me to tap, so I am using it to my full advantage. Everyone has an agenda, particularly people who stand to make money off of you, and I think more peeps would have greater success in many areas of life if they bounced ideas off of a huge network of more neutral parties before listening to the "experts". Does that make sense? Well, it does in my mind and that's what important :-)

roguevalley, I totally get you. I will NOT, I promise, put in a skanky but blingy kitchen that doesn't function. It's just that...function means different things to different people. I know peeps who hate the work triange. Others feel if there is not a prep sink, why bother cooking at all. For my sister, double ovens is an absolute must. Well, I can't please everyone, and may in the end please no one, because I don't even know who "one" is. My "client" is the masses who are looking for homes of my sort. So I really have to be basic here. But no, the open dishwasher or oven won't prevent you from standing at the sink, you will have more than 18 inches to mix up cookie dough, etc. I will try to make it as generically functional as possible, yes, but my goal is to include inexpensive but WOW elements, so as to rise above the competition. Hey, I do that no matter if I am interviewing for a job, having a party, or selling a house. There are things that one can do that have a bling factor that cost relatively little, and I am in search of those.

Indeed, I am leaning towards the peninsual idea, definately, because it fits "more" into such a small space. But I just can't understand why peeps want those uber tall cabs. How does anyone reach them? I mean, what the heck are ya'all puttin' up there? :-)

Def yes on trying to max counterspace. Agreed!

another_linda, the patio slider is lovely. I am all for swapping out the door for something nicer. The one I have is original to the house, it's a beigey-greigey vinyl and not attractive, not to mention horrid when it comes to energy efficiency :-)

*phew* I made it through. I feel much a much stronger sense of direction than before I posted. I feel...hope! There is a kitchen designer in my city who will draw up your blueprints and all the specs and what you want for $500 dollars, but I had to KNOW what I wanted before sitting down with her. Once that is done, I can figure out how much we can do and how much we should contract out. And then to sell it and be off to my new life...yay!

You guys rock.

Joanna



---
| | | |
| --- | --- | --- |
| RE: Help me pick a kitchen good for resale | | |
The peninsula does seem to be the most efficient way to add counter space and add'l cabinetry on the long wall. I was really resisting the peninsula idea, partly for aesthetics and partly based on your comments about how the original peninsula cramped the table.

SO, how about eliminating the peninsula overhang, and instead having bench/banquette seating on the other side facing the sliders? That way you need less circulation space around the table.

Or you could just stage it that way using something like a Windsor style bench with a back. Or upholstered seating. With some buffet lights on the peninsula, you could make it look like the best table in a nice restaurant.

If you were to do the built-in, I'd aim for the same furniture style and dimensions, and resist the urge to do an L-shaped banquette -- I think that would just be too much.
---
| | | |
| --- | --- | --- |
| RE: Help me pick a kitchen good for resale | | |
| | | |
| --- | --- | --- |
| RE: Help me pick a kitchen good for resale | | |
Depending on the sale prices in your area in this "interesting" market -- I would put in a fairly simple white kitchen with a simple black granite counter and white appliances (fridge, dishwasher, above-the-stove-microhood and stove. If you pick a darker cabinet color -- then get black appliances.

No bling but saleable.

Add a kitchen island in the middle with a pendant or two above it.

And a shorter run of full-length cabinets along the long wall for LOTS of visible "wow!" storage.

Add track lighting from Lowes Portfolio line.
---
| | | |
| --- | --- | --- |
| RE: Help me pick a kitchen good for resale | | |
I don't really have room for French doors in my LR either. We keep talking about replacing our 25 yr old slider, but I love the look of the French and they would just kill too much space. I loved the Pella slider that anotherlinda posted. We will probably do that.

When you start with one big thing that people don't like, (a split entry) you have to compensate with one big thing that they do like. It could be a simply gorgeous upscale kitchen, it could be the prettiest deck/backyard in the neighborhood, it could be a ton of light added by skylights or bigger windows/French doors, etc. I do think that a great price will be a big pull for your buyers. Just make sure that whatever you do will keep that particular drawing card available and I think you will nail this one!

Red
---
| | | |
| --- | --- | --- |
| RE: Help me pick a kitchen good for resale | | |
I have a small kitchen. Here's what I did to make it appear larger:
Removed the soffits and put in tall upper cabinets to bring the eye up and make the space seem taller.
Moved the fridge to the opposite wall so that you didn't see a big monster when you looked at the space. In addition, framed the fridge with the cabinet wood and put a deep cabinet over the fridge. Not only does the fridge look built-in, but the deep cabinet is perfect for storing oversized serving pieces,
Put in a narrow (15" wide) broom cabinet, in which I have a folding step stool to reach the tops of the upper cabinets.
The 15" width is ample space to store brooms, mops, cleaning supplies, buckets and the aforementioned step stool.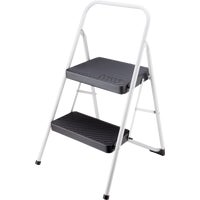 ---
| | | |
| --- | --- | --- |
| RE: Help me pick a kitchen good for resale | | |
We live in Andover, MN, so not too far from you. It sounds like our neighborhoods are a lot alike. We have a lot of splits too, walking distance to the schools. I just helped a friend move in to a huge house (4000+ sq ft two story). Her new kitchen is breathtaking! We both would just do a little dance in it because it was so awesome! Cherry floors, Solid surface countertops, stainless steel appliances and cabinets that reached to the ceiling in a dark brown finish (not sure what they are). An island completes the kitchen off.

When we started unpacking, we noticed that the cabinets are way too high and they are virtually unusable. We are both about 5'9" ish, so on the taller side and even so, those cabinets were too hard for us to reach. She and I both decided that ceiling height cabinets are a waste of money (in her kitchen) and would rather have had a pantry to store cereal and cans and other dry foods. She's got two sides of the kitchen with empty shelves and no room for cereal boxes.

I personally love the first picture posted from the MLS listings in your area and would feel very comfortable making an offer on a house with a kitchen like that. Pantries have always been a bigger "pull" for me than an island. I have an island now and hate it. It's way too big and everything gets lost and shoved to the back in it. I will be taking an 11 ft row of cabinets and putting in a pantry soon.

So in my "Minnesotan-land-of-splits" opinion, 1) Add nice cabinetry, uppers over the stove and uppers/base next to it. 2) add a peninsula with room for seating (please, no upper cabinets above it, closes the space off too much for me) 3) add a pantry, as large as possible 4) Solid surface countertops. 5)New appliances. 6) New lighting and 7) if at all possible, move the sink under the window. This will allow for more upper cabinet room on the fridge wall. I would do this before I removed the soffits.

Post pictures of your project! Would love to see the "Afters".
---
| | | |
| --- | --- | --- |
| RE: Help me pick a kitchen good for resale | | |
Please don't go too crazy with the cost. In an entry level home, most buyers are just happy to see a clean and updated kitchen. Based on your competition pictures, you could easily get by with some basic stock cabinets and laminate countertop.

We did this exact same thing a couple of years ago. Our house was an entry level 60s ranch style house with a horrible kitchen. We lived with that awful kitchen until we decided that we couldn't get what we wanted for the house unless the kitchen was updated. So we gutted the sucker down to the studs.

Everything was DIY except for drywall install, plumbing and tiling the floors. The cabinets came from a local lumber company that sold stock unfinished cabinets. The cost was less than $1500. I chose a laminate from HomeDepot that cost $350 and at first glance everyone thought it was granite. The light fixtures, Pottery Barn diningroom chandelier, Kohler faucet and sink came from ebay at tremendous discounts. I think the whole project including remodeling the diningroom (demo and turning large room into diningroom and small office) was less than $8,000.

We sold the house a couple hours after putting it on the market and I was told that the kitchen and the house being well maintained did the job.

The only picture I have of the old kitchen was the day we moved in. I wonder why?!

BEFORE:

Good luck and have fun!
---
| | | |
| --- | --- | --- |
| RE: Help me pick a kitchen good for resale | | |
Soffits, like our sliding doors are big "dated items". Have you looked at french doors that open either way? (We're putting one in our dining room next summer).

Quit worrying much about function. Believe me, the average purchaser does not look at that enough, none of them do. I don't mean that you should make it rediculous, but think of looks before function...you're not attempting to sell to your mother...so quit planning for her :oP (Or someone else you like heh heh).

The reason I say black granite is it's bling factor and it's cheap. It looks much nicer than the chinese black and white granite. Personally...I've had it and hate it LOL but remember, you just need an initial WOW and you don't have to dust the stuff :o)

If you put in corian, take that mount off the sales price...really, it will cost you.

One thing that stands out in the above kitchens you shared with us is the fridge. You will reap the costs of recessing a fridge, or buying counter debth double immediately. Often that's the difference between a "high end" and low end look. Those freaking monsters sticking out.

Honey if your DH is handy, absolutely do recessed lights and have him do a recessed fridge area oh and get rid of the soffits! Since you know there is nothing in there. In a small kitchen, the APPEARANCE of lots of storage is more important than the fact that "you" don't want to climb a ladder.

By the way, I have to the ceiling cabs and took out soffits. It's amazing how much that kills the 80's look immediately. And I do use the cab space on top. All you do is get a kick stool...but again, YOU DON"T CARE!!! You just want to sell the house :o) Always keep that in mind!

On the crown molding and not going crazy with it :) Use a simple 3" or so crown. I wouldn't want to see say a six inch crown with lots of detail. It would overwhelm your space. My crown is very simple, but it does add a nice detail...it's often the diference between "luxury" and the perception that's it's "Builder" special.

(Crown example):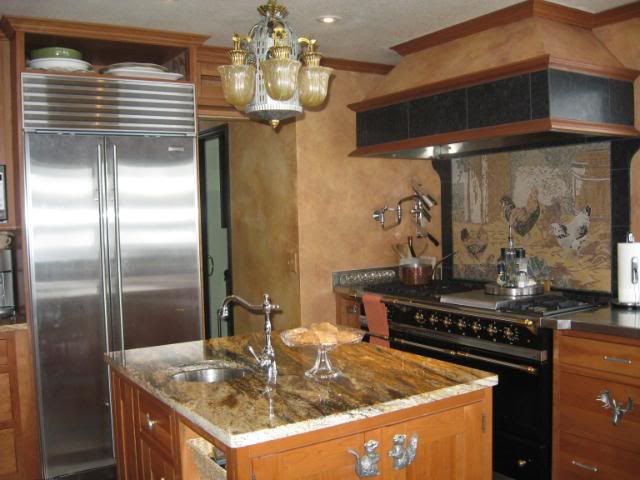 And or a good example of me being cheap....Here's a pic with my microwave. We don't "microwave" much, but every kitchen should have one. This one was on sale for about 75. It's 14" deep (counter top variety) and we just added trim to make it look built in (which you could do on that stoarge cabinet wall pretty easily!)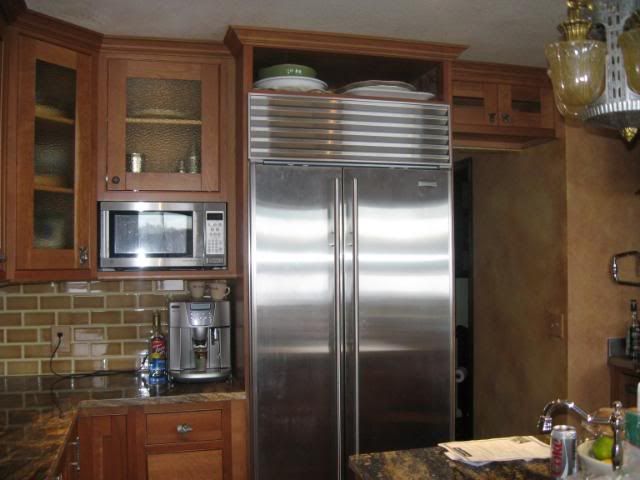 ---
| | | |
| --- | --- | --- |
| RE: Help me pick a kitchen good for resale | | |
There are so many brilliant ideas here so I'll just speak from the standpoint of what sends me in a kitchen when I actually go househunting. Everything igloochic said, except for three elements: personally, my heart goes pitter patter when I see RAISED PANEL cabinet doors, warm granite in a medium chunky brown (not the boring itty bitty brown the builders use, but something that's really pretty and in the warm browns, tans, with a bit of grey and maybe some gold), and either a nice ogee edge or a square edge. No bullnose.

And french doors send me way out there as far as a love-it factor, so I'd say do it if it's possible -- even if it is a sliding french door with the panes just to get the look.

I also agree that for a sale, function (as in many drawers) is not that important. We just bought a new house a year ago and I did not notice the functionality of how many drawers there were (not) till we moved in. People deal with it. I had a pull-out garbage installed for myself, and may have a bank of drawers put in as well.

In the house we sold I'd redone the kitchen with functions galore, and nobody seemed to notice!

If you go look at brand new model homes, you will probably get a good idea of what "the look" is that people drool over. You are really doing your homework, I know you will have success!
---
| | | |
| --- | --- | --- |
| RE: Help me pick a kitchen good for resale | | |
My friend used American Woodmark maple cabs for her low budget kitchen remodel about 5 years ago, and they still look great. She got lots of drawers and dividers and such, oil rubbed bronze pulls and knobs, plain subway style backsplash and a laminate counter top. She spent about 6K total, although her husband installed. I would do something like that with inexpensive uba tuba granite and you will have something much nicer than the competition.

I have uba tuba granite myself and LOVE it! It's a classic for a reason :)
---
| | | |
| --- | --- | --- |
| RE: Help me pick a kitchen good for resale | | |
I am not a seller, or buyer for that matter, but thought I'd share our experience for whatever it is worth. My husband had to sell his mom's home. It sat on the market with lookers, but no buyers for about a year. One time the realtor accidently turned off the heat in the winter, the pipes burst in the kitchen. The kitchen had to be gutted due to water damage so we took it off the market with plans to take care of the kitchen. Within one week, husband recieved a call from someone wondering why the house was off the market. When that person learned the kitchen was gutted, they bought the house right then. They say it as a plus that they could fix the kitchen however they wanted. The price was adjusted for this, but it actually was the best situation for all of us. Just something to consider. Best wishes.
---
| | | |
| --- | --- | --- |
| RE: Help me pick a kitchen good for resale | | |
but something that's really pretty and in the warm browns, tans, with a bit of grey and maybe some gold)
fyi, Golden Leaf granite has all of the above.
---
| | | |
| --- | --- | --- |
| RE: Help me pick a kitchen good for resale | | |
Finally, ezbake has said what I wanted to say and even has personal experience to back it up. I hate being the "odd (wo)man out" and giving contrary opinion that may not be what the OP is asking.

I would really consider selling the home "as is" without a finished kitchen. It would be a plus for many buyers to put in their "dream kitchen".

You may not recoup your money on a massive kitchen remodel in these economic times. In know they say you always get your money plus some with kitchen and bathroom remodels but buyers can be picky and if they don't like what was done a kitchen not to their liking it will be a negative.

As you can see from so many varied responses people have strong and yet opposing opinions on kitchen design. A few posters have even said that buyers do not look at the function of the kitchen. When I was home shopping that was one of the things that I looked at and turned me off of many potential homes.

If you just leave the kitchen empty and try to sell it may sell right away. You could ask you real estate person if this is a plus for your area but don't take their word as gold either.
---
| | | |
| --- | --- | --- |
| RE: Help me pick a kitchen good for resale | | |
I'd say since this is a starter home that most people that buy a starter home does not have the know how, money, or vision to do a kitchen. They tend to want something move in ready where all they have to do is paint and decorate. I'm basing this on a first time home buyer and the majority. There are as with everything exceptions.

It seems to me like if you go with a wood tone it will be the best option because somebody that likes white can always paint it assuming they have the vision to see that.
---
| | | |
| --- | --- | --- |
| RE: Help me pick a kitchen good for resale | | |
A lot of good advice already given, so I don't have much to add.

I agree with lyfia that first-time buyers don't want to have to remodel the kitchen as soon as they move in. Chances are they have children, jobs, and have just spent every dime they had buying a house.

I sold a split-level home (in an excellent school district) in 1999. We had just updated the kitchen a little, with new vinyl flooring, white wallpaper (to hide the textured walls), laminate countertops, and sink. We left the cabinets (they were those cabinets that are plain MDF, with a strip of wood along the bottom), so the "remodel" cost us very little. It took several months to sell the house, but we got very close to our asking price. Our realtor said that the one thing that everyone commented on was how clean the place was, not that it had laminate counters and vinyl flooring. My point is that you don't have to spend a lot to update the kitchen, as long as it's clean and functional.

When we remodeled the kitchen in our current home, we put in Shaker style cherry cabinets and black impala granite (a mottled black/gray). No fancy glaze on the cabinets, no fancy edge on the granite. The cabinets don't go all the way to the ceiling (not possible in our house), the pantry is small, and there aren't many upper cabinets. The kitchen also has a stainless steel sink, chrome faucets, slide-in range, and $75 microwave. (We are reusing our fridge, which is white, and our dishwasher, which is black, because they work fine. In this area, the fridge usually goes with the seller, so I wouldn't replace it if we were putting the house up for sale.) So, again, we remodeled the kitchen for little money, it looks great, works fine, and is a huge improvement over the old kitchen. The thing that everyone comments on in my kitchen is the backsplash, which cost less than $100 in materials. Photos of my kitchen are linked below.

We also changed our French doors to sliding French-style doors, similar to the Pella ones linked to in a previoius post. We're very happy with them, although they were pricey.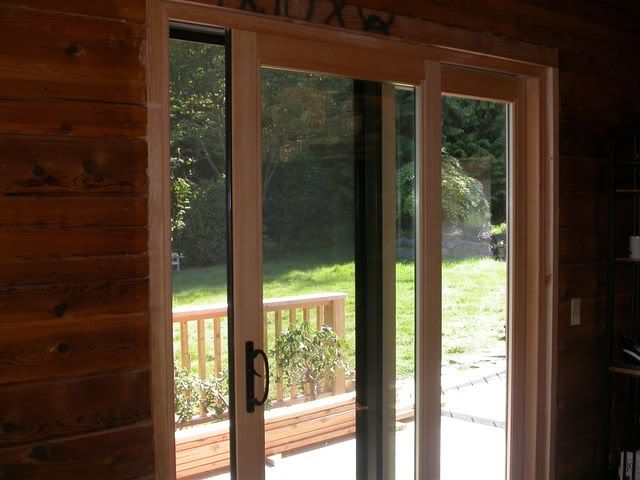 Here is a link that might be useful: kitchen photos
---
| | | |
| --- | --- | --- |
| RE: Help me pick a kitchen good for resale | | |
Random thoughts:

-I would remove the soffits and put the cabinets up to the ceiling. We have a very small kitchen and I hate the dust catcher open tops. When I added a butler's pantry I put in the tall cabinets. Yes they're high, but we use a stepstool. Great storage for things like fancy serving dishes that I don't use often. I think it makes the room look finished--better than the wasted open space above.

-I 2nd the idea of using Uba Tuba granite or some other inexpensive granite. It's fairly inexpensive at Home Depot.

-I would also using midgrade stainess steel appliances. Do you ever watch House Hunters? Every time a young couple looking for a starter home see a kitchen with granite and stainless they just swoon. Granite and stainless shout "new and upgraded" to home buyers.

-My BIL needed new sliders for his house and really wanted French doors but there was no room for the swing. He got beautiful wooden sliding French doors and they look so much better. If the sliders need to be replaced then I would do something like the Pellas shown in the link farther up the thread. If they function fine then leave them.
---
| | | |
| --- | --- | --- |
| RE: Help me pick a kitchen good for resale | | |
You have gotten so many wonderful ideas here. I don't have a lot to add. I just wanted to tell you that we sold our 70's split level house 3 years ago. I did so much cosmetic work to that sucker. We took down some 70's paneling, covered others with paintable wallpaper. We took down layer after layer of wallpaper and changed out light fixtures. Our house also was in a very desirable school district with walking distance to the elementary school. This helped with the sale of our home. However, our home sold in just 6 weeks, sooner than we were actually ready for it too. We were moving to a new community and would have liked for the kids to finish out the school year, but they did not. We had made some upgrades to our kitchen. Our kitchen too had soffits. We left them. Ours had dark stained cabinets, vinyl flooring, and laminate countertops. We left it all. We cleaned really well, took down paneling and painted a nice neutral color, cleaned really well, removed a row of upper cabinets above the penninsula, added recessed lights, purchased a new white stove and dishwasher, and painted our bisque fridge with white appliance paint. That's it. Clear the counters. Clean your whole house and make sure it smells good. Rent carpet cleaners. Stage the house to give potential owners and idea of how to live in it. Set the table. Put a newspaper on the coffee table. Get rid of clutter. Make sure it has curb appeal. As far as your kitchen goes, certainly let your budget guide you. Granite and stainless will interest buyers, but you will make less money if you cannot afford to put it in your kitchen. Buyers will not turn away a home in a great school district because you do not have granite and stainless. Decide what you want to wow them with and cut costs in other areas. A few well chosen accessories can set your kitchen apart too. Good luck.
---
| | | |
| --- | --- | --- |
| RE: Help me pick a kitchen good for resale | | |
I think igloochic makes very good points and clearly knows her stuff.

Think very carefully about what you're spending your money on. I would put money into new cabinets (cheap wood looks better than cheap white, so i'd go cheap wood in a medium tone), stainless appliances (get whatever stainless you can get the best price on, doesn't have to be a matching set) and low-end granite counters. Those things don't necessarily appeal to lots of us on this board but the DO appeal to lots of people who are looking for entry-level homes. Don't spend money on ripping out the soffits (unless you can do it for free yourselves), or on functionality (don't pay extra for pull-out features etc). I once bought a house that didn't have a silverware drawer and I didn't realize it until I was unpacking!!! And I consider myself a pretty sophisticated buyer :)

A few ideas of things that look luxurious but don't cost that much: a stainless wine fridge (to match your stainless appliances) - find a way to recess the fridge if at all possible. In all those pics of the competition, the fridge looms at you. Try to recess it and surround it with cabinets on all sides. Definitely do things like bowls of matching fruit on the counters. Look at home design magazines and pay attention not to the layouts and finishes but to the accessories.

And keep a serious eye on the bottom line. It is so easy to spend a hundred dollars here and a hundred dollars there on things that you want or that you think look better - keep reminding yourself that it's not your kitchen and it doesn't matter how much you like it or even how well it works.

Here's an example of a kitchen we did for resale. We spent 17K and will find out soon if it paid off :)
---
| | | |
| --- | --- | --- |
| RE: Help me pick a kitchen good for resale | | |
I would really consider selling the home "as is" without a finished kitchen. It would be a plus for many buyers to put in their "dream kitchen".
I think Dilly is on to something there. Paint the walls a simple white, leave everything as is, but clean and functional, and provide a $15,000 (or $????) Blank Slate Kitchen allowance. Sure, it won't appeal to everyone, but it will really set the house apart. And you only need to find ONE buyer.
If it looks to be a truly disastrous idea (draws only low ball offers or county inspectors or something) you can always go back to installing a mid-level kitchen.
-Lena
---
| | | |
| --- | --- | --- |
| RE: Help me pick a kitchen good for resale | | |
I wouldn,t worry about providing seating in the kitchen because its a eat in kitchen close in nonformal seating is already there. I would look the best ways to get the most cabinet and counter space. I would do a pantrywith shallow , (the shelves in ours is only 12 deep) and a small narrow island with really nice pendent lighting over it. Stainless steal appl.and low to med. grade cabinets.I think I would try to see which instock cabinets matched the floor the best and and put in lower cost granite counter tops. The fact that everything is new will really help attract first time home buyers. Sliding french doors are also a great idea. Dark stained or white cabinets would really look good with your floor. I would tear out the soffit if you were keeping the house and go for the to the ceiling cabinets because it makes the space look taller and alot less builder basic but since your selling in a iffy market just work about it unless you and your husband are handy do it your selfers. Have fun and I hope your house sells soon for you.
---
| | | |
| --- | --- | --- |
| RE: Help me pick a kitchen good for resale | | |
I grew up in Edina so not too far from you!

Do you have a budget? Before you get crazy with ideas, I would narrow in on a price point so you can begin prioritize where you will spend money.

I am with you and prefer white cabinets-but I would seriously look for a cabinet maker outlet and get some seriously awesome cabinets for cheap! That is the biggest chunk of change so if you can get something awesome and cheap you can go from there to add the counters and backsplash.

I did a quick google search and found quite a few cabinet outlets in the TC...since you are doing a resale I can't imagine you will want to spend too much money-so the money you do spend needs to be spent very carefully.

I would also try to find a tiler for the backsplsh/( maybe tile counter?) and ask him if he has access to remnants. My girlfriend just had a guy do their backsplash (white subway) and granite counters( black) for $1200 with remnants!

I think cheap wood does NOT look better than white...I think white is very classic. :)

Another idea is to look at the next 2 price points higher than what you want to sell and look at those kitchens...I often will look at multi million $ homes to get my next design ideas.

You might want to remove the wall. Chances are, a younger family will purchase your home and most people now really want to have an open floor plan and removing that wall will affset the split level issue.

I can't think of a newer home or anyone else looking to purachse that wants a closed floor plan.

Good Luck!
---
| | | |
| --- | --- | --- |
| RE: Help me pick a kitchen good for resale | | |
Wow you guys are still sending me great ideas...thank you! Let me address them :-)

mjlb, that is crazy that you should mention the banquette idea, because when DH and I were coming up with ideas for us, we both adored the banquette idea. We always love booths in restaurants, and we wanted an L shape with one short side, in a tufted leather. However, I am really hesitant to do it for resale, because many time peeps already have their dining room set, and a banquette might not fly with their ideas of their eating area. I myself absolutely love them! If I had found a house with a banquette I would have swooned:-)

teacats, I went to the local HD to look at cab/countertop prices. I told them I was looking for an inexpensive black/white look. But after I looked at all the cabs in both wood and white, I kept coming back to the natural or medium maple. It all somehow seemed more neutral...I dunno. I didn't like their least-expensive granites, but they had a shiny black Silestone that seemed granite-like.

I cannot fit both an island and cabs on the wall seperating the living room/kitchen. The room is simply not wide enough. It is just shy of 12 feet. I would need, at the very least, another foot of space before that could enter into the realm of possibility. It's just too small, otherwise I would be loving that idea. However, I could still have the pendants, just over a penisula. I made a note of the Lowe's Portfolio line and I will take a look at it, thanks for the tip.

redbazel, I also really, really like the Pella slider that another_linda posted. We will probably do that, and I too sure wish we could put in french doors. We have frosted french doors between our bedroom and our dressing room and it lets in so much light and makes the tiny room seem bigger.

We do have a large backyard and will play that up when we sell. We have it partially fenced in for our dogs, but past the lower fence is a bunch of steps that lead down to a creek and heavily wooded area. It's like a secret forest down there. We also are set back from the road, and this is nice, too. From what I can tell, it seems like that if we put in a kitchen that many of you would consider very basic, I think it will still be nicer than much of my competition. I am optimistic about selling if we can put it all together. We have already redone so much work to the house, this is the last thing to finish (well, this and the new deck). Just please keep your fingers crossed for us! :-)

suero, great suggestions. I am beginning to see the light regarding tall upper cabs, even though to me I don't find them useful. However, this is NOT my kitchen, LOL, and I am aiming to please...so I am truly considering doing this.

jaymie, hello neighbor! I am so with you on the tall cabs being a waste...but so many people seem to like them, and in this case, what my public wants, becomes my want as well :-)

Is your friend's kitchen in new construction? It sounds absolutely lovely. Post pics!

Per MN being the land of splits...oh, how true that is. They make sense in the context of the time and on slopy sites, but honestly, there is a split entry near me that is completely above ground. Yes, you heard me. I am sure they have a full basment underneath their split entry. So...outside you walk up a flight of stairs, then enter, and then you have to go either down or up. When...if they had simply buried the lower half like normal, they would have eliminated their outside stairs. Bizzarre! All on a totally flat site. Hmmm.

Thank you for your suggestions, and absolutely I will post pics of the finished product. I will be so happy just to have it all finished.

kellyeng, I will definately try to keep costs down, but at the same time I am afraid to cheap out, if that makes sense.

That's awesome you were able to update your kitchen for such a good price! I wish we could DIY everything, but then it seems to drag on for so very long. I may just have to look at unfinished cabs if I choke on the estimate when it comes. And thank you for sharing pics of your kitchen, I love to see other peeps remodels. As soon as I saw all that lovely pine woodwork I thought "southwest!", and sure enough, I clicked on your profile and saw you were in TX :-) Nice work!

igloochic, let me ask, what if it were not black granite but black Silestone? Still the same effect?

Squirrel and Moose knobs????? Very cute. I didn't know those existed! BTW, very lovely granite (and I'm not even a granite fan!). Some questions: How big are your recessed lights? We have small ones in our foyer, which is tiny (hey, it's a split!), so I assume we'd want something bigger in the kitchen? Yes on the crown molding, yes on taking the cabs to the ceiling, wait, I think that is now decided upon! Yes, just this second :-) So now...that's three confirmed decisions...wall of cabs on seperating wall, cabs to ceiling, and a peninsula with seating with pendant lights.

bigdoglover(I'm a big dog lover, too!),I bet you will drool over igloochic's granite (check out the pics above your post). All your fav colors!

I like your idea of the new house tours. Certainly those builders have spent much marketing money figuring out what will drive peeps to want their homes, I could perhaps glean from their knowledge application. The only tours I have been on recently are loft tours, and those are staged a bit differently than I think this house is calling for. Ha.

I am going to strive for something magical between function, price, resale, uniqueness, etc. I'm trying not to worry, and actually, a few days ago, before I posted, I was filled with angst about making these decisions. Now through the amazing network of gardenweb I have so much more direction that I have scheduled a measuring and a kitchen design appt to get an idea of numbers and hopefully proceed forward quickly.

nys29, do you happen to have any pics of your friend's kitchen that you could share? I'd love to see it. I am embarrassed to say I do not know what uba tuba granite looks like. Is it green?

ezbake, a few years ago selling a gutted kitchen in this area might have worked when all the easy credit was available and TV shows had everyone itching to be a flipper. Now, I really don't think so. There are a couple of houses on the market in my city that specifically say they need cosmetic work, and they have been languishing for months. One of them is in an area where all the houses surrounding it are valued at a very minimum $150k more. And it's not a tiny house, it's got four bedrooms. I think that's weird, and if I were a flipper, I'd be checking it out, but I guess peeps want to move right in these days. What a great story though, happy endings all around for your family! Very fortuitous and I'm glad it worked out so well.

allison0704, bigdoglover should love that granite too :-)

dilly_dally, goodness don't worry about being the odd woman out. (At least not with me, I think I kill more threads than I start!)I am seeking opinions about the remodel from anyone who wants to give them, it gives me so much to consider and think about. I appreciate you guys thinking about my situation and offering your advice.

I just don't feel that a gutted kitchen is a selling point right now. These are lower priced houses for the area. If the market were hot...maybe. Or if the house were a more expensive home where people are expected to do their own thing (I just toured a loft that was $1 million, and it didn't even have a sink in the kitchen, whereas all the lower priced lofts were complete). As far as this being a dream kitchen...well, honestly, the space is small. You would need to do some serious adding-on to enlarge the kitchen, and even then, unless you were willing to level slopes, relocate garage, widen entry, etc, you are still looking at a very long rectangle kitchen. Someone COULD make this house a dream house...but hey, it's still a split entry. Much cheaper to tear down and start from scratch.

You may be right, I might be able to sell it as/is, but my gut feeling says no. I do believe in some instances it may be very appropriate, but I just feel it's better to put in a kitch and sell, rather than try to find a flipper.

I do know what you are saying about function, some other posters have mentioned that too, and I did notice function when I bought the house. I noticed it was bad, LOL. But. What sold me on the house was the lovely neighborhood and lovely lot, and I tell you, we have done so much cosmetic work to this house that it will be a joy for any owner compared to what it was before. Every unpapered wall was textured (like frosting), every single ceiling was popcorned, some walls were paneled in dark, rough, cedar, everything was dark walnut oak or faux dark walnut oak...tons of wallpaper that looked like the kind that goes into cheap dollhouses. Wallpaper that was applied to every smooth piece of sheetrock that existed, applied directly to it, no primer. Your basic nightmare. Mostly fixed, now :-)

lyfia, that is exactly what I'm thinking, about wood vs white. You never hear anyone say they hate wood kitchens, but you do hear peeps say they hate white. Therefore, I'm gonna go with...wood :-).

uxorial, I zeroed right in your backsplash too, I can see why everyone comments on it. Very cool! May I ask, is your kitchen/dining area open to the living room? I am envious of your light in there! My kitch faces northeast...I'd love for it to get more sun.

Your sliders look great. I will have to find it in the budget to replace mine...they really do look terrible up close.

beache, whwat are the midgrade stainless appliances? I mean as far as brand names go? HD has a lot, but it seemed the cheapest was around $1200...it that midrange? I have no idea what regular appliances cost...I've just been using the ones that came with the house and planning on Northstar colored appliances in my new home.

Next time I am at HD I will take a look at what Uba Tuba granite looks like in person.

Did you BIL get the sliders with the mullions?

joanie38 Oh girl you have my sympathy on the 70's updating. It is hard. Much harder to bring a house out of the 70's than out of the 50's, 40's, even the 80's! Not for the faint of heart!

I'm thinking I will have to hire a stager for the decor part. Or, maybe I can post on here and everyone can decide and I can find stuff on GL or borrow it or such. We'll see, we are aiming to have it on the market in late spring, if all goes well.

metromom, I was shocked to see your pic, because last night at Barnes and Noble I was looking through a stack of kitchen design books and I found one expensive designer kitchen with the sink like you have it, in a peninsula config. It was a lightbulb moment. The more I considered it, the more I realized how nice it is to have two long lengths of counterspace, with the sink in the middle. And since it faces out towards the eating area, one would not feel closed it. One could also still have seating. I loved it, and now here it is! You actually did a kitchen like this! I think it's a fantastic idea. I loved it last night and I love it even more seeing it on big pic on garden web. Very nice!

lenam, don't think that that idea doesn't hold some appeal for me!! LOL

madeyna, I think there will be room for both seating at the peninsula and the table. Not positive, but I'm pretty sure. I love the shallow pantry idea, it's a done deal. And 12" won't be too protruding into the room, and while I won't know until the measurments get taken and plugged into designs, I sure hope it will work great.

skatermom, another neighbor! Well, one upon a time, anyway. I totally dig your idea about checking out the pricier homes and see what they are selling inside. Everyone looks at houses outside of their price range when house hunting, hoping to wiggle that price, so probably the buyers themselves will know what the more expensive homes look like inside...maybe mine will be closer than the rest of my comps.

I am not going to remove the wall. I just don't feel good about it. It's a supporting wall, and the way the house is laid out, I think it functions better as seperate rooms. This is coming from a person who loves open floor plans and is moving to a hard loft space :-)In this house...it just doesn't feel right. I have been in some houses with the wall removed, and it just didn't feel separated enough from the front door. I could be wrong, of course, but it's just the conclusion I've come too. Thanks though, I do love open plans, just not in this home, and I'm not sure others would like it either.

Thanks everyone. I feel good about all the suggestions I've been given and everyone has provided good food for thought and I've already come to some hard decisions based on your input. I appreciate you all very much! I'll keep you updated.

Joanna
---
| | | |
| --- | --- | --- |
| RE: Help me pick a kitchen good for resale | | |
I'm a little late to the party, but I'd like to encourage you not to discount Ikea cabinets. If your house is entry level as you say, I doubt any of your buyers will even know what Ikea cabinets are (and those that do, will appreciate the value).

Ikea cabinets with a low priced granite will add bling to your kitchen at a low price. Both appeal to first time buyers.

If you are handy, I agree about recessing the fridge or getting a counter depth one. I'd try to remove the soffits, but that can be pricy if you are hiring out. If you can't remove them put crown molding on them, my SIL has this and it looks really nice.
---
| | | |
| --- | --- | --- |
| RE: Help me pick a kitchen good for resale | | |
Black silestone would be fine, but stay away from the other colors...they are a bit fake looking. But...I think that you'll find silestone is more expensive than basic black granite will be. Price them both, but remember to stay simple black...it's kind of a kitchen wow when you have a small space and provides good contrast (necessary in any good design).

Our pot lights are 4" I believe. We have 8 of them in a square (4 on each switch and they're on dimmers) and that provides plenty of light. We also have three chandeliers...one over the sink, island and table (mine are antiques that I rehab'ed myself from ebay).

Just a little FYI....you can't sell a house without a kitchen if your buyer is getting financing. And in today's market, the fancy financing that allowed for upgrades or additions in a purchase price is pretty much gone as an option for the first time homebuyer. A bank does not want a construction project with a purchase that carries risk. (As all first time homebuyers do). I would highly advise NOT leaving the room as is or bare...you will find it limits you to cash buyers....how many first time buyers do you know who pay cash?

We have gotten some fantastic deals on homes because we've paid cash, and they've been disasters (our recent town house is a good example) It would not pass inspection as was, and they didn't want to bring it up to do so, so we got it for $175,000 below tax assessment because we were the only buyers willing to pay cash. I don't think you're leaning that way, but after years in the banking industry I can assure you that right now, it's not the way to go!

It sounds like you've got a good foundation on how to go forward. Be sure to share your changes ith us!
---
| | | |
| --- | --- | --- |
| RE: Help me pick a kitchen good for resale | | |
I didn't like their least-expensive granites, but they had a shiny black Silestone that seemed granite-like.
If you can, take a look at some of the other quartz manufacturers like Cambria and Hanstone. I originally wanted a black granite, but realized the cleaning issue would drive me nuts. I settled for a dark brown from Hanstone for the main countertops and New Venetian Gold granite for the hutch. The "gold" is much better at hiding dirt, but that's not necessarily a good thing.
I used 6" cans (with dimmers) and am glad I didn't go for the smaller 4". IMO, you can never have too much light in a kitchen!
Here is a link that might be useful: Hanstone
---
| | | |
| --- | --- | --- |
| RE: Help me pick a kitchen good for resale | | |
You've gotten lots of good advice and a ton of good ideas. I would suggest that you forego a tile backsplash. They are not that common in starter homes and I think it is an expense that you can avoid.
---
| | | |
| --- | --- | --- |
| RE: Help me pick a kitchen good for resale | | |
I live within a couple of miles of you and have been in lots of homes for sale in EP as we look to downsize. You are right that many of the comps do not have truly updated or new kitchens. Those that do stand out. I agree that going fairly neutral is a good idea. Simple shaker style cabinets can work for those who like traditional, country, or a more contemporary look. I agree that more people will not like white than wood BUT that is also true of shiny black granite/stone vs a more neutral counter. I believe you would find more buyers OK with a tan/brown granite/synthetic stone (with not too much movement, just mottled). There are quite a few people who just detest black granite (not to mention a mottled tan/brown will be easier to keep looking showing ready). At your price point, nicely done laminate would also be fine--just have a local shop--not HD do them. I looked at several homes that had nice new kitchens with tasteful laminate and they sold. What might impress a buyer more would be a couple of pullouts especially for the pots and pans by the stove. One (not lots) glass front cabinet displaying something attractive will also be positively remembered. The idea of the shallow pantry /storage wall is excellent. I had one in another home that we called "door #1,2 and 3" One had canned goods, one cereals and such and one had the broom and cleaning supplies. Mine were built with the house and used wood interior doors that matched the cabinets so were not expensive to do. You could probably order maple or cherry 2panel doors that would go with shaker cabinets. Regarding a backsplash, tile will give an updated and somewhat upscale look. Try Kate-Lo Tile outlet on Berkshire La in Plymouth. I would go for a neutral again. They have some nice accent tiles and trim pieces that you can add to basic tile for an economical but custom look. They are very helpful, just bring measurements.

What will be most important to first home buyers (and many others) is that the kitchen is a brand new and sparkling clean place. Soffits or not will not be a big deal. Ikea cabinets (not the cheapies) are fine. Don't sweat every detail. Don't buy the cheapest cabinets but you don't need expensive ones. Don't put all of your bucks into the kitchen. Make sure the front door and entry area looks up-to-date and inviting and update the main bath to be similar to the new kitchen. And, of course, some flowers and staging when it's time to go on the market. Good luck!

PS- have you visited Building Materials Outlet in Eagen? HUGE place with doors, windows,wood trim, cabinets, carpet, etc. You might find a slider or other items that would spice up the house and at low prices. Bring measurements, a notebook and digital camera.
---
| | | |
| --- | --- | --- |
| RE: Help me pick a kitchen good for resale | | |
Tradewind, you are absolutely right, I WAS definitely drooling over iglochic's swirly granite (while I posted my ideas actually), I think it's the same as the one my neice has, and it is so gorgeous, but I figure it's too special for just everyone to like, and would probably go with something smaller to sell a house -- though not for myself. I personally am stuck with the boring dinkety dinkety dink small builder granite with dull bullnose edge, but I'm just grateful that it's real granite.
---
| | | |
| --- | --- | --- |
| RE: Help me pick a kitchen good for resale | | |
LOL bigdoglover, Maybe if you feed your counters the swirls will grow? :oP

My granite is called Thunder Wave. We love that it has brown, gold, amber, black, white and gray as well as these fabulous garnets scattered all through it. We made a special effort to get the most pattern we could and ended up getting pieces from three slabs to make this happen. (My granite guy loves me because I also bought a slab of honey onyx so he'll go out of his way to make us happy).

That said, in kitchen number two we'll probably be doing black granite, just as I've advised here :oP

By the way, my granite is a middle of the road priced granite...not cheap, but not unaffordable like the silly granite we put in DS's bathroom (it looks like river rocks were sliced in it). The back splash tiles were actually more expensive than the granite in the end (never have your tiles hand made for you...it's shockingly more expensive than it should be...I mean they're cutting some squares and spreading from a paint pot right??? heh heh)
---
| | | |
| --- | --- | --- |
| RE: Help me pick a kitchen good for resale | | |
I had a split entry townhouse we just sold last spring. It sold in 1.5 weeks! I spent about $9000 to upgrade the kitchen. I modified the existing cabinets by getting new unfinished doors with blum(euro) hinges and adding simple crown. My painters painted the doors and cabs a creamy white. I then bought 12x12 black galaxy tile from Lowes during one of their 20% off flooring sales (cost me $7.80 sq foot) and hired a tile guy to build the counter(it replaces a 1980's faux butcher block laminate) Bought a great undermount single bowl sink off ebay for $150. Redid the worn hartco parquet flooring in oak stained to match the rest of the flooring in my house. To replace the worn almond aplliances, I bought a midrange stainless range and OTR MW (we already had a stainless DW and I bought a panel for the 14 year old subzero for $300). I also had the tile guy put up a backsplash from inexpensive ceramic tile that looked like tumbled marble(the old backsplash was almond laminate sheets...ugh). I made the kitchen pretty neutral in order to appeal to the most people and we got great feedback from the people who toured our house.

I hired all the work out (tile man, handyman and flooring company) so you can save money doing some of the work DIY.


here is the kitchen in progress (i don't have any pics of the kitchen before the work started... but it was ug-ly!)
and here are the after pics:
---
| | | |
| --- | --- | --- |
| RE: Help me pick a kitchen good for resale | | |
Igloochic, ha! actually my DH feeds those counters a LOT, he is constantly leaving food out for them, mostly things that stick and are hard to get off.

Glad to know the name of your granite. I may very well get mine re-done and will save the info. (My neice's is called typhoon something.)
---
| | | |
| --- | --- | --- |
| RE: Help me pick a kitchen good for resale | | |
Not much new to add here, but I too live in the TC so I thought I'd give you my local perspective.

Everyone loves hardwood floors, so you've got that going for you. Everyone also loves granite (not sure why). I don't think that's a requirement in a starter home, but it may set you apart from your comps if you can do it for a reasonable price. I've noticed several homes now listed with "granite allowances," because they felt they needed granite to sell.
I have to agree with your concern about putting in white cabinets. I think they are becoming more popular here (almost all the homes on last years luxury home tour were white, but generally white has not sold well here). I think you'd be safer going with a medium stained maple. It would go well with your hickory floors. As for appliances, I'd put in stainless or black and ss. I think everyone thinks ss makes it look more expensive - certainly updated. I'd highly recommend looking at the Sear Outlets. Lots of midrange kitchen appliances and good deals to be found.

As for your soffit, if you can easily and cheaply remove it I would do so. It just dates your house. I don't think it's necessary to have cabinets to the ceiling even w/o the soffit, but that soffit is an eye sore (sorry). If it can be removed, now is the time.

More than anything, I think people will be looking for an updated space and lots of cabinets and counters.

Good luck and enjoy putting it all back together.
---
| | | |
| --- | --- | --- |
| RE: Help me pick a kitchen good for resale | | |
Don't know if this will help or not, but here is a pic of the "extreme budget makeover" of my 1994 split level kitchen. When I bought the house, the kitchen had builder's grade oak cabs, vinyl flooring, and mediocre laminate counter tops. There was a half wall separating the kitchen from the living area that served no useful purpose and impeded traffic flow. I had the contractor shorten the half-wall,, turn it into a peninsula, and install a cab on the kitchen side. I put in oak floors throughout the house,including the kitchen, and premium laminate. Couldn't spring for new cabs, but I bought new doors had the boxes painted to match with new hardware. Installing halogen lighting went a long way toward brightening the space. The kitchen is much more functional now. Wish I could get stainless appliances, but it's not going to happen right now.
Split levels are a challenge and I wish you luck with your kitchen project.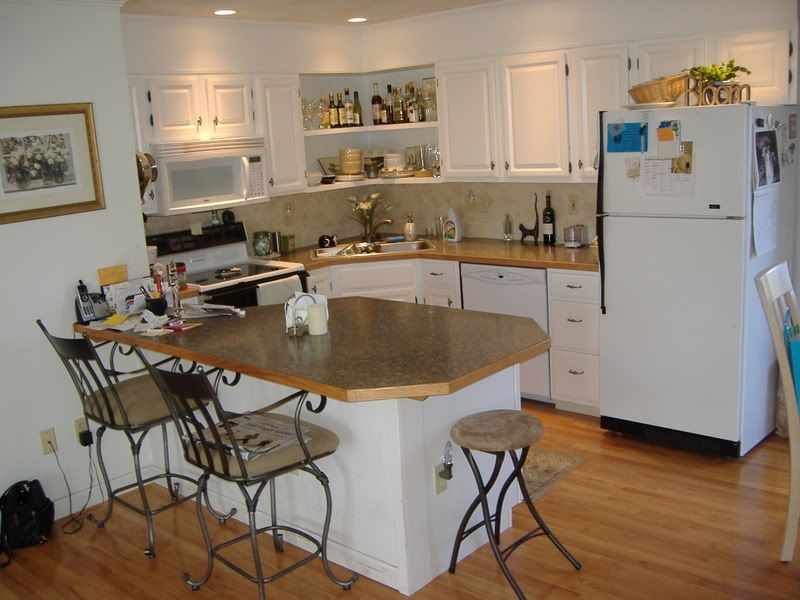 ---
| | | |
| --- | --- | --- |
| RE: Help me pick a kitchen good for resale | | |
brody_miasmom, per the Ikea cabs, I went and did another look at Ikea cabinets last night, just to keep all my options open :-) Yesterday afternoon I spoke with a realtor and she was along the same lines as you; that Ikea cabs are just fine but I should put in granite. I also went and looked at counter depth fridges in stainless and now I am in full irate mode over the price of them. SHEESH. I called my sister ranting and she assured me that black would be OK too...but really, if the masses love stainless, I should put those in. I am flip flopping dependent on if I've just seen a price tag or not, LOL.

igloochic, OK, I cannot wrap my head around this. WHY is Silestone priced in different grades? Isn't it just resin and filler? I can see granite priced differently based on rarity or quarry costs...but Silestone is...all...the...same. I don't get this. It's like they have a lower range in unexciting colors just so they can charge you more for the prettier stuff. I mean, really, do the little flecks of mica and pigment really warrant that much more?? Can you tell I'm annoyed??

Do you by any chance have a pic of the granite that looks like the sliced river rock? I'd love to see what that looks like.

lishaana , congratulations on the quick sale! That is awesome. Your updates look great.

natal, do you have recessed lights over the countertops, and if so, does the glare bother you? You are right, never too much light! Of course I am afraid I will put in too many and the ceiling will look like swiss cheese.

You look like you have a nice big kitchen -- lucky! :-)

bigdoglover, what is "boring dinkety dinkety dink small builder granite with dull bullnose edge"? I mean, what's the name of it? I'll try to avoid it, LOL.

bbstx, indeed, there was no backsplash when we bought the house...just a laminate edge and then paint. It was hard to clean, that's for sure. I lost track of how many times I simmered tomato sauce too hard and had little spurts all over the wall by the stove :-) Oops. I will probably put in a backsplash if I can find the right tile at the right price.

mnzinnia, thank you neighbor for your help! Are you currently living in EP? I made a note of the places you said to visit. The outlet place sounds like a must-see. And I hope you find your perfect house soon :-)

crazyhouse6, another neighbor! I totally agree about the ugly soffit...and you know what, the edges of the soffit that weren't touched by cabinets are POPCORNED. Yes. I coudn't make this stuff up, it's too horrifying.

OK you've given me the opportunity for a small rant. I honestly don't know why granite is necessary to sell. I can certainly see why someone would put in granite if that's what they love, but then they will put in the granite of their choice, not live with the lower grade or ugly-to-them color that a seller chose simply for resale. It's so personal. On this thread several granite owners mentioned picking out their specific slabs, it's like picking out artwork, no?

Wound't someone who loves granite much rather rip out a laminate counter than a granite that is new, functional, yet not to their taste? I dunno, that's how I see it, but I will put in granite cuz that's what peeps like. Personally I find it too hard. I would pick either butcherblock or stainless steel. So...if I were looking for a house, I would MUCH rather find one with cheap laminate and rip that out to put in my taste in counters, rather than rip out granite that someone thought made the place look upscale.

Oh well. Granite it is. Granite for all!

The puttig-back-together starts today with Measuring-Guy-Joe showing up at 3:30pm. Yay!

supercat, your kitchen looks bright and open, I love that! Whatever you did worked, because it looks very nice. BTW, how do you like your corner sink?

Joanna
---
| | | |
| --- | --- | --- |
| RE: Help me pick a kitchen good for resale | | |
OMG I LOve this thread!! We're wanting to relocate, hopefully when the market picks up, so we still have some time. This is a really interesting discussion, love all the pics, and the "holy trinity" HA!

This is our first home, it has (crappy) oak-stained cabinets, but they LOOK nice, a tile countertop (horrors) and mis-matched appliances (SS fridge, black DW and B/W stove). So I'm taking notes. We have a soffit, I like it; I'm a collector and it gives me a display space. We have recessed can lighting (6 inch cans), I WANT under-cabinet lighting and a new backsplash. We have ceramic tile floors, there are hardwood floors in the LR and DR. My questions are 1) should I replace flooring with ceramic or wood? and 2) is a granite countertop REALLY necessary? Thanks!
---
| | | |
| --- | --- | --- |
| RE: Help me pick a kitchen good for resale | | |
I think the shallow pantries on the empty wall would be a great selling feature but might be costly. You might consider mixing the wood and white cabinets - maybe the shallow pantry cabinets in white to keep things light?
Have you looked at prefab granite? If you're just doing a simple layout, they can save a lot of money. I would stick with Stainless for appliances but check out Craigslist, eBay, etc. for used items or scratch & dent places like Sears Outlet. You really don't need to buy a brand new appliance. As to the soffits, I think no soffits and taller cabs are better but probably not worth the cost unless you are DIYing.
---
| | | |
| --- | --- | --- |
| RE: Help me pick a kitchen good for resale | | |
Such beautiful kitchens! (I can read the messages from work but usually can't see the photos. It was a treat to see all the photos tonight.)

Supercats, did you install your backsplash? If so, can you tell me about it. That looks like what I have in mind for our future backsplash. At first I didn't even notice that you had a soffit. Painting it the same color as the cabinets was very clever. (I'm taking notes!)

Thanks,
Nin
---
| | | |
| --- | --- | --- |
| RE: Help me pick a kitchen good for resale | | |
tradewind - just have to say not all of us peeps lust after granite. I have to replace a laminate countertop and I am going to do laminate again. I can afford granite, but really don't want it. I have the wood edges like supercat posted and will do those again. If your realtor says granite is a must, I guess you should go for it, but I don't know, there is a LOT of really good looking laminate out there these days.
---
| | | |
| --- | --- | --- |
| RE: Help me pick a kitchen good for resale | | |
This is called Black marinache or Aquerella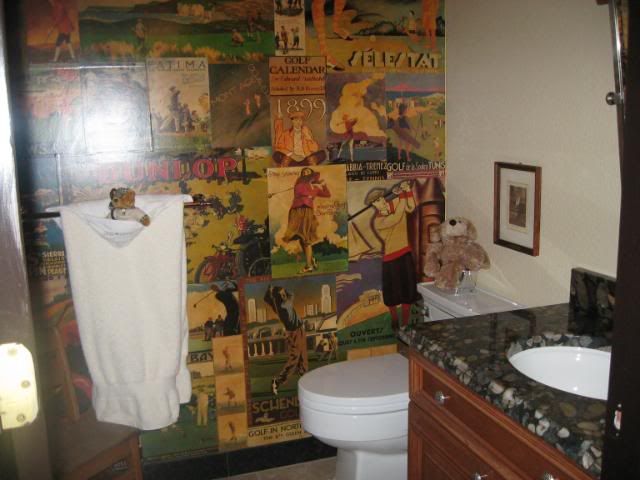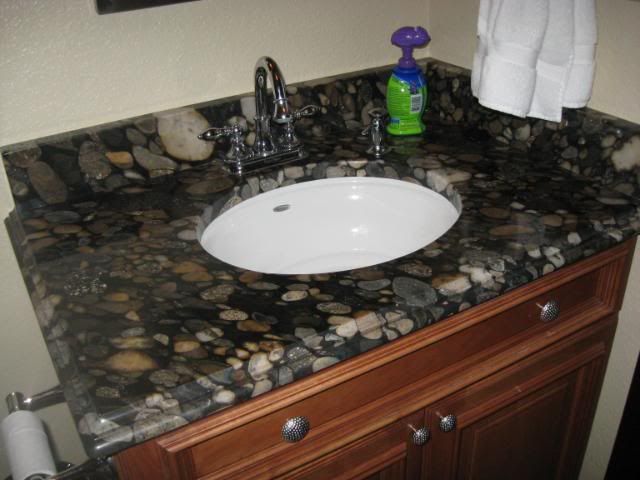 Good news...that stainless you love costs far more than expensive granite LOL So you aren't losing out on a great counter option.
This freaking black marinache...well it's too buyer specific to use in a kitchen in a starter home (and it's stupid expensive for a bunch of broken rocks). of course what granite isn't?
---
| | | |
| --- | --- | --- |
| RE: Help me pick a kitchen good for resale | | |
Thanks for the compliments Joanna. Wish I had a "Before" shot to show how cramped and dark the kitchen used to look. I forgot to mention that I also had a skylight put in to bring in more light as there's no kitchen window, although I do get light from the slider in the dining area.
I used to get a backache working at my corner sink until I had the contractor move it toward me several inches when he re-did the counters. Now I like it.
Nin, I did add the backsplash as there was just painted wall there before. It's just the generic tumbled stone you can get at Home Depot, but I've been happy with it. The contractor did a straight row on the bottom and the rest is on the diagonal. I skipped the accents due to budget constraints, but I like a simple look anyway. BTW, I'm more lazy than clever regarding the soffit. I've considered painting it a different color at various times, but I'm sure it would make my skimpy cabs look even smaller.
In my area (New England) most of the the splits I've seen for sale look very generic and/or dated, although that's often true for other houses here as well. I've tried to keep re-sale in mind when making changes without breaking the bank, but always feel that I'm fighting the poor layout of the house. I think keeping the kitchen as bright and open as possible helps.


---
Post a Follow-Up
Please Note: Only registered members are able to post messages to this forum.
If you are a member, please log in.
If you aren't yet a member, join now!
---
Return to the Home Decorating Forum
Information about Posting
You must be logged in to post a message. Once you are logged in, a posting window will appear at the bottom of the messages. If you are not a member, please register for an account.
Please review our Rules of Play before posting.
Posting is a two-step process. Once you have composed your message, you will be taken to the preview page. You will then have a chance to review your post, make changes and upload photos.
After posting your message, you may need to refresh the forum page in order to see it.
Before posting copyrighted material, please read about Copyright and Fair Use.
We have a strict no-advertising policy!
If you would like to practice posting or uploading photos, please visit our Test forum.
If you need assistance, please Contact Us and we will be happy to help.

Learn more about in-text links on this page here