Return to the Home Decorating & Design Forum
|
Post a Follow-Up
---
| | | |
| --- | --- | --- |
| Dining room project - need inspiration | | |
Posted by
homersmom
(
My Page
) on
Mon, Dec 30, 13 at 16:02
Last year I posted a request for opinions on my dining room and received great feedback, but sadly I can't locate the original thread. Since I first posted pics of the DR we've had hardwood floors installed and I moved some artwork around. I purchased a rug that I fell for (and now regret THAT impulse buy) but was hoping to make it work somehow. I know that the chairs need to be reupholstered and am thinking about a new chandelier, but haven't looked for anything yet.

The only thing I am sure about is that the furniture needs to stay. I really want to add some drama to this room, but not sure where to start. I would love any ideas you can throw my way. Thanks!!
---
Follow-Up Postings:
| | | |
| --- | --- | --- |
| RE: Dining room project - need inspiration | | |
It's a very pretty room, but I can understand your wanting a little dramaaaaaa! How about a beautiful mirror instead of the pictures? Wallpaper? Paint? A centerpiece that's bigger and grander? Crystals added to the chandelier?

Not knowing how far you want to go in adding drama so am just throwing out whatever comes into my head. ;)
---
| | | |
| --- | --- | --- |
| RE: Dining room project - need inspiration | | |
The SW color of the year: Exclusive Plum.
Would this go with your rug?

Or even darker. I like the room that Caminnc posted in the thread below.
Here is a link that might be useful: plum dining rom
This post was edited by nosoccermom on Mon, Dec 30, 13 at 16:36
---
| | | |
| --- | --- | --- |
| RE: Dining room project - need inspiration | | |
I would add color...maybe a chair rail to add two colors, preferably something from the carpet.
---
| | | |
| --- | --- | --- |
| RE: Dining room project - need inspiration | | |
Patty cakes - I do have crystals for the chandelier, but I'm wondering if the chandy is just too heavy looking with all the wood in the room. I don't know if whitewashing it would help or not. There is a mirror above the server, which is on the short wall (stairway) opposite the china cabinet. Do you think a single large print would be more pleasing to the eye than the group of fern prints?

Nosoccermom - I do love purple, but there's no purple in the rug or anywhere else in the room. The rug has a little dark red, rusty pink, green, dark brown, gold, cream and tan. The colors that I have throughout my home are green, rust/terracotta, tan and whites, with a bit of dark red/cranberry here and there.
---
| | | |
| --- | --- | --- |
| RE: Dining room project - need inspiration | | |
Annie - I would add wainscot in a heartbeat if we had trim around the doorways. I've seen a few examples of wainscot in rooms without doorway trim and I'm not crazy about it. Here is the doorway(?) from the dining room to the kitchen. See what I mean? I am not at all opposed to wallpaper, but finding something that works with both the rug and the transfer ware in the china cabinet could prove to be tricky. Or maybe I'm overthinking this?
---
| | | |
| --- | --- | --- |
| RE: Dining room project - need inspiration | | |
Would BM Weimaraner work with the rug?


or even a darker brown?

---
| | | |
| --- | --- | --- |
| RE: Dining room project - need inspiration | | |
Hmmmm..... I never thought of a dark brown. I have Lowe's paint program loaded on my laptop - I'll play around with it later. Thanks for the idea!
---
| | | |
| --- | --- | --- |
| RE: Dining room project - need inspiration | | |
I would work first with paint and upholstery, which is where you can introduce drama with color and pattern. I l like the browns shown above, with the white trim. Are there windows in the room? I'd also begin looking at chandeliers.
---
| | | |
| --- | --- | --- |
| RE: Dining room project - need inspiration | | |
Andee - what style of chandelier would you suggest? Something a little lighter in form?
---
| | | |
| --- | --- | --- |
| RE: Dining room project - need inspiration | | |
A BIG vote to paint the room in BM Weimaraner!!

That color would look wonderful with your pretty rug AND your artworks AND the color of your current chandelier!!! :)

Switch the shade on the side lamp to black or white -- and try hanging plain white china plates on the wall (nice for a change and would still work with the red-and-white china)

Perhaps consider switching the chair fabric to a plain white linen -- or maybe even a gray linen.
---
| | | |
| --- | --- | --- |
| RE: Dining room project - need inspiration | | |
The shape of the chandelier in the second room reminds me of yours.
---
| | | |
| --- | --- | --- |
| RE: Dining room project - need inspiration | | |
Ooooh, I'd love to get my hands on this dining room to redo! The potential is huge because you have good bones to work with.

The problem, as I see it, with your lovely dining room now is that it's just a bit too tame. Kind of like a pretty-but-safe pair of Mary Janes


. . . when what you may want is to kick up the drama a bit, like a pair of these Christian Louboutins.


Ok, perhaps not that much drama, with the 5-6" heels but, hopefully, you get my gist (LOL!).
To add drama and sophistication, I'd first repaint the room in a darker, more dramatic color. The first color I'd try would be a copper that would work well with the wood in your furniture and with your rug.
Next, I'd find a good, elegant striped fabric with a lot of black in it and recover all those chair seats. I think that alone would add so much to the room.
These are just quick picks off of www.onlinefabricstore.net, most of which are from Robert Allen's yummy collection . . . but hopefully you get an idea of the direction I'm heading.


or:

I'd skip both the wainscoting and the fern prints, which both fall into the Mary Jane category (IMHO). Instead, I'd look for a large, more sophisticated framed piece of art for the wall there.
And finally, I'd add a large, dramatic, colorful centerpiece to the table, preferably one that include candles, since I always have candles lit on our dinner table. Love them! Something along these lines:
1) a large, colorful platter flanked by 2 copper lanterns, either in a Contemporary or Traditional in design:


or perhaps two of these:


or this with different colors:

I've kind of raced through photos here and I need to go start dinner, so please think in generalities and not these specific products whose colors may not work with your rug, dishes, etc.
Lynn
---
| | | |
| --- | --- | --- |
| RE: Dining room project - need inspiration | | |
OMG, did I miss something?!? Are you going to paint your brown wood table and chairs white or black to work with brown walls?
---
| | | |
| --- | --- | --- |
| RE: Dining room project - need inspiration | | |
You have a lot of curves going on in your china cabinet, all the chairs, the china plates, and the rug design. I'd focus on upholstery in a plain, plaid, or stripe design and forgo floral or paisley. I'd look for a less elaborate chandelier than you have now. (I can't even pick one out for myself -- wish I could help you! I'll know mine when I see it.)

You didn't say why you regretted the rug decision.
---
| | | |
| --- | --- | --- |
| RE: Dining room project - need inspiration | | |
Can the hutch portion come off of your china cabinet?
---
| | | |
| --- | --- | --- |
| RE: Dining room project - need inspiration | | |
Lynn - your Mary Jane analogy is right on the money! I am so "vanilla" when it comes to decorating, although I did surprise DH when I chose a rust color for our family room. I am going out this morning and will stop at the BM store to pick up some paint chips and maybe a couple of sample pots. Finding a print for that wall adjacent to the china cabinet will take some time, I'm sure. Heck, it's only been 13 years, what's a few more months! LOL!

PS. No, I hadn't planned on painting the furniture. If I were to paint it, I would keep the tabletop and china cabinet as is. I would either go black or cream with the legs and server.

Teacats - I have some white plates and will try them instead of the current transferware. I'm not crazy about the current look either.

Andee - The reason I regret the rug purchase is that there is no contrast between the rug and the furniture. The room is a sea of brown! I may still look for something lighter.

Jen9 - The top of the cabinet comes off, but the base would be way too short to use alone. I definitely want to use the top for displaying my collection of china.
---
| | | |
| --- | --- | --- |
| RE: Dining room project - need inspiration | | |
After seeing nosoccermom's post, my first thought was that old song that says " I was country when country wasn't cool." LOL! Prior to selling my former home, I shocked my family by painting my dining room a SW Plum but can't determine if it was Exclusive or Expressive but either way, I was ahead of the game. I loved that room and have found a pic.
---
| | | |
| --- | --- | --- |
| RE: Dining room project - need inspiration | | |
Thanks for the inspiration, camarodreamer67!
---
| | | |
| --- | --- | --- |
| RE: Dining room project - need inspiration | | |
What's with the rest of the room? How does the stair case fit in? Can the buffet be put on the wall where the botanicals are?

I think what's bothering me are: a) the furniture is very curly and looks dated so that needs to be toned down, maybe by moving the hutch to a less prominent wall; b) the pink is overwhelmingly sweet. Personally, I would pack away the pink dishes. But if you want to stick with the pink dishes in the hutch, it needs to become an accent to a stronger more modern color like navy, and don't use the plates as wall decoration as again it adds to the sweetness; c) everything else is curly too...the light, the swirls in the rug, the edges on the dishes. Adding some bolder colors, stronger straight lines or squares or rectangles, horizontal and vertical lines will give it a little more edge and a bit more updated look.
---
| | | |
| --- | --- | --- |
| RE: Dining room project - need inspiration | | |
I noticed that the staircase doesn't fit with your vision of drama, your dining set, or the rest of what I can see in the home. You have nice wide base molding and beautiful windows in the kitchen. The staircase is similar to what I have in a very casual and somewhat builder-basic home. That is the fourth wall so I would include upgrading it in your plans.
---
| | | |
| --- | --- | --- |
| RE: Dining room project - need inspiration | | |
Annie - The furniture placement needs to stay as is. There isn't enough room to put it on the wall where the botanicals are. The server is on the wall opposite the china cabinet and there is a box bay window opposite the botanicals.
---
| | | |
| --- | --- | --- |
| RE: Dining room project - need inspiration | | |
It appears that "drama" is not the best choice of words for my vision. Maybe "pulled together" would describe it better. Thank you to all for your suggestions.
---
| | | |
| --- | --- | --- |
| RE: Dining room project - need inspiration | | |
I think it's a really nice room to start with. Looking at the suggestion of brown walls - both of the inspiration pics show either black or white furniture. Adding brown walls seems to me that it will just add to the "brownness" of the room and not set off your furniture.

I know you took "drama" out of the picture, but what about a dark green (if you want to stick with the rug)?
Or a red shade that coordinates with your other reds and the rug?

Either would look wonderful with a fabric like the 3rd one Lynn posted.
---
| | | |
| --- | --- | --- |
| RE: Dining room project - need inspiration | | |
Your room reads as warm safe and inviting so good job. It also reads a little dated. To update it and add a little fun to the room , I would add padded slipcovers to the back of the chairs when you redo the seats. That would cut some of the wood overload in the room. I think I would use a strong fabric color with maybe a stripe? Change out the chandi with something plainer with straighter lines and add some thingcurvy and large to the center peice of the table that would really draw the eye. Something like a large glass peice with some strong color or something of interest in it. I think three large candles in a dark cranberry , green and creamy yellow would look nice. Those few easy things would bring some stonger interest and color into the room without any real major changes.
---
| | | |
| --- | --- | --- |
| RE: Dining room project - need inspiration | | |
I also really like red for the dining room. My only hesitation was how to make it less predictable. Maybe with some dramatic art work?
---
| | | |
| --- | --- | --- |
| RE: Dining room project - need inspiration | | |
Olychick has an excellent point about working with all the brown wood. I hate to say it, but you'd have more options if you ditched the fussy rug. One piece of art is stronger than the group of little pictures.

Here's an amateurish mock-up in blue just to show how it perks up the wood.

The chandy's not so bad -- perhaps paint it black and find shades to act as a counterpoint to the wall color (ha! I didn't say pop!).
---
| | | |
| --- | --- | --- |
| RE: Dining room project - need inspiration | | |
Ok, I'm going to continue with what Lynn started, but don't really know if it's the same direction she was going. You already have the black frames in the picture grouping as well as in the rug, so make that black work for your drama. Add a black lampshade to the lamp, and rather than a simple runner for the table, buy a yard(maybe 2)of fabric of something that will work w/the rug~'scrunch' it up rather than laying it flat to add more interest. A black pattern fabric on the chairs would keep the drama going! I can't see the complete light fixture, but if it's a possibility to add shades, black mini's could 'kick it up a notch'. The centerpiece needs some pizzazz~did I mention that in my previous post? Greenery with a few rust color flowers might be enough and keep it low, and more horizontal than vertical.
---
| | | |
| --- | --- | --- |
| RE: Dining room project - need inspiration | | |
That mock up looks great, awm03! It really helps to see that all is not lost with my "dated" furniture (LOL!). I have very little blue in my home, but I really like the dark blue with the wood. Thank you so much for taking the time to "paint" for me.

Patty cakes - There is no black anywhere in the room, but there is in every other room in the house. I am going to look for another rug and move the current one upstairs to one of the guest rooms. I like it, but not in this room.

Olychick - I agree about the brown, but I do like green. Our foyer is BM Baby Turtle, so I'm thinking it would have to be a really dark green. Thanks for the suggestion.

Madeyna - I should have mentioned that the centerpiece was just something left over from Christmas breakfast. I normally have something of a larger scale on the table. I like the idea of slip covered backs on the chairs. What I would really like are upholstered host and hostess chairs, but that's not in the budget. Maybe just pad the host and hostess chairs?

Nosoccermom - DH and I are both very traditional, so whatever art we find would probably follow suit. Did you have anything in mind? I know what I like and typically gravitate towards impressionistic pieces (safe and predictable, that's me!)

You all have given me great food for thought. Thank you!
---
| | | |
| --- | --- | --- |
| RE: Dining room project - need inspiration | | |
Hmmm, I could have sworn the rug had a black background, no?? Reading Lynn's post sort of ditto-Ed that with her mention of black.

If you have a window/windows with no draperies, that might be what's missing, but not being in the picture, is hard to tell if that's what is needed. Could that be it?

I know you probably love your hutch, but if it's 2 pieces, you might want to consider using only the bottom portion and a beautiful mirror above~the hutch may be dating the room. The top could be used in a hallway on the top of a narrow drop leaf table, or to hold towels in a bathroom, sweaters in a closet? Updating with a wire mesh would be a plus. Taking the doors off and using in a bedroom to hold books in the top portion, and the bottom for extra storage is another idea.
---
| | | |
| --- | --- | --- |
| RE: Dining room project - need inspiration | | |
It's hard to advise on art. I usually try to find something that has meaning for my family, e.g. large old maps from where we were born or lived, or old lithographs/prints of hobbies we do.
Or for example, a large map "blown up", "cut in pieces", and then put back together:

---
| | | |
| --- | --- | --- |
| RE: Dining room project - need inspiration | | |
Patty cakes - there is a box bay window across from the botanicals. I've never had a window treatment on it because I wasn't sure what I wanted.
---
| | | |
| --- | --- | --- |
| RE: Dining room project - need inspiration | | |
Aha, that could be what you're craving, and thinking the room looks unfinished. I don't have much more in my DR, not even window treatments. I have a very pretty arch shape window, and used antique shutters painted black on each side. I also put a sconce with a mini shade on each shutter to add more drama. If you don't want window treatments, you could do the same, otherwise I think I would have at least window panels on each side, pictures removed.

Your dog looks like my boy Jaxson Brown, an Australian cattle dog. My DR window is never w/o nose prints(and a bit of drool)on the sill, but he's worth cleaning up after!
---
| | | |
| --- | --- | --- |
| RE: Dining room project - need inspiration | | |
That's my lab mix, Molly. Between her and Homer (my black lab) there are always drool spots on the floor. I'm just thankful that they don't jump on the window and tear up the trim.
---
| | | |
| --- | --- | --- |
| RE: Dining room project - need inspiration | | |
Homersmom, From one safe and predictable to another. Safe and predictable isn't necessarily a bad thing.

I love your furniture and to me it doesn't look dated at all. IMO it is so much nicer than so many of the blah RH pieces. It has character and is very charming.

I think a beautiful wall paper and a dazzling crystal chandy would be really add pizazz to your room. Reupholstering the chairs would be great too.
---
| | | |
| --- | --- | --- |
| RE: Dining room project - need inspiration | | |
Just a quick idea...could you make the walls a little darker gold? With the red/cranberry for the drapes and maybe a dark green as an accent color?
---
| | | |
| --- | --- | --- |
| RE: Dining room project - need inspiration | | |
Thank you for the kind words, holly-kay. I do like the furniture, but the room always seemed off to me. It might look "dated", but then again so am I! I found a couple of Thibaut wallpaper's (textural) that I'm considering. I've always loved wallpaper in DR's and PR's.

Yesterday, I received a timely blog update from Nell Hill's. It was about decorating in the new year, but staying true to your style. I need to remember that.

lavender lass - the wallpaper's I'm considering are gold tones. Thanks for taking the time to paint my walls. I truly appreciate it!
---
| | | |
| --- | --- | --- |
| RE: Dining room project - need inspiration | | |
Window seat? Or is there not enough space behind the chair, then?

I too like your room and would just play around with different wall colors. Unless you are very sure about wallpaper, I'd stick with paint.

Here's another suggestion for art work, i.e. bigger plates:

---
| | | |
| --- | --- | --- |
| RE: Dining room project - need inspiration | | |
I think textural wallpaper could be a very nice addition to the room. Gold tones sound good too -- they'd work with your woods, the rug, the framed prints, and your red transferware.
---
| | | |
| --- | --- | --- |
| RE: Dining room project - need inspiration | | |
nosoccermom - I used to have an upholstered bench in the box bay, but it always had dog spit on it from the barking pups. I even put a piece of plastic cover it, but finally just ditched the bench - not worth the hassle.
I love the pic you posted. I've saved it for reference.

awm03 - If I can figure out how to attach a link to the wallpaper I am considering, I'll post it later today. I've got to finish posting my grades for this quarter before I can "play".
---
| | | |
| --- | --- | --- |
| RE: Dining room project - need inspiration | | |
Here are a bunch of random rooms:
Not saying to paint your chairs red but maybe a red seat cover and more red in art and accessories. Th ewall color is certainly dramatic.

---
| | | |
| --- | --- | --- |
| RE: Dining room project - need inspiration | | |
I like wallpaper in dining rooms and powder rooms...and entry/foyers. We don't spend a LOT of time in any of those spaces, so I think it's fun to do something a little more dramatic :)
---
| | | |
| --- | --- | --- |
| RE: Dining room project - need inspiration | | |
Love the gold DR nosoccermom posted. If you fill the walls up, it brings a coziness to the room. Maybe you need to step outside your comfort zone and rather than having the botanicals lined up so neatly, work them into a wall vignette with other objects. It also seems to lessen the formality of a room. Just another thought. ;)
---
| | | |
| --- | --- | --- |
| RE: Dining room project - need inspiration | | |
patty cakes - it's funny you should suggest a wall vignette. I was on allposters.com and found a few large prints, but when I placed them in "my room" it just looked so-so. Then I thought about all the miscellaneous prints that we have around here and wondered if a grouping would work. Most are impressionist works (DH is a big fan).

What bothers me a bit is that anything I've placed on that wall looks like it's floating. There isn't much space between the end chair and the wall, so a console table is pretty much out of the question. Any idea on how to alleviate the issue? In addition to prints, what other objects might be appropriate to include?

Thanks all!
---
| | | |
| --- | --- | --- |
| RE: Dining room project - need inspiration | | |
Your room is very pretty! I like red dining rooms too, but for yours, I'm not sure your furniture would look right with red? I like the gold color, which would look great with your rug. Your current walls seem too pale. A darker color will really change the feel. A new light fixture might help, although yours looks fine to me, if not a bit heavy. I hope you stay true to what you love and not be too swayed by current trends. Have you tried mixing in some of your white plates with the pink? I like the wallpaper idea also, which may solve the problem of what to put on the wall behind the end chair...it may need nothing if wallpapered. So, find a deep wall color (SW Restrained Gold?) or wallpaper for a base, add some pretty drapes, reupholster chairs, decide then on a light fixture, play with the plates..it'll be beautiful!. My DR is outdated. We have the original set which was the first real furniture DH and I bought after saving up some money (30 some yrs ago). I cant change it out, too sentimentally attached, besides its too heavy to move lol. I just call it my "oak" room. Interestingly, this room gets the most compliments of any room in our house. People always comment how comfortable it feels. Color is off in the pic, the walls are SW Blonde (an outdated color now I think, lol). The day i found this perfect rug was the key. Everything was so easy from then on.
Good luck with your pretty room.
---
| | | |
| --- | --- | --- |
| RE: Dining room project - need inspiration | | |
massagerocks - I think your dining room is lovely! I especially like the hutch and your dish display. My plan (as of today, who knows what tomorrow will bring...) is to paint it gold. It won't happen until spring break, so I've got plenty of time to change my mind ;)
Changing the upholstery and adding some type of window treatment should help, I agree.
---
| | | |
| --- | --- | --- |
| RE: Dining room project - need inspiration | | |
Hah, I just came across this dining room update: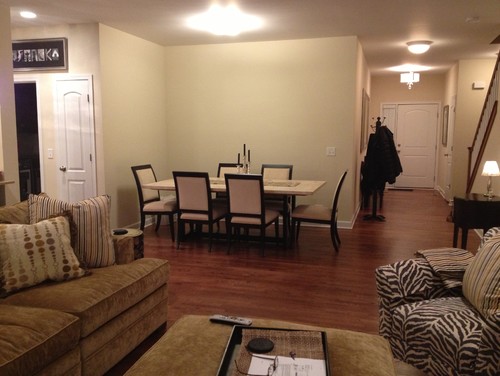 Here is a link that might be useful: dining room project
---
Post a Follow-Up
Please Note: Only registered members are able to post messages to this forum.
If you are a member, please log in.
If you aren't yet a member, join now!
---
Return to the Home Decorating & Design Forum
Information about Posting
You must be logged in to post a message. Once you are logged in, a posting window will appear at the bottom of the messages. If you are not a member, please register for an account.
Please review our Rules of Play before posting.
Posting is a two-step process. Once you have composed your message, you will be taken to the preview page. You will then have a chance to review your post, make changes and upload photos.
After posting your message, you may need to refresh the forum page in order to see it.
Before posting copyrighted material, please read about Copyright and Fair Use.
We have a strict no-advertising policy!
If you would like to practice posting or uploading photos, please visit our Test forum.
If you need assistance, please Contact Us and we will be happy to help.

Learn more about in-text links on this page here