Return to the Home Decorating Forum
|
Post a Follow-Up
---
| | | |
| --- | --- | --- |
| Remember this 'awful' kitchen? | | |
Posted by
camarodreamer67
(
My Page
) on
Tue, Dec 28, 10 at 15:56
I had posted asking for help a year or so ago and recently contemplated interchanging my kitchen and master bedroom but the dimensions of the master bedroom will not accomodate an island and that was what I was truly hoping for. I had saved the previous suggestions on my laptop but recently lost the hard drive so have to start over.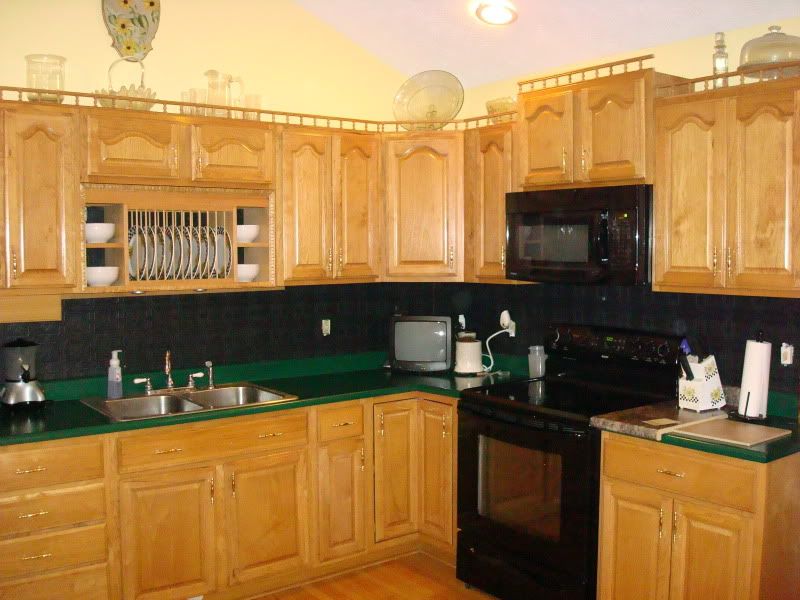 Cabinets are Honey Spice Oak and dh has "requested" that I not paint them yet because they are in good shape. Since this photo was taken I have added antique bronze handles.
I was thinking I could remove the trim on top of the cabinets and add a better moulding as well as move the corner cabinet up to match the one over the stove and fix a shelf for the tv under it.
I had told my dh that I wanted a new sink and faucet for Christmas and that sometime in 2011 I really wanted new countertops. I absolutely hate the green. I have removed most of the glassware off the top.
Then I got the surprise of my life when my MIL gave me the wonderful gift of cash for Christmas and my mom ordered me a new faucet. (A Rustic Bronze). DH is taking me to Bristol on Saturday to look at sinks. I had been adamant on a double bowl but am now thinking single bowl.
I can't afford granite nor would it hold its value in my neighborhood but do love the look of the Formica FX180. I was hoping some of you might give me ideas on what $1500 might do to bring this kitchen out of the grass.
Thanks so much!
Alicia
---
Follow-Up Postings:
| | | |
| --- | --- | --- |
| RE: Remember this 'awful' kitchen? | | |
I think you are definitely on the right track: new trim instead of the plate rail; new counters that you love, your new hardware and a new sink and faucet will do wonders. Not sure how raising the corner cabinet would work - I guess that depends on whether it shares a frame with the cabinets next to it. Also, it would make it more tricky to put new moulding above it all. I'd probably leave that cabinet as is but that's just my opinion.

Your photo doesn't show any light fixtures but that's another thing to think about: replacing an outdated fixture is an easy fix that can have a big impact.
---
| | | |
| --- | --- | --- |
| RE: Remember this 'awful' kitchen? | | |
If you aren't thrilled with the color of the cabinets, try painting the yellow walls. I think those yellow walls bring out the yellow in the cabinets and just switching the wall color might give you a whole new perspective.
---
| | | |
| --- | --- | --- |
| RE: Remember this 'awful' kitchen? | | |
I would leave the corner cabinet alone and instead replace the tv for one that mounts under the cabinet. When you're thru watching tv the monitor flips up and out of the way.
Here is a link that might be useful: Just an example.........
---
| | | |
| --- | --- | --- |
| RE: Remember this 'awful' kitchen? | | |
Excellent suggestions above:

1) Yes -- do remove the taller railing and replace with thicker molding

2) Reconsider moving the cabinets -- that move might eat up much of your budget. Instead -- save the money -- and put it toward the purchase of your new countertops and sink.

3) Yes -- another vote to consider painting the walls. Can you post updated photos of the entire area? As mentioned above -- the pale yellow does bring out the yellow tones in the wood cabinets.

4) I wonder how your cabinets would look with a deeper colored stain? Check out the Minwax Polyshades site online and see some of their colors. Might be an idea that would work in the future for your DH too!

5) Yes -- adding an island can really help too. There are many islands available on the market -- check out Target.com -- I believe I saw some there .....
---
| | | |
| --- | --- | --- |
| RE: Remember this 'awful' kitchen? | | |
You sure those cabinets are oak? They look like maple to me. I don't see the oak-y grain and do see a maple-y sheen. Maybe it's just the picture though.

Anyway, they look like nice cabinets. A new sink & faucet, paint, counter, backsplash, and kitchen light as chicagoans suggested will have a big modernizing impact on your cabs. Keep us posted!
---
| | | |
| --- | --- | --- |
| RE: Remember this 'awful' kitchen? | | |
I'm sorry, but it's a beautiful kitchen.
---
| | | |
| --- | --- | --- |
| RE: Remember this 'awful' kitchen? | | |
If it were me, I'd earmark that $$ for the counters and sink first and foremost (and your new faucet was such a nice gift!).

The rest I'd DIY on a pay as you go plan. First, I'd paint, then I would consider darkening up the cabs as teacats suggested. Then I would step back and consider if the plate rail needed to go. If so, I'd then do the crown. I'd also do what annz suggested, but that would be the last thing.

The counters would be first (and I feel like I can say that - my tile floor is just a shade darker than your counters and I just put down an 8 ft rug to cover a bunch of it up, LOL!). If the FX is too expensive, and your counters are otherwise in good shape, consider a copper or stainless steel covering (do a search on the kitchen forum).

Adopt this mantra: Tolerate what you can, replace what you can't ;-)
---
| | | |
| --- | --- | --- |
| RE: Remember this 'awful' kitchen? | | |
Thanks so much! Paint is definately on the agenda. My former kitchen with oak cabinets was SW Copper Mountain and I loved it. I am hoping to do the same color again. I am at a loss on the countertops. I really like the FX18o Burnished Montana. I'm just not sure about going so dark. I haven't found a lighter one that matches the cabinets.
---
| | | |
| --- | --- | --- |
| RE: Remember this 'awful' kitchen? | | |
The cabinets are beautiful. They do indeed look like maple. It would be a shame to paint those beautiful cabinets.

I love the idea of the Copper Mountain!

I think you are on the right track. And I don't think a dark countertop would be bad at all. It adds a nice contrast to the whole room.

I agree with others - the corner cabinet is fine as is.

It's really a very nice kitchen, and with some of the updates you are talking about on here, it will be a wonderful kitchen that will last you a long, long time.
---
| | | |
| --- | --- | --- |
| RE: Remember this 'awful' kitchen? | | |
Minwax polyshades are very difficult to work with, I really like the color of your cabinets. Consider getting a few doors (the corner cab would be a good one) cut for glass to break up the line of wood cabs. New trim to replace the platerack would look awesome!

I'd post this on the kitchen forum. They have some great ideas, in the area to the right of your stove, you could add glass, use some corbels, fake legs and beadboard to create a hutch. Someone on the kitchen forum suggested it to me and it looks great for very little investment. (I painted my cabs, but they weren't as nice as yours are.)
---
| | | |
| --- | --- | --- |
| RE: Remember this 'awful' kitchen? | | |
Honestly, I think your kitchen is very charming! I do not mind the rail at the top of the cabinets at all - I think it adds to the charm.

If it were my kitchen, I would change the countertop, new sink, faucet and paint the walls if you are so inclined. Otherwise - I think it looks great!

Best wishes to you!
---
| | | |
| --- | --- | --- |
| RE: Remember this 'awful' kitchen? | | |
I would remove the railing off of just the cabinets that are over the stove. They look kind of odd sticking up there, and if you remove them, then it brings the height of those cabinets closer to the rest of the cabinets, and then you won't have to worry about moving the other cabinet. Please don't paint the cabinets, they are beautiful... :-)
---
| | | |
| --- | --- | --- |
| RE: Remember this 'awful' kitchen? | | |
I'd prob do it in this sequence:

1) replace sink & faucet and countertop

2) after #1 is installed, then choose paint color (the countertop color may affect what wall color to go with it)

3) then modify the cabinets if desired, e.g. remove railing etc.
---
| | | |
| --- | --- | --- |
| RE: Remember this 'awful' kitchen? | | |
I vote for removing the railing, but leaving the cabs the color they are. I bet they look better with the new knobs. I second the undermount TV. I have one and LOVE IT. Frees up so much space on the counter. Mine is also a radio, which is nice.

I traded out a double sink for a single and I also love that. I rarely handwash anything, so found no need for the double. I happened to get one at IKEA that has a drain board and I also got the sliding cutting board for it. It only comes in stainless, but I paired it with my ORB faucet, and I think it looks ok.

Definitely get your new countertops and possibly paint. I think you'll find you're much happier then.
Here is a link that might be useful: sink
---
| | | |
| --- | --- | --- |
| RE: Remember this 'awful' kitchen? | | |
I do the order Ummm listed. Countertop and paint and new hardware (or painted old hardware) alone will make a huge difference. I don't know what much it runs but I do want to say I really like the look of the FX 180 and if I could do over, and didn't have the money for granite I'd pick that over my solid surface. If it's still in the budget then I'd consider adding different moulding. It could be cheaper maybe to get one of those undermount tvs as posted above?
Is your backsplash tin? Once the counter is changed you could possibly paint that if need to be?

You have a nice kitchen but these changes will really freshen it up.
---
| | | |
| --- | --- | --- |
| RE: Remember this 'awful' kitchen? | | |
What bothers me most about this kitchen is the countertop, the backsplash, and the wall paint. That pale yellow with the green and ?black kind of makes my teeth itch.

Since your DH wants to keep the cabinet color, I'd chose a paint color that will compliment that and your floors. Either paint the backsplash to match, or replace it with tile. I'd then chose a countertop color in a neutral tone that also compliments the wood, but maybe has a shade of the wall color in it.

I wouldn't fiddle around with the cabinet trim or changing the corner cabinet, since any patching or repairing might be difficult to match the current stain.
---
| | | |
| --- | --- | --- |
| RE: Remember this 'awful' kitchen? | | |
If you are not are about painting but don't like the color of the wood could you stain them a different color? Try it on the back of a cabinet drawer or door. My mom had new doors in her kitchen and bathroom installed. She did strip the cabinets and re-stained them to match new doors. Would have been impossible to match the 45 year old finish, it was a mess to do however. You can get stains in whites-blacks, reds, blue and everything in between. I used a white stain on a pine cabinet and it looks great. I did purchase it at a specialty wood workers store (not a big box) I would always be afraid of paint chipping and such.
Here is a link that might be useful: stain colors
---
| | | |
| --- | --- | --- |
| RE: Remember this 'awful' kitchen? | | |
those don't look like oak to me either. is the BS the same material as the counter top? i'd get rid of that also.

the FX is rather expensive. Check it out, but there are many other really nice laminates that aren't FX. The cabs and counter top don't need to 'match', just go together nicely.

I'd change the counter top/sink, BS and repaint. I'd definitely take off the rail over the stove - it looks very weird up there. It isn't attached to the others! I'd probably take all of the rail down - never have liked those.

add the undercab tv mount and glass in the doors of a few cabs and it'll be a whole new kitchen!
---
| | | |
| --- | --- | --- |
| RE: Remember this 'awful' kitchen? | | |
My daughter and SIL's kitchen is/was very similar to yours with the green laminate, orange cabinets and yellow walls. I believe we have discussed this before. They recently went through an update with new granite counter tops, paint, new sink, cabinet knobs and finally, new SS appliances.

I was originally against the granite because like with your neighborhood, I didn't think that their home/neighborhood could support the granite. However, they got a great deal on it and I don't see why they wouldn't get their money back on resell.

The updates (especially the paint) really made all the difference in their home.

Before:

After (before the appliance change. I'll make a new thread sometime, when I can get over to their home and take photos.

---
| | | |
| --- | --- | --- |
| RE: Remember this 'awful' kitchen? | | |
newhomebuilder...
Wow, the updates look great!

What is the paint color? Please share.
---
| | | |
| --- | --- | --- |
| RE: Remember this 'awful' kitchen? | | |
Newhomebuilder, What a dramatic difference? I had thought one would have to do a lot more changes than that to get those results. I really like the granite but its out of my current price range.

This is the hardware that I installed after the above photo!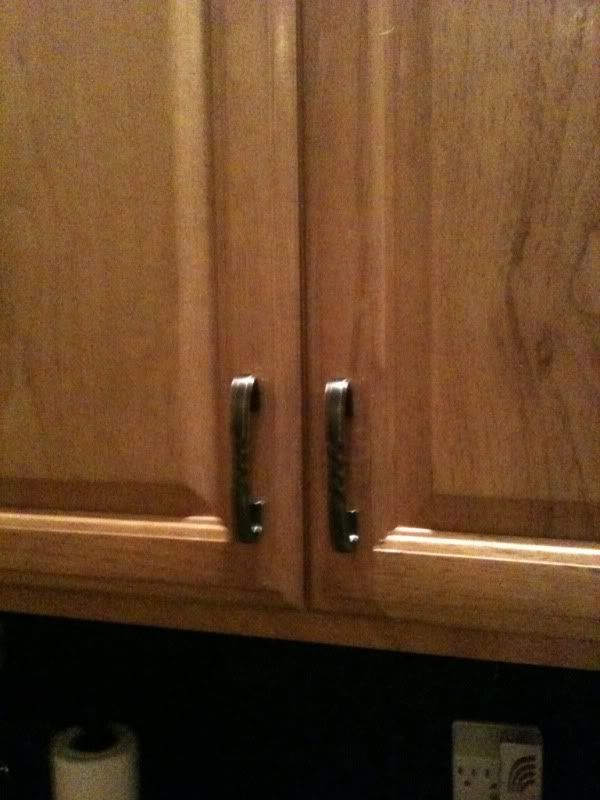 My "current" dilemna is what color of countertops to go with. I looked for a light creamy neutral but can't seem to find something that looks right with the honey in the cabinets.
One option is the prefabs that they sell at Homedepot. They are really affordable. Looking at the internet prior narrowed it down to these two
This is my dh's favorite but it does have some grey tones in it and that holds me back!
In person this one isn't as golden as it looks on the internet.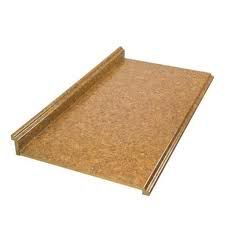 I really like the look of the Burnished Montana in the FX180 line.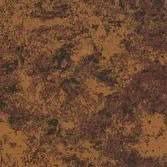 A friend whose dad owns a cabinet shop and has promised he could "do me right" says I would be crazy not to go with Butterrum Granite Laminate with the honey cabinets as seen in this picture.
What does everyone else think?
---
| | | |
| --- | --- | --- |
| RE: Remember this 'awful' kitchen? | | |
I don't know, they made almost all changes one could make. The only thing not changed was the color of the cabinets and floors.

I like the middle faux granite that you showed. Not sure that I care for the Butter Rum. I like what your husband likes, but not sure how it would look in your kitchen. What paint color would you use?

hondagirl - The color is BM Woodstock Tan.
---
| | | |
| --- | --- | --- |
| RE: Remember this 'awful' kitchen? | | |
Out of the four laminite choices you posted, I like the one your DH likes the best. Can you purchase a small piece and bring it home to see how the grey areas look with your cabinets?

I think the Burnished Montana limits your paint colors and the second one would accentuate the golden hue of your cabinets. The Butterrum granite is....eh. Nice but I think there are nicer choices out there.

I personally like when the countertop contrasts with the cabinets, which is why I like the darker countertop DH likes.

If you want laminate, there are a lot of colors that I think would look nice with it. Of course, you'd have to get samples and see for yourself.

Formica Mineral Jet

Formica Basalt Slate

Formica Labrador Granite

Formica Walnut Quarstone

Wilsonart Antique Topaz

Wilsonart Brazillian Topaz

Wilsonart Deepstar Agate

Sorry for getting carried away :)
---
| | | |
| --- | --- | --- |
| RE: Remember this 'awful' kitchen? | | |
Do not be sorry! I just don't have any idea what to do with it. I will order samples this weekend of the ones you selected. I really like the Topaz ones.

This is a closeup of the one available at Homedepot. It has the Ogee Edge and a pretty shine that would cost extra at the Cabinet Shop.
However I am not really crazy about the grey showing in it. I really want to paint the kitchen SW Copper Mountain like my former kitchen. See how peaceful and serene it was!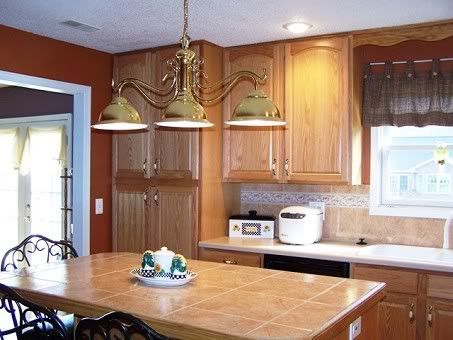 Thanks for all the advice!
---
| | | |
| --- | --- | --- |
| RE: Remember this 'awful' kitchen? | | |
I used the Butterrum laminate in our kitchen remodel and love it. I had it done by a local company with a flat deck (no integrated backsplash) and a full roundover nose. It was just under $1000 for the whole kitchen, including installation (U shaped main area, straight stretch of baking zone, and raised bar).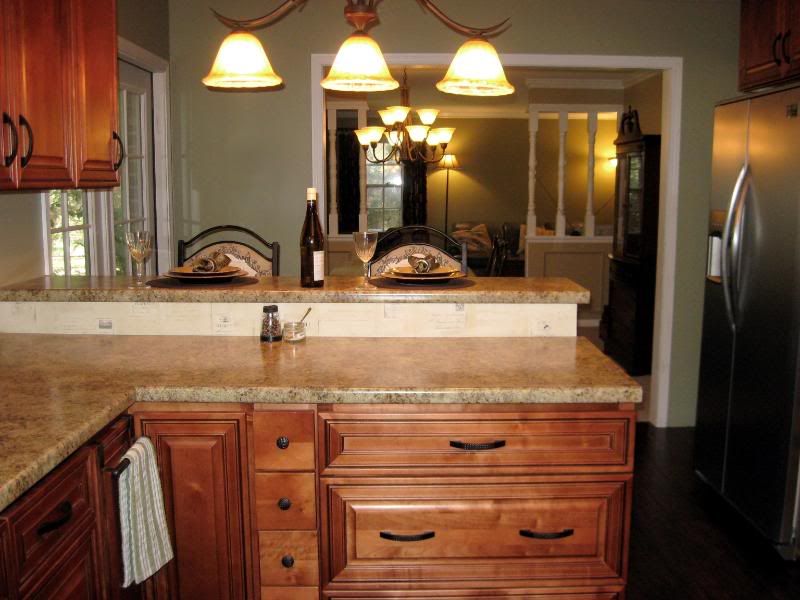 I chose a Silgranit sink in Cafe which works great with the countertop. It's the best sink material I've ever used (and I've had stainless steel, cast iron, acrylic, etc.) I love the 1 1/2 bowl design; for me, it's the best of the huge single bowl with the added benefit of just a small second bowl to keep things separate.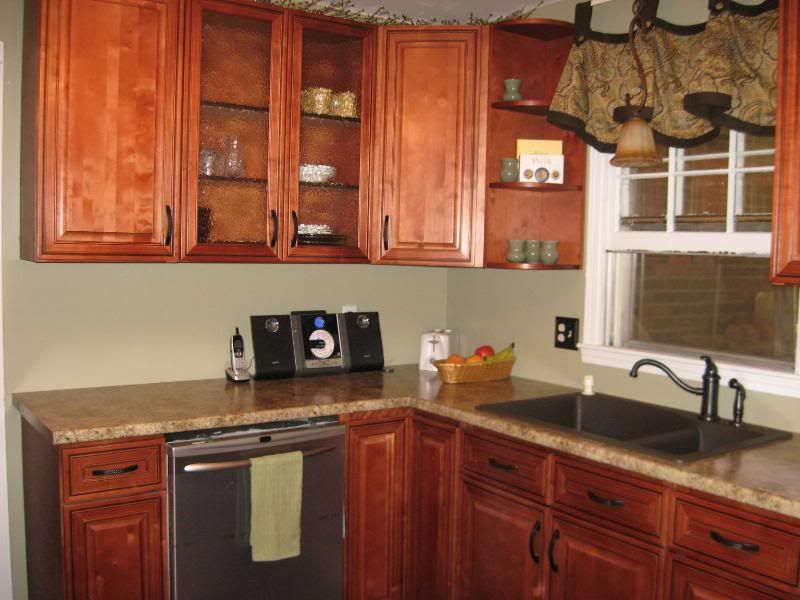 I would try the wall paint, countertops, new sink and hardware, etc., first. Then, if you still don't like the cabinet color, definitely look into General Finishes gel stain. I've used Java on several projects and it is easy and beautiful. Someone on the kitchen forum did a whole kitchen in Java and it looks fantastic. If you don't want to go that dark, they have several other shades (but really try to find the GF brand, as it is so much better than any of the other products I've tried).
---
| | | |
| --- | --- | --- |
| RE: Remember this 'awful' kitchen? | | |
@ Equest
Sorry for going off-topic/hijacking, but do you happen to have a link to the kitchen done in Java that you are talking about? I did a search but couldn't find it. I am trying to stain our doors to match our very dark bamboo floors and haven't been able to find a dark enough color in a gel stain at the big box's.

On another note, we have the exact same sink--color and all! And I, too, love the material and the size of it. Being able to hide an entire cookie sheet in the sink until I'm ready to wash it makes my life somehow seem much less stressful :)
---
| | | |
| --- | --- | --- |
| RE: Remember this 'awful' kitchen? | | |
I like the butter rum granite in equest's kitchen much more than the photo posted of it with the honey cabinet!

I believe Celticmoon (?) was the one that stained her cabinets in java.
---
| | | |
| --- | --- | --- |
| HD countertop | | |
I found the dark Home Depot laminate. It is called Milano Rosso by Wilsonart. I like the grey in it - gives it a little more depth. You can order a larger sample from Wilsonart for $1 instead of buying it at HD to see if you like the color.
---
| | | |
| --- | --- | --- |
| RE: Remember this 'awful' kitchen? | | |
I love equest17's kitchen! Maybe the Butter Rum would work. I guess it just depends on the look you prefer...dark or light.
---
| | | |
| --- | --- | --- |
| RE: Remember this 'awful' kitchen? | | |
Barelythere, I can't find her original reveal thread, but it is Celticmoon like Chocolatebunny said. I did find this thread where she responded with instructions and links to her Photobucket pics (as well as another poster who did a kitchen in GF gel stain).

I've done a coffee table and two antique beds in it and love the product overall, and especially the Java color. There is no other product that compares to it, IMO. I had to order from Rocklers, but it's worth it!
Here is a link that might be useful: Java gel stain thread
---
| | | |
| --- | --- | --- |
| RE: Remember this 'awful' kitchen? | | |
Cam

I think the cabs are maple - so staining would prove to be difficult, painting would be much easier. Leaving them as is seems to be where you are going - and they look to be in great condition.

I agree to remove the spindly plate rail
Also, I think the back splash is really creating a cave like look overall. Is that painted/faux tin plate? - A simple 4x4 tile or subway would really open things up and not be too much $.
Out of the laminates above I think the butter rum your friend suggested is best. Dh choice may render a similar feel in the overall space - severe contrast to counter/cabs.

I would suggest the following order:
Choose counter material - getting samples (large if you can) bring them into the space & take photos - live with it for a little while.
- Back splash that compliments the counter material-Home Depot carries/stocks these at reasonable price points
- remove plate rail
- TV off the counter
- New sink/faucet - I prefer a single bowl - if you can get an undermount I would go that way
- Paint that compliments the overall choices
- A nice runner in front of the sink and some simple accessories to tie it all together

- ? do you have pics of the rest of the kit/breakfast area?

Good luck
---
| | | |
| --- | --- | --- |
| RE: Remember this 'awful' kitchen? | | |
This is the other side of the kitchen opposite the stove.
Now that the OTR Microwave is in place. There is no microwave and the dishwasher has been finished out. I would love to move the fridge to where the dishwasher is and then put the dishwasher beside the sink where it belongs. The family that built the home saw no need of a dishwasher.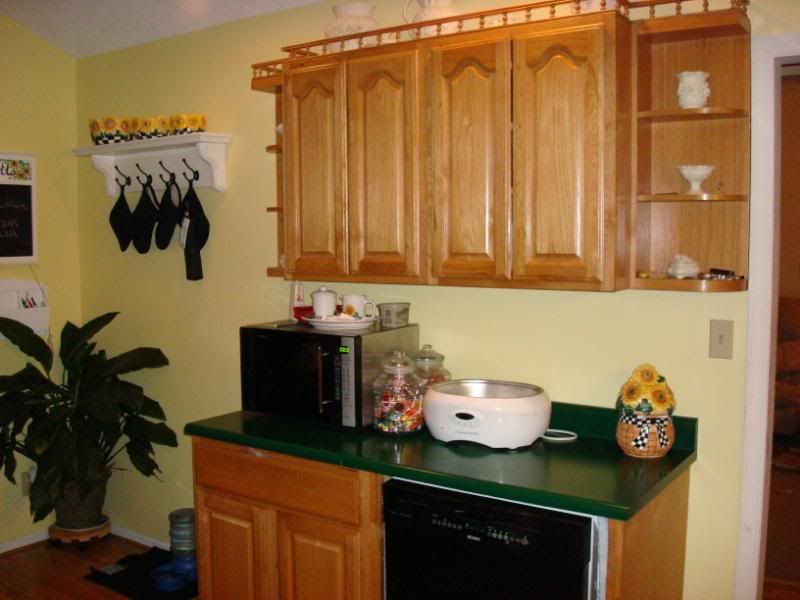 This is the wall opposite the sink that has the table and chairs. This is an old pic and the curtains are no longer there.
---
| | | |
| --- | --- | --- |
| RE: Remember this 'awful' kitchen? | | |
Hi, Camarodreamer. I just wanted to say I think the honey color of your cabinets is lovely, and your kitchen overall already very attractive. My own cabs are white, trim honeyish white, walls pale honey, counters honey-toned butcher block, and floors "deep honey" pine, (!), so obviously I like that color. Almost everything looks great against it, too.

In any case, that wall color you love sounds like a really good starting point for your new look. Maybe look around a while longer for additional counter options, though? I think you're on the right track with the light creamy counter, which should bring the various elements of a busy space together very nicely and keep it nearly as flexible as mine is. That handsome bronze choice is good looking but would lock in a certain look as certainly as the green. BTW, if there's an Ikea within reach of a nice scout-and-lunch trip, you might check it out for additional inexpensive counter choices.

But--since the counters are coming off, how about definitely getting a bid on what it'd take to do a little cabinet shuffling to move that DW in where you and your kitchen need it? It probably would cost less than you fear and really should be on your list if at all possible. Maybe DW and counter now, and then new top moldings and backsplash for next Christmas? Agree the corner cab is very nice as is.
---
| | | |
| --- | --- | --- |
| RE: Remember this 'awful' kitchen? | | |
Hi again! I tried to post this last night, but for some reason, I could not log on to GW.

My daughter sent this photo via her cell phone, so it's not very good. I wanted you to see the kitchen with the SS appliance.

Also wanted to say that they could not afford to finish the backsplash, so opted to paint. Could you paint your existing backsplash a lighter color, or color of the new walls?
---
| | | |
| --- | --- | --- |
| RE: Remember this 'awful' kitchen? | | |
Thank you so much! I now wish I had went with SS but when I first bought the dw I still had a white fridge and mixed stove. I was also afraid the SS was too modern for the style of cabinets. I hope to paint within a couple of weeks. I will paint the paintable bs the same color then take some pics with different laminate samples. DH really likes the dark contrast and we saw a dual tone moulding on a display at HD. I wish I had taken a pic. My sis is in the hospital in that town and if it will quit snowing I will be there on Sunday and get a pic of it.
---
| | | |
| --- | --- | --- |
| RE: Remember this 'awful' kitchen? | | |
A few changes to your kitchen: dishwasher moved next to sink, replacing the drawers, backsplash and over cabinets pained a soft green, railing and tchotskes removed from upper cabinets, and a dark countertop replacing the green one.
---
| | | |
| --- | --- | --- |
| RE: Remember this 'awful' kitchen? | | |
Suero, I can't believe how the lighter backsplash opens it up. It is really making me rethink my color choice of SW Copper Mountain but honestly don't think dh would like the green ( ESP after I was so adamant to remove the green countertops lol). I absolutely hate to ask but could you do a rendition with a copper and/or a creamy beige? I can't believe how the visual has made me re-evaluate my choices.
---
| | | |
| --- | --- | --- |
| RE: Remember this 'awful' kitchen? | | |
A picture is worth 1000 words. Hopefully you will be able to visit your sister and get a picture. Hope she is doing well.
---
| | | |
| --- | --- | --- |
| RE: Remember this 'awful' kitchen? | | |
| | | |
| --- | --- | --- |
| RE: Remember this 'awful' kitchen? | | |
Thank you so very much! I almost think the dark laminate at HD would look good with a light backsplash. I really like the cream and think I will try to pick up a couple of samples at SW next week. Any suggestions? I had thought the copper would be great because there is lots of light but wish I had never agreed to the yellow!
---
| | | |
| --- | --- | --- |
| RE: Remember this 'awful' kitchen? | | |
Copper Mountain with black countertop:

Copper Mountain with granite countertop:
I prefer cream for the walls.
---
| | | |
| --- | --- | --- |
| RE: Remember this 'awful' kitchen? | | |
So do I! I truly appreciate you opening my eyes!
---
| | | |
| --- | --- | --- |
| RE: Remember this 'awful' kitchen? | | |
If you haven't finished your kitchen yet look at BM deer path. It looks great with my oak cabinets. Have you considered granite tile and using it on the backsplash as well. Much more affordable than solid grante and you can get a good tile setter that can use a silicone type material instead of grout so that the tiles can be very close together. Just a thought!
---
| | | |
| --- | --- | --- |
| RE: Remember this 'awful' kitchen? | | |
Thank you soonermom! I have been looking at the granite tile. A friend just did hers and I love it. It seems that everytime I get my funds together something else takes precedence. I looked for a pic of your kitchen but hadn't found one. I really appreciate you thinking of my poor "awful" kitchen.
---
| | | |
| --- | --- | --- |
| RE: Remember this 'awful' kitchen? | | |
Finally after all of this time, I have an appointment for someone to come and measure and attempt an "upgrade" on my kitchen. I plan to keep the current cabinets but get new countertops, sink, faucet, and pantry cabinets. I was thinking of switching the location of dw and fridge. I want a new backsplash. The biggest choices need to make is whether to go with a two tone kitchen. I was thinking of doing a dark (almost black) pantry in the area where the coat rack is. Then doing oak moulding all over the kitchen with a black rope to tie it in. And whether to add an island in lieu of the table and chairs. Any thoughts?
---
| | | |
| --- | --- | --- |
| RE: Remember this 'awful' kitchen? | | |
Celticmoon here (who Java'd old oak cabinets).

Yours are neither oak nor ugly. I would not darken them. The right paint color and counter will do the trick.

Good luck!
---
| | | |
| --- | --- | --- |
| RE: Remember this 'awful' kitchen? | | |
Wondered how your plans are going.

No question that removing the rail would be one of the first things I would do. The other would be replace the counters and do something different on the splash -- even if it is paint. Paint and counters are the things to focus on. I think we have a good chorus going on that theme. ;-)

I wouldn't hesitate to do something like an armoire (you can find them used cheap and paint any color you want) for a pantry. An unfitted piece doesn't tie you to anything that can't be easily changed -- maybe used in another room down the road. Another option there might be to use the cabinet that is next to the DW, the drawer stack where you could move the DW and create a hutch on that wall, possibly next to or surrounding your fridge. I wouldn't be inclined to do a two tone trim -- they are just too limiting and I think they tire quickly.

Another option you have with those cabinets and the vaulted ceiling would be to raise all of the upper cabinets and install an open shelf below. If you wanted to do something like that, you might consider removing the plate rack or figuring how to tie it in/use it without having too much open storage.

I can understand moving the DW. That makes perfect sense. I'm not sure why you would want an island here instead off your table and chairs. I may not be envisioning the way this all works together correctly, but I think you would chop up or box up your space and lose more than you would gain. I don't know that you could seat more than 2 or 3 and you can seat 6 now if you pull the table from the window. In fact, start by pulling the table away from the window and rotating it. Even take the chairs away from the kitchen side and see if you really like the way the space functions. The height will be different, but you can get a better feel for the flow and use of the space.

You seem concerned about a dark counter, but with floor and cabinets so close to the same wood, you really need some contrast and charcoal to black will tie in your appliances. Get a more contemporary window treatment -- even a simple shade, and with a new paint color, it will really look totally different. I'd talk to everybody I knew who had done counters and talk to fabricators and stone yards. You don't have a lot of counters to deal with and they are pretty straight and simple pieces. You might find a remnant (lats slab in the lot) or even prefab counters in a simple black granite that would look great. I have nothing against laminate, but a quality one may not be cheaper or much less than a great find in granite. Don't cross it off your list if you haven't looked.

Good luck -- let us know how it's going.
---
| | | |
| --- | --- | --- |
| RE: Remember this 'awful' kitchen? | | |
Thank you so much! I have two different cabinet folks coming. One on the 18th and another on the 21st. So excited!
---
| | | |
| --- | --- | --- |
| RE: Remember this 'awful' kitchen? | | |
Finally the weather broke and one of the cabinet folks made it here to measure! I get to see his plans this week. I wish we had granite yards in this area but not a one so its definately out of my reach. I agree that an island seems a little cramping so am scratching it off my list. I stressed to this guy that the dishwasher and fridge switch was required and have convinced that a black wall of cabinets that includes pantry on the wall is acceptable especially with black accent trim on the L shaped section but I'm at a loss on what that wall should include. Suggestions appreciated!
---
| | | |
| --- | --- | --- |
| RE: Remember this 'awful' kitchen? | | |
I went to the tile store this evening and in my normal matchy matchy frame of mind just kept looking for tiles for countertop and backsplash that would match the cabinets. I know that's not the way to go but can't get my mind around the needed contrast. I did bring a sample of the black granite tile home to compare. My question is if I go with a granite tile for the countertops does the backsplash need to be the same?
---
| | | |
| --- | --- | --- |
| RE: Remember this 'awful' kitchen? | | |
cam, you could, but it's an awfully lot of granite. One of my DD's has Uba Tuba, backsplash as well as countertop, and it's too much dark. It seems to be a trend right now to have it all one and the same.

When I built almost 5 years ago, I didn't follow the trend. I have granite countertops, but went with a travertine backsplash, but not for the complete kitchen. On the perimeter cabs, I decided to just leave the walls raw, ie:painted. The cooktop and sink backplash is the travertine, but only about 3/4 up the wall. I thought if I wanted to wallpaper the perimeter backsplash, I might want to co-ordinate the other backsplash and use a bit of wallpaper, or even beadboard, there also. I like to keep my options open.

So my answer to your question? Absolutely and positively NO! Use your *own* imagination. ;o)
---
Post a Follow-Up
Please Note: Only registered members are able to post messages to this forum.
If you are a member, please log in.
If you aren't yet a member, join now!
---
Return to the Home Decorating Forum
---
Instructions