Return to the Home Decorating & Design Forum
|
Post a Follow-Up
---
| | | |
| --- | --- | --- |
| Sentimental...but you don't like it | | |
Posted by
melle_sacto
(
My Page
) on
Wed, Dec 11, 13 at 14:19
What have you done with the furniture/items that you are sentimental about, but either you don't like them or there is no place for them?

If they could be refinished/changed in a way that you would like them...would you do it?
---
Follow-Up Postings:
| | | |
| --- | --- | --- |
| RE: Sentimental...but you don't like it | | |
For me, nothing is sentimental if I don't like it. :)

For inherited pieces that I don't care for, or have no place for, I offer to other family members. If no one is interested they are fair game. If those things are not necessarily valuable (although they may be old). I wouldn't hesitate to paint if it would work better for me.

We have some "in family since the 1700s " pieces that I would never consider altering. Luckily they fit my current decor and I like and use them.

Remember that there is stuff that you don't HAVE to like, even if your grandmother used it everyday of her married life. She would want you happy, not stressing over a 'thing'. If you can't use it, give it to someone who can.

ML
---
| | | |
| --- | --- | --- |
| RE: Sentimental...but you don't like it | | |
I tend to agree. I am not sentimental about things I don't like. If it was important to someone i care about, I'd rather have it go someplace where it is used and appreciated.
---
| | | |
| --- | --- | --- |
| RE: Sentimental...but you don't like it | | |
It was difficult letting things go with so many memories. But none were really my taste and mom had changed over from antiques to new. She loved the new and they were things wanted forever. The antiques did not have a family history as all once owned were lost in a flood during the depression. When we were selling items, my husband kept reminding me how excited a newly wed or college student was openly showing their joy. New homes for once loved items to be loved again is a good thing.

I was asked once if there was one thing of my mother's that would be kept. Knew right away and these small keepsakes (set) are in a special place for me to love. Although I also have my great grandfathers trunk which traveled from England and a small stool my father used every day.

One thing forgotten, but my son grabbed immediately while packing....was the ruby glass settings which were always put out for the kids birthdays. He will keep these forever.

She did have many items from her world travels which the kids held a deep respect for. Those did go to them and I am without much to deal with.
---
| | | |
| --- | --- | --- |
| RE: Sentimental...but you don't like it | | |
I think it depends on how old and what it is. Half my forebears were too poor to have much of anything to pass on.

On the other side, a relative who was supposed to pass on a lot ot sterling and plate had a gambling addiction and hocked it all.

My SO's family lived in one general location for 300 years and they never disposed of anything, until a couple members of the last two generations (1) made an executive decision that hand written inventories, ledgers and receipts from after the revolution to after the civil war should be thrown away, and (2) more recently, lost a bunch of antiques by neglecting to pay a relatively cheap storage bill.

Some things I think we are just custodians of, and it is not our decision to dispose of. If you don't like it, store it.
---
| | | |
| --- | --- | --- |
| RE: Sentimental...but you don't like it | | |
I'd be willing to part with stuff I just don't like (although the reason my MIL gave stuff to me instead of to my SIL is that she knew my SIL would sell it and she thought I wouldn't). Unfortunately, my DH hasn't yet agreed that craigslist/ebay is the place for some of this stuff that I will never ever use. Luckily, my DIL wants the monogrammed tablecloths that were part of my DH's grandmother's "dowry" (huge, and white, and they come with napkins that are 36 inches square -- not square inches, inches square). I think they're nice to have but I just have no use for them.
---
| | | |
| --- | --- | --- |
| RE: Sentimental...but you don't like it | | |
I mostly agree with the others who've said it's hard to be sentimental about something they don't like. Still, I have a couple of things I'm hanging onto that I'll never use, but I can't let them go, e.g, the handmade crocheted lace tablecloth my grandmother made eons ago. It's family history and it doesn't take up a lot of room storing it. When I'm gone, my daughter can decide what to do with it.

Refinishing or repainting is an option. The desk I recently refinished was nothing to me, even though it was my daughter's desk. It was ugly and I was not in any way sentimental about it. However, after I refinished it, I now love it for itself, not for memories associated with it.
---
| | | |
| --- | --- | --- |
| RE: Sentimental...but you don't like it | | |
I have had just this conversation with myself. Somehow dh & I had become the dumping ground of family heirlooms that our parents no longer wanted. One of them was a rather ugly chair table that I never liked, and when I finally told mil I really didn't want it, didn't have room for it, and wanted to get rid of it, she told me to sell it. So I did.

I've since decided that a lot of these items were never really sentimental to me other than the fact that they had been in my parent's house
during my childhood and I knew they belonged to a grandparent. Once I realized that I had never been around when the original owner used them, and I didn't love them, it was much easier to let them go.
Unfortunately, everything my parents handed down to me went back to my mom, because she didn't want them out of the family. So I get to let them go all over again someday.
But to answer your question, would I do a makeover on them, yes, in a heartbeat. In fact, I have done that with several items.
This post was edited by marti8a on Wed, Dec 11, 13 at 19:45
---
| | | |
| --- | --- | --- |
| RE: Sentimental...but you don't like it | | |
I've always envied a little those families who have generations of fine and beautiful furnishings to pass on to newer generations when those young people begin to set up their households. It's harder when you are offered items at a time when you've already invested in your own furnishings. You hate to sell things with family history. However, if there is no one in the family who wants an item and you don't want it either, I think it's better to dispose of it than to let it sit unloved. If, on the other hand, the item isn't particularly valuable, then re-purposing it seems reasonable to me.
---
| | | |
| --- | --- | --- |
| RE: Sentimental...but you don't like it | | |
But some "fine and beautiful" furniture went through at least one generation of just being "outdated, old, furniture."
People don't want to keep their *own* things long enough anymore let alone their parents things (good bad or indifferent), long enough for things to become something you want to pass down. Even Tiffany, Stickley and Nakashima, was, at one point "furniture". People paid a little more for it than for the run of the mill competitors, but not high premiums.
---
| | | |
| --- | --- | --- |
| RE: Sentimental...but you don't like it | | |
Pal is right. When I was drooling over my neighbor's house full of exquisite antiques, she told me that she cried for days when as newlyweds during WWII she had to make do with her great- and grandmothers' "old" furniture rather than being able to buy modern furniture. Fortunately, by the time they would have been able to afford new furniture, they realized that they had some pretty nice pieces there.
On the other hand, my DH's family was well-off enough to get rid of pretty much all their old farm furniture and buy new in the 60s. They kept a few hardwood pieces, paintings, and silver.
---
| | | |
| --- | --- | --- |
| RE: Sentimental...but you don't like it | | |
I wish I had something I didn't want. I don't even have something I do want. If your family has anything to give you, take it. Store it or something. My parents were older when I was born and I only knew one grandparent and none of my mother's family. Recently I became interested in genealogy. Having researched these people, I wish I had something. Even a hanky would be nice. I have nothing, not even pictures. It's not that I have a great love for people I never knew, it's more that I've become acquainted with these people and now I'd like to know more about them. I've also bought a fair amount of kitchen stuff/dishes that was popular when I was a child. I will always buy from the antique store or second hand store because the quality of anything made after 1960 doesn't seem to last more than 10 years. I want real wood. Even new wood is not quality wood. It's grown fast and cut too young, then dried fast and it just doesn't produce the same quality items as the furniture from my grandparent's generation. I think you have to be "old" to have the life experience of appreciating the quality of old stuff. Even Bakelite is more substantial than plastic. I hope my daughter and granddaughters will keep some of my things even if it's not to remember me as much as to have an item that was able to be used for a hundred years or more and that it's attractive enough for them to use.
---
| | | |
| --- | --- | --- |
| RE: Sentimental...but you don't like it | | |
Actually I think someone will even treasure my parent's bottle opener. They have had one "kitchen bottle opener" for 58 years and counting. A couple of years ago it was temoporarily misplaced, and the house was turned upside down until we found it.
---
| | | |
| --- | --- | --- |
| RE: Sentimental...but you don't like it | | |
My mother painted me a picture: Red apples on a red tablecloth with a gold frame streaked in brown. I like red - but not this much. I hung it over the couch for a while but just didn't like it. Felt so bad when she saw that I had moved it to the hallway. Just told her I was trying to find a better place for it - that the colors in that room just didn't do it justice. I love some of the things I have inherited, but others - well they sort of imprison you. You have it, and it is still in good shape so you can't justify replacing it (not with my budget anyway) so you are stuck with something you really don't like.
---
| | | |
| --- | --- | --- |
| RE: Sentimental...but you don't like it | | |
So much of it is up in our attic. DH has trouble parting with anything from his family. That's why I still have boxes of old bed linens that don't fit our beds and I recently tried to put an old gravy boat in the box of items to be tag saled, but he just couldn't let it go.

After he's gone, I'm going to have my work cut out for me....
---
| | | |
| --- | --- | --- |
| RE: Sentimental...but you don't like it | | |
I have mixed feelings about family heirlooms and the whole question of adulterating fine antiques. I've no qualms about painting or stripping average quality furniture. But when smeone decides to change something of fine quality, made from wood that cannot be duplicated, I think the better decision is to sell it or give it to someone who likes it as is. I watched a family member bring in an artist to tart up a beautiful 16th century Italian cabinet....the doors were also replaced for new ones that "closed better." Wrong on many different levels!

I was raised to believe that the mere family ownership of something conferred holy status on it forever and ever, amen. Consequently my house now looks a lot like the one I grew up in. I guess there are worse things.
---
| | | |
| --- | --- | --- |
| RE: Sentimental...but you don't like it | | |
My father took up painting when he was in his 50's. He took classes for 10 years from the same person. I've never had an artist look at his work, but I'm thinking he was average at best. I dont like 95% of what he did...not the subject matter or style. And a lot of the frames are just too ornate or ugly. When mom died, we divvied it up...each child (his grandchildren) has one piece as a keepsake from their "pop pop." Im thinking of having one of the paintings I have reframed and see if I like it any better. Sorry dad!
---
| | | |
| --- | --- | --- |
| RE: Sentimental...but you don't like it | | |
It's a shame that those of us who want old stuff don't live closer to those who don't. We could make some wonderful trades.

As for those doors that didn't close.....I recently paid too much for a kitchen cabinet very similar to one I have owned since 1967. Neither one has doors or drawers that close exactly right. I don't care. Considering their age and use, they're in pretty good shape otherwise.
---
| | | |
| --- | --- | --- |
| RE: Sentimental...but you don't like it | | |
I totally agree with MaddieLee!

tina
---
| | | |
| --- | --- | --- |
| RE: Sentimental...but you don't like it | | |
I received many items after the death of relatives. For years the stuff just accumulated in my mothers attic or basement. She would not let me sell it- wisely saying my appreciation may change over time. Over the years I've raided the treasure trove. The crystal and silver now are at home in my dining room. While not necessarily my style, I like knowing these pieces have family tradition and history behind them. I love more abstract or modern art, however two traditional oil paintings from my grandfathers study look perfect in my husbands. The too country for my taste bedroom suite from a great uncle is perfectly at home in our lake home. Some kitschy stuff adds a quirky addition in shelves around the homes. i always smile as I think of visits to the grandparents or aunts etc. we've also found out how valuable some pieces are and will continue to hold onto them even if they never find a place in our homes.

Holding onto the items for a few years may be best?
This post was edited by iheartgiantschnauzer on Thu, Dec 12, 13 at 10:08
---
| | | |
| --- | --- | --- |
| RE: Sentimental...but you don't like it | | |
I do find furniture, objects and gifts from loved ones to be sentimental and they will always be honored in my home. I just mix them in with the objects I have chosen and the ones I love. When I inherit my mom's grandfather clock and a lovely mahogany book case I will make room for them by editing newer and not as well made pieces we have to include them in my house. Even if they are not what I might have purchased, they are pieces that have brought my family much joy for generations and for that they will make me happy with a feeling of connection to those who are no longer present. I think an eclectic mix of heirlooms really is what makes the difference from a well decorated show house to a well decorated home.
---
| | | |
| --- | --- | --- |
| RE: Sentimental...but you don't like it | | |
I don't know that my style has a name. It's neither traditional nor contemporary, somewhere in between. I guess casual would be accurate. If I find (or am given) something I like, I'll find a place for it. On my mantle reside a crystal candelabra (grandmother) and two matching black cloisonne vases (mom) that some might feel are aliens in my house, but they are dear old friends.
---
| | | |
| --- | --- | --- |
| RE: Sentimental...but you don't like it | | |
Agree that fine antiques should be left as is or professionally restored. Another way to answer your question - your alteration and/or paint job becomes part of the history of the piece which would still have sentimental value to future generations. Can you get some advice from a professional or the antiques forum to help you decide whether to alter it or let it go to someone who likes it as is?

It's kind of like the question of how much and what you can do to an old house without impacting its value as an old vintage house - my creed as a lover of old houses and old stuff has always been "first, do no harm."

Yeah, on the one hand - sure, it's "just stuff." But it's stuff with MEANING - memories and love of old family members who are gone.
---
| | | |
| --- | --- | --- |
| RE: Sentimental...but you don't like it | | |
WOW thanks everyone, I really appreciate all your thoughtful replies :-) I know I'm not super-active here, but if you have seen some of my threads one of the themes that influences me is that my mom is a pack-rat, HER mom is a pack-rat, and I am trying very hard NOT to be one. I feel a lot of conflict when it comes to things they have passed to me, but maybe I don't like it or can't use it. Most all the stuff is not really old enough to be a "family heirloom", nor an "antique", nor in "excellent condition"

The item in question, at least for this thread, is a little sewing box table...I'm not sure what. It belonged to my great-grandmother, and then to my grandma. Grandma used it along with a Singer-66, but the table that the 66 is in doesn't match, and doesn't run. I'm keeping the 66 because one day I want to have it repaired and use it -- all the parts/manual are present and I've been told it has a lot of power.

But this little table...it just hasn't found a place in our home and I've been moving it around for at least 8 years. I would like it, in theory, if I had the space. But we don't. It COULD be a table in our entry b/c it's small, but in it's current state it's hideous. A short-term solution would be to make a cover for it.

Pics:
I have all this old thread stored in there because my mom said that wooden spools are "valuable" -- but I sure wouldn't sew anything with old thread ;-)
And the Pièce de résistance: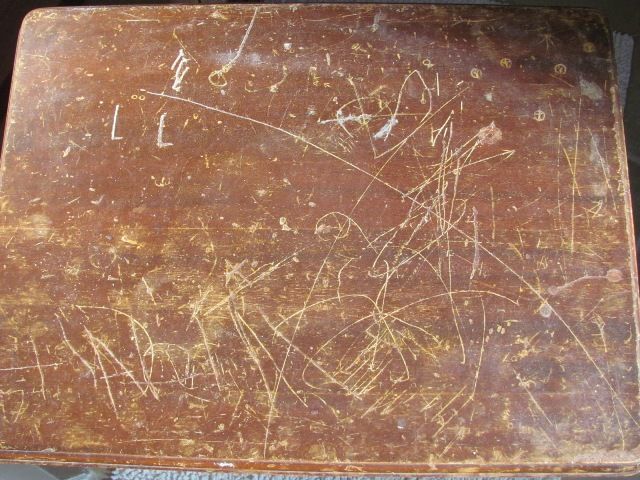 I did this to the top when I was a young teenager...my mom had it in with the telephone and I enjoyed gouging the soft wood while I talked on the phone. Yikes! She told me one day I would have to fix it, hence why it's now at my home.
Once I did see a sewing machine table on CL, a MATCH to this little storage table, and it was only $8...but the lack of storage space (and the guilt I would feel in moving the Singer-66 to a different table)...I decided that if I was meant to have a matching sewing table then one would come into my life when the time was right.
But after reading all your comments, and thinking that maybe I could just cover it w/cloth for now rather than deal with the refinishing process...maybe I will move it to the entry. We don't really have a nice little table in there and could use one.

---
| | | |
| --- | --- | --- |
| RE: Sentimental...but you don't like it | | |
I got a desk from my grandpa's house, when he moved into an apartment. It had been painted or stained dark brown, then painted pink, then yellow. There were so many layers of paint, the drawers barely moved.

I brought a drawer to a furniture refinisher, and had him strip it. Turns out the wood was ash, and it was beautiful! I had the entire desk stripped, and finished it myself. I had glass cut for the top, so it wouldn't get scratched or stained. It holds a place of honor in my living room.

melle_sacto, I would refinish that piece in a minute, and put it in the entry! Lovely, sentimental, and useful.
---
| | | |
| --- | --- | --- |
| RE: Sentimental...but you don't like it | | |
I would paint that little table in a fast minute! Then put it in the entry or use it for a side table.

It really has no monetary value as is.

ML
---
| | | |
| --- | --- | --- |
| RE: Sentimental...but you don't like it | | |
annkh - that's a lovely story! Who knew what was under all those layers :-)

ML (my initials too) - I think paint would be the easiest permanent solution, but I have a hard time making a color choice...how do I know if I'll like it for 2 years or 20 years? It is much easier for me to make a boxed cover that would go down to the drawers, maybe longer, and then I guess I could use it to store sewing supplies because the entry of our home is my sewing "niche".

I agree, i don't see much monetary value in the table as it is.

EDIT -- black paint? Classic? I think it would be okay for the table since it's small, our entry is painted in lighter colors but maybe a shiny black table would be a nice accent (and still neutral)
This post was edited by melle_sacto on Thu, Dec 12, 13 at 14:04
---
| | | |
| --- | --- | --- |
| RE: Sentimental...but you don't like it | | |
That's a cute cabinet. I'd paint it too, maybe black, and refinish the drawers if they are in good shape.
---
| | | |
| --- | --- | --- |
| RE: Sentimental...but you don't like it? | | |
If you don't like it in 2 or 20 years, repaint it! :)

ML
---
| | | |
| --- | --- | --- |
| RE: Sentimental...but you don't like it | | |
by melle_sacto! That is exactly the type of thing I would take home from a sale! I would give it a coat of varnish leaving the top as is. Show the children/grandchildren your handiwork. It would make a good story starter for the grandchildren when they have their own children. Love it. And no, don't get rid of the wooden spools. They are collector items. You'd be surprised how much people give for them. And don't be too sure that sewing table isn't worth anything. It's a collector item. Look on ebay or etsy or just search google images. Probably won't make a yacht payment but it's worth something.
---
| | | |
| --- | --- | --- |
| RE: Sentimental...but you don't like it | | |
I have a few family pieces. I will get a whole lot more when my mother dies. Sometimes I think I will let it skip me and go directly to my nieces since my mom is quite elderly and I am not young. I am not looking to add more stuff to my house, although I love some of her items such as a pair of Herend roosters. I am SO not looking forward to cleaning out that house some day.

I do have one problem piece. My father built a desk for me. It is really the only thing i have related to him. However it has a very home made quality to it and some design flaws. The drawers all tilt down when pulled out and there is a big crack in the top. It really does not suit my needs. I want to replace it but I have nowhere to put this desk.

I don't know what you do when you end up with the sympathetic detritus of several generations. Oy.
---
| | | |
| --- | --- | --- |
| RE: Sentimental...but you don't like it | | |
I have saved some wood spools because I know they don't make them anymore but I just looked on eBay and they really aren't worth much...whole lots can be had from anywhere between $5-30....so maybe just $1 or 2 each or less.
---
| | | |
| --- | --- | --- |
| RE: Sentimental...but you don't like it | | |
agree with lov_my_kitchen. I am still holding on to our old kitchen table that our kids cut little stick fingers into it when they were bored. So, I'd keep the top of your little table as is for now.
---
| | | |
| --- | --- | --- |
| RE: Sentimental...but you don't like it | | |
Agreed, the spools are not going to pay for college. What is the interest rate on a savings account. If, in 18 years, those spools would be worth twice what they are worth now, what would your rate of return be? more than the 1.5% you're getting on a CD today? Do you have enough space to store those spools? Top shelf in the hall closet? bottom drawer in the bathroom? I've sat at a few auctions. It's surprising how everything adds up. Especially when you're buying!
---
| | | |
| --- | --- | --- |
| RE: Sentimental...but you don't like it | | |
iheartgiantschnauzer and linelle have nailed it. Just because you don't like it now doesn't mean you will never like it. And there could come a day when the sentiment outweighs the ugly.
---
| | | |
| --- | --- | --- |
| RE: Sentimental...but you don't like it | | |
Or the "ugly" may not be ugly anymore....

I'd probably try to get rid of some of the scratches on the front with restore-a-finish and preserve the top as is.
---
| | | |
| --- | --- | --- |
| RE: Sentimental...but you don't like it | | |
Just curious -- why save the top? Not ALL the scratches are mine, definitely the peace signs though! Either way, for now I'm going to sew a cover for over it, and use it for my currently sewing supplies (only in the drawers, I don't want to deal with opening up the top all the time).

My memory is that my mom had a bunch of fabric or something always piled on the table, I'm not sure she actually used it except as a storage surface. I only did that stuff b/c I thought she wouldn't find it LOL! It's interesting, I feel like having nice things was important to her, but then it didn't seem like she treated them very reverently (ie piling them up with stuff etc). I feel bad about it.

My DH is pretty livid that I want to use the table, he thought I had dragged it out b/c I was ready to be rid of it. He thinks it's hideous and it doesn't hold any sentimental or aesthetic value to him. Maybe with a cover and a little catch-all basket on it he won't be so annoyed LOL!
---
| | | |
| --- | --- | --- |
| RE: Sentimental...but you don't like it | | |
Ah, if only I lived next door. I would love to have that sewing stand. I'd buy you something to use in its place.
---
| | | |
| --- | --- | --- |
| RE: Sentimental...but you don't like it | | |
I would sand the top and then paint the whole thing, maybe a fun color, and use it as a bedside table (it could still store sewing supplies) or as a side table.
---
| | | |
| --- | --- | --- |
| RE: Sentimental...but you don't like it | | |
A little story just told to me two days ago that seems
a propos: My SIL told me of a friend who is ruthless in culling out those things in her life that are not necessary. Her mother passed away and she was planning an estate sale to get rid of all of the collections and furniture that weren't needed anymore, without any sentimentality. As they were emptying a drawer, they found a note from the mother taped to the inside, saying, "I collected these things with love and hope that my children will keep them and and love them as I did." Well, that changed the story....
---
| | | |
| --- | --- | --- |
| RE: Sentimental...but you don't like it | | |
"My DH is pretty livid that I want to use the table, he thought I had dragged it out b/c I was ready to be rid of it. He thinks it's hideous and it doesn't hold any sentimental or aesthetic value to him. Maybe with a cover and a little catch-all basket on it he won't be so annoyed LOL!"

Melle, from what you've shared here you have an item that is in terrible shape, that you have no use for, no obvious space for and that your husband desperately wants to get out of the house....so why hold on to it?!?! I have always liked that Willliam Morris decorating philososophy 'If you want a golden rule that will fit everything, this is it: Have nothing in your houses that you do not know to be useful or believe to be beautiful.'

I know how easy to get into the mind trap of what you COULD do with something. You could paint it. You could stain it. You could sand down the top. Or replace it. Or sew a cover. Or move it....and if after all the years an item has been sitting you haven't actually been motivated to do any of those things, then for goodness' sake, it ain't happening.

I am still wrestling with getting rid of my own sentimental attachment: my dining room table and chairs. They belonged to my mother, who died young. The first nice furniture she and my dad ever bought etc. I even purchased a hutch from the same furniture company many years later to finish the set. And guess what: I really don't care for the style and several of the rush chair seats are again falling apart--years ago I already went through an expensive nightmare fixing them. Although I would like to replace the furniture I get a pang thinking of getting rid of this stuff, as if I'm getting rid of my mother's memory which is silly of course. So I'm as guilty as anyone of hanging on to sentiment when function and style are long gone from the items.

Good luck!

Ann
---
| | | |
| --- | --- | --- |
| RE: Sentimental...but you don't like it | | |
This may be reaching, but oh well.

My late husband had a train set when he was a boy, which he kept in a trunk. When our daughter was young, he had a tradition of setting it up in the garage every Christmas. Some parts were broken or worn out, so he replaced them. Later, long after our daughter was grown and had moved away, he discovered eBay and continued to buy new things for the train set. He wanted this to be something to give to his grandchildren.

My husband died in 2004 and my daughter is now a happy 37 year old who is probably not going to have any children. Her decision and I have to be okay with it. :)

I have a lovingly acquired train set in a trunk in my closet, plus bags of track and cars that don't fit inside the trunk. I don't need the space, so that's not a problem. I have one nephew who just recently had a baby girl, so that's a possibility.

I have no use for this train set myself, and I have no desire to sell it either completely or piecemeal. I hope one day there's a child I know who would love an old train set (and whose parents are agreeable) and I would give it to them. My husband would approve.
---
| | | |
| --- | --- | --- |
| RE: Sentimental...but you don't like it | | |
Well said, linelle. I hope so, too. I am planning to leave all my maps and globes to a childhood friend's son. He and I both love maps. I think it will be much more fun to give them to him than put them on a hay rack at my estate sale and get $5. I found the auction print out from my parent's sale 35 years ago. My sister and I made a whopping $330! In hindsight, we should have kept more but I was living in an apartment and broke at the time. Little did I know I'd be buying everything back now. AND paying premium price for it. That was one of those times when their stuff was old but not old enough. NOW it's old enough!
---
| | | |
| --- | --- | --- |
| RE: Sentimental...but you don't like it | | |
melle_sacto, I would be sorely tempted to hang onto the little sewing table, not because it's got memories attached or is even useful, but because it would be a fun project to transform. Yes, I have too much time on my hands. I think the table is currently in bad shape, so no point in preserving the patina. (And when does patina become just a God-awful mess?) It's small enough to tackle. I don't think I'd paint the whole thing, maybe refinish the wood or do partial paint/wood.

pinch_me, I love maps too. At some point you just cannot recover in cash the value you place on an item. Making it a gift completes the circle.
---
Post a Follow-Up
Please Note: Only registered members are able to post messages to this forum.
If you are a member, please log in.
If you aren't yet a member, join now!
---
Return to the Home Decorating & Design Forum
Information about Posting
You must be logged in to post a message. Once you are logged in, a posting window will appear at the bottom of the messages. If you are not a member, please register for an account.
Please review our Rules of Play before posting.
Posting is a two-step process. Once you have composed your message, you will be taken to the preview page. You will then have a chance to review your post, make changes and upload photos.
After posting your message, you may need to refresh the forum page in order to see it.
Before posting copyrighted material, please read about Copyright and Fair Use.
We have a strict no-advertising policy!
If you would like to practice posting or uploading photos, please visit our Test forum.
If you need assistance, please Contact Us and we will be happy to help.

Learn more about in-text links on this page here