Return to the Home Decorating Forum
|
Post a Follow-Up
---
| | | |
| --- | --- | --- |
| What color drapes would you hang against these green walls? | | |
Posted by
artemis78
(
My Page
) on
Wed, Dec 31, 08 at 14:01
We're struggling with what shade of drape could work well in this room---the walls are a light sage green (Benjamin Moore Pale Celery). We didn't choose the color or light fixture, but like both fine so we're working around them. The wall color does have an odd habit of changing shades with the light, though, which has made it tricky to settle on a drape color.

One big constraint is that the drapes in this room need to block light and sound, so we're looking at heavier/darker fabrics than might otherwise be appropriate. (The brown drapes in the photo are actually thermal.) Any thoughts on what color scheme might work? Do you have a similar wall color with a complementary shade that looks great?

So far we've explored chocolate brown and various oranges and reds, but are stuck. We've pretty much decided to go with the shorter length for both the sheer and the drape, so it will end just below the window sill.
Any thoughts?
Thanks!!
Diana
---
Follow-Up Postings:
| | | |
| --- | --- | --- |
| RE: What color drapes would you hang against these green walls? | | |
To broaden your options, you could use a blackout type liner with any drapery fabric -- even a light colored one.
---
| | | |
| --- | --- | --- |
| RE: What color drapes would you hang against these green walls? | | |
| | | |
| --- | --- | --- |
| Possibles | | |
These are from Restoration Hardware: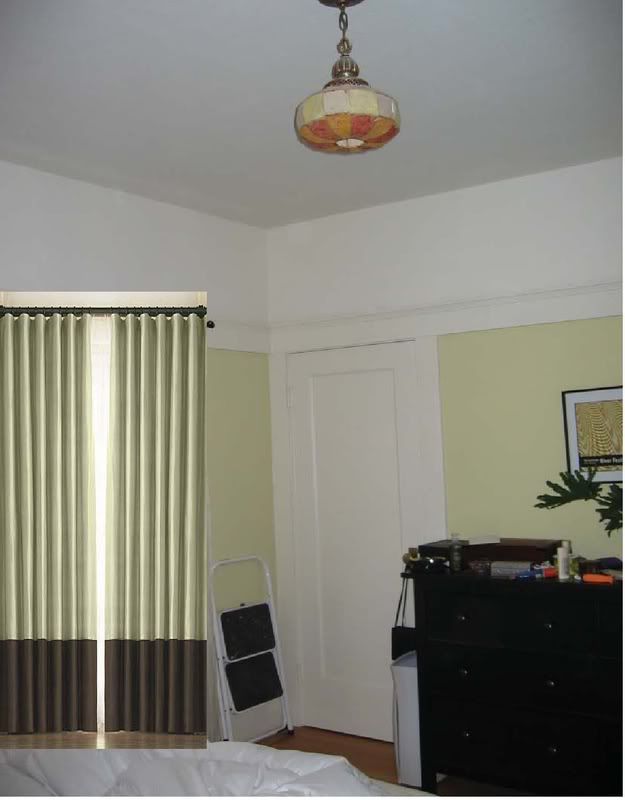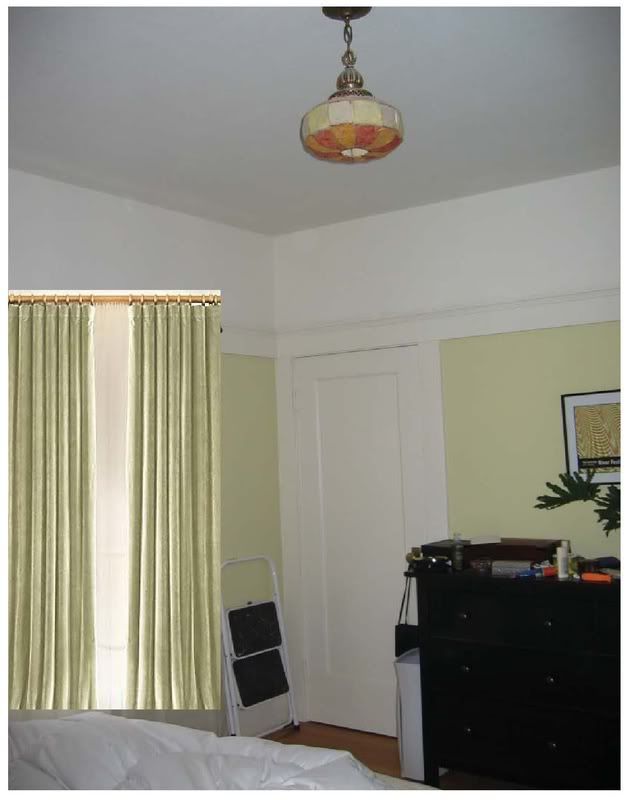 Whatever you choose, I'd let them hang all the way to floor.
Here is a link that might be useful: Restoration Hardware Link
---
| | | |
| --- | --- | --- |
| RE: What color drapes would you hang against these green walls? | | |
Thanks---I hadn't thought of the literal cut and paste, but that's a terrific way to get a sense of colors! I should've added one more constraint---this is a double window, so it's too wide for most of the Restoration/Pottery Barrel drapes (though we've found several nice ones there and contemplated trying to sew them into something workable....but are back to ordering custom at this point, hence the color commitment issue). I'm tempted to get a set and try to color match, though.

I also much prefer floor-length, but DH thinks it makes the room look smaller than it actually is (because they just about meet the bed). Isn't that counter to the normal drape rule of thumb, though? (I would think that longer makes the ceiling seem higher?)

The blackout liner is also a good thought---we'd found one custom place that could do that, but I'll have to keep looking for others.

Thanks!
---
| | | |
| --- | --- | --- |
| RE: What color drapes would you hang against these green walls? | | |
Are you sure about the size? RH sells panels separately -- either 50-in. wide or 100-in wide. Your windows don't look wider than that? But RH panels are pricey -- you might do better with custom.

I think drapery to floor looks more elegant. Also, because the drapery doesn't stop at the sill, the wall is less broken up, and thus reads larger (IMO).
---
| | | |
| --- | --- | --- |
| RE: What color drapes would you hang against these green walls? | | |
I'll check on that---100" would be more than fine. I thought they only had 50" for some reason (but maybe that's just what they had in the store when I asked?) If so, that would be perfect (and way easier). They're pricey but it might be worth it to be able to try them out/change our minds---that's been the issue with the custom orders. Just afraid to take the plunge until we're sure of the color, since there's no going back.

Thanks!
---
| | | |
| --- | --- | --- |
| RE: What color drapes would you hang against these green walls? | | |
Drapes that go to the floor would definitely look better in my opinion also. To make the room look larger I would choose a light color, perhaps to match either the wall paint or the white trim. The firm Country Curtains has heavy linen-like drapes with a vinyl backing which I have in two rooms that are very reasonably priced and come in very wide widths. They have very good insulating qualities. You can order on-line. I'll attach a picture.



---
| | | |
| --- | --- | --- |
| RE: What color drapes would you hang against these green walls? | | |
I think your ceiling would seem higher if you painted the same green above the picture rail, and do the ceiling as well. For sure go full-length with the drapery.

You can buy separate blackout liners from JC Penney that simply hook on to the back of the drapery panels.

You might also consider these, in the light green/natural colorway. I think the texture would be nice, but the overall feel is simple, and light. Being thermal lined would solve your light and insulation issues. And as you can see, they come in a wide range of sizes that should allow you to avoid custom. I could see the box pleat valance being a nice touch, too.

JCP also does made to measure, which are cheaper than true custom drapery.
---
| | | |
| --- | --- | --- |
| RE: What color drapes would you hang against these green walls? | | |
try a beige or gold block out panels or the ones posted on dec 13th
---
Post a Follow-Up
Please Note: Only registered members are able to post messages to this forum.
If you are a member, please log in.
If you aren't yet a member, join now!
---
Return to the Home Decorating Forum
Information about Posting
You must be logged in to post a message. Once you are logged in, a posting window will appear at the bottom of the messages. If you are not a member, please register for an account.
Please review our Rules of Play before posting.
Posting is a two-step process. Once you have composed your message, you will be taken to the preview page. You will then have a chance to review your post, make changes and upload photos.
After posting your message, you may need to refresh the forum page in order to see it.
Before posting copyrighted material, please read about Copyright and Fair Use.
We have a strict no-advertising policy!
If you would like to practice posting or uploading photos, please visit our Test forum.
If you need assistance, please Contact Us and we will be happy to help.

Learn more about in-text links on this page here