Return to the Home Decorating & Design Forum
|
Post a Follow-Up
---
| | | |
| --- | --- | --- |
| Sliding hallway doors for MCM | | |
Posted by
pipdog
(
My Page
) on
Thu, Dec 12, 13 at 13:28
We need new sliding doors for a closet that stores the washer/dryer and a hot water heater (for now, until we go tankless). The opening is about 94 inches wide and in a rather narrow hallway leading to a bedroom. We'd prefer the doors to be metal in the event of a leak (they previously had old metal doors), but have not totally ruled out wood. The house is MCM style so we're not looking for anything traditional or barn doors.

I got a bid from the Sliding Door Company for 3 panel doors for about $2,000 (plus installation of about $200), which I thought was pretty high given that these are made in China and don't feel particularly sturdy and look a lot like the IKEA Pax wardrobes I've seen for a lot less money: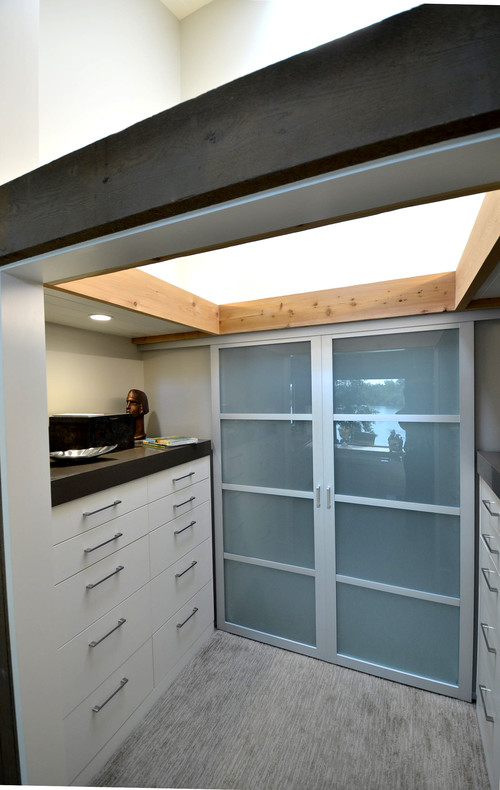 The other option is something like this: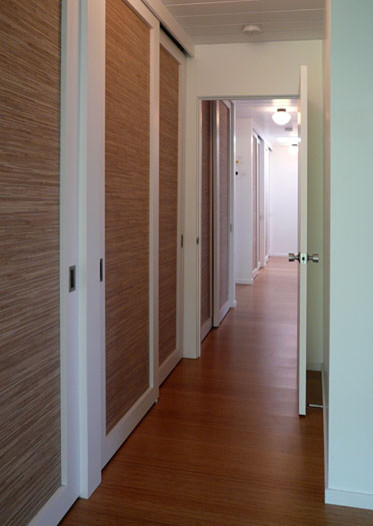 These are custom made and appear to be wood with grasscloth panels.
Two questions:
1) should we stick with metal or glass doors for this enclosure? If so, have others used Sliding Door Co and been happy with them? I've read online about the glass shattering. Not sure about the quality.
2) do you all have a preference for type of doors or have ideas for other kinds of doors that would work here? The floors will be mid-toned blondish wood. Here's the space in question (the trim still needs painted and we're figuring out what to do with the lighting still):
---
Follow-Up Postings:
| | | |
| --- | --- | --- |
| RE: Sliding hallway doors for MCM | | |
Would something like this work from Lowes...they have other sizes as well...much cheaper.
Here is a link that might be useful: Lowes Interior sliding doors
---
| | | |
| --- | --- | --- |
| RE: Sliding hallway doors for MCM | | |
I would not limit yourself to metal doors. I don't think the originals were metal because of any functional reason, I think they were metal because they were inexpensive and it was fairly common at one time.

If you have a leak you are going to have bigger problems than damage to the doors. They don't touch the floor, so they will sustain less damage than the floor and surrounding millwork and drywall will.

I would just get plain, inexpensive, (but solid-core) slab doors and hang them with good, sturdy hardware, and put on an MCM-appropriate pull.
---
| | | |
| --- | --- | --- |
| original | | |
Nothing the matter with the original concept:
div>
---
| | | |
| --- | --- | --- |
| RE: Sliding hallway doors for MCM | | |
joanie, thanks for the link. Those are really nice and cheaper but our opening is a lot larger than those standard sizes -- it's 96 by 93, so we'll need three panels and they probably will have to be custom sized.

ineffable, I like those slab doors a lot, but my understanding is that a washer/dryer and hot water heaters need adequate ventilation. My contractor is strongly suggesting not putting wooden doors on this opening because he doesn't think they will get enough ventilation. The old metal doors had openings in the bottom for ventilation. One way around this is to drill holes in the bottom of the doors, but I can't envision how that would look (and louvered doors would not work for this style home).
---
| | | |
| --- | --- | --- |
| RE: Sliding hallway doors for MCM | | |
Wow, that is a high cost! I am meeting an architect on Monday and one thing I will be installing is sliding doors to hide the AC handlers in the laundry room. If they are 2k+ then I am not doing it!

I can let you know what ideas he comes up with, but it may be a month or so. I am also going to be installing a 4 ft. barn style door for the master bedroom, but will look modern. My quote 1-2 yrs. ago was 4k, including hardware. The hardware was pretty expensive. I may also be installing sliding doors in other areas of the house, depending what the architect thinks. This was for a custom made walnut door. I like the idea of opening general use rooms up to the great room.

In my mcm townhouse that I rent out, I did hide a laundry room by converting a frosted glass french door panel into a sliding door. It could be slid open to open up to the kitchen, or closed, but still let light in from the window. I think the door came from HD or Lowes.

Would an arcadia door work? Maybe you could frost it? (I used frosted window stickers from Lowes to give privacy for the windows in the master bath of the townhouse).

Is there anyway you can customize ikea pax doors to work? I know they come in a lot of different sizes.
---
| | | |
| --- | --- | --- |
| RE: Sliding hallway doors for MCM | | |
I think that ventilation is desirable for a laundry - especially if you will be running the machines with the doors closed or want to leave something their to air dry.

The metal doors you showed don't provide ventilation and even though they may not be hurt by the trapped moisture, that doesn't help the materials inside the laundry closet including the walls and it can encourage mold growth.

When we wanted to have a door midway down a hallway for visual privacy but allowing air flow for our central heat and air, we put in a louvered door. We had too look on line to find good ones. I don't recall where we ended up finding them, but google should find some. This may be a case where function needs to trump form.

Another alternative is to get solid wood doors, cut out a portion and cover it with a screen. My husband did this for our pantry to let the heat from the freezer in it get out. The pantry has a pocket door and he was concerned that louvers could create a pinch hazard when opening. We used a 1' x 2' opening in the top and the bottom of the door covered with a black mesh so air can circulate.

Another alternative is to not have the doors go all the way up - just as high as the other room doors - it looks like now it is framed out for them to go all the way. They put a screened opening in the wall above the doors.
---
| | | |
| --- | --- | --- |
| slots | | |
| | | |
| --- | --- | --- |
| RE: Sliding hallway doors for MCM | | |
I know you said no barn doors, but something like this could be hung as a regular slider...you could have it solid behind the slats to about eye level then leave the upper slats open between.
---
| | | |
| --- | --- | --- |
| RE: Sliding hallway doors for MCM | | |
Of the ones you posted I prefer the last ones. I think they jive with the space the best.

I also like the look of olychics doors. They don't have to be the barn door style hinge. I guess I like the look of wood vs metal.
---
| | | |
| --- | --- | --- |
| RE: Sliding hallway doors for MCM | | |
If you dropped a header to conventional door height that looked like the others you could have solid doors that slid on the header-mounted track and between the header and ceiling could be filled in with some sort of ventilated material. Some kind of linear or louvered vent would be nice, or pegboard would be period appropriate.
Here is a link that might be useful: slot vent
---
| | | |
| --- | --- | --- |
| RE: Sliding hallway doors for MCM | | |
Louvers can be consistent with MCM. Look at these in a modern bathroom where the handle choice and a wider frame push them toward modern:

---
| | | |
| --- | --- | --- |
| RE: Sliding hallway doors for MCM | | |
| | | |
| --- | --- | --- |
| RE: Sliding hallway doors for MCM | | |
olychick, I like those barn doors! Will have to investigate that option.

pal, I have those exact type of doors in our cottage ranch (built in the early 50s). I'm looking for something different because the doors for the utility closet need be sliders for not just utility reasons but for consistency with the rest of the house. I also prefer a more sleek look than louvered doors, although the ones that cloudswift posted are pretty nice!

ineffable, unfortunately we can't drop a header for a couple reasons, one being that there is cabinetry that we installed above the washer/dryer. Also down the road we plan on putting in front loading stackable W/D so we want to keep the space as open as possible.
---
| | | |
| --- | --- | --- |
| RE: Sliding hallway doors for MCM | | |
Here are a couple more examples. They are both hinged here, and don't know if you'd consider that, but I think they look terrific. I would think they'd be easy to make into sliders and quite affordable.
edited to add link; first pic refuses to appear
Here is a link that might be useful: slatted wardrobe doors
This post was edited by olychick on Sat, Dec 14, 13 at 0:59
---
| | | |
| --- | --- | --- |
| RE: Sliding hallway doors for MCM | | |
if you'll find an answer anywhere it would be at retrorenovation.com have fun.
---
| | | |
| --- | --- | --- |
| RE: Sliding hallway doors for MCM | | |
Something like this might work Pipdog. I'm not sure on the cost, but you can get a quote from them. The panels also come translucent.
Here is a link that might be useful: Redi-Screen by Crestview Doors
---
| | | |
| --- | --- | --- |
| RE: Sliding hallway doors for MCM | | |
rockybird, I would love to hear what your architect says. I thought $2K was really high too. We went to IKEA to see if we could customize Pax doors this weekend and I think it's possible, but it was so crowded, couldn't find a sales associate that could help us and we were too hungry to deal with it. So we left. I usually can't deal with IKEA unless it's on a random Tuesday morning and no one is there.

justgotabeme, that site is awesome! I've bookmarked that for our exterior doors, when we change out. I love some of their designs!

We are going back and forth over the doors and the current plan is just to get plan birch panel doors (like the above photo ineffablespace posted), drop a similar header and just call it a day. That would run us about half of the price of those glass IKEA-esque doors, including labor/installation. And it would provide some warmth and wood tones in an otherwise very white hallway. The ventilation will be in the header.

Too many decisions, too many decisions. I still need to start my Christmas shopping!! :)
---
| | | |
| --- | --- | --- |
| RE: Sliding hallway doors for MCM | | |
Isn't it though pipdog? I stop there for a visit every now and then just to look. And drool.
---
Post a Follow-Up
Please Note: Only registered members are able to post messages to this forum.
If you are a member, please log in.
If you aren't yet a member, join now!
---
Return to the Home Decorating & Design Forum
Information about Posting
You must be logged in to post a message. Once you are logged in, a posting window will appear at the bottom of the messages. If you are not a member, please register for an account.
Please review our Rules of Play before posting.
Posting is a two-step process. Once you have composed your message, you will be taken to the preview page. You will then have a chance to review your post, make changes and upload photos.
After posting your message, you may need to refresh the forum page in order to see it.
Before posting copyrighted material, please read about Copyright and Fair Use.
We have a strict no-advertising policy!
If you would like to practice posting or uploading photos, please visit our Test forum.
If you need assistance, please Contact Us and we will be happy to help.

Learn more about in-text links on this page here