Return to the Home Decorating & Design Forum
|
Post a Follow-Up
---
| | | |
| --- | --- | --- |
| Giant Maps on the wall | | |
Posted by
GWlolo
(
My Page
) on
Wed, Dec 19, 12 at 13:17
I searched the archive and could not find anything. We would like to have a huge floor to ceiling world map on a wall. Something current and not vintage.

DD8 loves geography and as a family, one of our favorite things to do is to look at maps and plan trips (some of which we end up doing). Any ideas how to achieve this look? Does it have to be a wallpaper? Are there any hangable options like Vinyl? Maybe something that can be written on and erased as well.
---
Follow-Up Postings:
| | | |
| --- | --- | --- |
| RE: Giant Maps on the wall | | |
A mural? Here's one site that came up.
Here is a link that might be useful: Wall map murals
---
| | | |
| --- | --- | --- |
| RE: Giant Maps on the wall | | |
Once I bought large world and us maps for DHs cubicle at work. He said he wanted maps to hang. I bought them at a teacher supply store.

Sounds like a neat idea.
---
| | | |
| --- | --- | --- |
| RE: Giant Maps on the wall | | |
We have a huge one in our play room / family room. I'm a geography keener and am hoping my kids will be too. The map is from IKEA. It is canvas, so you can't write on it, but it is fantastic, detailed, clear and easy to read. It even lists the capitals of all the Caribbean islands.

If you do a google search of wall stickers or wallpaper I suspect there is something out there that you could possibly write on or pin on.

They are great to have, fun and educational. My son (5 years old) is learning his world geography from the 'bottom up', given his height! He has the southern hemisphere down cold. :)
---
| | | |
| --- | --- | --- |
| RE: Giant Maps on the wall | | |
Google "National Geographic maps" - they have lots!
---
| | | |
| --- | --- | --- |
| RE: Giant Maps on the wall | | |
I have one! It's approximately 78" tall x 109" wide. After 7+ years, it still hasn't been permanently mounted (please let me know what you do, if you select something similar) and survived our renovation process. We've just used thumb tacks to mount. It was surprisingly expensive ($500?) but I just love being able to walk over to the map and track down a spot. When visitors mention foreign/remote destinations, I bring them in to the map room and ask them to show me. This usually leads to many stories about other places they've been. Ours is laminated.

Decorating around it... has been a challenge. I like the pale acid green paint I used in this room. I supplied the fabric for this sofa and the other matching one (goal was to coordinate with the map) but am not happy with them. One of these years I'll tackle this room.

We did run a wire for an overhead light for the map, which we will eventually install.

Good luck and please post pictures if you get one!
---
| | | |
| --- | --- | --- |
| RE: Giant Maps on the wall | | |
Oldbat -> I love your map. This is about the size we are looking for. I actually think I prefer the tack pins or some kind of suspension solution. The wall murals and others seem to require a wallpaper paste kind of option and I would rather not do that. Do you remember where you got it?

Sochi/ Neighbourgirl --> I will look at IKEA and National Geographic too.
---
| | | |
| --- | --- | --- |
| RE: Giant Maps on the wall | | |
I've been looking at this map. Centsationalgirl (no affiliation) put it up in a playroom with staples instead of the wallpaper paste. Now that I link it for you, I see that it's half off right now - only $50 - I should buy it :)

edit: corrected link
Here is a link that might be useful: 6x10' (approx) world map
This post was edited by tracie.erin on Thu, Dec 20, 12 at 18:23
---
| | | |
| --- | --- | --- |
| RE: Giant Maps on the wall | | |
Pottery Barn Kids has a great one, fills out a huge wall completely. I have seen it in person, and it is really nice-looking. It doesn't look childish or anything, just happens to be from their Kids department. I have since purchased one myself, that I haven't had the chance to put up yet, but will keep for later, perhaps for the next house.
Here is a link that might be useful: Pottery Barn mural
---
| | | |
| --- | --- | --- |
| RE: Giant Maps on the wall | | |
GWLolo - sorry, I couldn't find my receipt. Suggest you call National Geographic for the model number and a list of distributors.

Here's a closeup of the detail on the map. Some friends were over recently showing me where Mumbai is :)
---
| | | |
| --- | --- | --- |
| RE: Giant Maps on the wall | | |
I wish I had a place for one, they are so fascinating. I keep my world atlas at the bedside to study places I read about.
---
| | | |
| --- | --- | --- |
| RE: Giant Maps on the wall | | |
Oldbat2be: I like that huge map, but I really like your sofa with the two colors! Glad I got to see that. I am trying to figure out a small room and something like that might just work! Oh, and your "end tables" ain't bad either!
---
| | | |
| --- | --- | --- |
| RE: Giant Maps on the wall | | |
I love huge maps! I really like yours, oldbat. I'd love to put one up in our office.
---
| | | |
| --- | --- | --- |
| RE: Giant Maps on the wall | | |
Oldbat2be --> I found a large map on National Geographic site that seems to similar to your but the price is a lot less than what you mention.

Does this look right?
Here is a link that might be useful: National Geographic Map
---
| | | |
| --- | --- | --- |
| RE: Giant Maps on the wall | | |
We have the same map as oldbat. I have no idea where it was purchased as our neighbor gave it to us when they moved. He mounted it on,darn can't think of what it is called - fiber core? It's that stiff white foamy stuff. Then he made his own frame out of wood. Ours is paper though - it does not have protective lamination. I think I have a picture. I'll see if I can find one to post. It hangs in our basement playroom. I love it as I've always loved looking at and reading maps and it's great for teaching my kids geography.
---
| | | |
| --- | --- | --- |
| RE: Giant Maps on the wall | | |
This is the best picture that I have. It actually looks a little bit smaller than old bat's but in the space I have, it takes up most of the wall! The foam backing would be neat to have if you wanted to use push pins to document different places (we haven't used it that way but we could).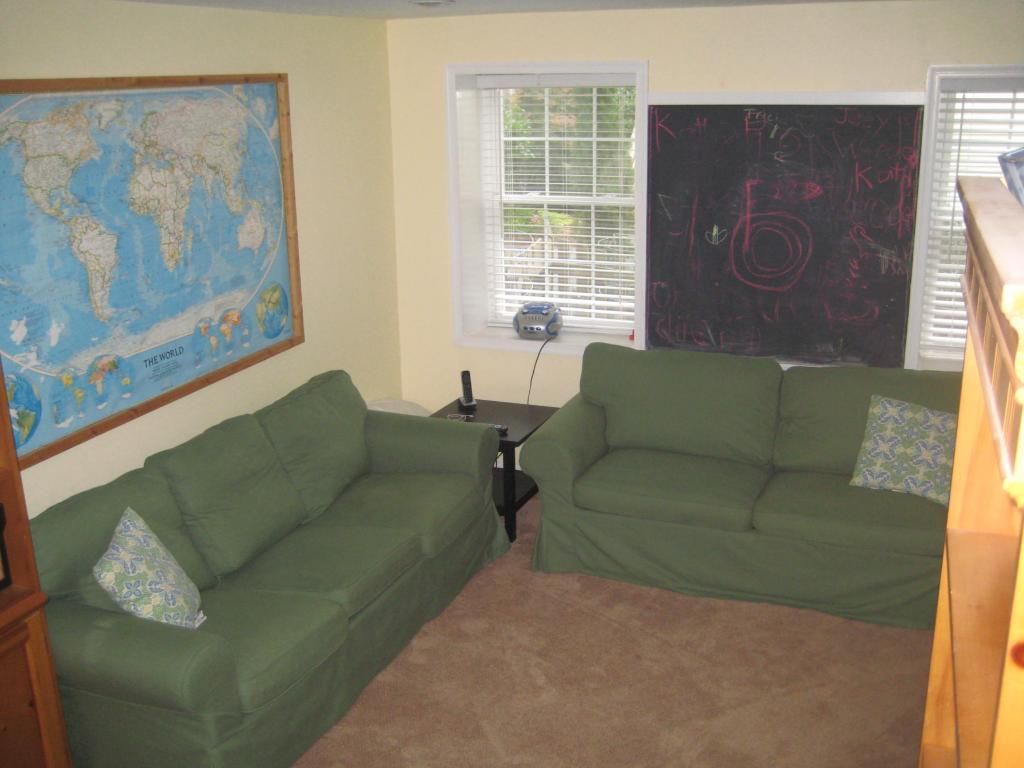 ---
| | | |
| --- | --- | --- |
| RE: Giant Maps on the wall | | |
We had one when DS was young. We hung it in the informal dining area where we ate dinner almost every night. Lots of chats centered on that map and lots of geographic learning resulted. Fun!
---
| | | |
| --- | --- | --- |
| RE: Giant Maps on the wall | | |
Just saw this on the airplane. You can write on it with dry eraser.
Here is a link that might be useful: Large write-on-map
---
| | | |
| --- | --- | --- |
| RE: Giant Maps on the wall | | |
GWlolo-that link takes me to National Geographic. If you can find a model number, I can check again.

Love seeing everyone's maps. My kids' elementary school had a huge one in their cafeteria, which is what gave me the idea.
---
Post a Follow-Up
Please Note: Only registered members are able to post messages to this forum.
If you are a member, please log in.
If you aren't yet a member, join now!
---
Return to the Home Decorating & Design Forum
Information about Posting
You must be logged in to post a message. Once you are logged in, a posting window will appear at the bottom of the messages. If you are not a member, please register for an account.
Please review our Rules of Play before posting.
Posting is a two-step process. Once you have composed your message, you will be taken to the preview page. You will then have a chance to review your post, make changes and upload photos.
After posting your message, you may need to refresh the forum page in order to see it.
Before posting copyrighted material, please read about Copyright and Fair Use.
We have a strict no-advertising policy!
If you would like to practice posting or uploading photos, please visit our Test forum.
If you need assistance, please Contact Us and we will be happy to help.

Learn more about in-text links on this page here