Return to the Home Decorating Forum
|
Post a Follow-Up
---
| | | |
| --- | --- | --- |
| Bedroom - Nightstands Match or Mismatch? | | |
Posted by
jeannie01
(
My Page
) on
Tue, Dec 28, 10 at 12:42
My bedroom set is very large and a creamy color. In my new house I can only fit 1 nightstand and something smaller on the other side of the bed. I would like to match the lamps - but will it look odd if I don't have "matching nightstands"? Would a smaller scale mirrored nightstand work/blend with the creamy wood pieces? I also want to add a bench/settee at the bottom of the bed. Should I do that in a mirrored finish as well?

If you have pictures of seating at the end of your bed, or mismatched nightstands, I'd appreciate seeing a picture.

Thanks
---
Follow-Up Postings:
| | | |
| --- | --- | --- |
| RE: Bedroom - Nightstands Match or Mismatch? | | |
If you are going to match the lamps, I would make sure that the height of the mismatched tables was the same so the lamps ended up the same height (most people won't read an inch or so difference, it doesn't have to be identical). You would also need to make sure the lamp did not overpower the smaller stand.
---
| | | |
| --- | --- | --- |
| RE: Bedroom - Nightstands Match or Mismatch? | | |
I think the mirrored pieces look lovely, but in the right setting. They are usually used with dark wood or black. I also think they may be in style now, but not later.
Also, I think of cream as more off white and a mirror reads cooler to me. Have you considered either a color or a wrought iron table (not necessarily in black).
---
| | | |
| --- | --- | --- |
| RE: Bedroom - Nightstands Match or Mismatch? | | |
I used a smaller round iron table in my last house on the other side of the bed. I liked the airy feeling of the iron table but it seemed smallish/feminine/frilly compared to the other massive pieces in the room. Unfortunately, I only have room for a smallish/narrow piece in this space. Though, maybe I could find something bulky but narrow and that might work.

Dianalo - I hadn't thought about the "coolness" of the mirrored furniture. Though, I have seen them in goldish or silvers colors, not only in dark wood. Some of them aren't too pricey so I wouldn't care if they "go out of style". With the light wood, I know I can't just buy a dark piece and put it in there, I have to find something that blends with the light wood. Maybe something painted would work, or just live with one nightstand and one light, though, it would not be balanced.
---
| | | |
| --- | --- | --- |
| RE: Bedroom - Nightstands Match or Mismatch? | | |
What about the floorplan makes it impossible to have equal space on each side of the bed? Doorways? A traffic pattern?
---
| | | |
| --- | --- | --- |
| RE: Bedroom - Nightstands Match or Mismatch? | | |
My favorite nightstands are the old tables with marble tops like this: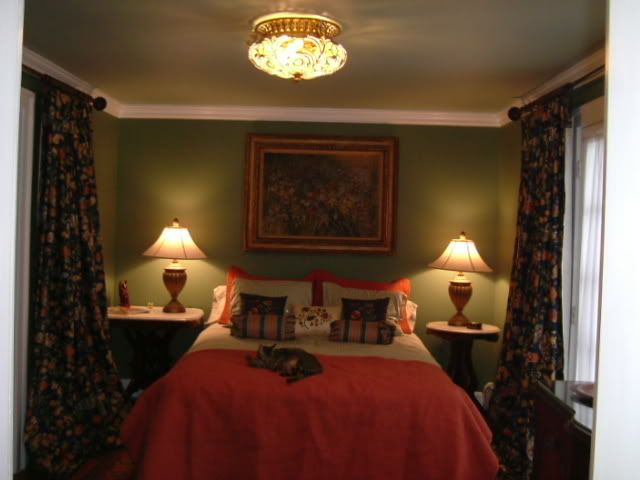 They come in all sizes. Maybe the top being a light marble would work with your light furniture?
there are almost always some for sale at local antique places or auctions where I live.
---
| | | |
| --- | --- | --- |
| RE: Bedroom - Nightstands Match or Mismatch? | | |
BUilder was supposed to put a pocket door into the bathroom but it didn't get put in (don't ask) so I opted to have the bath door open into the bedroom - so I have to be careful as to how large of a piece I put there for the door to open and close.
99% of the time the door will stay open - but, I would want it to easily close if it needed to be.

boop - The iron table I have has a marble top - but I have to be careful because my nightstand & dresser have travertine tops.
---
| | | |
| --- | --- | --- |
| RE: Bedroom - Nightstands Match or Mismatch? | | |
What are the dimensions you have available on each side of the bed? Maybe you could do a round table with a floor length cloth and glass topper on the "smaller" side to have something that is both smaller but has some visual weight to it. You could coordinate with the bedding rather than worrying about an additional hard finish.
---
Post a Follow-Up
Please Note: Only registered members are able to post messages to this forum.
If you are a member, please log in.
If you aren't yet a member, join now!
---
Return to the Home Decorating Forum
Information about Posting
You must be logged in to post a message. Once you are logged in, a posting window will appear at the bottom of the messages. If you are not a member, please register for an account.
Please review our Rules of Play before posting.
Posting is a two-step process. Once you have composed your message, you will be taken to the preview page. You will then have a chance to review your post, make changes and upload photos.
After posting your message, you may need to refresh the forum page in order to see it.
Before posting copyrighted material, please read about Copyright and Fair Use.
We have a strict no-advertising policy!
If you would like to practice posting or uploading photos, please visit our Test forum.
If you need assistance, please Contact Us and we will be happy to help.

Learn more about in-text links on this page here