Return to the Home Decorating & Design Forum
|
Post a Follow-Up
---
| | | |
| --- | --- | --- |
| Lighting Coordination Help xpost with kitchens | | |
Posted by
Autumn.4
(
My Page
) on
Tue, Dec 17, 13 at 12:23
Cross-posting from kitchens. Any ideas? Will a drum light for the dining room go okay with this pendant and the semi-flush for the foyer?

Where do you start - match the base? Match the shade shape? Match the? Or is it a free for all and I am worrying too much about nothing?

I am working on choosing lighting for a new build
. Both dh and I like this pendant - we are planning on 3 of them for a 9' island. The kitchen
is open to the dining room (and the living room but that will have cans in it an a ceiling fan). Ceiling height is 9' throughout.
I like a lot of different things so I think it would be hard for me to peg it. I don't tend to lean toward contemporary or modern or country. So I guess that leaves transitional/traditional? We are not formal.
Where is the best
place to start - trying to find a complementary shade shape? I like drum lighting but have a feeling that doesn't match at all. I have surfed through pages and pages and pages of lighting and I don't feel any further ahead in this process!
Any tips from anyone on finding a cohesive fit? I thought I'd try kitchens
before home decorating but if I am in the wrong spot let me know! I appreciate your time and thoughts.
edit: Budget is $150-200 range.
Thank you.
Lisa
Link to the pendant:
Quoizel Grant Pendant
Semi-flush: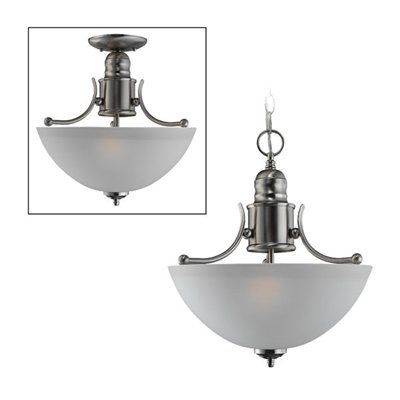 Here is a link that might be useful: Original Thread in Kitchens
---
Follow-Up Postings:
| | | |
| --- | --- | --- |
| RE: Lighting Coordination Help xpost with kitchens | | |
Autumn I'm going to throw another option at you because I don't think you have enough to consider yet ;-) Don't forget about vintage fixtures. Even with rewiring (if it's necessary) it's not difficult to do or expensive to hire out and you can find unique and affordable fixtures that you won't see in every other build. I know your area and there are great options for salvage and vintage lighting - you can just hop in the car and make a few excursions, right? I'm being flip - I know that's not easy with kiddos but if you and your DH can do a little scouting there are treasures available. We bought many vintage fixtures for the house we're in and are seriously considering replacing them with Home Depot-esque fixtures and bringing the vintage into a new build because they unique.

As for matching metals, I wouldn't even give it a thought.
---
| | | |
| --- | --- | --- |
| RE: Lighting Coordination Help xpost with kitchens | | |
dlm-well yes - I have tons of extra time, especially this week, lol!

Tongue in cheek aside, that did get me thinking - there are 2 antique shops along my way to work that I have never been to. I could stop and check them out. I have no idea what to expect as I don't think I've ever been to an antique shop before but it could be fun. I'm not sure we are very vintage but you never know what you can find right?

And - it did get me thinking also that our stairwell that is open to the living room does have some spindles that are going to be ORB or iron looking. So there I have mixed a metal without thinking twice about it!

I may just need to broaden my horizons in the finishes. I can't seem to find many satin nickel that I like at all and maybe that is my problem!

So thanks for getting my wheels turning. :)
---
Post a Follow-Up
Please Note: Only registered members are able to post messages to this forum.
If you are a member, please log in.
If you aren't yet a member, join now!
---
Return to the Home Decorating & Design Forum
Information about Posting
You must be logged in to post a message. Once you are logged in, a posting window will appear at the bottom of the messages. If you are not a member, please register for an account.
Please review our Rules of Play before posting.
Posting is a two-step process. Once you have composed your message, you will be taken to the preview page. You will then have a chance to review your post, make changes and upload photos.
After posting your message, you may need to refresh the forum page in order to see it.
Before posting copyrighted material, please read about Copyright and Fair Use.
We have a strict no-advertising policy!
If you would like to practice posting or uploading photos, please visit our Test forum.
If you need assistance, please Contact Us and we will be happy to help.

Learn more about in-text links on this page here