Return to the Home Decorating & Design Forum
|
Post a Follow-Up
---
| | | |
| --- | --- | --- |
| Would it be a bad idea to paint this? | | |
Posted by
fourkids4us
(
My Page
) on
Sun, Dec 2, 12 at 12:00
My daughter needs a new dresser for her room. Unfortunately, as I'm sure most of you know, quality furniture is very expensive. Most new dressers in the price range that I want to pay do not have the solid construction that I'm looking for. In the past, I've found fabulous solidly built furniture on craigslist - bought my other daughter's entire bedroom set from the 1930s for $500 ( solid wood mahogany bed, two dressers, nightstand and mirror). Drawers are all dovetailed, etc. So I've been looking on and off at dressers on CL looking for another good deal but most have not been suitable. The other problem is that she has a white bed, so I was hoping to either find something white, or find something that could be painted white.

So yesterday I came across this one and it's gorgeous (to me). Just the size I need, right amount of drawers, etc. Price is $200 but they are willing to negotiate. Here is the ad description "Victorian mahogany and crotch mahogany veneer chest with attached swinging mirror; measures 70" H x 21"D x 42.5" W. superstructure includes two handkerchief drawers over four graduated drawers on a shaped apron and plain feet, fitted with wood round pulls. Appraised value = $508. We deal in cash only. If it is posted it is still available. This dresser must go, we need the space."

I'm thinking that I'll ruin its value if I have it painted (would be done by a professional painter who specializes in this kind of thing - friend of dh's). I'm thinking...dd will be off to college in 5 years and I'll be replacing her bed with something that can be used for guests (eventual guest bedroom) so I shouldn't decorate around her "white" bed. And of course, as soon as I showed it to my daughter, her reply was..."can we paint it white?"

OTOH, it's a great price, it will be put to good use and so what if I paint it? It will go with the decor she likes, it's good quality, etc. When I replace her bed, I can find another white one and make the guest room light and airy.

So buy it, have it painted, and not worry about possibly altering its value or continue looking for another piece and hope I find something that meets my criteria in white (been looking for six months and haven't found anything yet)?
---
Follow-Up Postings:
| | | |
| --- | --- | --- |
| RE: Would it be a bad idea to paint this? | | |
DON'T you DARE paint this!!

quote " I'm thinking that I'll ruin its value if I have it painted " unquote.

Go with your gut reaction

Find something cheaper to paint. This is tooo good of a piece to ruin.
---
| | | |
| --- | --- | --- |
| RE: Would it be a bad idea to paint this? | | |
I say go for it! Enjoy it and get full use out of it. In the past, I would have shuddered to hear myself say this, and cover up that lovely mahogany, but it makes no sense to me now NOT to enjoy the piece as best you can. If it has a great professional paint job, you could continue to use it in future years for a guest room. Better than having it sit, unused, in some dark store room. Just my opinion. Plus, it is a great price for a quality built piece of furniture!
---
| | | |
| --- | --- | --- |
| RE: Would it be a bad idea to paint this? | | |
Value aside, it would be a shame to paint such beautiful wood and a nice old dresser like that. They will become harder and harder to find for people who love them. I'd find something else to paint or find one that's already had the painting done to it. They're not that expensive.

I've heard that a coat of shellac will protect the wood before painting, so it can be restored later. I have no idea how well that works.
---
| | | |
| --- | --- | --- |
| RE: Would it be a bad idea to paint this? | | |
Since you've been looking for 6 mos without success for something and now have found this, I think I'd say to buy it and paint it. I know it looks like a very beautiful piece, but I also understand that she wants a lighter look than the stain, as lovely as that seems in the photo. You may find in real life that it's not quite as perfect as it seems and feel less guilty about painting it. If it were your grandmother's heirloom, I'd probably not be advising this, but it isn't.
---
| | | |
| --- | --- | --- |
| RE: Would it be a bad idea to paint this? | | |
I am in the camp of paint it, if this is what will make your daughter happy. I would not put value on this dresser just because it is an old piece.
Here is my feeling about old things: If they have been in your family for years and have sentimental memories attached, I night be hesitant to refinish. But, this was someone else's furniture that you found of CL! You say it is for your daughter, then let her decide what to do with it. Yes, she is going to college, but she will still be home from college more than she will be at college. And, you are assuming that she will move into her own apartment as soon as she graduates? Think again about that one! Both my daughters did, but many of my friends still have their college grads at home.
At the same time, when my DD's do come home, I want them to have some familiar surroundings and personal things still in place.
---
| | | |
| --- | --- | --- |
| RE: Would it be a bad idea to paint this? | | |
There are painted ones out there already being sold by shops. I came across an online store somewhere in NY where they were acquiring and painting them. They weren't very expensive. That's a good idea to look for a beat up one. Maybe that's what they were doing. It was a shabby type shop.
---
| | | |
| --- | --- | --- |
| RE: Would it be a bad idea to paint this? | | |
I wouldn't paint it.

Why can't it work as it is? Why does it have to be white?

I would would buy her a dresser that is already white if what she is interested in is a white dresser. For the cost the dresser and having it professionally painted, you should be able to find a decent enough piece to last until she goes to college.
---
| | | |
| --- | --- | --- |
| RE: Would it be a bad idea to paint this? | | |
I say buy it, BUT don't paint it. I'm with pal -- why can't it work as it is? Why does it have to be white?
---
| | | |
| --- | --- | --- |
| RE: Would it be a bad idea to paint this? | | |
Much of the beauty of that piece is the wood. It may not be that pretty as a painted piece. It's really too nice to be ruined by paint when there are so many mediocre pieces that won't be missed under a coat of paint.

I hope you'll keep looking.
---
| | | |
| --- | --- | --- |
| RE: Would it be a bad idea to paint this? | | |
You will destroy that piece if you paint it.

Please let it's next owner enjoy it as is.
---
| | | |
| --- | --- | --- |
| RE: Would it be a bad idea to paint this? | | |
You can get a similarly sized white dresser at Pottery Barn for about $700. Pottery Barn is no great bargain so you should be able to find something for less.
---
| | | |
| --- | --- | --- |
| RE: Would it be a bad idea to paint this? | | |
| | | |
| --- | --- | --- |
| RE: Would it be a bad idea to paint this? | | |
I can,t believe I,m saying this but if its everything you want paint it. With the strippers available now its not that big a deal to strip it and restain later if you have a change of heart. I stripped and restained several peices of furnature this year and didn,t have to use sandpaper on either of them. It has a glossy or semi glossy finish on it already that will protect the veneer from absorbting any of the paint into the grain which makes it ideal for refinishing later if someone decides too.
---
| | | |
| --- | --- | --- |
| RE: Would it be a bad idea to paint this? | | |
Well, I bought it and brought it home. It actually wasn't in as nice a condition as it appears in the picture in terms of the finish. I didn't ask how old the piece was, but was told the piece was originally her grandmother's then passed down to her mom before she received it (she was probably in her 50s). There is a small aged tag on the back with writing on it that appears to have some indication of where the piece was purchased or made but it was difficult to read so I figured I'd look at it when I got home.

I haven't decided yet whether I will have it painted. My first reaction when I saw it (in a dark garage) was that the finish wasn't as nice as I thought it would be so I wouldn't feel guilty painting it. However, I wanted to see it outside in the daylight all put together. I'm waiting for dh to get home from a bike ride so we can get it out of the car and put all the drawers in again.

FWIW, I don't really care if my dd's furniture doesn't match though it would look better with the way her room is decorated IMO. She would prefer it that way though.

Pal, yes, I could find something for less than the $700 Pottery Barn piece you mention. However, I don't want to spend $500 for something that is not well made and all dressers that I have looked at that were new, were either much more than $500, or they were not well made, did not fit my size constraints, or the design was not appealing on some way (whether it was amount of drawers or the style, etc). I've also been looking in our local consignment and antique stores off and on for more than a year, nothing that suits. Unfortunately, most of the painted stuff is too "cutesy" - I haven't found anything that was either just a plain white or a simple distressed white.

For now, I think we'll bring it inside and clean it up and live with it for a bit. I'll keep an eye out in the meantime to see if anything else comes up b/c I wouldn't mind using it elsewhere in my house!

Thanks for all of your thoughts and opinions. I knew the majority would be against painting, which was the direction I was leaning but I'll wait to see after we've had it for a bit.
---
| | | |
| --- | --- | --- |
| RE: Would it be a bad idea to paint this? | | |
Please please do not paint it. That "true" mahogany is no longer available -- what passes for mahogany these days is an entirely different tree. So these pieces are getting rarer and rarer -- and that wood is stunningly beautiful -- or will be, once it's cleaned up a bit. True mahogany has life and depth unlike any other wood; it "moves" as you walk past it, playing with the light the way long wavy hair does.

Sure, this style isn't very popular now, but it will be again someday, and you will have destroyed one more piece of it if you paint it. What could be a treasured antique will be just another painted piece, left out at the curb for the trash man.

I beg of you -- do not paint it! Try to clean up the wood instead -- or sell/give it to someone who will value it for what it is.
---
| | | |
| --- | --- | --- |
| RE: Would it be a bad idea to paint this? | | |
Chibimimi, thanks for your input! I really do appreciate everyone's insight as I do value old furniture. My first thought when this woman told me it had been her grandmother's was, how could she not want to keep it? I have very few things from my relatives and would have held onto dear life for a piece like this if it had been an heirloom in my family. You are doing a good job of validating that my instinct about not painting this was correct!

Now how does one know whether something is true mahogany or not? What does "victorian" and "crotch" mahogany mean? I confess to knowing little about this subject!
---
| | | |
| --- | --- | --- |
| RE: Would it be a bad idea to paint this? | | |
If you want a white dresser and think that won't change for a long time, then paint it. I have been looking at dressers for a while and there is no way you'd be able to find a nicely built white dresser for $200 (+ whatever your paint and labor costs are.)

I had a similar post about a buffet from CL last year. The sentiment on here was strongly against painting it. However, the wood tone just wasn't my style and the item, in person, had lots of wear on it. I wouldn't have liked it as is, so I painted it. I love the piece now since it fits in our home. If, in the light, your piece is beautiful and would suit your home, leave it be. However, if it isn't perfect, I wouldn't feel bad about painting it.
---
| | | |
| --- | --- | --- |
| RE: Would it be a bad idea to paint this? | | |
I would take a drawer and a photo to a few antique stores and ask them to give to an estimate of its value. If it's worth much more than you paid then you can keep it as an investment for resale.
If it's worth what you paid, I paint it without second thoughts.

Quote from buffaloah.com: Flame / Crotch - The part of the tree from which the limbs and branches develop. It always produces a highly figured V-grain of an extremely decorative character.
Here is a link that might be useful: Mahogany info
---
| | | |
| --- | --- | --- |
| RE: Would it be a bad idea to paint this? | | |
To all the no paint people - if it's painted, why can't it be stripped and refinished at a later time?

We had a double mahogany pineapple bed that sat in my garage for years because my husband refused to let it be painted. My teenage girls didn't want the banged up brown bed and I didn't blame them. DH finally decided that it was okay to paint and now one of my daughters is enjoying it in her room.

I'm glad the bed is being used instead of taking up space in the garage.
---
| | | |
| --- | --- | --- |
| RE: Would it be a bad idea to paint this? | | |
I would not paint it UNTIL.....I took the mirror off and hung an oval one over it (maybe gold framed.) I would change out the knobs....maybe to a goldish color to match the mirror frame. Also, does the top drawer thingy come off without damaging the top? If so, take it off...if not leave it on and with the new oval mirror, you may be surprised at how good it looks.
---
| | | |
| --- | --- | --- |
| RE: Would it be a bad idea to paint this? | | |
Looks like the listing is removed...

Did you get it ??
---
| | | |
| --- | --- | --- |
| RE: Would it be a bad idea to paint this? | | |
OOps sorry never mind...

Instead of edit~ I would like to delete :(
---
| | | |
| --- | --- | --- |
| RE: Would it be a bad idea to paint this? | | |
fourkids, annz gave a good explanation of crotch mahogany. "Victorian" is not a style; it's a period, covering Victoria's reign: 1837-1901. A number of different styles came and went and sometimes came again during this time. Without looking at the innards, I would estimate your dresser to be from 1840-1860, although the style had a resurgence of popularity in the early 20th century.

The mahogany on your dresser is "real" mahogany; it is also bookmatched. That means a single board or thick veneer is split into two slices which are laid edge-to-edge, so the pattern in the wood is mirror-imaged. This is a sign of a good piece. Mahogany is often used as a veneer and the thicker the veneer, the earlier it is. Highly figured mahogany and other woods are almost always veneered because they are naturally unstable and need a stable substrate to keep them from warping and splitting.

Deee, an antique with its original finish is more valuable than a refinished piece (which is still way more valuable than a painted piece). While it's true that a painted antique can be stripped later as long as there is a layer of finish -- shellac, varnish, lacquer -- between the wood and the paint, it is extremely difficult to get all the paint out of the cracks, crevices, and carved bits. It can also a very laborious process, because the furniture has to be stripped by hand -- dipping kills the wood and loosens the joints. I don't in fact know if there are still dip-strippers; the EPA may have put them out of business.
---
| | | |
| --- | --- | --- |
| RE: Would it be a bad idea to paint this? | | |
Chibimimi,

Maybe it's the poor quality of the photo, but I don't see where this piece is bookmatched. The veneer on the drawers, from what I see, is not mirror imaged.

fourkids, you have a better photo?
---
| | | |
| --- | --- | --- |
| RE: Would it be a bad idea to paint this? | | |
Annz, look at the middle of the drawers. On my computer the lower three definitely and the one above them probably all seem to have a pattern that radiates out from the center of the drawer -- it looks almost like an oval in the middle of the drawer. There's a fairly discernible vertical center line on each drawer which is the seam between the two slices. The light reacts differently with each side, causing some areas that are light on one side to be dark on the other -- this is because the "nap" (as in the nap of velvet) is running in the opposite direction side-to-side.

fourkids, if you clean up and either oil or wax the finish, I think you will be stunned by the beauty of the wood.
---
| | | |
| --- | --- | --- |
| RE: Would it be a bad idea to paint this? | | |
Ya....I see the pattern and the seam but I just wasn't seeing a true mirror image of the right and left sides of the seam.
The pattern on the right appears to be different from the one on the left.

Again.....could all be due to the photo.
Would love to see pics after it's cleaned!
---
| | | |
| --- | --- | --- |
| RE: Would it be a bad idea to paint this? | | |
Hi four. Mixing stained with white wood is not only doable, it is unexpected and refreshing. The key is balance. Two examples:
1.) My guest room has an antique cherry cannonball bed and similarly toned chest of drawers. The bed is flanked by white wicker in two small writing desks. Thiis works well, imo, due to the balance. The freshly soft mint green walls and floaty, white cotton curtains also help . Addng the white wicker has youthend and refreshed the room immensley.
2.) My pre teen gd inherited new, dark stained bed and dresser to replace twin white bed. In her 15x 16 room, all that brown put her off. We returned the white desk and small, white table with shelves. I added a nubby white runner to the dresser top, and white throw rug. Along with her white plantation shutters, the brown and white mix works wonderfully.
If you can, remove the mirror top and place elsewhere or store for later use. I encourage you to try this mix before painting.
---
| | | |
| --- | --- | --- |
| RE: Would it be a bad idea to paint this? | | |
Imo, yes

It looks like a wonderful piece as is. I would first try to clean it up with some Howard's restore a finish. I think it would add warmth and character to an all white room!
---
| | | |
| --- | --- | --- |
| RE: Would it be a bad idea to paint this? | | |
Annz, I'll post more photos tomorrow. It's still in the back of my car - it was raining last night so we didn't take it out and dh took my car to work today.

Chib, how can you tell from the innards the approximate age of the piece? If you tell me what to look for, I'll see if I can get some pictures. I'll also see if I can decipher the script on the back of the piece as I'm sure it must be markings from whoever made or sold the dresser.

Unfortunately, the mirror does not come off. I thought it would be screwed on so that we could remove it, but it's not. I'm not sure how it was attached. I'll have to try and look from the underside to see whether it's nailed in from the bottom.

At this point, I'm going to have dh take it to his friend whose shop is right next to his office to see if he can clean it up for me. He specializes in this kind of thing so I will see what he has to say. I'm not going to have it painted.

I started to post this last night, but somehow lost everything I typed, but as luck would have it, wouldn't you know that a woman posted a painted white dresser that was only $75 more after I brought home the other one?! I sent her an email to ask about its construction - she said that it did have dovetail construction on the drawers, that it was mahogany wood and very solidly constructed. She said it was painted with Annie Sloan chalk paint and has a hand waxed finish. Can someone explain to me what that is? She said she just finished another dresser that was shorter and wider (probably similar in size to the one I just purchased) so I think I'm going to try to go see both pieces. I think my daughter would be much happier with one of those. Then my plan is to take the one with the mirror and put it in my other daughter's room and move her dresser to my sons' bedroom. My boys could actually use more storage for their clothes anyway.

Thanks again for all the information and opinions!
---
| | | |
| --- | --- | --- |
| RE: Would it be a bad idea to paint this? | | |
I love individual pieces like that - it has character. It would make a nice foyer piece - a couple of vintage lamps or candlesticks on the side; maybe hang an old hat on the side of the mirror; or drape Christmas greenery around the mirror.

It would also be a nice piece to put in a guest room with perhaps a metal bed - one of those rooms that some of our talented decorators on here can pull together so easily with mis-matched piece and make it look like a million dollars :). That probably would not be me.
---
| | | |
| --- | --- | --- |
| RE: Would it be a bad idea to paint this? | | |
Well, my post from last night was vaporized, too!

fourkids, you can tell the age from the construction techniques, which show up best where they aren't easily seen. Reproductions and later pieces are made to look right from the outside, but use the then-current construction techniques. If you look at the inside and back of the case, and the sides and bottoms of the drawers, etc., you will see substantial differences between old and newer furniture.

annz, this is a little hard to explain, but here goes. The wood has depth. Light goes into the wood -- it doesn't just reflect off the surface of the piece. If the light is from one side, from the same point in the patterned grain on each side, it will go in opposite directions through the pattern. So a part of the pattern that looks light on one side can look dark on the other. Think of velvet drapes, swagged on either side of a stage. If the light is coming from one side, or if you are standing to one side, the pattern of lights and darks will be different on each side. The only way it will be "perfectly" mirrored (and even then, not entirely) is if you are standing directly in front of it with a headlamp on your forehead.

I said it better last night -- famous lost words!
---
| | | |
| --- | --- | --- |
| RE: Would it be a bad idea to paint this? | | |
No problem Chibimimi.......you described it perfectly in the previous post and I fully understand what you're saying. To simplify it, it's like looking at the nap of a wool rug. When viewed from each end of the rug, the color and texture of the rug will appear to be different.

Check the photo I've included. What I'm not seeing (in fourkids photo), and it should be easily seen, is the reverse image on opposite sides of the seam as seen in the pic below. I'm not saying it's not there..........just that I don't see it in the pic. May be time for me to get new glasses. :)

fourkids, do hope your carpenter friend has great news!
Here is a link that might be useful: mahogany
---
| | | |
| --- | --- | --- |
| RE: Would it be a bad idea to paint this? | | |
annz, look at the third drawer from the bottom. On the right, just to the left of the knobs, do you see the parallel double curves? Kind of like sideways Ms? Now look just to the right of the left-hand knobs -- the same curves are there, just mirrored. The two drawers below this one have large ovals radiating out from the center seam. I'm pretty sure this is bookmatched, but the finish needs to be cleaned and brightened to see it better.

I love the grain of this wood. It always reminds me of long, wavy auburn hair.
---
| | | |
| --- | --- | --- |
| RE: Would it be a bad idea to paint this? | | |
My question would be - would you look to sell this piece in the future for an "antique" value, or do you value the fact that it is an unaltered original?

I used to be in love with these pieces, and I appreciate them for what they are, but I say out with the old in with the new. I would go ahead and paint it. I've seen many painted pieces of antique furniture that are being sold at a hefty price, as long as they are painted "professionally". Update the knobs and such (I'd keep the old and tape them in a bag underside the furniture so they're never lost), and you have a beautiful shabby chic piece of furniture.

At the same time, furniture doesn't all have to "match" to flow with the decor. Eclectic works like anything else if you do it right.

But that's just me. I say go with your gut. I'd be tired of looking by now though.
---
| | | |
| --- | --- | --- |
| RE: Would it be a bad idea to paint this? | | |
Chib and Annz, here are some pictures I took this morning. I don't have all the drawers as the rest are still in the back of dh's car. I got a better look at the tags on the back - it appears that at some point, the dresser was in Detroit, MI. One of the tags has the word consignment on it. The woman who sold it to me had lived her entire life in the house where I purchased this (Maryland) so at some point it made its way down here. I don't know if her mother grew up in MI, but at some point, her mom (or maybe grandmother) brought it to MD.

My husband did show the dresser to his friend yesterday and the friend told him that he can definitely clean it up, fix the cracks, etc and if I want, refinish. He also said that he can paint it if we decide (not planning to at this point). For now, I'm just going to have him clean it up.

And then dd, believe it or not, after seeing it yesterday said she actually likes it. I reminded her that I was not going to have it painted and she said it didn't matter. She likes the design! I showed her the painted piece and she was just kinda "eh" about it but only saw the taller one and did not like how tall it was. I'm waiting to see a picture of the other one that is similar in size to this one.

Chib, any idea from the pictures how old it might be? You can probably see from the pictures that it definitely needs some clean up! Sorry they are so big. I appreciate any comments/information you can give!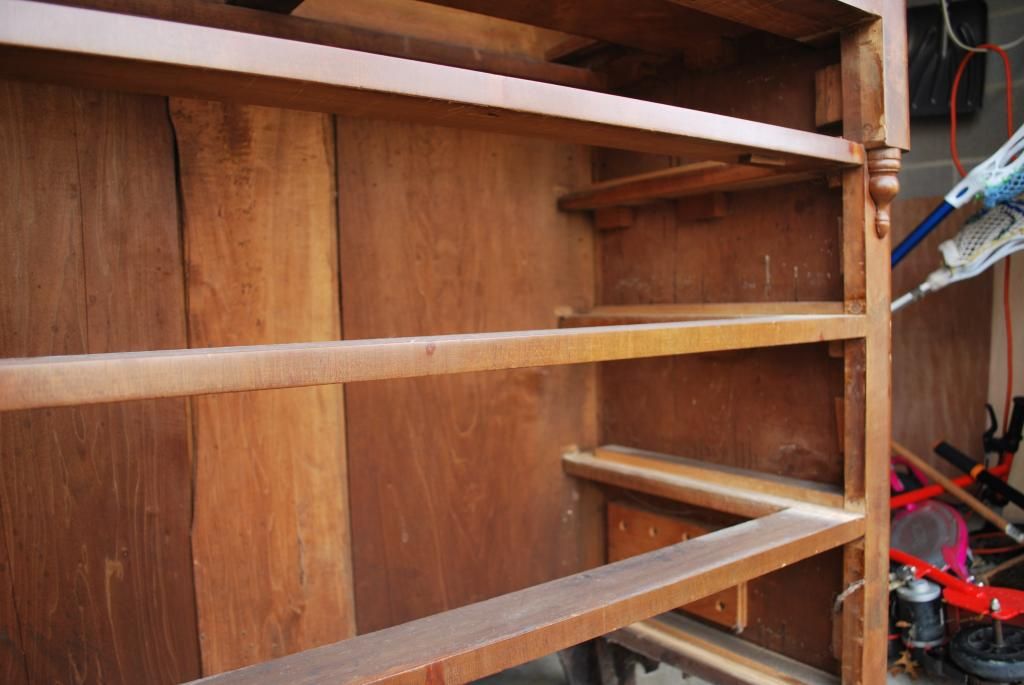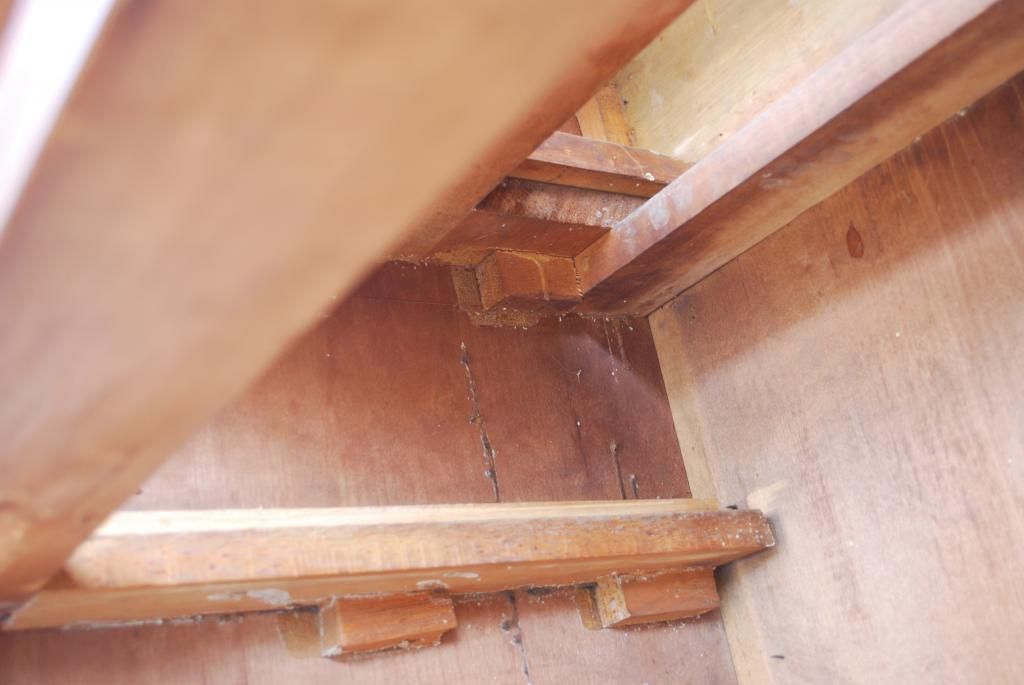 On this one, it's hard to read the script, especially in this photo, but it says Detroit Mich on the bottom.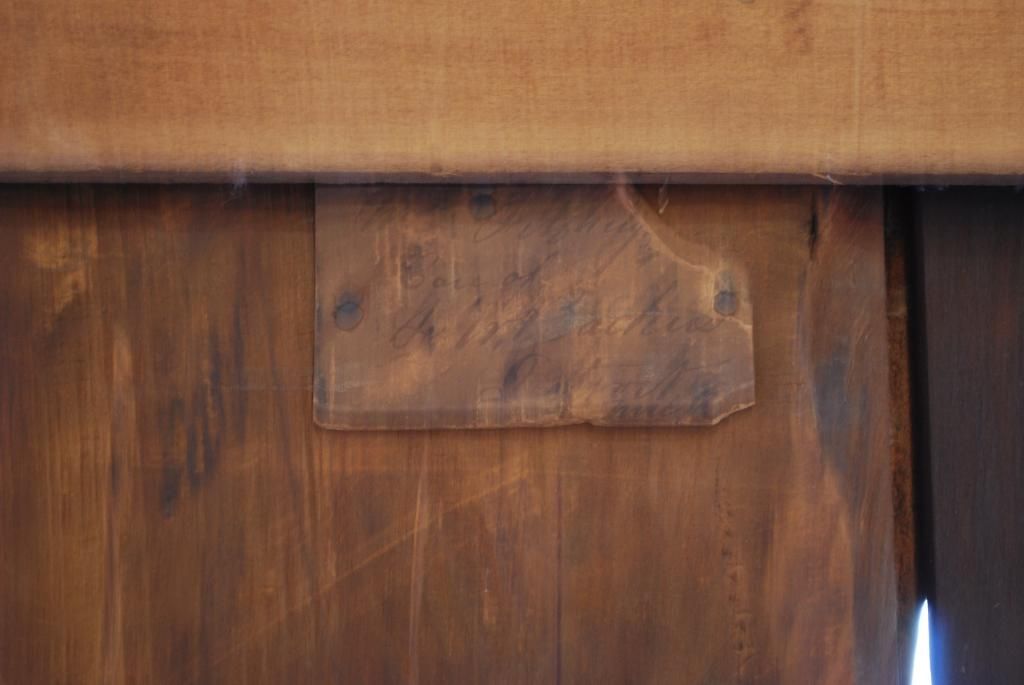 Sorry, I can't figure out why this is posting sideways! I rotated the photo in photo bucket and saved it, and it appears upright in my album, but keeps posting sideways here. Down at the bottom you can see where it says Michigan.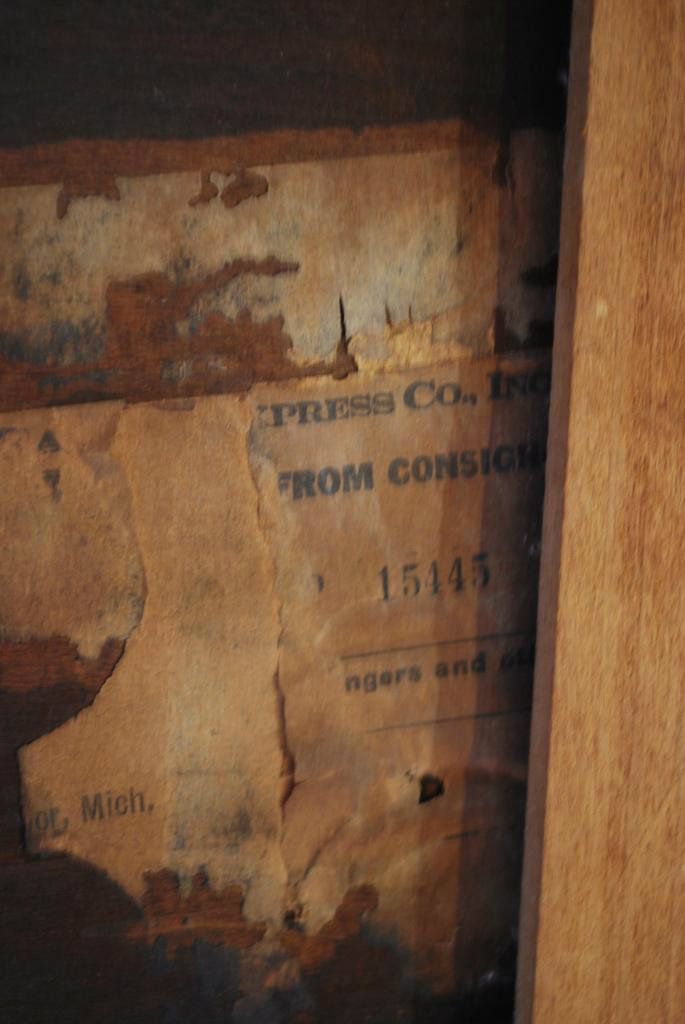 ---
| | | |
| --- | --- | --- |
| RE: Would it be a bad idea to paint this? | | |
"To all the no paint people - if it's painted, why can't it be stripped and refinished at a later time? " Because no matter how carefully you do this, it damages the surface of the wood. It's like bleaching and re-dying hair: it's never quite the same.

And much of the attraction of an old piece is in the quality of the old wood finish. Not only did they use different finishing materials - like real sharkskin for sanding the final coats - but you have the effect of decades of polishing and dusting. It makes all that Pinterest "chippy finish" and "distressing" look crude.

FourKids ... Nice piece, perhaps 1850s-1900 "American Empire Revival" but a simple manifestation of that style. The "hanging drop" decoration and the overhanging top drawer are typical features. So is the flat curved mirror support. The wood puts it several cuts above the usual dresser.

Clean this up and let your daughter have her first REAL antique. :)
---
| | | |
| --- | --- | --- |
| RE: Would it be a bad idea to paint this? | | |
If you want help reading the script, take a clear photo. I can see the second line is "Care of" ... but hard to make anything else out... Zachias? Bachias? I read old script a lot.... not that it matters much for what you're doing. Anyway, I'm glad you and DD like the piece without paint. It looks lovely.
---
| | | |
| --- | --- | --- |
| RE: Would it be a bad idea to paint this? | | |
It looks to me like the earlier end of the age range, for a couple of reasons.

First, the wood. By 1860 or so, in American furniture mahogany was receding in favor while walnut became more popular. Later still, oak became dominant. The empire revival furniture of the turn of the century was usually but not always, made in oak. Mahogany didn't really resurface until the turn of the century or later, and then usually in different styles.

Second, the bracket foot is a leftover from the prior period and indicates this might be a transitional piece. Add the cottagey little pendant under the overhang and I'm thinking maybe 1850.

Third is the quality of the wood and the bookmatching. Later mahogany seldom looks this good. Can you tell how thick the veneer is?

The shipping label throws me a bit. Could it have been from a later move? Where is it on the piece? Could we have a clearer shot of the handwritten label?

Can you see any screw heads? What do they look like?

The knobs are most likely original -- do not replace them. Could we have a picture of the inside of the drawer where they attach? Are they attached with a metal screw or a large wooden one?

The interior construction looks consistent with mid-Victorian to me. But I'd really like to see it in person! It's hard to tell from photos. I could be wrong and it could be a later piece, but from the photos I don't think so.

On that note, could you take a picture of the lower portion of one side?

Could you also take a close-up of the finish, preferably in a spot that shows the aging?

As I'm sure you can tell, I'm against painting a fine old piece of furniture just to keep up with the latest fads, so I'm glad you've decided against that. Even if it is a later piece, that wood is too lovely to cover!

And when your friend refinishes it, do NOT let him use a modern varnish! Best would be to just clean up the old finish; next best would be French polish, shellac with a coat of wax, a rubbed oil finish, or lacquer. Absolute worst is one of those awful varnish stains which are nearly as bad as paint at hiding the beauty of the wood. Polyurethane is not even a possibility.
---
| | | |
| --- | --- | --- |
| RE: Would it be a bad idea to paint this? | | |
Chibi, thanks so much for all of this information. I'm definitely not at all knowledgeable about antiques - I just know what I like and appreciate the quality of old furniture.

To answer your questions

1) I don't know how thick the veneer is. How can I tell?

2) I don't have a better picture of that one label. It's torn off so what I took the picture of is all there is. The other handwritten label is pictured below. Looks like the top line has a name Fitzhugh but other than the Detroit, Mich on the bottom, I can't read the rest. Perhaps LoLauren can decipher the middle part. And I'm sure the labeling must have come from a later move. At some point, this was moved from Michigan to MD.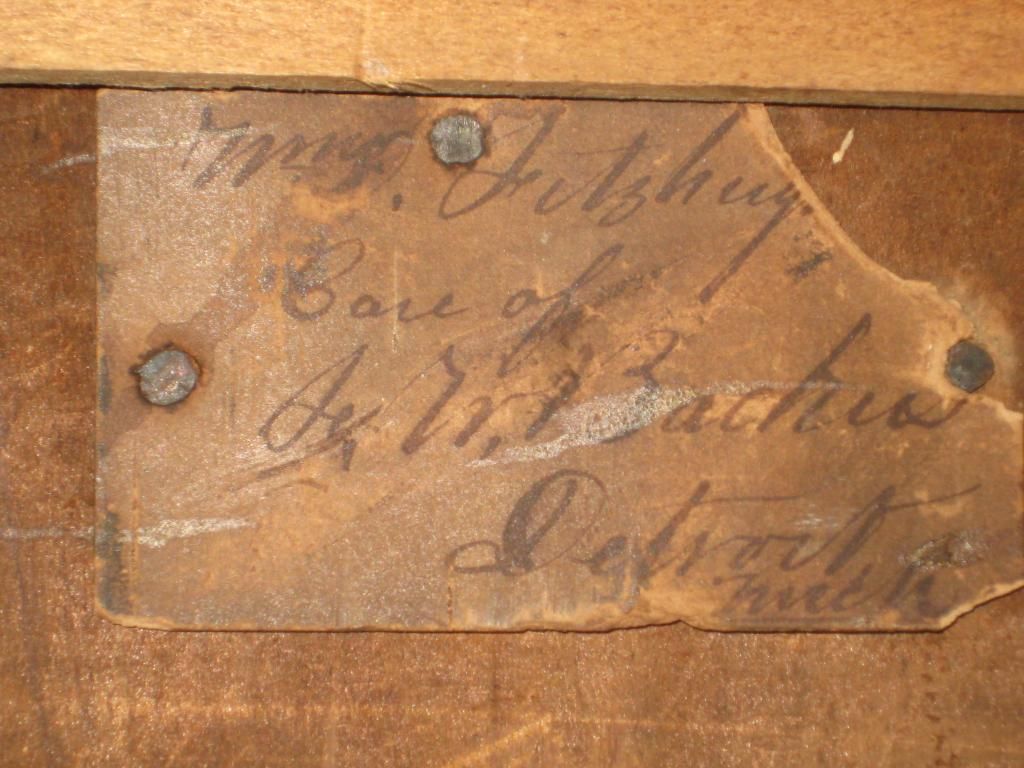 3) Screw heads - darn, the first shot I took of the screws that hold the knobs on I accidentally deleted, however, they were not wooden, they were metal, a flat head screw. I did take a picture of the fastener that attaches on the back of the drawer where the lock is. Here is that picture - not sure if it is original or came later: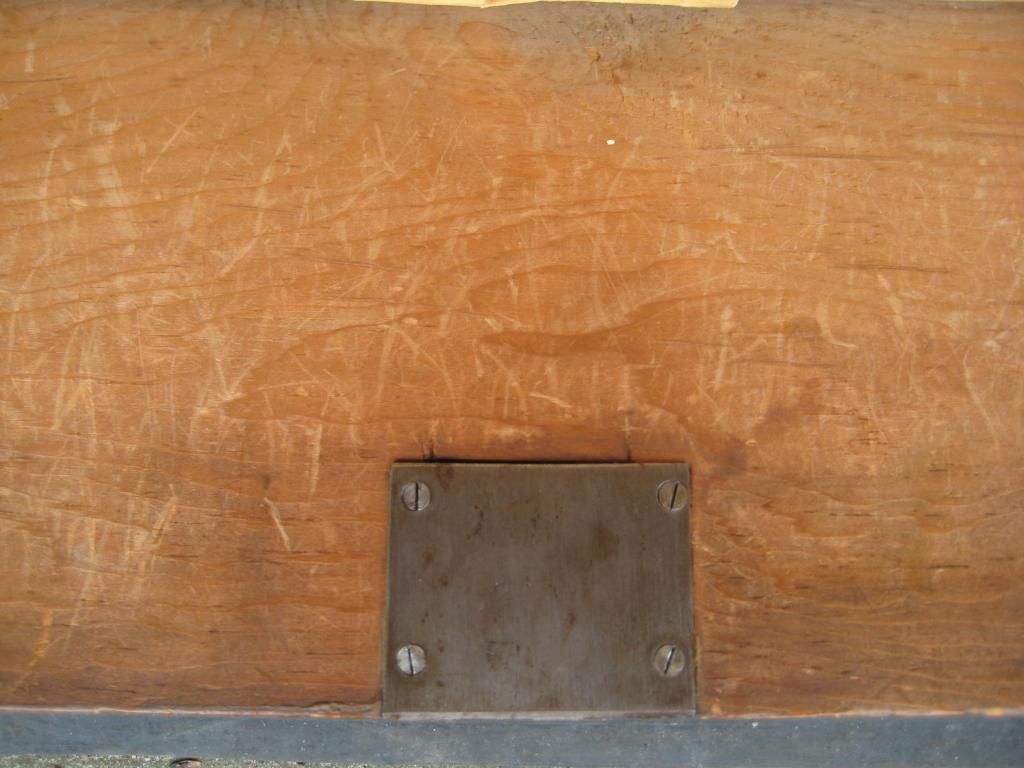 4) Here is a picture of the lower portion of one side - I assume this is the view you meant? Note the large "crack" about 1/3 from the left side? Is that a seam? It runs the length of the side piece and there is a similar one on the other side. I thought perhaps it was a crack until I saw there was one on each side so I wonder if it was made that way?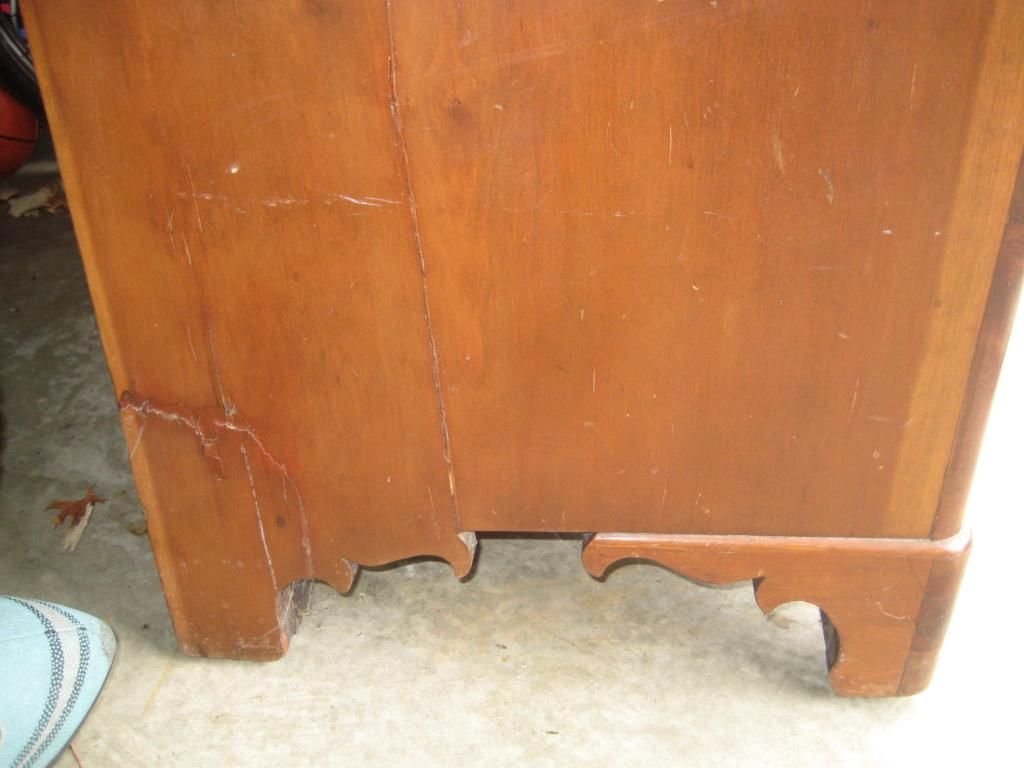 5) Here is a spot from the middle of one of the drawers that shows what appears to be some aging. It was hard to get a clear shot - with flash, kept getting a glare, and then without was too dark. This was the best I could get - does it help? Is it too close up? If so, I can try to get a better one.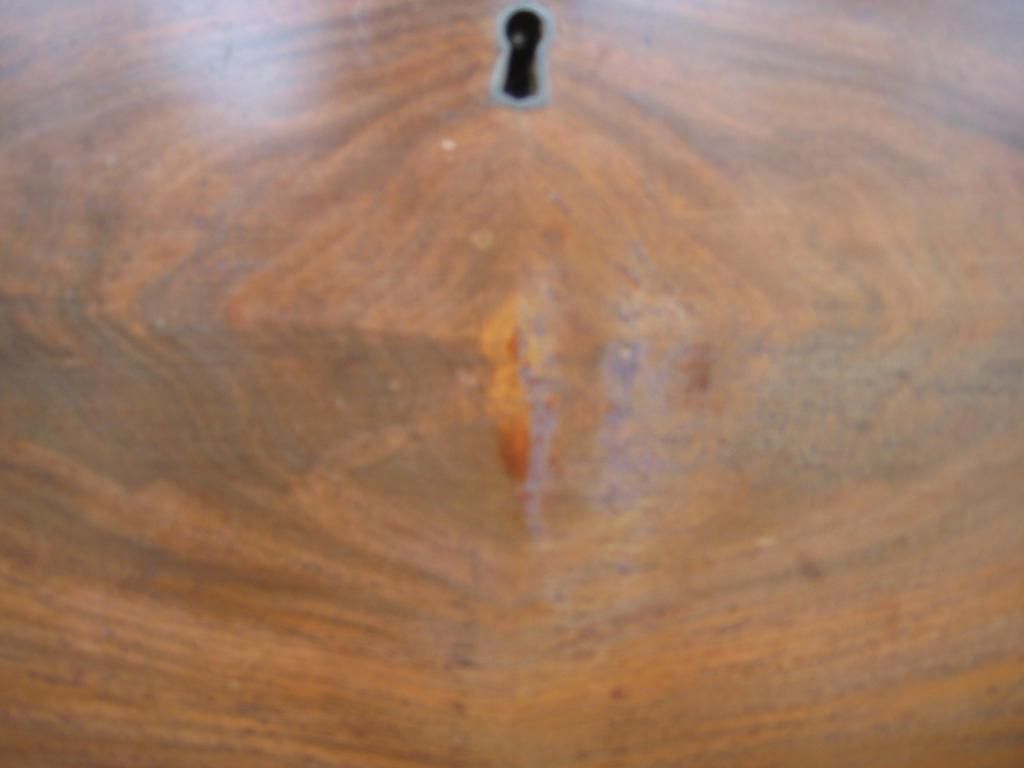 When you say, "clean up the finish," what is the best method for doing that? My husband's friend was going to do something to the back of one of the drawers to show us how he was planning to work with the front, but I want to make sure he is using the best method. Should he not be removing the current finish at all, and somehow just cleaning it? I will show him what you said above, but if you can further clarify, that would be very helpful!
And thanks again - I didn't realize I would get such a fabulous lesson when I asked my initial question about whether or not to paint this! I appreciate you taking the time to help me!
---
| | | |
| --- | --- | --- |
| RE: Would it be a bad idea to paint this? | | |
Mr? Fitzhugh
Care of
someguy
Detroit. Mich.

Lovely dresser, dings and all.
---
| | | |
| --- | --- | --- |
| RE: Would it be a bad idea to paint this? | | |
I was hoping the names would help with the date. The first name is William Fitzhugh. (Wm is shorthand for William.) Unfortunately, there were three William Fitzhughs who lived in Detroit all the way from 1865 - 1930. One was born in 1835 in Virginia, one in 1858/9 in Virginia and the last in 1891 in Wisconsin. That doesn't help narrow it down. Boo!

The second part looks like

"Care of
F. W. Bachus
Detroit, Michigan"

I'll search around a bit...
This post was edited by lolauren on Wed, Dec 5, 12 at 15:12
---
| | | |
| --- | --- | --- |
| RE: Would it be a bad idea to paint this? | | |
To clean up the old finish, you would first need to remove the wax, dirt, etc., that are on top of it. You can use mineral spirits on a rag or 0000 steel wool to do some or all of this. Or Howard's has a line of products that includes a furniture cleaner. If you can find Watco Rejuvenating Oil, that's my weapon of choice! Sometimes it's all you need to revitalize the piece -- no further refinishing needed.

Once the piece is cleaned, take a good look at the remaining finish. It may be in good shape. If it's kind of crackled looking, it's lacquer -- but I think your piece predates the use of lacquer. My guess is that it's a shellac. You can use denatured alcohol with 0000 steel wool to re-melt and smooth out the finish -- many small scratches and scuffs will disappear immediately. If more finish is needed, add another thin coat of shellac -- make sure it's fresh; shellac goes bad in the can with age. After it's dried thoroughly, if you want to add an additional layer of protection that's easily redone, use paste wax. It's a labor-intensive job applying it, but the results are worth it. Apply it in very thin coats, let it dry thoroughly, then buff it out with a clean soft rag. You might just do this on the top, where the protection is most needed.

I think you will be able to revive this finish without stripping.

By the way, I love the charming scrolling on the bracket feet -- what a lovely piece this is!
---
Post a Follow-Up
Please Note: Only registered members are able to post messages to this forum.
If you are a member, please log in.
If you aren't yet a member, join now!
---
Return to the Home Decorating & Design Forum
Information about Posting
You must be logged in to post a message. Once you are logged in, a posting window will appear at the bottom of the messages. If you are not a member, please register for an account.
Please review our Rules of Play before posting.
Posting is a two-step process. Once you have composed your message, you will be taken to the preview page. You will then have a chance to review your post, make changes and upload photos.
After posting your message, you may need to refresh the forum page in order to see it.
Before posting copyrighted material, please read about Copyright and Fair Use.
We have a strict no-advertising policy!
If you would like to practice posting or uploading photos, please visit our Test forum.
If you need assistance, please Contact Us and we will be happy to help.

Learn more about in-text links on this page here