Return to the Home Decorating & Design Forum
|
Post a Follow-Up
---
| | | |
| --- | --- | --- |
| Another re-purposed Craig's list piece of furniture | | |
Posted by
dbfirewife
(
My Page
) on
Tue, Dec 11, 12 at 12:00
Here is another piece I re-purposed for my daughter. I got this beautiful old buffet of Craig's list for 100.00. It is now a tv console. I still have to put a couple of shelvs in the middle section for tv equipment but other then that it is finished. Painted it a satin black then used denatured alcohol and cheese cloth to do the rub off edges, then two coats of satin poly.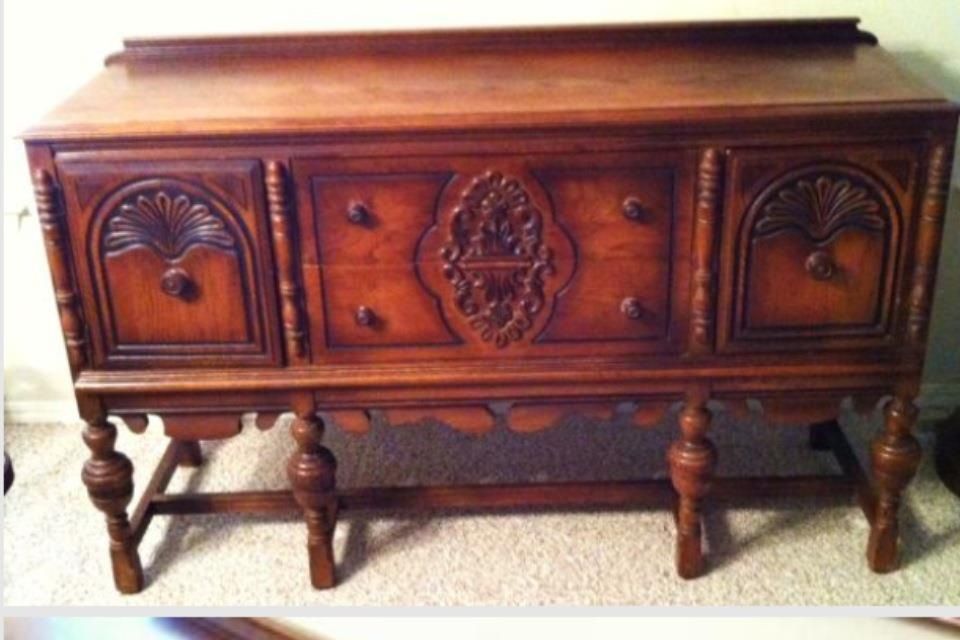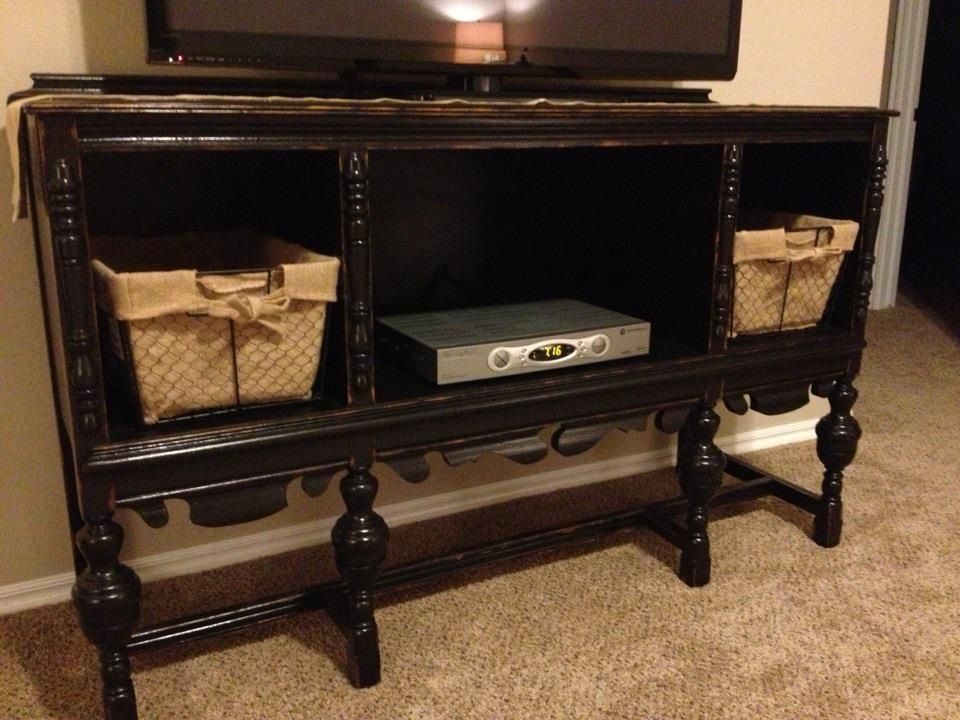 ---
Follow-Up Postings:
| | | |
| --- | --- | --- |
| RE: Another re-purposed Craig's list piece of furniture | | |
It looks terrific! Wow--what a great eye you have to envision this new use and new look for the piece!!!
---
| | | |
| --- | --- | --- |
| RE: Another re-purposed Craig's list piece of furniture | | |
You did a great job with that finish! What paint did you use?
---
| | | |
| --- | --- | --- |
| RE: Another re-purposed Craig's list piece of furniture | | |
I love it! Those buffets are so versatile- I never thought about taking the drawers/doors off. We re did one of those for a changing table for my sister. I had to pay $150 on craigslist. I should have kept looking for a better bargain!

Before: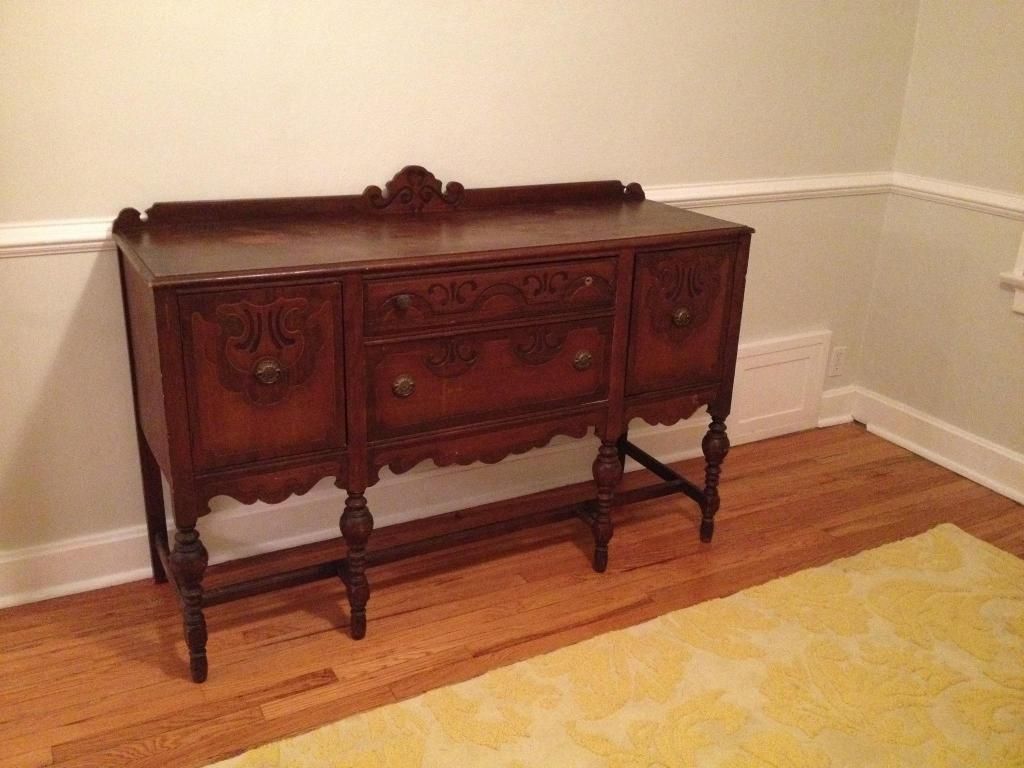 After:
---
| | | |
| --- | --- | --- |
| RE: Another re-purposed Craig's list piece of furniture | | |
Thanks everyone!... I used Behr paint in satin finish. I just love that paint. I never have a problem with brush strokes showing. So far one quart has done this buffet, a drop leaf table and a coffee table and I still have quite a bit of it left. I put two coats on, let it dry for a couple of days then take small pieces of cheese cloth wet with denatured alcohol and do the rubb off. Then I put one coat of oil based poly, lightly sand, another coat. On the tops of pieces after the second coat I light sand then for the final coat I use rub on poly. With the rub on oil based poly there are absolutely no brush strokes at all, that is great stuff if you have never tried it. I have the final coat to put on the coffee table top then I will post photos of it...I did not keep the doors on the buffet, could not for the life of me think of a project for them but I did keep the drawers. I saw super cute end tables made out of old drawers, add legs and a top with hinges. Haven't had time to make one yet but I will...
Debbie
---
| | | |
| --- | --- | --- |
| RE: Another re-purposed Craig's list piece of furniture | | |
I forgot!... @ pps7.. your buffet repurposed into a changing table looks great... and it can be reused later for something else is the best part.. I think you got a great price on it.. I think I pretty much stole mine at 100.00... The lady was so nice, I honestly don't think she had sold anything on Craigs list before because she actually held it for me till I could go nab my husband off the golf course since he had the truck that day, to go get it...She had all sorts of stuff for sale so cheap....They were downsizing to an apartment and selling all sorts of household items. She offered me a nice piano for 200.00. I told her I would check and see if my daughter might be interested in it but she wasn't. I called the sweet lady back and told her so and that I thought she could get a lot more for the piano. I hate to see someone rip themselves off....Anyway I think your price was a great price.. sometimes we can't hold off looking for a better price when something that pretty comes along. It has beautiful lines and legs to it...Debbie
---
Post a Follow-Up
Please Note: Only registered members are able to post messages to this forum.
If you are a member, please log in.
If you aren't yet a member, join now!
---
Return to the Home Decorating & Design Forum
Information about Posting
You must be logged in to post a message. Once you are logged in, a posting window will appear at the bottom of the messages. If you are not a member, please register for an account.
Please review our Rules of Play before posting.
Posting is a two-step process. Once you have composed your message, you will be taken to the preview page. You will then have a chance to review your post, make changes and upload photos.
After posting your message, you may need to refresh the forum page in order to see it.
Before posting copyrighted material, please read about Copyright and Fair Use.
We have a strict no-advertising policy!
If you would like to practice posting or uploading photos, please visit our Test forum.
If you need assistance, please Contact Us and we will be happy to help.

Learn more about in-text links on this page here