Return to the Home Decorating Forum
|
Post a Follow-Up
---
| | | |
| --- | --- | --- |
| need pics of ranch house with crown molding | | |
Posted by
shannon01
(
My Page
) on
Thu, Dec 11, 08 at 10:57
My co-worker is curious to see what a ranch house looks like with crown molding. He has a typical 50s ranch. He is looking to fancy it up a bit but keep with the style. There are many patterns to choose from to keep it sleek but he worries with the lower ceilings how it will all look.

I told him we could probably count on someone here giving him an idea or two.

Your pics would be appreciated.
---
Follow-Up Postings:
| | | |
| --- | --- | --- |
| RE: need pics of ranch house with crown molding | | |
Here's a pic of my 1970 Florida ranch with crown in a few rooms. It was there when I bought it and I just left it. I would not have paid to put it up and didn't in my new house either, as I believe that crown is only suitable for higher ceiling and fairly formal places.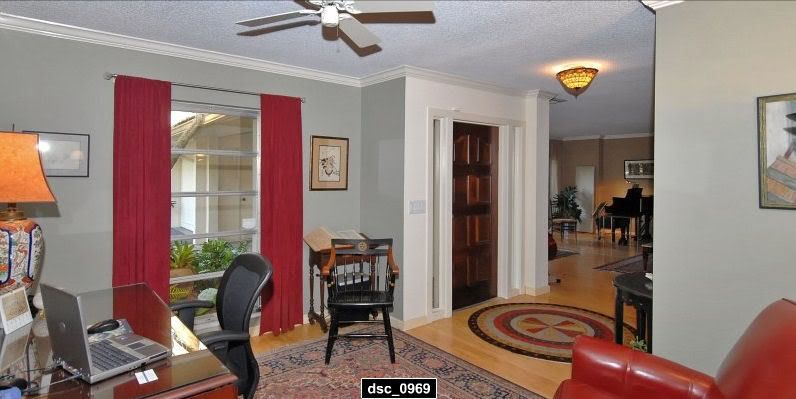 I believe one's first responsibility is to honor the inherent nature of the house. To take a 50's ranch and try to gussy it up with crown molding and a Tuscan-style kitchen is just silly.

I was thinking European country for the kitchen in my ranch house because that's what looked good to me in the magazines at the time. Fortunately, I quickly came to my senses and realized that the only thing that wouldn't seem strange was a more modern look -- slab doors, glass tile, color, etc.

If there is any way to get your friend to embrace the house and love it for what it is, the design piece will always be easier....path of least resistance and all that...
---
| | | |
| --- | --- | --- |
| RE: need pics of ranch house with crown molding | | |
We put up a similar style molding in our ranch and ended up taking it back down. It didn't go at all.
---
| | | |
| --- | --- | --- |
| RE: need pics of ranch house with crown molding | | |
I live in CA and most all homes are ranch here. We remodeled ours and added new stucco to the outside, but I'd still call it a ranch and almost all ceilings are 8' ceilings. Adding crown can actually make 8' ceilings appear taller since it raises the eye up. I think a simple, smaller crown is perfectly appropriate and disagree that you cannot gussy up a ranch home. I would not do any heavy, dark craftman style moldings, though. I have crown only in the formal front areas of my home.

before crown:

after:

My thoughts are that all the trim in the house need to relate to one another in terms of both color and scale. When we remodeled our house we redid the trim throught the entire house and removed all of the builder grade trim on the doors and base. If all of the rest of the trim is the original builder grade, I would agree just adding crown would look out of place.
---
| | | |
| --- | --- | --- |
| RE: need pics of ranch house with crown molding | | |
Here in the South a lot of ranch houses were built with crown molding. Our housing styles, including ranch houses, lean heavily toward traditional. Crown molding might look out of place in a more contemporary ranch. I grew up in a 1963 ranch with crown in every room. My first house was a 1967 ranch, also with crown in every room. The first time I saw a home with no crown molding, I thought it looked odd ... like they had skimped on building costs.

I also firmly disagree that crown molding is only suitable for high ceilings. My 1979 colonial with "low" 8-foot ceilings has wonderful thick crown molding in all the formal rooms. We plan to add slightly smaller molding in the bedrooms this summer. Just because my home isn't grandiose, doesn't mean it can't have some pretty features like crown molding.
---
| | | |
| --- | --- | --- |
| RE: need pics of ranch house with crown molding | | |
We just built out ranch house and I plan on adding crown to the LR. All our ceilings are 8'. I think it really looks nice.

Val- what is builders grade trim?
---
| | | |
| --- | --- | --- |
| RE: need pics of ranch house with crown molding | | |
sheesharee: What I was referring to was the 30-35 year old plain flat trim and slab hollow core doors that many ranch homes put in--which you can also find in apartments. Since your house is new I think the addition of crown will be a nice touch--esp. as your taste is for more traditional decor--where I think it looks best.
---
| | | |
| --- | --- | --- |
| RE: need pics of ranch house with crown molding | | |
We just put all new molding and trim in our master bedrm and added crown...and yes, it has 8 ft ceilings and it looks so good! I am tickled with the result. :)

Susan
---
| | | |
| --- | --- | --- |
| RE: need pics of ranch house with crown molding | | |
Well, I think my use of only might have been too strong. Clearly the crown looks great in Valinsv's house. But, I think the key is her more formal look in general.

I also think that today's ranch houses are one-story homes with far more architectural interest, inside and out, not quite the same as the ranches of several decades ago.

My new house has Craftsman overtones and what I consider to be slightly overwrought trim, particularly on the windows and doors. To have added crown would have been a big mistake....just too cluttered, imo.
---
Post a Follow-Up
Please Note: Only registered members are able to post messages to this forum.
If you are a member, please log in.
If you aren't yet a member, join now!
---
Return to the Home Decorating Forum
Information about Posting
You must be logged in to post a message. Once you are logged in, a posting window will appear at the bottom of the messages. If you are not a member, please register for an account.
Please review our Rules of Play before posting.
Posting is a two-step process. Once you have composed your message, you will be taken to the preview page. You will then have a chance to review your post, make changes and upload photos.
After posting your message, you may need to refresh the forum page in order to see it.
Before posting copyrighted material, please read about Copyright and Fair Use.
We have a strict no-advertising policy!
If you would like to practice posting or uploading photos, please visit our Test forum.
If you need assistance, please Contact Us and we will be happy to help.

Learn more about in-text links on this page here