Return to the Home Decorating Forum
|
Post a Follow-Up
---
| | | |
| --- | --- | --- |
| Stained Glass Decorative Pieces | | |
Posted by
boopadaboo
(
My Page
) on
Thu, Dec 30, 10 at 9:49
Do you have any in your home? Are they hung in windows?

I am in love with this piece...
I do have a spot in a window I could hang it. But.... I have been trying to figure out what to hang on the short odd shaped wall going up my stairway. There is not a ton of room. I have some other stained glass pieces that are in my sun room but they fall off the windows and I don't want them to break. I have an angel that was a gift and a bunny and one other piece that my sister made for me.
I thought they might look good on this odd wall in my stairs.
Do they need to be in a window?
Do you have any pictures?
---
Follow-Up Postings:
| | | |
| --- | --- | --- |
| RE: Stained Glass Decorative Pieces | | |
I have seen them hung over mirrors and they look nice.

I love anything stained glass. I got this lamp for Christmas and I am still reeling. I always wonder when it will be in style. I tell my husband that when there is anything stained glass at pottery barn, I made it.
---
| | | |
| --- | --- | --- |
| RE: Stained Glass Decorative Pieces | | |
Boop, that butterfly is gorgeous! I love it! I've used the suction cup hooks to hang a couple of smaller pieces in windows, but haven't had much luck with their staying power and like you, didn't want my pieces to break so I just took them down. I think they could be hung on a wall, but it's a shame not to get the full effect of the light coming through. I hope someone will have some good suggestions on how to hang pieces securely, because I want to know too!

Hapnor, your lamp is stunning. I too adore stained glass. I grew up with it throughout the house and just never tire of it.
---
| | | |
| --- | --- | --- |
| RE: Stained Glass Decorative Pieces | | |
The minister that married us made us a piece for a wedding gift. He has sinced passed away and was very special to us. We have always found a place for it in any home we've lived in. It is a rectangle with chains to hang it. We always install a simple cup hook at the inside top of one of our window frames and hang it from that.
---
| | | |
| --- | --- | --- |
| RE: Stained Glass Decorative Pieces | | |
Why not use a cup hook and screw it into the trim? This wouldn't work of course if you had blinds in the window, but I don't think you'd want your SG piece in that precarious position anyway. On the wall is fine, but, yeah, the light is what SG is all about.

Love the butterfly and that lamp is to die for!

I want more stained glass!!! ;-)
---
| | | |
| --- | --- | --- |
| RE: Stained Glass Decorative Pieces | | |
The problem with the cup hooks is if the chain is short you end up with the pieces high up in the window. That doesn't always work.

I was thinking of getting that butterfly though (and using a cup hook), and I bought these christmas ornaments from Wisteria for a steal...
So I was thinking of putting these across the top of the window hanging down, then the butterfly lower, then a cafe curtain for privacy.
I hope that makes sense. I think I might have to get that butterfly. I can tell DH to get it for my birthday this weekend!
I am not sure what kind of cafe curtain to get though. I am thinking a regular sheer won't work. Maybe some kind of antique linen.
I would just love to use my angel and bunny glass pieces somewhere too and I have that problem area in my stairwell to deal with somehow.
---
| | | |
| --- | --- | --- |
| RE: Stained Glass Decorative Pieces | | |
The lamp and the butterfly are beautiful.
The best way and the safest way is to screw a hook
into the window jam or the molding on top of the
window. The window jam is better, because it gets the
stained glass piece closer to the window glass --
in case you have shades or blinds.
Don't use a suction cup, the glass and lead are too
heavy.
---
| | | |
| --- | --- | --- |
| RE: Stained Glass Decorative Pieces | | |
Did someone say stained glass? Love the stuff! My husband and I took up stained glass a couple of years ago. We use cup hooks and fishing line to hang our pieces. The fishing line can be adjusted to any length and virtually disappears so your stained glass is 'floating' free.

I have one piece that I've hung on the corner of an open cabinet door. It doesn't glow like the ones in the window, but I still enjoy it.

Alternately, I did a piece for Christmas this year and never got around to hanging it. Instead I laid it on a piece of dark green fabric. Since the glass pieces were contrasting colors, it showed up well. I really enjoyed having it there.

Love that lamp, too.

Our next project is long narrow pieces to put in the sidelite windows near the front door.
---
| | | |
| --- | --- | --- |
| RE: Stained Glass Decorative Pieces | | |
If the chain is too short for the butterfly to hang where you want it you can replace it with something longer. Most of our stained glass pieces are strung with fish line and hang from eye or cup hooks.

In this shot I'm holding the blinds away from the window, so you can see the cup hooks.
---
| | | |
| --- | --- | --- |
| RE: Stained Glass Decorative Pieces | | |
Happyintexas...We took up stained glass in 1995.
It is a hobby that is all consuming and best shared
by spouses...When we do a piece, we do it until it's done,
and nothing else gets done!
Our first piece that
did was a window that measures about 38" x 45"...then
we were lucky enough to find an anderson window that
size -- to install in the dining room to fit the SG window
inside of it...talk about crazy luck!
---
| | | |
| --- | --- | --- |
| RE: Stained Glass Decorative Pieces | | |
Another stained glass aficionado here!
If the piece is small I have had luck with cleaning the window with rubbing alcohol and wetting the suction cup with it also.
---
| | | |
| --- | --- | --- |
| RE: Stained Glass Decorative Pieces | | |
Boop, you have to put a longer chain on the butterfly
if it's too short, or use fishing line as natal
suggested.
---
| | | |
| --- | --- | --- |
| RE: Stained Glass Decorative Pieces | | |
Beautiful! You do like you some butterflies, don't you? (I remember the rugs in your entry:)) I prefer stained glass in a window to fully enjoy the colors on a sunny day, but I think you can hang them anywhere. Oh, and BTW, have you seen PB's new butterfly pillows? You'll love them.
Dee
---
| | | |
| --- | --- | --- |
| RE: Stained Glass Decorative Pieces | | |
I do love butterflies. I am restraining myself from ordering the hand towels from Potterybarn. thank you very much Dee. Then I kept looking and look what I found!
I know they are in a kids room here, but i think they could work in my foyer. I am trying to limit myself to one butterfly per room though so they dont' take over. I already have the butterfly rugs in my foyer. :(
This is an alternative for that hard to fit space going up my stairs.....
At some point my son will start making art work and I am going to need somewhere to hang it right?
I am very happy I found the stained glass butterfly for $40 less than the original place that I saw it. that is like %30 off. Yipppeee. Now to make sure it will fit OK in my kitchen window. It is kind of a funky window. If it works I am going to order it when I get home.
Thank you for all the tips and pictures!
---
| | | |
| --- | --- | --- |
| RE: Stained Glass Decorative Pieces | | |
You probably cannot even see it, but I have a piece hanging in my laundry room. My MIL gave it to me years ago and it is an Iris - the state flower of TN.
Many years ago, we renovated an older home (42 years at the time) and the bathtub had a huge round window overlooking the back yard. I designed a large stained-glass flower, using the colors of the new tile and wallpaper, and then had an artist make it to fit the window. Always loved that thing and was sad when we had to leave it behind.
---
| | | |
| --- | --- | --- |
| RE: Stained Glass Decorative Pieces | | |
That's a Suncatcher and is meant to be used in a window.

I haven't read the replies yet, but you can put a small nail or tack on the wall space you have above your window, then hang the suncatcher with a ribbon so it will be low enough for the light.

I bought a SC for a friend at Christmas and I wanted to keep it so bad! lol

I have only one, it's of Henry VIII a friend bought me when she was in England last summer. I love it! He's hanging in a LR window.

I love stained glass.
---
| | | |
| --- | --- | --- |
| RE: Stained Glass Decorative Pieces | | |
Love it! I grew up in a funky house with stained glass pieces and seeing them just gives me warm fuzzies. My husband is also a stained glass fan, but in more of a Victorian way. I think his dream would be to live in a painted lady.

Seeing the sunlight, or even artificial light come through the colored glass ... well, it makes my heart sing. I am escited for your mariposa and those great blue glass ornaments. Yum!

Happy New Year! xo
---
| | | |
| --- | --- | --- |
| RE: Stained Glass Decorative Pieces | | |
Oh my gosh. I love that butterfly. I usually am particular to dragonflies but that one is cute. Can you tell us where you saw it if in fact it can be ordered. I have one large arch-shaped piece and nothing else in the way of stained glass. It was expensive and doubt I could convince my DH to buy another but maybe something on a smaller scale he would be good with.
---
| | | |
| --- | --- | --- |
| RE: Stained Glass Decorative Pieces | | |
Winker - I still have not ordered it. I have to measure the window still. I first saw it in a catalogue. Acornonline.com for $129. It is approx 20"x22".

Then I saw it on the link below for $89. I think it is the same one.

If you order let us know how you like it!
Here is a link that might be useful: butterfly
---
| | | |
| --- | --- | --- |
| RE: Stained Glass Decorative Pieces | | |
boo

Lovely butterfly - I think unless it is hung where it will get natural light the beauty will be significantly diminished

THis is supposedly from a church in England -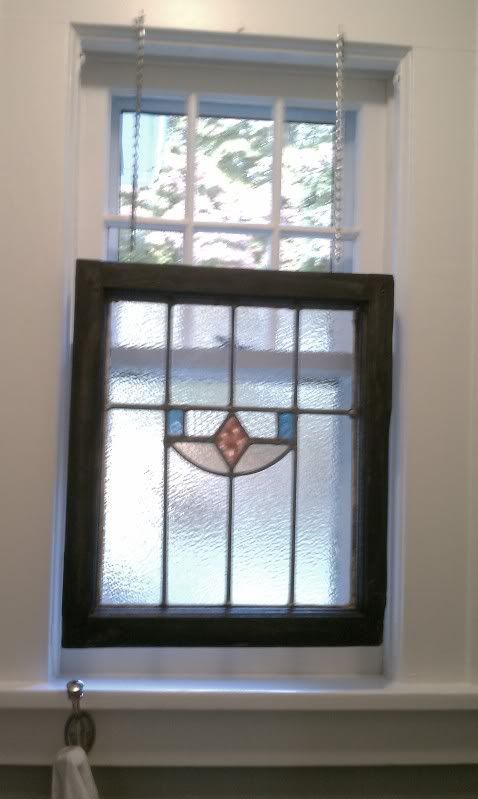 ---
| | | |
| --- | --- | --- |
| RE: Stained Glass Decorative Pieces | | |
I looked up your butterfly online. I am so tempted. I also just googled stained glass panel poppies because I saw a narrow panel 36" long that would fit perfectly in my glass sidelight next to my front door. I found this site:

http://www.stainedglassandmore.com/

and was surprised when I went to the "about us" part and found that they live not too far from me. They make custom glass as well. I bought something at an art fair a couple of years ago and think it may be from them. I kept the card but now can't find it. I might contact them to see if they are the same people, because the item I purchased was well made and neatly done. Anyway, thought you and others might like the site.

These are not people I know by the way. No advertising here.

Here's the poppy panel I like:

http://www.amazon.com/Sidelight-Tiffany-Stained-Window-Inches/dp/B0010KVJAE
---
| | | |
| --- | --- | --- |
| RE: Stained Glass Decorative Pieces | | |
Hi there,
I have a stained glass piece that we've hung in our bay window in our kitchen. Here's a picture of it,
Meg
---
Post a Follow-Up
Please Note: Only registered members are able to post messages to this forum.
If you are a member, please log in.
If you aren't yet a member, join now!
---
Return to the Home Decorating Forum
Information about Posting
You must be logged in to post a message. Once you are logged in, a posting window will appear at the bottom of the messages. If you are not a member, please register for an account.
Please review our Rules of Play before posting.
Posting is a two-step process. Once you have composed your message, you will be taken to the preview page. You will then have a chance to review your post, make changes and upload photos.
After posting your message, you may need to refresh the forum page in order to see it.
Before posting copyrighted material, please read about Copyright and Fair Use.
We have a strict no-advertising policy!
If you would like to practice posting or uploading photos, please visit our Test forum.
If you need assistance, please Contact Us and we will be happy to help.

Learn more about in-text links on this page here