Return to the Home Decorating Forum
|
Post a Follow-Up
---
| | | |
| --- | --- | --- |
| How to dress an arched window? | | |
Posted by
jenfur427
(
My Page
) on
Wed, Dec 9, 09 at 9:30
We're building a house that we'll be moving into in January. Super excited about that. We converted the formal dining room into my husband's home office. It has a gorgeous arched window. Hubby has asked that I make some drapes that can be opened or closed to shut out the sunlight. He does a lot of freelance at home, and doesn't want the sun to created a glare on the screen.

Now, I thought about putting up drapes. Do I just treat the window as a normal window and put the rod above the window? Forgive me if this is a silly question. It's my first home, and I don't want to waste money on mistakes that won't look right.

Here is the window. My youngest daughter dressed herself that day, LOL.
---
Follow-Up Postings:
| | | |
| --- | --- | --- |
| RE: How to dress an arched window? | | |
For an office shutters would be really nice.

Here is a photo of our Living Room window. I have 2" blinds on the windows and a fan on the Palladian.
---
| | | |
| --- | --- | --- |
| RE: How to dress an arched window? | | |
If you don't use shutters, you'll probably want to place the rod above the arch and have the drapes full enough to open and close. If you use a decorative rod you can use a wand (like the hotels) to pull the panels across the rod (they can be mounted behind the first pleat so it won't be visible). I did a post about arched windows on our shop's blog a couple of months ago, but they don't really show what I'm talking about. We did have one window that we used a cell shade mounted inside the window with panels just to finish the look. That does break up the window, but sometimes it's a fix for people that still want the sunlight coming through the arched top. There is usually a break in the window so the headrail of the shades can be installed even with that (header for the windows below).
Here is a link that might be useful: Arched windows in the October post
---
| | | |
| --- | --- | --- |
| RE: How to dress an arched window? | | |
Sallymo, that link was extremely helpful, thank you!
---
| | | |
| --- | --- | --- |
| RE: How to dress an arched window? | | |
Glad it was helpful! Hope you will let us see the finished (or even not finished) room.
---
| | | |
| --- | --- | --- |
| RE: How to dress an arched window? | | |
Please....just don't do this:

(This is the second house I've owned that was done this way....what the heck were they thinking?)
---
| | | |
| --- | --- | --- |
| RE: How to dress an arched window? | | |
I am sorry I have no answer for you.I have never had such lovely windows. Just had so say how wonderful of you to let your daughter dress herself and it does look like she has a bit of style in doing so. They are both just as cute as can be. Your house windows will be lovely. So happy for you and your family in a new home.

Chris
---
| | | |
| --- | --- | --- |
| RE: How to dress an arched window? | | |
We have a few arched windows in our house, including one in our master bedroom. I originally wanted to do a curved rod that followed the line of the window arch, but couldn't find a satisfactory way to have a curved rod and fully functional drapes. (Or are they curtains???)

Anyway, we opted to do a straight rod over the arch, and mounted it very high because of the vaulted ceiling. Sorry I don't have a better photo of this window:
And we do have extra-long, heavy duty wands hidden within the folds so that we can open and close the drapes. They're great!
---
| | | |
| --- | --- | --- |
| RE: How to dress an arched window? | | |
Igloo, you say that was the second house with the those WTs?

That's a first for me. I've never seen any arches dressed like that.
---
| | | |
| --- | --- | --- |
| RE: How to dress an arched window? | | |
Oh Meg, those are beautiful. Love that fabric, and next to that chair, and with that view . . . .
---
| | | |
| --- | --- | --- |
| RE: How to dress an arched window? | | |
Thank you for the help ladies and gents. We will do the rod above the window, I just had a hard time visualizing it, and the pictures really helped.

Chris, what a wonderful compliment, it really made me smile. I try and instill a sense of independence in my children. And while her clothing choices don't always match (and sometimes make me cringe), picking out her own clothes makes her happy, which makes me happy.
---
| | | |
| --- | --- | --- |
| RE: How to dress an arched window? | | |
Parma...I'm just lucky I guess LOL The other was over an octoganal (spelled horribly I'm sure) window in AK. I swore it would come down the first day (right after the saloon doors on the bathroom) but it lasted a couple of months. The ones above will go soon...They bother me every time I walk into the room LOL
---
| | | |
| --- | --- | --- |
| RE: How to dress an arched window? | | |
This is my dining rm. arched window and how I dressed it,the pvc verticals, I love they have a pattern and shimmer, I do have the same for header but they also gave me the blue insert, and they made up the fan for the top arch, the fabric band around we did ourselves.

---
| | | |
| --- | --- | --- |
| RE: How to dress an arched window? | | |
I love the way Meg's is dressed! My problem is the folks that built our home flipped the floor plan. The window was to be in the mb but ended up in the kitchen. The sun comes thru in the summer and makes it an extremely hot kitchen. I just hate to completely cover it up!

Alicia
---
| | | |
| --- | --- | --- |
| RE: How to dress an arched window? | | |
How about some type of awning or trellis on the outside of the house to prevent the sun from coming in but still allow the view?
---
| | | |
| --- | --- | --- |
| RE: How to dress an arched window? | | |
I would have a custom built roman shade to fit inside the window.
---
| | | |
| --- | --- | --- |
| RE: How to dress an arched window? | | |
I liked movable arch shades because I didn't need them closed all day long. I have very large palladium windows so I had to get customs made at adjustaview.com. I believe with smaller windows you might have better luck at a local window and shutter place. You can see my windows on their website because they came down to do a minor repair and took photos.
Here is a link that might be useful: http://www.adjustaview.com/
---
| | | |
| --- | --- | --- |
| RE: How to dress an arched window? | | |
This is an inside view. I currently have faux vines around it to help a little. Bear in mind that I plan to paint the kitchen a color similar to SW Copper Mountain over Christmas vacation and those checked curtains are gone.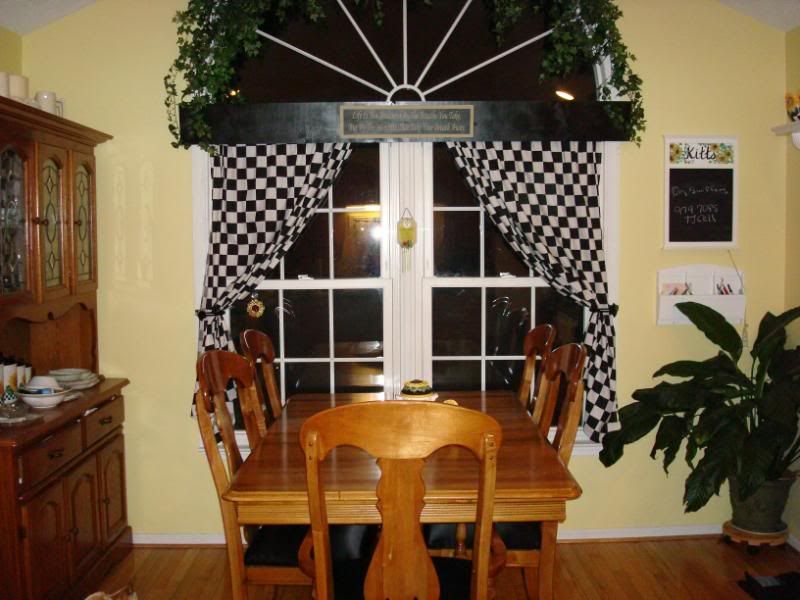 This is an exterior view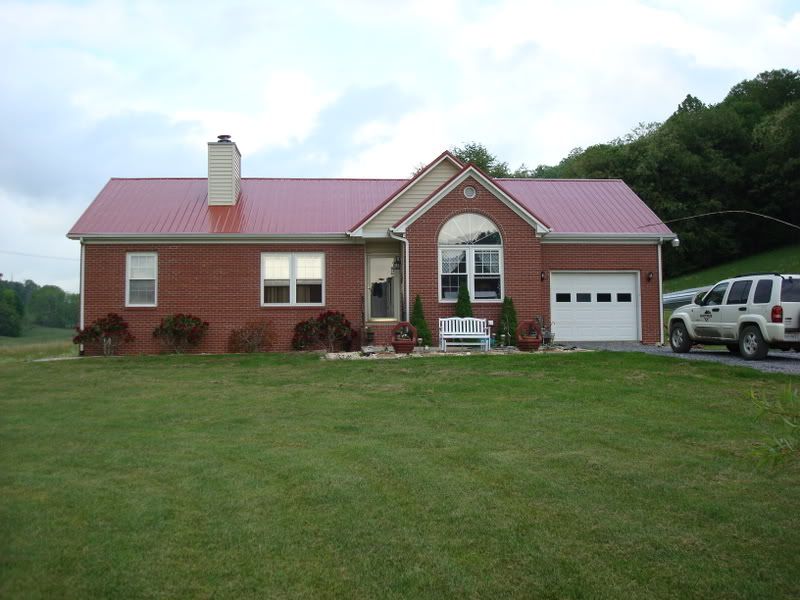 I love the idea of a roman shade but how expensive would it be?
I did consider getting a sheet of luan cut to size and getting my very talented sister to paint a mural on it.
---
Post a Follow-Up
Please Note: Only registered members are able to post messages to this forum.
If you are a member, please log in.
If you aren't yet a member, join now!
---
Return to the Home Decorating Forum
Information about Posting
You must be logged in to post a message. Once you are logged in, a posting window will appear at the bottom of the messages. If you are not a member, please register for an account.
Please review our Rules of Play before posting.
Posting is a two-step process. Once you have composed your message, you will be taken to the preview page. You will then have a chance to review your post, make changes and upload photos.
After posting your message, you may need to refresh the forum page in order to see it.
Before posting copyrighted material, please read about Copyright and Fair Use.
We have a strict no-advertising policy!
If you would like to practice posting or uploading photos, please visit our Test forum.
If you need assistance, please Contact Us and we will be happy to help.

Learn more about in-text links on this page here