Return to the Home Decorating Forum
|
Post a Follow-Up
---
| | | |
| --- | --- | --- |
| Can this fireplace be saved? (pic) | | |
Posted by
oceanna
(
My Page
) on
Wed, Dec 5, 07 at 9:21
Les (thanks Les!) brought this up in another thread and it's something that's bothered me for a long time. I hate my fireplace!

My decor is formal and antique in the living room. I drool over old fashioned fireplace surrounds, especially the oak ones with the columns. But almost every fireplace that's traditional looks better to me than this one. The brick goes all the way to the ceiling, which doesn't show in this pic.

Do you have any ideas what I can do with it?
---
Follow-Up Postings:
| | | |
| --- | --- | --- |
| RE: Can this fireplace be saved? (pic) | | |
Is there a mantle? Can you post a pic of the whole thing? I think the brick is beautiful. Can you get a wonderful antique mantle and then you attach it. And voila' !! You have a stunning fireplace. Caroline
---
| | | |
| --- | --- | --- |
| RE: Can this fireplace be saved? (pic) | | |
IMHO the curves of the brick arch & the mirror are fighting one another, one goes up the other down & there's no real focal point. A mantel would provide a ledge as a focal point & then a piece of art above would draw the eye up. Kind of like shown below
Here is a link that might be useful: Webshots Fireplace for oceanna
---
| | | |
| --- | --- | --- |
| RE: Can this fireplace be saved? (pic) | | |
oceanna, I would just say don't do anything that would harm it. Even if it's not to your taste today, it goes with the house (I assume). In a few decades, someone is going to look at that and say "wow, look at that great fireplace!" :)

I have no experience with this, but could a carpenter build a wooden surround that's more to your liking without hurting the brick, so that it could be de-constructed later if someone wanted?
---
| | | |
| --- | --- | --- |
| RE: Can this fireplace be saved? (pic) | | |
I agree that the mirror doesn't work.

Would it be possible to get a wooden mantel that is arched in the same curve?
---
| | | |
| --- | --- | --- |
| RE: Can this fireplace be saved? (pic) | | |
Paint the trim in the room AND the fireplace in creamy white .....

OR paint the walls in soft gold (and the trim in creamy white) to help the fireplace blend into the walls .... Add a three-panel firescreen with rounded tops to soften the look. Add antique-style gold fireplace tools and a brass wood bucket.
---
| | | |
| --- | --- | --- |
| RE: Can this fireplace be saved? (pic) | | |
I am guessing that it is the 70's style arch that is bothering you. If the brick were painted maybe it would disappear. Then you could add a nice wooden mantle made to give it a more traditional feel.

More involved would entail chiselling off the arch(perhaps best left to a pro..lol) and having a traditional wooden mantle with columns attached to reface the bottom part of the fireplace. Then you keep the upper part of the fp brick.

Sounds like you could use some help from our photoshoppers!
A full view of the fireplace would probably help.

Cheers!
---
| | | |
| --- | --- | --- |
| RE: Can this fireplace be saved? (pic) | | |
Demolish the raised hearth and have a wood surround built to cover most of the brick. This will go down to the floor, where you can put a stone or tile hearth about level with the floor. Leave about 8"-10" of (+/-painted) brick showing around the FP opening. By wood surround, I mean a traditional wood fireplace with mantle -- I don't know what it's called.

Not sure if it'd be better to simply paint the part over the mantle or put drywall or wood paneling over it. It's a question of personal choice I think. Wood paneling would look 18th centuryish, drywall would be more flexible, decorating wise. (I've had them both.)

If you're somewhat handy with wood and tools making the surround shouldn't be too hard. And painting a brick fireplace can look terrific. My MIL's is a sophisticated taupey color that looks great.
---
| | | |
| --- | --- | --- |
| RE: Can this fireplace be saved? (pic) | | |
Your fireplace was the first thing that stood out to me in your other thread and what bothered me the most. But, I didn't want to be one of those naysayers who nit pick everything in the room when you didn't ask for that.

Cheapest route: PAINT it. The brick is ugly and won't get better looking with time. Get rid of the wood hearth and, if possible add a mantle.
I would paint it a color, like deep mossy green and antique it. But I don't remember what's in the room color wise...but I wouldn't do white or cream, but that's me.

Lots of options but for the money, paint would go a long way.
---
| | | |
| --- | --- | --- |
| RE: Can this fireplace be saved? (pic) | | |
What is the overall feel to your home and how old is it?

I agree whatever you decide should blend with the architectural style of the home.

Easiest route would be to paint it. I'd prefer to see it the same as your wall color. I'd like to see a mantle, but am not sure how it would work with the arched brick, but maybe once it's painted, the arch with blend more and a mantle could be added--not sure that I'd do legs though.

If you paint it and put a mantle you have more options to decorate by placing a tall vase, books, art, etc. which will pull the eye away from all that brick.

As mentioned before a nice screen would also look beautful. Check Craigslist or antique stores for something with a vintage feel that works with the other pieces in the room. Placing an arm chair beside it will give it that cozy feeling
---
| | | |
| --- | --- | --- |
| RE: Can this fireplace be saved? (pic) | | |
I like the fireplace. Don't paint the brick. Is the hearth stone or wood as suggested by bumblebeez? It's actually very pretty and I'd leave it. I would simply find a way to add a mantel or mantel surround where the arch matches the arch in the bricks, even bring the mantel surround beyond the brick to the wall beside the fp all the way to the floor as mclarke suggested. The mirror definately needs to go, too. And I would add an antique look screen as well.
---
| | | |
| --- | --- | --- |
| RE: Can this fireplace be saved? (pic) | | |
I love your fireplace! I think the brick is beautiful and I would love to have it. I love the idea that it goes all the way to the ceiling. I would not paint it. It has character, warmth, and dimension as it is. Painted brick is ... well you know, painted brick. Add a beautiful mantel, lose the mirror, and I would consider painting your bronze surround with heat resistant black spray paint, to make it blend. Add a fireplace screen if you want, but I would wait until you have done the other things first. Good luck. I think you're a lucky girl.
---
| | | |
| --- | --- | --- |
| RE: Can this fireplace be saved? (pic) | | |
Wow, thanks for all the great answers! Yes, I could use some photoshop help here, please. Calling Squirrel! :-)

The picture you see is the whole thing except that the brick goes all the way to the ceiling. Caroline, there is no mantel, but I want one. When I moved in, the brick was a dark brown with grey-purple overtones; it sucked the life from the room. I painted it white. It looked horrid. So I fauxed it back to look like brick. What you're seeing IS paint and I wouldn't hesitate to paint it again. Here is a pic that shows all three colors. The darkest color is the original brick.
Hilltop, thanks about the mirror, good point. Thanks so much for the mockup :-), but can you please possibly do it with a more formal look?
Bungalow I guess I already harmed it when I painted it? I'll keep your preservationist thoughts in mind, though.
Mclarke I love that picture. I think I could never find a pre-made that conformed to the existing brick arch, but the arch is exterior and could be knocked off I suspect -- though whether that would chip the underneath brick I don't know. Now, how would your pic look if it were raised off the floor do you think?
I did try it white and it made it look even bigger and uglier. One inexpensive thought I had was to paint it the wall color and hope it blends in better -- is that what you're saying? And paint the hearth and arch white? Your idea about the firescreen is a good one. I have a very old brass wood carrier, but maybe a bucket would look better?

Chris 61 yeah, that's what's bothering me. I want it to look more timeless, classic, traditional. White didn't work so what color would you paint it? The wall color? Yes, I need photoshop help. Do you think it would look okay to put a wooden surround on it when it's elevated like that? One thought I had was to box in the part under the hearth with wood and doors on the front for storage under, then build up a surround. Does that sound like it would work?

Eggandart I don't think I can lower the opening to the floor unless I rob a bank for the money first, darn it. So you're saying lower the hearth and leave the opening raised up? I'm trying to picture that. Wood paneling is a cool idea to add some old fashioned charm. I'm thinking I may still want to paint the brick again. I have no idea how to get anything "nailed?" into brick.

Valinsv my home is 1979 tract home on a cul de sac where a bunch of houses are the same with the floor plan flipped. Ugh. Everyone tries to make theirs look a little different. There are some other fireplaces like mine on the street but there are also a couple of pretty ones that aren't raised. I agree maybe if it's the wall color the arch will fade back and a mantle could be put there. It drives me nuts that it's elevated like it is.

Sasafras it's already painted, and I'm glad you like my paint job. The hearth is exposed agregate. I'll look for a screen.

Everybody what about enclosing the area under the hearth with doors? And/or maybe adding bookshelves on the sides? If the bottom is enclosed would that mean a surround wouldn't look so out of place? Here is my best photo of it to enable you all to see it and maybe someone to Photoshop it? I've used Jasc to "paint" the walls a solid color, as I will be doing in real life anyway -- but my s/w doesn't have the talent that Photoshop does. Does this help everyone who said they wanted to see the whole thing?
---
| | | |
| --- | --- | --- |
| RE: Can this fireplace be saved? (pic) | | |
I think the bottom needs to be built out to touch the floor. The little shelf thing looks odd, but if the brick work or something else continued to the floor it would give you a more traditional look. Then you could have a carpenter build a wood mantel that echoes the brick arch. I happen to really like the brick arch, and think it has character.

I think it's the floating hearth and the lack of mantel that make the fireplace look dated.

Here are before/after shots of my last house. We painted the brick and had my carpenter build a very tall mantel with an arch for character.
---
| | | |
| --- | --- | --- |
| RE: Can this fireplace be saved? (pic) | | |
I really like your fireplace and I understand you want a change . I felt that way before our redo. I know my choice of fireplace is considered dated for a lot of folks but I fell in love with it in a picture and my carpenter said he could make it .This was done over the old fireplace so nothing was destroyed .Bottom line is if you have a great carpenter anything is possible.
Here are before and after shots .Kareen
before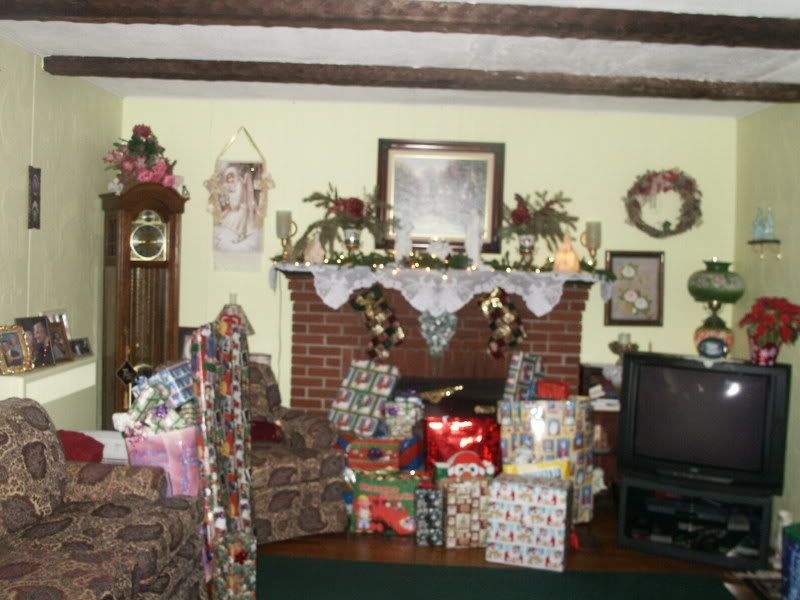 after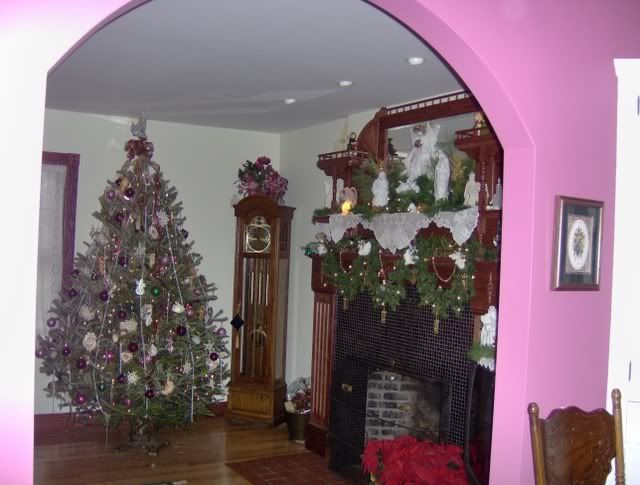 ---
| | | |
| --- | --- | --- |
| RE: Can this fireplace be saved? | | |
Oh Reno, thank you SO much for posting these pics! Yes! This is the type of treatment that would save my ugly fireplace! I love what you did with yours, and your room looks warm and charming.

This is what I was thinking too. The hearth sticking out looks stupid. I can see covering it in tiles, possibly granite or marble, and then enclosing the space underneath with wood and putting a couple of doors on it, so I can stash spare blankets or Christmas decorations or something under there. More storage is always a good thing in my mind. Then build a mantle above it. I do think maybe the brick arch will need to be chizeled (sp?) off there and I think a pro would have to do it.

I just called a carpenter and he's going to come by on Saturday. I'm going to talk with him about my ugly rug/Pergo combination and see what he recommends. I'm also going to talk with him about my fireplace. I'm so happy to have these pics from you. I'll print them out and show them to him. Thanks! :-)
---
| | | |
| --- | --- | --- |
| RE: Can this fireplace be saved? (pic) | | |
Here's another picture for you to show to your carpenter. It's care of thundersweet on the kitchen's forum, but as soon as I saw this shot I thought of you.
---
| | | |
| --- | --- | --- |
| Kareen | | |
Wow, your new fireplace is just gorgeous! Who would ever guess it wasn't an antique?

Do you have a head-on shot of it? I'd love to see more.

I can see doing the tile work myself. But that kind of woodworking is quite another matter. You must have had a real pro working for you and some wonderful things to tell him. Did you give him a picture? Or was it his idea? I doubt I could get away with anything that antique-y in this house -- it would be too out of place for the rest of the house I think. But I LOVE your fireplace! Thanks for the pic.
---
| | | |
| --- | --- | --- |
| Val | | |
Thanks for posting that pic! That is just lovely. I can see something like that fitting right in to the rest of this house and being a very pleasant update. Only because of the agregate, and the fact that my brick is painted, I can see maybe doing a cabinet underneath mine and facing the hearth with some sort of tile? I'm just not sure yet.

Keep those pictures coming, please, folks! This really is helping me out.
---
| | | |
| --- | --- | --- |
| Built-ins? | | |
oceanna: Just a thought here, but what would you think of doing some built-in shelving to either side of the brick (like bookshelves, display niches, etc.) and in this way the sides of the brick could be disguised. Then the same material would wrap around to design the hearth. If you want to hide the brick entirely, you can use tile, granite tiles or even slab granite as a veneer over the brick. I personally like the elevated hearth. It grounds the room. Perhaps it's the color that is bothering you. BTW, do you use your fireplace or is it mostly decorative? Some have even changed from wood burning to gas. We never used our old gas fireplace (DH didn't like the wood smell going all over the house)--now we have a gas one. Here it is to give you example of a stone front with mantle:
---
| | | |
| --- | --- | --- |
| RE: Can this fireplace be saved? (pic) | | |
Thanks Oceana,
We did have a pro who was really awesome.I did an online search for Victorian mantels and found this tiny black and white pic of one. I loved it and asked him if he could replicate it . A week later it was done including some fine details that I hadn't even noticed in the pics. Unfortunately I don't have any front on pics . I get a glare when I take them as there is a mirror and the tile is glass. Kareen
---
| | | |
| --- | --- | --- |
| RE: Can this fireplace be saved? (pic) | | |
Oceanna - The others have put you on the right track I think, keeping the hearth where it is and building a surround above it. Using the space under the hearth would look good, especially if it's made of the same wood as the bookcases. I guess you could use doors, but they'd be very wide. You could use hinges on top and have a pull-up door or two. Even drawers, maybe. Photoshop or a good sketch would help here.

If you flank the FP with bookcases, keep in mind that it'll be sunken relative to them. There was a post on this recently. Hopefully your carpenter will have some creative solutions.

Reno's and Valinsv's pictures are perfect inspirations for your FP! It's amazing how much of a change can be made, isn't it? And it's so great the ideas you can get from people here. Please post an update letting us know how it turns out!
---
| | | |
| --- | --- | --- |
| RE: Can this fireplace be saved? (pic) | | |
I think valinsv's photo of the white mantle may just be the answer! It would preserve the brick and, if memory serves from other pictures I've seen of your home, it would be more consistent with your trim. As I read this post my first thought was that some types of mantles and fireplace treatments, while perhaps very attractive, could be incompatible with the trim. You might run the risk of having to change out the trim, then something else, and so on. Soon a very specific issue grows into a much bigger/broader project.
And I think the arch of bricks should remain visible. It's a nice counterpoint to the straight lines.
---
| | | |
| --- | --- | --- |
| Val | | |
I would LOVE to have built-ins on both sides of the fireplace, but I'll bet we're getting into some money. I've even wondered if I could buy Ikea shelving units to set next to the fireplace (but I haven't seen them in person to check for quality). I don't use the fireplace unless the electricity goes out, but then I need it. Your fireplace is just lovely. Serene and classy. I know how to do tile work and I own a wet saw, but am not set up to do the woodworking. My house is all electric. I've thought about changing it over to gas but with gas prices soaring didn't do it.
---
| | | |
| --- | --- | --- |
| Kareen | | |
I'm sorry you don't have front pics, that's a bummer. It's just lovely. If cost were no object I'd have some really great ideas about what I want. Wouldn't we all? lol!
---
| | | |
| --- | --- | --- |
| RE: Can this fireplace be saved? (pic) | | |
Eggandart, & Kim I think it depends on fire codes too, as a hearth has to stick out a certain amount. I dunno if that's from the surround or just from the firebox. I'm also limited in how far my surround can stick out as the hearth is only 17". And to do what Val pictured would require me to pay someone to remove all the bricks above the mantel and wallboard that area.

Seems to me that the least would be to tack a mantel (not surround) on above the arch, and I'm just not sure that would look good. I'm also not sure if it would look good to build a cabinet under the hearth, though it sure would be a good use of space.

I'm not there yet, as in being able to tell the carpenter what I want.
---
| | | |
| --- | --- | --- |
| RE: Can this fireplace be saved? (pic) | | |
I would build a wood facing that would cover the bottom part of the fireplace, up to about where the top of the arched brick sits, with an arched openning cut out that would cover the brick arch, and expose just the brick inside that arch and the firebox. Put a mantel that runs the full width of the fireplace and sits right on top of the facing.

Then build another wood box to sit under the hearth, so that it looks like it is solid wood below the hearth. Stain it all to match your woodwork.

I would think about painting the brick in deeper red shades, then doing a whitewash/limewash over it to make it look aged and soften it a little.
---
| | | |
| --- | --- | --- |
| RE: Can this fireplace be saved? (pic) | | |
Oh why didn't I think of that? Les, what a great idea! I'll have to see if I can mock something up in Paintshop to see how that could look. Thanks! Then I'll tile that wretched hearth, and maybe the face around the firebox. Other options with the remaining brick would be wallboard, tile, or paint it the same or similar to the wall.

I was talking with my neighbor tonight and she has the exact same fireplace and hates it too. She has toddler grandkids who conk their heads on the hearth corners. :( She keeps a thick quilt over hers and baskets of toys underneath. But it doesn't look pretty.
---
| | | |
| --- | --- | --- |
| RE: Can this fireplace be saved? (pic) | | |
Wow you really have everyone weighing in on your fp! Hope you are not getting overwhelmed as the advice is really varied.

You have really great painting skills...I thought that was the natural color of the brick! Do you like the color? Having seen your Victorian furniture it seems to complement it. If you like it maybe painting all of it is not necessary.

Did not realize the raised hearth was such an issue. Can't tell if it is granite or a pebbly(sp?) kind of concrete? The fact that it is raised and open underneath does not bother me. If it is an unappealing material I am sure it could be covered in tile or marble quite easily. If the openness bothers you it can be framed and faced with brick or the same material that would re-cover the hearth. Don't forget that the hearth provides an element of safety.

I really feel the arch needs to be removed completely...maybe not so easy as there are probably metal supports connecting it to the face. Do you know any masons you could consult? Once that arch is gone you can re-face with the mantle and surround of your dreams and preserve the existing brick above it.

Having not seen any photoshopping done so far maybe you need a new post..."please photoshop my fireplace" and provide pics of your fp and examples of the type of mantles and hearths that you like.

Good luck!
---
| | | |
| --- | --- | --- |
| RE: Can this fireplace be saved? (pic) | | |
I think you need to like the fireplace now, not worry about how it will look "decades" from now, or if it goes with the house. It's your house now, so I would built a large oak mantel since that is what you love. Good luck!
---
| | | |
| --- | --- | --- |
| RE: Can this fireplace be saved? (pic) | | |
FWIW, I would not remove any of the original masory--esp if you want to continue to use it as a wood burning fireplace. In my city, you can no longer even put in a wood burning fireplace--which is why my new one is gas. I was not suggesting redoing it like mine--only showing you the stone surround which can be used as a veneer over the existing masonry. It sounds like, though, tile is a good option, you can DIY, you can look for some vintage tiles (or even paint/glaze your own since you seem so creative). There is a person on the kitchen forum who did that--fabulous dutch style tiles with a stamp. Let me kow if you have interest, I'll track down her posts on that subject.

I like Les's suggestion to echo the arch (if you plan to keep the exposed brick)--otherwise you are more free to design your own. It would be really helpful at this point to get some graph paper and do a scaled diagram of the fireplace--include dimensions for the raised hearth, size of the box and where the arch sits, as well as wall height. These all will help dictate the size for your hearth. I was actually working with a custom mantle guy for my mantle, though was quite simple. He worked out of Portland, Oregan and came to San Jose one a month to deliver the mantles. Since your hearth is raised, think about the height for the mantle in relation to overall ceiling height and what you might like to display on/above the mantle (artwork, mirror, etc). If there is room, it'd be nice to do drawers below the hearth for storage. Do try to avoid any sharp corners to the hearth if you have kids (or grandkids) over. I don't like any sharp corners even for adults--can scratch their shins. Not sure if you can tell, but my corners are notched or clipped. While I don't think you can raise/lower the hearth without affecting the fireobx, I do think you can redesign the angle of the hearth. What material is it made of? One thing I love about a raised hearth is for overflow seating--nothing like your back against a warm fire on a cold winter night. I debated on mine, but didn't want the mantle to go so high since i only have 8' ceilings.
---
| | | |
| --- | --- | --- |
| RE: Can this fireplace be saved? (pic) | | |
Call your building department for a quick answer on the hearth depth code.

You don't have to remove the brick above the mantle to put wood or drywall there. Just attach it right to it. The mantle won't be super deep, but it'll still look good.

Take a look at the fp Val posted, of thundersweet's fp. See the frame and panel on the white woodwork above the mantle? I was visualizing something like that below the hearth, on the "box" mentioned by les. The frame part (the raised part, as opposed to the flat panel part) could be the perimeter of secret doors or drawers under the hearth. But this would probably only make sense if you're going with wood above.

I think if you paint the brick that peeks out from the surround (around the opening), the arch will be hardly noticeable.

If you tile the hearth and around the opening, you'll tile or otherwise cover the brick above the mantle, right? (It would look funny having brick and tile on the same fp.)

When we bought our house there was an ugly, 15' long stone wall, in the middle of which was a rectangular hole for a fp. Our first Christmas I hammered two nails into the grout at about mantle height. From them I hung a 1x6 varnished pine board (horizontally) to stand in for the mantle we didn't have. I nailed greenery and stockings onto it for decoration and it was really pretty! Since then we've removed all the stone and built a new fp surround. But you can try that just to experiment with a mantle, and even spruce up your fp this holiday!

Oh, one more thing: you can buy big sheets of paper, cut and tape them together to form any size and shape you want, use a sharpie to draw details on it, and hang it on the fp to simulate a surround, or tile work, or anything. It helps you visualize how your ideas will look.
---
| | | |
| --- | --- | --- |
| Chris, Midwestmom, Valinsv | | |
Chris, it is a bit confusing but exciting as well. Thanks for the complement on my painting skills. Yes, I do like the fp the color it is, but if I change my mind I can just paint over it. The hearth is concrete with pebbles, exposed agregate. I want to cover it with some sort of tiles. I have a huge box of bisque tiles in the garage that I was going to use on a shower in my last house; I can glaze them any color I want and have them fired. I'd like to box in the space under the hearth for storage.

Midwestmom, I agree, and that's the philosophy I'm applying to all of my living room now -- make it serve me and don't worry about some stranger ten years down the road. I'll cross that bridge when I come to it.

Val, the arch has no bearing on the fp code I'm almost positive; it's entirely superficial. I have called two carpenters to come out and give me bids. One will come Sat. and one on Tues. They know the codes and what can and can't be done. I also found two surrounds on Craigslist and I got one of the carpenter's email addies and emailed him what my fp looks like plus some ideas for what I like, plus the CL ads. So we'll see what he says. One of the CL ads would lend itself beautifully to what Reno did with her fp... the carpenter would just have to knock off the brick arch and install it, then build above it, then I would tile. The surround that's for sale is a gorgeous new oak one and it's $300. I emailed the fellow the picture of Reno's fp. Whether the arch stays or goes will depend on what the carpenters say can be done, and the cost, and of course code compliance. You make a good point about the height of the mantle, and that's on my mind too. I'm thinking those sharp corners of the hearth could use a bullnose corner tile over them.

I'll also discuss my flooring options with these two guys and see what they recommend, and see if they can shore up the back of my fainting couch while they're at it.

Thanks so much for the pictures and the great ideas, folks. It gives me a lot better grip on how to talk with these contractors and where I can go with this project. Our conversations here have lit a fire under me to get going on these projects and have a LR/DR of which I can be proud (LR first). I ordered the JCP drapes today. I had forgotten about the sliding glass door in the DR having to match the LR drapes, so with necessary hardware for the LR and a valance only for the DR the price climbed higher than I'd anticipated (isn't that the way?) but I think I'm getting very good bang for the buck. The thought of spending all this money is a bit scary.

Now I need to double-check my measurements and order the fabric for the fainting couch, and look for gimp braid on eBay too. Never a dull moment when you're re-doing a room, is there?

I have to laugh. The couch and chair coming back from the upholsterers made everything else look bad. Isn't that how it always happens? Get new drapes and the floor looks bad. Get a new floor and the couch looks bad, etc. Never fails!
---
| | | |
| --- | --- | --- |
| RE: Can this fireplace be saved? (pic) | | |
I know people have suggested cabinets under the hearth but what about boxing it in with brick. You could then faux paint it to match your exiting "brick" color. I think this would help it lose some of that 70's look. I second the option of built-ins but can also appreciate the $$ involved in that option.

Adding a surround or mantle of some shape would finish off the update.
---
| | | |
| --- | --- | --- |
| RE: Can this fireplace be saved? (pic) | | |
oceanna.The skies the limit.Being your fire place is flat you can do just about anything.new brick, natural stone,natural stone tiles,ceramic, and of course the wood look you you like.The brick on the face is just that. It should be able to be removed without damage to the working part of a fire place.To save money I'd go over whats there.If you put in a mantle you can have a plaster mason re plaster the wall above.Depending on the size of your room you could continue with the wood design all the way up the wall. But this would need a nice size room to offset the mass of wood.You can run the wood columns hearth to ceiling placing a mantle between with a wood panel infill above.get a pad of paper and pencil and draw different ideas. This will give you a better idea what you may want. good luck
---
| | | |
| --- | --- | --- |
| RE: Can this fireplace be saved? (pic) | | |
Rnmomo, do you think that cabs under the hearth would make it look "70s?" As opposed to brick all the way down? It just seems like a practical issue to me -- with the cabs you have storage under there.

Craig, the carpenter I just spoke with on the phone thinks the brick can be knocked off the front just fine, and is going to give me the name of someone who is licensed and insured to do that type of work. The carpenter wrinkled his nose at the idea of building the surround on top of the arch; he didn't think it would look good. In addition, if I want to tile I'd have to deal with curves. I have another carpenter fellow to talk with, though. Hmmm... hadn't thought about needing a large room for a large amount of wood there. I'll think about that.

I'm on the verge of purchasing a fireplace surround from CL, brand new. I want to stain it darker (hope I don't have to strip it, but I might). The guy only wants $300 for it! This is it:
That means I need the brick arch gone... and it also means I can have the carpenter put something like is in Reno's picture above it and end up with I think a very pretty look. Or, here's another pic I found of a treatment that doesn't look too woody or too tough to accomplish:
If I find this is all getting too expensive maybe I'll just settle for getting the arch knocked off, then I'll paint the fireplace close to the wall color, then tile the hearth, then get this surround installed and for now call it good. I mean, there are options here. Although I think the option to remove the brick is a done deal if the surround guy gets back to me in the affirmative any time soon. If I do the tiling pictured in that last pic, it will be quite easy.
Maybe I just need to go over to another GW forum and find out how to attach things to brick -- and then I can do this myself.
---
| | | |
| --- | --- | --- |
| RE: Can this fireplace be saved? (pic) | | |
awesome faux painting there, i was also fooled. as i look at my own brick fireplace, i am beginning to think that it has also been faux painted, from an ugly graybrown to an ugly (in our case) blood red. too bad you weren't the painter!

in answer to your question to the other poster "do you think that cabs under the hearth would make it look "70s?" " i say yes. i would advise brick there, or tiled over area that matches the tile you will put on that hearth. you could put wood on the front that was flat and have storage openings facing to the side. less storage, but no 70s look from the front.

i would leave the arch. it may look very different once the other elements are in place. also, i am not a strict preservationist, but someone had that vision in the beginning when the house was built. and someone else may respond to it when you sell it.

i like your idea of ikea book shelves on either side...maybe billy with the glass doors? and a new mantle added and attached between the two bookshelves (over the front of the brick). at our old house we had a fireplace (nonfunctional of course!) with pink tiles on the front. talk about ugly!! but of course they were original craftsman type tiles from 1926 so we weren't about to rip them off. they were also 1/2 inch thick. instead we bought two nice glass fronted bookshelves and put them on either side of the fireplace. the shelves were not attached to the mantle and the wood was not an exact match. nevertheless nearly everyone that came over after that thought that we had bookshelves built in. i mention this because putting things around the existing fireplace will be so much cheaper than masonry. i also wouldn't let a carpenter chip off bricks, because it's a mason that would have to fix it! the hearth though, i agree it has to be covered, the sooner the better. good luck! kren
---
| | | |
| --- | --- | --- |
| RE: Can this fireplace be saved? (pic) | | |
Oceanna, I'm going to try to dissuade you from buying the CL mantel. That's the exact kind of mantel we used to have around our old fireplace. It looked (from the side) like a Hobby Lobby craft project. It was thin, and so it looked almost like an afterthought. There were visible gaps on the side where the wood was straight and the bricks weren't.

IMO, you don't want to cheap out on a very important part of your room. I was loathe to spend the extra money at the time we did our new arched mantel, but I can tell you it was one of my favorite features when we finished. A true craftsman-built mantel will pay you back in spades over the time you're in your home. ('course, it's always easy to tell other people to spend money! :P )
---
| | | |
| --- | --- | --- |
| RE: Can this fireplace be saved? (pic) | | |
| | | |
| --- | --- | --- |
| RE: Can this fireplace be saved? (pic) | | |
Well, I am someone who ripped a tile fireplace out of a brand new house and put in a brick fireplace. I *love* brick fireplaces. Nothing makes a room look cozier.

This picture isn't closeup but you get the idea of what we did. I kind of wish we had done a full surround but it wasn't my style at the time (this was back in 2000). We now have a dark-framed round mirror over the mantle.
---
Post a Follow-Up
Please Note: Only registered members are able to post messages to this forum.
If you are a member, please log in.
If you aren't yet a member, join now!
---
Return to the Home Decorating Forum
Information about Posting
You must be logged in to post a message. Once you are logged in, a posting window will appear at the bottom of the messages. If you are not a member, please register for an account.
Please review our Rules of Play before posting.
Posting is a two-step process. Once you have composed your message, you will be taken to the preview page. You will then have a chance to review your post, make changes and upload photos.
After posting your message, you may need to refresh the forum page in order to see it.
Before posting copyrighted material, please read about Copyright and Fair Use.
We have a strict no-advertising policy!
If you would like to practice posting or uploading photos, please visit our Test forum.
If you need assistance, please Contact Us and we will be happy to help.

Learn more about in-text links on this page here