Return to the Home Decorating & Design Forum
|
Post a Follow-Up
---
| | | |
| --- | --- | --- |
| Do I even want a backsplash? | | |
Posted by
cearbhaill
(
My Page
) on
Tue, Dec 4, 12 at 9:05
I never ask for deco advice because I usually reject it in favor of my own cockamamie ideas but I am really stumped here and am hoping that talking about it will help me sort out my thoughts.

I love my kitchen just the way it is.
I painted the walls and cabinets when we moved here in '07 and have loved it ever since. But I painted the cabinets over an older paint job of unknown substances and it is chipping around the cabinet pulls.
So I am fixing to take them down to bare wood and repaint.

I am not changing the wall color much, but am thinking about doing the lower cabinets in a darker color. So walls light sage, uppers medium sage, and lowers dark sage.
The trim around the window is new so that stays. The counters are goldish and light cream and the floor is the same. Obviously the appliances are white.

Here are the colors for uppers, trim, and lowers.
Wall will be a lighter version of the uppers.
Nothing else is going to change- not the valance, not the counter junk, not the wall junk, nothing.
I thought I wanted a backsplash- maybe a cheap glass mosaic? I even bought what I thought was the perfect tile but when I got it home it was too dark. The windows face southwest, so tons of light comes in, it just doesn't hit the backsplash directly.
IF I could find glass tile exactly the color of the wall paint that would be perfection- but I don't see that happening on my limited budget.
It has to be under $10 a sq ft and something I can install myself which means 4" tiles or smaller.
Then I thought- what I most love about this space is that it is all so light so maybe texture is all I need. I could get textured wallpaper and paint it- that would give me the color I want and still add some interest.
Then I thought- maybe wallpaper alone could give me what I need. Perhaps a broad stripe in muted colors?
I don't worry about water damage as there is just me in there and I've never had an issue before. The sink is under windows so no splashing there- I think wallpaper would be fine.
So what does this kitchen need, if anything?
I want the backsplash to look good but not overpowering- something understated. I do not want a backsplash to dominate the room or be a "star"- just dress it up a TAD.
Really, I'd be fine if no one noticed it but me- it can be just that understated.
I don't have a style really- just clean and spare and neat.
I think I would be fine without a backsplash but for some reason I am wanting to do something in there. But again, it has to be economical and something I can do myself.
So thoughts?
Ideas?
This post was edited by cearbhaill on Tue, Dec 4, 12 at 9:06
---
Follow-Up Postings:
| | | |
| --- | --- | --- |
| RE: Do I even want a backsplash? | | |
I would suggest just paint....you are already going to be adding a lot with the color treatment. If you want a texture then painting a wall paper might work well....you already have a short backsplash so I wouldn't worry too much about water splashing the paper. Maybe something geometric like the basket weave would go well with your cabinet style
But you will have to decide where you will start and stop the backsplash as you have the wall space running directly behind the stove....
---
| | | |
| --- | --- | --- |
| RE: Do I even want a backsplash? | | |
Have you considered wallpaper that looks like beadboard? You could paint it whatever color you'd like. I have also seen some homes with gloss paint that is very durable. Since you like things simple & similar to what's there already, the above would be my suggestions.
---
| | | |
| --- | --- | --- |
| RE: Do I even want a backsplash? | | |
Annie, I always love your ideas! My first thought too was to just paint. You have a four inch backsplash, and IMHO, in your case it is enough.
I love simplistic and monochromatic color schemes. I, too, am a "vanilla" person. That said, your kitchen could use a little something as it feels unfinished to me.
My vote goes to a textured wall paper that you can paint would be just the what you need.
---
| | | |
| --- | --- | --- |
| RE: Do I even want a backsplash? | | |
A backsplash that doesn't match the counter would, IMO, have to go further up the wall than the current one. And in that case, it will take on more prominence. I would lean towards leaving it alone.

I like the practicality of your matching paper towel holders. :)
---
| | | |
| --- | --- | --- |
| RE: Do I even want a backsplash? | | |
I think just paint would be lovely. But if you want a bit of texture, what about beadboard? You can paint it whatever color you like.
---
| | | |
| --- | --- | --- |
| RE: Do I even want a backsplash? | | |
I'm really leaning towards beadboard textured wallpaper.

"I like the practicality of your matching paper towel holders. :)"

I even have a third roll of heavy duty paper towels on a rolling island :)
Not gonna be out of reach of one around here.
---
| | | |
| --- | --- | --- |
| RE: Do I even want a backsplash? | | |
I love your kitchen. That means a no-backsplash vote from me. But it's your room, and the idea of wallpaper in a broad stripe is interesting, especially if you could get the colors to match perfectly to the rest of your proposed scheme. My question is: how would one end the wallpaper (or other) backsplash in the area to the left of the stove?
---
| | | |
| --- | --- | --- |
| RE: Do I even want a backsplash? | | |
I would just end the wallpaper with a straight line from the end of the range hood down, no?
If it looked odd, which I doubt, I would finagle a teeny piece of moulding.
This post was edited by cearbhaill on Tue, Dec 4, 12 at 10:06
---
| | | |
| --- | --- | --- |
| RE: Do I even want a backsplash? | | |
I think I would l leave the backsplash as is. If you want some texture or more interest you could take your time looking for some nice round plates to display along the top section where the clock is, keep the clock if you like it and put the pretty plates along each side. That would be keeping it simple but adding more charm.
---
| | | |
| --- | --- | --- |
| RE: Do I even want a backsplash? | | |
I think it's absolutely perfect for the period of your kitchen just as it is.
---
| | | |
| --- | --- | --- |
| RE: Do I even want a backsplash? | | |
Don't hate me but I'm just not digging the two tone greens chosen. I know it's not my house and you didn't ask though... I'm thinking one color. I'm not sure if you like my plate idea that I mentioned above but there are some nice ones on ebay. If anything though, you can always use some of the ideas for the process of elimination. There are some pretty greens in the link below.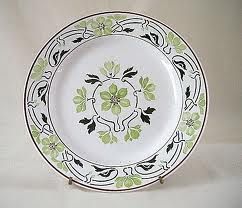 Here is a link that might be useful: Nifty greens
---
| | | |
| --- | --- | --- |
| RE: Do I even want a backsplash? | | |
I would be concerned with the lower cabinets being so dark with the white appliances. I think things could also get choppy looking with the various blocks of color. I like the idea of beadboard paper for the backsplash area.

Adding that since you need to paint the cabinets, I think I would step up the green a little bit more. It seems you are wanting more color. Adding plates and a sweet old fashioned rug (maybe a braided or hooked one) would add more than two colored cabinets, imo.
This post was edited by snookums2 on Tue, Dec 4, 12 at 12:37
---
| | | |
| --- | --- | --- |
| RE: Do I even want a backsplash? | | |
I, too, feel the contrast of the dark paint and the white appliances will make the appliances look more prominent and I don't think you need a back splash at all. If you kept the white kitchen which I think looks wonderful, I think adding the greens that you love would look great in accessories.
---
| | | |
| --- | --- | --- |
| RE: Do I even want a backsplash? | | |
I love the idea of the lowers going a darker color. I painted my old ones plum and my uppers cream and I loved it. If you like stripes how about taking painting in the entire area under the uppers to the existing back splash the same cream or as you counters then painting in a tape width stripe in each of the colors your using? You would already have all the paint colors and probly painters tape so no extra monney would need to be spent and if you don,t like it just paint over it. Using the same method you could even do something fun behind the stove. If you decide to go with textured wall paper I just want you to know its very durable . My textured wallpaper that I painted has been behind my stove for 6 years now and its no worse for wear than it was when I put it up. Mine is a oak leaf ceiling tile pattern painted in copper. A little heads up though painting it while it was down made it a little stiff to work with so if you do it that way its easier to use wall sizer then seam glue than trying to wet it good enough for good adhesion. If you choose to put it up then paint it give it at least a month to drie on the wall before painting and paint light coats or it could pull back off.
---
| | | |
| --- | --- | --- |
| RE: Do I even want a backsplash? | | |
If you do any amount of cooking, you need some type of backsplash, whether wallpaper or tile. If you keep wiping down the paint from splatters, it will eventually get discolored.

Taking another look at your kitchen, the window is almost like mine! I also have shelves on each side of the cabinets and a valance very similar to your's, except a different color. :)
---
| | | |
| --- | --- | --- |
| RE: Do I even want a backsplash? | | |
I like your kitchen! I also like the colors you have chosen, even though I think the current color scheme is really great as it is. We redid our kitchen a while back on a very limited budget...We did not really have the money or want to spend money on the backsplash and went with painted beadboard. My other choice would have been to do just a regular painted wall, except we had layers and layers of wallpaper to contend with. We painted the beadboard in a color that matched the cabinets, but used a gloss finish and it wipes up wonderfully. I like that it blends and keeps things simple, but does provide a little interest. We cook a lot, and find it is more difficult to wipe kitchen grease off the cabinets than it is to wipe it off of the gloss paint finish. Everything wipes right off, and the finish looks the same as it did almost 6 years ago. Since it is the same color, the gloss finish is not that noticeable. So my vote for yours is to leave it or maybe do beadboard. The only issue with beadboard is the fact that you are leaving your counter in place, so you have to have a nice clean cut along the bottom since it wouldn't go behind the countertop. That would not be something I could do myself, so maybe it takes that option out of the running for you if it would be something you would have to hire out.
---
| | | |
| --- | --- | --- |
| RE: Do I even want a backsplash? | | |
I have gloss or semi-gloss (can,t seem to remember)painted backsplash and its never stained even though its been up for years. I have shiny black granite countertops so I am used to wiping everything down every time I cook that could make the difference.Since I,m forced to wipe the counters I,ve got into the habit of doing walls as well.But to be honest they only rarely get anything on them.The wall beside the stove gets splattered daily and its fine. I don,t think the textured wallpaper backsplash could behind my stove could take daily washing though. So I guess it depends on what kind of cook you are.
---
| | | |
| --- | --- | --- |
| RE: Do I even want a backsplash? | | |
All righty then!

I will admit that the only reason I took those photos yesterday was to have something to play Photoshop with.
I have finally gotten my daily chores done and hopefully will be able to sit down and do mock ups of various things.

I do have some very old plates of my grandmothers that could possibly be hung up top. I generally don't go for that type of thing but have been unable to display these few precious items for years because of cats and this just might be a "two birds with one stone" situation.
So thanks for the idea.
No rugs, though :)

So off to Photoshop- it'll take me hours and that's if I get into it and have no interruptions (ha).
Hopefully that will help me visualize the various suggestions.

Keep 'em coming!
---
| | | |
| --- | --- | --- |
| RE: Do I even want a backsplash? | | |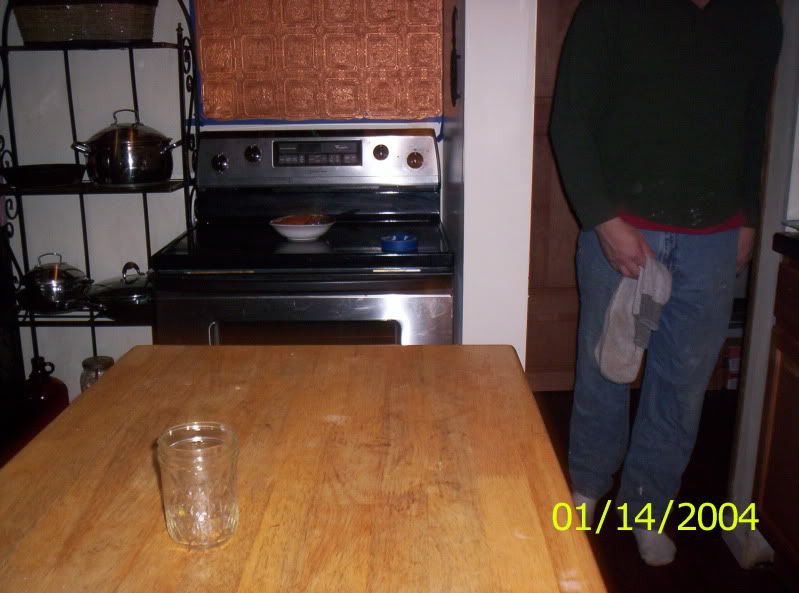 Here is the only pic of my textured wallpaper I could find.The blue tape is still up and the photo says 2008 so its been up awhile.Its not a good picture of it and the kitchen was still under construction but it gives you a idea of the depth and texture the textured wall-paper can give. Everyone thinks this is a real copper ceiling tile until I tell them otherwise.
---
| | | |
| --- | --- | --- |
| RE: Do I even want a backsplash? | | |
Oh, I think a subway tile backsplash would be just perfect in that kitchen. I think a very pale, pale green with a crackled finish would be lovely. I think a backsplash would be the ideal way to give your kitchen just a little touch of style.
---
| | | |
| --- | --- | --- |
| RE: Do I even want a backsplash? | | |
I think the style of your kitchen and the partial backsplash made from the countertop material --mean you don't need an additional backsplash. For years this is what people had and it sufficed.

I think that the notion that the walls will get splattered is a reason that developed After the popularity of the full height backsplash was established to validate the additional expense and anxiety that are involved in picking one.

Splattering stuff on the walls, backsplash or no, is not something that experienced cooks do.
---
| | | |
| --- | --- | --- |
| RE: Do I even want a backsplash? | | |
Hear hear, Pal! Or is it here here Pal.
---
| | | |
| --- | --- | --- |
| RE: Do I even want a backsplash? | | |
As regards cooking- I have cooked three meals a day (yes, a hot lunch- I cook a lot) in this kitchen for five years now without splattering any walls. I do scrub the paint behind the stove and it has held up just fine so I see no reason why paint isn't enough. I'm a very neat cook, always washing and wiping as I go. The kitchen looked just like that on Thanksgiving Day at 6pm- I don't like dirty dishes :) With no dishwasher I have to stay on top of things- there's no where to hide!

After a very few Photoshop tries I have almost convinced myself that I want to pretty much just duplicate what is there now. I like it fine, I just wish the paint on the cabinets wasn't chipping. So maybe all I will do is repaint them and the walls. Then I will stand back and see if I think I need anything else. Of course by that time it will be spring and I'll want to be outside.

If anyone knows of or sees a pale sage-ish green tile that is reasonably low in price I would definitely be interested in a sample.
I'm returning the first bunch of tile I bought and will comb through everything they have. Unfortunately I am quite rural and have no specialty tile stores nearby, so it's pretty much Lowe's or nothing unless someone is shipping cheaply (yeah, right).

The textured wallpaper is still in the running- sort of.
When I did texture in my Photoshops it simply looked too busy.
It made me realize how much I like it the way it is now.

I also wonder what is making me think I want a backsplash when my preference is for plain?
Makes no sense.
I think I am being swayed by too many hours at Houzz and need to calm down, haha.
---
| | | |
| --- | --- | --- |
| RE: Do I even want a backsplash? | | |
"Splattering stuff on the walls, backsplash or no, is not something that experienced cooks do."

I resent that on so many levels. If what you say is true, no one would have a tiled/wallpapered backsplash because of the high cost of a backsplash.

Cear, you asked, I gave you my opinion. But I wasn't talking decorating, my thoughts were on cooking and protecting the walls, especially around the stove.
---
| | | |
| --- | --- | --- |
| RE: Do I even want a backsplash? | | |
I'm an experienced cook, and I make a lovely mess fairly often...I clean up as I go along, but when it's time to get everything on the plate and/or on the table, things can get a little hectic, and there is often a drop of tomato sauce or some stray bit of something or a streak of dishwater on the walls.

I am a big fan of glass as a backsplash...mirror to open it if it works in the scheme...but in your scheme I think custom sheets of glass frosted on the back side would work very well...a little texture with a green tint, a finished look, and a snap to clean.

I wouldn't want any sort of textured painted surface...beadboard or beadboard paper, or anaglypta, or anything that could collect the inevitable splash or drop or bit of oil that would then have to be teased out.
---
| | | |
| --- | --- | --- |
| RE: Do I even want a backsplash? | | |
"...but in your scheme I think custom sheets of glass frosted on the back side would work very well..."
Uh... you saw the notation on budget, right?
---
| | | |
| --- | --- | --- |
| RE: Do I even want a backsplash? | | |
I am not saying that, by default, it is Inexperienced cooks who splatter.

What I am saying is that the actual occurence and amount of splatter that occurs in day to day cooking is probably Way over estimated. I think the vast majority of people who do day to day cooking (experienced) keep their food in the bowl.

Splashing water behind the sink, grease between the cooktop and hood, sure.

But behind regular countertops where you are doing regular prep? Not so much. The blender gone crazy that shoots stuff all over the kitchen is rare, and the conceit of sitcoms.
---
| | | |
| --- | --- | --- |
| RE: Do I even want a backsplash? | | |
Oh, those dratted budgets!
Sorry to have suggested something out of range.
I work with a glass shop who can do that sort of thing for less than the cost of most tile jobs, so that's what I was thinking of.
But you're right that it isn't on the cheap end.

So I'd vote for good-quality paint, and I might use the color of the lower cabinets to add richness. I'd stop the dark paint where the upper cabinets end, which would leave you a nice vertical border and frame the color with your wall color at the ends.
---
| | | |
| --- | --- | --- |
| RE: Do I even want a backsplash? | | |
Pal, I'm not talking about the counter area where prep work is done. However, now that I think about it, that IS an important area that's hard to keep clean, especially if you're using a mixer.

I was talking about the area around the stove, top, right & left. As much as I think I keep that area clean, when I look closely sometimes I'm amazed at some of the build-up I see.

I'm an experienced cook and I do make messes. Lots of them. :)

Cear, I'm sure you can find some inexpensive sheets of blacksplash, you don't have to do the whole area.
---
| | | |
| --- | --- | --- |
| RE: Do I even want a backsplash? | | |
Glass tiles in greens would be absolutly stunning in that kitchen. I,ll dig around and see if I can find a picture of some.
---
| | | |
| --- | --- | --- |
| RE: Do I even want a backsplash? | | |
Like Pal said, backsplashes are a recent introduction to kitchens and your kitchen has such a delightful "I'm a vintage kitchen" vibe that I'd hate to ruin it with anything other than the typical 4" countertop 'splash and some scrubable paint. If you don't have a professional range, you don't need a special barrier behind the stove for fire safety.

I love an unapologetic kitchen when people leave out *gasp* things related to food and the preparation thereof.
---
| | | |
| --- | --- | --- |
| RE: Do I even want a backsplash? | | |
I'm sorry, but I just can't envision glass as a backsplash, whether as a sheet or as tiles. Glass strikes me as giving a room a contemporary look, but your kitchen definitely is not contemporary. Your kitchen is what it is, and IMO it's wonderful, and complete. You can see that I'm still in the no-backsplash group - I agree with grlwprls 100%.
---
| | | |
| --- | --- | --- |
| RE: Do I even want a backsplash? | | |
"Glass strikes me as giving a room a contemporary look, but your kitchen definitely is not contemporary."
Definitely not contemporary!
I think you may have hit on why nothing I tried in Photoshop worked for me. I am in an intensely "old timey" phase- if I had tons of money I would have a very old looking farm kitchen. As it stands I have a very old looking 1955 kitchen and it will be this way for at least another 10 years. I think working with it is best.
So with that in mind- I like vintage (but not cottage- no flowers or foo foo)- I think simple is better.
Aside from tin ceiling tiles (which I considered and rejected as being too busy) I don't know what else to consider.
---
| | | |
| --- | --- | --- |
| RE: Do I even want a backsplash? | | |
Paint! That may do it for you. Your kitchen is nice...nice clean and orderly. I would have some doohickey or doodad decorative thing somewhere with some white in it to blend the white appliances. What does grandmas plates look like? I love that idea! Can you please post a picture of them?
---
| | | |
| --- | --- | --- |
| RE: Do I even want a backsplash? | | |
Yes, your kitchen is appealing because it's an authentic, old-fashioned, unpretentious utility kitchen like Mom used to have, but with prettier colors and features. In fact, it's refreshing to see a kitchen like that. Is that sheet vinyl on the floor? I really like it.

I still like the frosted plate glass idea, though, as that would be practical, beautiful & subtle. But your kitchen certainly is charming as is. I love it -- what a great place to cook! Good luck with your paint job.
---
| | | |
| --- | --- | --- |
| RE: Do I even want a backsplash? | | |
A piece of starphire or ultra clear glass behind the range, if necessary, would barely be noticeable.
---
| | | |
| --- | --- | --- |
| RE: Do I even want a backsplash? | | |
I agree with Pal on this one. I cook quite a bit and I do not have alot of splatters to clean up. For me it's more drips and stuff I drop LOL. There's not much wall space behind your sink to worry about and your stove comes up pretty far on the wall, so most of your splatters there are going to hit the stove. I don't think you "need" a backsplash. I do think beadboard would work well in your kitchen and certain tiles, if you choose to do a backsplash.

Using a good quality paint with the appropriate finish for the kitchen will enable you to wipe the walls without harming the paint. DON'T use something abrasive like a magic eraser. We have different finish paint in our kitchen and baths.

tina
---
| | | |
| --- | --- | --- |
| RE: Do I even want a backsplash? | | |
LOVE your kitchen and the current colors! I also have a vintage kitchen and a painted bead board backsplash. It wouldn't likely have been my choice (PO installed it)but it does pretty much blend/disappear into the look.

FWIW I am a pretty messy cook but I rarely get more than a stray drop on the backsplash. Just a wipe and it's clean. I agree with others that the tiled, glass and large backsplash isn't something our grandmothers had-- and they sure cooked more than most of us now.
---
| | | |
| --- | --- | --- |
| RE: Do I even want a backsplash? | | |
Since you were thinking of two toned cabinets, how about an antique white on the top and the light green on the bottom (or a light yellow if you could find the right one). Then a medium green lighter than your valance on the backsplash. It's sort of like what you were originally thinking but subtle and not jarring with the white appliances. I think that would be really pretty and give you more of the green or color interest you seemed to be wanting.
---
| | | |
| --- | --- | --- |
| RE: Do I even want a backsplash? | | |
I still say I love your kitchen just as it is... but wanted to mention the painted beadboard really is easy to keep up, the grooves do not really cause a problem with catching things. I really love your cabinet color though, it is similar to what I really would have liked for mine, but since our cabinets painted with a factory finish and I knew I'd never repaint them, I chickened out and went with antique white. Your color is great. Also think it is great that you have walls nice enough that you don't even need to worry about a backsplash.

As for messes on the backsplash area, I have always let my kids do pretty much what they want in the kitchen, with the goal that they will someday be "experienced cooks." However, until they become one of those, I will still be finding fun surprises on my backsplash and wiping it down a lot! Stuff happens. Some houses need something wipeable, some don't. Sometimes this house actually could be a sitcom.

Funkyart, LOVE your kitchen too!
---
| | | |
| --- | --- | --- |
| RE: Do I even want a backsplash? | | |
I love your kitchen -- and vote to keep it as it is right now -- one-tone for both sets of cabinets -- and no backsplash!

I too love the papertowel holders on each side of the sink! :) Very smart idea! :)
---
| | | |
| --- | --- | --- |
| RE: Do I even want a backsplash? | | |
I have painted backsplash - Benjamin Moore Pearl finish paint, which is the equivalent of a Satin finish. Nothing has ever stained my walls. Occasionally I will see a splatter behind the range and clean it with my soapy dish cloth.

Back in my wallpapering days, I had viny coated wallpaper for a backsplash. Honestly, it didn't stain either; washed up well with soapy dishwater.

Just make sure you paint with a good quality paint if you go that route. It doesn't have to be gloss or semi-gloss to be washable.
---
| | | |
| --- | --- | --- |
| RE: Do I even want a backsplash? | | |
Using two different colors on the cabinets is going to make the room more choppy.

I would not do anything to draw attention to your backsplash. The window is the star of your kitchen and there is no bs under it, so the bs on either side will detract from the window. A prominent bs will make the room look more choppy, because of the big interruption under the window. You don't have a natural stopping point by the stove so you will have that sudden cut off and it will not look good. Finally, your counter bs only leaves you with a short strip along the top of your counter. If you call attention to that strip, it's going to make it look like you don't have enough height between the counter and the top cabinets.

The time period of your kitchen does not call for texture and you obviously prefer a very straight, clean background. Your accents are all silver. If you are looking for a bit more pizzazz, I'd use the soffit, add some fabric to the edges of your baskets so that they appear to be lined, etc.

Since your window is the star I'd enhance the valance with some trim or sew on some decorative items. Buttons, tiny bows, tiny pom poms, the options are endless and you can go with sparkle, texture, color, etc. I think a unique valance would give that room some interest and razzle dazzle for very little money.
---
| | | |
| --- | --- | --- |
| RE: Do I even want a backsplash? | | |
I know I keep chiming in, but I think how this is handled has a great deal to do with the style of the existing or planned kitchen.

Short of putting some impractical sort of wallcovering like grasscloth or silk behind the counters, you can go with anything from paint to the counter, four inch backsplash or full backsplash.

I did a kitchen with nothing except paint, and a piece of glass behind the range to all backsplash up to the ceiling.
And because of all the dogma attached to backsplashes I want to keep doing it at both ends of the spectrum

On client actually wanted the ceiling tiled, too. We did all the window embrasures and sills and all in tile but stopped short of the ceiling.
---
| | | |
| --- | --- | --- |
| RE: Do I even want a backsplash? | | |
Backsplashes are not a recent innovation. My mother's kitchen is 52 years old and has a backsplash.
---
| | | |
| --- | --- | --- |
| RE: Do I even want a backsplash? | | |
After googling 50s kitchens and looking at tons of them I think a tile backsplash would bring it even more into that period. Have you though about self sticktiles? I don,t think there much cheaper but they can be removed without damage. I was checking out some at home depo and went from there to the selfstick tile web sight it looks like there,s only one thats in the color your cabs are now. I was looking around for pics of guiet sutle tile and was suprised that other than natural stone tile most tile seems to be pretty dominate in a room. Not a bad thing but not what your looking for in this instance.
---
| | | |
| --- | --- | --- |
| RE: Do I even want a backsplash? | | |
Paint, has not always been as tough as it is today. Before people started to eat healthier,people probably fried something at least once a day. Exhaust fans, have not always been as good as they are today and not every home can have an outside vent for an exhaust. Thus, IMO the biggest problem with the backsplash area, was not food splatter, it was grease. I suspect the backsplash began with the need for something protective behind the stove and it was immediately apparent that it would look better and make life easier, to carry the backsplash around the whole counter. Backsplashes have been used for ages, for very practical reasons.
---
| | | |
| --- | --- | --- |
| RE: Do I even want a backsplash? | | |
I think the darker color on the lower cabinets would look great. I would leave the rest, just as it is. No backsplash.

It is charming.
---
| | | |
| --- | --- | --- |
| RE: Do I even want a backsplash? | | |
Agree with Ded-my parents home was built in the late 40s/early 50s and had a tile backsplash.
---
| | | |
| --- | --- | --- |
| RE: Do I even want a backsplash? | | |
I don't think anyone is saying that backsplashes are a recent innovation. They go back at least to the Edwardian-era "Sanitary" type kitchen and probably into the 19th. c. if you consider complex Victorian kitchens that were comprised of separate rooms like sculleries and such.

But clearly there are entire design periods where the backsplash was not the statement or focal point of the kitchen and there are plenty of kitchens, this one included that do not look Incomplete without full backsplash.

There is this underlying insinuation that if you don't have one your kitchen is incomplete at best, and that you must have a kitchen with dirty walls at worst. That's just weird.
---
| | | |
| --- | --- | --- |
| RE: Do I even want a backsplash? | | |
| | | |
| --- | --- | --- |
| RE: Do I even want a backsplash? | | |
Nope, no dishwasher.

We bought the home from out of state sight unseen with only family members actually seeing it and no one noticed :)
They were all too excited to find a property large enough for my Wolfhounds, and to be honest the land was more important to us than the house itself.
Yeah, we're strange.
I don't miss a dishwasher one bit and wouldn't use it if I had one- folks just hide dirty dishes in them and it's gross.
I wash them and put them away and feel good knowing they are DONE.

So... backsplash.

I am Photoshopped out.
Nothing suited me- everything I did to change anything annoyed me. Husband held up plates so I could see if I needed decorative touches and it looked WRONG.

I know some see this kitchen as unfinished or not "warm" enough, but I love it.
It is very bright, it is easy to keep clean, and it functions beautifully. As I said I cook three hot meals a day and over the years I have fine tuned my storage and gotten everything just right. I can reach anything, do anything, and look out my window to my rear garden all the while. It's function is exemplary and that is what is important to me. It's aesthetic pleases me greatly and some of my happiest moments each day are when I am simply walking through it on my way to another part of the house.

That says a lot to me.
It says that I should repaint this room in a manner very close to what it is right now, so that is what I have decided to do. If it didn't need painting I would be very happy to just continue on with it as it stands but it needs painting.
It seems like a lot of trouble to sand everything down and repaint just to achieve the same effect, but laws amighty that is what I am going to do.

The thread helped me immensely in sorting out my thoughts, so I thank everyone who commented. Even if I did not comment on your idea I considered it, and those considerations helped me become more confident in deciding to keep it almost exactly the way it is.

Thanks, all.
---
| | | |
| --- | --- | --- |
| RE: Do I even want a backsplash? | | |
Hi, I'm glad you sorted it all out! I think your kitchen is nice too. Sometimes this forum is great for the process of elimination. I do the same thing. It's virtually impossible for people to figure out what's in my head as far as decorating goes. There is a process sometimes one needs to go through to get a handle on what feels right to them.
And, like you, even if I don't use the ideas it all helps.
---
| | | |
| --- | --- | --- |
| RE: Do I even want a backsplash? | | |
And that's what good design process is all about!
Talking through all the possibilities, and arriving at the right solution.
Which you clearly have done, and I think you've come to a very good conclusion. Your kitchen is fresh and lovely, and works for you.
If it ain't broke.....etcetera.
---
| | | |
| --- | --- | --- |
| cutting edge design! | | |
funkyart, your kitchen is wonderful! Sooo cool.

Funny, I redid my kitchen 8 years ago and am very happy with it, but every now and then, I daydream about having an old fashion & charming kitchen like cearbhaill's & funkyart's. Could cear & funky be the vanguard of a new kitchen design trend? I for one no longer get a thrill from looking at over-the-top kitchens: granite? fine cabinetry? Stone floors? Imported tile? yawn... Cearbhaill's & funkyart's kitchens? Instant love!
---
| | | |
| --- | --- | --- |
| RE: Do I even want a backsplash? | | |
I am glad you are leaving as is. I would never say that kitchen is not "warm." Clean, maybe, which is a good thing, but definitely not cold! I am sorry that you have to go through the trouble of sanding and repainting - that is no easy task.

awm03, I agree!
---
| | | |
| --- | --- | --- |
| RE: Do I even want a backsplash? | | |
I'm also glad to read that you've discovered how much you like it generally as is. I also really like monochromatic background color schemes (set off by color accents or not). Mine is various honey shades from off white on the trim, white lower cabinets (windows instead of uppers), pale honey-cream on the walls, and honey-toned woods on the counters and floor. AND, the honey-cream painted drywall runs right around the room, uninterrupted by special treatments over the wood counters. I LOVE the simplicity of the look.

Tile looks best to me when it has an architectural stop, as on the back of a niche, or when it covers whole walls in a very utilitarian way (really the same thing, continuing until the architecture dictates a stop), which in your case would mean wrapping right on around that arched doorway.

What I was going to suggest before, so will anyway, was maybe putting a patterned wallpaper on the ceiling and painting that to blend with the rest.

Awm03, your comment was very interesting. I love the good quality that's been brought in with stone counters, etc., but some people are ripping them out when they get tired of a look, negating the intrinsic value of materials that could last generations but might as well be Formica. And then others feel they are stuck with a look they liked a decade ago, unable to consider just painting $25K worth of "Colonial Windsor Antique Cherry" cabinetry for fun. For them, there's definitely a cost to the expensive manufactured styles that continues on long after all the checks are written.
---
| | | |
| --- | --- | --- |
| RE: Do I even want a backsplash? | | |
awm03- Thank you for your very kind comments regarding older kitchens.
It made my day, really- extremely nice to read.
---
| | | |
| --- | --- | --- |
| RE: Do I even want a backsplash? | | |
If you like the green that you have now and the overall simplicity of the kitchen, how about skipping the back splash and getting a new counter top. In the pictures shown it doesn't appear to go with the cabinet colour. Changing it for something a little richer looking could give you the jazzing up that you are looking for.

Cost wise, there are some pretty nice laminate counter tops available nowadays.
---
Post a Follow-Up
Please Note: Only registered members are able to post messages to this forum.
If you are a member, please log in.
If you aren't yet a member, join now!
---
Return to the Home Decorating & Design Forum
Information about Posting
You must be logged in to post a message. Once you are logged in, a posting window will appear at the bottom of the messages. If you are not a member, please register for an account.
Please review our Rules of Play before posting.
Posting is a two-step process. Once you have composed your message, you will be taken to the preview page. You will then have a chance to review your post, make changes and upload photos.
After posting your message, you may need to refresh the forum page in order to see it.
Before posting copyrighted material, please read about Copyright and Fair Use.
We have a strict no-advertising policy!
If you would like to practice posting or uploading photos, please visit our Test forum.
If you need assistance, please Contact Us and we will be happy to help.

Learn more about in-text links on this page here