Return to the Home Decorating Forum
|
Post a Follow-Up
---
| | | |
| --- | --- | --- |
| Bed against windows - any pics? | | |
Posted by
lyfia
(
My Page
) on
Wed, Dec 19, 07 at 9:01
In our new house we are stuck with putting the bed under the back wall windows. The room is 21' x 12' and we have two walls it can go on. One under the windows and one with no windows however it is at a short wall and then right next to the bathroom and one side will have conflicts with the outswing bathdoors along with the noise from there in the morning when DH is up at 4am. It is a king bed so not much space if placed along the 12' wall on each side either. So we're stuck with under the windows to not bump into stuff in the dark.

We got rid of our old bedframe (foot board and head board) as it took too much space for the 12' width to walk by without hitting it.

Right now the bed is just sitting below and our pillows and heads are always below the windows since window height is higher there. At least we are not hitting them, but I still would like something behind the bed as I'm used to having a headboard.

So what have you done with a bed under the windows? Or have you seen any pictures I could look at for inspiration of what to do?

Here is the bedroom while under construction:

Left side has lower windows. Bed is currently below the 3 windows on the long wall. The wall with no windows is opposite the taller window wall.

The windows currently have 2" blinds and we have the pine furniture from our old bedroom (except the footboard and headboard).
Old bedroom:
---
Follow-Up Postings:
| | | |
| --- | --- | --- |
| RE: Bed against windows - any pics? | | |
Here's my bed...we've changed the wall color to BM hawthorne yellow and we love it. Still working on window treatments and such though.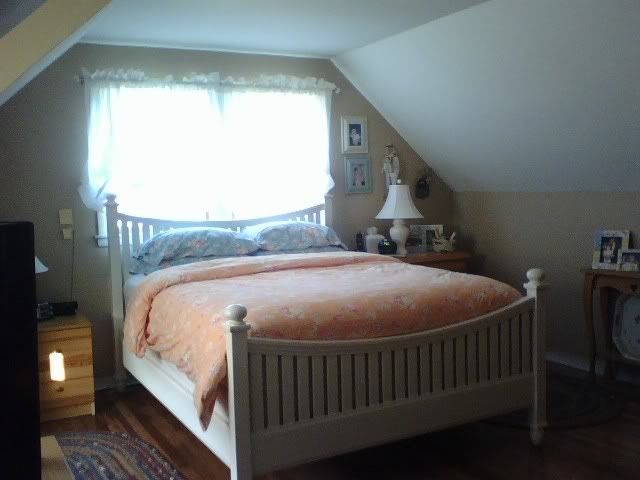 ---
| | | |
| --- | --- | --- |
| RE: Bed against windows - any pics? | | |
We have a small room (12x12) and big bed and really only one option for layout. Here's what we have: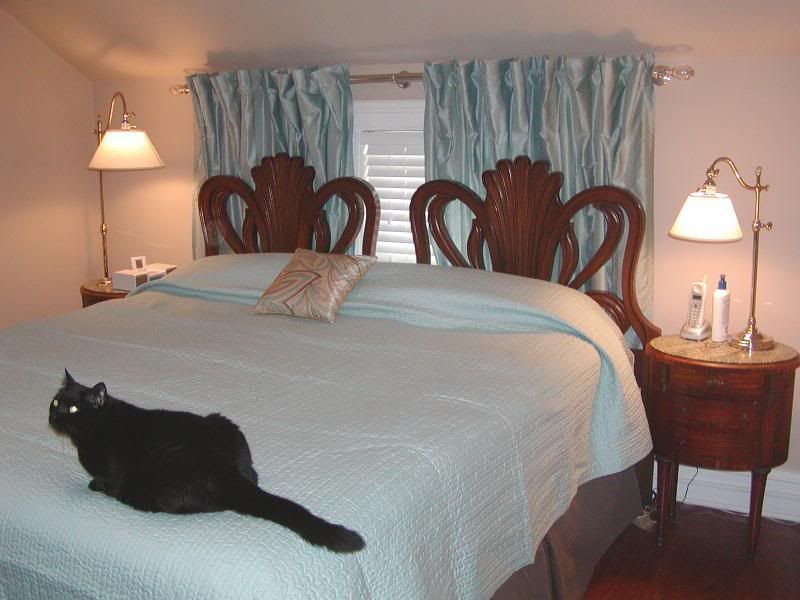 ---
| | | |
| --- | --- | --- |
| RE: Bed against windows - any pics? | | |
Thank you for the pictures. It looks good even with headboards so maybe I can get one. I wonder if I need a see through one for it to work since both of you have that style.

Both your rooms looks so nice a cozy. I love the slanted ceilings. I need to paint the walls in ours as the white just seems so cold.
---
| | | |
| --- | --- | --- |
| RE: Bed against windows - any pics? | | |
We are in the ending stage of redoingt our bedroom. We removed our headboard and went with extra pillows. It is still growing on me. How is the rest of everyones room set up? I was having trouble with the slanted walls.
Lynn

---
| | | |
| --- | --- | --- |
| RE: Bed against windows - any pics? | | |
All of the bedrooms with the beds in front of the window are very pretty. I think you all did a wonderful job. I also like the clever idea of pillows for a headboard with the valence matching the pilows.

The shutters were the perfect blind treatment underneath the curtains and that headboard really looks nice kwglisa.

fivefootzero, I love the sheers in back of your bed with the low headboard. I love sheers and that is why I am still trying to figure out how to incorporate them into my decorating theme with the Durham Furniture. Any ideas? Are you 5 feet tall? I am a little less than 5 feet tall.

Thanks for sharing.
---
| | | |
| --- | --- | --- |
| RE: Bed against windows - any pics? | | |
You might consider putting the bed in the corner, on an angle.
---
| | | |
| --- | --- | --- |
| RE: Bed against windows - any pics? | | |
thanks lgiorgi - your room looks wonderful. I don't think pillows is an option for us though. DH doesn't like a bunch of pillows on the bed when sleeping and I want something separating me from the window.

anele - a king bed at an angle leaves too large space behind it and no room to walk by one of the corners with only 12' wide room and the bathroom doors in that area. Same problem as putting it on the short wall, but even worse.
---
| | | |
| --- | --- | --- |
| RE: Bed against windows - any pics? | | |
Fivefoot, love your white bed. It is perfect for under a window. After seeing it I got to wondering how I could cut the arch of mine, flip it. Probably a dumb idea, but would work so much better like yours.

Lyfia, with all of the windows in your room I think it would work fine to put your bed in front as you described. Actually, even with a headboard, but eliminate the footboard for more room.

Below is a discussion about window treatments behind a bed. Not exactly like yours, but interesting comments and ideas.
Here is a link that might be useful: window treatments
---
| | | |
| --- | --- | --- |
| RE: Bed against windows - any pics? | | |
Lynn: Yes, I am 5 feet tall. I've used that name as a screenname forever it seems...since I became internet literate I suppose...at least 15 years or more. As for the curtains, they aren't actually sheers, they are plain percale balloon shades that I got from the JCP outlet for $6 each...they're double width and I haven't found anything that I like better. They are looking rather sad and slumpy though. I have fabric shades to go behind them for some added warmth, but they have yet to be put up in the window by dear hubby.

Emagineer: The bed is a Newbury bed from Pottery Barn Kids. It's a Queen. I got it on clearance for $500 and it's one of my favorite pieces of furniture in my entire house. After some delivery issues (LONG story) they credited me another $175 so I got it for $325 plus tax. I'm waiting till next year to get new furniture for the rest of the room...probably something pine. The stuff we have is 12 year-old Ikea stuff that doesn't owe us a thing but is still hanging in there. We originally had the bed up against the wall where you see the small table with photos on it that hubby made for me but it looks so much more prominent in front of the window...I really didn't think I'd like it but I wouldn't have it any other way.

Here's some more pics of the room. So glad we got rid of that cardboard looking color. I really thought I liked it at first but the Hawthorne Yellow is so much prettier.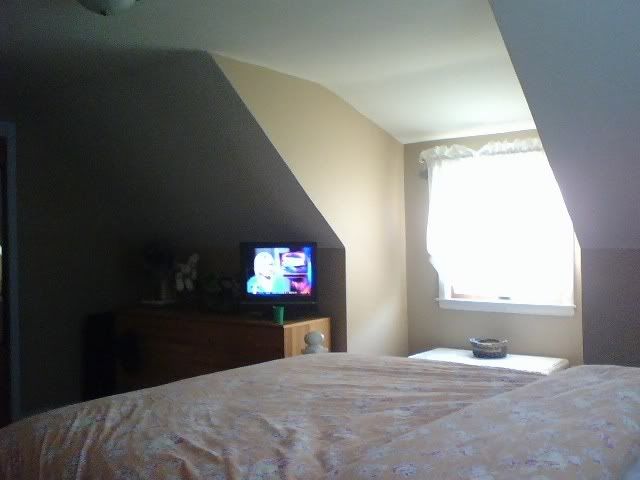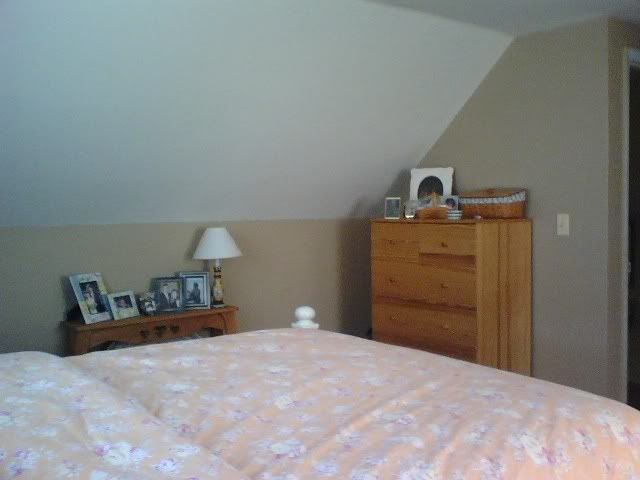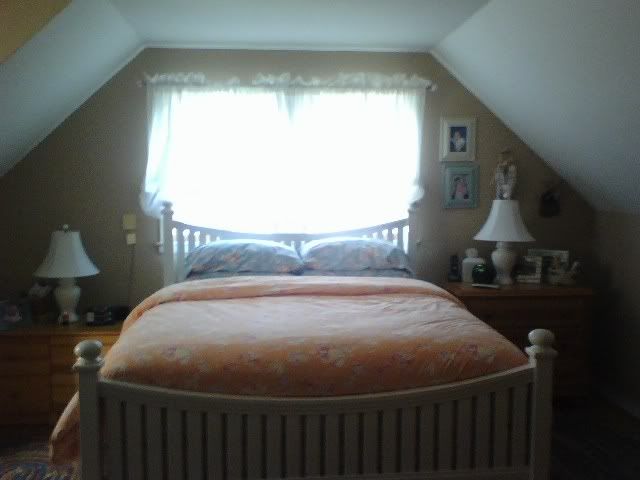 ---
| | | |
| --- | --- | --- |
| RE: Bed against windows - any pics? | | |
Lyfia, do you have a link to the floor plan?
---
| | | |
| --- | --- | --- |
| RE: Bed against windows - any pics? | | |
There is nowhere in this guest room to put a bed except under the window. We figure the window serves as a "headboard," at least visually, but seeing all these other great beds has me rethinking that.
---
| | | |
| --- | --- | --- |
| RE: Bed against windows - any pics? | | |
OK I'm finally at the point of deciding curtains and a bed. What do you think about the bed at the end? I'm thinking white drapes hung behind. At first I thought sheers, but not sure that is such a good idea.

Bedroom now
Bed DH and I both like.
---
| | | |
| --- | --- | --- |
| RE: Bed against windows - any pics? | | |
We have a bed against a window (also no choice in this room) too. We currently have a pewter Wesley Allen bed, a little curvier than above. I will probably get an upholsterd bed at some point and do heavier drapes on each side of the window so it frames the bed as a focal point. I will only do white wood blinds on all the other windows, there are a lot, we have a bank of triple windows on one wall and in the bay alcove the bed is in, another 3 windows. (The other walls have closets and the one solid wall would leave the bed basically in the entry to the room bad feng shui (sp?).

Here was a photshop mockup I did awhile back.




I might not do that ornate of a headboard, but right now I decided to do deep charcoal gray walls, a tan ceiling and off-white trim. The bedding is "flax" colored matelasse from RH, and I will put white with it. My curtain panels are textured belgian linen, also flax colored. (The zebra bench is on the wish list but not in the picture IRL.)
---
| | | |
| --- | --- | --- |
| RE: Bed against windows - any pics? | | |
soshh -thanks for sharing your mock-up. Would you mind sharing your other bed? We need something that will circulate air to the windows so we don't have condensation issues.
---
| | | |
| --- | --- | --- |
| RE: Bed against windows - any pics? | | |
I have my bed in front of my windows. I can't post a pic here, but below is a link. It was pretty much the only place it could go without squishing it in on one of the other walls. I love laying in bed with the windows open.
Here is a link that might be useful: My Bed
---
| | | |
| --- | --- | --- |
| RE: Bed against windows - any pics? | | |
Lyfia, here's a partially photoshopped pic. Excuse the hideous torn wallpaper and my photoshopped headboard options!
You can see it's pewter and similar to what you've selected, just a little more ornate.
---
| | | |
| --- | --- | --- |
| RE: Bed against windows - any pics? | | |
beausoleil and soshh - thank you!!

So does anybody think the metal bed will look funny in our space?
---
| | | |
| --- | --- | --- |
| or this??? | | |
Or maybe this with a bit of an arch to soften all the angles?
---
| | | |
| --- | --- | --- |
| RE: Bed against windows - any pics? | | |
I just found this post in regards to the other post about a bed under the window! I would love to make it work for me!

Alicia
---
Post a Follow-Up
Please Note: Only registered members are able to post messages to this forum.
If you are a member, please log in.
If you aren't yet a member, join now!
---
Return to the Home Decorating Forum
Information about Posting
You must be logged in to post a message. Once you are logged in, a posting window will appear at the bottom of the messages. If you are not a member, please register for an account.
Please review our Rules of Play before posting.
Posting is a two-step process. Once you have composed your message, you will be taken to the preview page. You will then have a chance to review your post, make changes and upload photos.
After posting your message, you may need to refresh the forum page in order to see it.
Before posting copyrighted material, please read about Copyright and Fair Use.
We have a strict no-advertising policy!
If you would like to practice posting or uploading photos, please visit our Test forum.
If you need assistance, please Contact Us and we will be happy to help.

Learn more about in-text links on this page here