Return to the Home Decorating Forum
|
Post a Follow-Up
---
| | | |
| --- | --- | --- |
| Using real branches/greenery for Christmas decor??? | | |
Posted by
reno_fan
(
My Page
) on
Thu, Dec 6, 07 at 8:00
I'm embarassed to admit what we spent on Christmas last year. It was ridiculous. Thankfully it was the exception to our lives and not the rule, but still, I have no desire to repeat that kind of spending this year.

This year, I see a marked difference in all of our attitudes. Even my teenagers seem much more balanced and grounded, and don't seem to be clamoring for whatever widget is all the rage. We all basically have everything we've ever wanted, and we'd kind of like to focus on the simpler things.

On that philosophical note, I noticed when opening all of my Christmas decor boxes how much I dislike the idea (this year anyway) of using all of this fake greenery. We need more decorations (bigger house this year) but I'm hesitant to go out and buy more cheap "made in China" junk. It just feels so wrong, and I want my home to feel "home-y" and not staged to look like the displays at Hobby Lobby.

I'd love to use real greenery, and have several big evergreen trees out back that I could cut from, but how long will natural decor like that last?

I'd love to do a natural wreath or something on my front door, and possibly on my mantel.

Any ideas for using the real thing?
---
Follow-Up Postings:
| | | |
| --- | --- | --- |
| RE: Using real branches/greenery for Christmas decor??? | | |
Hi Reno Fan,

I'm totally with you about the use of real greenery. I love how it looks, as it reminds me of a real old-fashioned Christmas - the kind from my growing up years, when my grandmother would make a wonderful coffee cake decorated like a wreath. We would sit at her table, in her modest home, and just enjoy one another's company. She had lots of trees on her 80 acres of rural property, and we'd make our own wreaths, swags, and other decorations.

I surely miss those days, but using real greenery reminds me of the special times. While we have lots of evergreens on our property, I found a whole large bundle for $6.99 at a local garden center. I used them to decorate our porch railing, and I also filled some large pots with them by the front door, mixing in some artificial red berries. And of course, the front door has a real wreath, with a big red bow.

I would love to have real greens inside too, but I'm not sure how they would do in the warmer indoor temperature, in terms of lasting, shedding, etc. Some artificial items look very nice, if you can find the higher quality stuff.

I will post pictures later today of our front porch. I live in Wisconsin, and it is 10 degrees BELOW zero this morning, so our greens stay well preserved for a long time outdoors. :o)

Jan
---
| | | |
| --- | --- | --- |
| RE: Using real branches/greenery for Christmas decor??? | | |
Hi, I've used real greens to decorate indoors for years and they hold up fine. You may get some occasional dropping of needles but nothing too bad.

Some things I did this year with my greens were to lay them beside my nativity set and then put white lights all around that. I also put them on my sideboard in my dining room and put pine cones and ornaments on top of them. I did something similiar to this on my dining room table. I like to put them in my crocks or really in anything I have sitting around. Have fun and experiment I love seeing fresh greens laying around indoors, it looks so nice!
---
| | | |
| --- | --- | --- |
| RE: Using real branches/greenery for Christmas decor??? | | |
With a small house I don't have room for a tree. But fresh greenery is quite viable inside. Using greenery from your own trees would work really well as it is the freshest. Next to this is buying an inexpensive tree and cutting the branches for use. Tis amazing how much is on one. I buy a tree for branches and all has stayed fresh through the holidays.
---
| | | |
| --- | --- | --- |
| RE: Using real branches/greenery for Christmas decor??? | | |
I have been using greenery for several years, just like we did when I was growing up. If you do not have greenery on your property, most garden centers and farmers markets that sell green trees, will sell you greenery very cheap, because it is what they have thinned out for making arrangements or balancing the trees.

We also use this as an opportunity to remove wonky shaped branches from our magnolia tree. Magnolia lasts a very long time and it is such a pretty color.

You can use live greenery in the same ways you used the madeinchinoiserie.
---
| | | |
| --- | --- | --- |
| RE: Using real branches/greenery for Christmas decor??? | | |
Just went on a house tour last weekend. One house used fresh greens as a "tablecloth" on their round coffee table. Another had a "carpet" of greens on their front porch leading to their door. Both were beautiful!
---
| | | |
| --- | --- | --- |
| RE: Using real branches/greenery for Christmas decor??? | | |
I'd like to use fresh greenery as well. Are there any problems with sap? Do you need to do anything special to keep sap from dripping?
---
| | | |
| --- | --- | --- |
| RE: Using real branches/greenery for Christmas decor??? | | |
Last year, I collected magnolia branches that the deer had rubbed off (antler rubbing). I simply used them on my mantels and they held up for 3 weeks with no problem. Since they thinned out my magnolia last year, it's now fenced off temporarily as there are no lower branches for me to even prune!

This year, I'm going to use cedar branches from our woods.

We have a eucalyptus tree. While it's not a holiday tree, branches don't require any water. Ditto with the bare curly willow branches (upright in a vase or woven laterally) that I've already brought in. They can all work mixed with the more seasonal greenery such as cedar and pine. Don't forget about pinecones (wear gloves) filling a clear vase and combined with real fruit such as limes and oranges. I don't refrigerate my avocodos, limes, lemons and oranges, so they sit out in a bowl on my island. I use them up weekly and replenish, but with a few pinecones thrown in, they can look festive. Right now, there are a few minature pumpkins and gourds in with them from Thanksgiving.
---
| | | |
| --- | --- | --- |
| RE: Using real branches/greenery for Christmas decor??? | | |
This year I used fresh magnolia and spruces in my window boxes and some other sprays for outdoors. Because of allergies, I do not use the pine/spruce greenery indoors. Too, you will get some sap and if I were to be laying it on wood or something that could be damaged, I'd lay something beneath it.

Fresh magnolia is wonderful to use and like the spruce/pines, will last for weeks. If you are in a very warm climate, I'm sure that would cut down on the time. A very pretty decoration is to lightly paint magolia branches (just the leaves) with a dusting of gold of silver. Looks gorgeous on a mantle - you could add some artificial berries, ornaments, etc.

Sadly, we don't have holly this year - well holly with berries. Due to a very unexpected late freeze, there are no holly berries to be found! I usually use holly branches in with my other greenery. My nursery has huge bunches of greenery for $6/bunch.

You can use many types of decorations, even some nice (good quality artificial greenery) and not look like Hobby Lobby LOL. I prefer old items, well loved items, not just the lookof the moment. The holidays are a good time to bring out old silver, handed down or collected ornaments, beautiful ribbons, greenery, candles, etc. I guess I prefer a vintage look!

tina
---
| | | |
| --- | --- | --- |
| RE: Using real branches/greenery for Christmas decor??? | | |
I saw a couple of cut branch decorations in a magazine recently that you may like. A large, tall container (the type for cut flowers) had branches of pine, cedar and cypress, some leaves from a red New Zealand Flax and a couple of brances of Beauty Berry. They had all this in a pale blue container and it was stunning!

Another idea in the magazine was to hang a tree branch on the wall and decorate it.

To help prevent sap dripping..........dip each freshly cut stem in melted candle or paraffin wax.
---
| | | |
| --- | --- | --- |
| RE: Using real branches/greenery for Christmas decor??? | | |
OT, but I thought of you this weekend, Reno_fan. I was antiquing and saw a few blue & yellow plates. They reminded me of your pitcher. Funny how I can remember things like that, but the little everyday things escape me, LOL!

Annz, great tip about the wax! Thank you!
---
| | | |
| --- | --- | --- |
| RE: Using real branches/greenery for Christmas decor??? | | |
I have the same bug this year. In part inspired by the PB catalog where they feature the "natural" decor. I had only started when the snow started blowing! But, here are my window boxes and the front of the house where I used cedar garland on the porch railing and around the door. I didn't get a chance to put the bows up:( Still trying to decide if I want burgandy and gold or red and gold! *sigh*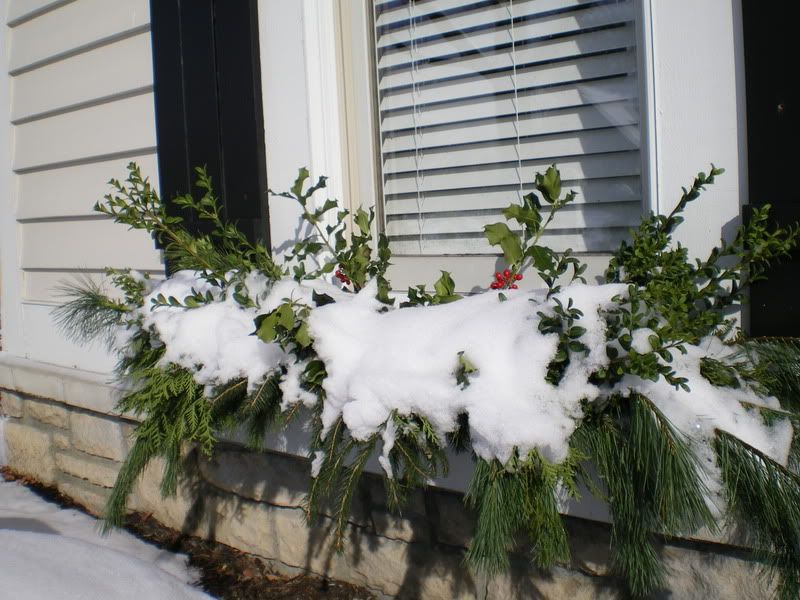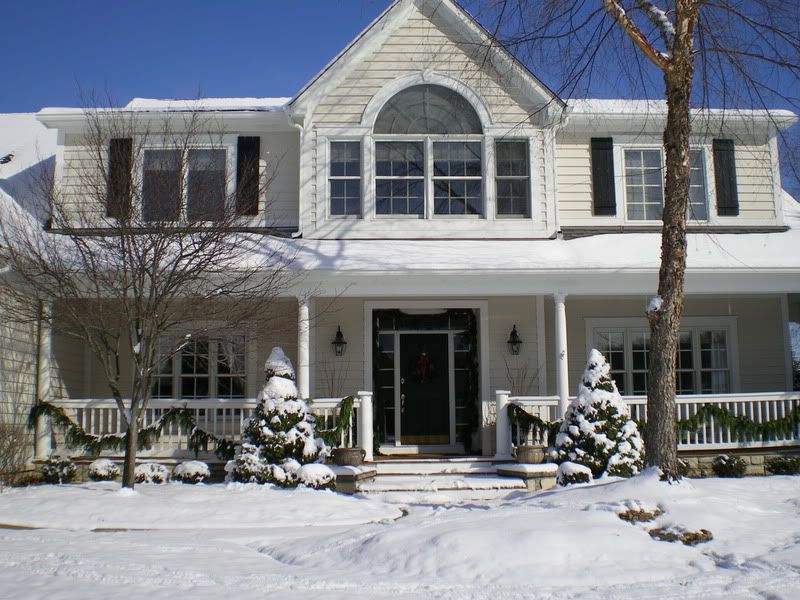 ---
| | | |
| --- | --- | --- |
| RE: Using real branches/greenery for Christmas decor??? | | |
I think a lot of us are on the same page this year. I drug all my Christmas boxes out, but wanted to incorporate a lot of fresh greens, pinecones, & acorns this year. Last year, I made a point to go out & collect the pinecones & acorns, as well as some nuts this year that were in a gift basket. I've painted some of the nuts with gold & silver spraypaint & dusted some with glitter. And used some of my silver pieces & creamware dishes to accent the natural things. Just wanted something different this year, so I hear ya! I'm loving how mine has turned out so far...got a completely different look just by using the real things mixed in.

Oh, and around here, all the tree lots will give you as much as you want of the cut tree branches from their trees. I went by & filled my trunk up with fir branches. It will get sap on your hands, so get the Goof Off out for that. I cut pieces and laid them out on my mantle, filled in with ribbons, pinecones, lights & ornaments & that's all I did. I've used it in several vignettes around the house.
---
| | | |
| --- | --- | --- |
| RE: Using real branches/greenery for Christmas decor??? | | |
Gorgeous, Kmcg85! I wanted to rope garland on our porches, but the wind here would tear it off in no time :-(. Your home is SO pretty!!!
---
| | | |
| --- | --- | --- |
| RE: Using real branches/greenery for Christmas decor??? | | |
Well -- all of our fake bits and pieces are up -- and much closer to Christmas Day -- we will add the real bits -- and some rosemary branches and holly bits from around the yards.

Everybody sing:

"The holly and the ivy ....."
"When they both full grown ....."
"Of all the trees that are in the woods ....."
"The holly bears the Crown ....."
---
| | | |
| --- | --- | --- |
| More... | | |
I almost forgot. These are made with a wreath placed on top of an urn with florist foam smushed down into the urn to stick the willow into. In one urn I placed gold and silver mercury ornaments to try for looks. Any bright colored ornaments to match your decor would look nice piled in the middle around the willow.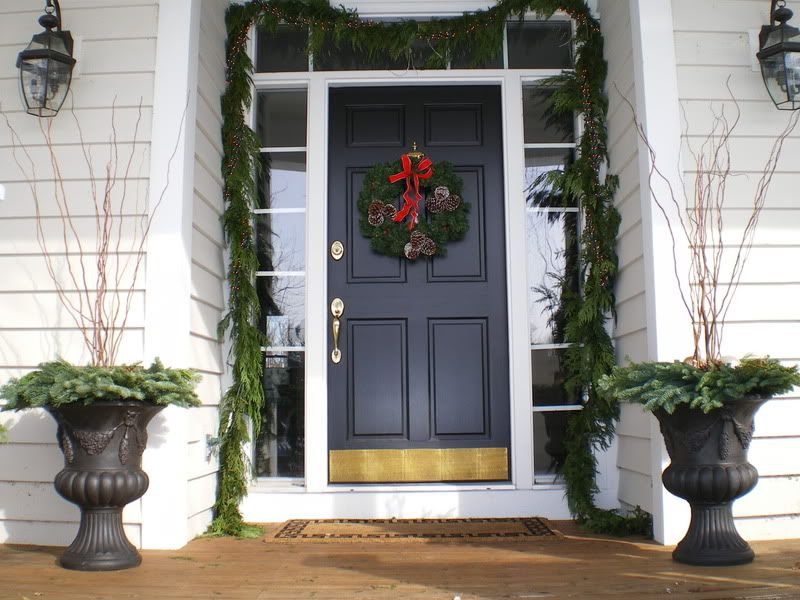 ---
| | | |
| --- | --- | --- |
| RE: Using real branches/greenery for Christmas decor??? | | |
I use a mix of artificial and natural greenery outside my home. This year I filled two of my big planters with cuttings of hemlock, pine, laurel and winterberries. from our woods.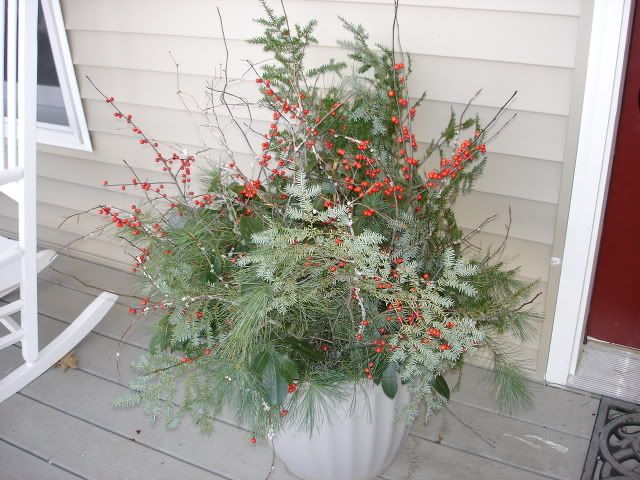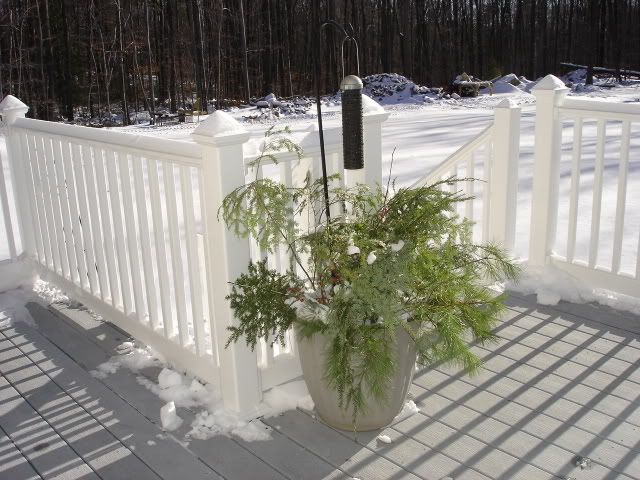 Last year at our previous home I filled window baskets and hanging baskets with boxwood,pine and berries.

---
| | | |
| --- | --- | --- |
| RE: Using real branches/greenery for Christmas decor??? | | |
KMCG85 -- Just gorgeous ideas!! LOve your style!Very classic -- with some fresh twists and ideas! :)
---
| | | |
| --- | --- | --- |
| RE: Using real branches/greenery for Christmas decor??? | | |
We've always used fresh greens, in and out of the house.

Inside, in addition to the tree, I have a rope that winds up the banister, and a swag mixed with tiny white lights on the top of our upright piano. There's also a fresh Advent wreath on the sideboard in the DR. White pointsettias flank the mantle, one's on the entryway table, and 3 smaller ones line the center of the table runner in the DR.

We have a farmer's porch and have ropes of fresh garland draped all around the perimeter and down the banisters with white lights entertwined. We do up the 5 evergreen trees (pines & spruce) that grow in different parts of the front yard with white lights. I have a 24" wreath over the mission bench on the front porch by the door.

That's it. It's rather understated, but I never tire of it.

One note, though. It takes quite a bit of time to make all the ropes of greenery needed to cover, say, the length of a front porch. We end up buying them pre-made these days from a local garden center. Even here in NH, where greenery is easily found, it ends up being pretty expensive each year. I think artificial greenery is much less expensive over time. That said, I would find it hard not to use real.
---
| | | |
| --- | --- | --- |
| RE: Using real branches/greenery for Christmas decor??? | | |
Thanks! I literally threw those mercury balls in there to try them out. They were piled in a rustic dough bowl in my coffee table. Didn't have enough for both urns. But, I think I might go to Target and get some red, green, gold or other combination and put them in there.
---
| | | |
| --- | --- | --- |
| RE: Using real branches/greenery for Christmas decor??? | | |
I don't care for artificial anything; although I've used lots of artificial wreaths and greenery in the past due to necessity.

We just bought an ugly house with an uglier front area and it's been too cold an snowy to do anything to improve it yet. I decided to use real garland on the narrow step railings. I'll be adding lights to the garland and a wreath or cover to the door, but here's how it stands now.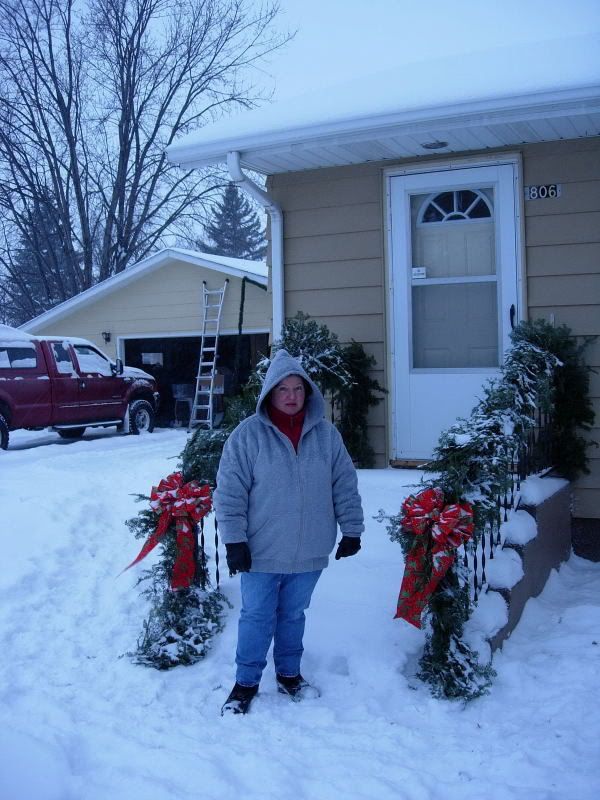 You can see we are putting an artifical garland around the garage door. Next year I'm starting earlier and the roofline of the garage will have natural garland, too.
I told the garden center clerk I needed 24 feet of garland. She graciously cut it into two 12-foot sections and wired the ends together so it was easier for us to get it put on the railings.
I had enough garland to let it drape to the floor of the stoop next to the house, and all the way to the ground in front. I think they were a bit generous when they measured my 12-ft sections. Since this photo was taken I've removed the snow, twice. We don't use this front entrance.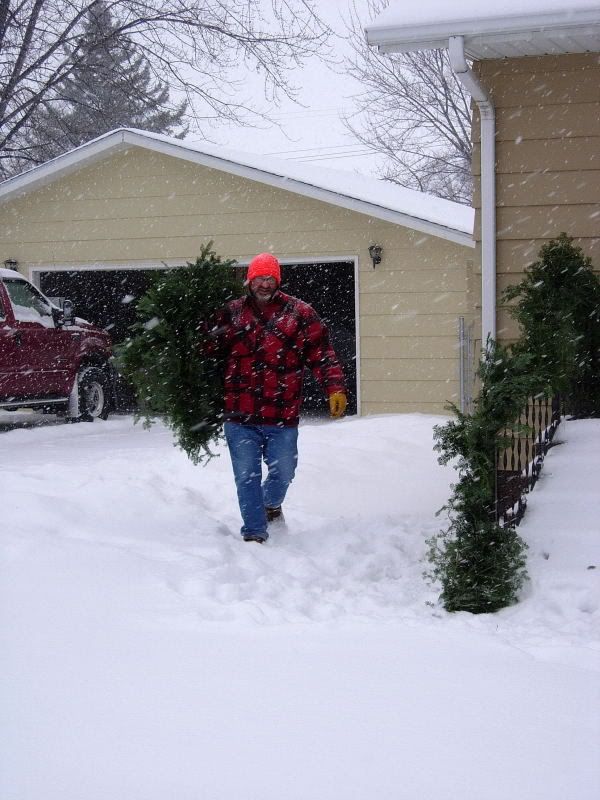 DH bringing the second garland around front.
---
| | | |
| --- | --- | --- |
| Real branches/greenery for Christmas decor??? | | |
I found another photo. This is what I did for my tiny front step area on base last year.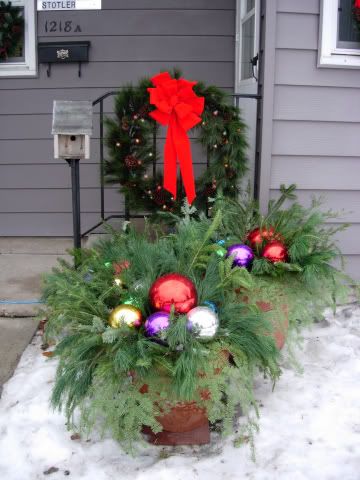 The big wreath is artifical, 36" across, and I added lights to it. All the greenery in the flower pots is real. I got a variety of branches from a Christmas tree vender and simply poked them into the soil in the 24" Thermolite flower pots. The ornaments range from 6-12 inches; they're plastic. I didn't add lights to the pots. I thought the lights on the wreath were enough. I don't like too many lights out front; I think it distracts from the beauty of the snow and greenery.
After I took this photo I added Mr. and Mrs. Snowman ornaments to the porch of the birdhouse. That was the finishing touch! LOL
---
| | | |
| --- | --- | --- |
| RE: Using real branches/greenery for Christmas decor??? | | |
All of the planters and window boxes posted are just lovely!

I too got the "real greens" bug this year and bought the rope vines inexpensively at Lowes for $6.99 for thirty feet.
I then used a 50% Michaels coupon and bought a "Bowdabra" for $7.50 and on Black Friday two spools of 100 yard each wired edged ribbon in a traditional plaid print and made bows for less than $1.00 each.
We attached the rope greens to the front and back porch railings using long electrical ties and with the large wired bows attached with thin craft wire it is very classy yet traditional look.
---
| | | |
| --- | --- | --- |
| RE: Using real branches/greenery for Christmas decor??? | | |
OOOOOOOOHHHHHHH! I'm loving these pics! I think we'll take a little trip to tree lot, and I'll load up on some cuttings while there. We've had bipolar weather lately. 70 and sunny one day, then 35 and windy the next. I suppose what I put out won't last too long, but that's okay. I literally just could not bring myself to buy any new (fake) stuff for the indoors today. It all seemed so forced or something. I'd rather have less that's warm, cozy and classy than tons of the fake stuff.

I love the pics gals! Keep em coming!
---
| | | |
| --- | --- | --- |
| RE: Using real branches/greenery for Christmas decor??? | | |
| | | |
| --- | --- | --- |
| RE: Using real branches/greenery for Christmas decor??? | | |
Ohhh!! SNOW! How neat! Today was warm. Your pictures make me miss the snow.

Did anyone see the BH&G article about orchids and Christmas decorating?

It showed orchids with single glass balls dangling from the flower stem. Very unusual but it looked SO elegant and Christmas-like.
---
| | | |
| --- | --- | --- |
| RE: Using real branches/greenery for Christmas decor??? | | |
A couple of cost-saving tips if you plan to use fresh greenery. Cost-co has beautiful wreaths - a good size with a few different greens as well as pinecones in each - and they are less than $20. I add my own bow.

Also, I decorate the mantle with a mix of artificial and fresh greens that are cut from the extra branches on the bottom of our Christmas tree. I also use the extra greens to fill containers on my front porch (like some of the pictures here in this thread).
---
| | | |
| --- | --- | --- |
| RE: Using real branches/greenery for Christmas decor??? | | |
All great ideas. Kcmg85-Your house is beautiful. It looks like something out of a movie. Lovely.
---
| | | |
| --- | --- | --- |
| RE: Using real branches/greenery for Christmas decor??? | | |
Karezz, That's exactly where I got my garland and wreaths from. They were a steal at $16.00! The garland was 25ft long! I thought it was a bargain!
momof1, Thanks for the compliment. I've poured a lot of love into this house the past 4 years!
Enjoy the Holidays everyone!
---
| | | |
| --- | --- | --- |
| RE: Using real branches/greenery for Christmas decor??? | | |
I have been using real greens to give that wonderful scent that I miss since using a fake tree. Usually the greens last all season. I decorate the weekend after Thanksgiving and they last until the weekend after New Years. But this year because of the drought here, my greens are already very dry. I will have to replace them this week. I've read that if you soak the cut greens in cold water over night that they don't dry out as fast. I may try that with the new greens.
---
| | | |
| --- | --- | --- |
| RE: Using real branches/greenery for Christmas decor??? | | |
Man, I miss snow. It's been around 80 here in Gulf Coast Texas and so humid that the ground is wet in the shade. In fact, we had to turn the A/C back on so we could sleep last night!

I DO have a Magnolia in the backyard. The previous owners limbed it up, so I'll have to use a ladder. But I love the idea of some gold paint on them. Even the Pine trees that are everywhere are trimmed up so high, that I can't reach anything but the pinecones on the ground.

You all have done a fabulous job! Real greenery is unmatched.
---
| | | |
| --- | --- | --- |
| RE: Using real branches/greenery for Christmas decor??? | | |
These are all so beautiful!! I love real greenery.

Here's my little splash of greenery. : ) It's the stuff we cut off the bottom of the tree.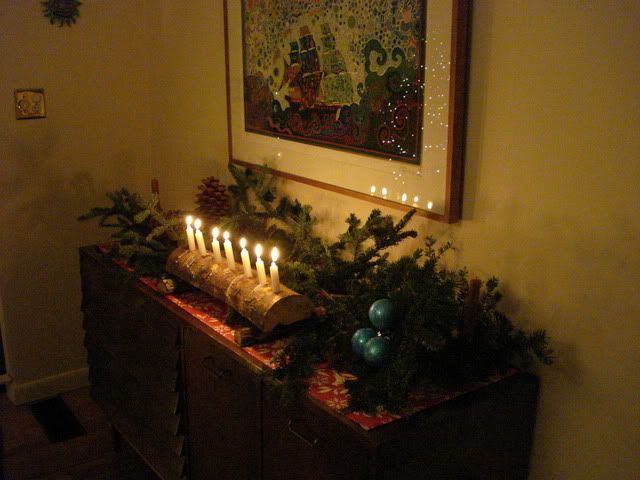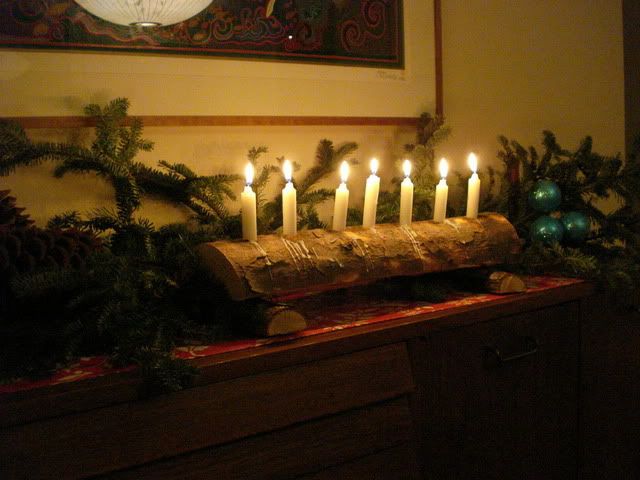 ---
| | | |
| --- | --- | --- |
| RE: Using real branches/greenery for Christmas decor??? | | |
I've been thinking about something I saw in a magazine, using greenery over a mirror (like the one in my entry!) and hanging a few ornaments from it with satin ribbon. I don't have any suitable evergreens, but maybe I'll pick some up and do it, now that I've been inspired here.
---
| | | |
| --- | --- | --- |
| RE: Using real branches/greenery for Christmas decor??? | | |
Oh man! I've spent the last 2 days picking away at our decorations. I confess, they're a labor of love for me. Esp. this year.

When I was little kid I was part of the "fill the bag with these", brigade. :) I have such fond memories of poring over the cemetaries looking for White Pine cones, Scotch Pine cones, Horsechesnuts husks, Horsechesnuts, Sweetgum husks... . Sometimes we went to fields and marshes. I hunted for milkweed pods, cattails, fern seedheads, etc.. A favorite family story was how I managed to get totally soaked at about age 4. On the ride home I took full advantage of the warm car. I removed all my clothing and lolled, in the manner of an amphibian, in the concentrated sunlight beaming in the rear window of a Dodge Dart... about 1963/4.

No pictures yet, but I will post them when I'm done... figure another day/maybe two.

I'm in New England and using native, fresh greens is not all that uncommon, but it DOES require some time to "condition" them.
---
| | | |
| --- | --- | --- |
| RE: Using real branches/greenery for Christmas decor??? | | |
You know since we all are on the forum it would be a good idea to take pictures of everything we do. That way when we read a post and respond we can throw a picture in there too. Lots of good ideas here. I would have loved to see pictures of some of them and the pictures I did see here are WONDERFUL!
chicoryflower I literally smelled the pine coming from your pictures. I bet that room smells soooooooo good!
---
| | | |
| --- | --- | --- |
| RE: Using real branches/greenery for Christmas decor??? | | |
MsJay, yes the whole room smells like pine! It's delightful.

By the way, I meant to say, on the other thread, that I LOVE your chimney. I love your property and your house, but that chimney is striking.
---
| | | |
| --- | --- | --- |
| RE: Using real branches/greenery for Christmas decor??? | | |
I love using real greenery. Along with the wonderful smells, natural look, going out to gather boughs and pinecones always generates another story to remember fondly.

For anyone not having the time or inclination to gather their own greens, I noticed that the tree farm where you when to cut our tree had boughs for $1 ft - half the price I'd seen it for at the local nursery. (I'm in Vancouver, BC.)

I'll post pics of mine when I'm done. Just got the tree up (a lovely Fraser fir) and only a few lights on so far. I've got a purple/green theme going on in the outside planter, with beautiful purple callicarpa berries taking the starring role. I think I'll add one of those LED light sticks from Home Despot, but not blinking. LOL. :-)
---
| | | |
| --- | --- | --- |
| oops | | |
Good gracious. Sorry for the typos in my second paragraph. That should read "the tree farm where we went to cut our tree"...
---
| | | |
| --- | --- | --- |
| RE: Using real branches/greenery for Christmas decor??? | | |
I forgot to mention I love the idea of the planters with greenery next to the door with the christmas balls. that is so cute. I swear everytime I come to this thread I smell pine. LOL
I like the greenery on the handrails. I brought fake greenery like that in Michaels a couple of years ago with the white lights in it and it looked so elegant I hated to take it down!!!
Caroline your husband looks sooooo cold LOL. That is something I do not miss although they say we might get hit with lots of snow this year (NC) and I am not looking forward to it AT ALL
amck I would love to see your porch and front yard.
chicoryflower thanks for the compliment. The front is only a small part of the property the back is REALLY beautiful. The Orig owner was a gardner but it happens that after she passed the next owners did not do much so the whole place is overgrown and out of control. it was just waiting for my TLC!!

I have copied pictures that I saw in here for real life pine decorating and next year I am going to DO IT UP!! LOL. I see right now you guys are going to keep me sooo busy.
---
Post a Follow-Up
Please Note: Only registered members are able to post messages to this forum.
If you are a member, please log in.
If you aren't yet a member, join now!
---
Return to the Home Decorating Forum
Information about Posting
You must be logged in to post a message. Once you are logged in, a posting window will appear at the bottom of the messages. If you are not a member, please register for an account.
Please review our Rules of Play before posting.
Posting is a two-step process. Once you have composed your message, you will be taken to the preview page. You will then have a chance to review your post, make changes and upload photos.
After posting your message, you may need to refresh the forum page in order to see it.
Before posting copyrighted material, please read about Copyright and Fair Use.
We have a strict no-advertising policy!
If you would like to practice posting or uploading photos, please visit our Test forum.
If you need assistance, please Contact Us and we will be happy to help.

Learn more about in-text links on this page here