Return to the Home Decorating & Design Forum
|
Post a Follow-Up
---
| | | |
| --- | --- | --- |
| Please help! Coffee table talk | | |
Posted by
michoumonster
(
My Page
) on
Thu, Dec 12, 13 at 6:49
Hi all,
I am trying to put together my family room but have run into some issues. Things we already got: nailhead daybed, industrial style bookcase and TV stand. I am not sure if the TV stand goes well with the other pieces because it is a more reddish color while the others are more brown, but DH got a deal on CL for it, so it must stay, lol.

Can a coffee table or other furniture pieces somehow help tie everything together? any suggestions on wood tones, etc I should look into? any particular pieces you can recommend? thank you for your advice!!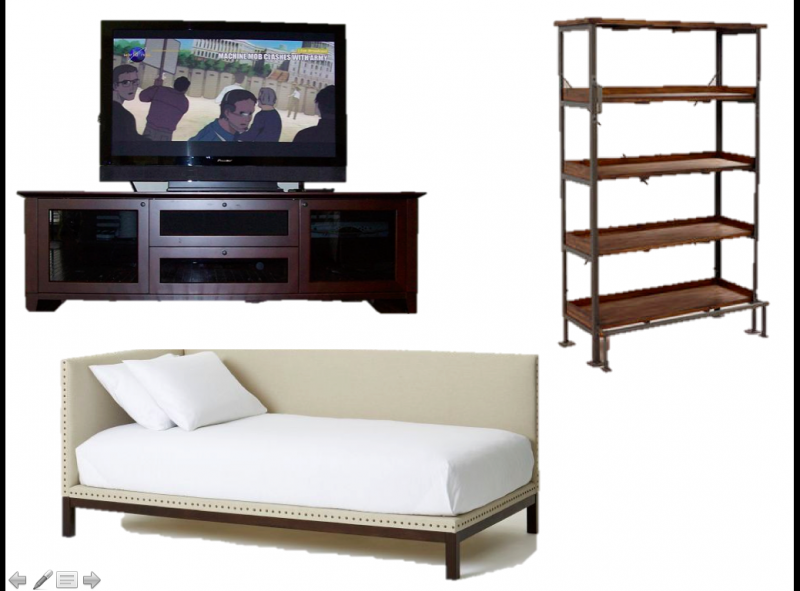 Here are some options we are considering:
option 1: steel frame coffee table with fancy wood top
i think this style and color would match the tv stand, but not sure if the coffee table is functional for us, seems like its edges might be too sharp for our toddlers.
option 2:
we both like this room's style very much and color palette too, but we need larger coffee table and side tables for all our junk.

option 3:
functionally, the nesting coffee tables woudl be perfect since I can see our toddlers each getting a baby table for activities and no sharp corners. DH agrees on the functionality, but thinks this room's style is too sparse.

option 4:
DH and I both like the style of this room, but coffee table ottomans haven't worked well for us in the past for drinks, etc and we are too lazy to get coasters or a tray (or train our toddlers to do it).

any other ideas?
---
Follow-Up Postings:
| | | |
| --- | --- | --- |
| RE: Please help! Coffee table talk | | |
I like those round nesting tables...plenty of space for your stuff and toddler friendly with the round edges...and you can pull one away for toddler use only when necessary. Don't worry that the room they are shown in doesn't quite match your style...you will accessorize the room with your style. Also, I don't think it matters that all the woods "match"...I think it gives the room more texture and interest. I unwittingly bought an end table, coffee table and tv stand all in espresso and it is too matchy and boring. I like your choices.
---
| | | |
| --- | --- | --- |
| RE: Please help! Coffee table talk | | |
We made our 30x60 coffee table. We went to a stone yard and found a granite remnant with great color for our room. The yard fabricated the edges, rounded. We mounted the table on a dolly. You can't really see the dolly. The granite is very heavy so it stays put. We can easily push the table where ever it is needed. I don't remember the exact cost, but 300 something rings a bell. We already owned the dolly.
---
| | | |
| --- | --- | --- |
| RE: Please help! Coffee table talk | | |
I love the round coffee tables too and think that would be the perfect choice for toddlers -- we've had sharp edged square tables in the past and it hasn't worked well. We now have an oval shaped coffee table and a lot less bumps and bruises.
---
| | | |
| --- | --- | --- |
| RE: Please help! Coffee table talk | | |
| | | |
| --- | --- | --- |
| RE: Please help! Coffee table talk | | |
Hm, my kids would have taken it on a ride....
---
| | | |
| --- | --- | --- |
| RE: Please help! Coffee table talk | | |
hmm looks like the round nesting coffee tables got the most votes. thanks! i am leaning towards that too. now to find an affordable one. anyone know where to get these? i linked to the one i found that looks similar to the inspiration pic, but it is $2k, yikes!

sixtyohno, that sounds like a beautiful coffee table, especially if it matches the granite from your kitchen! sadly, DH is limiting the "custom" pieces i can do now (because i did too many customizations to things during our house build, on which he had to help me, lol)

beverly, i considered the matching coffee table to the shelving unit, but like nosoccermom, i do think my twin toddlers would be pushing each other around the room in it!
Here is a link that might be useful: nesting round coffee table
---
| | | |
| --- | --- | --- |
| RE: Please help! Coffee table talk | | |
Check this one and scroll down on the page to see more.
Here is a link that might be useful: tables
---
| | | |
| --- | --- | --- |
| RE: Please help! Coffee table talk | | |
This was at the same site, so you probably saw this one.
Here is a link that might be useful: Round nesting tables
---
| | | |
| --- | --- | --- |
| RE: Please help! Coffee table talk | | |
yayagal, thanks for the link. i do like that one. the metal would work well with my bookshelf too. i am hoping to find a three table set (i have twin toddlers, so one baby table for each of them), but if not, this two table set would work well.

gardenpea, thanks! yes, i saw that one, but it was just a tad too traditional feeling for us since the rest of our stuff is more contemporary/industrial.

i wonder if i can find the one in the inspiration pic. i like the clean lines of it. i will try to ask around on houzz.
---
Post a Follow-Up
Please Note: Only registered members are able to post messages to this forum.
If you are a member, please log in.
If you aren't yet a member, join now!
---
Return to the Home Decorating & Design Forum
Information about Posting
You must be logged in to post a message. Once you are logged in, a posting window will appear at the bottom of the messages. If you are not a member, please register for an account.
Please review our Rules of Play before posting.
Posting is a two-step process. Once you have composed your message, you will be taken to the preview page. You will then have a chance to review your post, make changes and upload photos.
After posting your message, you may need to refresh the forum page in order to see it.
Before posting copyrighted material, please read about Copyright and Fair Use.
We have a strict no-advertising policy!
If you would like to practice posting or uploading photos, please visit our Test forum.
If you need assistance, please Contact Us and we will be happy to help.

Learn more about in-text links on this page here