Return to the Home Decorating Forum
|
Post a Follow-Up
---
| | | |
| --- | --- | --- |
| true/neutral gray paint...pls help! | | |
Posted by
kwitel
(
My Page
) on
Mon, Dec 12, 11 at 1:32
Hello all, thanks in advance for reading this.
I am painting my Manhattan apartment and no matter what I do i cannot seem to find a true, non-blue or non-purple, gray.
I live in a studio so I want most of the walls to be a lightish, true gray, while the wall behind my bed and one accent wall in the kitchen will be Charcoal, by Restoration Hardware (much darker).

Is there such thing as a "pure" gray? I mad the mistake of having my whole apartment painted without sampling and I ended up with a very blue-gray.

Any recommendations?
---
Follow-Up Postings:
| | | |
| --- | --- | --- |
| RE: true/neutral gray paint...pls help! | | |
I just used BM Edgecomb Gray. It a beige/gray, so no purple or blue undertones.
---
| | | |
| --- | --- | --- |
| RE: true/neutral gray paint...pls help! | | |
To help narrow it down what are the colors that you have tried or looked at and not liked?
---
| | | |
| --- | --- | --- |
| RE: true/neutral gray paint...pls help! | | |
Take a look at the BM strip with Baltic Gray on it. I love every color on that strip. If you notice, the colors lean more towards the taupes. They work really nicely with dark browns. I have Baltic Gray in my hall bath paired with palest pink towels I could find, I can pair it with a really deep purple, and even that lime green I love.

My master bath painted same color, but it looks different in there due to lighting being different and pairing it with other colors. Same thing with my 2 story foyer, my bedroom is Willow Creek and my Laundry room is an even darker one on that strip!


Give it a look.
---
| | | |
| --- | --- | --- |
| RE: true/neutral gray paint...pls help! | | |
Sherwin Williams Anew Gray (Agreeable gray is one shade lighter on same strip). Just did my bedroom in Anew. It looks a little on the beige side on strip but perfect gray on walls. I was having the same problem that everything I thought was neautral gray turned out blue gray.
---
| | | |
| --- | --- | --- |
| RE: true/neutral gray paint...pls help! | | |
I just used Sherwin Williams Grey Matters. To be it looks like a true grey (might be darker than you are looking for) Lighting sure makes a difference so if you are really unsure I strongly suggest doing a sample on the area. Ignore the dated light fixture. It is on its way out the door.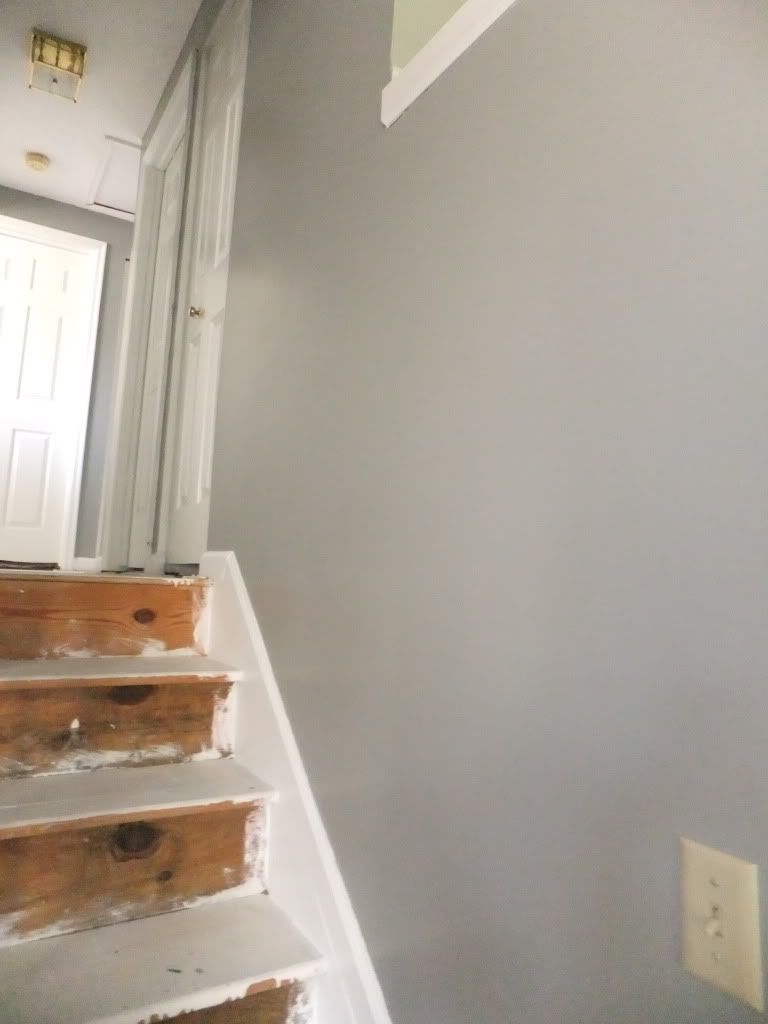 ---
| | | |
| --- | --- | --- |
| RE: true/neutral gray paint...pls help! | | |
I've asked the very same question here before, too.

The hue will depend upon your lighting, too. As you've learned, don't paint without a large sample first. Look at it at every light point in the day and night. With your lamps, with your windows open, etc.

In another thread, you'll find I'm struggling with a color I love but altho the top cabinets are this color that sucks me in, the bottoms are exposed to natural light and look turquoise. ICKICKICK. But it's the lighting...

And please, remember that no matter how helpful these beautiful rooms are that people show you, it's their lighting, and your monitor's resolution. My new Dell laptop shows corals and terra cotta as pink.

You'll find it. Sample, sample, sample!
---
| | | |
| --- | --- | --- |
| RE: true/neutral gray paint...pls help! | | |
I had so many samples on my wall that I actually almost went with a patchwork look!!! I will never paint a room without samples!
---
| | | |
| --- | --- | --- |
| RE: true/neutral gray paint...pls help! | | |
Thank you all for your responses.
The color I went with was Pewter, which looked gray on the card but is has a fair amount of blue in it on the wall.
As far as lighting is concerned, I find that regular bulbs bring out grays undertones, while halogens/cfls create a "whiter" light which to me works best at revealing true grays.
---
| | | |
| --- | --- | --- |
| RE: true/neutral gray paint...pls help! | | |
Good luck finding a true gray, I've been searching for a while as well. No matter which color I sample the undertone ends up taking over. I initially painted the room Behr's Dolphin Fin, in certain lighting it does look gray but most of the time it just looked blue to me. It did look good though and my mom felt it looked very designer. I have sampled BM Stonington gray, even bluer than Dolphin Fin. I tried BM Silver Fox, Martha Stewart Chinchilla, I thought it was a good gray but in certain lighting it looked purpley. I tried Behr wheat bread (just not gray enough), Silver Sateen and Classic silver, both too blue. Tried BM revere pewter, looked greenish, SW Passive and gray screen, both too blue. So at this point I've given up, these sample are getting expensive and they all just look blue, purple, or brown. I have been wanting to give Dolphin Fin a second shot in a flat finish, but don't know if I wanna risk it. Oh, also tried Edgecomb gray, not really gray of course, more brown.
---
| | | |
| --- | --- | --- |
| RE: true/neutral gray paint...pls help! | | |
I used Edgecomb Gray on a chest of drawers, and it definitely has a pinkish undertone. If you already have the Charcoal paint, maybe you can experiment with adding some to a cup of pure white, keeping track of the proportions as you test the colors. Start with a cup of white and add Charcoal by the tsp., one at a time. You might end up with a nice lighter version of your accent color, and then you can have it mixed up in a larger amount.
---
| | | |
| --- | --- | --- |
| RE: true/neutral gray paint...pls help! | | |
I just went through this with my bathroom. Someone here recommended Samovar Silver by Sherwin Williams. I bought it, love it, and no undertones. I was very concerned about any undertones, because, I have lavender bathroom fixtures.
Here is a link that might be useful: Sherwin Williams
---
| | | |
| --- | --- | --- |
| RE: true/neutral gray paint...pls help! | | |
When I was searching for gray paint recently, I came across two fairly true light gray colors, both by Valspar: Filtered Shade and Notre Dame. I ended up using Benjamin Moore's Cumulus Cloud, which may be a smokier shade of gray than you're looking for. But I would recommend either of the Valspar colors. I couldn't find a good picture of Filtered Shade, although it's my favorite of the two, but I've linked to a picture of Notre Dame below.
Here is a link that might be useful: notre dame
---
| | | |
| --- | --- | --- |
| RE: true/neutral gray paint...pls help! | | |
I used SW Tinsmith. After a LOT of looking for one to find one that didn't have undertones!
Lots more pics here, it was used as our "neutral" in the kitchen, great room and most baths.
---
| | | |
| --- | --- | --- |
| RE: true/neutral gray paint...pls help! | | |
I like the tinsmith above but i think its a bit too light for me.
I bought samples today of Coventry Gray and Cathedral Gray, the former I like but I think I see Green in it!

Ahhhhh!
---
| | | |
| --- | --- | --- |
| RE: true/neutral gray paint...pls help! | | |
kwitel we found tinsmith by getting help from a color consultant (not an interior designer- the interior designer we hired did a bad job!). She charged $75/hr and it did not take long to have her give us paint recommendations and it ended up saving us money because we had already bought, I believe, 8 paint samples prior to the discovery of tinsmith. She came to our house and she helped us pick this color and also gave us her opinion on other colors we'd already picked, which was very helpful.

If you can find someone in your area who does color consulting, I would encourage the investment since you seem to be having a very hard time w/ this. If you're anywhere near us (Wernersville PA), I can give you a name :)
---
| | | |
| --- | --- | --- |
| RE: true/neutral gray paint...pls help! | | |
beaglesdoitbetter and colorconsultantsdoitbetter too. :-D
---
| | | |
| --- | --- | --- |
| RE: true/neutral gray paint...pls help! | | |
These are "true grays" without colored undertones listed in the Benjamin Moore book "Interior Style": Silver Lake 1598; Boothbay Gray HC-165; Seattle Gray 2130-70; Mineral Ice 2132-70; Sterling 1591; Cobblestone Path 1606; Rock Gray 1615.

They have Cumulus Cloud (mentioned above) in the soft-gray family with yellow, taupe and beige notes.
---
| | | |
| --- | --- | --- |
| RE: true/neutral gray paint...pls help! | | |
Thanks Mom! ;)

Will look into those...
---
| | | |
| --- | --- | --- |
| RE: true/neutral gray paint...pls help! | | |
Samovar Silver worked for me after trying about 50 samples! The link above makes it look blue but in my room, there is no hint of blue.
---
| | | |
| --- | --- | --- |
| RE: true/neutral gray paint...pls help! | | |
gmnolen-

I like this color alot! Im going on about 30 samples so I am catching up to you...

I will def pick up a sample of this.

So far, my sample list looks like this:

Baltic Gray
Silver Lake
Boothbay Gray
Seattle Gray (altho seems a bit light)
Mineral Ice (same here too)
Sterling
Cobblestone Path
Rock Gray
Samovar Silver
Uncertain Gray.

All are BM except for the last two, which are Shermin Williams.

Hopefully I find something out of this lot!
---
| | | |
| --- | --- | --- |
| RE: true/neutral gray paint...pls help! | | |
After much searching for a true gray, I found Benjamin Moore Sidewalk Gray to be that color. Have used it inside in a lower level family room and as our outside house paint color--true gray!
---
| | | |
| --- | --- | --- |
| RE: true/neutral gray paint...pls help! | | |
Trust me I feel your pain. After 15 Samples of light gray from multiple brands and all throwing blue or blue/lavender I discovered:
- if I paint over light beige I get these off results
- if I prime/kilz first and then paint my gray I get entirely different color gray.
So prime a wall white to compare your color. Even if you are painting with the paint/primer mixed paint.
Also use samples first.
I took my gallon of light gray paint, told the paint specialist my problem and she added her own formula which looks like green was added to it and it came out gray (no blue) when painted over white. But looks like mud if painted on beige. Formula is: BL 320 , CL 258, IL 15, RL 112 in 1 gallon.
if you look at behr color book, on page 200, the color on the wall (over whie kilz2) is between color numbers 790c-3 dolphin fin and 790d-4 granite boulder. Good luck.
---
| | | |
| --- | --- | --- |
| RE: true/neutral gray paint...pls help! | | |
I just painted my all white bathroom Olympia paint Grey/Beige. When you stand outside looking into the bathroom (it is small with window in the end) it looks grey. When you are in the bathroom itself, it looks beige. Love it. So clean looking.
---
Post a Follow-Up
Please Note: Only registered members are able to post messages to this forum.
If you are a member, please log in.
If you aren't yet a member, join now!
---
Return to the Home Decorating Forum
Information about Posting
You must be logged in to post a message. Once you are logged in, a posting window will appear at the bottom of the messages. If you are not a member, please register for an account.
Please review our Rules of Play before posting.
Posting is a two-step process. Once you have composed your message, you will be taken to the preview page. You will then have a chance to review your post, make changes and upload photos.
After posting your message, you may need to refresh the forum page in order to see it.
Before posting copyrighted material, please read about Copyright and Fair Use.
We have a strict no-advertising policy!
If you would like to practice posting or uploading photos, please visit our Test forum.
If you need assistance, please Contact Us and we will be happy to help.

Learn more about in-text links on this page here