Return to the Home Decorating Forum
|
Post a Follow-Up
---
| | | |
| --- | --- | --- |
| Horrible time complementing orange-y wood | | |
Posted by
jockewing
(
My Page
) on
Sat, Dec 26, 09 at 0:22
I am so sick of trying to find the right paint color to go with my orange-y colored wood floor and furniture in my MBR. I originally wanted a muted aqua, but the only way it ever looks even close to right for me is if I go kind of dark with it, such as BM Azores, BM Stratton Blue or Ralph Lauren Blue-Green. I really don't want to go this dark, but even the green toned neutrals I try look putrid against the floor (tiger wood) and the furniture (not sure what type of wood, but strong orange tone). I previously had SW Svelte Sage in the room, which worked with the wood, but I'm tired of sage greens.

Any suggestions, please!
---
Follow-Up Postings:
| | | |
| --- | --- | --- |
| RE: Horrible time complementing orange-y wood | | |
Is the reason that you don't want to go with the darker tones because you think it will make the room look gloomy? I don't think that would be the case. Your instincts are probably correct to go with a depth of colour that actually does balance out the orangy-ness of the wood. The depth of colour will keep it from coming across as wishy washy.

As far as other suggestions have you looked at any of the gray colours? Again you would need a medium to deep value.

Good look - you'll get a lot of good suggestions here.

Deb
---
| | | |
| --- | --- | --- |
| RE: Horrible time complementing orange-y wood | | |
Have you looked at the old stand-by for pairing with orange-y wood: Restoration Hardware Silver Sage? They also now have Light Silver Sage too.

You must see the color in person the color as it appear on a monitor from their website is not how it appears IRL. Also, it really changes with the changes in lighting.
---
| | | |
| --- | --- | --- |
| RE: Horrible time complementing orange-y wood | | |
This may be a really stupid idea. I'm new around here and so most of you don't know yet that I can't see ... That being said, I've read tons about color theory, design beautiful garden containers based on color effects, and do have a fairly good memory of colors.

Here's what I'm wondering ...throw in plenty of grains of salt. I'm also just learning here.

I've read the posts so far. Basically, that you will need a blue or blue-green that can keep up with the orange. Same is true for garden containers and borders, by the way.

But here's what I'm wondering. Could you choose your favorite of the softer blue tones ...maybe your aqua ... then choose a darker cousin as your main wall color, checking, of course, that it plays well with your wood. Then play around with your softer color. Accent color? Glass bowl or vase? Fabrics that pick up the richer and softer blues? One wall in the softer color? Not sure that would work ... Can't quite picture in my head.

My main point is that you may find that your softer color is even more beautiful with a richer backdrop.

Not at all sure this is helpful.

Wellspring
---
| | | |
| --- | --- | --- |
| RE: Horrible time complementing orange-y wood | | |
The wood floors on the second floor of my house are orange-y too--very old maple, yellowed with time (I had the first floor refinished and it is MUCH easier to find paint to work with the neutral, natural maple, so I know what you are experiencing).

On the second floor, I have mostly blues and blue-greens, very pretty. However, in my son's room I used a very sunny, bright yellow. You might think it wouldn't work, but in fact staying there on the warm side of things is very pleasant. So, harmony in paint/floor/furniture, a soothing blend. Pictures, books, fabric provide contrast in smaller doses.
---
| | | |
| --- | --- | --- |
| RE: Horrible time complementing orange-y wood | | |
I can't really tell from the original post if you are trying to de-emphasize the orange tones in the floor or not.

If you Are trying to tone it down, something in the aqua family is not going to do it, it is going to intensify it, because of their relationship to each other on the color wheel. They are not direct opposites or complement, but they are close to being so.

So, are you trying to tone down the orangeness, or just trying to find a color that looks good with it? Those could be two different directions.
---
| | | |
| --- | --- | --- |
| RE: Horrible time complementing orange-y wood | | |
I am just trying to find something that looks good with the orange and feels harmonious. I have found that a blue green more to the blue side may be the answer. It goes with everything much better than the more green colors. I am seriously contemplating BM Rhine River. It looks like a sort of bright color on the chip, but due to the lighting issues in the room, I find I have to avoid the grayed down chips because it looks like a dead cold fish on the wall.
---
| | | |
| --- | --- | --- |
| RE: Horrible time complementing orange-y wood | | |
What about a nice cream color (with the correct undertones) for your walls and then bring in your blue accents in varying shades, through your accessories, bedding, area rugs.
---
| | | |
| --- | --- | --- |
| RE: Horrible time complementing orange-y wood | | |
I tried a couple of creams and I just hated the way they looked against the wood. I didn't realize when I picked this wood years ago what a mistake I was making. Never again will I get wood with orange tones! I think I may go with Rhine River. Has anyone ever used this color?
---
| | | |
| --- | --- | --- |
| RE: Horrible time complementing orange-y wood | | |
Look at some soft olive greens. We have orangey cabinets in our kitchen and green was the only color that really worked. check out SW Grasslands
---
| | | |
| --- | --- | --- |
| RE: re re Horrible time complementing orange-y wood | | |
What about Farrow and Ball, light blue. Look how lovely the orange cabinets look against the blue wall in the link below.
Here is a link that might be useful: blue wall with orange cabinets
---
| | | |
| --- | --- | --- |
| RE: Horrible time complementing orange-y wood | | |
I already had Svelte Sage, one down from Grassland. It worked, but I'm tired of sage green. Wish I had access to Farrow and Ball! That color in the pic is perfect! I may try a sample of Wedgewood Gray.
---
| | | |
| --- | --- | --- |
| RE: Horrible time complementing orange-y wood | | |
Wellspring is exactly right in her color estimation and to add to that you could use one of the new lavender grays. In my opinion that would look great. I'm a artist and very familiar with color compatibility and how one sets off another. Greens, grey or lavender would all work well if you keep them in the greyed tones of each.
---
| | | |
| --- | --- | --- |
| RE: Horrible time complementing orange-y wood | | |
I'm planning on using BM Paladian Blue in a room with pine floors that tilt orange. Actually, my plan is to use Ellen Kennon's full spectrum match for it called Oasis. It's a blue-gray-green color that gets rave reviews.
Here is a link that might be useful: Palladiun Blue
---
| | | |
| --- | --- | --- |
| RE: Horrible time complementing orange-y wood | | |
i have orangy oak trims (but beige carpet) and i used BM Gray Wisp (=Restoration Hardware Silver Sage) in my office and i think it looks fine. depending on the lighting, it can be blue, green or grayish. because it has south and east facing windows, we get quite a bit of light. I found that I like richer colors better, so if I were to choose again, I would've chosen something darker. but that's just me.

other colors i used/going to use includes BM taos taupe, BM Glacier Till, BM revere pewter, BM mountain Ridge, Pittsburgh Granite and Pittsburgh Oyster Shell. I found that i like grayed colors better, and they seem to go better with the orangy trims.
---
| | | |
| --- | --- | --- |
| RE: Horrible time complementing orange-y wood | | |
In my old house in Wisconsin I had painted the pine floor a dark orange and I used EK Mustard Seed on the bed alcove walls and white in the rest of the room.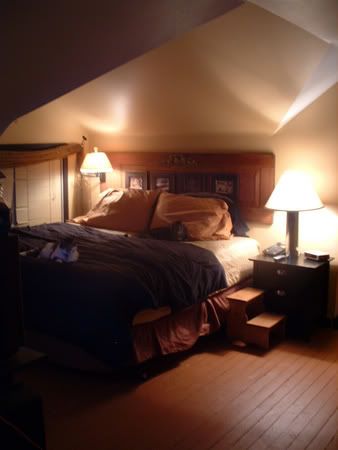 The stair area where I ripped off the carpet had orangey maple steps. The walls I painted Citron's Lantana with black trim and white walls above.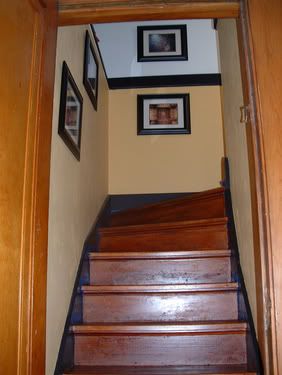 The kitchen pantry had orangey maple cabinets. I did white, black and a touch of red in there.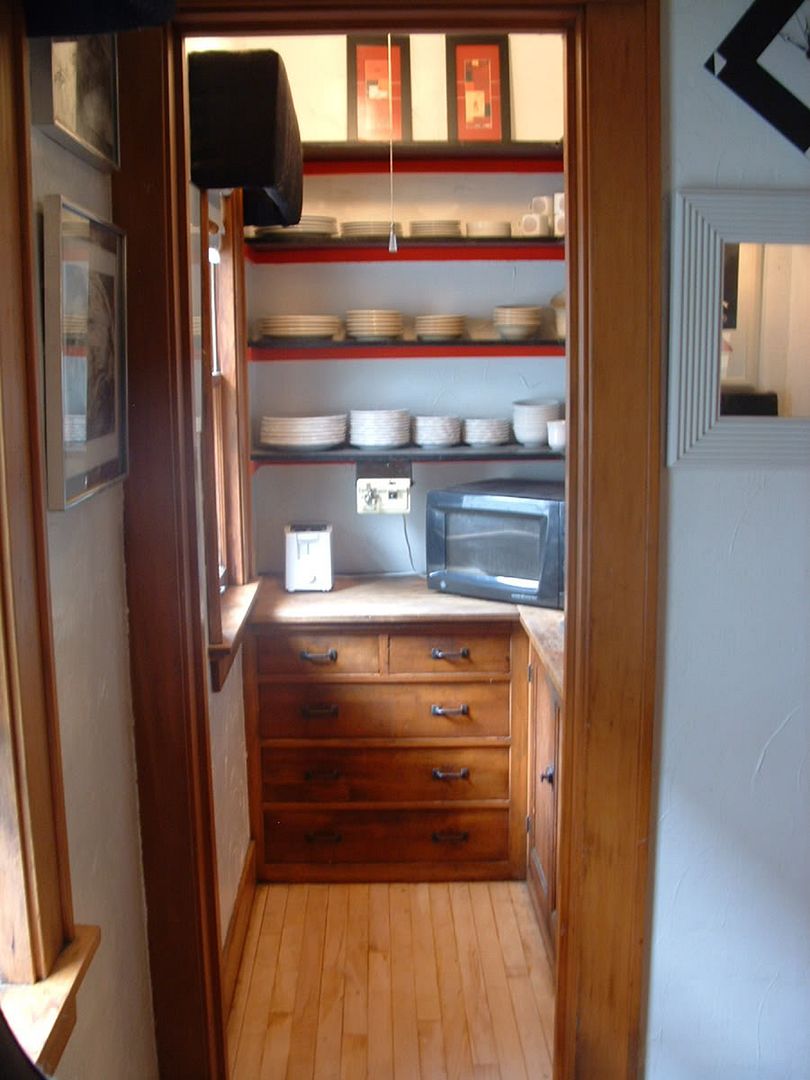 So there are some different ideas for the colors to go with orange wood.
Eileen
---
| | | |
| --- | --- | --- |
| RE: Horrible time complementing orange-y wood | | |
I was also going to suggest Palladian Blue
---
| | | |
| --- | --- | --- |
| RE: Horrible time complementing orange-y wood | | |
I hope I am not too late - you have probably painted by now or maybe you are still living with paint swatches on the walls. But we have the same problem but ours is because the whole house has orangey wood ceilings. Every paint colour I pick out reacts very strangely and it has taken an awfully long time to come up with ones that work. We also have strong S. Cal sunshine which washes some colours out too. So for the LR/kitchen what has worked is Farrow and Ball Off White - a grey/green off white - almost a pale khaki. You can order a sample off their website for $7 I believe. It looks great - changes with the light but is a great neutral. For one bedroom we have BM Azores which also looks good but it is a fairly small room so looks a bit gloomy - we are going to repaint with C2 Bella Donna which is a light greyed down lavender. I think BM must have one too and I think P&L has a nice one called Gentility. It seems to counteract all that orange. For another bedroom we have Silver Sage but I don't think it works - looks too minty and almost fluorescent; but right now I cannot be bothered to repaint it. Hope this helps!
---
Post a Follow-Up
Please Note: Only registered members are able to post messages to this forum.
If you are a member, please log in.
If you aren't yet a member, join now!
---
Return to the Home Decorating Forum
Information about Posting
You must be logged in to post a message. Once you are logged in, a posting window will appear at the bottom of the messages. If you are not a member, please register for an account.
Please review our Rules of Play before posting.
Posting is a two-step process. Once you have composed your message, you will be taken to the preview page. You will then have a chance to review your post, make changes and upload photos.
After posting your message, you may need to refresh the forum page in order to see it.
Before posting copyrighted material, please read about Copyright and Fair Use.
We have a strict no-advertising policy!
If you would like to practice posting or uploading photos, please visit our Test forum.
If you need assistance, please Contact Us and we will be happy to help.

Learn more about in-text links on this page here