Return to the Home Decorating & Design Forum
|
Post a Follow-Up
---
| | | |
| --- | --- | --- |
| What colors to avoid in North facing rooms? | | |
Posted by
Zippity-do-dah
(
My Page
) on
Thu, Nov 8, 12 at 23:23
Hi Everybody

The front rooms of our house face North and are shaded by trees. There are plenty of windows but....yet....those rooms are a bit darker than the other side of the house.

What colors should be avoided so those rooms don't become sad and dreary please?

Or

What colors do you recommend to keep these rooms welcoming and pleasant please?

Thank you - GW is such an awesome community!
---
Follow-Up Postings:
| | | |
| --- | --- | --- |
| RE: What colors to avoid in North facing rooms? | | |
Recommend: Colors with a nuance that is light and clear. Meaning choose paint colors that are clear but not vivid or bright. For example a mint green is better in a northern exposure than a grayed sage green.

You can use colors from all 12 key hue families. A popular tip is to only use colors from the warm side of the color wheel. That's simply not true. You can use colors from any of the hue families as long as you get the nuance right.

Stay away from muddy colors, toned colors, colors known as chromatic grays.

Choose light to midtone colors that are clear with a discernable masstone in order to bust through the dim quality of north light.

Or, play into that dim quality and choose darker paint colors with low or single digit LRVs. Like navy blue, charcoal, chocolate, oxblood, etc.
---
| | | |
| --- | --- | --- |
| RE: What colors to avoid in North facing rooms? | | |
Funcolors advice is right. I'm certainly not an expert at selecting colors - but I can tell you what I did wrong. My son's bedroom only has one window and it faces north and also is shaded by the garage roof. After removing 2 layers of wallpaper only to discover that the bottom Holly Hobby paper had been glued onto unpainted, unprimed drywall (argh!) I painted the room white.

I thought it would brighten the room. Nope. The white merely looked depressingly gray. He also had a gray rug. Then we let my son select his own color and he picked Ralph Lauren Hunting Coat red. It was stunning. What a gorgeous color. It was so rich that it didn't make the room look dark. But it was unforgiving - if you brushed against it you left a mark.

After he left home my DD decided to paint the room Moonshine (Lowe's Olympic) and that worked great. Forgive my description here - I know it sounds like Mrs. Blandings - but it's a warm color, creamy yellow without a hint of strong, daffodil colors. Both the rich red and soft cream worked in that room.
---
| | | |
| --- | --- | --- |
| RE: What colors to avoid in North facing rooms? | | |
First -- please consider posting photos .... so we can be more helpful! :)

Next -- think of warm cozy rooms -- lots of different lighting options (table lamps, standing lamps); artworks of all sorts and kinds -- plus lots of accessories with "texture" -- books, plants, textiles and fabrics, baskets or woven area rugs etc.

For colors ideas-- think of visual cues -- coffee with cream; hot tea; dark rich pumpkin, claret wine; warm forest green with brillant leaves; thick clotted cream and biscuits (see? - even a neutral image can be very warm and cozy! :)

Just some thoughts ... hope this helps! :)
---
| | | |
| --- | --- | --- |
| RE: What colors to avoid in North facing rooms? | | |
Omigoodness, teacats. All I can think of is a cup of tea, a lil something for a snack and a nap. I want a room that fits that description pronto!
---
| | | |
| --- | --- | --- |
| what a story | | |
marie cate - amazing how white can be challenging, sometimes more challenging, than a color/color. Hunting Coat red is one of my favorite reds ever. Mixed in Aura matte is rather awesome because it won't burnish.
---
| | | |
| --- | --- | --- |
| RE: What colors to avoid in North facing rooms? | | |
Nothing could give the feel of warmth better than a burgundy. red, wine, or a combination of any of those colors. A brown with a slightly red hue could also a warm cozy feeling. ;o)
---
| | | |
| --- | --- | --- |
| RE: What colors to avoid in North facing rooms? | | |
Does this help? Run your cursor over "explore colors"(far right)and click on "interior". A bunch of warm colors should pop up.
Here is a link that might be useful: warm colors
---
| | | |
| --- | --- | --- |
| RE: What colors to avoid in North facing rooms? | | |
We painted our north facing living room Behr's Brick Red and it is beautiful.
---
| | | |
| --- | --- | --- |
| RE: What colors to avoid in North facing rooms? | | |
We went for very saturated colors in our north-facing rooms--Sherwin Williams Underseas in the dining room (a delicious blue-green), and circa yesterday, Benjamin Moore Kingsport Gray in our living room. We like the feeling of coziness, and our bungalow seems to want rich colors/tones.

Previously, the living room was Sherwin Williams Roycroft Red, which was a fabulous changeable red. It had slight elements of brown, and terra cotta, too, so it wasn't a straight "red" (which I really dislike on walls).

Really, though, your choice will depend on what the light looks like in your rooms. My north-facing rooms have a bright, almost bluish light to them, which completely ruins any pale colors. My friend's north facing rooms have a cold, pale gray light. Completely different.
---
| | | |
| --- | --- | --- |
| RE: What colors to avoid in North facing rooms? | | |
Nancy & other pro- red people - Red! I love red....one of those dim rooms is the dining room and red would be rich & wonderful....I was avoiding it because it be dark.

Funcolors, great instruction to point me to the clearer shades....I do tend toward the muddier colors so I will remember your advice. This is the part of color selection that I was not figuring out. Was looking at Ben Moore colors today and came home with the overly muted complex greige samples.

Patty cakes - the Sherwin Williams website was tons of fun! I kept thinking to watch out for muddy colors.

Teacats - what marvelous visualizations of warming, cheery, cozy things...therefore color. There are no photos at this time. We have torn out the front of our dim dark house and it is being rebuilt. HooRay!!!!

Mairecate-you are so right.....white was a depressing dim noncolor in our living room before....made it worse! Thought it was my fault...couldn't even pick out a white that was right.

Xantippe - now that is a worry - different types of North light!

Everyone of you had colored pearls of wisdom for me. Your feedback is tremondously appreciated. Thank you.
---
| | | |
| --- | --- | --- |
| RE: What colors to avoid in North facing rooms? | | |
We have a dark master bedroom. North windows with roof overhang. We painted SW Icicle which has slight blue undertones. I love it! Makes the room look very fresh and cool - clean.

We also used SW Torque White on the hall way and kitchen. Love it. Appears like a creamy white without any yellow. Again, both these areas have little or no light.

Our biggest mistake was painting the living/dining room BM Shaker Beige. It appears like a muddy, gold/green depending on the time of day. I had used it in our previous house and loved it. But we had bright rooms which we lack now.

I am amazed at how different color looks in dark rooms. Even our furniture looks drab.

Jane
---
| | | |
| --- | --- | --- |
| RE: What colors to avoid in North facing rooms? | | |
I am having such a problem with this too. We have a north facing room but with a wall of windows. You would think that would be enough light, but everything just falls flat in there.
I thought I had settled on Ashen Green around this area, but would that be considered muddy? Why is this so hard!!
Thanks for the Torque white. I'm going to look at that. The darkness in the corners seems to make things go peach. Not what I was hoping for either.
---
| | | |
| --- | --- | --- |
| RE: What colors to avoid in North facing rooms? | | |
Do you want to hear about my "color laboratory" saga in a north facing laundry room that has one large north facing window and one glass, northeast facing door? I wanted a Swedish blue, maybe tending slightly toward the periwinkel arena paint color. I tried all the Farrow and Ball blues, some of the Ellen Kennon blues, some of the Sherwin-Williams blues. The exterior around the room was also full of tall pine and post oak trees, so a green cast fell over all colors. Then, to top it off, we have multipaned, gas-filled windows, and I've never been sure exactly how that affects interior color (Does anyone know?). Note, the cabinets in that room are white birch stained with Sherwin-Williams Jamboree jade, courtesy of DH, who got a wild hair during the build. It turns out I love them. Talk about a color that stands up to the dulling, deadening, dour effects of my northern light! And the fabrics in there are Tully stripe in Spa and Sunbrella Dupioni in Paradise, with Sapphire welting. Most blues that I tried turned out dead. Cook's Blue, which always looked perfect to me in books, magazines, samples, and so forth, turned a deadened blue-gray. That was emblematic of my experience with blues. I ended up with Farrow and Ball Blue Ground in the main part of the laundry room, Teresa's Green in the windowless mudroom/hall, and Pale Powder on the entire ceiling. The Pale Powder looks like a light gray, except immediately next to the windows, where it occasionally takes on a faintly turquoise cast. Very pretty, but not often apparent. I enter that room first thing in the morning to get my dogs dressed for walkies, and it's immediately inspiring--like diving into a pool. It glows. I love being in that room, even though it is unlike anything else in the house. The "take home lesson" of my experimentation was embrace the green, don't fight it. Use blues that are warm, not grayed. Use clear colors, not muted. I veer towards Farrow and Ball because it does not give me a headache and I enjoy the texture and chalky look of it. The only wall that has another brand on it is a small wall above the boot bench: Ellen Kennon Giverny Blue. This gets a bit of a harsh edge on it in the afternoon, but it's very nice paint and I am leaving it there for the time being. I am in Central Texas where there has been a killer drought and a prohibition against watering, until recently. During the worst of it, we lost many trees. Heartbreaking. We lost the ones outside the laundry room, and all the walls changed dramatically! The colors became clearer and brighter. The ceiling still reminds me of a Caribbean sky at the start of a gathering storm, though, trees or no trees. Are you bored yet?
---
| | | |
| --- | --- | --- |
| RE: What colors to avoid in North facing rooms? | | |
Bored? Funny, very funny. This *is* the Garden Web after all. I read it twice. ;)
---
| | | |
| --- | --- | --- |
| RE: What colors to avoid in North facing rooms? | | |
kitchendetective, I would love to see some pictures. Pretty please? :)

This whole discussion is very interesting to me: Our kitchen has north and east-facing windows and therefore presents a big big challenge. The colors of fixed things, i.e., cabinets, floor, a stone wall, beams, all courtesy of previous owners, and north and east light have made it so difficult to think about the walls and trim that need painting. I'm hoping to learn something here!
---
| | | |
| --- | --- | --- |
| RE: What colors to avoid in North facing rooms? | | |
I live in a north facing condo. Before I moved in I painted over the neutral beige (it was everywhere and made the space lifeless) with a soft green and pale blue (not a grey blue). Better but wasn't working so after a little reno I changed up the colour blocking (I blew it the first time and stopped my two colours on outside corners). Now the blue in the foyer runs into the living area and I changed the wall around the kitchen that was blue in the foyer and pale green in the living area to white. Boom - so much better. Colour blocking\placement and contrast can make a difference.

Red and beige are from the bedroom and ND002 didn't pan out:
---
| | | |
| --- | --- | --- |
| RE: What colors to avoid in North facing rooms? | | |
I've lost most of my photo files, but this is a pretty good version of how the Pale Powder ceiling looks against the Blue Ground walls and the Jamboree Jade cabinets. This is the wall across from the North-facing window, during the day, with iPhone flash, but no other artificial light.
This shows Giverny Blue meeting Teresa's Green and the Pale Powder ceiling. I do not know why it rotated.

This is what you can do with all your left over sample pots: paint a faux backsplash for the cat landing pad. ;<) The backgound is Teresa's Green, but it faded out under the flash.

(Cabbage White, Off Black, EK Cornflower, Drawing Room Blue, Folly Green, Arsenic, Pitch Blue, and Cook's Blue. LOL.)
---
| | | |
| --- | --- | --- |
| RE: What colors to avoid in North facing rooms? | | |
kitchendetective, your photos didn't come through. Would love to see them. Try again,

Jane
---
| | | |
| --- | --- | --- |
| RE: What colors to avoid in North facing rooms? | | |
This was a terrific thread - learned so much here from everyone.

Thank you
---
| | | |
| --- | --- | --- |
| RE: What colors to avoid in North facing rooms? | | |
My kitchen and living area are both north facing. I painted my kitchen a deep peacock blue and my living a clear gray. However, I feel the gray works very nicely because nearly all of my furniture and accessories are very warm. I live in a very hot and humid climate, so I've used warm paints sparingly.

Here are some pics. Hopefully this gives you an idea of a direction for your room...either toward or away!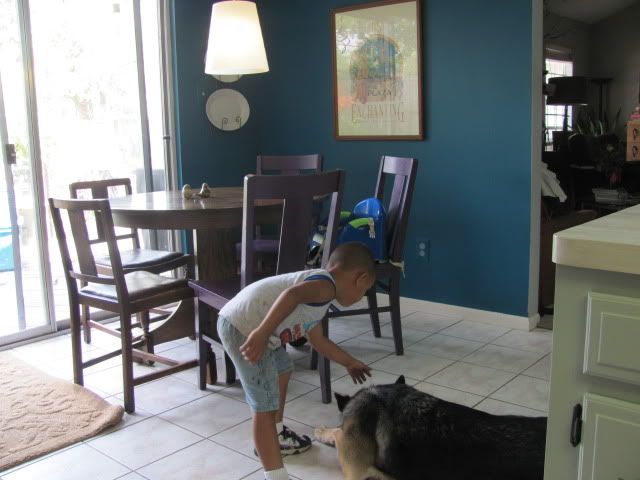 ---
Post a Follow-Up
Please Note: Only registered members are able to post messages to this forum.
If you are a member, please log in.
If you aren't yet a member, join now!
---
Return to the Home Decorating & Design Forum
Information about Posting
You must be logged in to post a message. Once you are logged in, a posting window will appear at the bottom of the messages. If you are not a member, please register for an account.
Please review our Rules of Play before posting.
Posting is a two-step process. Once you have composed your message, you will be taken to the preview page. You will then have a chance to review your post, make changes and upload photos.
After posting your message, you may need to refresh the forum page in order to see it.
Before posting copyrighted material, please read about Copyright and Fair Use.
We have a strict no-advertising policy!
If you would like to practice posting or uploading photos, please visit our Test forum.
If you need assistance, please Contact Us and we will be happy to help.

Learn more about in-text links on this page here