Return to the Home Decorating Forum
|
Post a Follow-Up
---
| | | |
| --- | --- | --- |
| Decorating a 1920's home | | |
Posted by
amber_89
(
My Page
) on
Sat, Nov 27, 10 at 20:34
Me and my boyfriend just moved into a 1920's home and I would like to decorate it to that time period. Any information on decorating styles that where popular during that time would be greatly appreciated.
Right now the house is pretty much empty as the only furniture we had to bring was our bed and two old dressers(old but not in a good way). So we will also be trying to buy furniture from that time period too. Luckily there are a ton of antique stores near where we live.
I've been trying to look online for information on decor from the 1920's and 30's but haven't had much luck on finding any information.
Here are some picture of our home, the pictures where the house is already decorated are pictures from the previous owner who was an interior decorator. And while she had the house decorated beautifully I really don't want to style the house the same as she had it.

http://s1081.photobucket.com/albums/j341/ambersandsean/house/?mediafilter=images
---
Follow-Up Postings:
| | | |
| --- | --- | --- |
| RE: Decorating a 1920's home | | |
I LOVE it....what a gorgeous home - good for you!!! I am not an "expert" at decorating at all but I would like to be the first to "beg" you NOT to paint any of that gorgeous woodwork, molding, or trim. You have quite a "gift" on the inside of that home with that all that breath-taking wood work. You own a wonderful piece of history!

I also noticed that for a home with so many large windows, each room does seem a little dark. I would start with light paint, and go from there. Don't impulse buy furniture, take your time to get to know the home and all the lovely nooks and crannies!

The wood in my 1928 home was unfortunately painted over and over again through the years and then eventually de-leaded. I envy you and your new home - it is truly lovely!
---
| | | |
| --- | --- | --- |
| RE: Decorating a 1920's home | | |
Now that's what I call a foyer.

Why do you think the home is 1920s? It looks more like late 1800s to me.

Hopefully magnaverde will chime in with thoughts on decorating.
---
| | | |
| --- | --- | --- |
| RE: Decorating a 1920's home | | |
wow, what a beautiful house! Congrats! I love all the woodwork. Maybe you can find some old publications from that time period, which would have pictures of how people lived? Or maybe you could talk to some people at the antique stores? I am sure they could help to point you in the right direction.
---
| | | |
| --- | --- | --- |
| RE: Decorating a 1920's home | | |
You purchased a real gem! My hubby and I just purchased our first house a little over a year ago. We got a 1920's (well technically, 19teens) bungalow. It needs more work than your house so I am jealous lol. Anyway, I'm a fan of cottage style like you see in BHG but we wanted something that went with the age of our house. Arts and Crafts it is! I think that work really well for your home as well, as you have great woodwork. Search for either Arts and Crafts, Mission, or Craftsman style. Also, I've found books to be more helpful than the internet for whatever reason. Hope this helps! Congrats on the house.
---
| | | |
| --- | --- | --- |
| RE: Decorating a 1920's home | | |
I have to agree with bungalow house about the age. When I first saw your house because of the shape of the living room and the exterior I thought 1890's and Victorian. Maybe goldust or Oakleaf can shed some light I think one of them has a Victorian, as do I. I would bet the farm your house is a Victorian and much older than you thought.

At any rate, it's a beautiful house.
---
| | | |
| --- | --- | --- |
| RE: Decorating a 1920's home | | |
traceee,
I would never dream of painting over any of the wood work... there are a few places where the old owner has and it makes me so mad every time I see it. I plan on repainting a couple of rooms but I think the main reason it looks dark is a lot of the rooms don't have any lighting at the time. The old owner took some of the lighting with her when she moved out.

bungalow_house,
I've read information on the house that said it was built in 1921, but in closing we were given more information on the property that supposedly dates to the the 1800's, though I haven't looked through it yet. Maybe it will state the age of the house differently when we read though the new information we've received which is supposed to go through the properties entire history.

makeithome, gastroc
sounds like I'm going to have to take a trip to a library to see if I can find more information... was hoping google would have been more helpful lol
---
| | | |
| --- | --- | --- |
| 2RE: Decorating a 1920's home | | |
If it helps, I have been told that the "Year Built" date in our town records are often inaccurate. When the information was not known, someone would just guess and fill in a year. So don't take that stuff too literally unless you have some sort of dated documentation like a city directory or deed or tax records or something.

I have a 1920s house and I can tell you that despite a pretty meticulous restoration to the house itself, I have stayed away from keeping furniture or decor that is specifically 1920s in the house. I think a total 1920s look that functions in 2010 would be a challenge for us Average Joes to pull off. I do have a heavy concentration of "vintage" stuff from the first half of the 20th century, but also some relatively new things in a traditional style. I think (hope) it all gels into something that looks harmonious with the old architecture without being too fussy. It also helps to camouflage the modern electronic stuff that can't be avoided.

palimpsest, where are you? You can speak well to this too.
---
| | | |
| --- | --- | --- |
| RE: Decorating a 1920's home | | |
Oh, and do you happen to be in Buffalo? That's where I've seen those big, beautiful Victorians with fireplaced, dripping-in-oak foyers.
---
| | | |
| --- | --- | --- |
| RE: Decorating a 1920's home | | |
bungalow_house,
Nope I'm in Iowa :)
---
| | | |
| --- | --- | --- |
| RE: Decorating a 1920's home | | |
Hi Amber_89. Welcome to our boards.

I'm with the rest of the regulars: your house looks a lot older than the 192Os. Like they said, small town record-keeping is often unreliable. At any rate, whether it's 1921 or 1891, it's a very handsome house. Congratulations.

Since your date probably isn't the 192Os after all, do you still want to go with that era as you decorate, maybe because you happen to like the styles of that time? Or were you just trying to reflect the period that you were led to belive your house was built--and so may need to back up a little bit to follow through with the same idea? Or do you just want to have a more historic feel in general--as opposed to a more contemporary look--even if it's not tied to any specific decade? Whatever the direction you want to go in, we can help.

In the meantime, I will say this: this is an excellent good time to find antiques at low prices, and the Midwest is always a great place to find them, whatever the the economy is doing. Yard sales & estate sales are the place to go, and that's the voice of experience speaking.

Like somebody said above, it would have been a shame to paint the handsome oak woodwork that I see, but in a lot of houses of this age, the only really nice wood is in the public rooms--just where I see it in yours. I say that because sometimes, people spend a lot of time stripping off layers of old paint off the trim in bathrooms & kitchens, only to discover, after all their hard work, that there was a reason the wood was painted: it's ugly, often with erratic grain, and sometimes it's nothing but a mashup of a bunch of mismatched woods--some of it barely better than scrap--all of whose differences were covered up with a coat of white paint. Right from the start.

Here's the thing: everybody knows about the Great Depression of the 193Os, but there was another severe depression in the mid 1890s--read up on the Panic of 1893--at which point a lot of building stopped dead, and the projects that went forward were often much simpler than they had been just a few years before. In houses, that meant that the handsome carved oak & cherry woodwork that had been fashionable for a few deacdes was simply too expensive for a lot of people to use anymore, so they went for less carving & cheaper woods than they had in the boom years of the 1880s. They had no choice. Sound familar?

In the meantime, however, the all-white classic-style buildings at the 1893 Worlds' Fair in Chicago (which were floodlit at night) brought white paint zooming back into popularity after a long period of rich reds & lavenders & purples in the 1850s & 1860s and dull browns & olives & rusts in the 1870s & 1880s, so in the 1890s, white-painted woodwork was seen as a fashionable choice, not a budgetary necessity. Nice timing.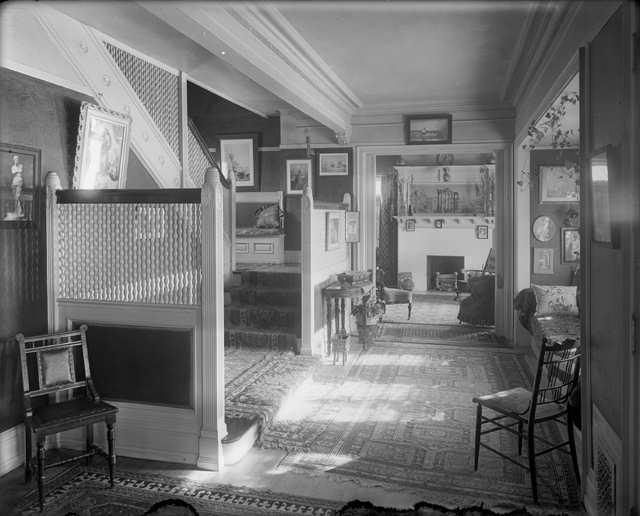 Anyway, there are lots of historically appropriate ways to approach the decorating of your new old house, which means that among them all, there's sure to be one that complements your own personal tastes. You've certainly got good raw material to work with.
Regards,
Magnaverde.
---
| | | |
| --- | --- | --- |
| RE: Decorating a 1920's home | | |
That is definitely a Victorian, probably 1890's. More of a late period Victorian, transitioning away from Queen Anne.

There are many homes in Cleveland that are very similar to this home. My realtor actually had a home very similar to this with very similar interior. There are many clues on the outside and inside that indicate that you live in a Victorian.

We live in a late-period Victorian (c. 1910) which is quite a bit simpler. The one room that I've kept in an "old" style is the Parlor. It is a formal living room for us and we are attempting to decorate it as a formal parlor would have been in 1910.

Maybe you can do something similar. Take one room (maybe the parlor), do it totally Victorian, and for the rest of the house, do it as you see fit, whether modern, contemporary, etc.

There are many places you can find inspiration for an authentic Victorian Parlor.
---
| | | |
| --- | --- | --- |
| RE: Decorating a 1920's home | | |
magnaverde, krycek1984
Thanks for the response,... In general I would just like the house to have an historic feel to it. I obviously decided the 1920's because that's when the house was built, and ideally I would like to keep the house looking similar to how you would imagine the original owner to have had it.
I'm pretty sure the house was built in 1921 as that is whats posted on our towns historical site, they even have a bit of information on the man who built it. From what I've gathered the house was just built in an older style because it was built in an area with other older historical houses and the man who built the house kept that in mind when building the house.
But the problem is it seems I can't find any information on 1920's style, at least as far as homes go... my only other real inspiration has been from a movie actually. I love the look of the decor in the movie "Meet Me in St. Louis" which I believe was supposed to take place in 1903. So I think I might try to find more images of houses in that time period. I was afraid before that decorating my house in that fashion would look too old, but it seems my house looks older than it is, which is fine by me :)
I was actually kind of upset that almost all the doors in my house and some of the trim are painted white... but now that you mentioned that was in style I've been looking at picture from the movie "Meet Me in St. Louis" and noticing all the painted white woodwork. Which makes me feel a little better about it being in my house. I always looked at the white paint as being something that would never have been done in the past and that totally took away from the house. It's nice to know that it is something that could have been a character of the home originally.
I really dislike modern looking homes and plan to totally go all out on making our home look old. Some people might find that inconvenient but for me and my boyfriend it makes sense. I plan on having all of our tv's and such hidden away. The only modern room in the house will be the kitchen which doesn't bother me since it's not a room I use a lot anyway.
But because I want the whole house to look a certain way I need as many references as I can get. Any help is appreciated.
---
| | | |
| --- | --- | --- |
| RE: Decorating a 1920's home | | |
It is gorgeous! I join the others in saying it is more Victorian than anything else. But don't forget that the best way to create a old home atmosphere is to allow for a kind of fusion. Rarely did middle class people buy sets of furniture for the whole house. They had a few older, out of style pieces that were from their grandparants era mixed with the "modern" stuff that was popular at whatever time the owners lived. That's why the word eclectic was invented. ;-) There are also forums on the web strictly for older homes, much of it is more for maintenance information rather than decor, but they make for good company. Google using words like: web, old, home, house, forum to find them.

My sister has an extensive historical decor album that has tons of scanned photos. I put the link below. Have fun!
Here is a link that might be useful: Grazhe's Album
---
| | | |
| --- | --- | --- |
| RE: Decorating a 1920's home | | |
dainaadele,
Thanks for the link, it's defiantly a big help! :)
---
| | | |
| --- | --- | --- |
| RE: Decorating a 1920's home | | |
Do check out your local -- and area -- Craigs List. There are a TON of older furniture on the one in our area -- and there might be on yours too!

Also go online and check out any local auction companies websites -- and see if they do sales in your area.

And yes!!! please go for a comfortable, mixed look that brings in the era that you are looking for -- but does not create a "museum"

Along the way -- don't forget to investigate party styles of "Roaring Twenties" with lawn parties, cocktail parties and masquerade balls! A couple of those kinds of parties will really set the tone of your house! How about a lawn party (picnic) with a dashed good croquet match? Or a badminton match? Check out some of the food/drink styles too!

Don't forget to check out vintage art of all kinds on art.com for ideas on colors and styles.

Check Amazon for decor books too! :)

Congratulations on your wonderful home! Hope you keep posting here at Gardenweb HD!!!

And don't forget to name your house too!!! :)

Jan at Rosemary Cottage
---
| | | |
| --- | --- | --- |
| RE: Decorating a 1920's home | | |
I am also in Iowa....about 30 miles from Des Moines....are you near by?
---
| | | |
| --- | --- | --- |
| RE: 2 Decorating a 1920's home | | |
| | | |
| --- | --- | --- |
| RE: Decorating a 1920's home | | |
What a wonderful house!

I can echo Magnaverde on woodwork. I had a 1907 home that had great woodwork in the public spaces, but the rest was painted from the beginning. I know because I stripped every last board. The hall and bedrooms were pine; the kitchen was fir. None of it was suitable for staining.

In a home before that, extensive research proved that it was built 10 years before the title search or local property records indicated. Even if yours was built to look older to fit into the neighborhood, I'd probably take somewhere around 1890 to 1910 as the starting point and think in term of what would be in the house if it had been passed down to me through family living in the same house. That could result in a combination of wonderful old antiques mixed with furniture that's comfortable for today.
---
| | | |
| --- | --- | --- |
| RE: Decorating a 1920's home | | |
| | | |
| --- | --- | --- |
| RE: Decorating a 1920's home | | |
The Meet Me in St. Louis house was multi-generational, meaning that there were things from 100 years before as well as newly purchased things. I'm a big fan of Edith Wharton's The Decoration of Houses, which is probably at your local library.
Here is a link that might be useful: The Decoration of Houses wiki
---
| | | |
| --- | --- | --- |
| RE: Decorating a 1920's home | | |
I agree that you may want to not lock in one time period but go vintage for sure. True older homes were passed down in families and accumulated pieces and evolved over the years.
I'd go for a look from the 1920s and earlier. If the house was built to look like a Victorian, I'd stick with that vision, but also put some updated stuff in it (by updated, I mean pre-MCM).

First off, I don't know what the previous owner was thinking when she put those stripes with the patterned carpet. I find that to be a bad mix. I'd lose the stripes asap.

I am also not thrilled with her 2 blues (wall and window treatment) with the red rug.

You really have a marvelous house and I think it will look way better when you decorate it more tastefully than the p.o.. It may take you a while to get it to how you want it, but in decorating, the journey is where the fun is.

Definitely hit CL and yard sales and pick up interesting furniture and decor as you stumble on it. I think the Rejuventaion catalog can be a great place to get some inspiration.
I also love checking out architectural salvage paces and seeing all the many styles from bygone eras.
Try: http://www.ogtstore.com/ (Olde Good Things) for some fun browsing. I ordered some fireplace tile from them and they did a great job of packing and shipping and were quite nice to talk to on the phone.
I also like http://www.recyclingthepast.com/ but they seem a little pricier and I don't have any first hand experience with them other than haunting their website. You may find local places near you too. The habitat for Humanity Restores sometimes have older doors, mantels, etc... and are a great place for looking for reasonable house materials while also doing some good.

As for the kitchen, while it may not be a priority for you, check out the kitchen forum here and see the many beautiful vintage kitchens. You can go updated and still keep an old time feel in many different ways.

I envy you having such a nice house to furnish. It is really quite a gem!
---
| | | |
| --- | --- | --- |
| RE: Decorating a 1920's home | | |
Argh...long post lost...here I go again.

Darling...your home is fabulous...and definately, without a doubt, NOT a 1920's home. It's 1890's "Modern" queen anne. I know this because I live in one too :oP Ok and because I have studied them to death since moving into ours a year ago.

Often town records are changed because of various reasons, but that also affects the historical society because many small ones go by town records. IN one town there are several 1700's homes dated 1940 because that is when the town hall burnt down and they lost the records. Think about it...would you build a 1980's townhouse just because there were a bunch of 1980's homes in your neighborhood? Literally tossing away money because 1980's homes are terribly outdated (30 years ago). No one would build a 1890's home in 1920. There was no historical value to doing so because victorians were horribly outmoded and unwanted. The oak floors and stairs, and those horribly outdated balisters! Horrifically carved stuff...yuck, you could have big huge squares instead (I love the 20's by the way but this is how a bungalow is compared to a victorian). That spandril alone clearly dates your home. I doubt you could buy one like that in 1920. Horrifically fussy crap at the time. Never never never. I'd bet my home against yours that if you live in the house a year and do some research your date will be around 1890.

So my first advice is to not buy into the 1920's art deco (that's what you should google for that period by the way) time period. Start with Eastlake and Art Nouveau which are more appropriate to your home. But, do consider what you have read above, that a home of your style evolved over time. Our victorian included many pieces that belonged to the original owner, many of which date to much earlier. We also have newer pieces that were his...he lived 80 plus years and styles changed :)

I do not like fussy victorian, so gradually we will replace anything with a flower on it :oP Going more to the Eastlake style. But we also have a modern bronze nude in the smoking parlor that looks great because a true victorian home should evolve or the decor feels uncomfortably museaum like.

I'll post a link to our home's photobucket account...which my dear...is a mess LOL We purchased the house as a bed and breakfast with all contents so most of the pictures of the house you see in our photobucket are not how it appears now a year later (time to update). Don't look at lighting...that stuff changes, but look at brasses (your hinges, door pieces etc) trim work and style etc. Compare our staircase to yours...and do consider that ours would ordinarily be oak like yours but our homeowner was in shipping so he used exoctic woods you don't see in homes in the pacific northwest as much. Your stairway done in 1920 would be much simpler, much darker (darker than ours) and would likely include many more built ins (they hey day for built ins). Look at the bay window on our home...the porch....compare it to yours :) Your home may not be a carbon copy of mine, but if you just look to the style issues of the molding and things...you'll see you are not looking at a 1920's home. Honestly you're not!

I am an old house snob :) And I LOVE LOVE LOVE to read you don't want to paint your wood. I love to read you want to decorate with a nod (ok a firm head turn LOL) to the period of your home. Honestly that type of chatter makes me swoon with joy for your beautiful home. But my first bit of advice would be...buy what you love, not necessarily what was manufactured exactly when the home was built :) My home is a registered home so I am trying to imitate the feel appropriate to the house when it was built (at least in the main rooms) but still, with some older and newer pieces. All of our lighting needs to change, blah blah blah (welcome to old house hell LOL). As I purchase with that nod...I also consider that a small child, three cats and a dog live here with us, so the museaum look wouldn't fly well heh heh

I almost envy you starting with a blank slate because we had to weed out a bunch of crap in ours (which you won't see in the pictures). That horrific red carpet...yuck (ok you have purple but it's not as bad LOL)

You might consider trying to find a book called Pallisers American Cottage Homes which is available as a PDF online to download. I know you don't think your home is cottage, but "cottage" was used differently in the time your home was built. Look at the details in the homes just as you do in mine...you'll see why I say 1890 or so :) Ohhh your porch...ya never would have been done in 1920 by the way!

Another great source you should visit is the oldhouseweb .com forums (last tab on the right) which is an old home forum full of nuts like me :oP (Ok that scared you away). Post a pic of your home, or the link and ask about the date discrepency and you'll hear many stories like your home, where it's sworn to be x date but is really not.

I hope you don't take my firm stance on your house as a negative because it is in no way intended to be so. I adore your home...I have to, it's so similar to mine LOL I'm excited that you've joined the forum and hope you will continue to visit because it will be fun to see that gorgeous space evolve (tell me the stripes with the flowered carpet will go away????? The flowers are appropriate to the house but the stripes....e gads). Umm I was sidetracked....Anyhoo, I love your house! And can't wait to see what you do with it. I'm glad you are showing it great respect from the get go....ie not painting those gorgeous woods, and please...don't remove the windows if they are original!!!! There are better options!

I could go on....lol go post in the oldhouseweb cuz you'll find a million people who are just as effusive in their love for your gorgeous new old home! But don't quit posting here!!!!
Here is a link that might be useful: My
---
| | | |
| --- | --- | --- |
| RE: Decorating a 1920's home | | |
It l.ooks like the popular "American 4-Square" plan.

There are some websites with advertising pictures from the 1920s. Those would be idealized "modern" homes. Most homes had furniture from parents and grandparents, a mix of Victorian through art deco.

http://www.antiquehomestyle.com/index.htm

Also look at movies from that era.
---
| | | |
| --- | --- | --- |
| RE: Decorating a 1920's home | | |
lindac,
I'm in Dubuque

dianalo,
I know some of the rooms definitely need some TLC, luckily most of the rooms that need it are spare bedrooms.. So I can take my time on those :) Also I think the room with the strips looks a lot better in person.. it does look a little overwhelming on camera lol

igloochic,
Thanks for all the great information! I can't wait to check out your photos :) I definitely wouldn't mind finding out the house is older then we've been told it is but I just find it hard to believe since we live in such a well documented historical city. I have an abstract for the house that dates to the 1850's but the person who built the house didn't even buy the land til 1916. So the house may be a bit older then thought but it would only be by a couple of years. Also the house has been in the cities old home tour a couple of times and so they have some information on the house on the cities old homes website that also says that the house was built in 1921. I'll post a link to that information, just scroll down to the house 440 loras the information is under the houses picture.

http://www.dbqohe.org/tours/2010-tour-preview.cfm#440-loras
---
| | | |
| --- | --- | --- |
| RE: Decorating a 1920's home | | |
It is quite possible that the house's builder deliberately copied older styles - perhaps the dream home of his early married life. He may have been carrying the plans around for a couple of decades.

And it's a blend of Queen Anne and American Foursquare ... both styles that refused to roll over and die.
---
| | | |
| --- | --- | --- |
| RE: Decorating a 1920's home | | |
Wow. Just wow. Thanks amber for posting that link. In the sketch there I can see the 4-square part that is not evident in the angle of the exterior photograph. So I went back looking for any other clues and I do see now that the windows are 1-over-1, not Victorian (and they appear to be the originals?), but that's the ONLY thing I could find. It's hard to believe someone could find 30-year-old materials (or have them produced). I guess that illustrates the difference in the building/real estate business today vs. then: as igloo said, no way could someone go build a 1980-style house today, even if they wanted to.

You have quite a unique house there!

(And sorry to turn this thread into a discussion of the house instead of decor, which you were really asking about!)
---
| | | |
| --- | --- | --- |
| RE: Decorating a 1920's home | | |
bungalow_house,
Yeah those are the original windows... lol And no need to be sorry, I've still gotten plenty of links to pictures that will defiantly inspire me while trying to decorate my new home. Besides it's kind of nice knowing that my house could almost pass for an older home (:
---
| | | |
| --- | --- | --- |
| RE: Decorating a 1920's home | | |
Our county records were not at all reliable. We found the most reliable records were at the local water district. They told us when the water was turned on and all the owners of the house. If your house really was built in the 1920's this should work to establish a real date. At our library we found the address books for the town, which had (by year) the names, addresses and occupations of the houses. This helped us pinpoint the age of the house because the house didn't exist in the 1904 book, but did in the 1914 book. The books in between were missing. The water records stated that the water was turned on in 1908. It is fun to learn about this stuff! Check it out.
Diane
---
| | | |
| --- | --- | --- |
| RE: Decorating a 1920's home | | |
This image comes from a great blog by a couple--online friends of mine--about the restoration of their house in small-town Tennessee. Its style is only about ten years older than your house, although the actual period between construction of the two may turn out to be longer. These two are amazing and they will inspire you.
---
| | | |
| --- | --- | --- |
| RE: Decorating a 1920's home | | |
Pecan place is for sale mag....tempting isn't it? It's a gorgeous home.

I still don't believe the date lol, the most I will give you is turn of the century. I'm so freaking curious I just might try investigating heh heh. Fire maps are a great place to track structures...

But no matter what....it's a lovely home!!!!! But I still don't love the stripes lol
---
| | | |
| --- | --- | --- |
| RE: Decorating a 1920's home | | |
Oh Amber, I just wanted to say what a lovely, lovely house. That staircase is beautiful. I'll look forward to seeing pictures as you make your house a home.
---
| | | |
| --- | --- | --- |
| RE: Decorating a 1920's home | | |
Greetings from the lush Pacific NW, Seattle, Washington!
Congratulations on your darling new home. What a find!!!

I too, tend to agree this is a late Victorian, rather than an Edwardian or even later, a 1920's residence. This is not a four-square as they appear here in Seattle. Architecturally, the four-square has perfect symetry, which the subject home does not. It features a "turret" sort of structure which then offers lovely bay window sort of enclave. To be envied indeed!

The give-away as to the style of architecture additionally, is the fireplace. Many of the 1920's homes have that traditional "Tudor" or pointy-topped fireplace surround. Some even have niches for objects of art. The subject home has far more fussy details than the stripped down Arts & Crafts style, favored in the early 1900's.

Yes, I too would go hunting for Victorian furniture in rich mahogany. Even Eastlake furniture would be great. Personally, 1920's style furniture (which I have in a portion of my own home) tends to be very straight-lined. One sees the beginnings of the Art Deco Age. My display cabinet has sloped outward angles and has a lovely wood panel/fret work sort of thing as the door. Compared to Victorian, the wood of the 20's furniture I have found to be lighter in tone, often fruit wood too, compared to mahogany.

In my spare time, I am a historical costumer here in Seattle. My husband (Sir Harry of Essex) and I have appeared in historical documentaries filmed here as well. If you are a Facebook fan, feel free to find me as: Lady Victoria Seattle. I also moderate on FB and on the Yahoo Groups: Victorian Revival which discuss furnishings, table settings, Victorian-inspired lifestyle, etc. Great fun for those of us kinda "stuck back there", unwilling to wear 21st century clothing all the time! (wink)

Please post photos of your efforts in decorating! I'm sure all of us out here would love to see your lastest "find" from garage sale or thrift store. Also feel free to post images to the Victorian Revival site as I can assure you folks will love to see photos there too.

Wishing you much joy, health, prosperity, and time to enjoy all three in your new home.... Lady Victoria of Essex
Here is a link that might be useful: Facebook: Victorian Revival
---
Post a Follow-Up
Please Note: Only registered members are able to post messages to this forum.
If you are a member, please log in.
If you aren't yet a member, join now!
---
Return to the Home Decorating Forum
Information about Posting
You must be logged in to post a message. Once you are logged in, a posting window will appear at the bottom of the messages. If you are not a member, please register for an account.
Please review our Rules of Play before posting.
Posting is a two-step process. Once you have composed your message, you will be taken to the preview page. You will then have a chance to review your post, make changes and upload photos.
After posting your message, you may need to refresh the forum page in order to see it.
Before posting copyrighted material, please read about Copyright and Fair Use.
We have a strict no-advertising policy!
If you would like to practice posting or uploading photos, please visit our Test forum.
If you need assistance, please Contact Us and we will be happy to help.

Learn more about in-text links on this page here