Return to the Home Decorating & Design Forum
|
Post a Follow-Up
---
| | | |
| --- | --- | --- |
| Can I change paint and leave all the rest? Going neutral | | |
Posted by
boopadaboo
(
My Page
) on
Sun, Nov 11, 12 at 20:31
I can't tell if I am getting older, I am taken with current trends, or what I hope is the real answer, my dark rooms are getting to me.

In any case, I have this strong urge to purge color in the main part of my small house. I don't want to go monochromatic and I still love my orange and blue rugs, curtains and accents. So I am wondering.... Can I change the walls which are banged up and need redoing already and leave everything else?

I have been trying to find inspiration pics and I think I found a few, although I know my rooms are no where near as lovely. I still long for the days when i can trade my brown leather furniture for velvet without worrying about toddlers or cats puking or spilling on it :)

My rooms:

I can't seem to find a more recent pic - this room actually has an orange rug in it now.
thehallway is also the same blue
The DR is orange. Not sure if I would repaint that too...
again an old pic - I can't seem to find a more current one with the rug in it..
and here are some of the inspiration pics I have found.
What do you think?
---
Follow-Up Postings:
| | | |
| --- | --- | --- |
| RE: Can I change paint and leave all the rest? Going neutral | | |
Boop, all your inspiration pics have white trim. Painting your trim will be the only way to get that look. Very little wood in those inspiration pics. Your inspiration pics also all have very high ceilings.

Your kitchen isn't going to look light/airy unless you paint the cabinets and get new appliances.

You could probably paint all your walls off-white or cream, which would lighten things up a bit but everything would still be framed in dark stained wood and your kitchen won't change much.
---
| | | |
| --- | --- | --- |
| RE: Can I change paint and leave all the rest? Going neutral | | |
I second what Chispa said, and would add that you can start out by decluttering as there seems to be a lot going on, and decluttering will make it feel lighter...so eliminate the baskets in the kitchen, get rid of the little rugs by the stairs, etc.
---
| | | |
| --- | --- | --- |
| RE: Can I change paint and leave all the rest? Going neutral | | |
I agree with the others, in general.

The kitchen is very dark and could be painted to lighten up that space. At the least, I agree the baskets should go. I think they're cute, but they help to make the space feel full/small/cramped/dark.

Your inspiration rooms also all have large windows with lots of natural light. With all the dark wood, which is lovely, I would paint the walls ALL a light color... something that reflects light well. To me, it would make the spaces mellow out somewhat and feel more calming. The orange is not calming, but I am not a fan of bold colors.

I do think with the right light paint, you could get away with your darker drapes.
---
| | | |
| --- | --- | --- |
| RE: Can I change paint and leave all the rest? Going neutral | | |
My first thought is to remove the baskets and rug in the kitchen and maybe paint the wall from the bottom of the uper cabs above white or cream to lighten that area up changing out your applicances would do a huge amount to lighten up that room. With young kids I totally understand not wanting to spend that kind of dollars though. I love your dark wood trim and floors but they are clashing with all the really dark heavily patterned curtains. Maybe take them down in everyroom but the dinning room and put up a solid cream colored curtains . You could take them back if you decide you don,t like the look, but I think just changing out the curtains would really lighten up the rooms. You can always return them if you don,t like the look but its amazing how much more natural light a lighter colored curtain will let into a room over the same fabric in a much darker color.
---
| | | |
| --- | --- | --- |
| RE: Can I change paint and leave all the rest? Going neutral | | |
I clicked on your pic and it took me to your album in photobucket. There are some pics there of your dining room (I think it's the same dining room?) with your draperies and the walls painted light. I didn't want to be presumptuous by posting them, but maybe you could so folks could see the draperies against a lighter wall?
---
| | | |
| --- | --- | --- |
| RE: Can I change paint and leave all the rest? Going neutral | | |
Yes -- paint all of the rooms in fresh simple white. :) I think that you would notice a HUGE change in the feeling in your whole house.

THEN -- live with the changes -- plus all of your wonderful colorful accents and accessories.

In the future -- IF you still feel the same -- THEN paint out the woodwoork around the rooms! :)
---
| | | |
| --- | --- | --- |
| RE: Can I change paint and leave all the rest? Going neutral | | |
I have considered you something of a fellow "color soulmate", but I'm not surprised that you find yourself longing for a fresh change, since I too went that direction. In fact, I was just looking at some photos that were taken in my house on Thanksgiving day two years ago, and the bold, "Mexican Fiesta" colors look so out of place to me now. I think Teacats is on the right track to suggest painting everything a simple white (or other soothing, neutral color). Your space would open up, simply because the wall color be fresher, and you would likely start to see the colors that you've used in your decorative accessories in a whole new light too. Heck, it's only paint. Give it a shot.
---
| | | |
| --- | --- | --- |
| RE: Can I change paint and leave all the rest? Going neutral | | |
I would definitely paint the walls. But, instead of white, what about a shade or two lighter...than the matting around the pictures, in your hall/stairway?

A warm neutral would look great with all your wood trim...and still go well with your blues and oranges. Just my two cents :)
---
| | | |
| --- | --- | --- |
| RE: Can I change paint and leave all the rest? Going neutral | | |
I would paint the walls in a warm off-white. Can you see if there's a common color in your larger scale prints, like the curtains?
---
| | | |
| --- | --- | --- |
| RE: Can I change paint and leave all the rest? Going neutral | | |
Most of my house is painted in neutrals with wood trim as you have. I've never tired of the neutral theme as I use many different colors as accents (for example, I change my comforter seasonally, change the pillows on my couch, etc.). I would agree with the others, change to an off white or light cream, omit the rug, baskets in the kitchen and declutter. This will make a HUGE difference in the overall look.
---
| | | |
| --- | --- | --- |
| RE: Can I change paint and leave all the rest? Going neutral | | |
I have the stained wood trim and all of my walls are white or pastel colors. I agree with the suggestion that you lighten your wall colors first, and then if you really feel the need to change the trim you have that option.
---
| | | |
| --- | --- | --- |
| RE: Can I change paint and leave all the rest? Going neutral | | |
Can't go wrong with neutral/lighter! With all the suggestions, looks like you're in for a lot of work, boo. ;o)
---
| | | |
| --- | --- | --- |
| RE: Can I change paint and leave all the rest? Going neutral | | |
I was like you about a week ago...right down to almost the same color on the walls.....nice but meh. My cabinets were black (have been 3 other colors since I built this house 4 years ago! LOL). I just decided to do it....heck, it's paint, that's all...and work, luckily these days, with no job, I have the time. Anyway, cut to the chase. I started with one corner. I got rid of everything I wasn't totally in love with. I sold or otherwise gave it away. A gallon of Lowe's (yes, I know but I live in a small town!) Du Jour (white, not bright looks cream at night, love it!) & painted away. I painted my frames satin black, paired it with antique dark stained furniture & white flowing curtains..this one corner made me so happy I've been painting ever since. Yup, I painted the trim,walls and the ceiling all same color in eggshell. I totally agree that getting rid of clutter really helps too. I purchased two 1950's mahogany cabinets to store my loves in. Go for it!! :)
---
| | | |
| --- | --- | --- |
| RE: Can I change paint and leave all the rest? Going neutral | | |
I like a white or warm off white with dark wood trim, so I wouldn't jump to paint all that trim white. I would paint the walls, including the dining room, and if it feels too white, consider color on your ceiling. I would remove the drapes in the family room and use a wood/matchstick/bamboo shade. In the kitchen, I'd start by removing the baskets, decluttering, painting the walls and changing out the light box for an updated fixture. If you need an energy efficient style to meet code, there are choices other than fluorescent available now.
---
| | | |
| --- | --- | --- |
| RE: Can I change paint and leave all the rest? Going neutral | | |
Thank you all for your responses!

I think maybe I wasn't clear above. I LOVE my curtains, rug and accents. :) Including the baskets. I use them regularly and I like the look of them.

So that would leave as options painting the walls, trim and cabinets.

I was really looking for dark drapes and light walls when I found those inspiration pics. I do see that the trim is light too. I guess I did not have much luck finding dark trim and dark drapes. :( I will look some more.

I have actually been moving to stainless appliances as they break down. I guess that is an old picture! It doesnt change things too much on its own Chispa! It is a good idea though.

If there is very little painted wood in a house, would it look odd to have painted cabinets?

Auntjen I was thinking of you when I was posting and as I have been thinking of painting. I love how your house transformed with your new colors. I loved it before too, but now it seems more, I dont know, serene? Your artwork and accessories are more the focus maybe. I think Pal did a post on that awhile back. Maybe it was someone else, but either the paint or the accessories standing out. Both maybe is jarring.

madeyna - I am more worried about painting the trim and lower cabinets with the young kids. I know it will show dings and dents way more that way. I wonder if I can paint just the uppers or if that will look half done?

olychick! you are so smart. I hadnt even thought about the old picture. It has a much darker rug in it. but you are right, the DR before painting had whitish yucky wallpaper, b ut it gives you and idea.
I have to say, I didn't really like it like that at all. but I think it was because the paper is white. I am thinking of more a cream/light beige color which is warmer. I think I have to try a color visualizer or something. that might help.
teacats I think you are right - start with the walls. then see how it evolves.
lavender lass I like the idea of a warmer color. White I think would be too harsh. I am going to look at that matte color when I get home. I think that might be a good starting point.
I would love to see pictures Kimberly, cindyloo and southerngal. :)
LOL pattycakes. DH has a cousin that is a painter so luckily we usually get him to paint for us. I dont think I could do it myself at this point! :)
I for sure need a new light fixture lascatx. well, actually two in the kitchen they are both terrible.
Any other paint suggestions for the walls? Thoughts on painting the upper half of the cabinets?
---
| | | |
| --- | --- | --- |
| RE: Can I change paint and leave all the rest? Going neutral | | |
Start with painting the walls and see if that makes enough of a change for you. We have off white walls and wood trim in our family room/kitchen/breakfast room.

There was one small area around the window in our kitchen that we had painted a light blue matched to some of the tones in our stone counters. When we repainted, we went to an off white and like it much better. The blue just seemed to be trying to hard.

I think your dining room rug will look better with white walls.

Choosing a white is hard - there are so many white, ivory, cream tones to choose from and the little chips don't give much of a feel for how a wall of the color in your room will look. When we got it down to 4 or 5 candidates, we got samples of each one (most paint brands have some kind of sample program - either a small bottle or a cheap pint) and used them to paint a poster board. That let us see the color in a larger area over the course of lighting changes during a few days and move them to a few different spots in the rooms. Some we eliminated pretty quickly - too pink, too yellow, etc. The final choice took a few days.

We went with a very white white for the ceiling in the kitchen familyroom - it made the room brighter and it takes its color from the reflected color of the walls so it doesn't look too white.
---
| | | |
| --- | --- | --- |
| RE: Can I change paint and leave all the rest? Going neutral | | |
I think you could paint the uppers above the countertops (until you reach the oven/fridge/etc.) areas. I would pick the lightest off-white that you like (that matches your countertop tone.) I thought to mention that earlier, but I didn't think you were considering painting the kitchen cabinets. I think that will help to make your baskets look ok, too.
---
| | | |
| --- | --- | --- |
| RE: Can I change paint and leave all the rest? Going neutral | | |
I wouldn,t paint the trim. I did that here and still regret it the lower trim constantly has to be retouched because I haves small kids and way too many pets. If you are considering painting your cabs. you could paint the uppers in a cream and take a thin trim peice and stain it the color of your lower cabs then put it in your upper cab. molding trim . That would tie them together really nicely and I,ve seen it done in green and cream in show kitchens .I did mine kitchen in two differnet colors of wood and tide them together like that. Lowes used to have a display showing how to use trim on trim to build it up or out. If you want it in a lower area instead you could add dark trim to the bottom of the upper cabs after thier painted then add the painted trim inside that peice for a layered look. I,ll did around and see if I can find a pic. of what I,m talking about.
---
| | | |
| --- | --- | --- |
| RE: Can I change paint and leave all the rest? Going neutral | | |
Most of your fabrics and rugs have some orange or tangerine tones in them (or at least it comes across on my monitor).

We all see so many complaints or brags - according to the direction we want to go in - of undertones in our whites. Pick a white that leans toward a golden/yellow/peachy undertone (but still white!). You probably need to try several samples. Stay away from gray or crisp whites. I bet Funcolors could help you out there.

I think you are going to see the biggest bang for your bucks by painting the dark cabinets! You will be amazed at the difference. The baskets will look prettier also :).

One other thing - if you go with a neutral white throughout the entire house, you might want to save the kitchen for last. That might be a room you add another LIGHT color of your choice to add slight contract to the white cabinets. I personally would have a hard time mixing white walls and white cabinets to look right.

I say go for it!
---
| | | |
| --- | --- | --- |
| RE: Can I change paint and leave all the rest? Going neutral | | |
The blue doesn't seem that dark to me but some do find it "moody" so it could be that your sense of darkness is coming partly from the walls.

You could try a very bright, very light orange in the hall. Maybe the top chip on the same strip as the DR. I'm looking at SW Posy right now.

Some peaches are very, very cool (as opposed to the warmer orange of your DR). Coolness might be a substitute for light and airy in this case. I worry about peach, but I think with your woodwork and furnishings it's worth a try. Think icy.

I wish they made a luminous paint that glowed.
---
| | | |
| --- | --- | --- |
| RE: Can I change paint and leave all the rest? Going neutral | | |
[URL=http://s46.photobucket.com/albums The light colored trim on the crown is what I am talking about if you painted your uppers cream then you could add a thin dark stained trim to the existing upper crowns. I also added a dark trim at the bottoms of my uppercabs to give them a finished look and tie the two colors together.
---
| | | |
| --- | --- | --- |
| RE: Can I change paint and leave all the rest? Going neutral | | |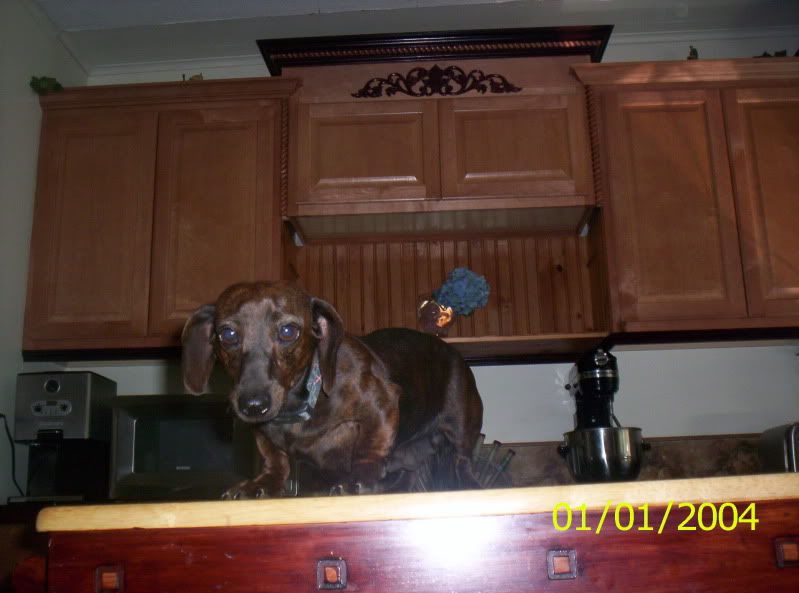 I also added a rope light on the upper cab up agains the wall for accent lighting .Its a inexpensive way to get more light in a dark area
---
| | | |
| --- | --- | --- |
| RE: Can I change paint and leave all the rest? Going neutral | | |
I painted our walls Benjamin Moore Windham Cream. It's a very very soft yellow that brightens our North-facing rooms beautifully.
Here is a link that might be useful: Windham Cream
---
| | | |
| --- | --- | --- |
| RE: Can I change paint and leave all the rest? Going neutral | | |
A friend of mine just had her house repainted and it has wood trim and cabinets about your color. She used Benjamin Moore's Harmony which is an affinity color. I would describe it as a warm white. It looks so much better than the stark white that she had for 25 years. You may want to take a look at it.
Sometime after she had used that color, I came across a website that actually suggested the Harmony color as a color to be used with wood trim rather than a stark white.
---
Post a Follow-Up
Please Note: Only registered members are able to post messages to this forum.
If you are a member, please log in.
If you aren't yet a member, join now!
---
Return to the Home Decorating & Design Forum
Information about Posting
You must be logged in to post a message. Once you are logged in, a posting window will appear at the bottom of the messages. If you are not a member, please register for an account.
Please review our Rules of Play before posting.
Posting is a two-step process. Once you have composed your message, you will be taken to the preview page. You will then have a chance to review your post, make changes and upload photos.
After posting your message, you may need to refresh the forum page in order to see it.
Before posting copyrighted material, please read about Copyright and Fair Use.
We have a strict no-advertising policy!
If you would like to practice posting or uploading photos, please visit our Test forum.
If you need assistance, please Contact Us and we will be happy to help.

Learn more about in-text links on this page here